Are you a business traveler looking for some pleasure while in Bangkok?
Perhaps you are a single guy with some friends and think you might get lucky on a night out.
You will probably want a place to stay that allows you to bring a guest or a couple of girls back to your room for fun.
It's important to know that not all hotels in Bangkok will allow you to bring guests for free without asking too many questions.
But you're not going to have to deal with that if you stay at the hotels we listed below.
After booking hundreds of hotel rooms for our guests, here are the best guest-friendly hotels in Bangkok we recommend.
What Is A Guest-Friendly Hotel?
Guest-friendly hotels, also referred to as girl friendly hotels, are accommodations that allow extra guests or a girl to stay in your room without any extra charge or "joiner fee" policy.
The ladies can also stay without registering or leaving an ID at the reception, giving you and the girl complete secrecy and privacy to do as you please.
These hotels are usually located around the city's party streets or red light district areas.
To help you save time looking for one, we have rounded up several fantastic 4 to 5 star guest-friendly hotels in Bangkok.
Hyatt Regency Bangkok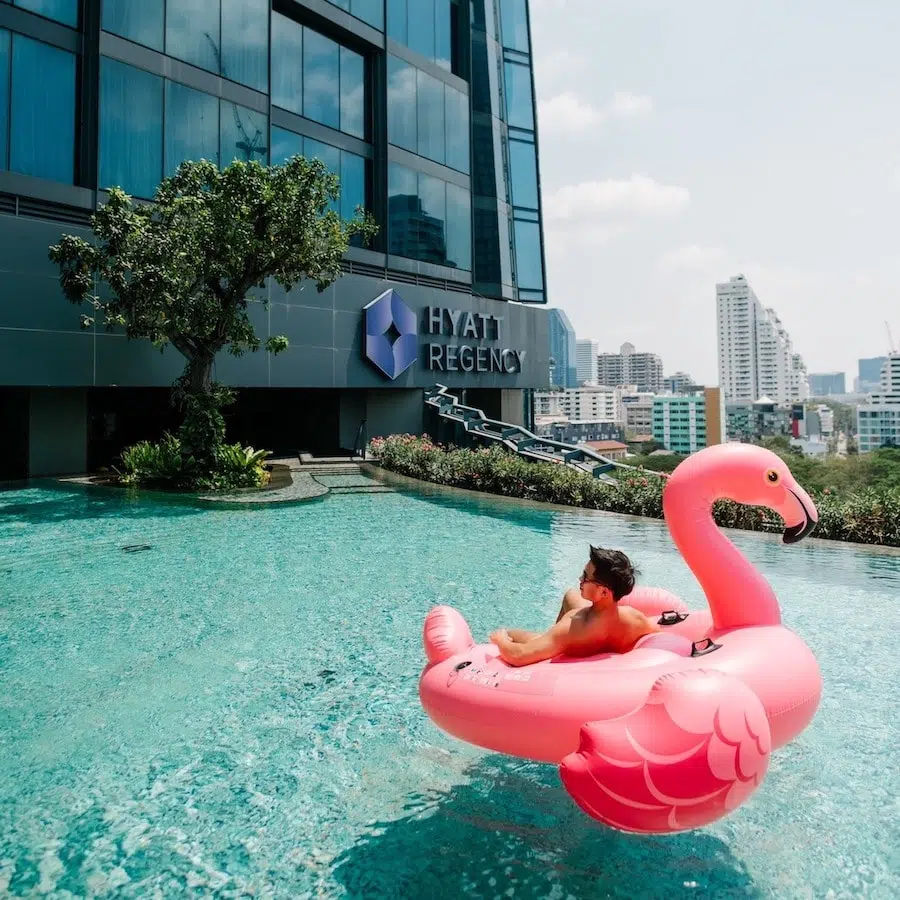 Conveniently located near Nana BTS sky train and close to all the nightlife and entertainment zones, Hyatt Regency Bangkok is the best guest friendly hotel in Sukhumvit.
This luxury 5-star hotel features amazing facilities and amenities that are perfect for a romantic or sexy stay with a beautiful lady.
You and the miss will absolutely love one of their remarkably comfortable rooms and lavish suites that feature floor-to-ceiling windows with stunning views of the city.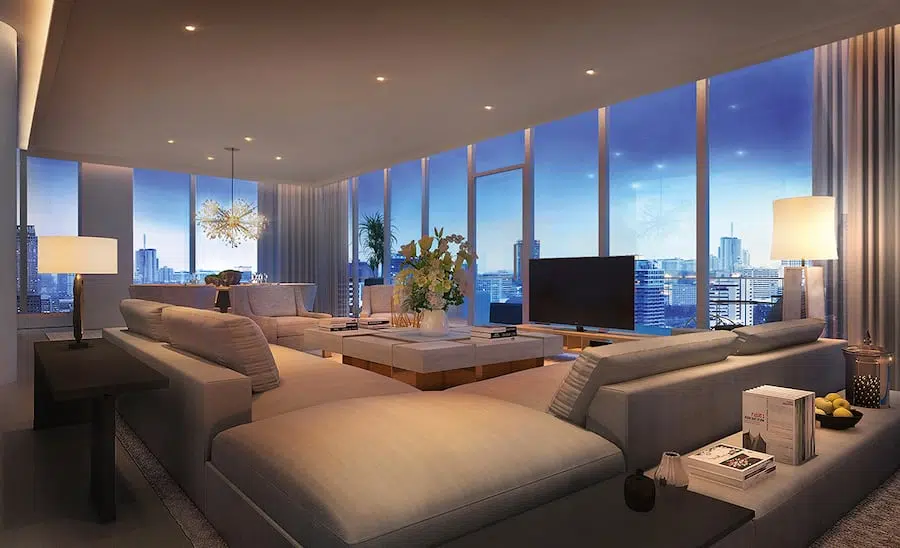 If you really want to impress her, go for one of their premium suites that not only have excellent amenities but can also give you great benefits such as access to the VIP lounge with all you can eat food and drinks during sundown.
The romance does not end in the room though.
Their outdoor infinity swimming pool or the rooftop bar are also perfect for some fun and drinks.
At night, take a scroll down Nana, specifically Sukhumvit soi 11 and party at one some of the best clubs and bars in town.
And, if you don't get lucky finding a woman at one of these venues, you can always pick up a freelance girl right in front of the hotel!
---
S15 Sukhumvit Hotel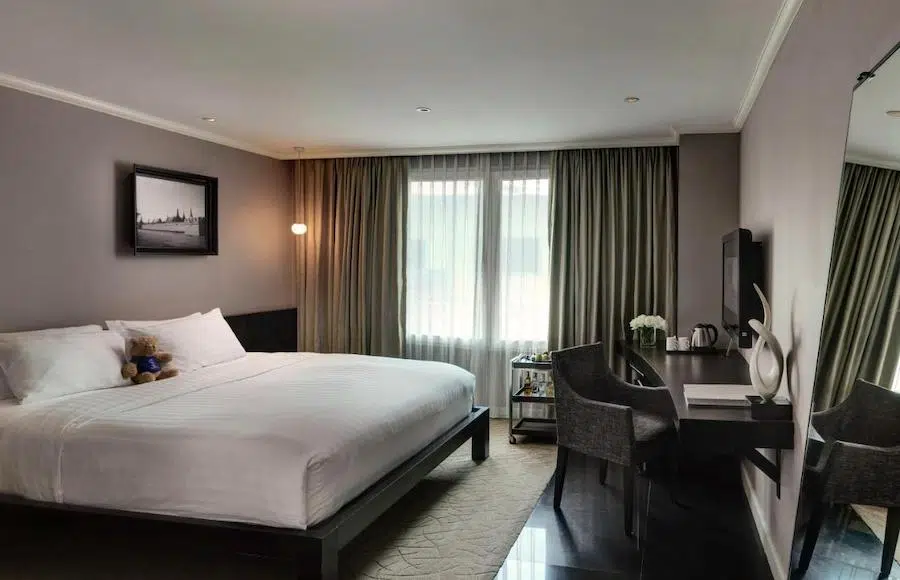 Situated at the corner of Sukhumvit Soi 15 near Asoke BTS is a charming guest-friendly hotel.
Aptly named, S15 Sukhumvit Hotel is conveniently close to the best nightlife spots, red light districts and shopping malls in Bangkok.
Some are just a few minute walk away while others an easy few sky train stops.
It's an idyllic city hotel if you are hoping to bring back a date that you met online, at a bar or anywhere else.
Just make sure you booked the jacuzzi suite, which is perfect for some romance and pleasure.

For the best experience for you and your lady, S15 has quite a few recreational facilities such as the S-Club, S-Lounge, spa, and health center.
The S-Club is perfect for relaxation out while the S-Lounge is an exclusive zone for drinking and playing some pool.
It's a great escort friendly spot for you to hang out after you spent some time outside on the busy streets of Sukhumvit.
---
Sofitel Bangkok Sukhumvit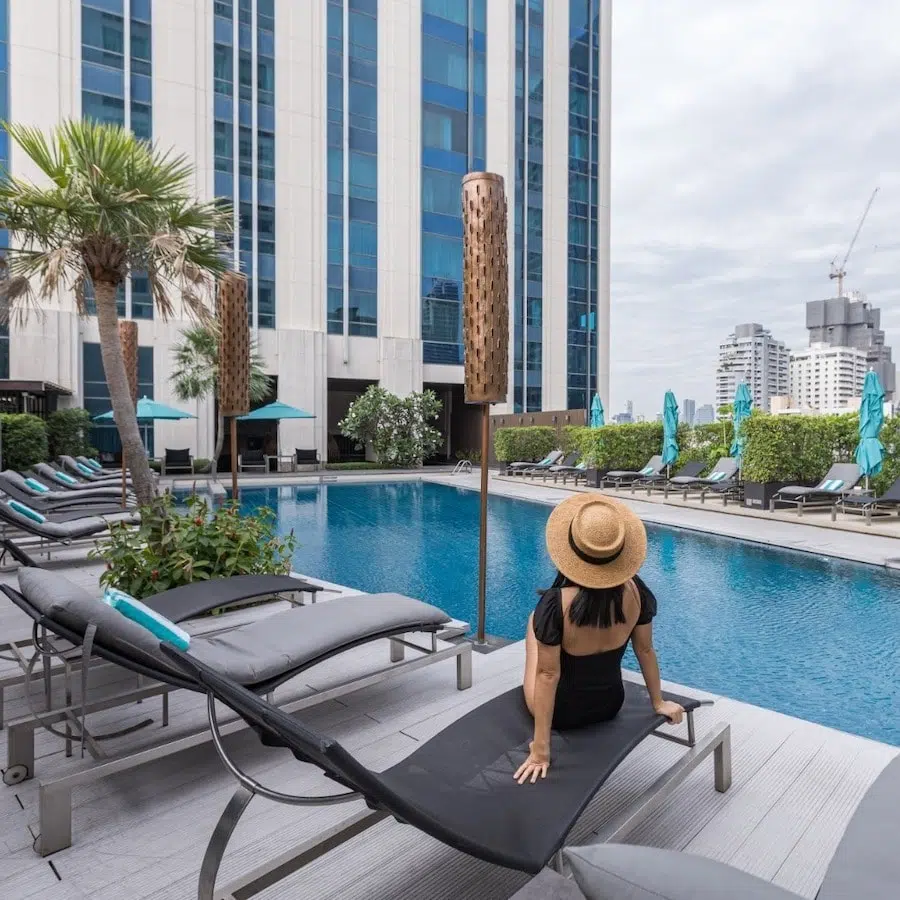 If French is the language of love, then Sofitel Bangkok Sukhumvit is the hotel of love.
Combining French luxury and cuisine with local culture, this 5-star hotel takes you on a magnifique hospitality experience.
The luxury hotel features 3 restaurants, 3 bars, a swimming pool, a fitness center, a spa and even a beauty salon.
You can enjoy any of these facilities with your woman or if you both need some time apart, you can head to one of the lounges or bars while the lady can spend some time at the beauty salon.
Being right in the heart of the city, the hotel is also super close to top nightclubs like Sugar Club Bangkok and Levels, and red light districts such as Nana Plaza and Soi Cowboy.
Accommodation-wise, Sofitel Sukhumvit has 345 extremely elegant rooms and spacious suites with plush beddings and scenic views.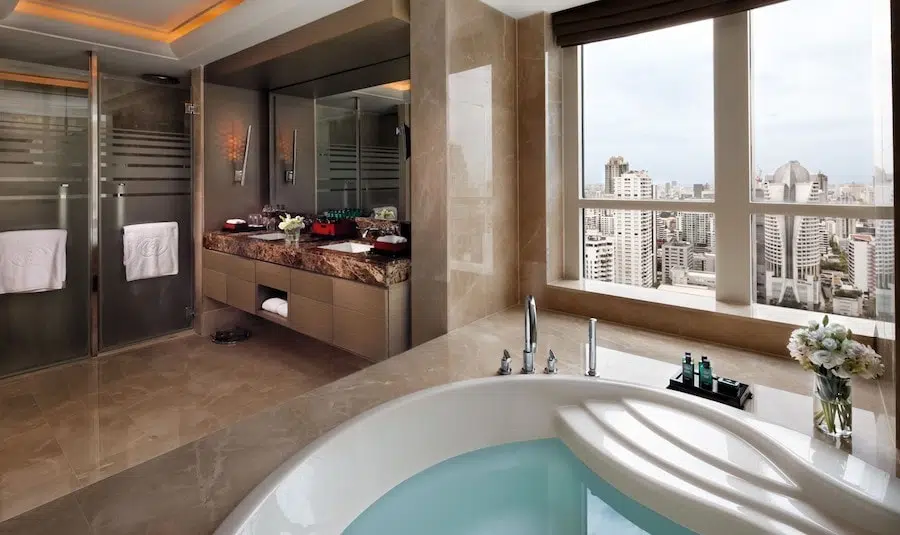 Each room allows up to 4 people to stay the night so you could actually invite some more guests (or call girls) to join you and have a small party, making Sofitel another great guest-friendly hotel in Bangkok.
And don't forget, Nana Plaza and Soi Cowboy are just around the corner if you want to pick up girls.
---
Dream Hotel Bangkok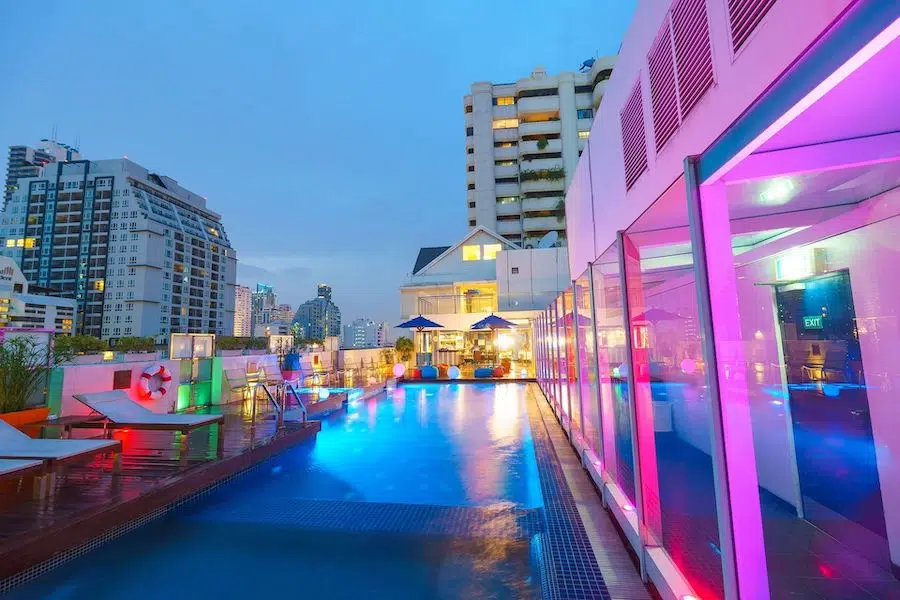 Great location, sexy design, pro-hedonism and budget friendliness makes Dream Hotel one of Bangkok's most trendy guest-friendly hotels.
There is not a single hotel that actually promotes a little bit of mischievous behavior than Dream.
In fact, they openly say it on their website – it is just who they are, and they let you be the best (or worst) version of yourself.
Even their interior design and playful neon hue lighting are a surreal invitation for debauchery during your stay.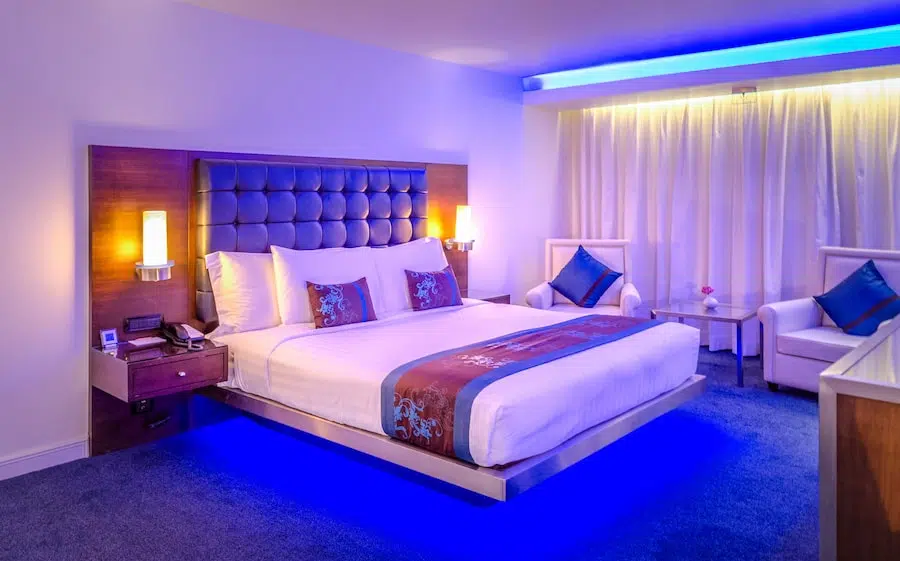 Other than the all the basic features and amenities of a hotel 4-star hotel, what you really get here is privacy and secrecy to do as you please in the comfort of your room.
Feel free to invite whoever and do whatever here as long as it is within the legal and ethical limitations.
They also have exciting dining and nightlife experiences within the hotel such as a restaurant, pool bar and even a small club/lounge which is an ideal venue for private parties.
Dream is truly too good to be true.
---
Bangkok Marriott Hotel Sukhumvit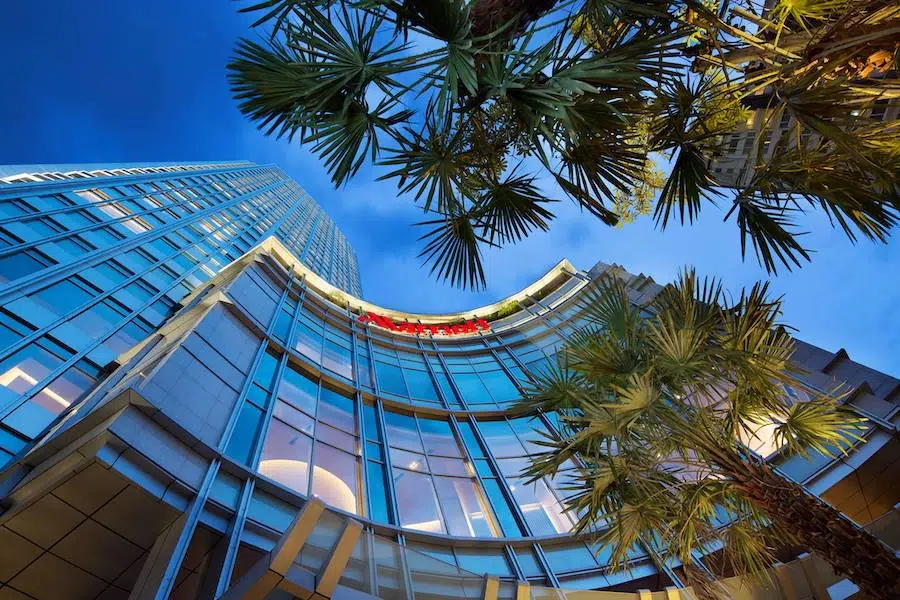 With its impressive 49 floor high building, Bangkok Marriott Hotel Sukhumvit is one of the most iconic hotels between Thonglor and Ekamai.
The hotel features all the top facilities for a luxurious stay, like their infinity pool, fitness center, and the highly rated Anne Semonin Spa.
Want to watch the sunset? Go up to the top floor of the hotel to have a drink at Octave, the hotel's very own rooftop bar.
From Bangkok Marriott Hotel Sukhumvit you can easily explore Thonglor and Ekamai nightlife, where you'll find some of the best restaurants, bars and clubs in Bangkok.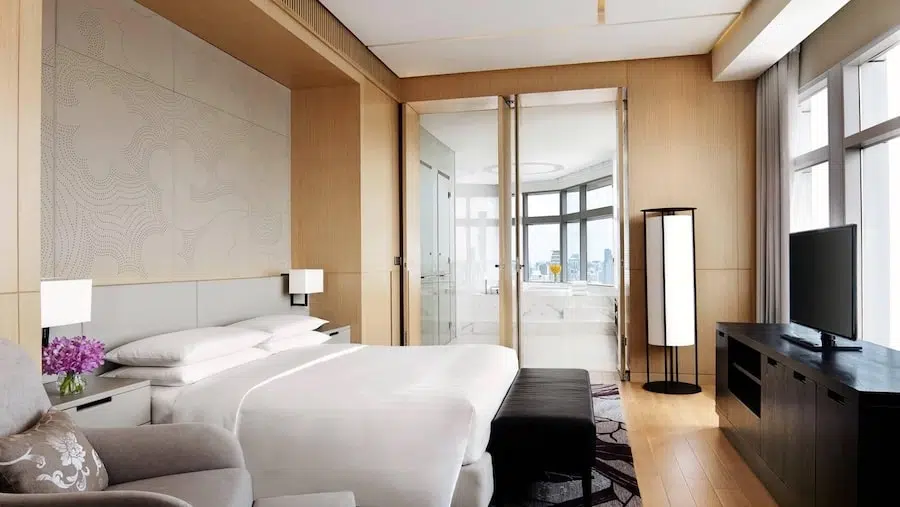 Impress the girls you're going to bring over by booking the incredible presidential suite which is located at the top of the hotel.
This amazing 2 bedroom suite offers all the space you need for a long night partying with friends, and you're going to enjoy the suite's hot tub that gives you an impressive view overlooking the city.
---
Hotel Nikko Bangkok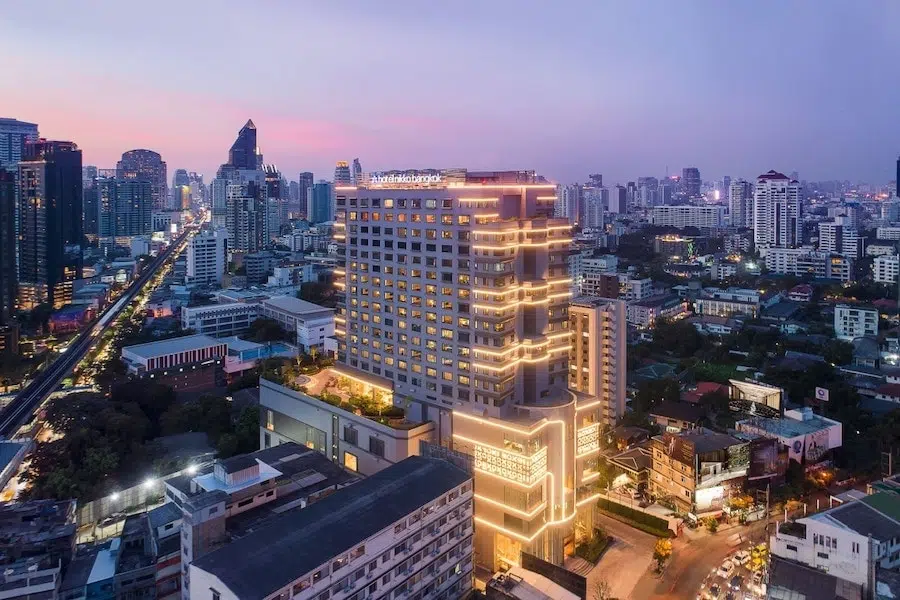 The Japanese brand brings a sense of calm and zen in the busy neighborhood of Thonglor.
Hotel Nikko is the ideal guest-friendly hotel for those who want quality amenities, world-class service and a convenient location for both business and partying in the city.
The hotel features an entire floor filled with executive lounges, perfect for meetings, and not less than 3 restaurants to cover all your craving, from Japanese food to an international buffet.
To stay in shape and recover during your stay you can take advantage of their rooftop pool, fitness center, and dry sauna open all day until 10pm.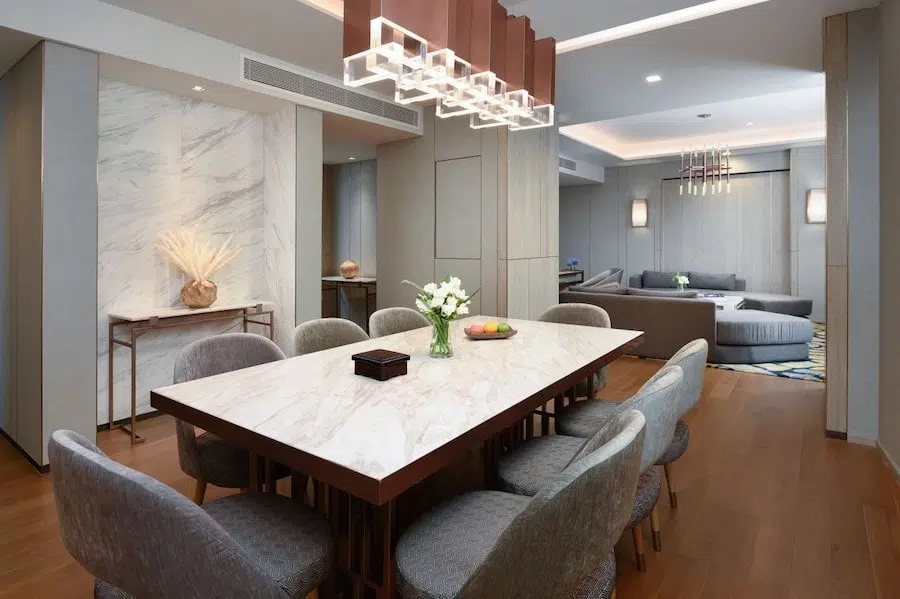 To make your stay at Hotel Nikko Bangkok exceptional, book their 130 square meter Nikko Grand Suite.
With that much space you can host business meetings during the day, and later on, wild after parties with girls you've met in Thonglor and Ekamai top clubs and gentlemen clubs.
---
Waldorf Astoria Bangkok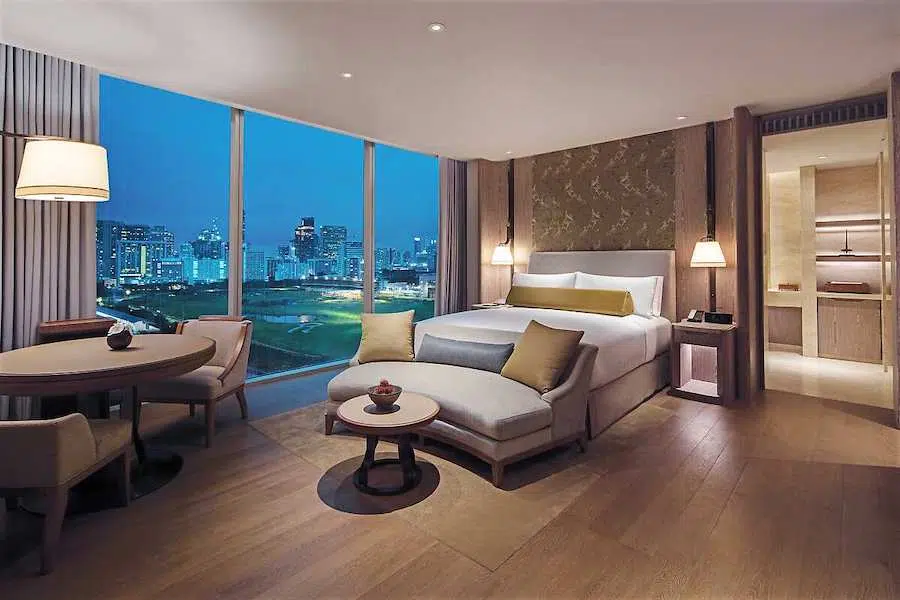 If there was ever a super luxurious, extraordinary hotel to impress your date, it is Waldorf Astoria Bangkok.
Built with a striking visual design combined with exceptional hospitality, facilities, and amenities, this 5-star hotel in Lumpini is where dreams are made reality.
To have a memorable stay with that special guest, the hotel features an awe-inspiring rooftop pool that overlooks a beautiful golf course and vibrant city skyline.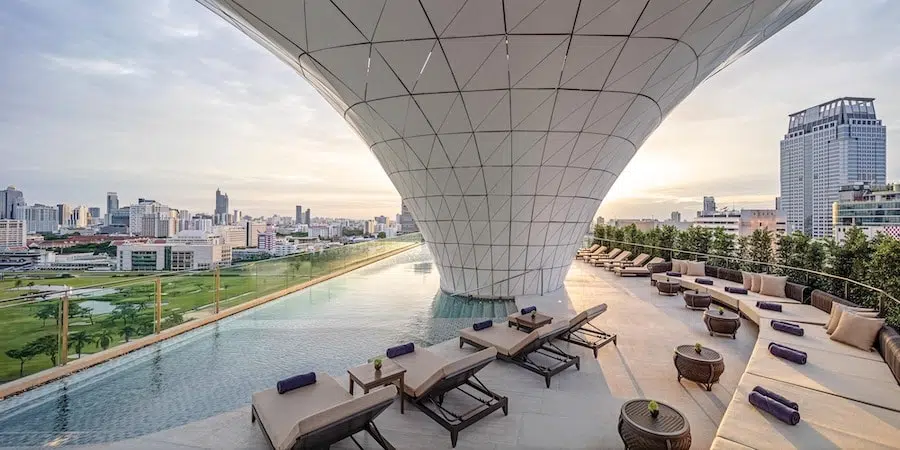 There is also a luxury spa, fitness room, an exclusive rooftop Champagne bar, and on-site restaurants specializing in different cuisines.
The hotel's location is perfect to explore Bangkok most luxurious shopping malls, Lumpini park, and to party until the sunrise at the Mixx, one of Bangkok's few late night clubs.
The rooms at Waldorf Astoria are just as elegant as everything else.
If you can, choose the King Deluxe with the park view to enjoy floor-to-ceiling windows with dozens of comforts and convenience amenities.
---
W Bangkok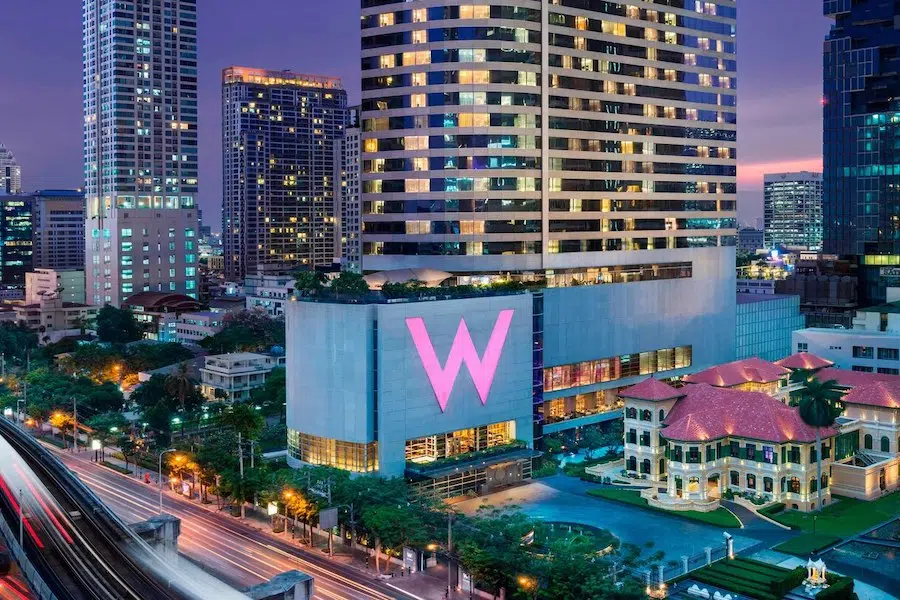 There is no cooler or more hip 5-star hotel than W Bangkok.
They have broken barriers when it comes to hospitality experiences, which is the ultimate guest-friendly hotel that you must consider staying at.
Their stylish and vibrant rooms/suites pulsate with energy and elegance.
There are so many features in the rooms that you can't help but host a private sexy party or a bachelor party here.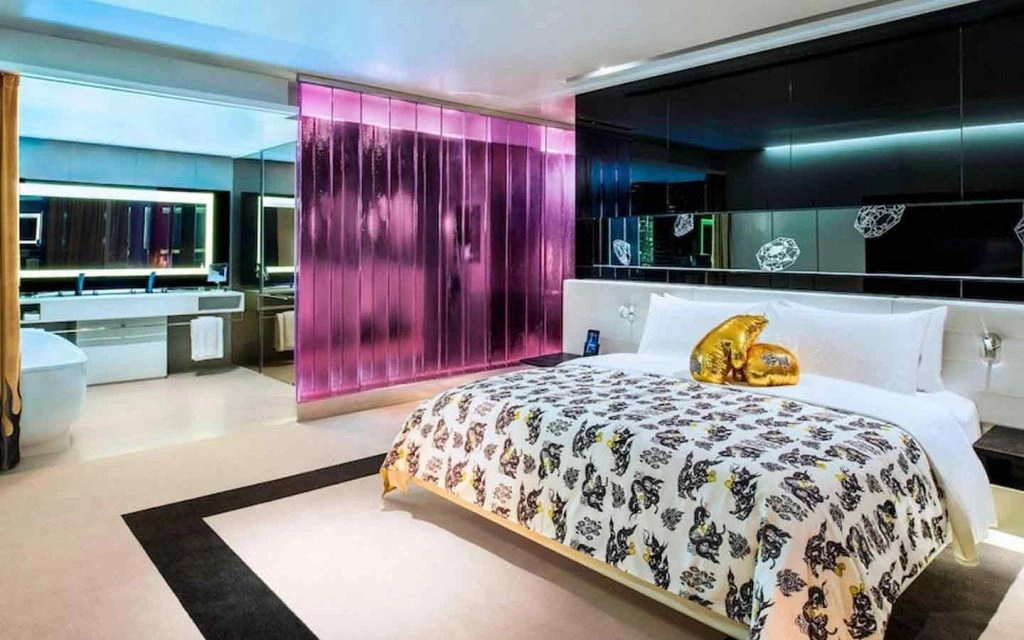 Just at your fingertips, you can control the lights and sound to match the mood.
Rooms also feature spa-like bathrooms, which include large showers, tubs, and marvelous amenities.
You also get 24/7 in-room dining so you can keep the party going all night long.
W Hotel's uniquely-shaped pool and bar are also a great spot for a pool party.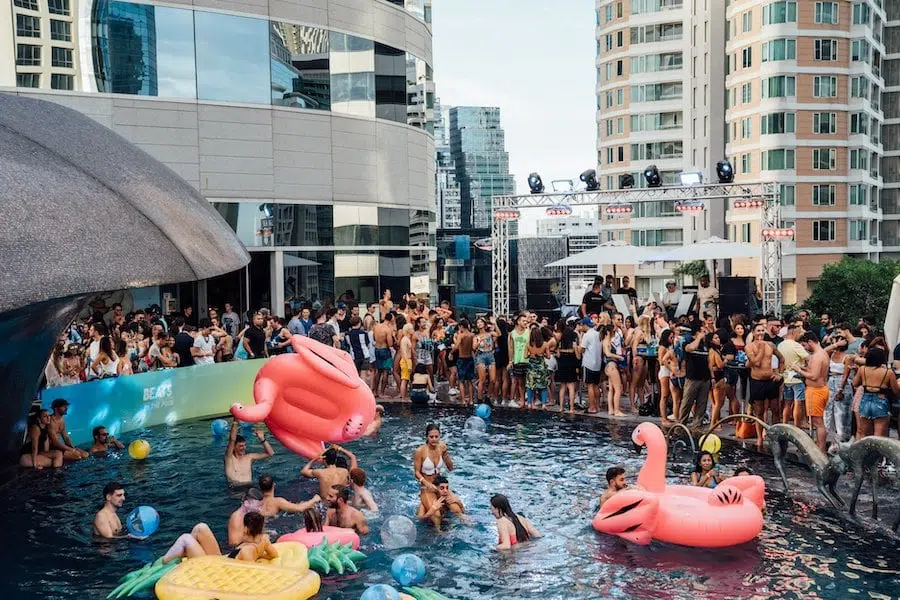 In fact, they actually hold regular pool parties that you and your guests can join.
Lots of sexy activities have been known to occur here amongst hot men and women.
Finally, the hotel is in an excellent location to explore the Silom and Sathorn nightlife, which is home to Patpong red light district and some of the best rooftop bars in Bangkok.
---
Swissotel Bangkok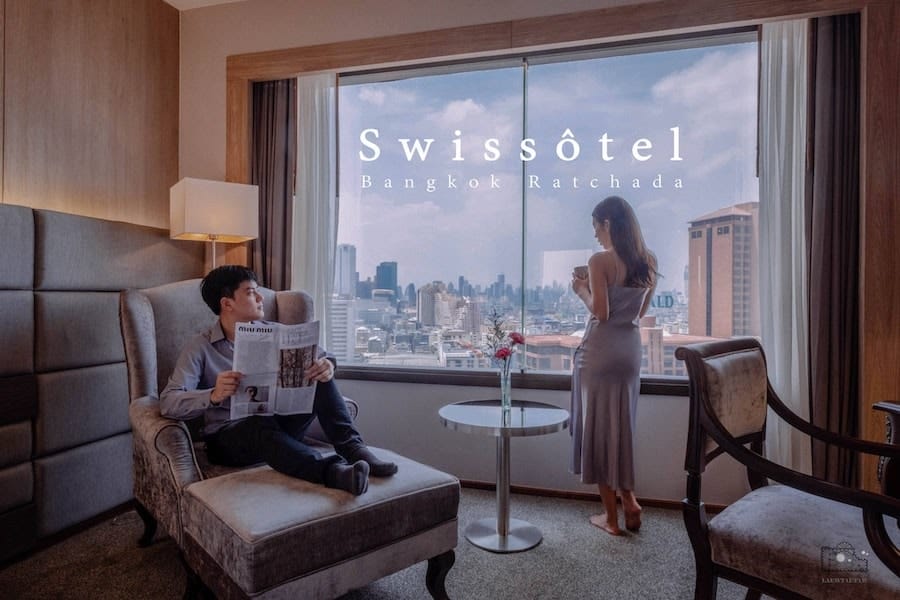 Swissotel is another great luxurious 5-star guest-friendly hotel in Bangkok but unlike others in this list, this one is a bit off the tourist grid.
Located on Ratchadapisek Road in Huai Khwang district, it is close to a booming new entertainment and nightlife neighborhood and to the best VIP soapy massages in Bangkok (Poseidon, Maria, and Emmanuelle).
To the locals this area has always been a hit but for tourists and expats, it is growing in popularity.
The hotel is walking distance from TopOne nightclub and also not too far from Bangkok's premier gentlemen's club known as The PIMP.
If you are lucky enough to take one of the sexy girls from The PIMP, then Swissotel is a superb hotel to impress her.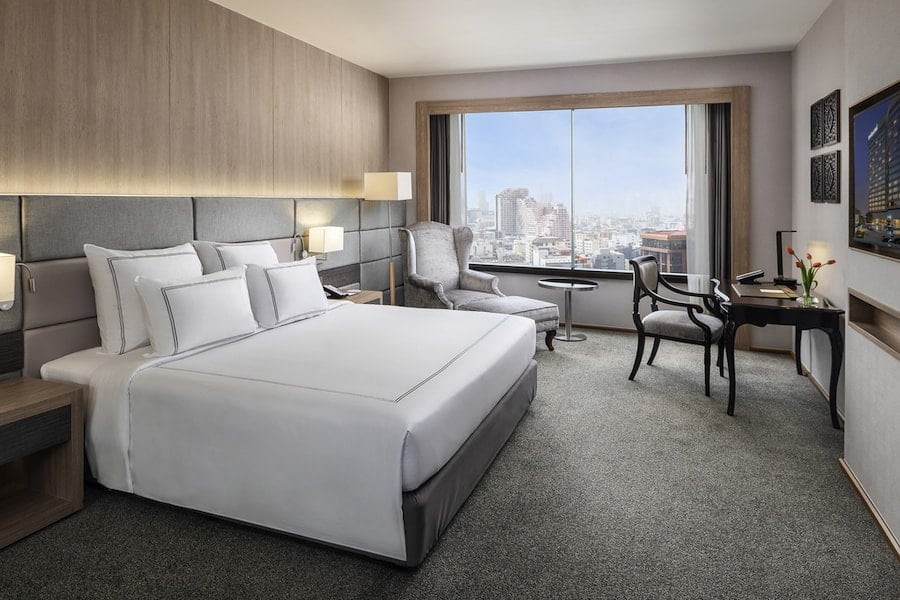 By itself, Swissotel offers an exclusive recluse away from the hustle and bustle with plenty of facilities and amenities to keep your stay more than comfortable.
It features 407 sophisticated and spacious rooms as well as executive club rooms, lounge, fitness center, four restaurants, bar, cafe, spa, and of course a beautiful outdoor swimming pool.
---
What Are The Best Girl-Friendly Hotels Around Bangkok Red Light Districts?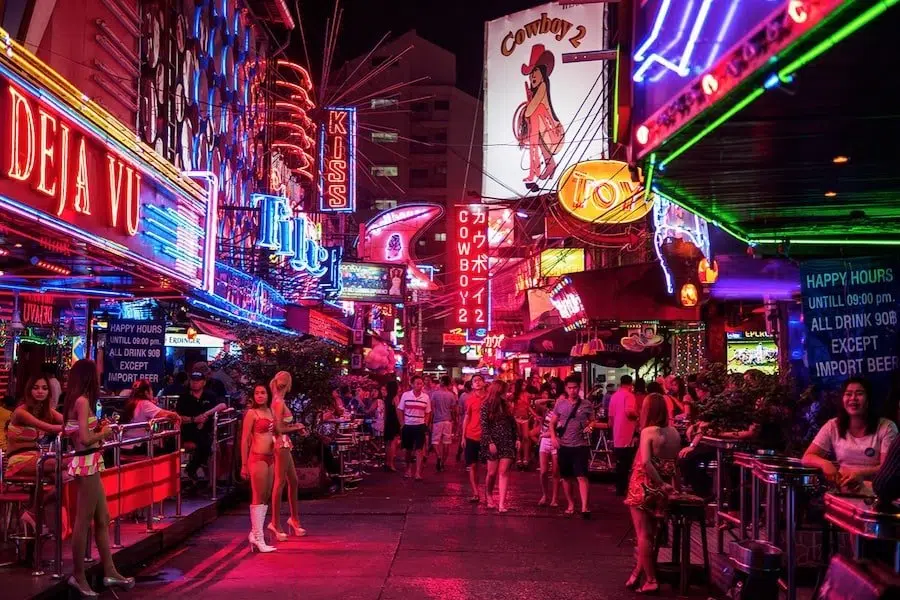 To find the best girl-friendly hotels we recommend walking around Soi Cowboy, Nana Plaza and Patpong areas.
There are plenty of 3 to 5 star hotels that line the strips for ease and convenience.
Depending on your budget, any of them will do as they are fully aware of what happens in these areas.
Some of these hotels also offer short-time stays for about 2-3 hours or half a day, starting at 350 baht.
---
Where Else Can You Stay With Guests?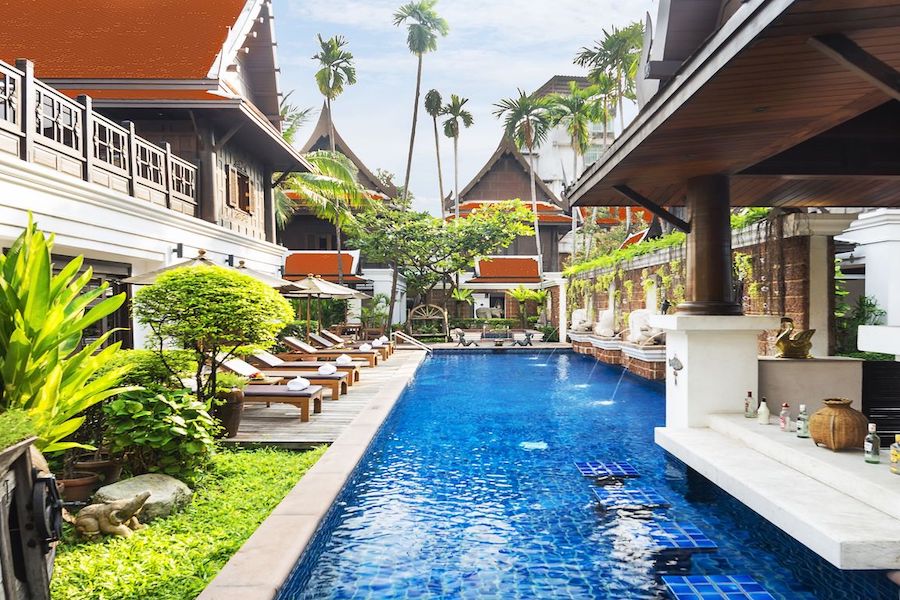 For more guest-friendly hotels recommendations, check our list of party-friendly hotels that will let you bring your friends over for a wild night.
Or skip the hotels entirely and stay at private pool villa where you can bring whoever you want, whenever you want.
No questions asked.
Explore the rest of the websites to find the best place to stay in Bangkok.
---
Find A Date In Bangkok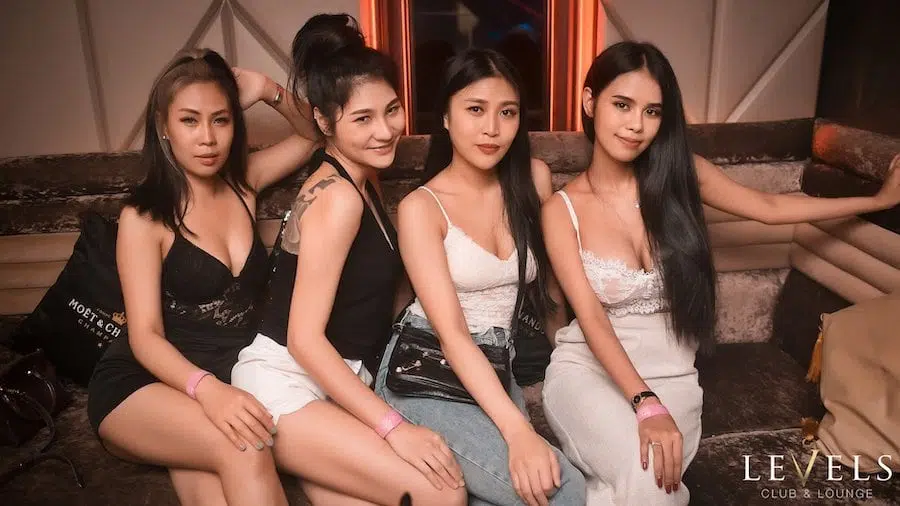 Now that you know the best guest-friendly places to stay in Bangkok, you need to find the "guest(s)".
For that, read this post where we list all the best places to meet girls in Bangkok.
And in case you were thinking about using Thai dating apps during your trip, please don't. Here's why.
Just book a VIP table in a nightclub or pay a visit to one of Bangkok's top gentlemen's clubs and you'll find plenty of single girls who can't wait to see your hotel room.
Contact us if you need us to book the best VIP table at any club in Bangkok.
---
FAQ
What are the best 5-star guest friendly hotels in Bangkok?