We've been organizing parties in Bangkok for over 10 years now, so naturally, people always ask us where they should go to party.
And the answer is always the same: "it depends."
Yes, it depends.
It depends on what kind of parties you like, what kind of music you enjoy, what your budget is…
Bangkok's nightlife is incredible and offers so much diversity. It doesn't matter what your definition of a good party is, you will find something you like in the city of angels.
But if you're new here, what party street should you visit to start exploring the city's nightlife?
Sukhumvit Soi 11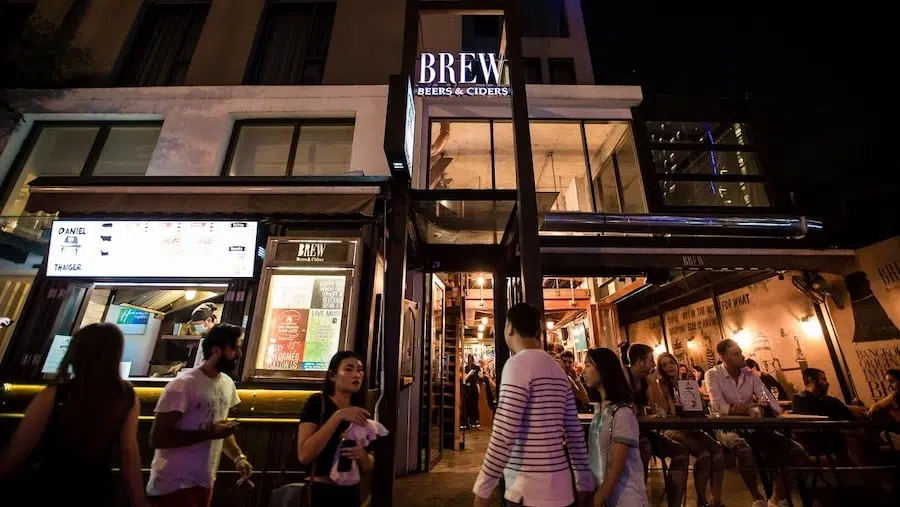 Once the center of Bangkok nightlife, the street had a few slow years before it started its renaissance.
Now, Sukhumvit Soi 11 is back on top of the best party streets in Bangkok.
It's home to some of the best clubs (Levels, Sugar, Insanity), cocktail bars (Havana Social, Oskar, Alchemistbar), and rooftop bars (Above Eleven, Nest) in the city.
One of the best places to eat, drink, and party in Bangkok. And the best area to stay in if you want to explore the city's incredible nightlife.
RCA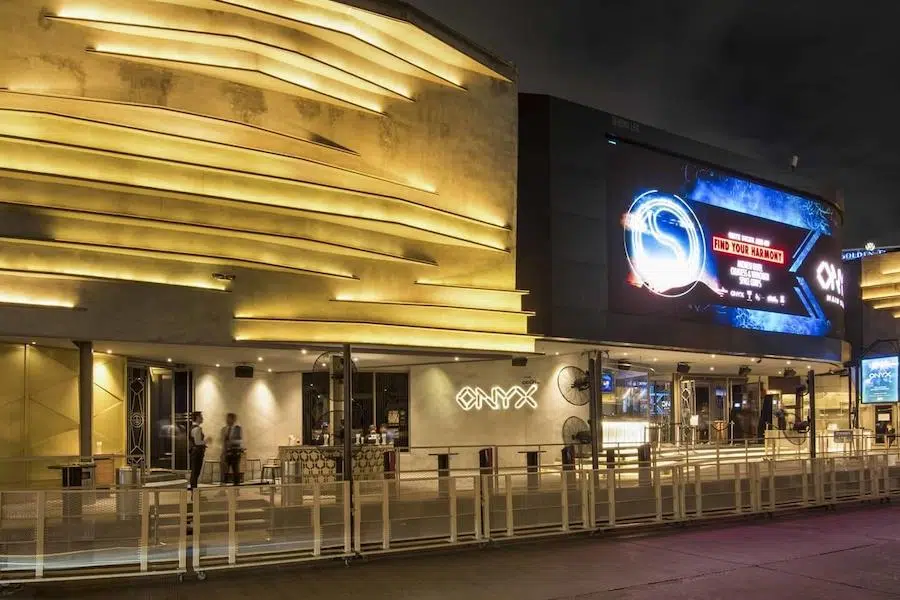 Royal City Avenue, which most people know as RCA, is one of the most hectic places in Bangkok when the sun goes down.
During daytime, it's a regular street. At night, clubs and bars turn parts of the avenue into a huge terrace.
RCA is where a lot of so-called "Hi-So" Thais go out.
The street is full of restaurants, clubs, bars, and even gentlemen clubs, with a lot of action to keep you busy from the time the sun set to 2am (when all the bars and clubs there close).
The crowd in RCA is a mix of young Thais, expats, and smart travelers who know Bangkok is more than gogo bars and cheap buckets of booze.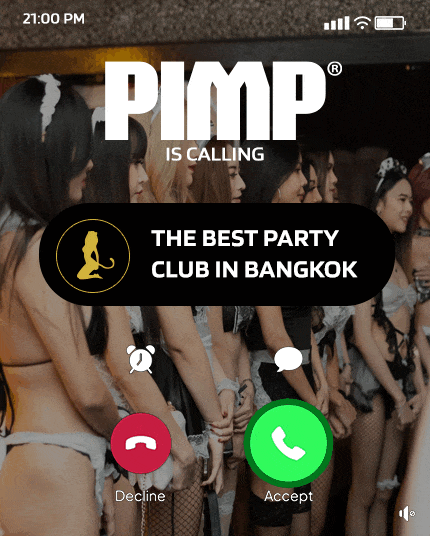 Thonglor / Ekamai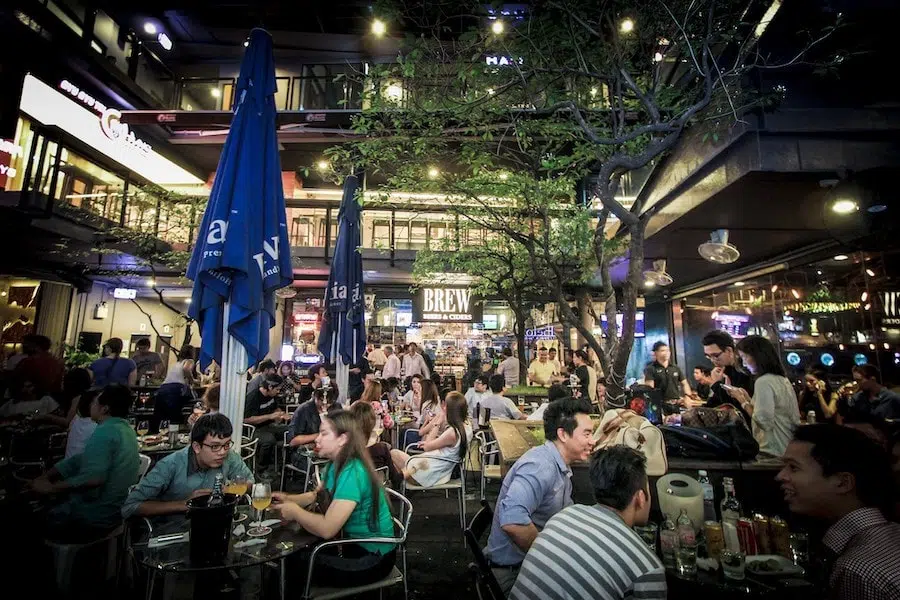 Thonglor and Ekamai are the most popular areas in Bangkok, home of executives, millionaires, billionaires, and superstars.
And what do rich people love to do? Party!
Thonglor and Ekamai are full of cocktails bars, bars, clubs, and gentlemen clubs too.
The nightlife in Thonglor and Ekamai is mostly tailored to Thais and high net worth customers. But it's without a doubt an incredible area to party in Bangkok and one you should absolutely checkout.
Soi Cowboy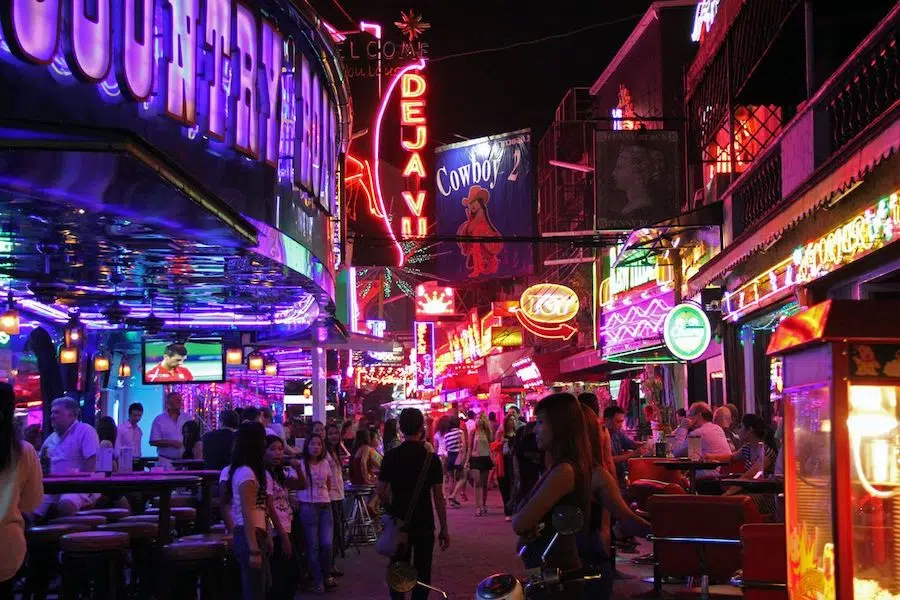 Soi Cowboy is for a different kind of party. A type of party that includes half-naked or fully naked girls, sexy and sex shows, and water down tequila shots.
Out of the 3 main red-light districts in Bangkok, the most accessible and "family-friendly" is without a doubt Soi Cowboy.
If you've never been to gogo bars or red-light districts before, Soi Cowboy is a good place to start.
And don't forget to read our detailed guide of Soi Cowboy.
Khaosan Road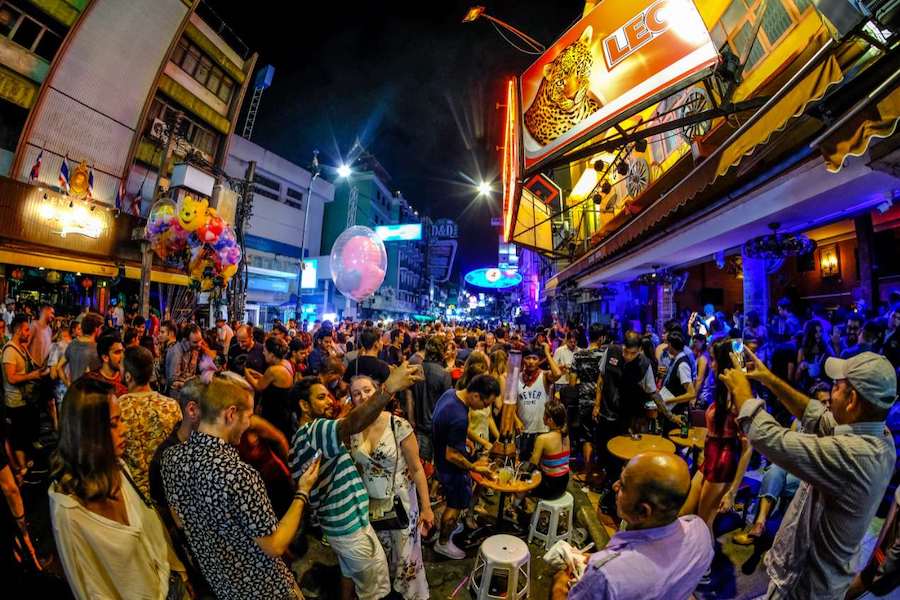 We can't talk about the best party streets of Bangkok without mentioning Khaosan road. Even if Bangkokians and travelers familiar with Bangkok rarely go there.
Also known as "backpacker street," Khaosan has a ton of beer bars and a few nightclubs where young travelers and a few Thais share cheap buckets of booze and beer towers all night.
Khaosan is nothing like what you will find anywhere else in the world, or in the rest of Bangkok.
It's great for budget travelers and backpackers who want to party without breaking the bank.
That being said, Khaosan is not for everyone, and certainly not for anyone looking for a VIP experience or a real taste of Bangkok's nightlife.
If you want more information on the best places to party in Bangkok, we have listed all the venues we recommend in our guide to Bangkok nightlife.
And whenever you're planning to visit Bangkok for a special occasion, don't forget to contact us. Our team is always there to help you organize your stay.
Our services include everything from accommodation (pool villas, luxury hotel suites…) to private parties (bachelor parties, boat parties…) to VIP services (hot Thai models, limousine services, bodyguards…).