Plan your Private Yacht Party in Bangkok
Did you know you can rent a yacht in Bangkok for your party?
Not a boat, not in Pattaya. You can really find yachts in Bangkok. When you know who to talk to.
And guess what? We do.
Imagine you and your friends on a private yacht with Thai models, sexy shows, DJ and more. In one of the most beautiful city in the world.
Get in touch with us today to discuss the options for your private yacht party in Bangkok, on the Chao Phraya river.
All you have to do is tell us when, and we make it happen.
What We Can Arrange
The yacht
Drinks and catering
Entertainment (party models, sexy shows…)
Staff (hostesses, security…)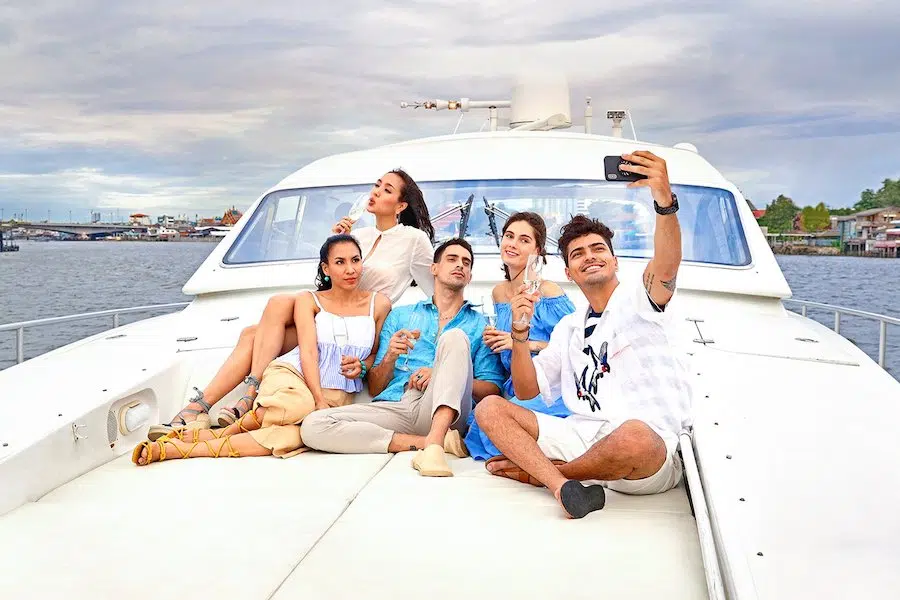 How to Book?
Send us a message with your target date, the number of guests, what you have in mind, and a budget.
We get back to you with a list of options and services we recommend for your yacht party.
We work together on the details (services, location, time…).
Confirm your booking.
That's it. It's that simple.
Once you confirmed the booking, your job is done.
All you need to do is show up at the pier with your friends. We take care of everything else for you.
Please note we need at least a week's notice for this type of event.
Party tip: yachts are great for parties of up to 50 people. If you're organizing a bigger event, check our private boat party service instead. There are boats on the Chao Phraya with a capacity of up to 600 people that are way better for large groups.
Start Planning your Private Yacht Party Today
Yacht parties are perfect for bachelor parties, to impress your business partners, or to chill with your friends.
Enjoy your private cruise on the Chao Phraya, see the best monuments in Bangkok from the river, and party in style.
A private yacht party in Bangkok is the ultimate way to enjoy the city's beauty and take advantage of its incredible weather.
FAQ
How much does it cost to rent a yacht in Bangkok?
The price of a private yacht charter in Bangkok starts from ฿7,500. For a private yacht party, the average price is usually around ฿80,000 for a group of 10, including drinks and food.
Do you offer private yacht party packages?
Yes, we have all-inclusive private yacht party packages. They include the yacht, party models, drinks, catering, and a DJ. Contact us for a free quote.
What's the capacity of the biggest yacht in Bangkok?
The biggest yacht in Bangkok has a maximum capacity of 50 people (including crew). But if you have a larger group, there are boats in Bangkok with a capacity of up to 600 people.
You prefer to swim in blue water and go island hopping?
We can organize your private yacht party in Pattaya, Koh Samui, or Phuket instead.
Contact us today to talk about it.