Nana Plaza has been an icon of Bangkok nightlife for decades and is probably unlike anything you have seen before.
The mall turned adult entertainment complex now has the highest concentration of gogo bars in Thailand, with 3 floors of more than 30 bars and hundreds of Thai girls and ladyboys.
As soon as you arrive in front of the complex, a huge neon sign is glowing with the words "Nana Plaza" and below it "The Worlds Largest Adult Playground."
Whether it really is the largest adult playground or not, Nana Plaza is a must see to say the least.
And that's because it has something for everyone, regardless of what turns you on.
Here's a short guide and a few tips for your first time at Nana Entertainment Plaza. If don't know where to go or what to expect, we are here to help.
We have tried every bar a few times and got drunk multiple times there so you don't have to.
Here's what you need to know.
---
About Nana Plaza
Number of bars: 30+
Opening hours: Every day from 7pm to 3am
Prices: between 150 and 400 THB for a drink
Location: Sukhumvit Soi 4, Khlong Toei, Bangkok 10110
---
What's Happening at Nana Plaza?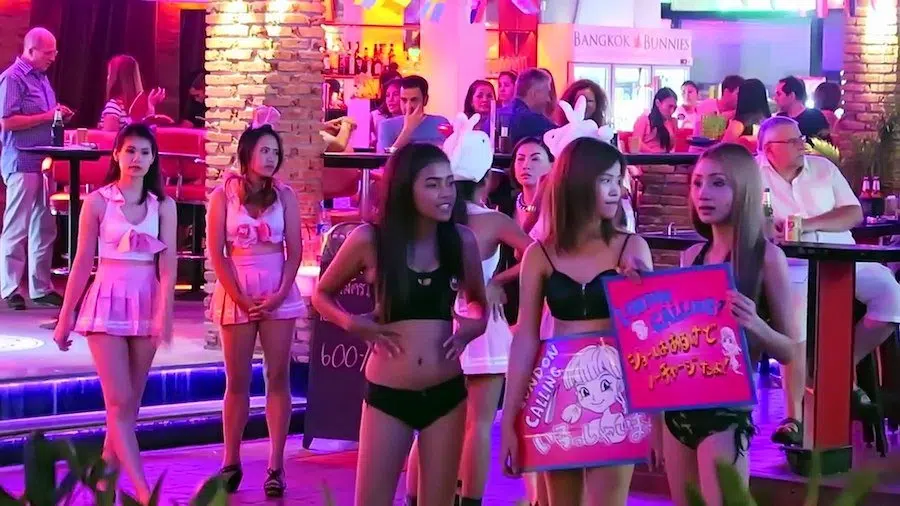 Nana Plaza is all about adult entertainment and shows.
The place is full of bars with attractive Thai girls and ladyboys.
Each venue has a different style of girls, music, and sexy shows. Some have no shows at all.
But with the largest selection of lady bars and gogo bars in Bangkok, Nana Plaza truly has something for everyone.
You can drink a beer outside and watch the night unfold.
Or you can go to a gogo bar and have a drink inside with a girl on your lap while you watch erotics shows and dances on stage.
You can also get curious and find out why Thai ladyboys are so famous. And after that, enjoy the hottest sex shows in Thailand.
With all these bars, girls, and shows, it's really up to you what happens in Nana Plaza. And how curious you are.
For a safe and smooth start, here are a few places we recommend
---
What Are The Best Gogo Bars In Nana Plaza?
There are over 30 gogo bars spread over 3 floors, each with tens of hot gogo girls and sex shows.
And overall, the quality of the girls and the shows have gotten better and better over the years. But some bars are just bad.
So, for hot girls, great shows, good fun, and reasonably priced drinks, here are the gogo bars we recommend.
Angelwitch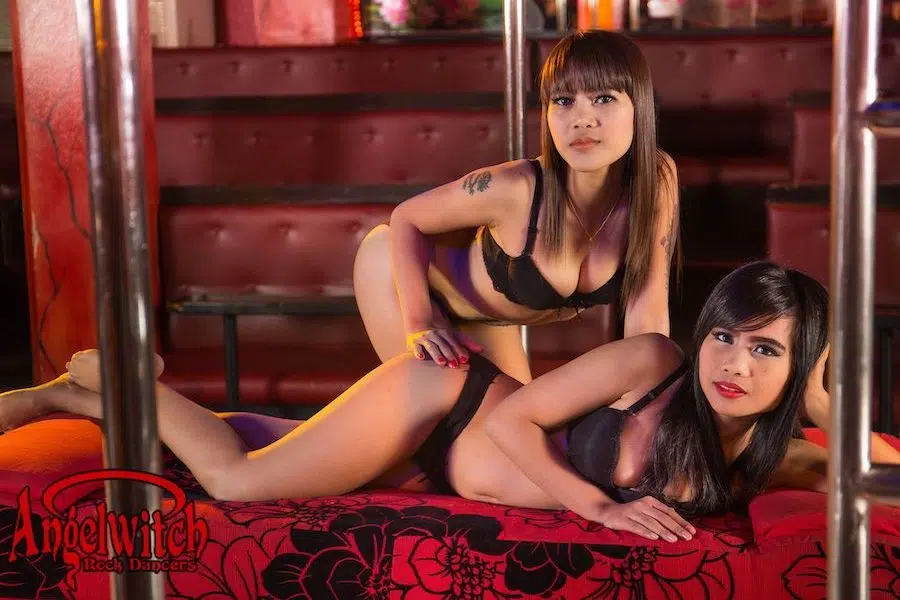 Angelwitch is not only one of the best gogo bars in Nana Plaza; it is also one of the most unique.
With their incredible erotic shows ranging from a single girl striptease to lesbian shows to sexy shows with up to 5 girls getting completely naked, it is a must-see.
Spanky's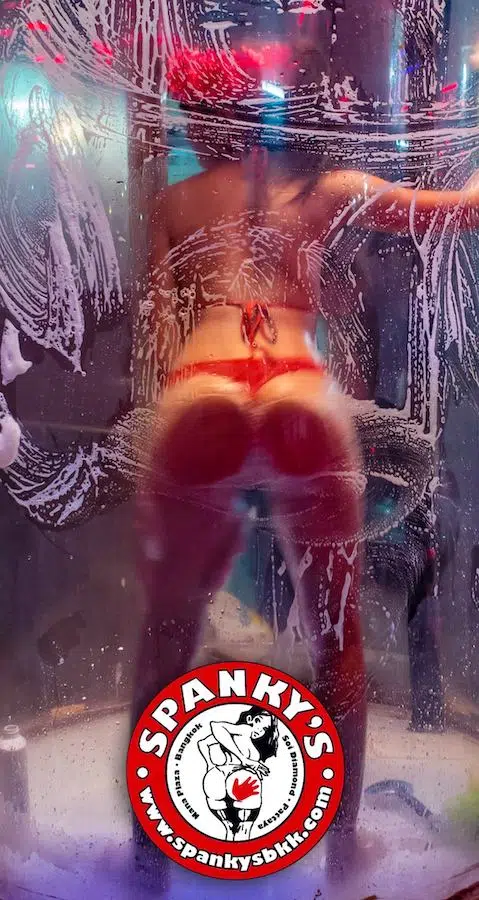 Go get spanked at Spanky's! It's one of the most iconic gogo bars in Nana Plaza, and for a good reason.
The girls there are young and hot, but what makes it truly incredible are the erotic shows on stage.
They have shows all night, and with a style you will not find anywhere else in the Bangkok.
Rainbow 5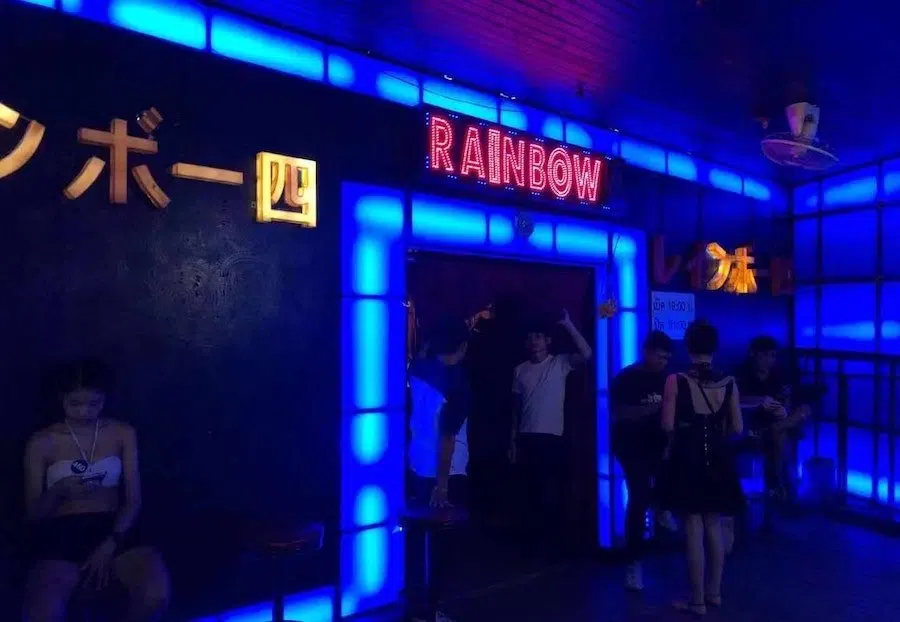 The Rainbow group is so popular that they have not 1, not 2, not 3, but 4 gogo bars in Nana Plaza!
Even though all their bars have hot girls, the wildest one is without a doubt Rainbow 5 on the second floor.
Billboard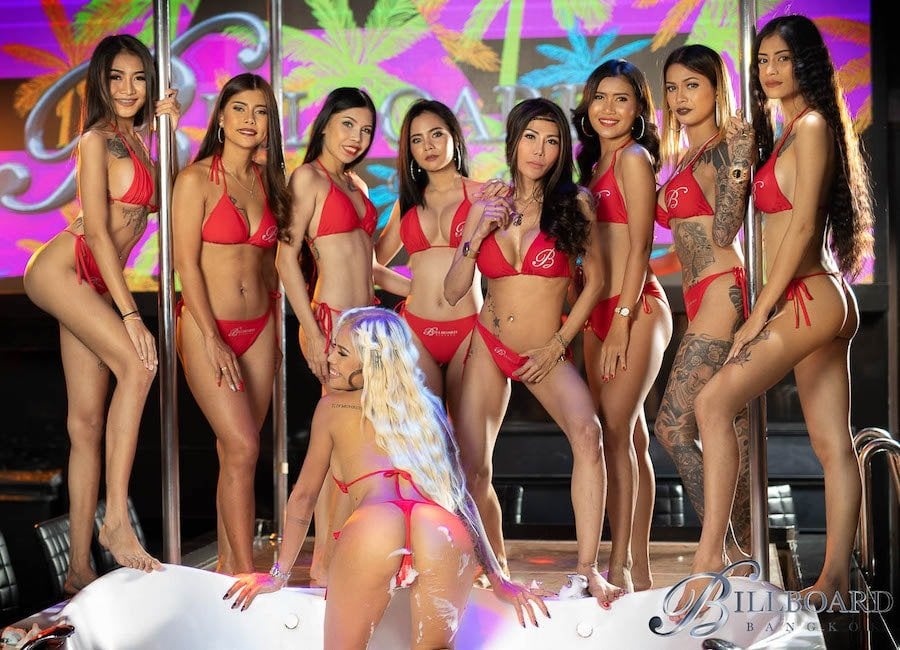 And last but not least. Head to the 3rd floor for some crazy fun and plenty of naughty girls.
Billboard is arguably the most famous gogo bar in Nana Plaza and maybe even in Bangkok.
On busy days, it can host up to 200 hot Thai dancers and no matter what, the shows are always incredible.
Make sure you go say hi to the Billboard girls whenever you go to Nana Plaza.
---
Ladyboys And Layboys Bars In And Around Nana Plaza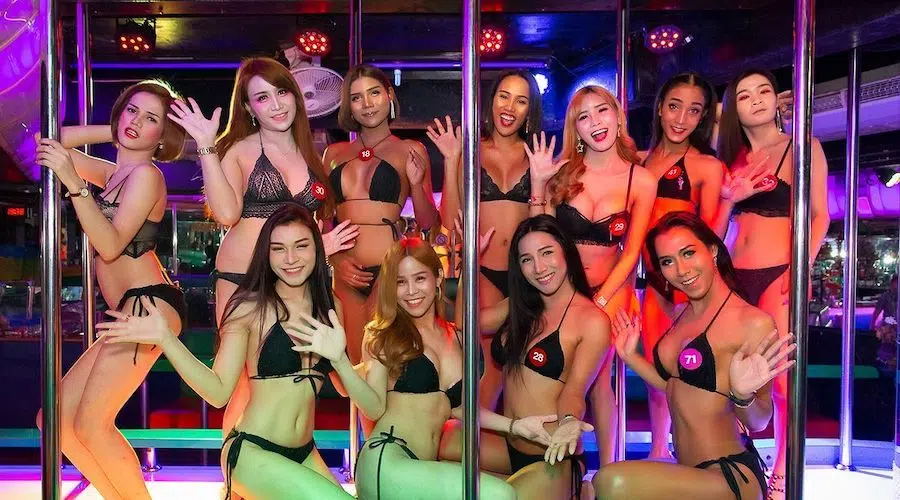 Nana Plaza and the area in front of it (upper Sukhumvit soi 4, called Nana by the locals) has the highest concentration of ladyboys in Bangkok.
And the Plaza is also home to a handful of incredible ladyboys gogo bars, where the curious can learn more about the world-famous Katoey (the Thai word for ladyboys).
True Obsession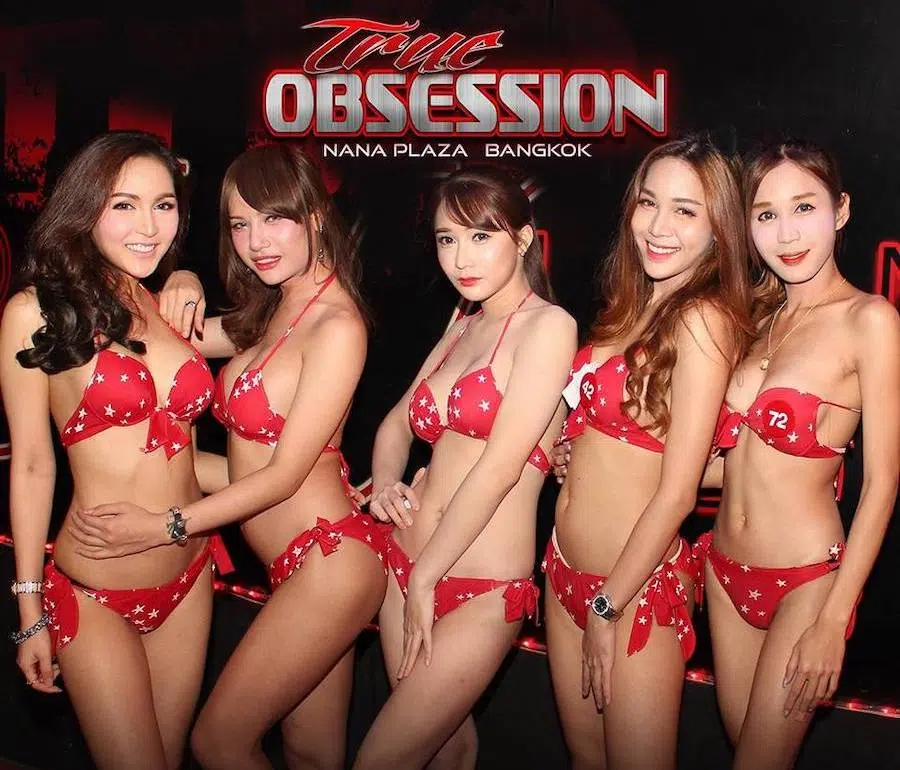 Located on the ground floor of Nana Plaza, next to Rainbow 2, True Obsession is the first ladyboy gogo bar you will come across when exploring the complex.
It is a small bar compared to other gogo bars in the area, but it has some, if not the best ladyboys in Nana Plaza.
Temptations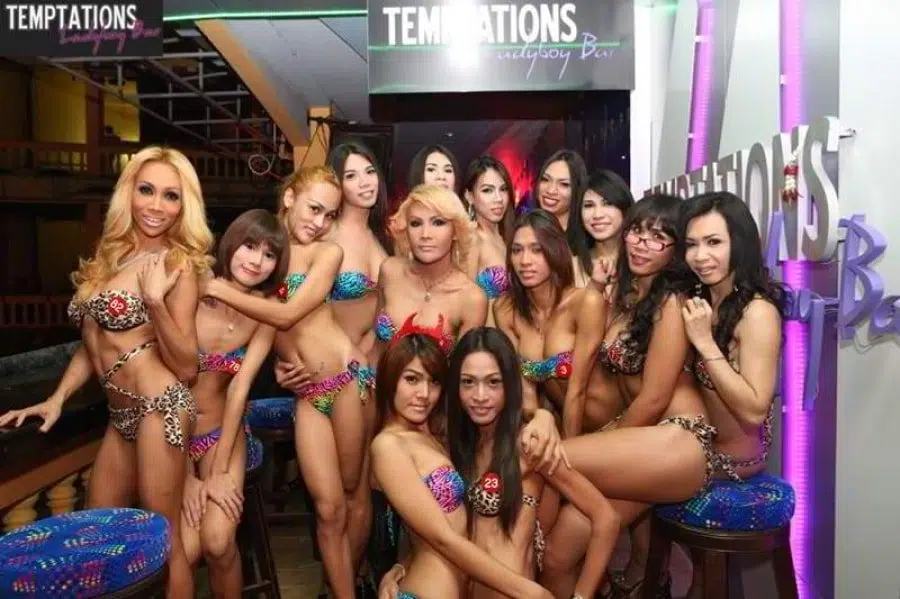 Go to the second floor, next to Rainbow 5 is the second most famous ladyboy gogo bar in Nana Plaza after Obsession.
There are usually 10 to 15 ladyboys inside, no shows, but the atmosphere can get wild and fun when the bar is full.
Go there when it's crowded, usually after 10pm.
Casanova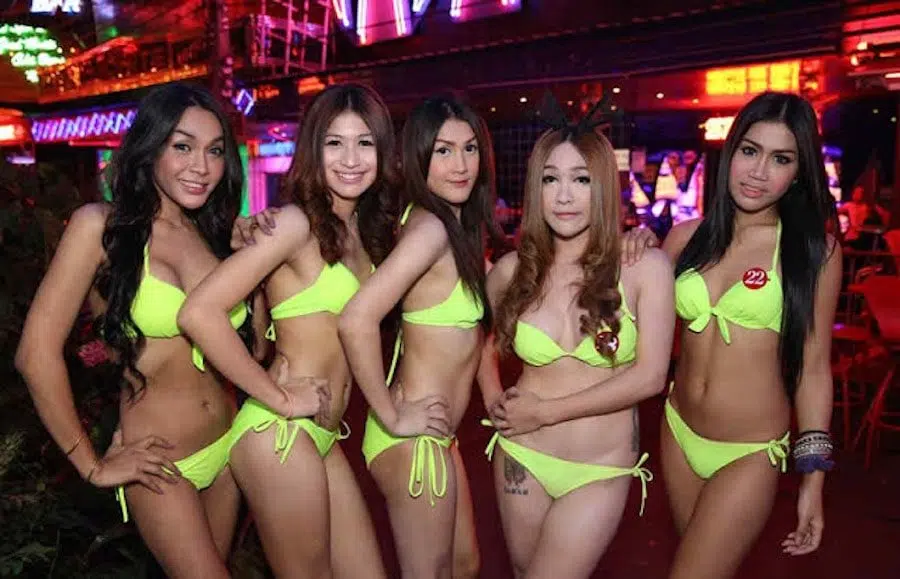 Also on the second floor is the Casanova gogo bar.
You can not miss it because you'll see freaky tall Thai girls (who were not born girls) grabbing your hand or something else as you walk in front of it.
---
Freelance ladyboys around Nana Plaza
As we said, the area around Nana Plaza is where you'll find most of the freelance ladyboys escorts in Bangkok.
Most are on the sidewalk around Nana Plaza and further down Soi 4, while others are in Sukhumvit, around the entrance of the famous Soi Nana.
Many of them can be really hands-on so don't be afraid to say a firm "No, thank you" if you're not interested.
---
What Are The Best Hotels Near Nana Plaza?
There are many great hotels around Nana Plaza to suit all budgets, from hostels to 5-star hotels.
Here are our top 3 girl-friendly hotels near Nana Plaza, all within walking distance of the complex.
Hyatt Regency Bangkok Sukhumvit (5-star hotel)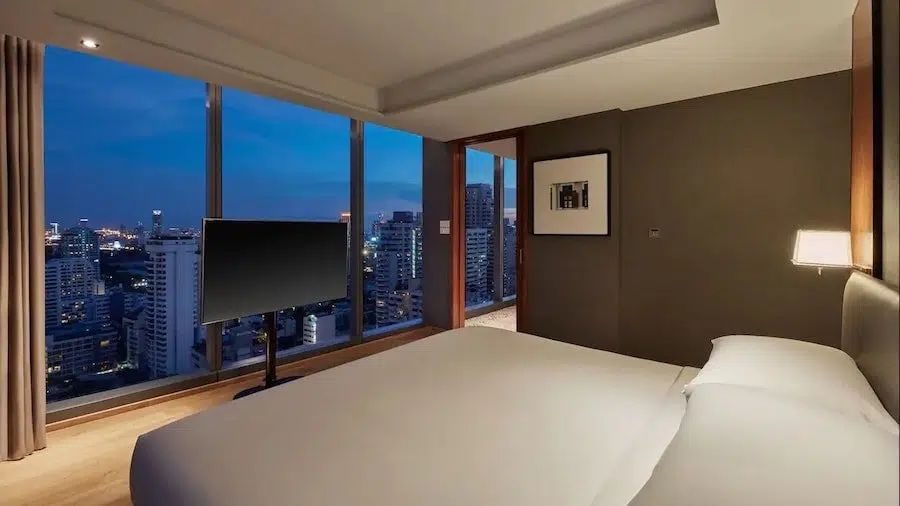 This brand new 5-star hotel is just 5 minutes from Nana Plaza and by far the best you can find in this part of Sukhumvit.
It has an excellent restaurant, a rooftop bar, great service, a huge swimming pool, a fitness center, and other top-notch amenities.
But most importantly, they have amazing suites for a private hotel suite party.
Shama Sukhumvit Bangkok (best value for money )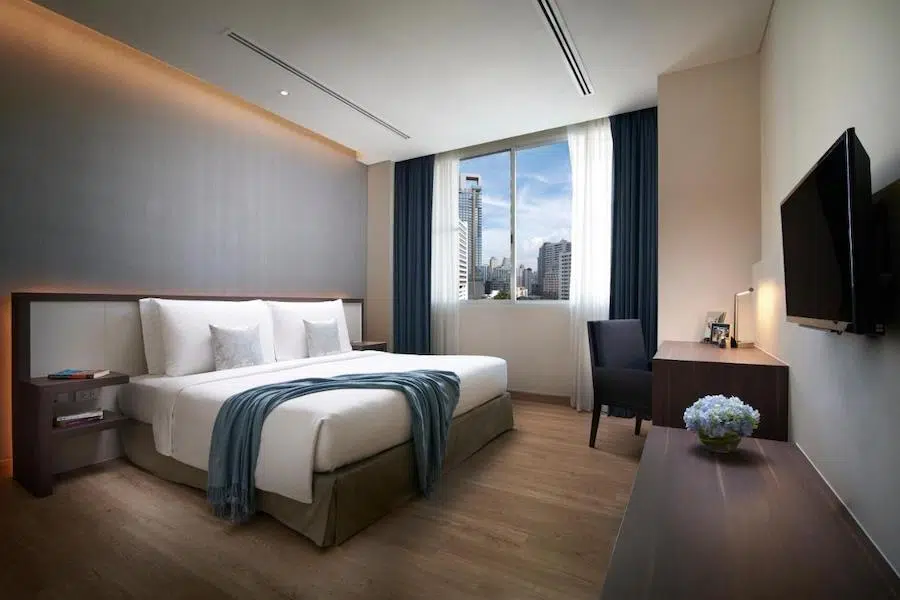 You can't get more convenient than Shama, as it's right across the street from Nana Plaza.
It's not a hotel but a stylish serviced apartment building with rooms that are much more spacious than those of other hotels in this price range around Nana Plaza.
Also, Shama Sukhumvit has a gym, 24/7 reception, and even a rooftop pool where you can hang out with your date.
Ibis Bangkok Sukhumvit 4 (budget friendly)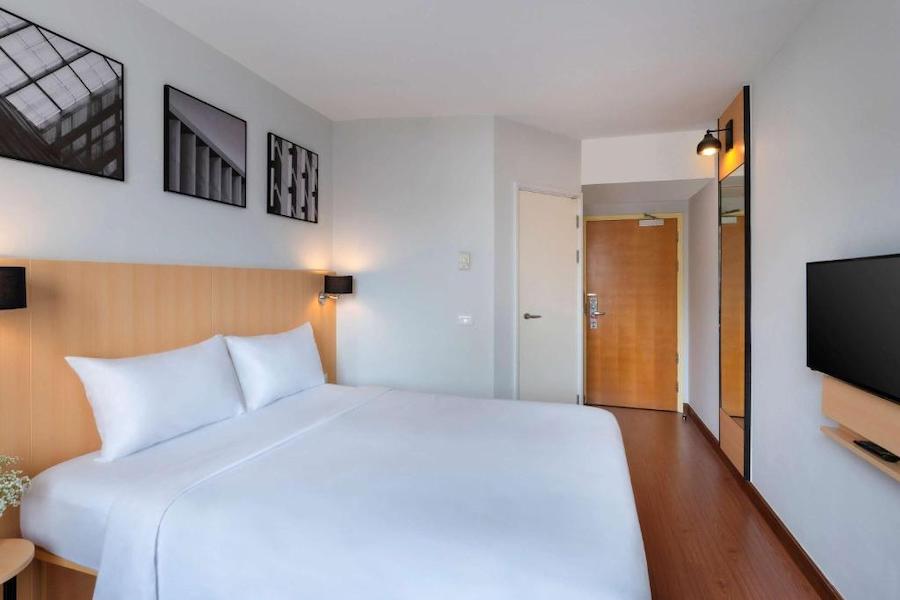 To find the Ibis Hotel, you'll have to walk a few hundred meters down Sukhumvit soi 4.
While it's not the cheapest, it's definitely cleaner and safer than other budget hotels in the area.
---
FAQ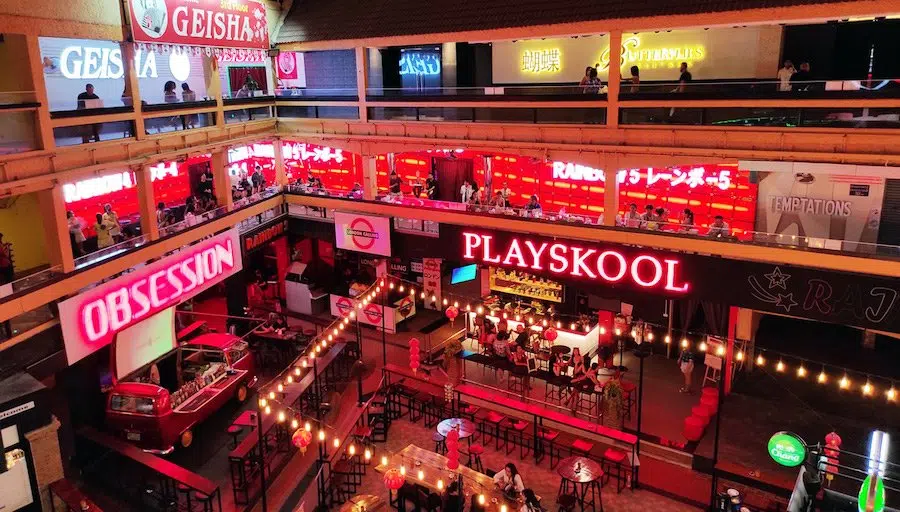 Where is Nana Plaza?
Nana Plaza is located at Sukhumvit Soi 4, in Bangkok. About 30 meters inside the soi, on the left side.
How far is Nana Plaza from Soi Cowboy?
Nana Plaza is a 20 minute walk and 5 minute drive from Soi Cowboy. Traffic can be heavy in this part of town, so take a motorbike taxi if you want to get there quickly.
Where to stay near Nana Plaza?
---
We hope this answers most of your questions about Nana Plaza. If there is anything else you would like to know, please feel free to ask us anything.
Also, don't forget to read our short guide on the best red-light districts in Bangkok.
And if you want something different, with better girls, entertainment, and service than gogo bars, check out the best gentlemen clubs in town.