TopOne Is Temporarily Closed
Check our list of the top nightclubs in Bangkok.
Welcome to Bangkok's first mega club: TopOne.
Designed like a spaceship, with a light and sound system that can easily compete with the best music festivals, TopOne offers a clubbing experience like no other.
What you Need to Know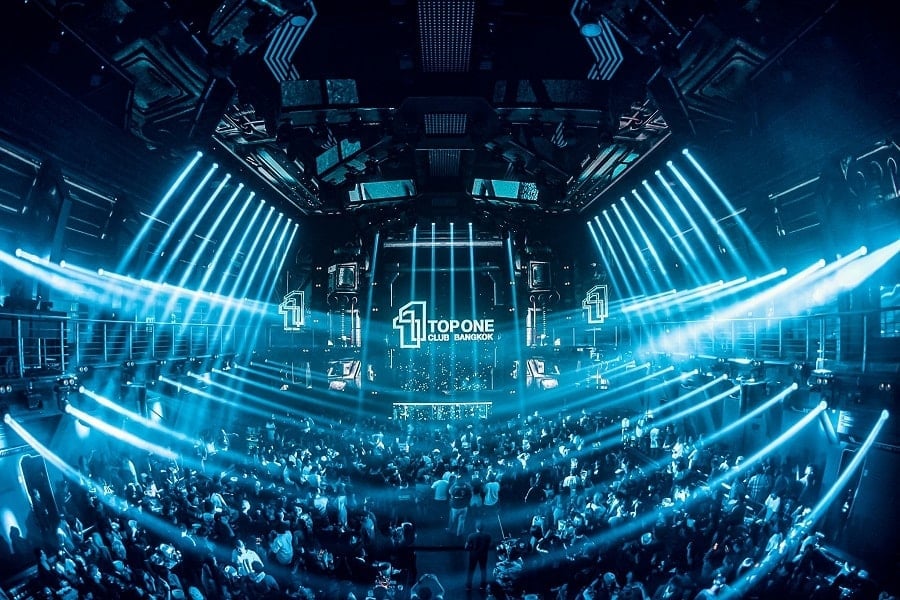 Designed like a huge spaceship, TopOne wants you to embark on a galactic journey to party across the universe.
And that's an impressive club to start with.
From its size to its design and with its cutting edge sound and light system, as well as its incredible dancers and lineup of locals and international DJs.
No expenses have been spared to provide the most amazing entertainment.
The management said they want to make party-goers feel like at a music festival. And so far, it's a success.
TopOne wants to get noticed, and with such a massive club, it's not hard to do.
The ground floor is a nightclub that can accommodate approximately 2000 ravers.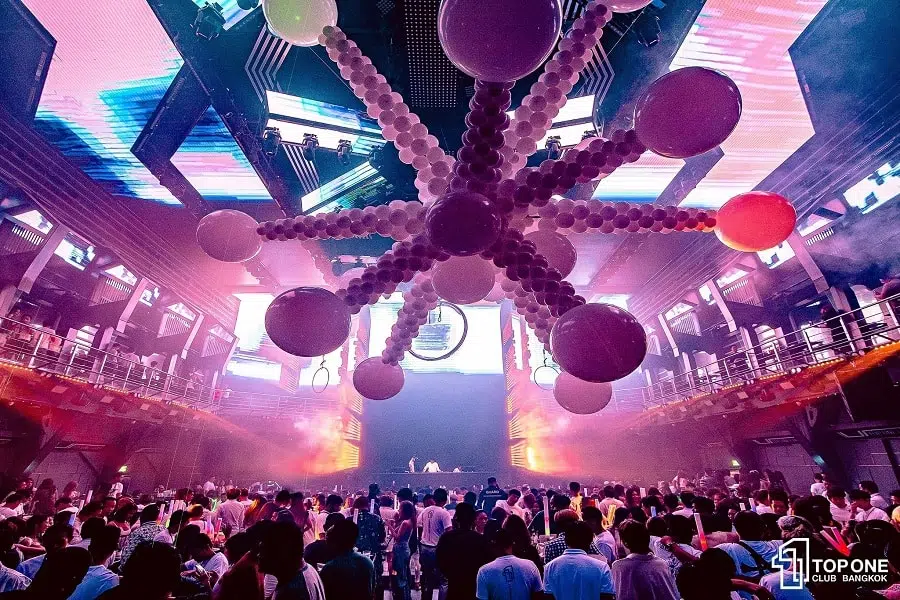 The second floor is a KTV with 12 private karaoke rooms. And on the second floor and third floor has a banquet room that can welcome up to 100 people.
About the music, TopOne is mostly EDM and House music all night with a great mix of Thai and international DJs and MCs. They also have aerial performers, dancers, and LED robots appearing during the night.
The club attracts mostly young Thais, and even though the club wants to draw tourists, at the moment, you can barely see any foreigners in the club. Instead, you will see many famous Thai models and net idols who seem to prefer TopOne to Onyx these days.
What else can we say about the club?
To make the clubbing experience more exciting, TopOne has a different "mission" each month.
In other words, they organize each month a different music festival at the club, with a theme always around space and space travel, and each time a different selection of DJs, performers, and costumes.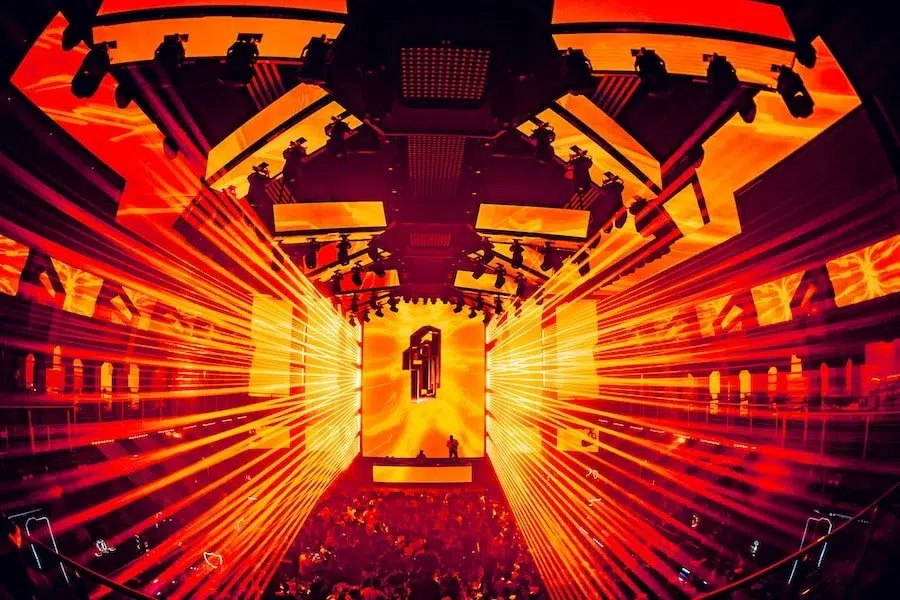 Since its big opening at the end of 2020, TopOne has already welcomed big Thai DJs and celebrities like Crossthy, Paper Mache x MC Vox, Miranda x MC Yuki, Animals Project, Nuttrix x MC Ling of King, T-Vinn x MC Boakye, Lady Punch, and many more.
And it's only starting to gain momentum. It might not be the best club in Thailand yet, as they claim, but it's heading toward the #1 spot.
Before you go, remember that like every nightclub in Thailand, you need to be 20 or over and to show your ID at the door.
Prices and Bookings
Entrance at Top One is free, and bottle service starts from ฿2,200, with mixers at ฿80.
VIP Packages are available and start from ฿15,900.
Here's TopOne menu and floor plan.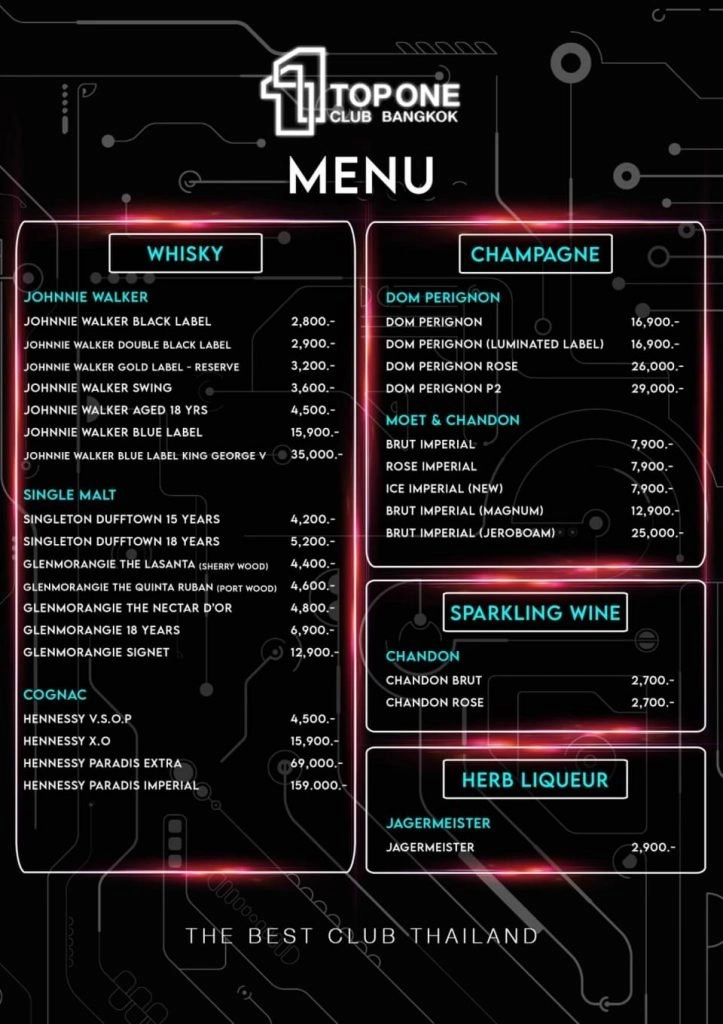 Booking holders must arrive before 11pm on weekdays or before 10pm on Fridays and Saturdays.
Send us a message if you want to book a VIP table.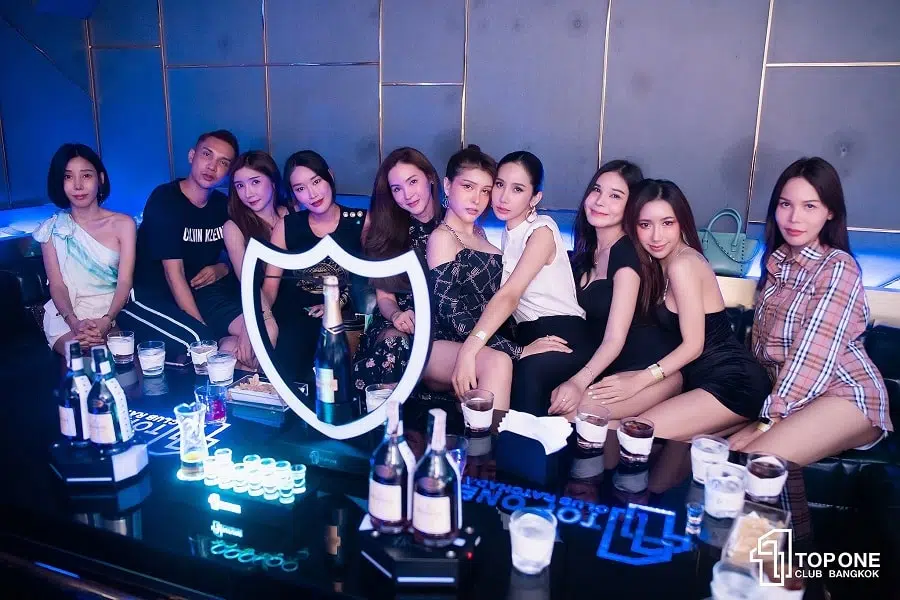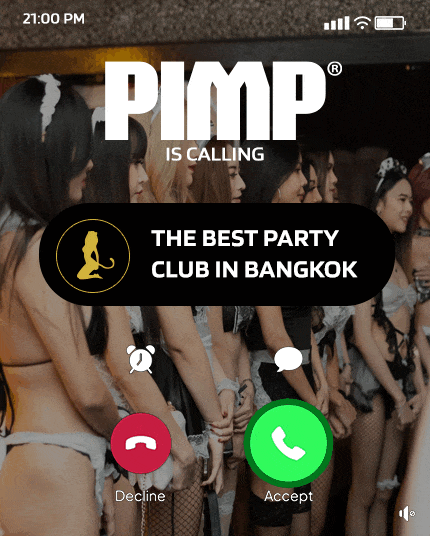 About TopOne Bangkok
Cover charge: Free
Bottle price: Start from ฿2,200
Music: EDM, Electro
Crowd: Locals
Opening hours: Every day from 9PM to 2AM
FAQ
How much is the entrance fee at TopOne Club Bangkok?
TopOne Club doesn't have a cover charge. But it's recommended to open a bottle when you get there as there is no place to dance or bar where you can rest your drink.
What is TopOne Club Bangkok dress code?
TopOne Club doesn't have a dress code on its Facebook or Instagram, but like at other clubs in Bangkok, dress "smart casual." In other words, no open shoes, shorts, tank tops, or sportswear.
How to get to TopOne Club Bangkok?
TopOne Club is located in Ratchada, about 20 minutes from upper Sukhumvit (Asoke), and is accessible by MRT (Huai Khwang station), taxi, or you can drive there and use their valet service.
Other Nightclubs in Bangkok you're Gonna Like
See our list of all the clubs in Bangkok for more options.