In the early 1970s, an American with a cowboy hat bought a bar on a small street near the Asoke intersection in Bangkok.
Many bars followed and the street slowly transformed into the famous neon light show we know today.
The legendary man in the cowboy hat may no longer be there, but the name remains: Soi Cowboy.
Soi Cowboy is one of Bangkok's 3 red-light districts and by far the wildest one in the city.
It is a 150-meter long street packed with over 20 gogo bars, flashy neon lights, booming music, and plenty of friendly Thai girls outside their bar trying to lure you in.
It's a feast for the senses and a must-see for anyone coming to Bangkok.
But it's a lot to take in, especially if you have never been there before and are not familiar with Thai gogo bars.
So what can you expect to find there? What are the best bars? And where can you stay in the area?
We have been there a few hundred times, with or without our guests, so we have some experience to guide you.
Follow us into the world famous Soi Cowboy.
---
About Soi Cowboy
Number of bars: 20+
Opening hours: Every day from 7pm to 3am
Prices: between 150 and 300 THB for a drink
Location: between Asoke Montri road and Sukhumvit soi 23, a few meters from the Asoke intersection
---
What Kind of Bars are in Soi Cowboy?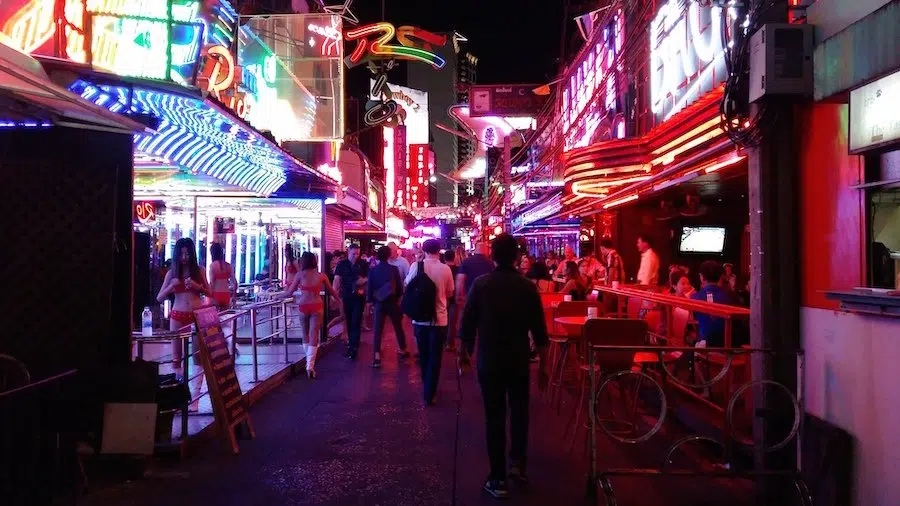 Soi Cowboy is a small street stacked with over 10 bars on either side, with girls outside trying to get you to come inside.
The majority of venues are gogo bars, but you can also find a handful of ladyboys bars, a couple of live music bars, and even a sports bar.
Believe it or not, it's not all about sexy Thai girls in bikinis. But that's definitely the main attraction.
---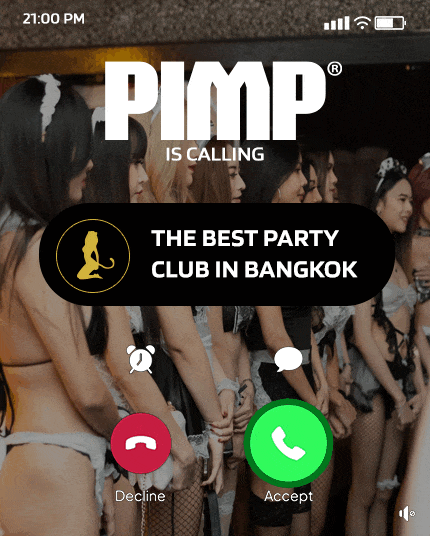 What to Expect at Soi Cowboy?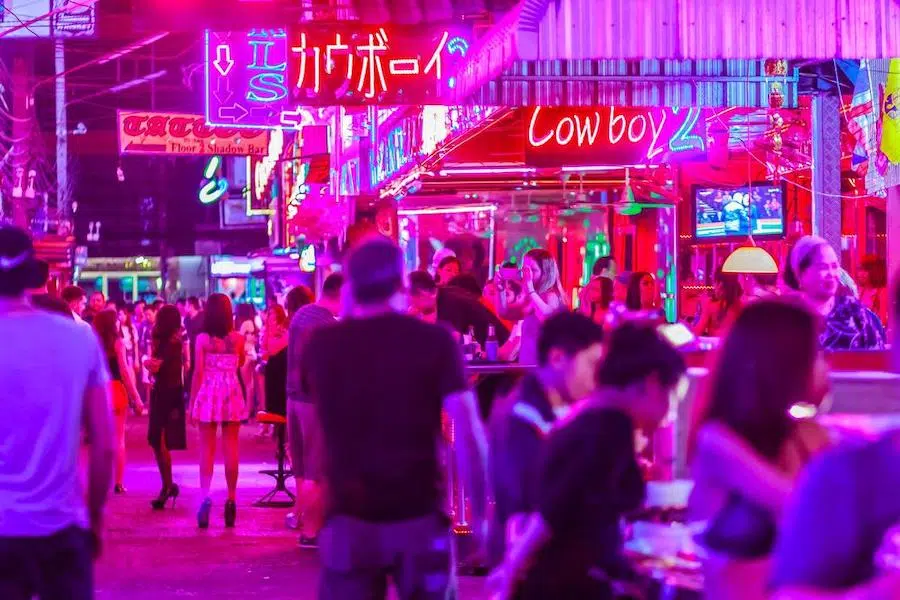 In the last decade, Soi Cowboy has become a really famous tourist attraction in Bangkok.
It is mentioned in almost every tour guide and travel blog you can find. It has even become common to see families walking up and down the street (similar to Walking Street in Pattaya).
Of all the red-light districts in Bangkok, it is probably the most "family-friendly" and the most tourist-friendly.
It's OK to go there to take photos of the neon lights and have a drink on a terrace.
If you have never been to an area like this or to a Thai gogo bar, this is a safe place to start.
You can just walk down the street, feel the vibe, and pick the bar with the girls you like best.
But to avoid occasional scams and bad experiences, let us recommend you some bars.
---
What Are the Best Gogo Bars in Soi Cowboy?
With such a high concentration of gogo bars (over 20 in total), you have plenty of options to chose from. As in Nana Plaza, there are almost too many options.
So let us leave out the ones with expensive drinks and others that are known to scam tourists and focus on the best 5 gogo bars in Soi Cowboy.
The Dollhouse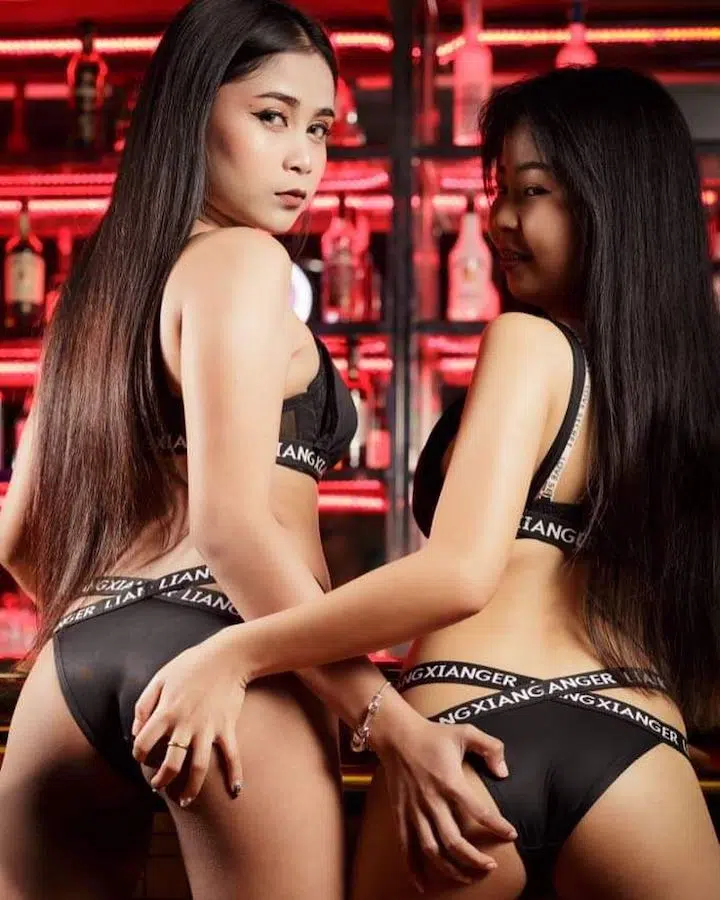 Probably THE most famous gogo bar in Soi Cowboy!
It has a lot of beautiful young Thai girls, great shows, nice service and it is a reputable bar that has been around for decades.
No scams or dirty shows. This place is a great bar to drink with sexy birds.
Baccara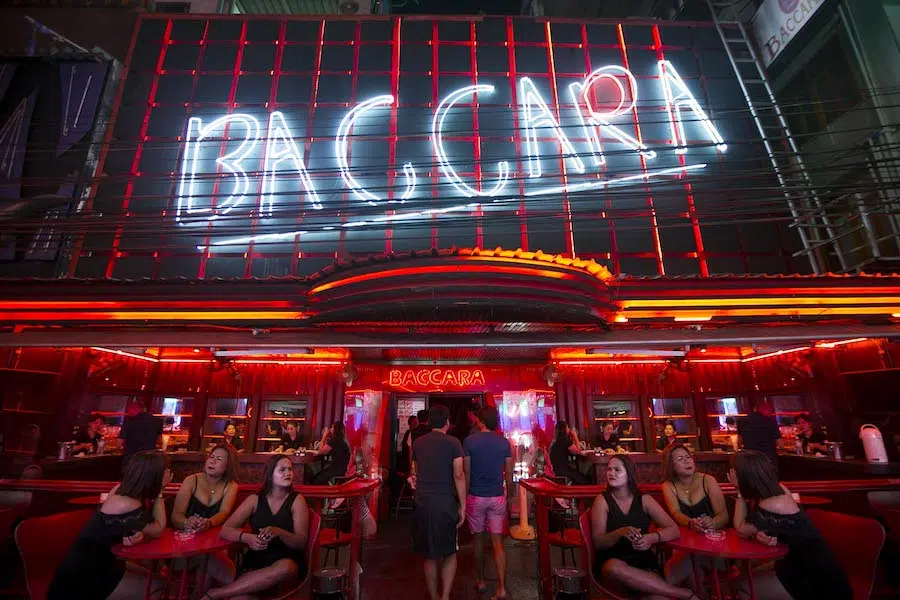 Baccara is another top gogo bar in the street.
It's a 3 story house full of sexy Thai girls, and it's packed every night. So get there early if you want a seat.
It's also one of the few bars of Soi Cowboy where you have to buy a drink at the entrance.
There's nothing unusual about this. It's just to stop too many curious people from snooping around all the time. But don't worry, once you are in, it's all worth it.
You'll find that the selection of girls in this gogo bar is one of the best in town, and the higher you go, the less clothes they have.
The girls on the ground floor are wearing bikinis. On the first floor they are topless. And on the top floor, we let you guess.
Suzie Wong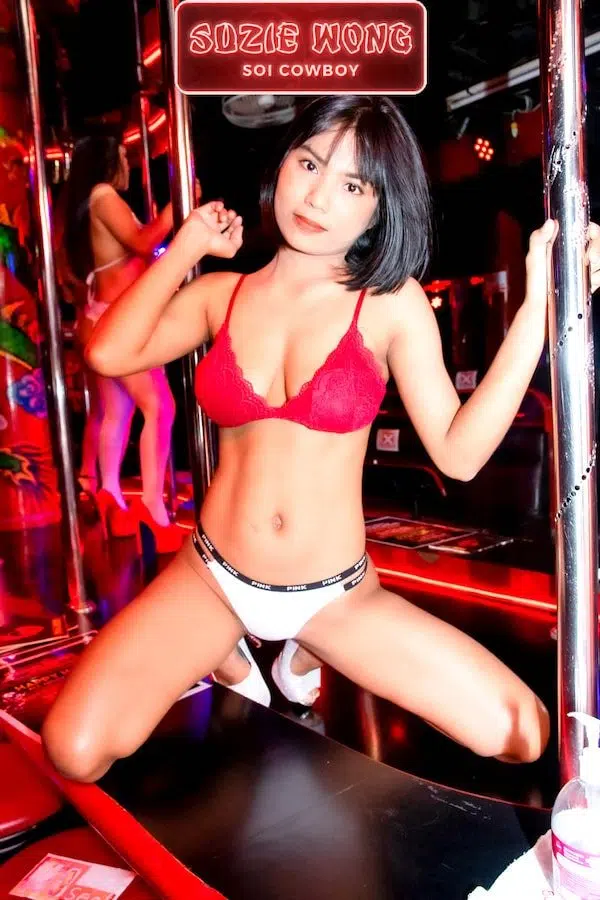 If you are looking for a "clean" gogo bar to hang out with your friends or your wife/husband and where there is nothing questionable, then Suzie Wong is for you.
Suzie Wong has beautiful and friendly girls, the staff is not pushy, and there are some sexy shows every now and then.
It's also the only bar in Soi Cowboy with a legit ping pong show.
Tilac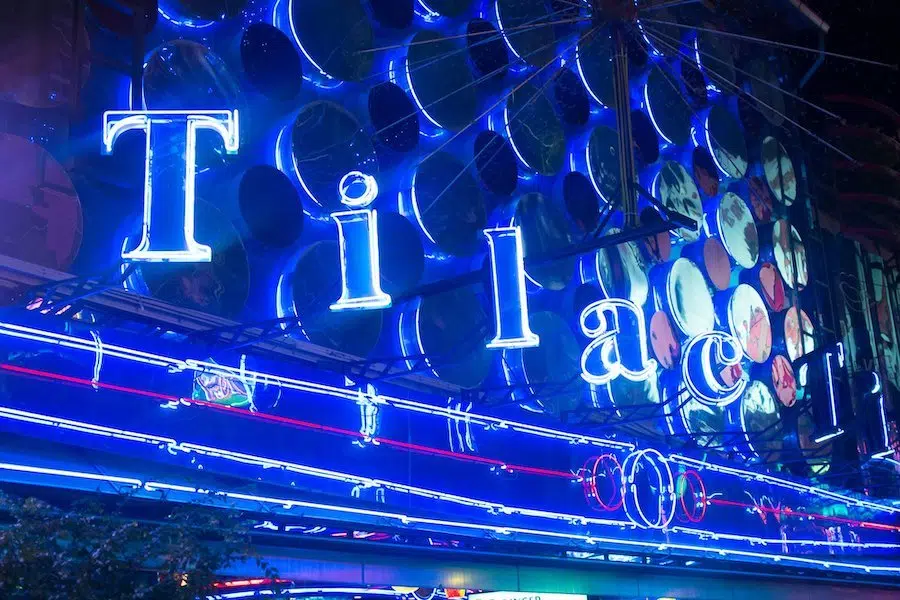 Tilac is one of the oldest gogo bars in Bangkok and also famous for the movie Hangover 2 (remember that scene in the gogo bar? It was filmed there).
Like Suzie Wong, there are many hot girls, great service and it is 100% legit and safe.
Crazy House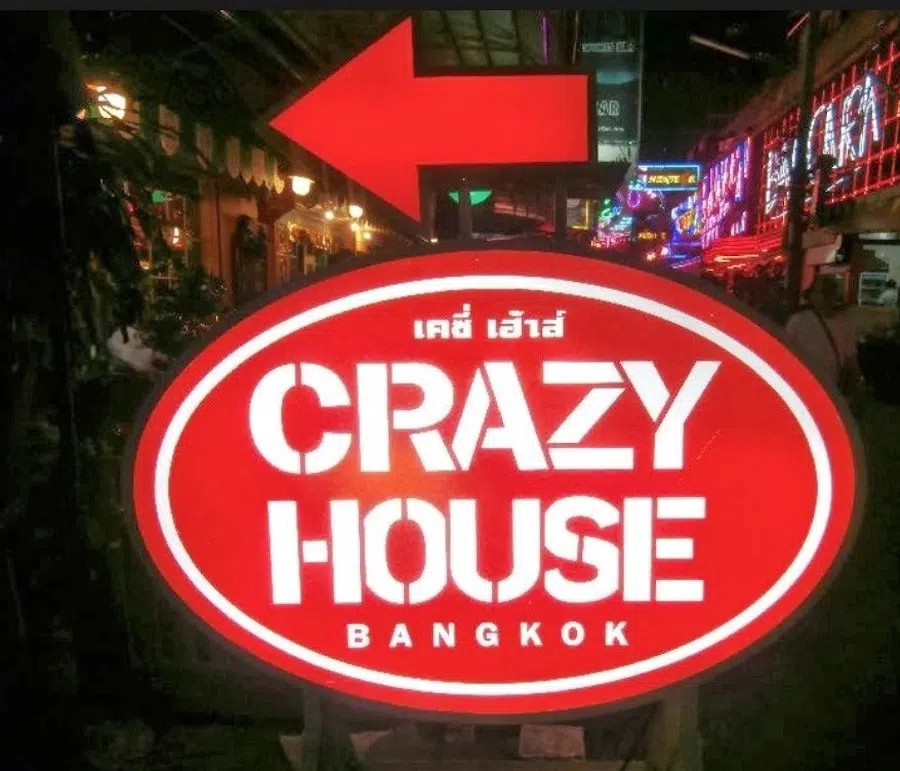 You'll find Crazy House just outside Soi Cowboy, on Sukhumvit Soi 23.
It does not look like much from the outside, but it's easily the wildest gogo bar in all of Soi Cowboy.
Inside, it's always full, and it's easy to see why.
Of the more than 100 dancers here, the vast majority are completely naked.
The girls may not be the most attractive, but their attitude and playfulness make up for it.
A must-see for single guys looking for a unique experience.
---
What Are The Best Hotels Near Soi Cowboy?
There are dozens, if not hundreds, of hotels around Soi Cowboy, so let us help you find the right one.
Here is our selection of the 3 best girl-friendly hotels near Soi Cowboy.
Radisson Blu Plaza (5-star hotel)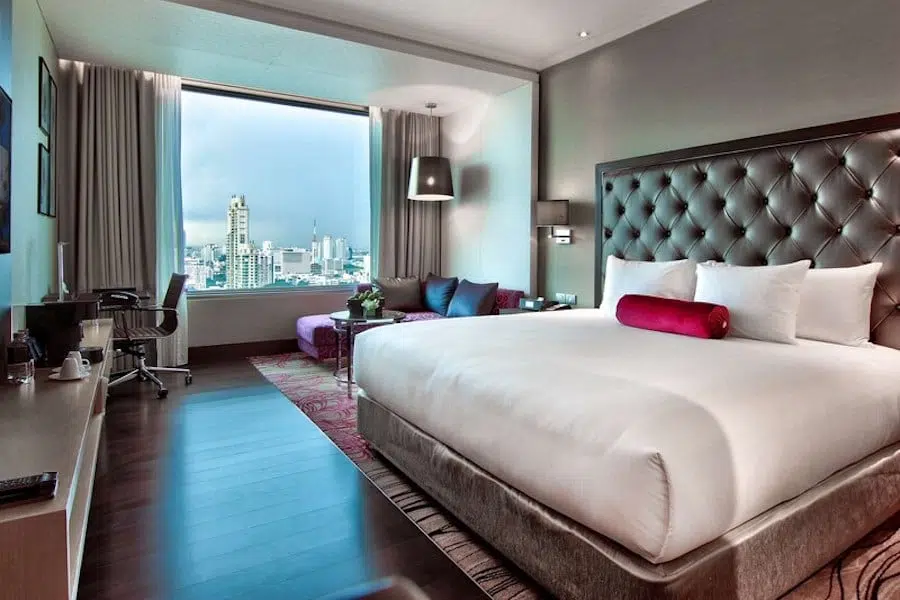 The Radisson Blu Plaza is a great 5-star hotel with spacious rooms, modern design, a great choice of restaurants, great facilities (pool, gym, meeting rooms…), and one of the best rooftop bars in the area (Brewski).
The best choice if you are looking for a luxury hotel just minutes from Soi Cowboy that has party-friendly suites (let us organize a private hotel suite party for you there).
---
Jasmine City Hotel (best value for money)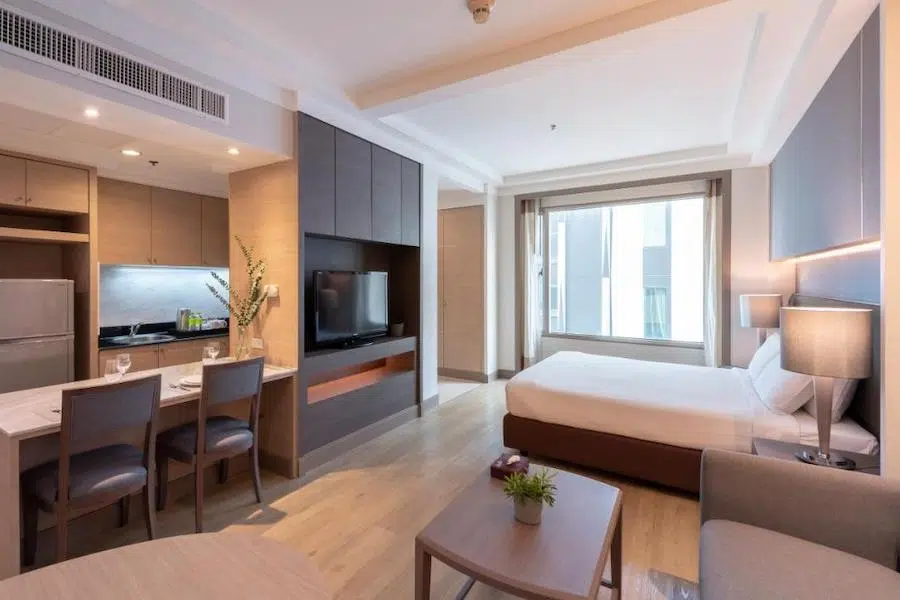 Jasmine City Hotel is located right in front of Soi Cowboy, at the entrance of Sukhumvit soi 23.
It is the best option to be right in the action while having a quiet place to stay and relax. And all this without breaking the bank.
---
Taipan Hotel (budget-friendly)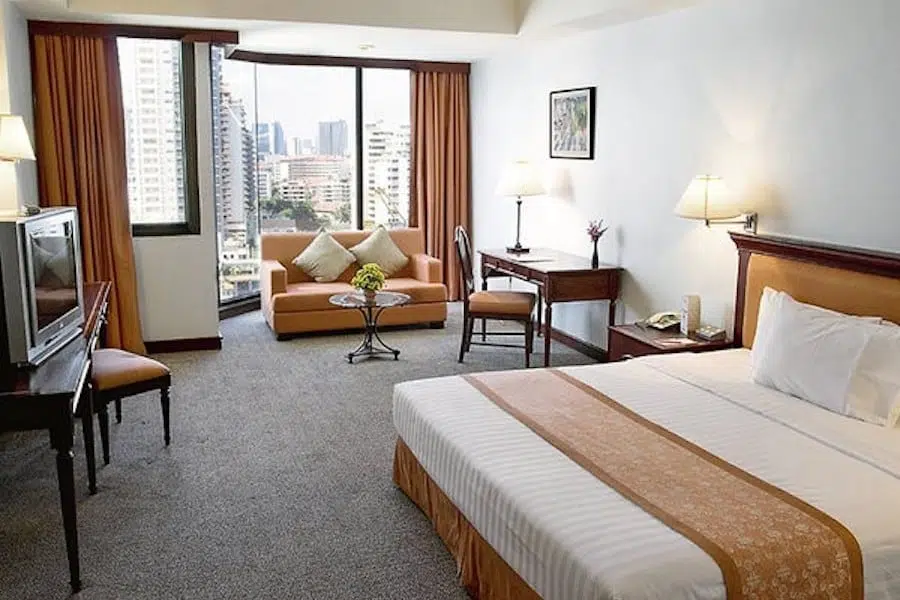 There are many cheap hotels around Soi Cowboy, from the best to the worst.
With rooms starting as low as 700 THB, Taipan is the best choice for a cheap and comfortable place to stay while being right in the center of Bangkok and just minutes from Soi Cowboy.
---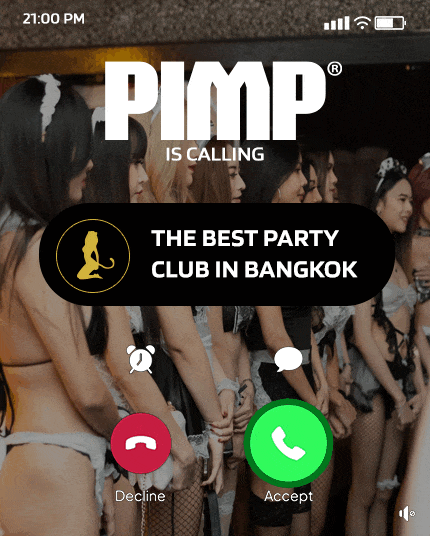 FAQ
There are a lot of questions around Soi Cowboy, so we answered as many as we could.
Where is Soi Cowboy?
Soi Cowboy is located between Sukhumvit soi 23 and Asoke Montri Road, about 30 meters from the famous Asoke intersection and the BTS (Bangkok Skytrain System) station of the same name.
How far is Soi Cowboy from Nana Plaza?
Soi Cowboy is about 1 kilometer away from Nana Plaza. It takes about 5 minutes by taxi (depending on traffic) or 20 minutes by foot to get from one place to the other.
Where to stay near Soi Cowboy?
Is Soi Cowboy safe?
Soi Cowboy is really safe. Police are present on both sides of the street to help tourists. Most bars have security, and people are generally friendly.

Always keep an eye on your bill, stay calm no matter what and you'll have nothing but a good time.
Is Soi Cowboy worth a visit?
If you like gogo bars or have never seen anything like it, Soi Cowboy is 100% worth a visit.

It's fun, wild, and a great place to get a few drinks, even if you don't want to invite girls to your table. But it's clearly not for everyone.

We do not recommend it for families, young adults, or anyone who's not comfortable with the sex industry.
---
Now, if gogo bars are not your thing and you are looking for a better way to party with hot Thai girls, read our review of The PIMP Bangkok.
Gentlemen clubs are the local alternative to high-end strip clubs and have better girls, service, and shows than gogo bars.
And they are totally safe.
You can also hire a female tour guide with us to guide you through Soi Cowboy and the other hot spots of Bangkok nightlife.