Silom is a bustling and vibrant neighborhood that has had a historic place in Bangkok's nightlife.
Although it has changed significantly over the years, it continues to be a party hub with many new clubs and bars in the area.
No matter if you were once a die-hard Silom fan and haven't been back there for a while or never found a reason to visit at all, this guide is for you..
Here are the best nightlife spots and places to party in Silom.
Sky Bar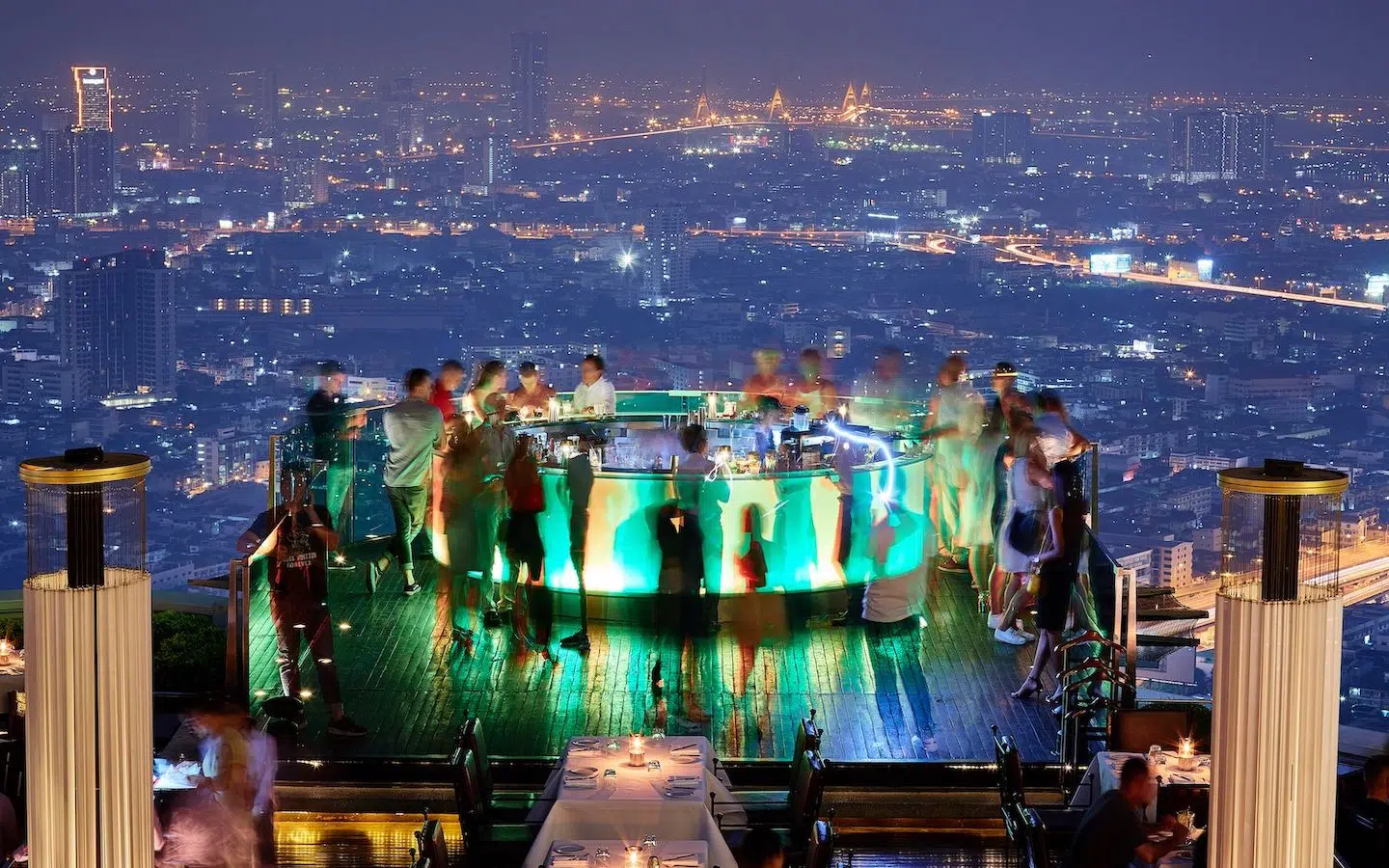 You surely have heard of Sky Bar at the Lebua State Tower.
This legendary bar is world famous for being featured in the Hangover 2 movie.
It has also been awarded several awards over the years, making it one of Asia's leading hotel rooftop bar and restaurant.
As much as you've heard about it, there is nothing like actually being there and experiencing the breathtaking river and city view, inspired cocktails and first-class hospitality service in person.
For many people, Sky Bar sets the standard for this type of venue and is even considered by many as the king of rooftop bars in Bangkok.
Situated 250 meters up in the air, the Sky Bar sits like an eagle's nest with a large open-air space and a cliff-like platform that gives a stunning 360 panoramic view of the city.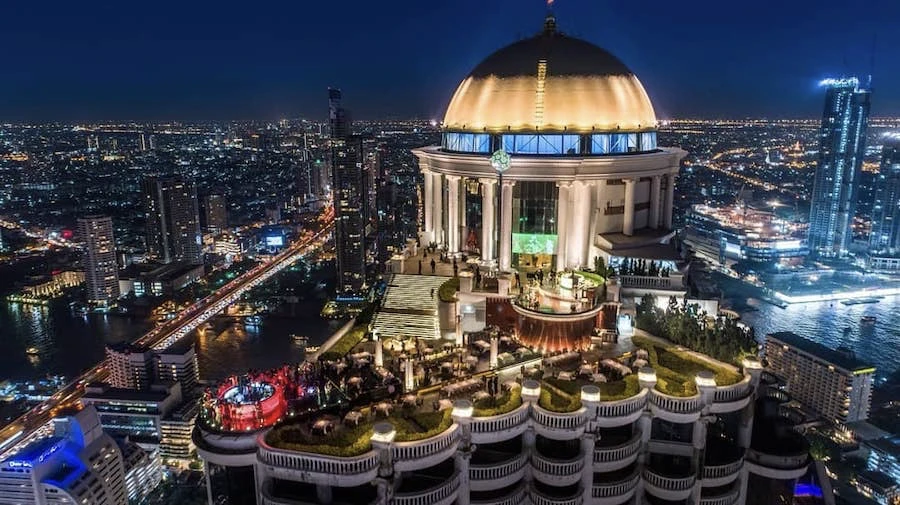 You also can't help notice the incredible circular bar and its bright lights that change colors through the night.
While enjoying the views and luxurious vibes of the bar, make sure you try their iconic signature Hangovertini cocktail, which is said to be a "must-try for travelers" by USA Today.
If you are going to party, you might as well party in style, just like the boys in Hangover 2 did.
Also make sure you dress smart casual as they are quite strict with the dress code.
Opening Hours: Every day, 5 PM to 12 AM
Address: 63rd Floor, State Tower Bangkok 1055 Silom Road, Bangrak, Bangkok 10500
Revolucion Cocktail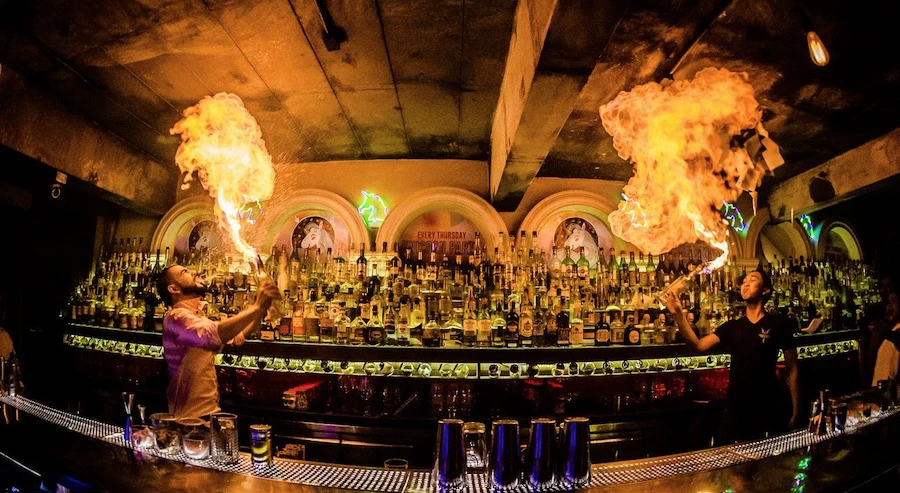 If there is a restaurant and bar that knows how to throw epic parties, it is Revolucion Cocktail.
Fire shows, bartenders juggling, flaming drinks and free shots at the bar table are just some of the things that make this place legendary.
A typical night here usually starts with a sit down dinner featuring unique and inventive cocktails paired with Mexican food.
As the night progresses, the entertainment and vibe gets wilder.
A young mix of Thais and foreigners start coming in, transforming the bar into a club with pumping music ranging from Latino and hip hop to house and techno.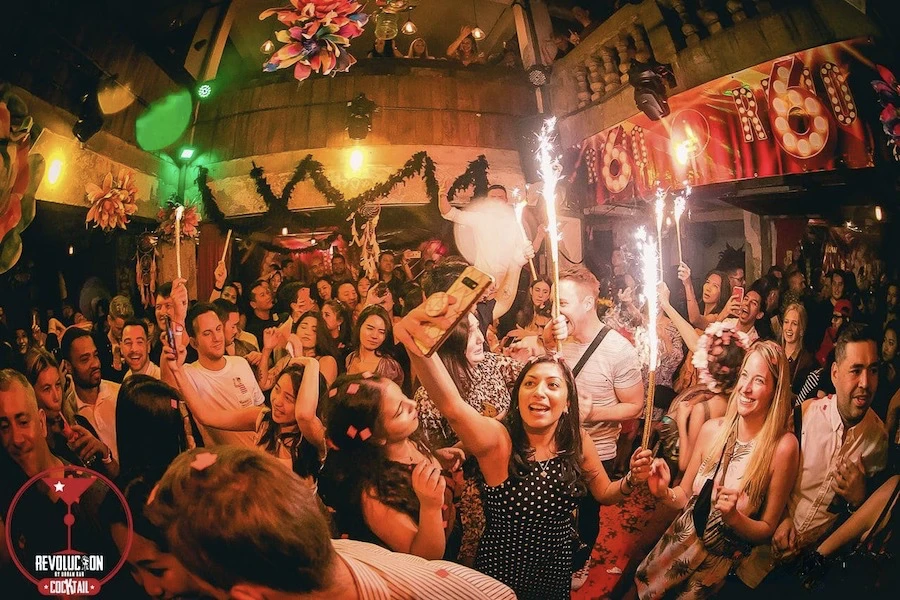 Every Wednesday, Revolucion Cocktail hosts Latin nights, bringing in some of the best Latino music all the way from Brazil to Mexico.
On Weekends, expect a packed crowd who is ready to rage as people pop bottles and dance till the bar closes.
Opening Hours: Monday to Saturday from 7 PM to late
Address: 981 Holiday Inn Silom Hotel, 11 Silom Rd, Bang Rak, Bangkok 10500
Maggie Choo's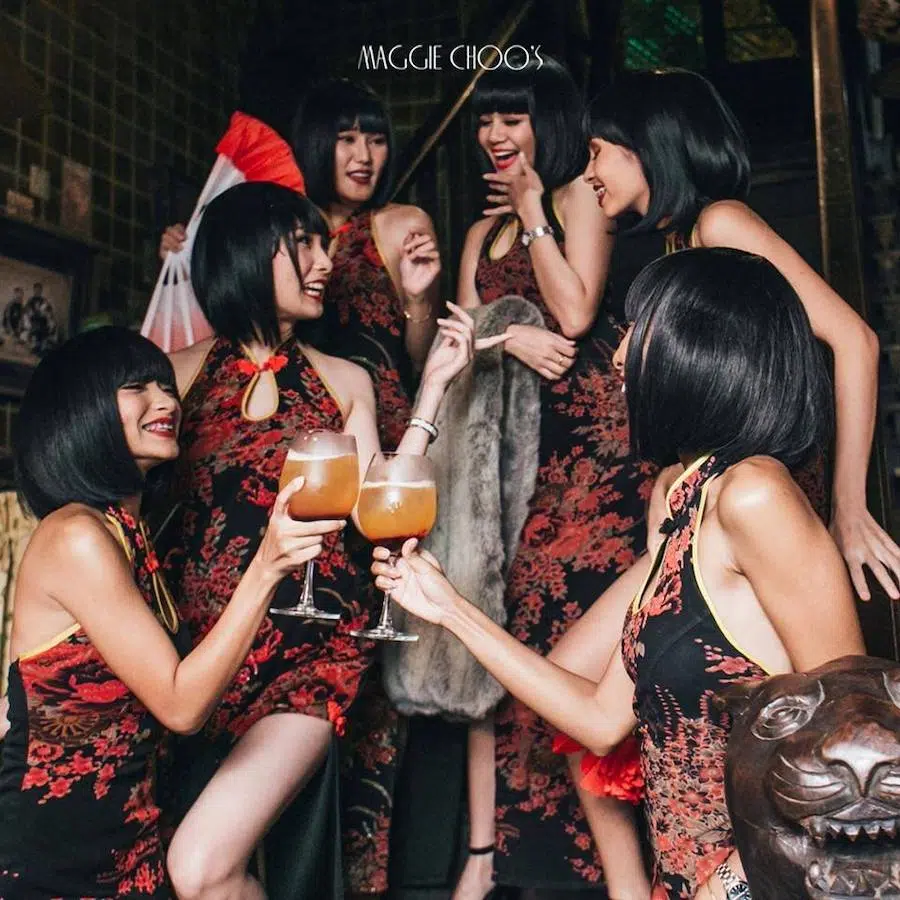 Designed by Ashlee Sutton, the same man who is the mastermind behind Sing Sing Theater, J. Boroski and many other award-winning bars in Asia, Maggie Choo's is yet another speakeasy bar with a sophisticated atmosphere.
Elegant, classy, and crazy.
These are just some of the words people use to describe it.
You can feel a sense of mystery and history as you come down the stairs and through the secret door.
It's as if you were right back into the prohibition era.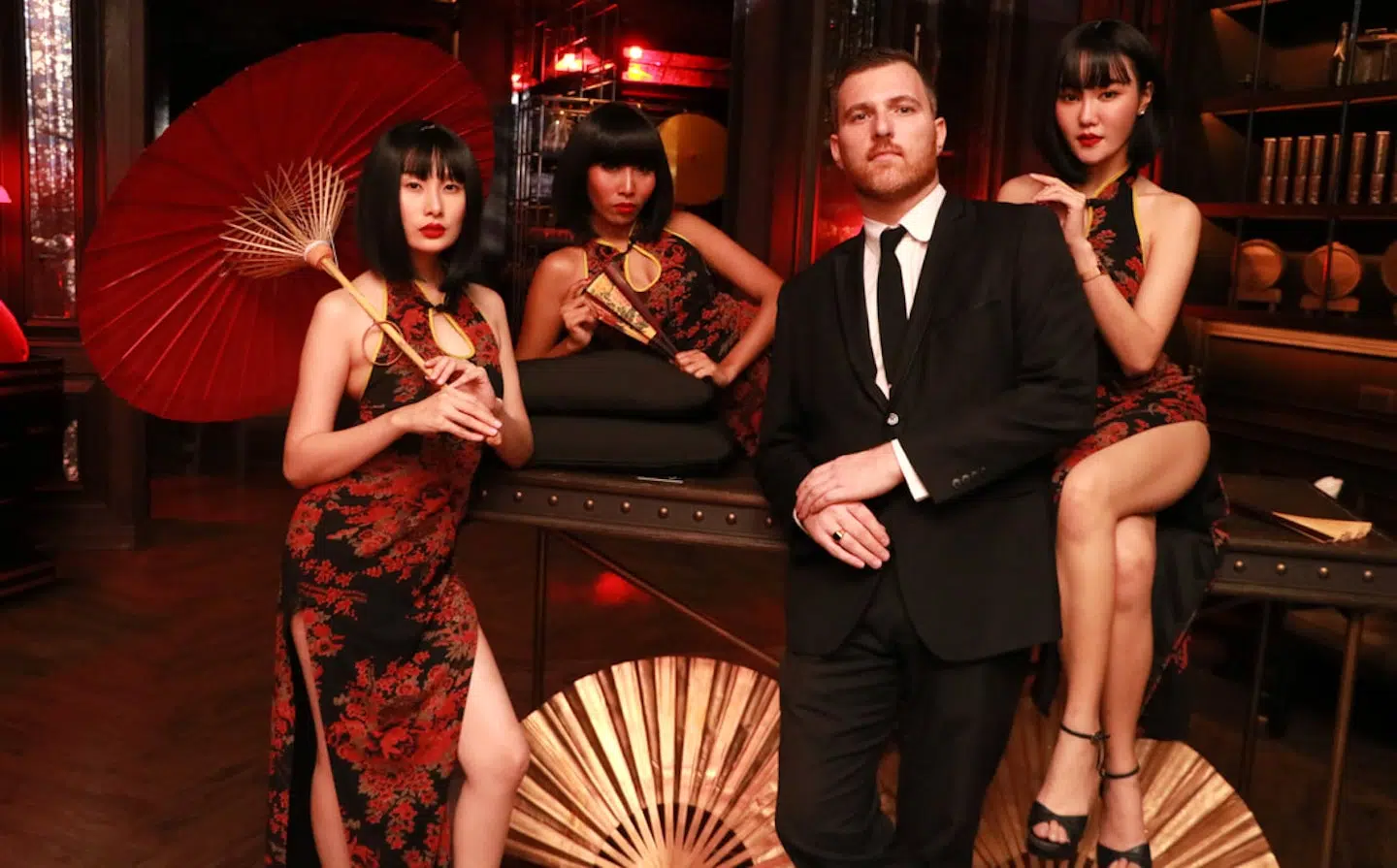 Maggie Choo isn't all style though.
The bar has a unique touch that makes it special.
You can see it in their food and their impressive list of creative drinks that are both delicious and strong.
They also have a great selection of premium spirits that you can enjoy by glass or the entire bottle.
Whether you are in the mood for a chilled evening or a crazy night, Maggie Choo's is a great place to party.
They have cabaret and drag show performances as well as special themed nights featuring DJs that play everything between hip hop, R&B, house, soul, and jazz.
Opening Hours: Tuesday to Sunday from 7.30 PM to 2 AM
Address: Fenix Novotel 320, Silom Road, Maha Nakhon 10500 Silom, Bang Rak, Bangkok 10500
Bada Bing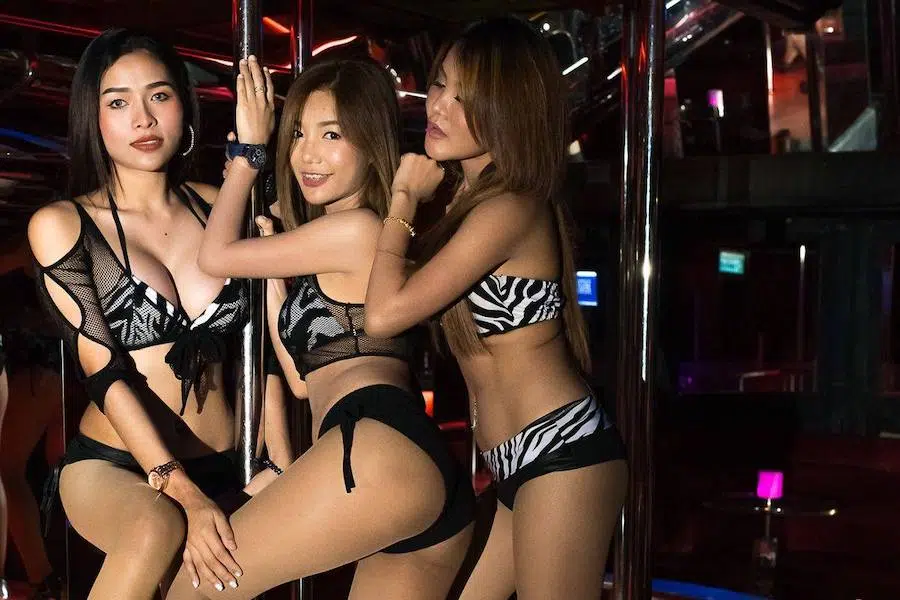 You can't spell partying in Silom without even considering its infamous Patpong road.
Even though it's not as it used to be with many establishments closing down in the last years, Bada Bing stands tall and strong among the few.
It is considered the best gogo bar in Patpong after having recently been renovated.
It is now better and bigger than ever, with some of the best looking girls in town who really know how to party with the customers.
But the hot gogo girls are not the only great thing about Bada Bing.
The rest of the staff is also quite friendly and the service is excellent.
If you are in the mood for some privacy, whether for yourself or for a private party, there also is a VIP room on the second floor.
Opening Hours: Every day from 8 PM to 2 AM
Address: Patpong 2 Alley, Surawong Rd, Suriya Wong, Bang Rak, Bangkok 10500
Aesop's Greek Restaurant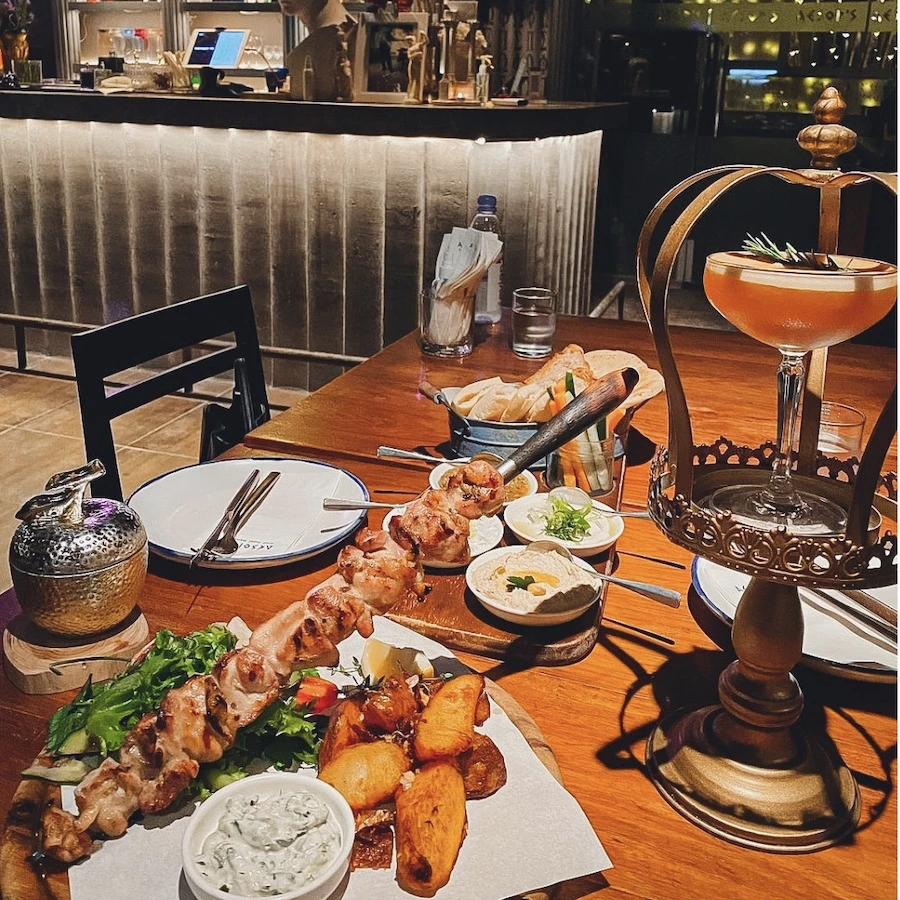 Nightlife and partying is a big part of Greek culture, one that you can experience at Aesop's, Bangkok's top Greek restaurant and bar.
Located between Silom and Sathorn, Aesop's brings Greece to Bangkok with their high energy and fun-filled partying style.
The restaurant is known for its Modern Greek food that won a Michelin Plate award.
It also has tasty cocktails.
But Aesop's tradition of plate-smashing and dancing are the main reasons to visit this place.
OPA!
It's not only part of Greek heritage for special occasions but also really fun to do with a bunch of friends.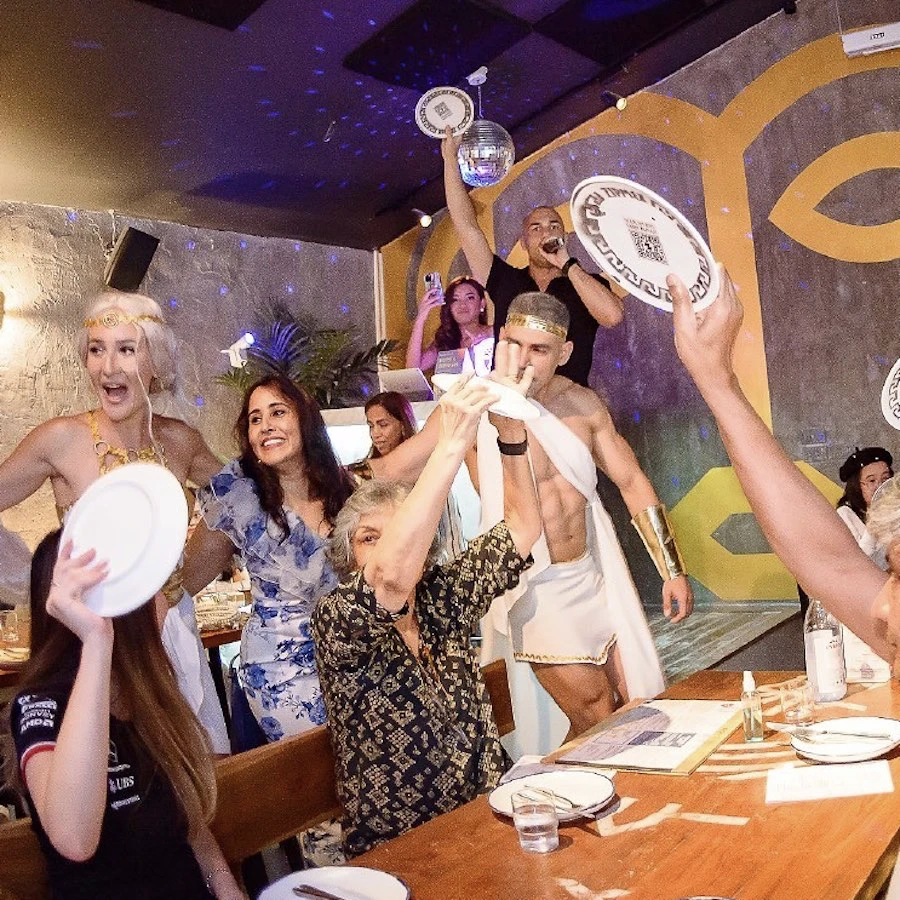 We guarantee that this is quite a unique place to party, one that is difficult to find anywhere else.
They also have a lot of themed events such as Trivia nights, comedy shows, and sometimes do takeover events with other bars or restaurants.
Opening Hours: Sunday to Thursdays from 5 PM to 11 PM | Friday & Saturday, 5 PM to 12 AM
Address: 120 Sala Daeng 1, Silom, Bang Rak, Bangkok 10500
Nineteens Up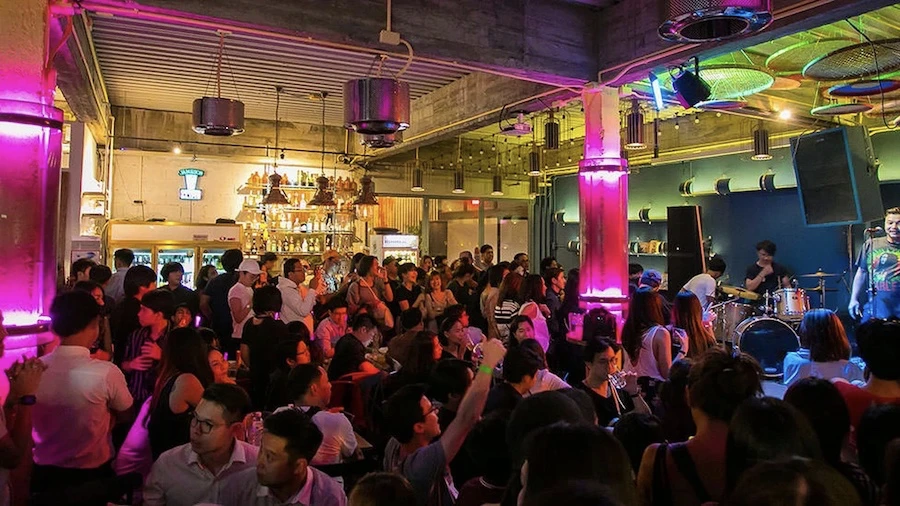 Nineteens up is a place you go to feel young again.
This live music bar is a favorite amongst the locals but is also becoming popular for foreigners.
It is one of Silom's best bars that serves a large variety of Western and Thai food that pair extremely well with their craft beers on tap, cocktails, and other drinks.
The special promotions like their amazing beer buffets usually attract a huge crowd of office workers in the area who want to let off some steam after a stressful day.
During the weekend the bar get packed with people who bring incredible energy to the place.
Nineteens Up is all about fun and not just about the music, food and drinks.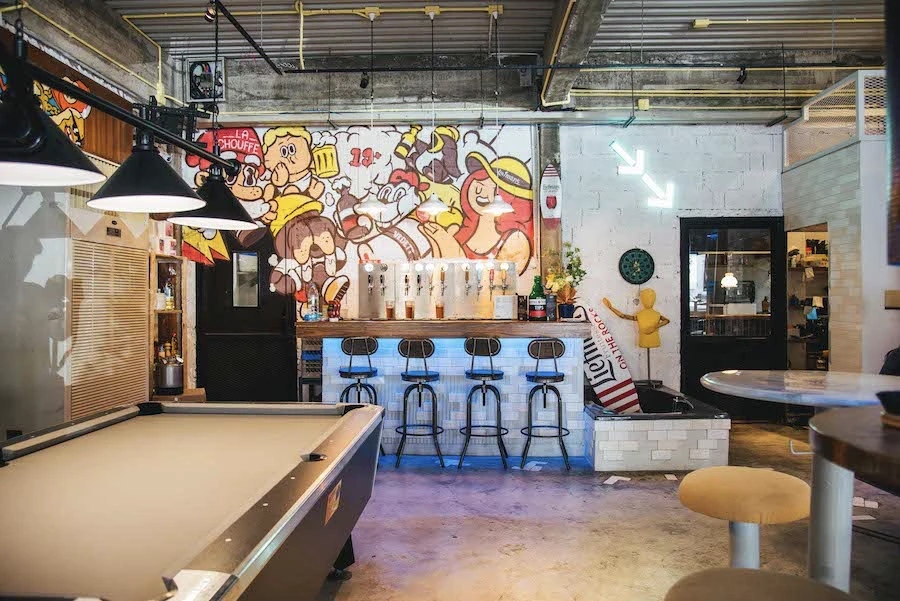 The bar also features pool tables, sports on TV and board games, making it a great place for bonding with old friends or meeting new people.
Opening Hours: Every day, from 11 AM to 1 AM
Address: 905 Silom 19 Alley, Silom, Bang Rak, Bangkok 10500
The Stranger Bar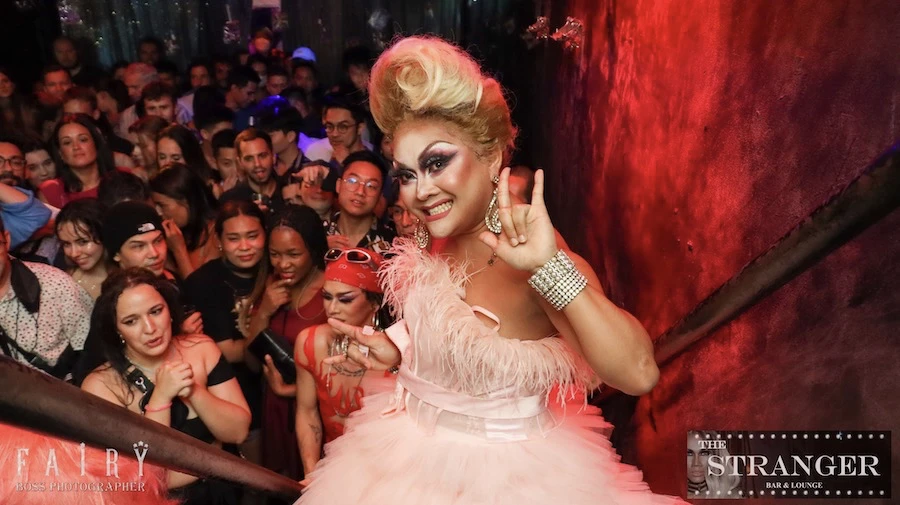 The Stranger Bar is one of the most unique bars in Bangkok, also known as the House of Drag Queens.
Designed with a classy and stylish look that resembles a theater, this bar creates some of the best parties and drag shows in town.
The LGBQT community is known for throwing some epic ragers, and they surely do at The Stranger Bar.
You won't be disappointed.
If you think that Drag bars aren't your thing, don't worry.
They promote a straight-friendly atmosphere and welcome everyone with wide open arms.
In fact, it has become quite a hit among young expats and curious tourists.
Don't let the name fool you either.
It might be called the Stranger Bar but it is actually where Strangers come to make new friends.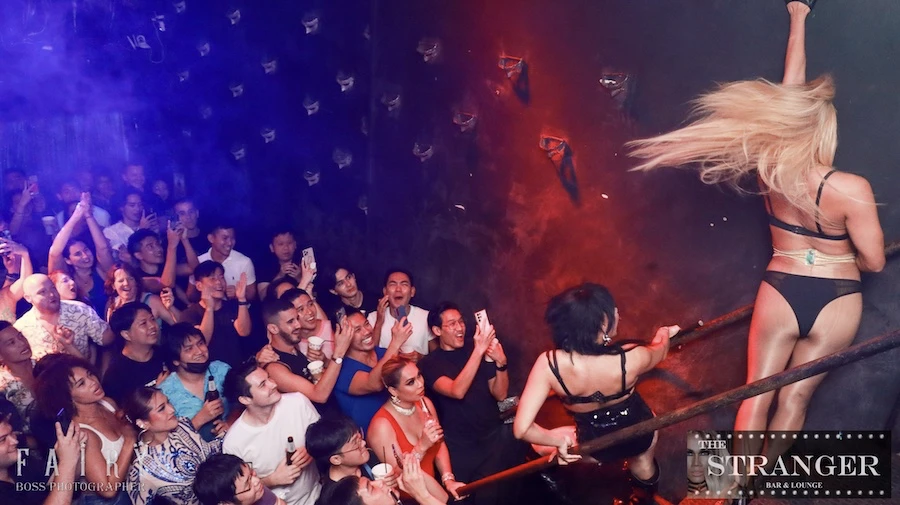 The bar has daily events featuring DJs and entertaining performers as well as incredible happy hour specials to keep you going.
Each event has free entry but there is a minimum order of two drinks from their extensive list of cocktails, beer, wine, and spirits.
Don't forget to try their naughty but yummy signature shots such as "Sperm shot", "Golden Shower", and the "Stranger Slut".
Opening Hours: Every day, from 5 PM to 1 AM
Address: 14 Silom 4 Alley, Suriya Wong, Bang Rak, Bangkok 10500
Contact us if you need to arrange private parties or to organize your trip to Bangkok.
Read our guide to Bangkok nightlife for more information on where to party in Bangkok.
---
What Are The Best Hotels In Silom?
To stay close to all the action but still be able to take some well-deserved rest, we've selected great hotels in Silom for you.
Lebua at State Tower (5-Star Hotel)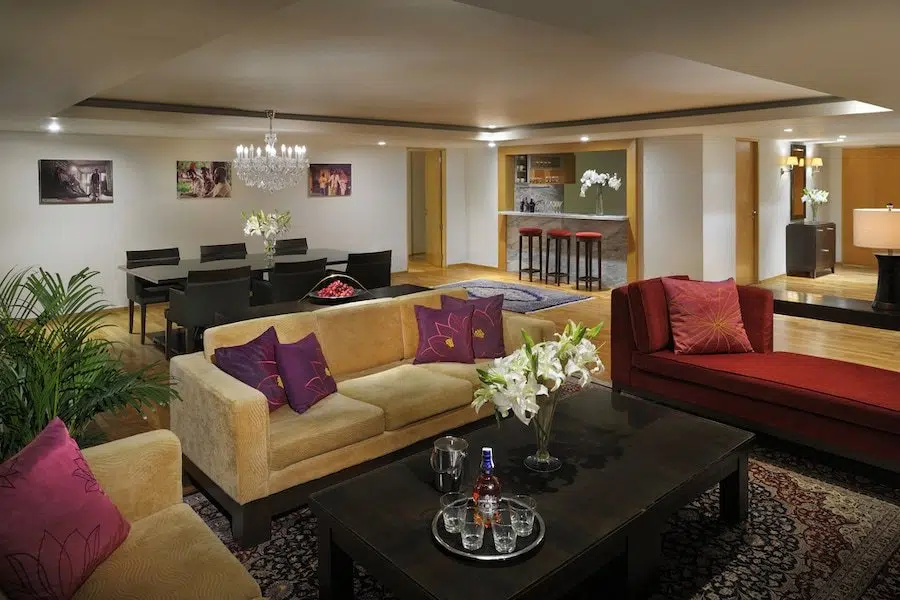 If you want to stay in a stylish and luxurious hotel in Silom, you have to choose the Lebua at State Tower.
Elegant design, excellent service, super spacious rooms and suites, very comfortable beds, stunning panoramic city views, and fantastic facilities;
Here are all the reasons why Lebua was voted as the #4 best hotels in Bangkok according to Condé Nast Traveler Readers' Choice Awards.
They were also voted the 2nd best hotel in Bangkok on Travel + Leisure in 2020.
It's also home of the Sirocco restaurant and Sky Bar.
Which gives you even more reasons to stay there.
---
Pullman Bangkok Hotel G (Best Value For Money)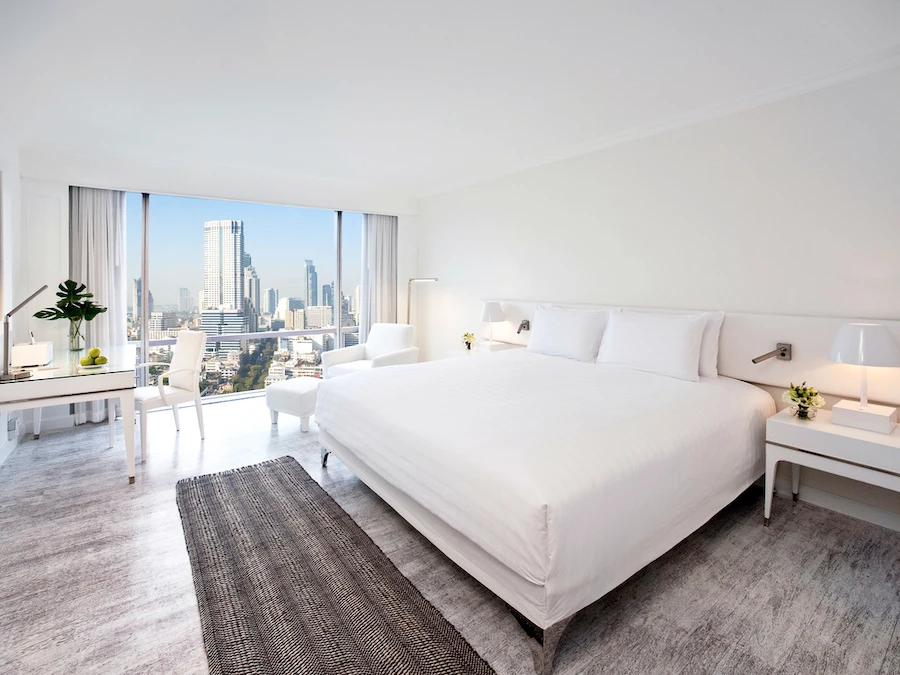 There are many things that make Pullman Hotel G an ideal place to stay in Silom.
First it is the location and convenience.
You will be close to all that Silom has to offer but also have easy access to the rest of Bangkok as it is just minutes away from the BTS sky train.
Then there are the hotels' spacious and comfortable rooms that will call your name after a crazy night out.
Their floor to ceiling windows are also truly amazing giving beautiful views of the city.
The hotel is also home to an incredible rooftop bar and a 24-hour burger joint, 25 Degrees Burger Bar.
When you feel like burning all those calories, hit their state-of-the-art gym or the outdoor pool.
---
Novotel Bangkok Silom (Budget-Friendly)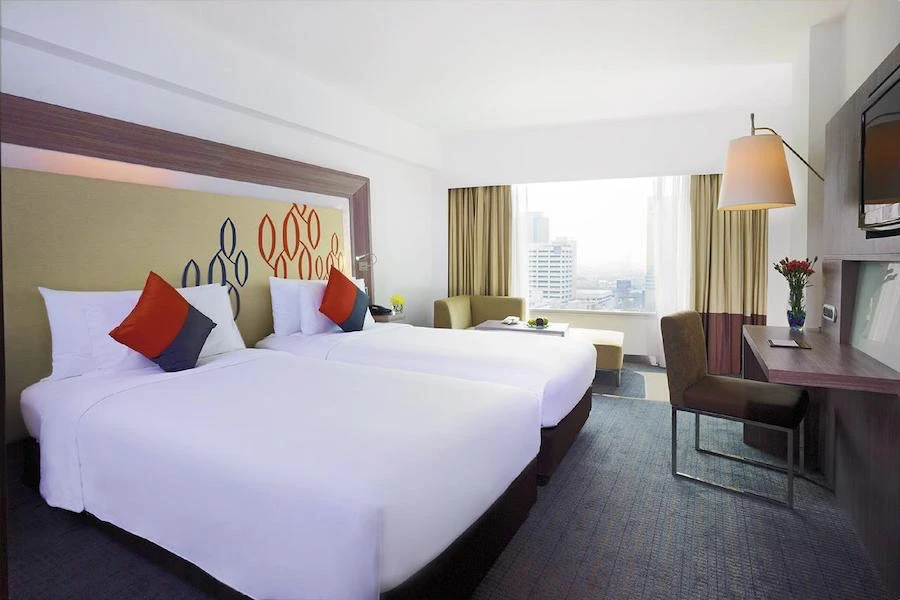 The Novotel Bangkok Silom is going to seduce you with comfortable rooms, awesome hospitality, friendly staff, and amazing facilities.
The hotel has all the amenities and facilities you need such as in-house restaurants, room service, meeting rooms, well-equipped 24-hour fitness center, and an outdoor swimming pool.
The hotel is conveniently located to Silom's nightlife as well.
In fact, just walk out of the hotel and you have reached Maggie Choo's.
Just a few minutes' walk across the street, there is Revolucion Cocktail.
And like that, you have hit 2 of the best places to party in Silom.
---
FAQ
How To Get To Silom?
To get to Silom, you can take the BTS, MRT, or to book a taxi on the Grab app. The other option is to book a luxury car or minivan with us.

What Are The Best Clubs And Bars In Silom?
The best clubs and bars in Silom are Revolucion Cocktail (restaurant & club), Bada Bing (gogo bar), and Sky Bar (rooftop bar).

What Are The Best Places For Live Music In Silom?
The best places for live music in Silom are Nineteens Up and Stranger Bar.

What Is The Best Place to Party With Thai Girls In Silom?
The best places to party with Thai girls in Silom are Revolucion cocktail bar and Maggie Choo's
If you're by yourself, contact us to hire party models to go out with you.