Sukhumvit Soi 11 is one of the most well-known and top party streets in Bangkok.
It has all kinds of bars, pubs, and clubs, so no matter what kind of party you like, you'll find it there.
Whether you are looking for cocktail bars, live music bars, rooftop bars, or crazy nightclubs with hot girls, this incredible street will have you covered.
As you walk the road you will come across dozens of incredible places to party.
So to make it easier to pick where to have a drink, we've made a selection for you.
After years of partying there, we know exactly where you should go.
That's why we have rounded up 7 of the best bars and clubs to party in Sukhumvit soi 11.
Pastel Bangkok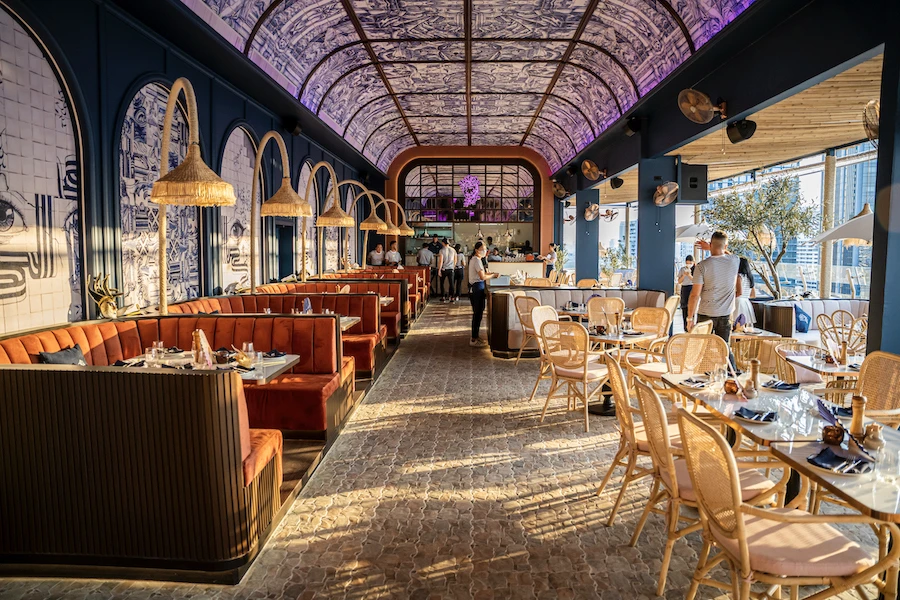 Noted as one of the best rooftop bars in Bangkok, Pastel Bangkok has quickly become an iconic and famous party spot on Sukhumvit 11.
People from all over the city and around the world come here to experience its amazing views, great service, delicious Mediterranean food, and world-class cocktails.
Pastel also has special events every week featuring musicians, performers, and dancers.
The vibe here is always fun and exciting with a great mix of a crowd who love to wine, dine, and dance to the music.
That includes a lot of famous Thai and European models.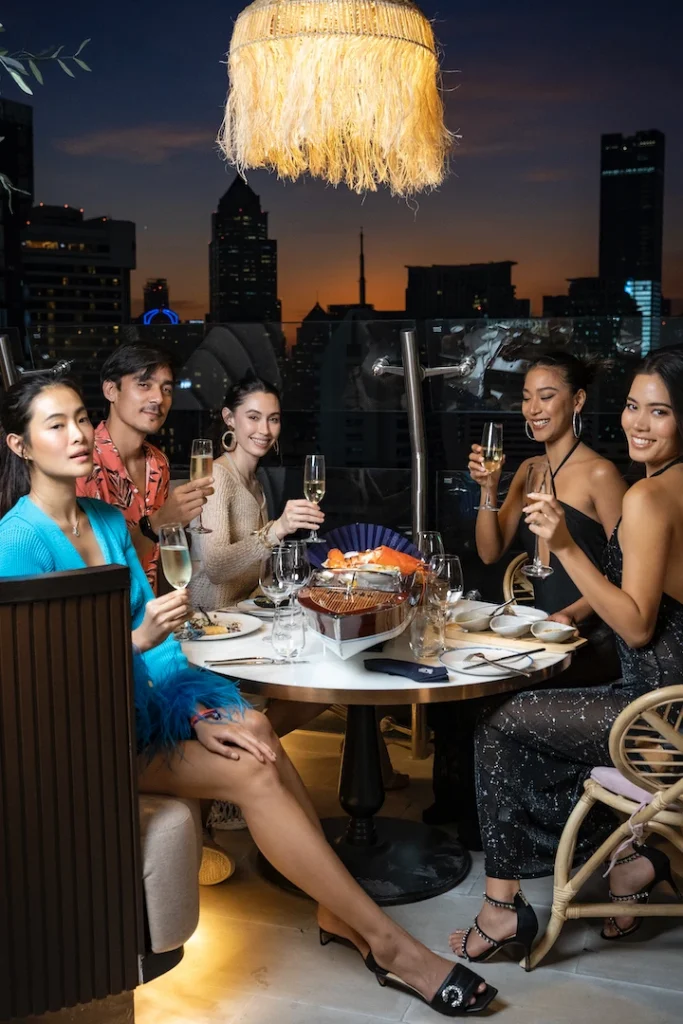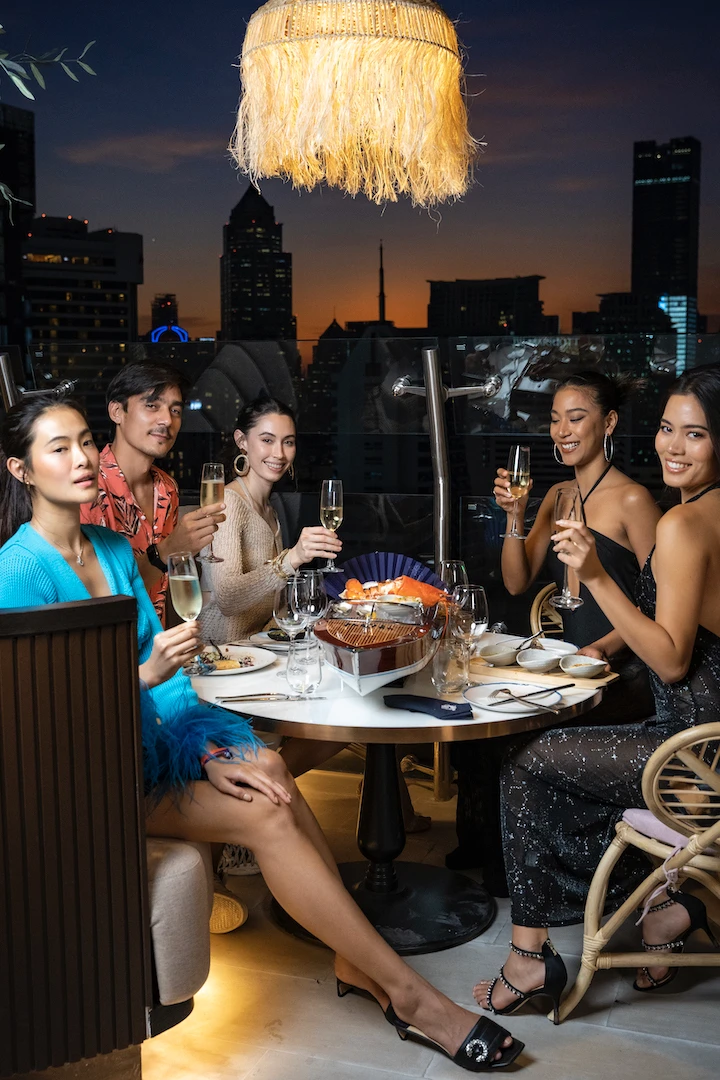 You can also book the whole space and host a private event that can hold up to 150 people.
That's a great venue that will impress your guests.
Opening Hours: Every day, from 5 PM to 2 AM
Oskar Bistro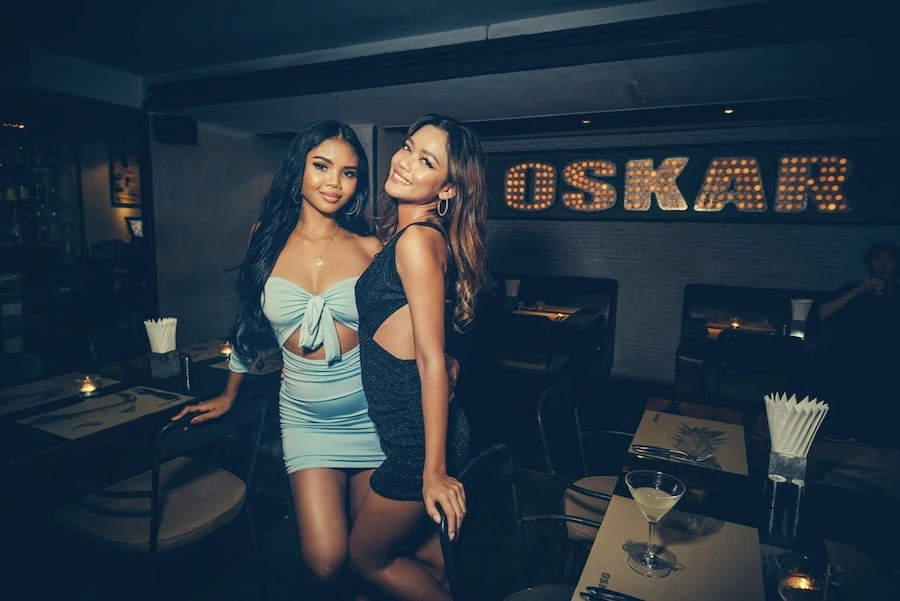 Oskar is a chic and cozy bistro-style bar that has been a pillar of the Sukhumvit soi 11 nightlife scene for quite some time.
It is super popular among expats and always full of beautiful Thai women and charming foreigners.
What makes Oskar so great is that you can go there to eat, drink, party, or the three at the same time.
Whether you're with friends or on a date, it is great there.
Start the night with crafty cocktails made by their super-skilled bartenders.
Then go on and try the food.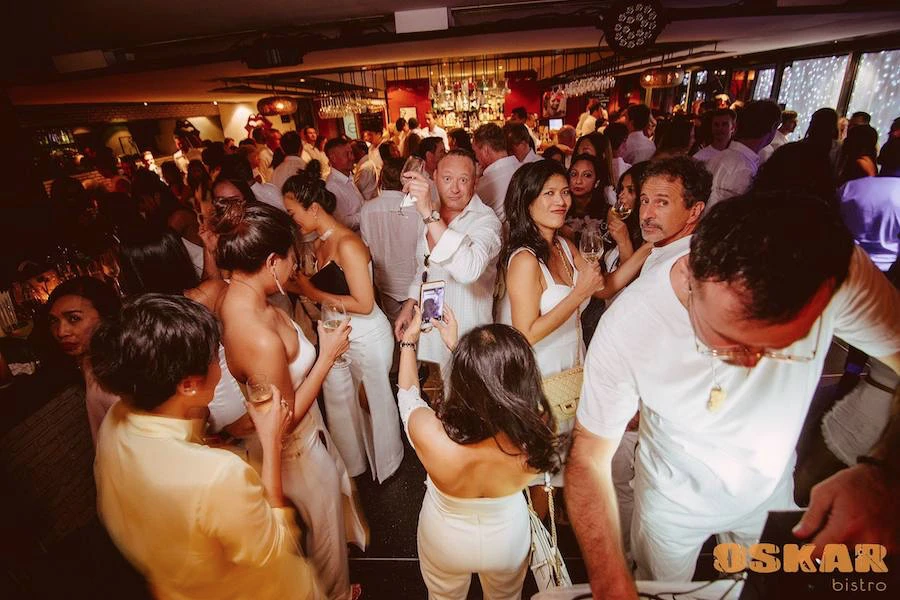 Oskar has a full menu featuring French and Italian cuisine.
They also have a superb wine list to go with it.
But it's not all dining and drinking.
As people finish their dinner, the lights are dimmed and the music turns up.
They have a rotating lineup of Bangkok's top DJs playing mostly house and techno there.
And they also often organize exclusive themed events.
Even though Oskar has 2 floors, and space indoor and outdoor, believe it or not, it gets pretty crowded almost every night.
It's always a good idea to come early or to book in advance if you want a good table.
Or you might be left standing by the bar or even outside on the terrace.
Opening Hours: Every day, from 5 PM to 11 PM
Havana Social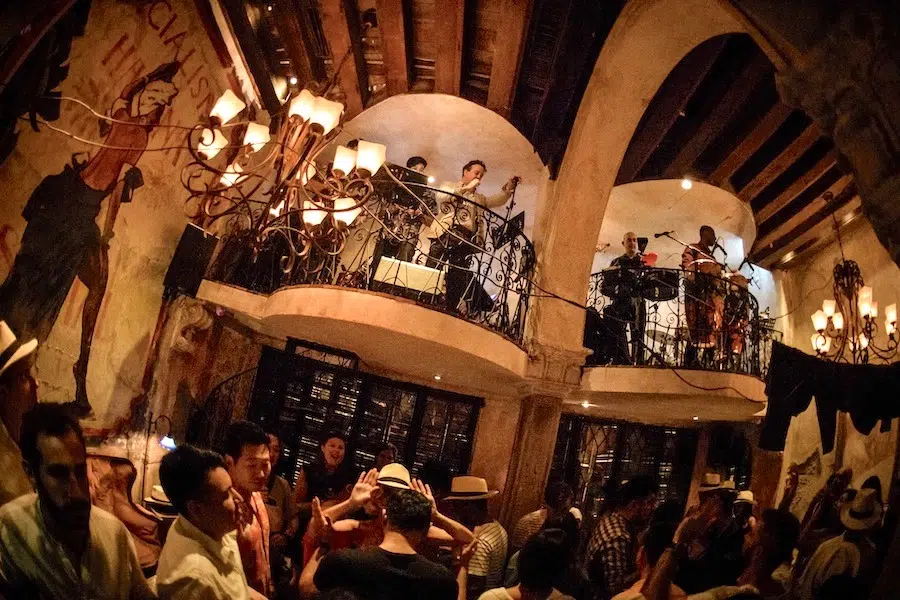 When you think of cocktail bars, you probably think of a quiet speakeasy with jazz playing in the background.
But Havana is not one of those as it is one of few cocktail bars in Bangkok that throw exciting parties.
It is quite possibly the best bar in Sukhumvit soi 11 that has made a name for itself for Latin vibes, great cocktails, Cuban cigars, and retro interior design that reminds you of the prohibition era.
Havana has two floors, each with their own ambiance.
The first floor is where the main bar is and all the dancing happens.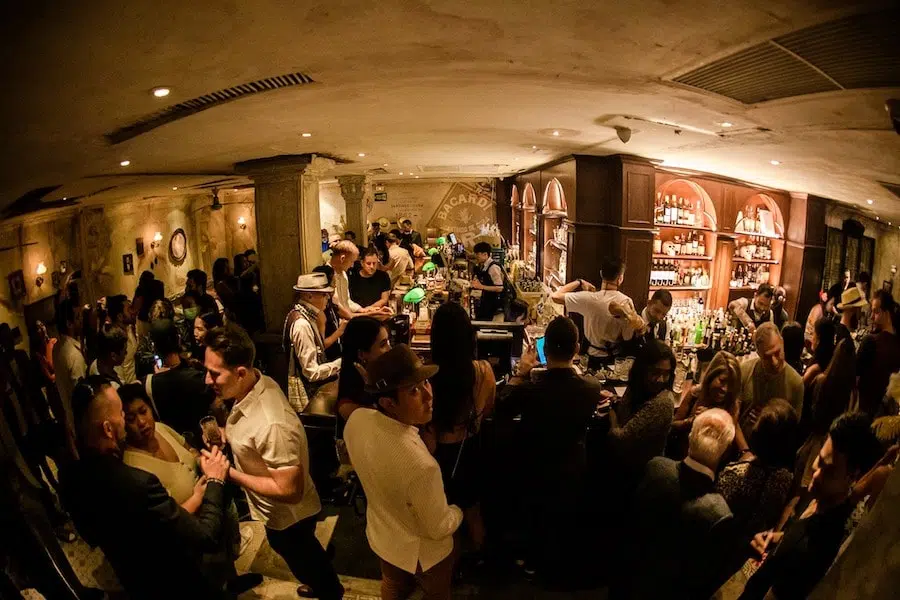 Upstairs is more chilled out and intimate, great for getting to know the people there, and smoking premium cigars sold at the bar.
Havana Social hosts weekly themed parties as well as on special occasion events while bringing in talented resident DJs such as DJ Ploy, DJ Alex, and DJ Camilo among many others.
Sometimes they also invite live performers and Latin bands.
While every night is a good time to go to Havana, Thursday ladies' night and weekends are the best to enjoy their crazy parties.
Opening Hours: Every day, from 5 PM to 2 AM
Levels Club & Terrace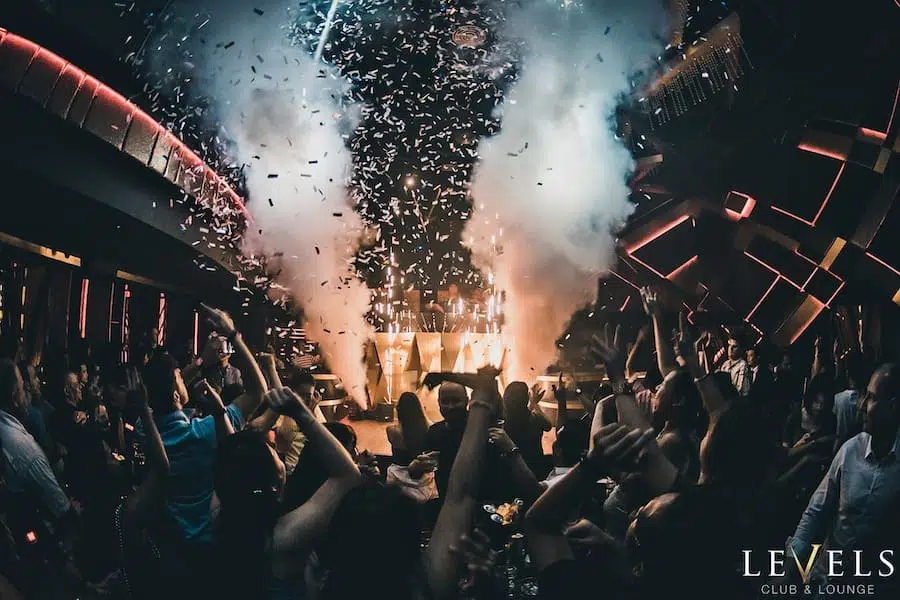 Levels is arguably the best club on Sukhumvit soi 11 with an established reputation over the years.
Located on the 7th floor of Aloft Hotel, Levels is a massive, high-ceiling club with lots going on.
It features 2 zones – the terrace, and the main hall, each with its very own DJ and unique vibes.
A few years ago the club received modern upgrades to its design as well as a new amazing set of audio and visual system that transports you with the music.
The music at Levels is mostly popular hits and EDM in the main room, and 100% house and techno on the terrace.
The club also has an incredible selection of DJS, MCs, and sexy performers who know how to keep the crowd excited.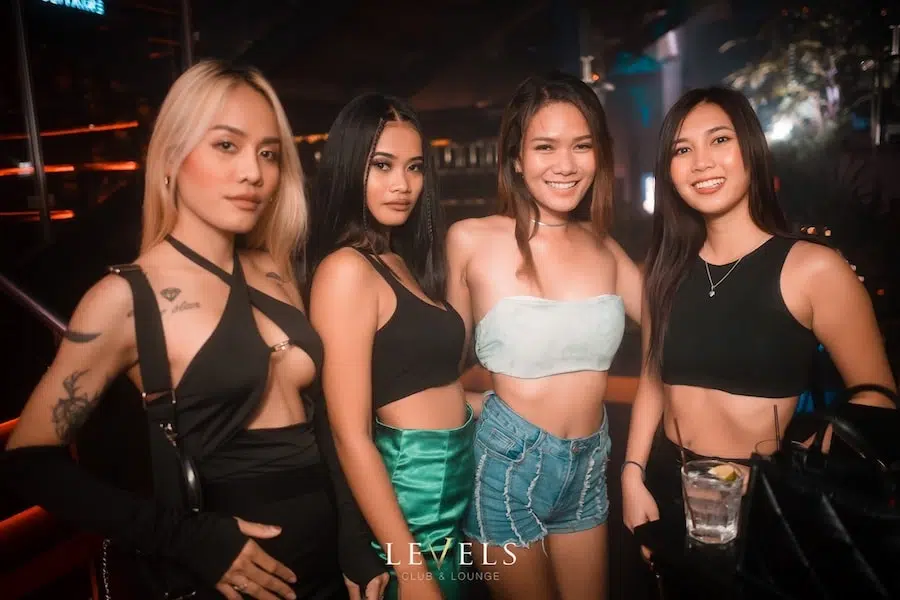 Levels is known to attract all kinds of people, packing in lots of incredibly hot Thai girls, expats and tourists.
If you're single and looking for young and sexy Thai girls, Levels is one of the best places in Bangkok to meet them.
You simply can't go wrong partying all night at Levels.
Opening Hours: Wednesday to Sunday, from 9 PM to 2 AM
Sugar Club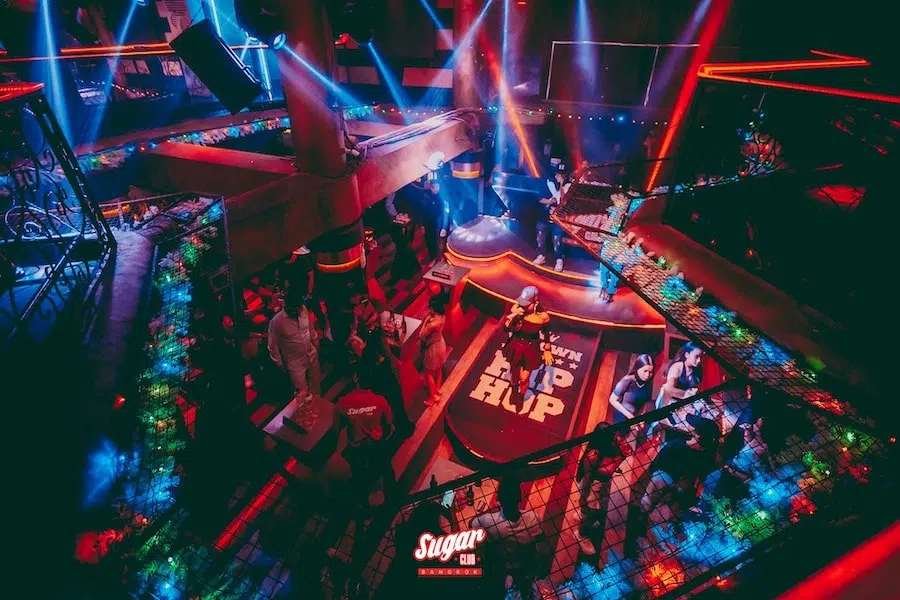 Ask anyone in Bangkok what the best hip-hop club in the city is and they will all tell you the same – it's Sugar Club.
For years, Sugar has built a reputation for hosting epic parties.
Located at the center of Sukhumvit 11, it is impossible to miss this incredible multi-story nightclub.
Lit by a bright neon sign and the long queue at the entrance, you immediately know that there is something about Sugar that attracts the best crowd from all over the city.
Once inside, get in the elevator and you are transported to a nightclub scene like no other with 2 floors consisting of 3 bars, several standing tables, large VIP areas, all of which surround the DJ booth and stage at the center.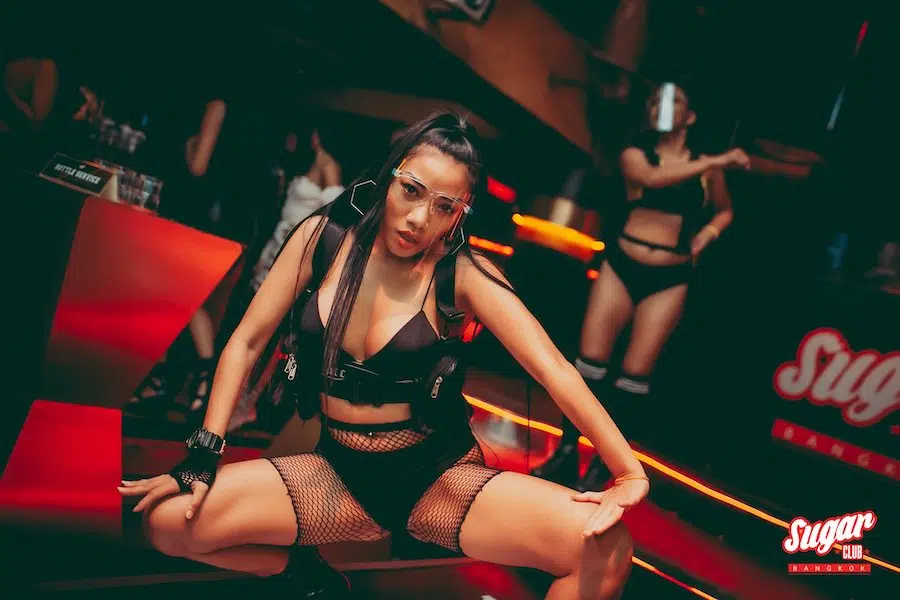 There is also a small dance floor right in front of the stage, giving you an up-close experience with the performers.
Every day is a different theme that brings in some of the most talented DJs, MCs and dance performers.
Sugar Club Bangkok has even hosted big international hip-hop artists such as Rae Sremmurd, Lil Yachty, Kid Ink, Ja Rule, Tyga, and many more.
On weekends it gets quite busy, so be sure to come early, so you can get a good table.
If you are willing to spend a little more, it's better to book VIP on either the first or second floor.
Opening Hours: Every day, from 9 PM to 2 AM
Candy Club x BOBO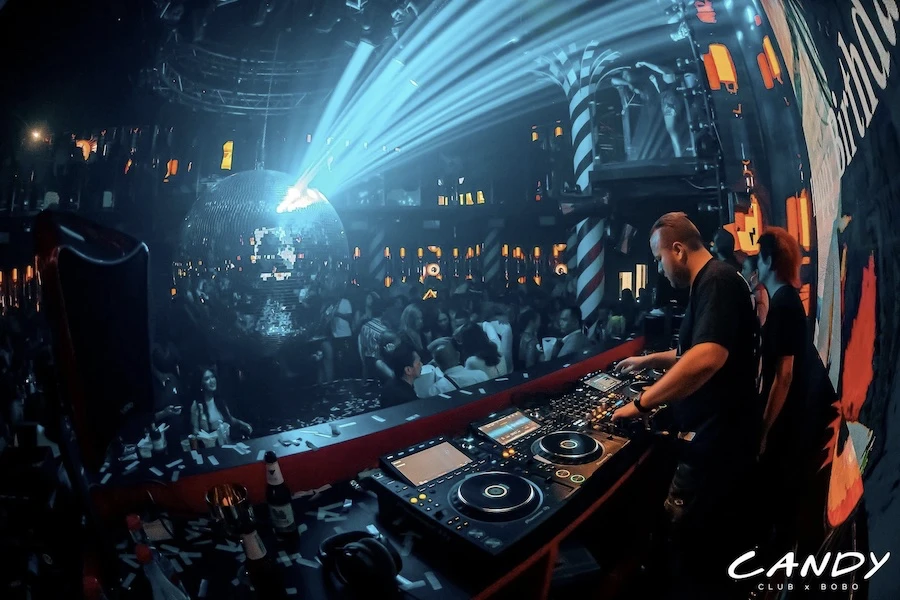 There is a new club in Sukhumvit 11, and its name is Candy Club.
Built like a giant red candy box, it surely catches your eyes as you're passing by.
Take the iconic red stairs up and through the entrance hall, you are taken into a large 2-floor hall that is pumping with high energy of the crowd, lights, and sounds.
The music here is a mix of hip-hop and EDM, which keeps everyone fist-pumping, jumping, and dancing.
There are standing tables on both floors but the VIP booths are only on the 1st floor.
The VIP booths are similar to the ones at BOBO where you get a giant LED screen behind your sofa with your name and other cool visuals on it.
Candy is always throwing a party with weekly themed events featuring resident DJs, MCs and dance performances by hot men and women.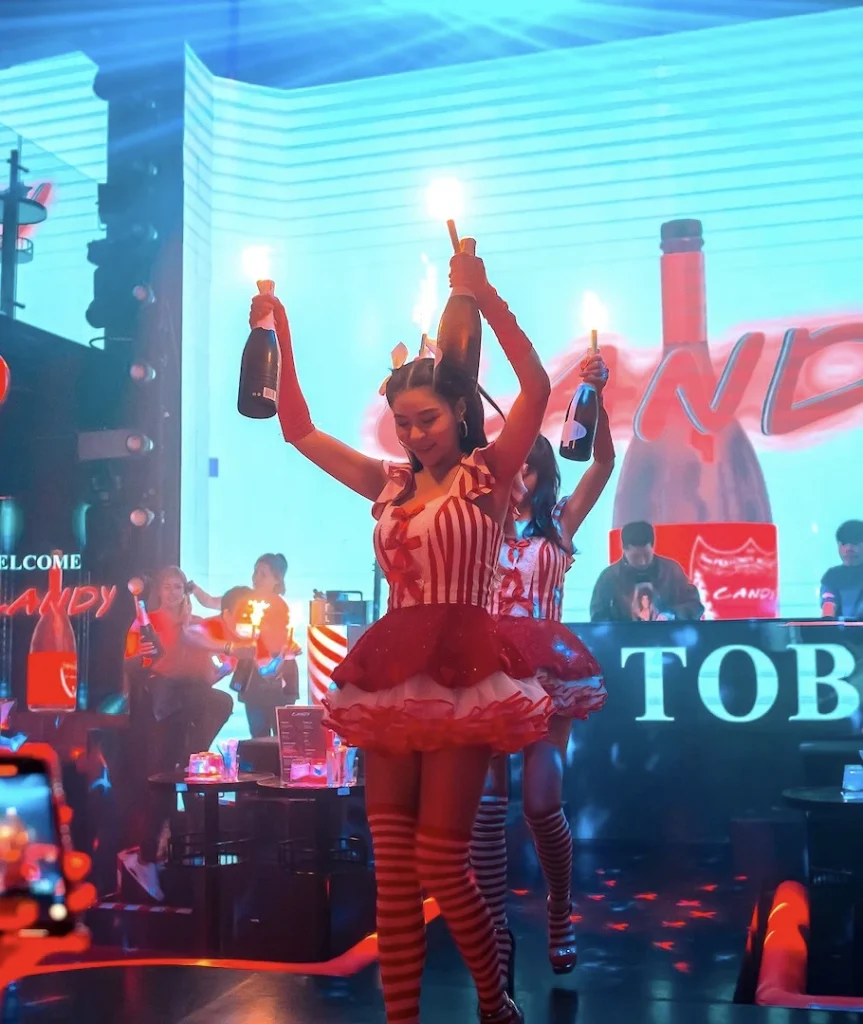 Bangkok Invaders, Thailand's top hip-hop DJ crew, are known to play regular gigs here.
Sometimes more than once a week.
On special occasions, the club will bring in other renowned artists or guest DJs.
They also have amazing promotions such as if you get there early before 11 am on weekdays, a group of 4 people can enjoy a free bottle of vodka.
You just have to pay for the mixers.
Opening Hours: Every day, from 9 PM to 2 AM
Hillary 11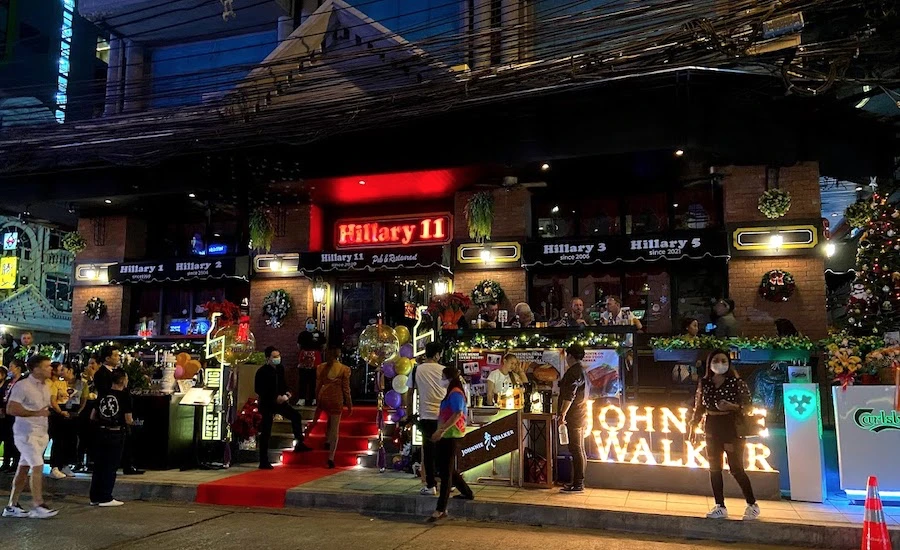 The Hillary group has been a staple when it comes to live music bars in the Nana area.
Located at the corner of the far end of Sukhumvit Soi 11, Hillary 11 is the latest addition to the Hillary empire and a great touch to complete the options in the street.
Hillary 11 spans two floors fitted with dining tables, standing tables, a dance floor, live band stage, and even a pool table.
To say that this bar has high energy would be an understatement.
As you walk past you can hear the band play cover songs, classics, rock, and jazz music.
This alone is enough for you to have a look inside and join the fun.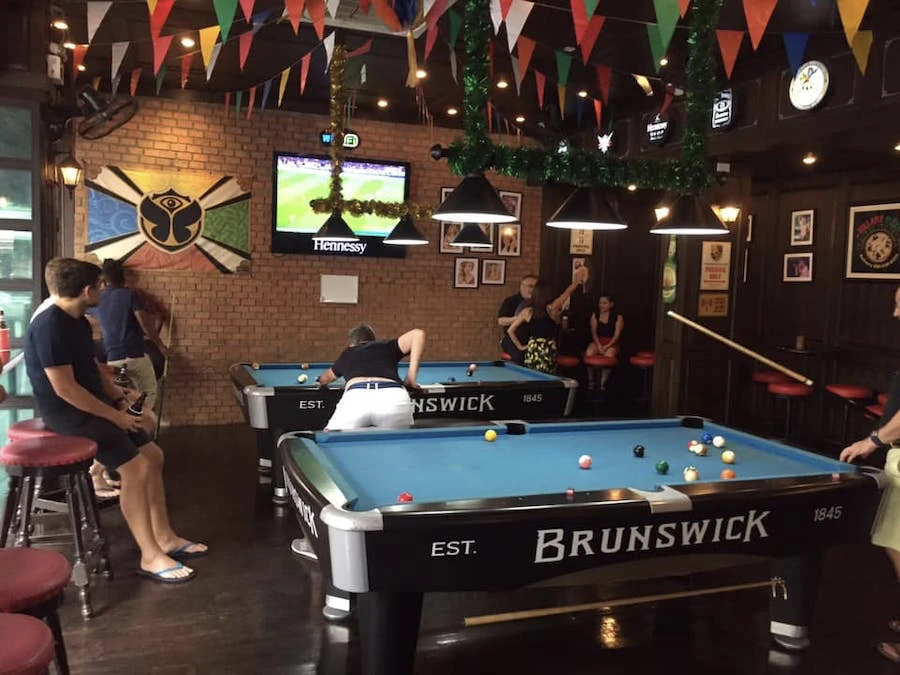 When the band isn't playing, DJs come to take over with a mix of music ranging from hip-hop to house.
Whether you go there alone or with a bunch of friends, it's a great place to be for drinks, music, partying and meeting new people.
There are plenty of beautiful and friendly Thai ladies here as well who are not shy to approach you and chat.
There is an excellent atmosphere here with a fun vibe but it can also be chilled if you decide to sit on the second floor where it is less busy.
Opening Hours: Every day, from 9 PM to 2 AM
---
What Are The Best Hotels In Sukhumvit Soi 11?
With so many bars and clubs to check out on Sukhumvit 11, you will need a nice place to rest.
We rounded up three excellent hotels in Soi 11 to suit everyone, no matter what your budget is.
Hyatt Regency Bangkok Sukhumvit (5-Star Hotel)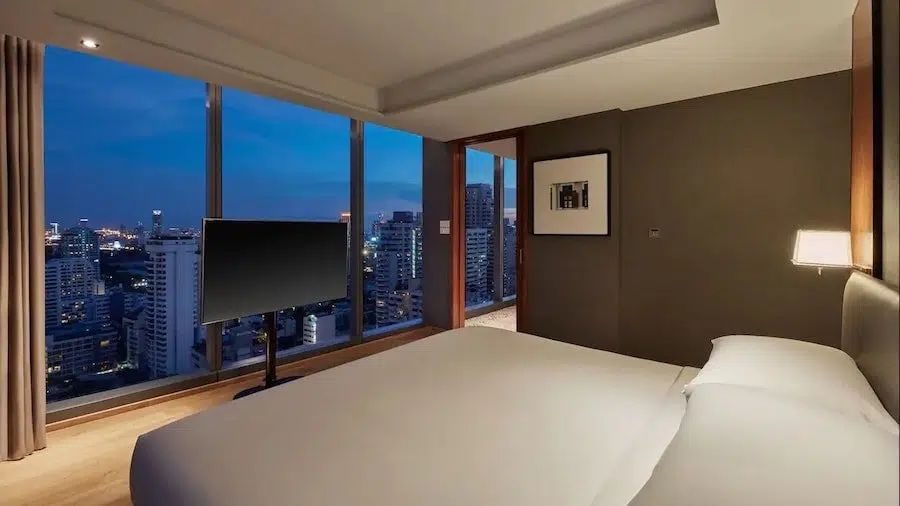 Hyatt Regency is a world-class hotel with amazing hospitality, beyond comfortable rooms, and incredible facilities.
It has everything you want and more if you are looking for a luxurious stay in the area.
Being so conveniently located near the BTS, you also have easy access to all the shopping, dining, and partying spots around Bangkok.
If you are lucky during your stay here, you can even experience their exciting monthly pool party.
And you can always enjoy watching the sunset with a cocktail at their rooftop bar before heading out to party on Sukhumvit soi 11.
---
Aloft Bangkok Sukhumvit 11 (Best Value For Money)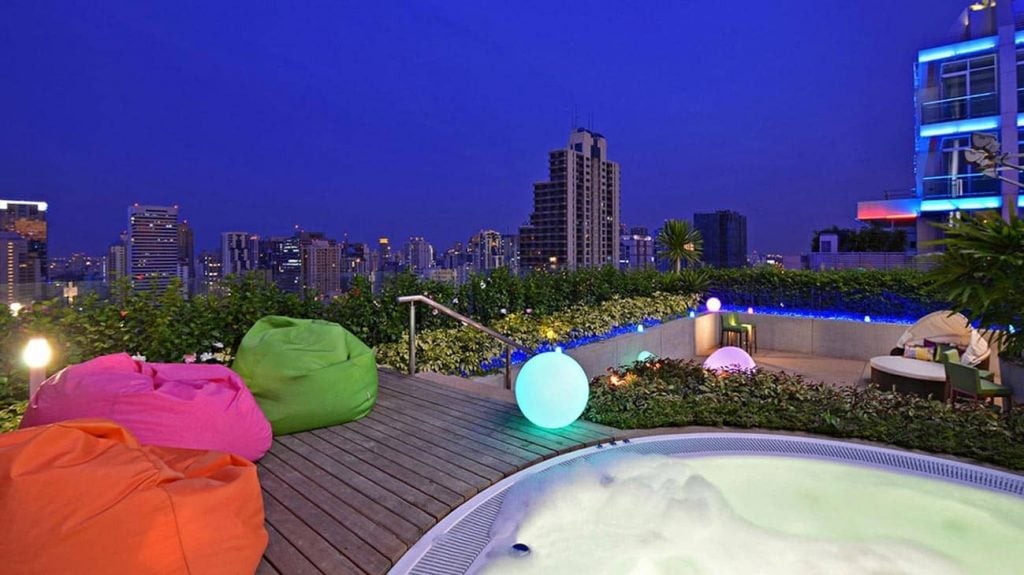 Be in the heart of Sukhumvit 11 close to all the nightlife by staying at Aloft.
Apart from its amazing location, this hotel features tech-smart rooms and facilities that will make your holiday exciting and comfortable.
It also has an amazing choice of in-house restaurants, café and bars that you can enjoy when you're not out partying or exploring.
If you're in Bangkok to celebrate something special, book their incredible Savvy Suite.
It comes with a private terrace and an outdoor jacuzzi which is perfect for keeping the party going after the clubs close.
---
Eleven Hotel Bangkok Sukhumvit 11 (Budget-Friendly)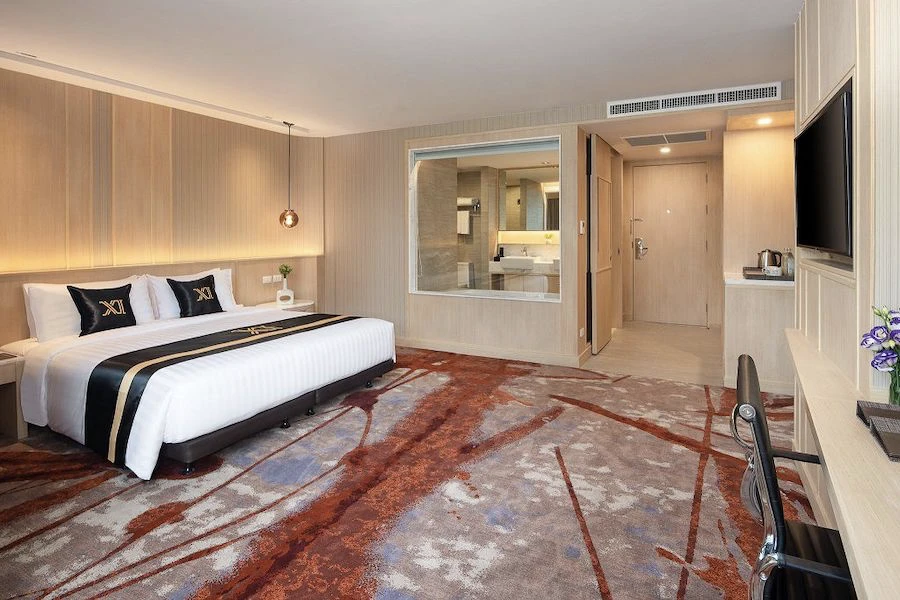 For those looking for a budget-friendly yet still modern and cozy stay, there is no better than Eleven Hotel.
In fact, for the price, it is beyond excellent with many room options, amenities and first-class facilities such as a rooftop pool, a fitness center, a steam room, and a spa.
The hotel also has its own rooftop restaurant and bar.
We can't think of a better place for some much-need relaxation in a busy street.
---
If you're going to Sukhumvit soi 11 for a special occasion, we can help make it even more memorable.
Contact us if you need to arrange private parties or to organize your trip to Bangkok.
Read our guide of Bangkok nightlife for more information on where to party in Bangkok.
FAQ
How To Get To Sukhumvit Soi 11?
To get to Silom, you can take BTS, book a taxi on the Grab app, or book a luxury car or a minivan with us.

What Are The Best Clubs In Sukhumvit Soi 11?
The best clubs in Sukhumvit soi 11 are Levels, Sugar and Candy Club x Bobo.

What Is The Best Place To Party With Thai Girls in Sukhumvit Soi 11?
The best places to party with Thai girls in Sukhumvit Soi 11 are Oskar, Havana Social, and Levels Club and Lounge.
But if you don't know any girls, you can hire Thai party models to go out with you.