Book the Perfect Pool Villa for your Party in Bangkok
Private pool villas might be the hardest thing to find in Bangkok.
Especially if you're looking for one where you can host a party.
That's why when people come to us looking for pool villas to rent in Bangkok, we recommend them to book a hotel suite or to take their party to Pattaya instead.
Because in Pattaya, pool villas are everywhere, and they're cheap.
And hotel suites because it's easier to find one that will allow guests and parties. They're also cheaper and better located.
But let's say you want to book a pool villa in Bangkok for your party.
That's not impossible, but you won't have that many options.
How to Find the Best Pool Villa in Bangkok for your Event?
Send us a message today with:
Your dates
The type of party/event you're hosting
The number of guests
The number of rooms you need
And don't forget to add any special request you might have, like the location or special equipment.
With our experience and network, we can recommend you the best pool villas available for your party in Bangkok.
The 5 Best Private Pool Villas in Bangkok for Parties
Even though it's hard to find private pool villas to rent where you can party, it's not impossible.
Here are 5 pool villas in Bangkok where you can stay and party.
Baan Villa at the Davis Bangkok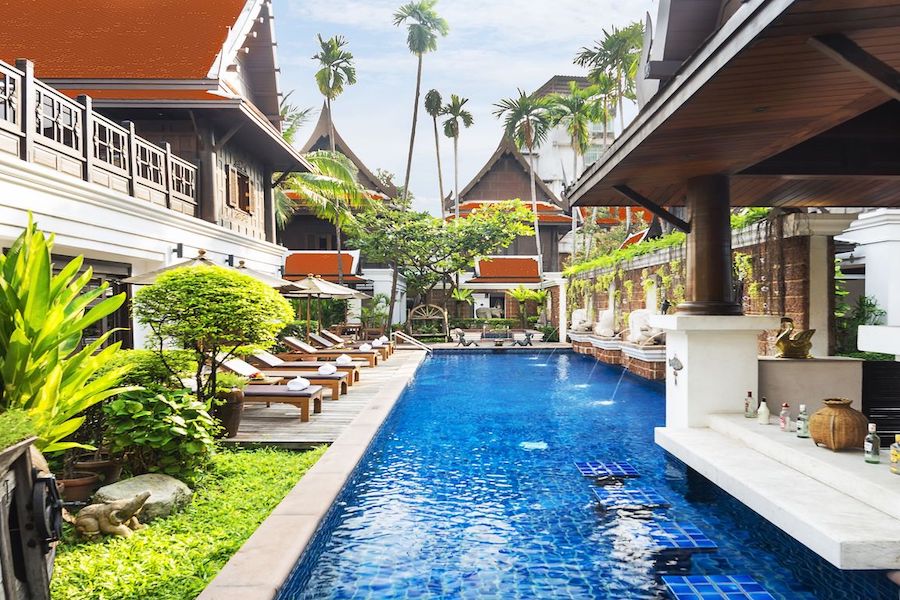 The Davis Bangkok is one of the biggest hotels in Bangkok. It is located in the center of Bangkok, in Sukhumvit soi 26.
The hotel is one of the most guest-friendly we tried, and they have not one but three pool villas behind their main wing.
That's right, 3 big pool villas in the center of Bangkok, with the cheapest one starting at only ฿12,000 a night.
The only downside is the pool is shared between the 3 villas. So if you rent only 1 villa, it's not going to be a private pool.
The Siam Hotel Pool Villas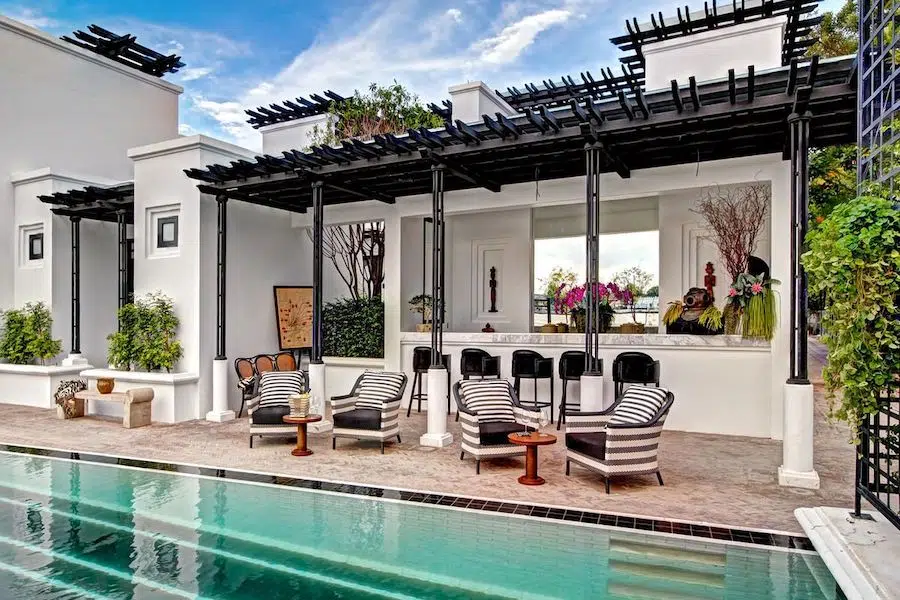 If you're looking for a luxury pool villa in the center of Bangkok, The Siam Hotel is the place to go.
Starting at ฿17,900 a night, their pool villas of 130 sqm with one large bedroom are perfect to have a few drinks with your friends.
It might not be a villa to host a big party, but they tend to be open to you bringing guests as long as the music doesn't disturb the rooms around.
4 bedroom Private Pool Villa in Bang Na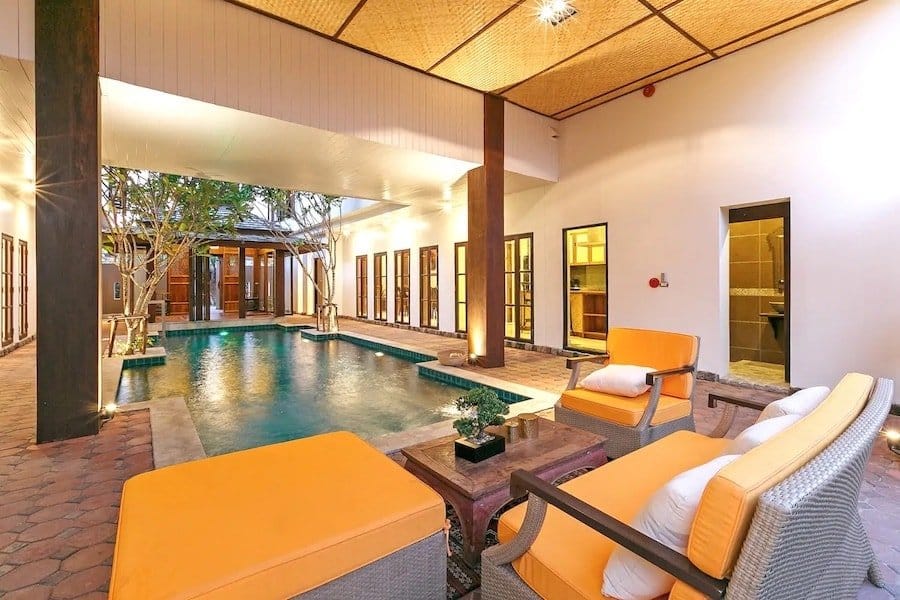 This traditional Thai style villa is one of the best pool villas in Bangkok to host a private party.
It's not the biggest or the closest to Bangkok nightlife. Still, it offers something almost no other villa in Bangkok has, complete privacy.
Once you close the doors, nobody can see what happens in the villa.
6 bedroom Pool Villa in Ekamai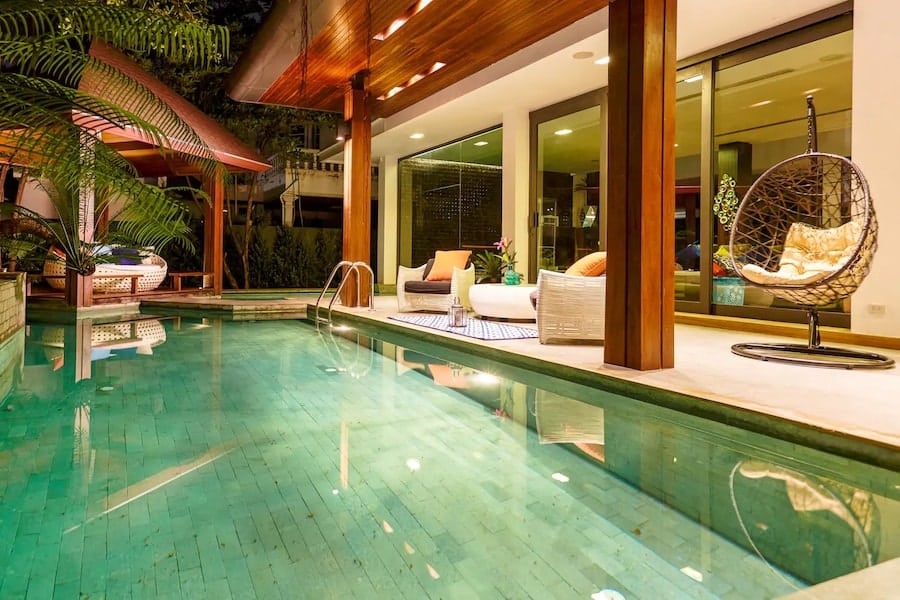 This incredible luxury pool villa in the center of Bangkok is perfect for groups of up to 12 people who want to be in the heart of the city.
Stay in one of the best neighborhoods in Bangkok, Ekamai, and explore its incredible nightlife and vibe.
Plus there's enough space to host a big party inside.
4 bedroom Pool Villa in Thonglor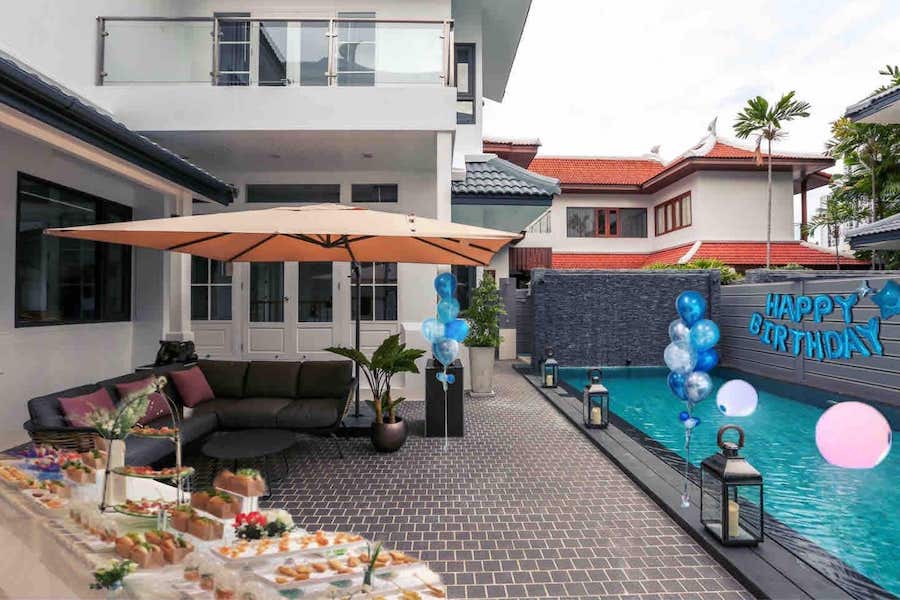 This pool villa isn't the most party-friendly on the list, but its location and decoration are so good we had to include it here.
It's the perfect villa for a daytime party by the pool and a few drinks in the evening before heading out.
Not the best pool villa if you plan to party all night with blasting music though, as it's in a residential area.
FAQ
How much cost a private pool villa in Bangkok?
The price of a private pool villa in Bangkok range from ฿10,000 to ฿50,000 a night.
What's the best pool villa in Bangkok to host a party?
The 2 best pool villas in Bangkok if you plan to host a party are the Baan Villas at the Davis Hotel and the 4 bedroom pool villa by Lamaiman in Bang Na.
Are you looking for something else for your stay in Bangkok?
Look at our selection of villas, hotel suite, and party hotels on this page.
And contact us anytime to help you plan your party in Bangkok and beyond.
From accommodation to transportation, VIP bookings, shows, and more, Party Bangkok has everything you need to make your event unforgettable.