Nobody can argue that The PIMP Bangkok is by far one of the best gentlemen clubs in Bangkok.
With over 200+ hot Thai girls, fantastic sexy shows, incredible service, and overall an awesome vibe, The PIMP is one of the best places to party in Bangkok.
But if you've never been to a gentlemen club, or to The PIMP before, here's what you need to know about the club and what you can expect there.
Why Chose The PIMP over a Gogo Bar?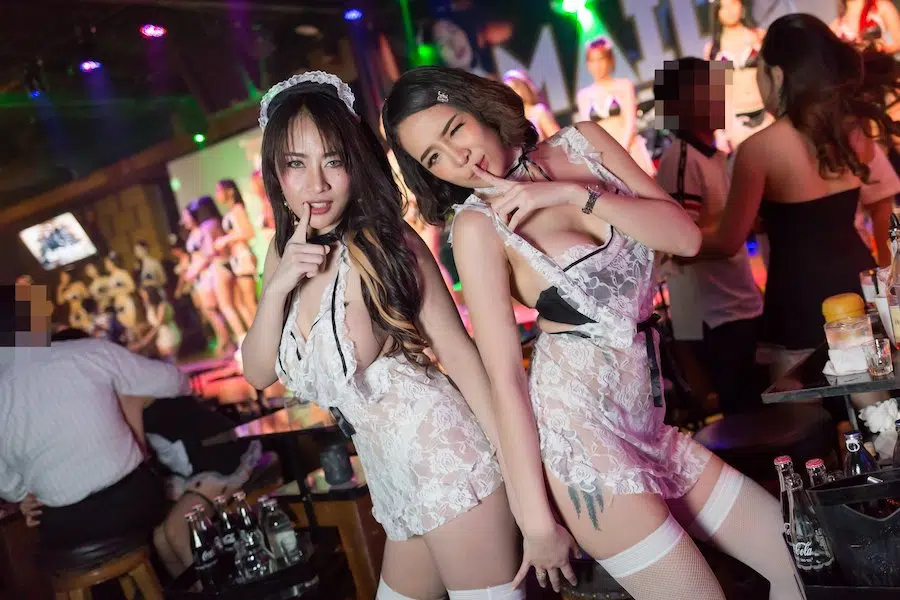 First, we all know that finding bar girls and gogo bars in Thailand isn't too hard.
We can also agree that Nana, Soi Cowboy, and Patpong, the 3 main red-light districts of Bangkok, have their fair share of great bars and gorgeous girls. (at least when you know where to go)
But there are times when you're looking for a high-end venue to enjoy the finest things in life, with impeccable service, a ton of hot birds, and complete privacy.
Gentlemen clubs are for these special nights when you want only the best and nothing but the best.
It's also for those who value privacy and want to party with hot Thai girls without anyone looking around.
Party with the Hottest Thai girls at The PIMP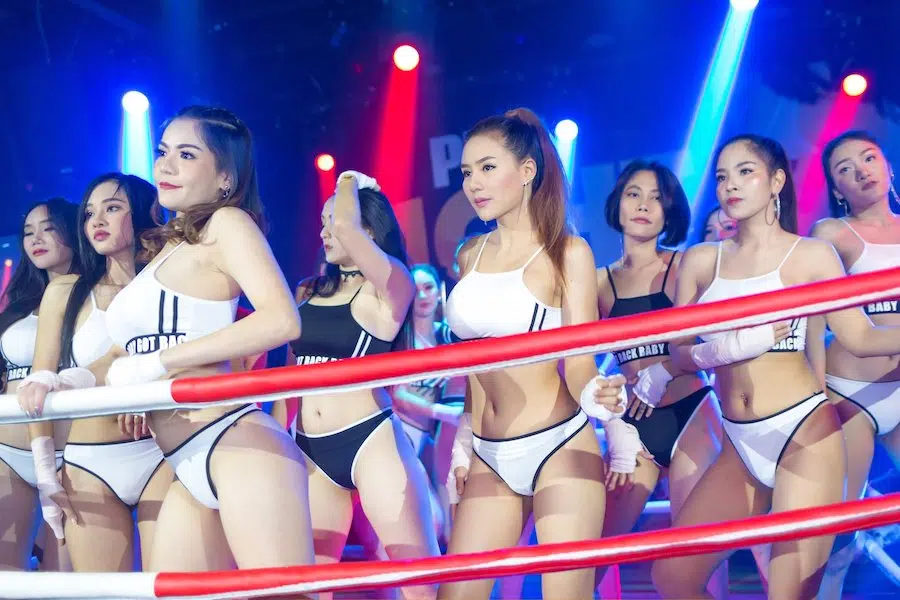 The PIMP Bangkok is where our guests with the highest standards go.
You just need to have to look at The PIMP Facebook page to understand why!
And we dare you to go there and to not turn your head around a thousand times.
The PIMP hires the hottest Thai models in the country, including some featured in magazines like Playboy, FHM, Penthouse, or Maxim.
And the thing is, the girls at this VIP club are more than what you see.
On top of being some of the most gorgeous Thai girls you'll ever meet, they also know how to take good care of you. Like really good care.
You know this sort of rude, careless attitude some girls have in bad gogo bars?
Well, there's not gonna be any of that at The PIMP.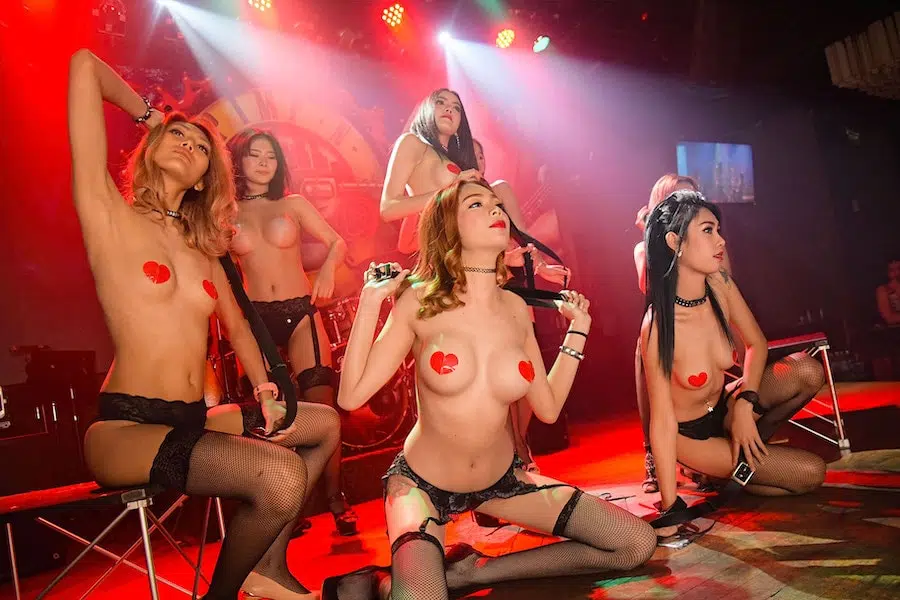 You'll find only wild Thai girls who love to party and are fun, caring, and unbelievably hot.
That alone is a good reason to pick The PIMP over other bars and clubs.
But there's more.
The Club, Performers, and Shows
The other special thing about The PIMP Bangkok is that girls don't only stand there and wait for you to buy them drinks.
At a gentlemen club, you're not gonna be watching girls standing by a pole bar and somewhat dancing.
Every night The PIMP has three live bands, DJs, shows on stage, and choreographed erotic dances.
And every week they have an event with special guest and performances.
You can enjoy different themed nights, with different outfits for the girls and shows to match the theme.
That's why even if you go there every weekend, you'll always see different shows, performers, and sexy costumes or lingerie.
We can guarantee no matter how often you go there, you'll never get bored.
But again, there's more to it.
VIP Rooms Are Where the Magic Happens
When you go to The PIMP: Get a (Private) Room!
Clearly, that's why so many of the groups we had over the years go to a gentlemen club and not to another type of adult club.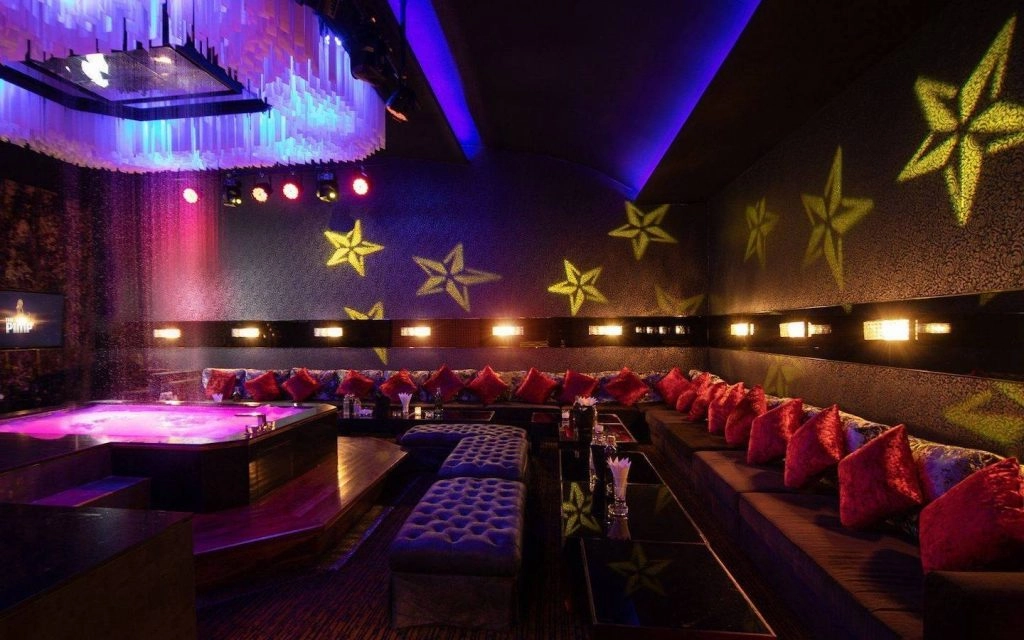 Even though the club part is really nice and there's a ton going on there, if you got a large group or you're going there for a special occasion (a bachelor party, a birthday, an important business partner…), VIP rooms are the real deal.
They have different types and sizes of private rooms, from the small ones for 2 to 4 people and large ones for 30 and more.
The small (3/4 pax) and medium ones (5/6 pax) all have a large couch with a karaoke system, a loud speakers and you can even connect your phone to play your own songs or stream them from Youtube.
The large ones (8+ pax) have the same equipment, but they also have a pool table.
Then you have the so-called "Party Rooms" (12+ pax). They have the same features as the large rooms and a DJ booth with your own private DJ for the night!
Some of the biggest party rooms even got a hot tub and showers on stage for special sexy shows!
Finally, they now have a pool zone that can fit up to 150 people.
It's the ultimate venue for a private pool party in Bangkok and the only one where there's no limit of time.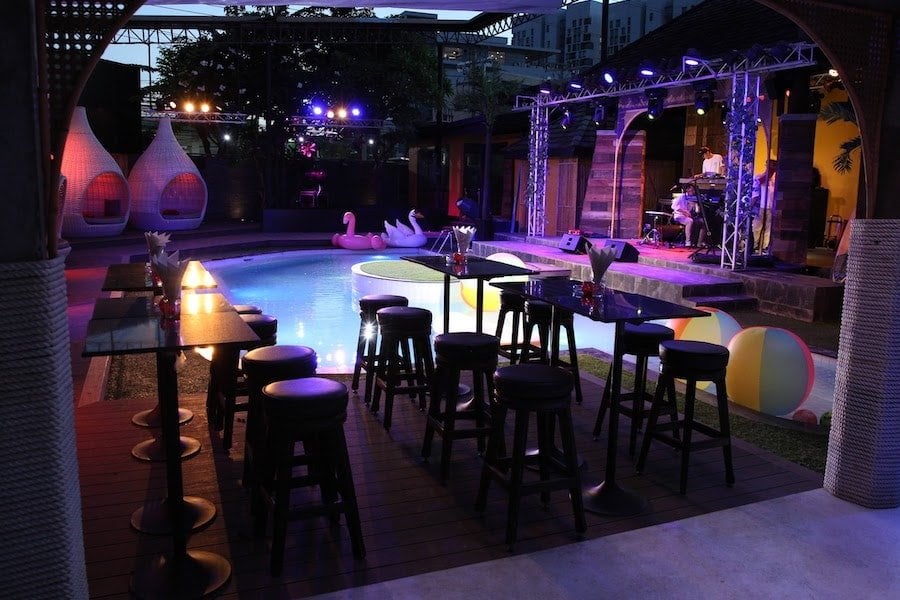 It has a DJ booth, a stage for shows, complete privacy to enjoy a naught party, and of course, the club have the hottest Thai bikini models to join the party.
The best part about it? There's a huge VIP room with a pool table attached to it to keep the party going for as long as you want.
It's truly amazing.
Now, if you're going there with a large group, make sure you book in advance as the amount of large rooms is pretty limited and The PIMP is usually fully booked every night. Especially during weekends.
How Does it Work Inside Private Rooms?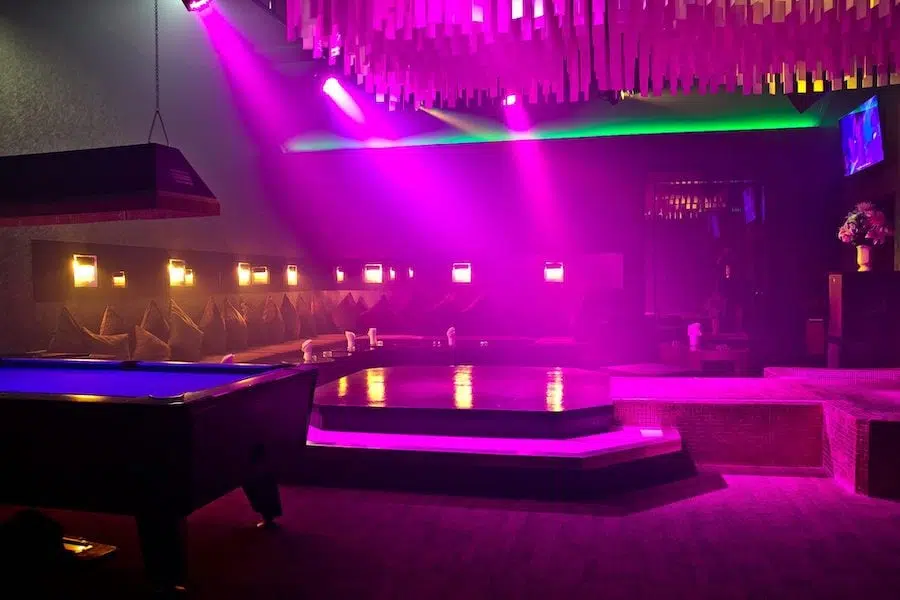 The way The PIMP and other gentlemen clubs in Bangkok work is probably different to what you've seen in other countries.
First, you need to make a booking.
Usually, we handle the bookings for our clients so all they have to do is show up and enjoy.
But if you decide to book a room by yourself, here's how it works:
Pick the right private room according to the size of your group
Choose how many girls you want and how long you want to stay (it's only to get started, you can always add more girls or stay longer once you're there)
Pick the alcohol you want to drink (or buy a liquor package to get a huge discount)
Get dressed and head to the club
When you book in advance, the room is already set up and the bottles are waiting for you when you arrive.
All you have to do is get into the room and chill while your own private waiter or waitress comes in and starts to pour drinks for everyone.
Then comes the best part. They bring in the room all the girls available (usually more than you can count).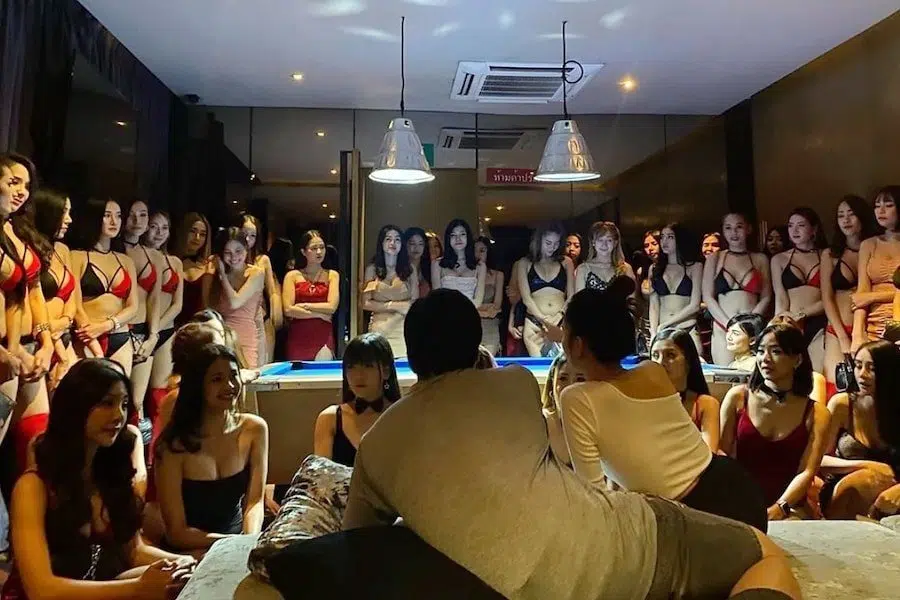 Now you got to choose which girls you want to party with and get the alcohol flowing.
Party Bangkok Tip: Always pick the hottest girls and tell them to choose their friends. Or ask for the mamasan to recommend the wildest girls.
How Much Cost The PIMP?
Even though The PIMP isn't cheap, it's probably not as expensive as you might think.
Prices are:
Bottles: from ฿4,000 (Premium brands)
Girls: from ฿2,000 for the 1st hour, and ฿1,000 for every hour after that
Private rooms: from ฿2,500 (for the night)
Liquor package: from ฿20,000 (For 6 bottles or more. The price vary with the number of bottles, brand… )
Party Bangkok Tip: Buy a liquor package and save money!
The price for liquor packages start from ฿20,000 and varies according to the number of bottles and the brand.
But most liquor packages are ฿20,000 and come with 6 bottles. That's only ฿3,333 per bottle!
FAQ
How much is the entrance fee at The PIMP?
There are 3 options to get in The PIMP. You can buy a "ticket" at ฿1,000 to gain access to the club (includes 2 drinks). Or you can buy a bottle or a liquor package with 6+ bottles.
What is the dress code at The PIMP?
There's no dress code at The PIMP Bangkok. Money talk. But as you're going into a high-end club, wearing long pants, closed shoes, and no tank top is recommended. The girls will appreciate it.
How to go to The PIMP?
Book a taxi on Grab app or show the address in Google maps to any taxi in the street. If you plan to book a private room, the club can arrange free transportation for you to the club.
Want to Party at The PIMP?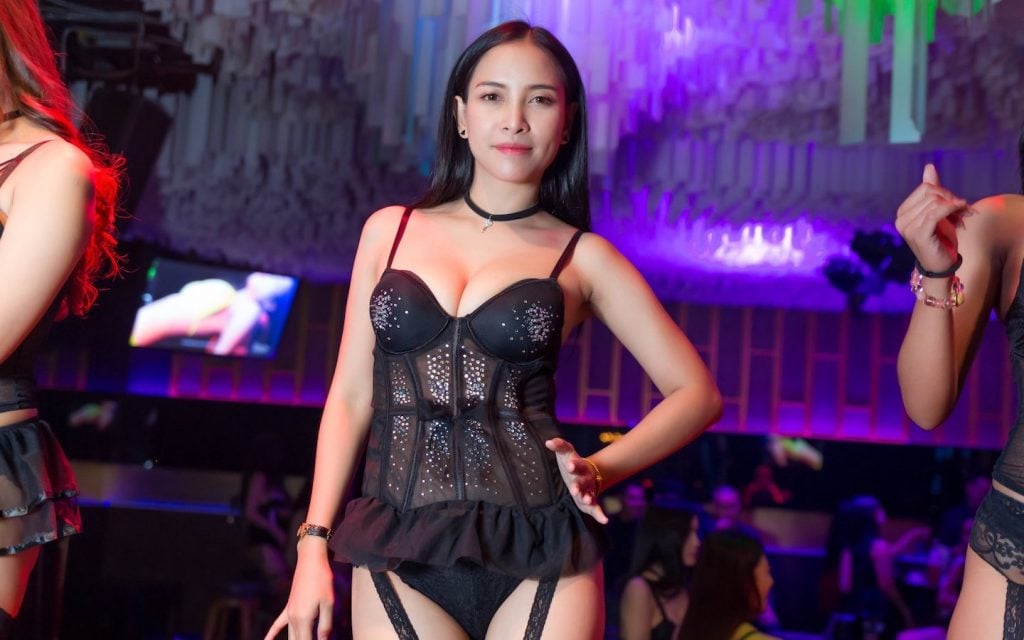 Let us take care of your booking at The PIMP.
We make it super easy and fast to book VIP tables or private rooms at gentlemen clubs.
Send us a message right now to get all the details.
Do you have any questions about The PIMP?
Send us a message today with your questions and we'll answer them ASAP.