There was a time not too long ago when there were only a handful of rooftop bars in Bangkok.
Now there are close to 50 or more enchanting rooftop bars of different size, style, and ambiance.
High up above, rooftop bars are excellent venues to escape the bustling streets of the city while boasting stunning skyline views, delicious cocktails, and unique nightlife.
But which are the best rooftop bars in Bangkok for partying?
Most are great for chilling or lounging but we are always on the hunt for the best parties in town.
Whether you are looking for a casual rooftop bar to party at or a luxury rooftop bar to host a private event, here are 8 that are worth checking out.
Pastel
Above Sukhumvit Soi 11, on the 22nd of the Aira Hotel, Pastel is the most exciting rooftop bar in Bangkok.
With its Mediterranean cuisine, creative cocktails, and festive atmosphere, Pastel is great to catch the sunset in Bangkok, but also to party all night.
They have an impressive list of drinks, delicious food, and a lot of packages and deals to celebrate in style.
All that, in the heart of one of the best party streets in Bangkok.
Follow them on Facebook to catch their next events or simply drop by to enjoy the beautiful unblocked view.
For private parties, Pastel Bangkok can easily host events of up to 150 people when you book the whole venue.
Above Eleven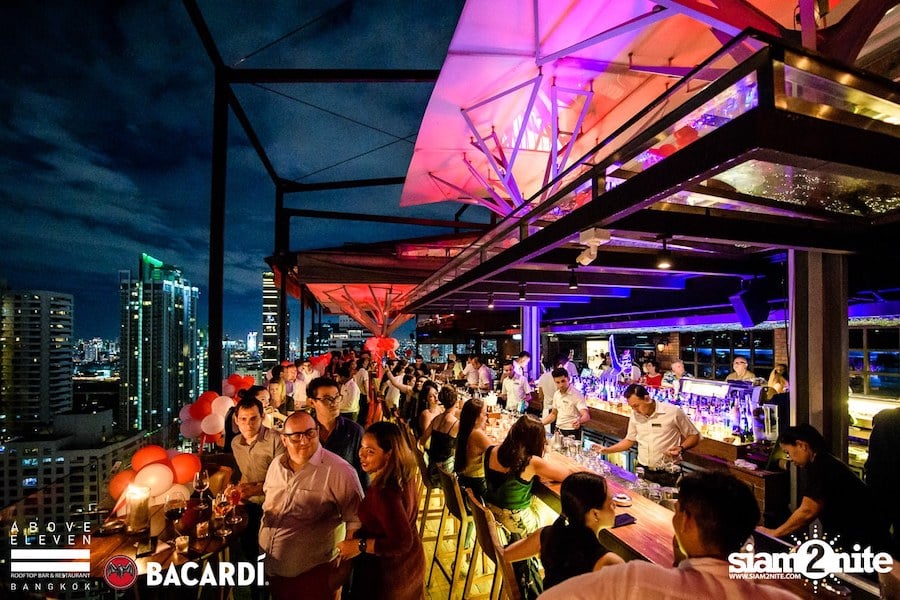 Perched up on the 33rd floor of the Fraser Suites, Above Eleven is one of Bangkok's original rooftop bars and restaurants.
While it was initially launched to create an urban park with a Peruvian-Japanese gastronomy experience, it has since transformed into something a lot more party oriented.
Above Eleven features weekly entertainment and nightlife events such as Ladies Nights on Wednesdays with DJ Pepe while DJ Rory and DJ Camilo spin house Latin beats every Friday and Saturday.
On special nights you can find a latin live band playing salsa beats to get everyone dancing until late.
The evening may start with dining and fine drinks in a cozy atmosphere but don't be surprised if the floor comes alive with some salsa dancing or other sweet moves.
The rooftop bar not only matches but also amplifies the nightlife energy of Sukhumvit soi 11.
For private parties, Above Eleven can easily host events of up to 300 people when you book the whole space.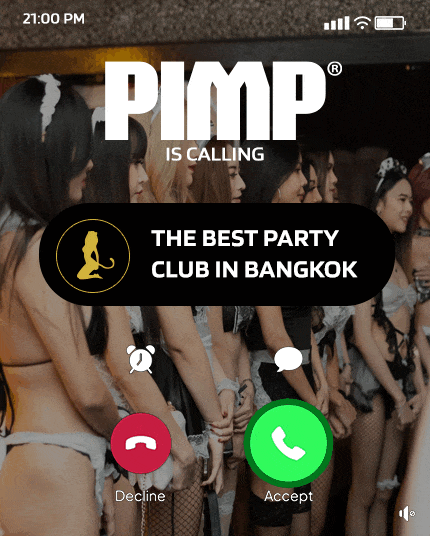 Spectrum Lounge & Bar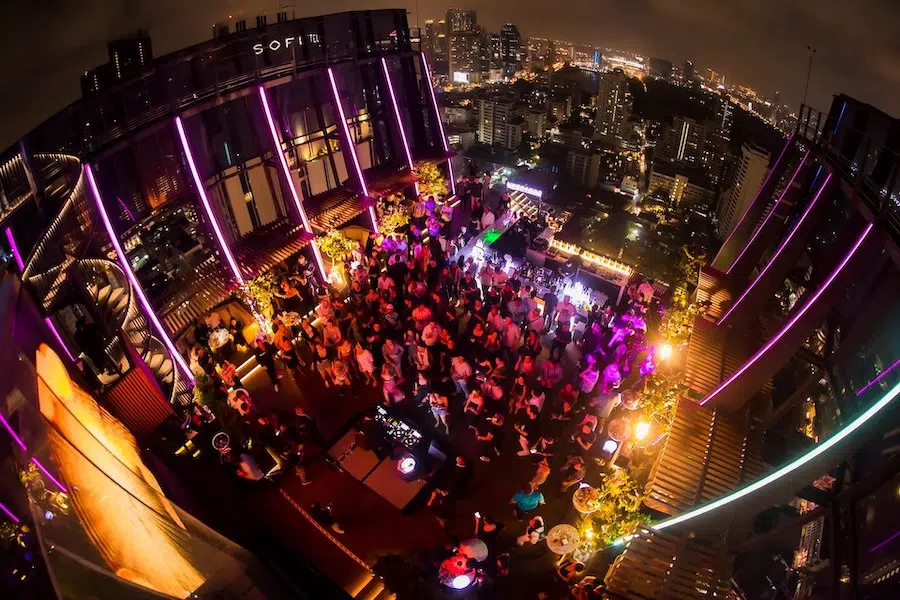 Spread across the 29th and 30th floor of Hyatt Regency Hotel, one of the hotels with the best party ready suites, Spectrum is a must-visit rooftop bar near Asoke.
It has a spectacular view of Sukhumvit area and beyond, which you can enjoy either by fine dining on the 29th floor every or partying it up on the 30th floor on weekends.
The restaurant on the 29th floor offers a wide range of food options, going from a delicious brunch to Thai fusion cuisine.
Spectrum Lounge & Bar is the spot if you're looking for live music, DJs and epic rooftop parties while drinking the night away.
Having hosted renowned parties such as TW#RK IT and Takeovers by Mustache Bangkok on several occasions as well as a live special concert featuring URBOYTJ, a famous Thai artist, Spectrum is definitely one of the best party rooftop venues in Bangkok.
You can rent the whole venue for a one of a kind luxury rooftop party, and welcome up to 300 guests easily.
Tichuca Rooftop Bar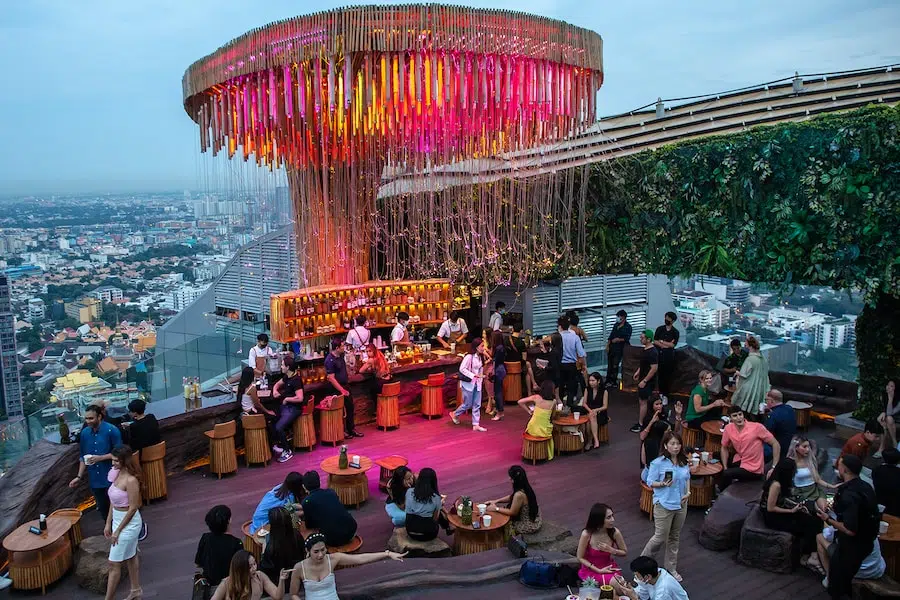 Tichucha, the newest rooftop bar in Sukhumvit that has got everyone talking and has become quite possibly one of Bangkok's most buzzing venues of late.
Social elites and anyone who is anyone wants to visit Tichuca rooftop bar at least once.
Perched high up above Sukhumvit on the 46th floor of T-One office building, Tichuca boasts fabulous views of the city in every direction.
With its jungle-like design, an iconic LED-lit tree, delicious snacks options, and trendy vibes, it is no wonder this 3-floor rooftop bar has become so popular, so fast.
While it hasn't hosted any official parties and events (at least until now), Tichucha is always packed with young crowds who are known to take a chilled evening to a wild night.
And it is even in their slogan.
"It's a jungle out there and you are going to have a wild time!"
So, you can't go wrong if you are looking for a great night high above the city, under the stars while sipping on cocktails and grooving to some popular beats.
And once the party is over at Tichuca, you're just meters away from Thonglor and Ekkamai, two of the areas with the most exciting party streets in Bangkok.
Tichuca is also in hot demand for private events.
You can rent a part of the bar for a small group, or rent the entire place for a corporate event or a product launch above the skyline.
With this design and view, you can be sure your guests are going to talk about your party at Tichuca for a while.
Octave Rooftop Lounge & Bar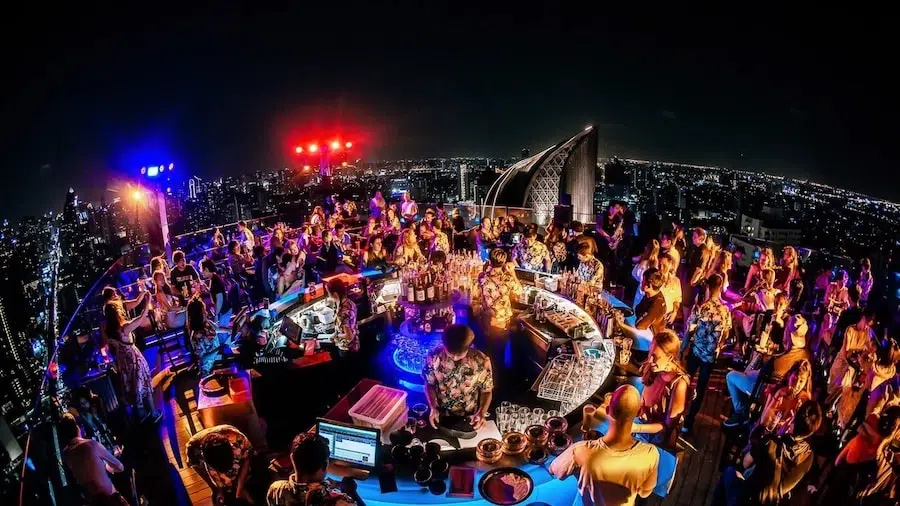 Octave rooftop bar has always been known to host some of the best rooftop parties in Bangkok.
Apart from their weekly affairs, they organize special events for all occasions such as Christmas, New Year, Songkran, and even Halloween.
They also host regular rooftop parties in collaboration with the city's top clubs like Sing Sing Theater.
It is the only rooftop bar that spans 4 floors starting from the 46th to the 49th floor. Each floor has a unique ambiance with the 49th being the most exciting.
It boasts an uninterrupted 360 view of the city where guests can enjoy a night of drink and dance.
When considering which is the absolute best rooftop bar in Bangkok, Octave is arguably the one that comes to mind with all its grandeur, ambiance, and party vibes.
Hungry? Octave doesn't have a restaurant but it has a nice menu of tasty tapas and snacks ranging from prawn sliders with soft buns to chicken tikka.
Looking for a rooftop bar in Bangkok that can easily handle a few hundred people for a private party? Octave is the place!
With its 4 floors and experienced F&B team, you can trust them with your event.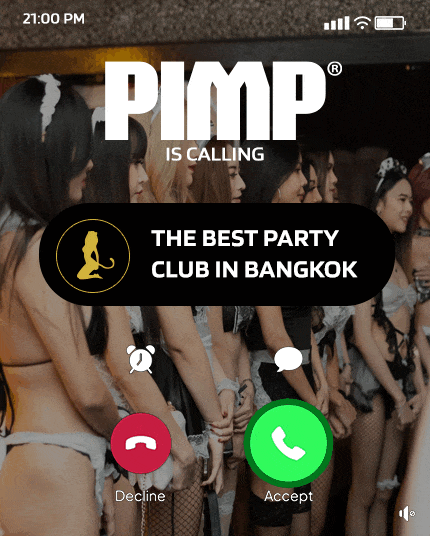 MOJJO Rooftop Lounge & Bar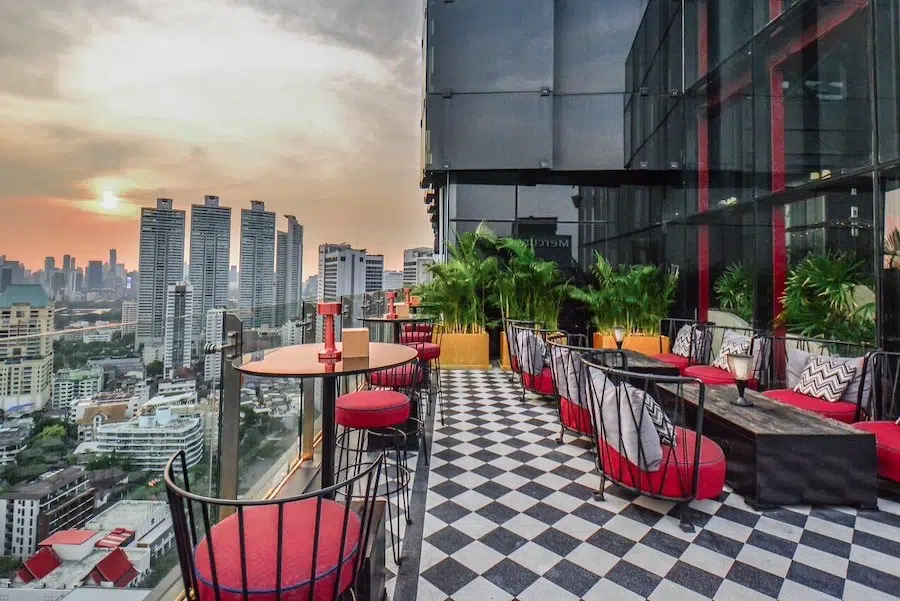 Located on the 32nd floor of Skyview Hotel, Mojjo is one of Bangkok's most versatile rooftop bars with its chilled vibes and Latin-inspired atmosphere.
It is known to organize some of the best holiday-themed parties and events featuring stellar DJs, pulsating beats, and incredible F&B specials.
While we wouldn't necessarily recommend Mojjo to dine, they have a nice menu of finger food with delicious tiny burgers and their famous deconstructed nachos.
For those who love to drink, every day is Happy Hour at Mojjo Rooftop Bar such as their Buy 1 Get 1 Free promo on selected cocktails, beers, and spirits.
They also do free flow events where you can drink till your bladder bursts.
It's a great place to meet new people or have memorable MojjoMoments with your best friends while appreciating the marvelous scenic panoramic views that bar offers.
Mojjo is perfect for an intimate rooftop party with friends (think 100 people or less).
Bar Yard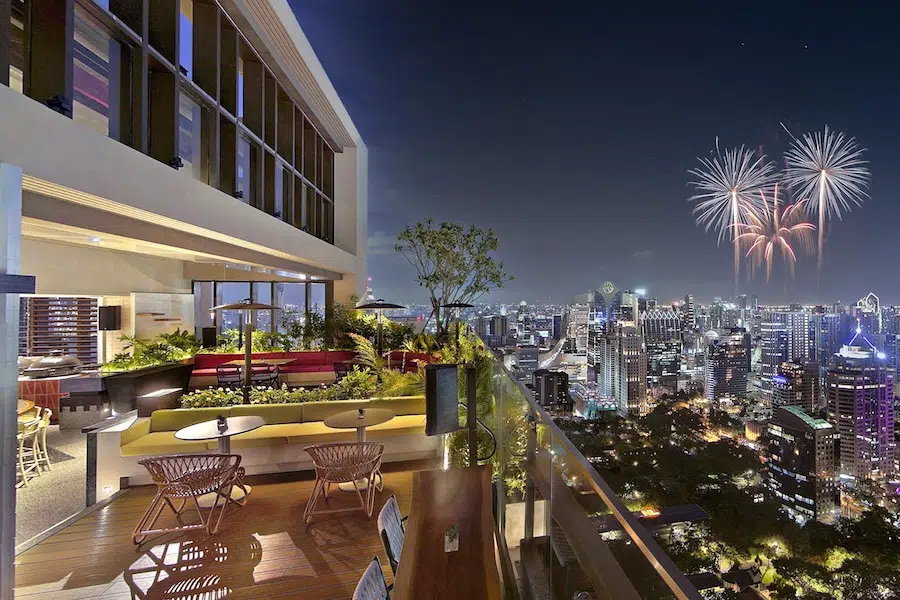 Bar Yard is one of the latest additions to Bangkok's ever-growing rooftop bars.
Perched high up on the 40th floor of the luxurious Kimpton Maa-Lai Hotel, the bar gives off a tropical and cozy vibe in a vibrant, lush setting.
Think an American backyard but on a rooftop that is complete with farm-to-plate dishes, tiki-inspired cocktails, and craft beers.
Bar Yard restaurant serves all sorts of food options, from fresh salads, to delicious BBQ delicacies, and large platters of meat or seafood to share with friends.
It's not all chilled at Bar Yard though as they celebrate all types of festive occasions that bring in prominent local and international DJs who play everything from neo-soul and electro-funk to contemporary hip-hop and disco.
Whether it is Cinco De Mayo, St. Patrick's Day or an event to show support for PRIDE, this trendy sky bar in Bangkok really knows how to throw some impressive and highly curated parties.
You can rent a part of the bar for an intimate rooftop party with a group of friends.
That's definitely the rooftop bar we recommend to start a bachelorette party in Bangkok.
SEEN Restaurant & Bar at Avani Hotel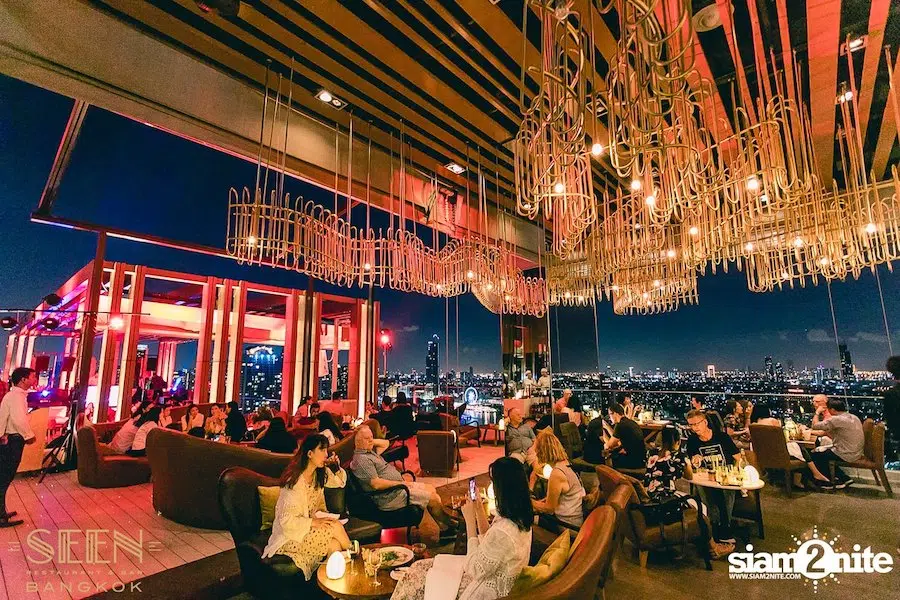 Moving away from the bustling downtown city of Bangkok, let's hop on over to the other side of the Chao Phraya and experience the marvelous hotel rooftop bar that is SEEN Restaurant & Bar.
Located on the 27th floor of the Avani Riverside Hotel, the rooftop bar possesses unrivaled views of the river and the city beyond.
Trendy, modern and stylish, SEEN is the place to be if you are looking for a sophisticated night of partying.
Think creative cocktails, champagne, and modern Portuguese-Brazilian menu designed by celebrity chef Olivier da Costa intertwined with distinguished DJs knowing very well how to set the vibe and mood.
Events and party wise, they host a weekly Ladies night known as the Mamacita where ladies get a special free drink and a chance to win exclusive prizes.
They have also done plenty of other events for holidays and festivals. In fact, since SEEN has an incredible rooftop pool, it has even held some of the best pool parties in all of Bangkok.
And you can organize your own private pool party there if you want.
They also have the capacity to welcome hundreds of guests. Consider it as the ideal party venue for a large rooftop event in Bangkok.
Truly, SEEN Rooftop Bar is a great choice for party revelers looking for something different from rooftop bars in Sukhumvit and Silom.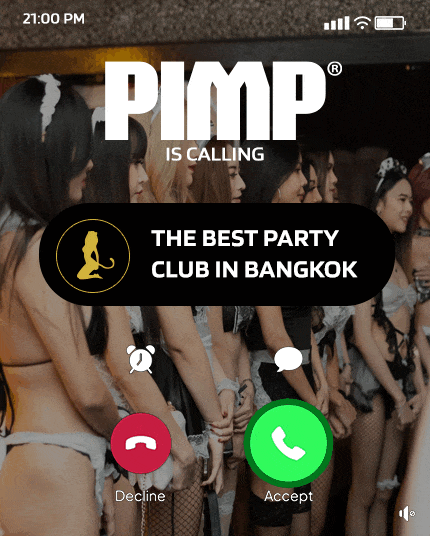 Map
What Is The Best Rooftop Bar In Bangkok For A Private Party?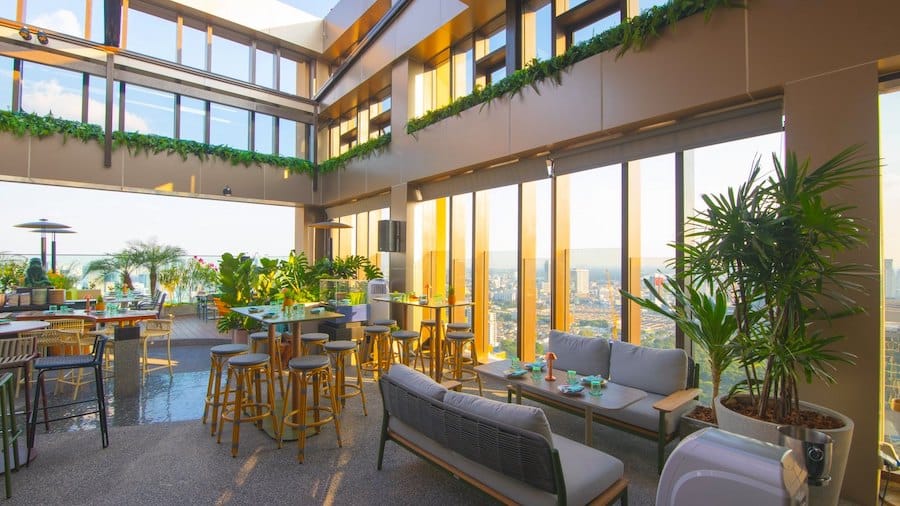 While you can reach out to any rooftop bar for a private party, it is difficult to say which one is the best.
For a large party, Octave is the best as there are multiple floors to accommodate the event.
Pastel and Spectrum are also good options for a private party.
Contact us to book a private party at any of these rooftop bars or check the other party venues available in Bangkok.
Go To A Rooftop Bar With Hot Thai Models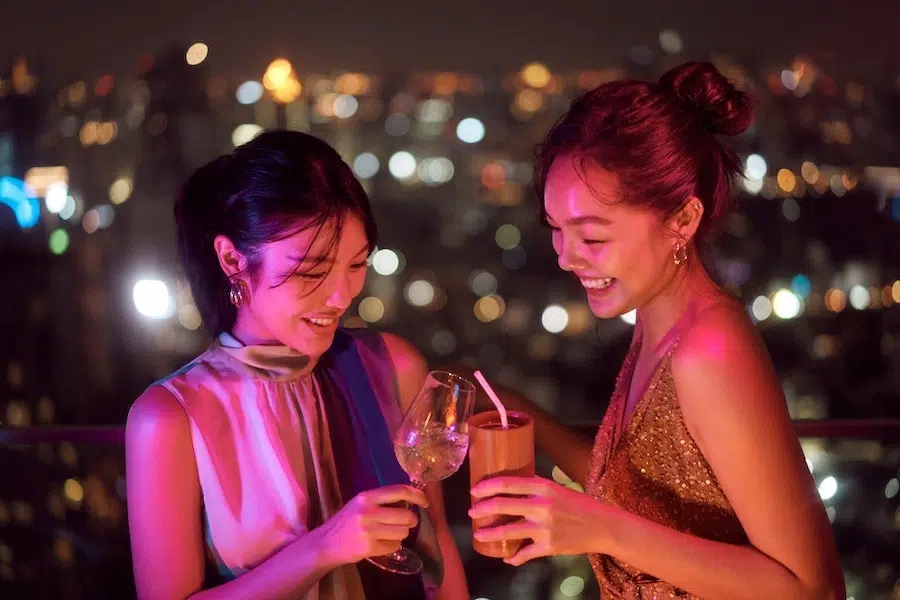 What is better than partying at the top rooftop bars in Bangkok?
Partying with the hottest Thai models at the best rooftop bar in Bangkok!
We have hundreds of gorgeous Thai girls ready to party with you all night in Bangkok.
Contact us today to book party models.
Or if you prefer to meet single girls in Bangkok by yourself, go to one of these clubs, or to one of the best gentlemen clubs in Bangkok to meet hundreds of hot Thai girls who can't wait to party with you!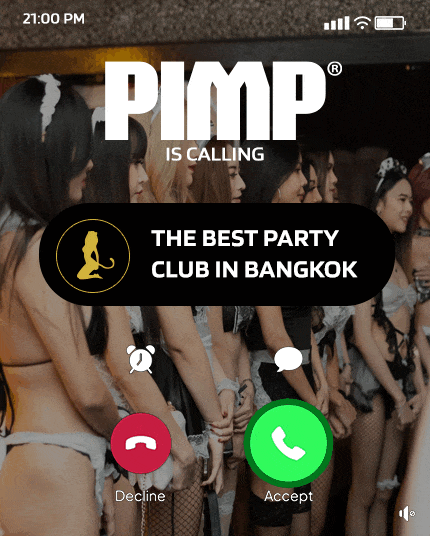 FAQ
What Is The Highest Rooftop Bar In Bangkok?
The highest rooftop bar in Bangkok is the Mahanakhon Bangkok Skybar, which is located on the 6th floor of King Power Mahanakhon.
However, from this list, the highest rooftop bar is Octave.
How Much Are Cocktails At Rooftop Bars In Bangkok?
Cocktails at rooftop bars can vary quite a bit. Standard cocktails usually start at 250 THB while special cocktails can easily go up to 500 or 600 THB.
Is There A Dress Code For These Rooftop Bars?
Yes. Most high to mid-range rooftop bars require smart casual clothing. No flip flops, beachwear, or sportswear. You don't have to dress to impress but many do.
What Is The Best Time To Go To A Rooftop Bar?
The best time to visit a rooftop bar is obviously for the sunset and dinner. But all the rooftop bars listed above are also great venues to have a few drinks after dinner, before you head to one of the best clubs in Bangkok.
Discover more places to party in Bangkok.
Explore our guide of Bangkok nightlife to find out what are the best venues to party all around the city.