Levels Club and Lounge is well established as one of the best club in Sukhumvit Soi 11, and Bangkok.
Located on the 7th Floor of Aloft Bangkok, the club offers a big lounge terrace with house music as well as a huge main room with mainly commercial and EDM music.
But there's more to Levels than just its music.
So to find out if it's the right club for you, let's have a look at what makes Levels stand out!
What You Need to Know
Levels is the oldest club in Sukhumvit soi 11 and the only one that resisted to all the changes the street has seen over the years.
That's probably because the management did a good job at adapting its offer and shows to the new trends.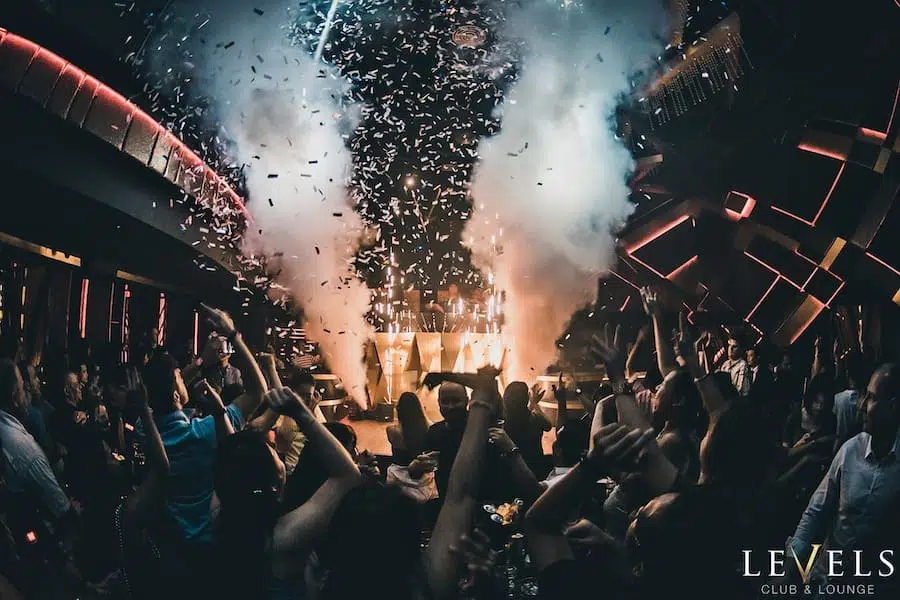 If you've been to Levels in before 2017, what you will experience there today is completely different.
And it's way better!
Anyway, if it's your first time at Levels, keep this in mind :
Bring your ID. You need to be over 20+ to get in as in every club in Bangkok. And you can be sure the security will ask to check your ID.
Levels has a strict dress code. "Dress to impress" as they say on their website. No tank tops, no shorts, no open shoes, and definitely no sportswear.
They have live singers, dancers and DJs every night. That gives a different atmosphere to the other clubs in the area, and they have really talented performers.
You can jump the queue with a VIP booking. Book a VIP table in advance to skip the long queue or you'll waste at least 15 minutes if not more.
It's a non-smoking club. But you can smoke outside on the big lounge/terrace.
It's one of the few late nite clubs in Bangkok. It usually closes after 2am.
What's special about it?
The quality of the service is world-class.
They have a ton of VIP tables, inside next to the stage as well as upstairs on the mezzanine, where you can enjoy a more laidback vibe. The mezzanine is great when you're with a larger or older group.
Levels is also a great place for guys and girls of all ages, with music that pleases everyone.
And it's one of Bangkok's best clubs for single guys with a lot of charming and friendly Thai girls every night.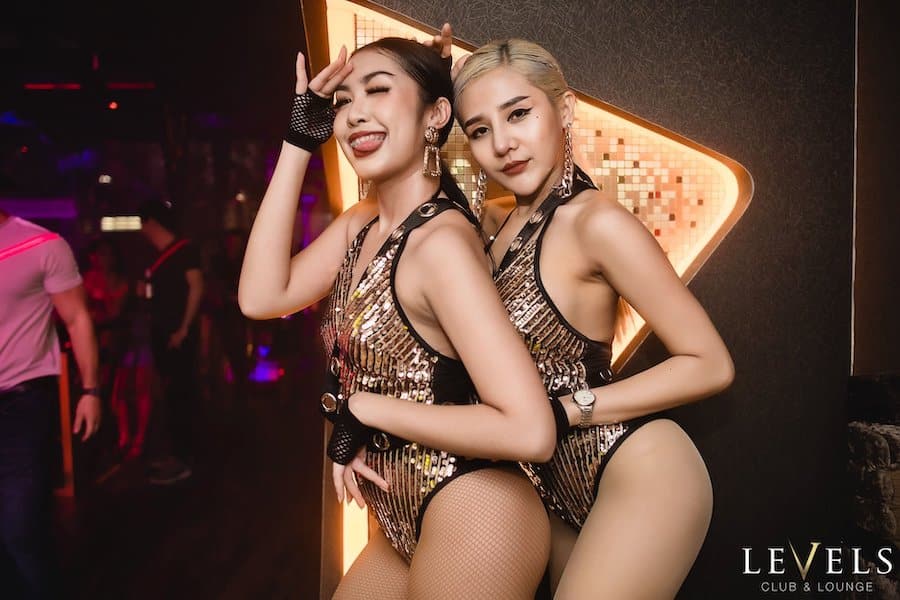 What music do they play?
Commercial music inside. With both DJs and singers performing throughout the night.
House and electronic music outside on the terrace.
They also have hip hop nights on Fridays with Bangkok Invaders and regularly invite all types of local and international guests DJs.
Who goes there?
Mostly Thai girls, tourists, and expats.
There are not so many Thais, except for the groups of freelancers looking for a client for the night.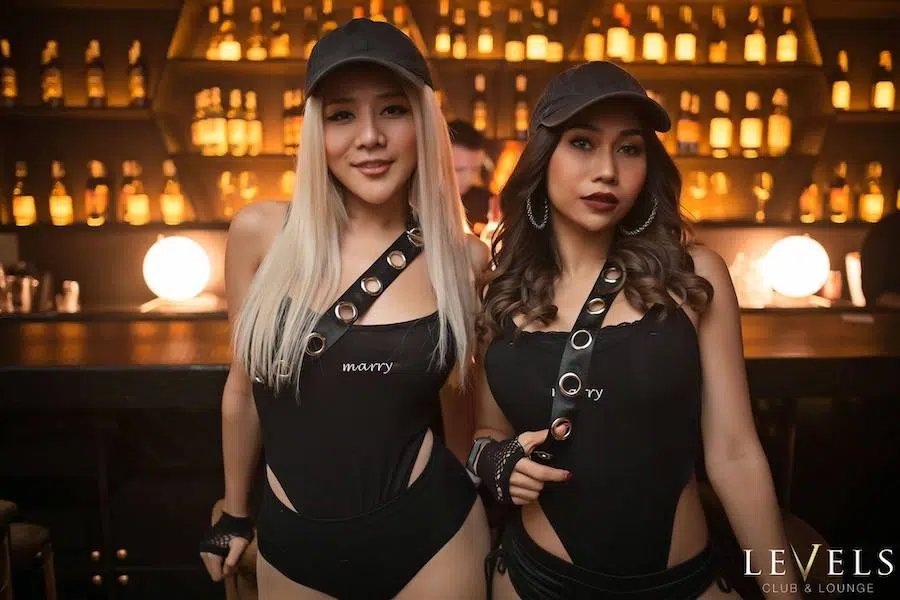 What's a good time to go?
Right before midnight, before the club start to get packed.
It's also the perfect time to order a bottle and grab one of the few standing tables by the stage before they all get sold out.
Prices and Bookings
At Levels, the entrance fee is:
฿300 for guys and ฿200 for girls from Sunday to Thursday
฿400฿ for guys and ฿300 for girls on Friday and Saturday
All entrances include 1 drink.
For bottles, the price starts around ฿2,800 with a large selection of premium brands and champagnes.
Here's Levels Menu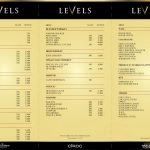 For tables, they have packages starting at ฿8,900, with some premium packages that go up well over ฿60,000.
Here are all their packages available.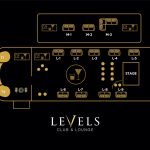 Bookings are recommended for every large group (5+ people), especially if you want a particular table (close to the stage or mezzanine).
You can message us today here or on our VIP table booking page for more details.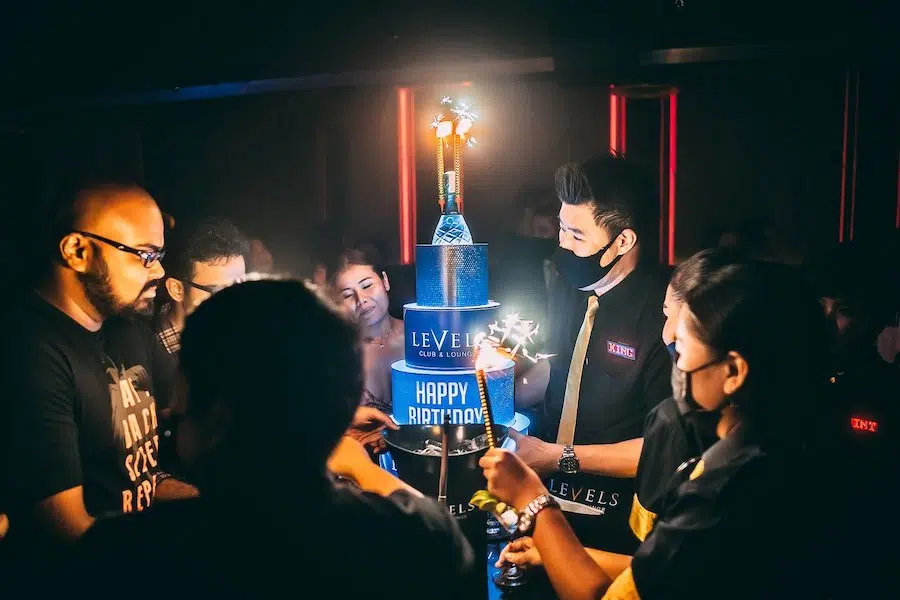 About Levels Bangkok
Check their Facebook or Instagram to stay up to date with their latest events and offers.
Cover charge: From ฿300 for guys and ฿200 for girls (including 1 drink)
Bottle price: Start from ฿2,800
Music: Commercial, EDM, House
Crowd: Foreigners, expats, and a lot of Thai girls
Opening hours: Every day from 9pm til late
FAQ
What is the entrance fee at Levels Club?
The entrance fee at Levels is ฿300 for girls and ฿400 for guys on Friday and Saturday. Or ฿200 for girls and ฿300 on the other nights. All entrances include 1 drink.
What is the dress code at Levels Club?
Please note that Levels Club does not allow: flip flops, sandals, hoodies, shorts, vests, baseball caps, snapbacks, and sportswear.
When is ladies night at Levels Club?
Levels have ladies' night every Sunday. On this night, girls can get 4 free drinks between 10pm and midnight.
Other Nightclubs in Bangkok You're Gonna Like
Learn more about the best clubs in Bangkok with our guide.