Patpong is Bangkok's first red-light district and one with a rich history.
From the first ever gogo bar in Bangkok to the infamous ping pong shows, there's a lot of unpack about how Patpong evolved through the year.
Let us tell you more about the red-light district and most importantly guide you through it.
We'll show you the best bars in Patpong, and where to stay near it.
---
About Patpong
Number of bars: 20+
Opening hours: Every day from 7pm to 2am
Prices: between 150 and 250 THB for a drink
Location: between Silom road and Surawong road, Bang Rak, Bangkok 10500
---
What To Expect In Patpong?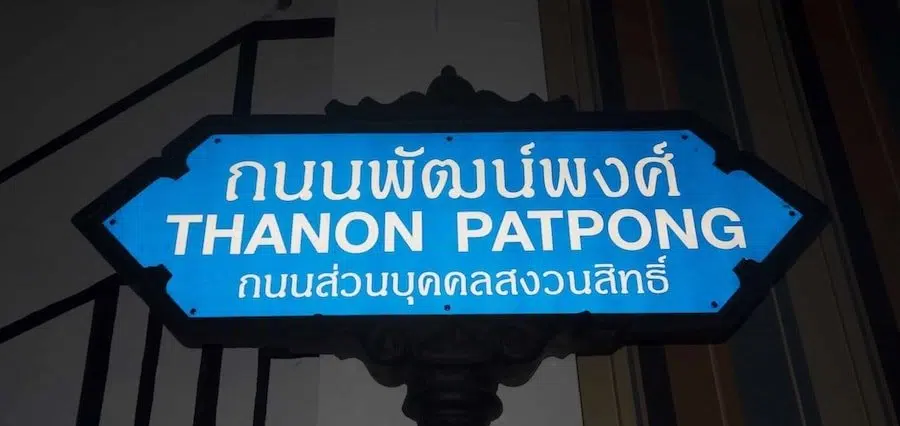 Patpong is a two street area connecting Silom and Surawong Road.
It's where the first gogo bar in Bangkok was established in the 70s. One quickly became many and it slowly turned into the biggest nightlife district in the city in the 90s and early 00s.
But now Patpong has lost its mojo.
From about 30 gogo bars during its prime, only a dozen are still open today. Same for the sex shows. It was once the main place to see the world famous ping pong shows.
Now most of the gogo bars and adult entertainment have moved to places like Soi Cowboy and Nana Plaza.
That being said, there are still a few good bars in Patpong. And because there are less tourists than before, some will say it's at least as good as before.
Patpong bars are less crowded and more laidback. It's the only red light district where you can order a drink and watch the girls dance without being harassed every 5 minutes for a lady drink.
Something that has become rare in other red-light districts in the capital.
And Patpong night market remain a good place to buy souvenirs and traditional items.
So head to Patpong and see for yourself what the area is like now. And don't forget to check out the places we recommend.
---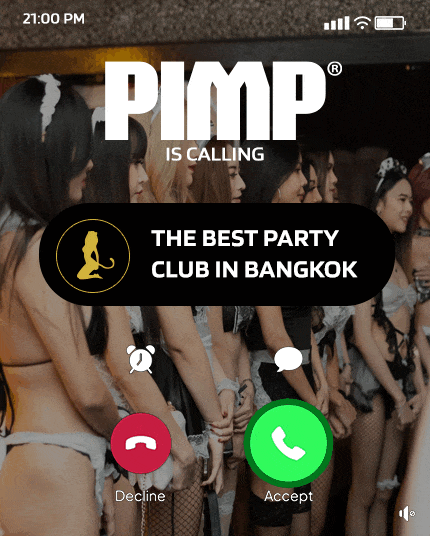 What Are The Best Gogo Bars In Patpong?
Patpong is still an awesome place to grab a cold beer and watch hot Thai gogo girls dance. Some of the gogo bars there are easily among the top ones in Bangkok.
Bada Bing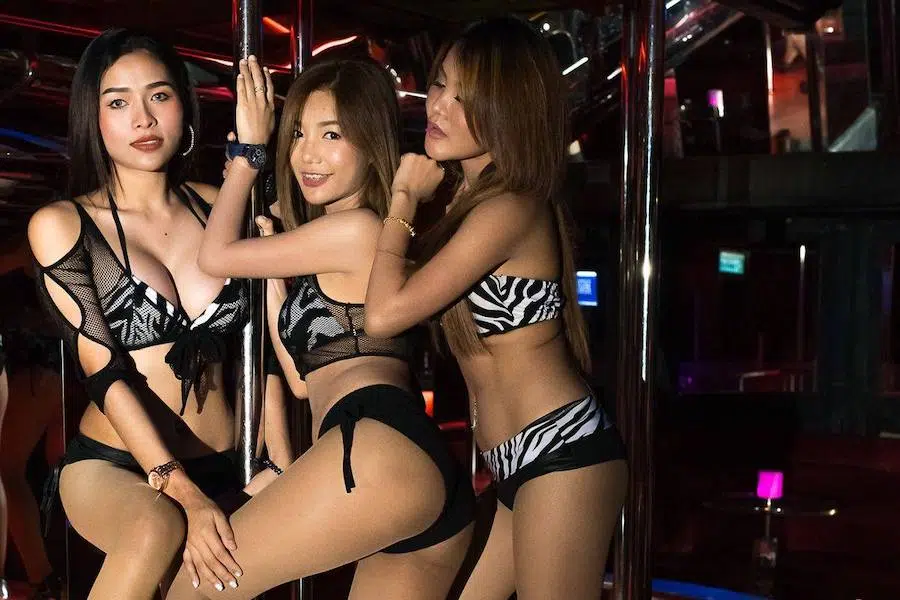 The best gogo bar in Patpong is Bada Bing. It has the best selection of gogo dancers, and really good service.
The management recently renovated the bar and brought in new hot girls. So it's now better than ever.
That's the gogo bar in Patpong you absolutely need to try.
Kings Gogo Bar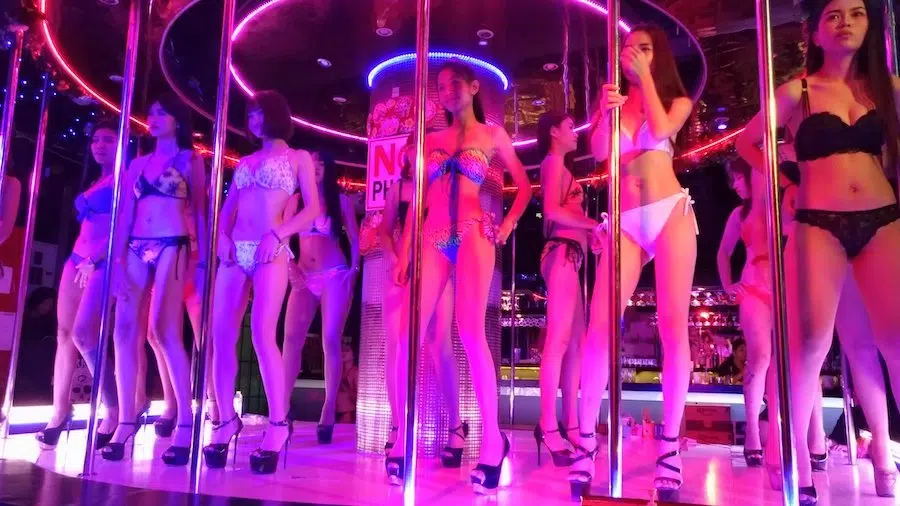 The Kings group has several gogo bars in Patpong, with hundreds of young Thai girls working for them.
But from all the different bars they own, Kings Castle 1 is clearly the one with the most beautiful girls.
And the service is amazing there. We can guarantee that the girls will take good care of you. They have their way.
Pink Panther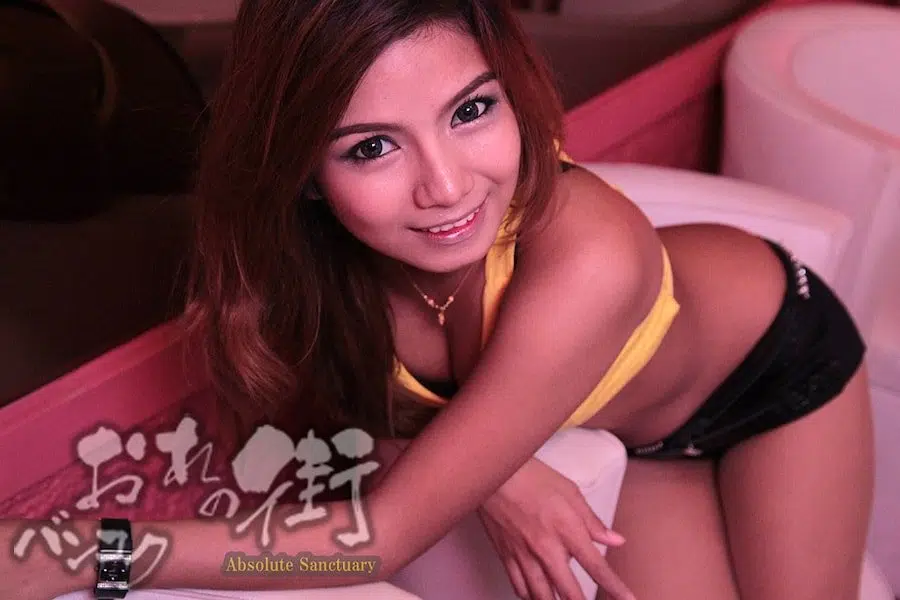 Pink Panther has to be the most unique gogo bar in Bangkok.
Every night, at 11pm sharp, the staff remove the small stages for the girls and replaces them with a boxing ring. That's right, they have boxing matches in a gogo bar!
The girls there are cute, and you can find a few hot ones, but the Muay Thai fights is really what its known for.
---
Other Interesting Bars in Patpong
Black Pagoda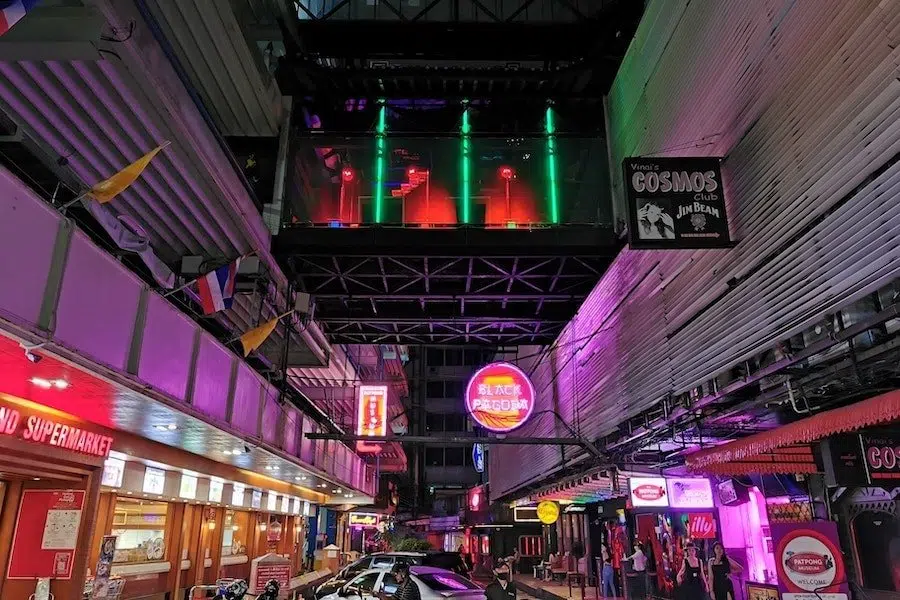 Black Pagoda is a mix between a gogo bar and a nightclub. It is located in the middle of Patpong Soi 2 (the street that runs parallel to the night market).
If you look up, you can see the girls dancing on the bridge that connects the two parts of the club on both sides of the street.
Most nights it's a regular gogo bar, but once in a while local DJs come in to play some of the best underground music in Bangkok.
Barbar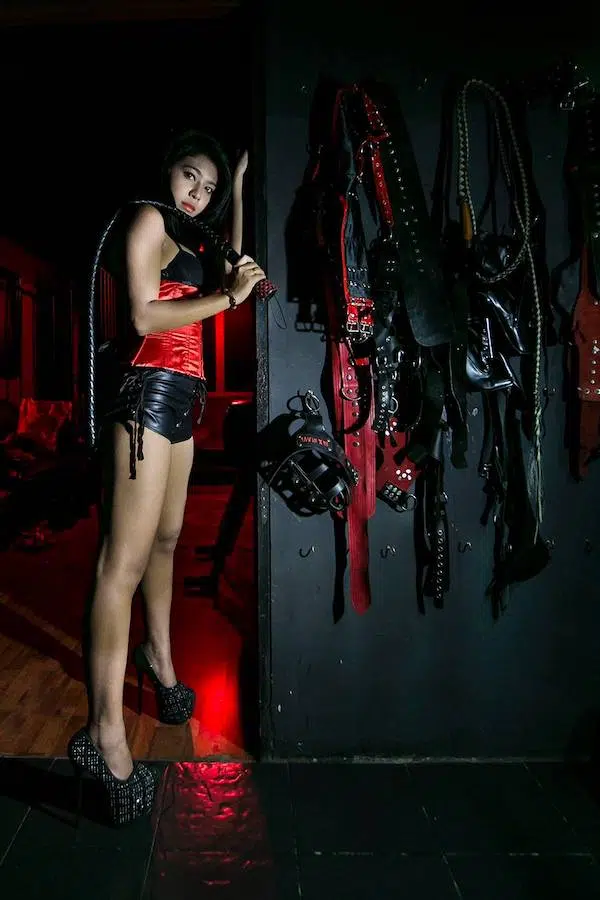 Patpong is also home to Barbar, one of the 2 BDSM and fetish clubs in Bangkok.
Admission is 950 THB for a single person or for a couple and includes a drink and the BDSM shows. Drop in for a drink if you're curious. They leave it up to you to participate or not.
It's quite an experience.
---
Ping Pong Shows in Patpong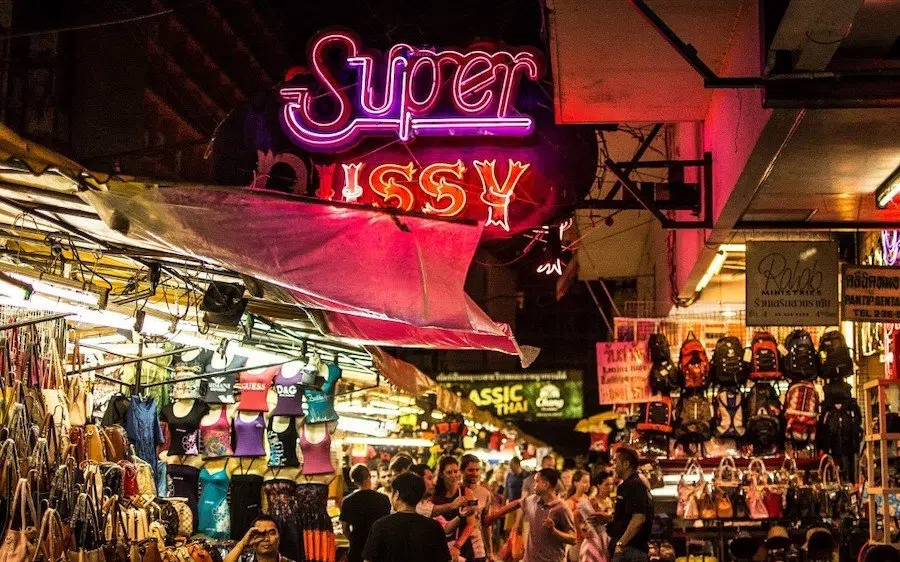 Patpong is also notorious for its ping pong shows.
After all, it is where most of the bars in Bangkok that offer this kind of show are located. But be careful, most of them are tourist traps.
Always ask for the price before entering one of these upstair bars and only agree to pay for drinks. Keep an eye on the extra "tips" and inflated bills.
The only legit place to see this type of sex show in Patpong is called Super Pussy (you can not make this stuff up).
---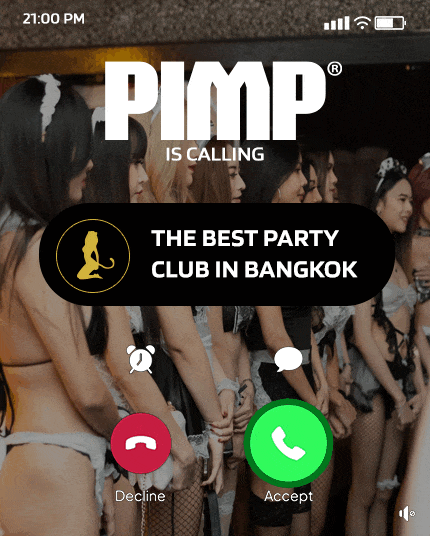 What Happened To Patpong Night Market?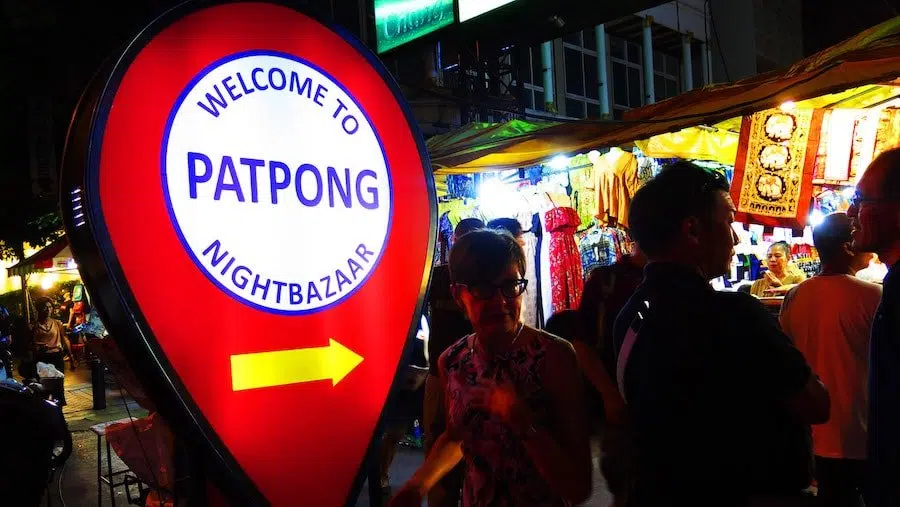 Another attraction of Patpong was its iconic night market, which was open every night from Monday to Sunday.
It was famous for knock off watches and famous brands like Nike, Adidas, and more.
It shut down during COVID and haven't reopen since the red light district came back to life.
But if you want to try a really good night market in Bangkok there are a lot of good alternatives.
Check out Bangkoknightlife.com website for a list of the best night markets in the city where you can find interesting vendors, delicious food, and even places to party.
---
What Are The Best Hotels Near Patpong?
Patpong is located in Silom, Bangkok's CBD, so there are many upscale hotels in this area.
But don't worry, there is something for every taste and budget.
Here is our pick:
Montien Hotel Surawong Bangkok (5-star hotel)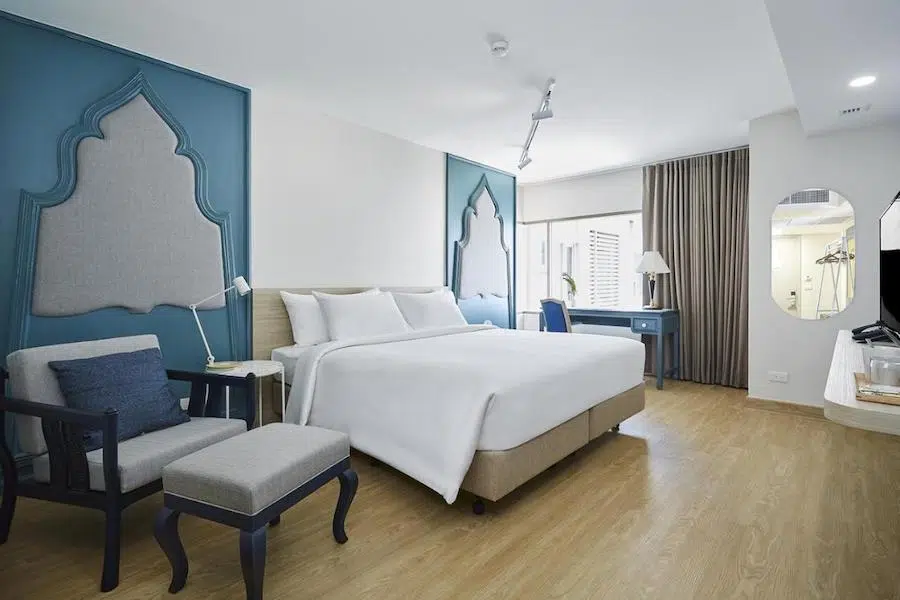 The newly renovated Montien Hotel is located right at the end of Soi Patpong 1 (where the night market ends), across Surawong Road.
The hotel offers spacious and well-appointed rooms, excellent service, and delicious authentic Thai food.
The Siam Heritage Hotel (best value for money)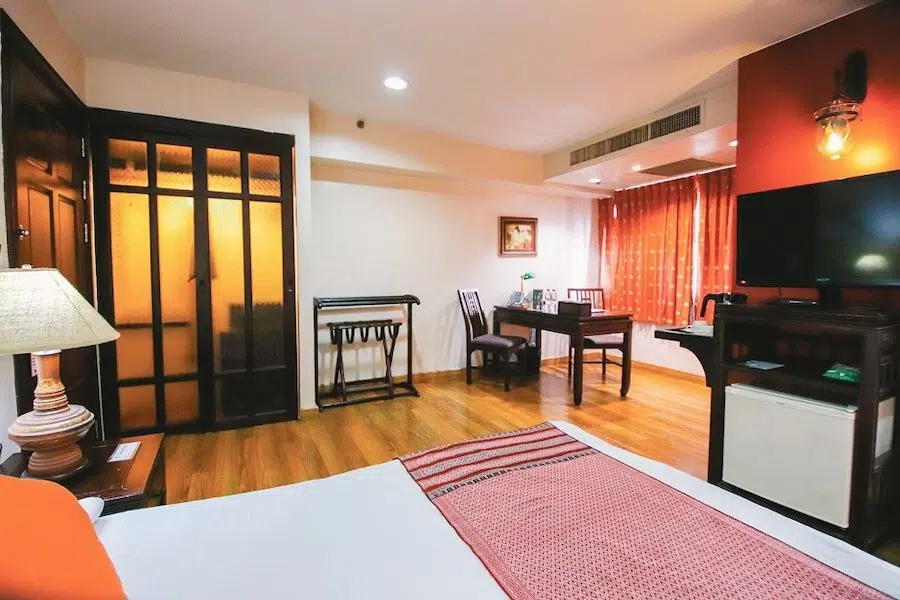 The Siam Heritage is a great 4-star hotel with traditional Thai design, good service and a zen atmosphere that contrasts with the wildness of Patpong.
The hotel also has a relaxing rooftop pool and garden. Perfect for relaxing with a beer after a long night out.
Red Planet Bangkok Surawong (budget-friendly )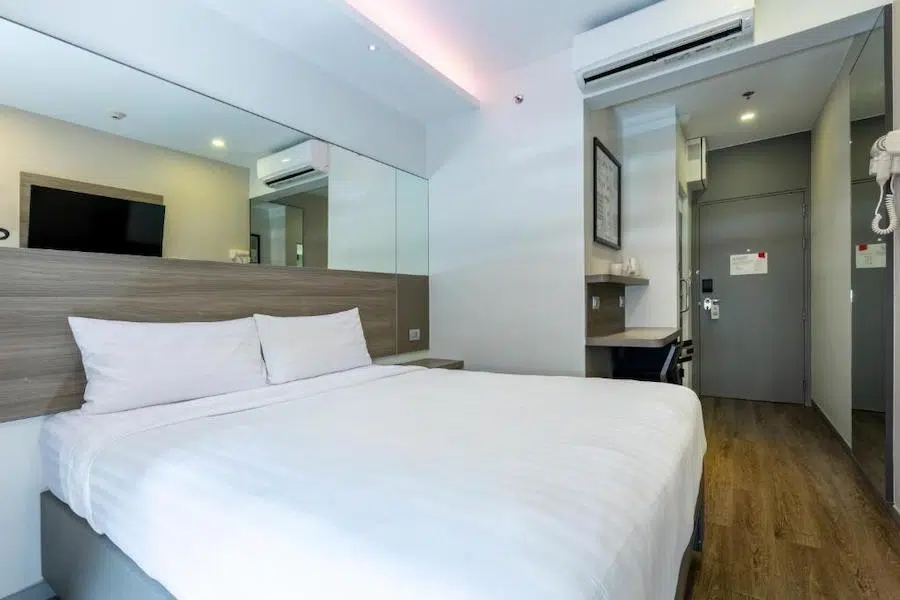 The famous budget hotel brand Red Planet has a hotel just a few hundred meters from Patpong.
It may not be the cheapest in the area, but if you are looking for a clean and comfortable room to take a girl, it's the best option in this price range (around 400 THB per night).
---
Learn More About Patpong's History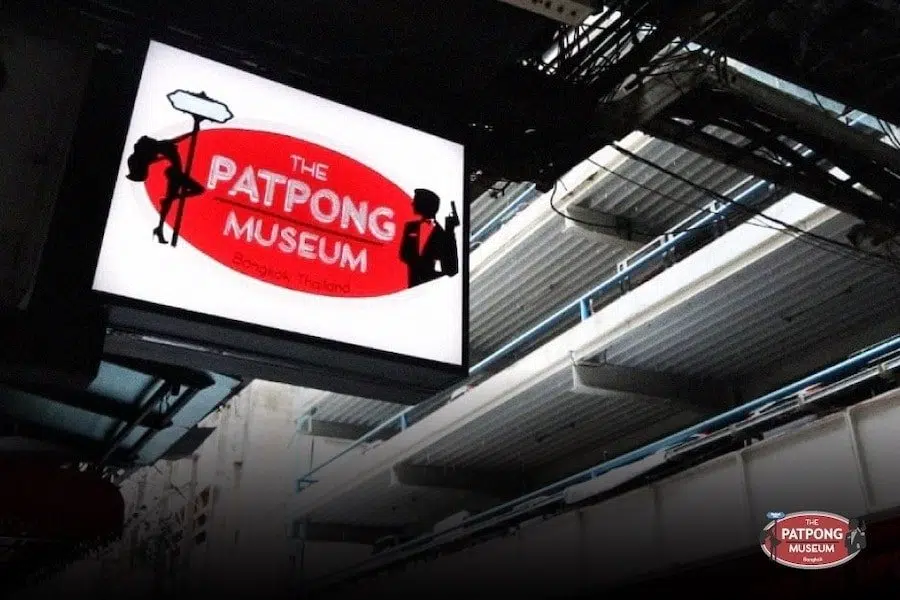 Patpong was home to Thailand's first gogo bar and was also Bangkok's first official entertainment district.
Even though it's a shadow of what it once was, its history and evolution are super interesting and full of incredible stories. Including one with the CIA, and another with David Bowie.
To learn more about Patpong's rich history, visit Patpong Museum.
Now if you are looking for a better alternative to the gogo bars and want to see what the best adult entertainment in Bangkok looks like today, check out one of the city's incredible gentlemen's clubs.
They have hotter girls and better sex shows than what you can find in Patpong or any gogo bar in Bangkok.
---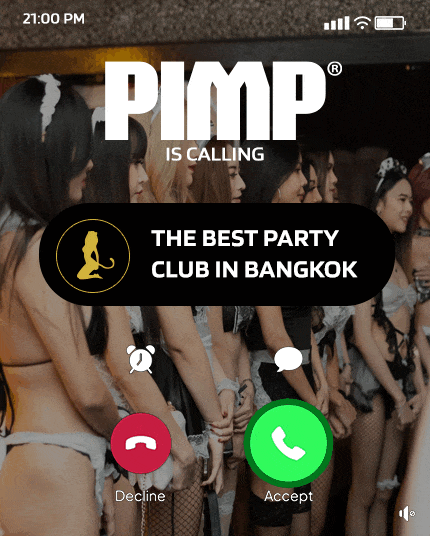 FAQ
Where is Patpong?
Patpong's red-light district and night market are located between Silom Road and Surawongse Road. It is also near the BTS station Sala Daeng and a few hundred meters from the MRT station Silom.
What time does Patpong open?
Most bars in Patpong open from 7pm until 2am. Patpong's night market is open from 6pm to midnight every day.
Where to stay near Patpong?
---
If you have any questions about Patpong, feel free to ask us anything you want to know in the comments, and we will be happy to answer.
And if you are looking for help planning your trip to Bangkok or any private party in the city, we are here for you. Drop us a line today.