Thonglor (or Thong Lor) is widely known to be Bangkok's trendiest and hippest neighborhood.
It has a vibrant lifestyle and night scene, attracting thousands of hi-so Thais, expats and tourists on a daily basis.
Every square inch of the road and its Sois are packed with eateries, bars, and nightclubs that are constantly full of people partying.
But with so many options, it can be overwhelming to decide where to go on a night out.
Don't worry though.
We have sorted that out for you with our list of top 7 places to party in Thonglor that includes a bit of everything.
Elite Club Thonglor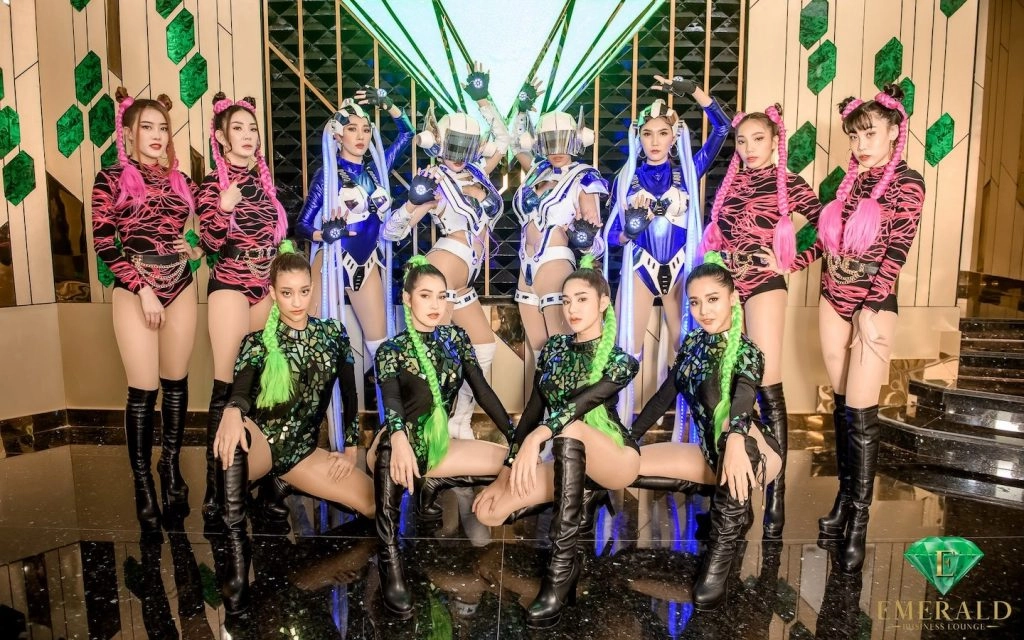 Once famously known as Emerald Club is now called Elite Club, one of Bangkok's leading luxury gentlemen's clubs.
It is undoubtedly the most lavish and hi-so Thai club on Thonglor road with its stylish interior design and superb VIP services.
Housed under a 5-floor building, Elite Thonglor has over 40 VIP rooms and a massive main hall.
The main hall features impressive light and sound systems as well as giant LED screens that flicker along with high energy live music and DJ performances.
There are also special dance shows throughout the night by sexy girls.
The private VIP rooms themselves are equipped with high quality karaoke systems, Wifi-connected Smart TVs and large comfortable sofas.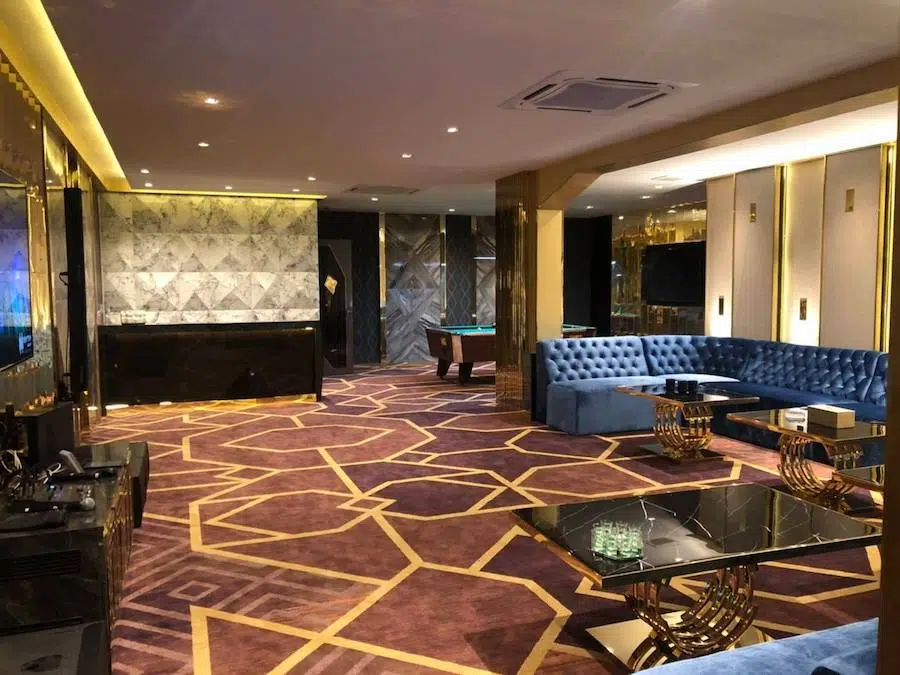 It's where just about anything goes as long as your wallet can afford it.
The club is home to hundreds of incredibly hot and beautiful Thai girls who are there to keep you company.
You can have them join you in the main hall or in one of the VIP rooms.
Whether she is a receptionist, a dancer or a hostess, the girls at Elite Club are all quite attractive.
You also can't help but notice how their outfits get smaller as the night goes.
It's a terrific place to party if you want to drink and dance to live music and DJ sets, watch erotic performances on stage or to celebrate a special occasion in a private room with some of the hottest girls in Bangkok.
Getting access to Elite can be hard and there are a lot things to learn about the way gentlemen's clubs work in Thailand.
If you have any questions or you want to make a booking, contact us now.
Operating hours: Every day, 8pm – 2am
BEAM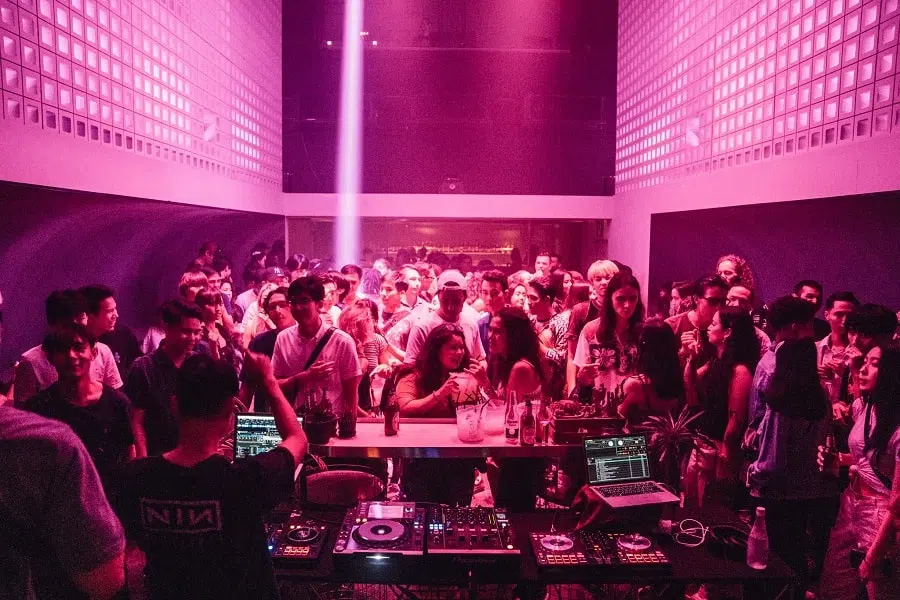 BEAM is both a popular and an underrated club at the same time.
Those who have been there, consider it as one of the finest party clubs in all of Bangkok that perfectly balances commercial and underground music.
This two-story club contains two visually impressive rooms, one playing hip-hop and trap while the other upper room leans towards techno and house.
The tech-house zone in particular has a unique design and atmosphere with unparalleled state-of-the-art laser lights and sound system.
It even has a dance floor that vibrates!
Where else do you know that has this experience?
The club really knows how to tap into all of your senses.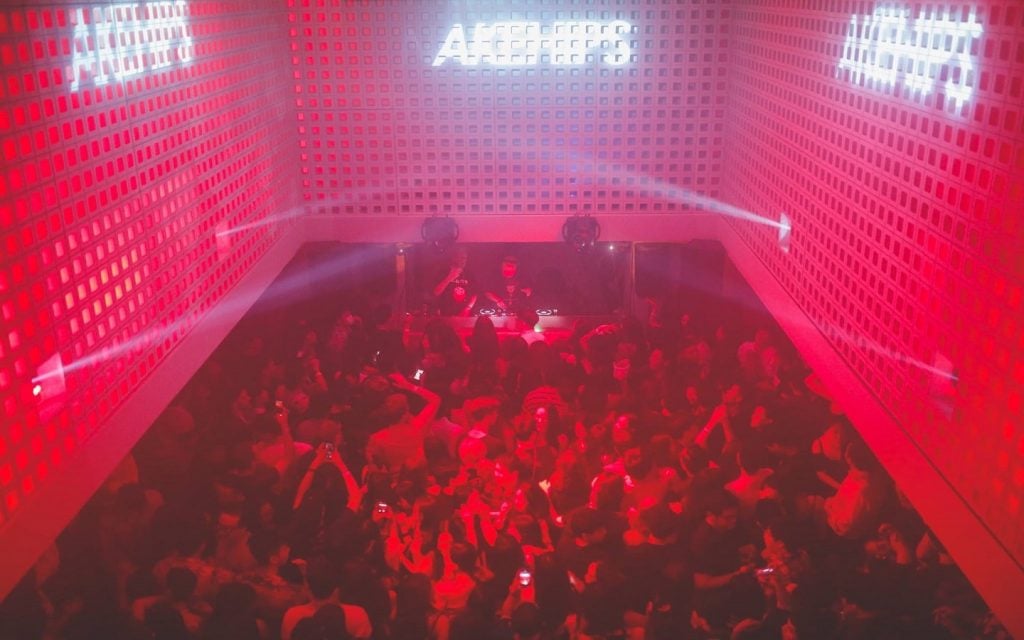 Beam is one of very few clubs in all of Thailand that has a proper dance floor and not just shoulder to shoulder standing tables.
Here it is more about the music, quality sounds, the visuals, high energy, and ultimately having a good time.
If you are looking for the best dance and party clubs for good music and rare vibes, BEAM should be at the top of the list.
Operating hours: Friday and Saturday, 9pm – 1am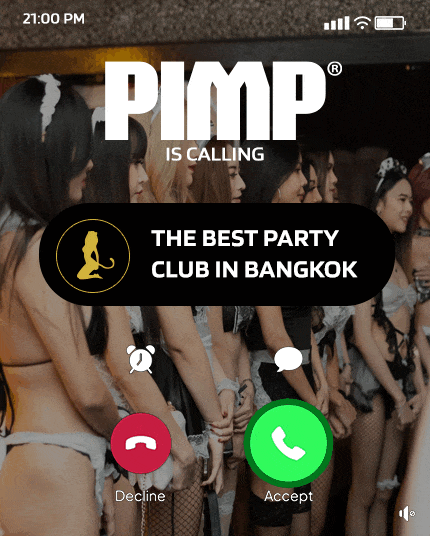 Rabbit Hole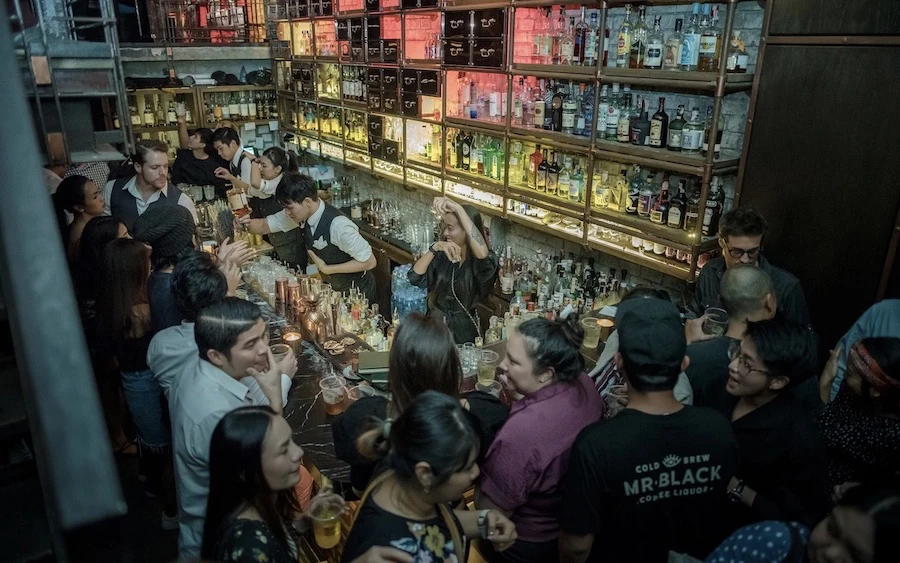 Partying doesn't always have to be in a chaotic club with dancing and bottle services.
It can also be a bit more chilled with exceptional cocktails and cool vibes in a comfortable setting.
Rabbit Hole, a multi-award winning cocktail bar is one such place in Thonglor.
It's a party bar where you can go alone, with a date or a bunch of friends to catch up and have a few drinks, no matter the occasion.
Rabbit Hole even made a drink flowchart to help you decide what to drink depending on your mood and how you want the night to go.
Looking to have just one drink and go home? We hope not. But if you do, then we recommend the Espresso Martini.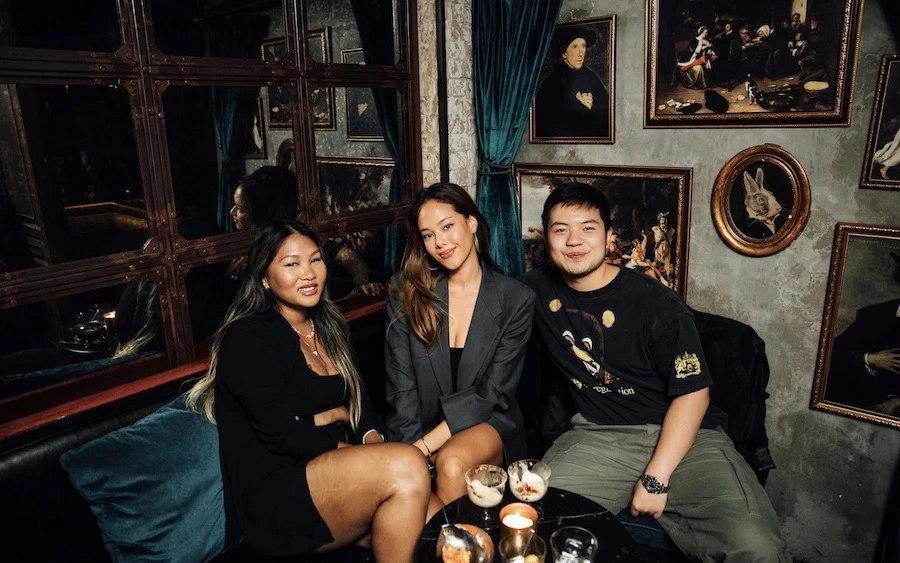 Thinking of going wild and dancing all night? Go for the Stonehouse Martini or the Sa-mui Boy.
What might take you 10 drinks to get wild at a normal club, it will only take a few at Rabbit Hole.
Yes, the drinks are "hella strong" here.
The bar is also known to host special events from time to time, whether it is hosting prominent DJs, inviting guest bartenders or having some kind of cocktail tasting session.
Operating hours: Every day, 7pm – 1am
Atmos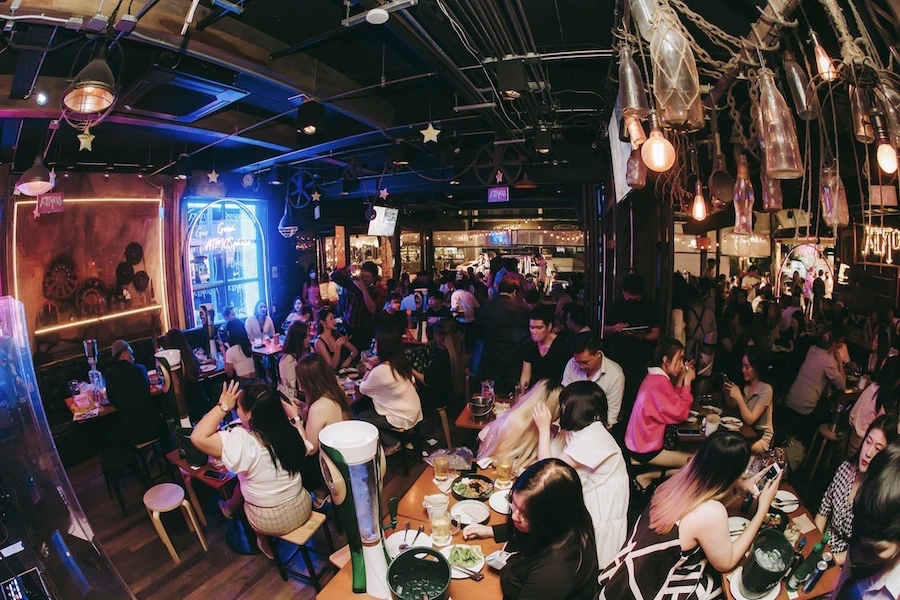 Want to go where all the cool Thai kids go to hang out and party in Thonglor?
Atmos is definitely one of those places as it is packed on any given day.
Atmos is a full-fledged entertainment hub with dining, live music performances, and DJs spinning all kinds of tunes.
It's one of those restaurant-bars where you can spend the entire night.
A typical experience starts chilled with food and some drinks. Then the live band comes out and gets you singing along.
The bottles and beer towers start pouring out.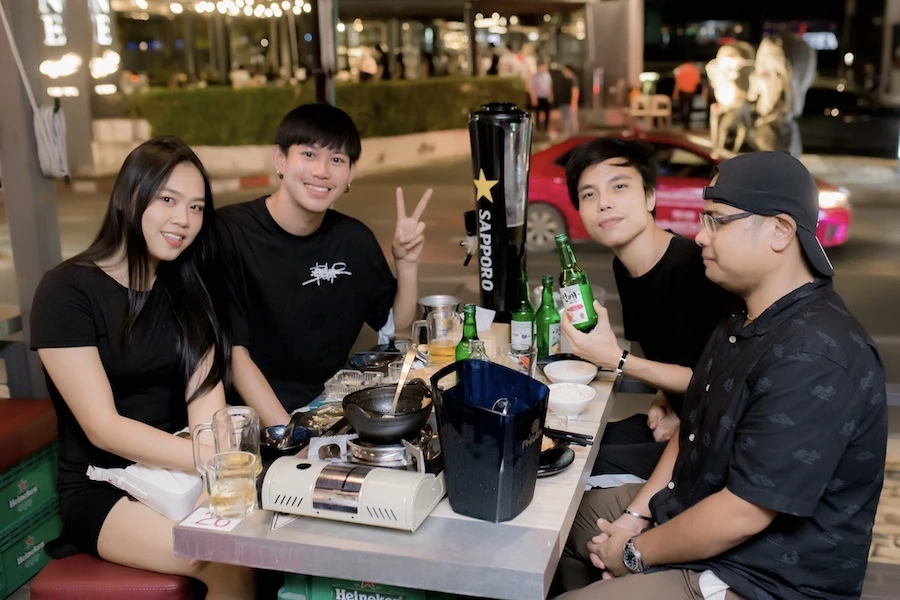 Finally, the DJ spins a collection of tracks that gets people on top of chairs and dancing.
They also have signature cocktails that are not only visually appealing, but also quite delicious.
Ask anyone and they have nothing but great things to say about Atmos.
It's a wonder it is one of the top places to party in Thong Lor.
Operating hours: Every day, 5pm – 1am
Bluebird Jazz Bar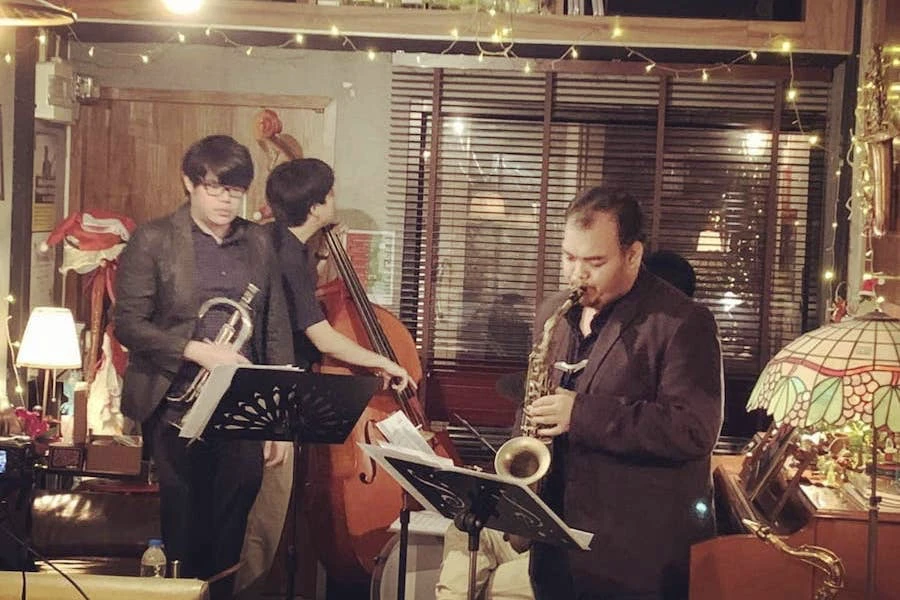 Jazz music, vinyl records and an art gallery.
These are just some of the things that makes Bluebird Jazz Bar stick out from other live music venues in Thonglor.
It is a refreshing cozy little space for jazz lovers who like to connect with music and have long chats with friends while sipping on drinks.
It's a homely and intimate space where strangers come to become lifelong friends.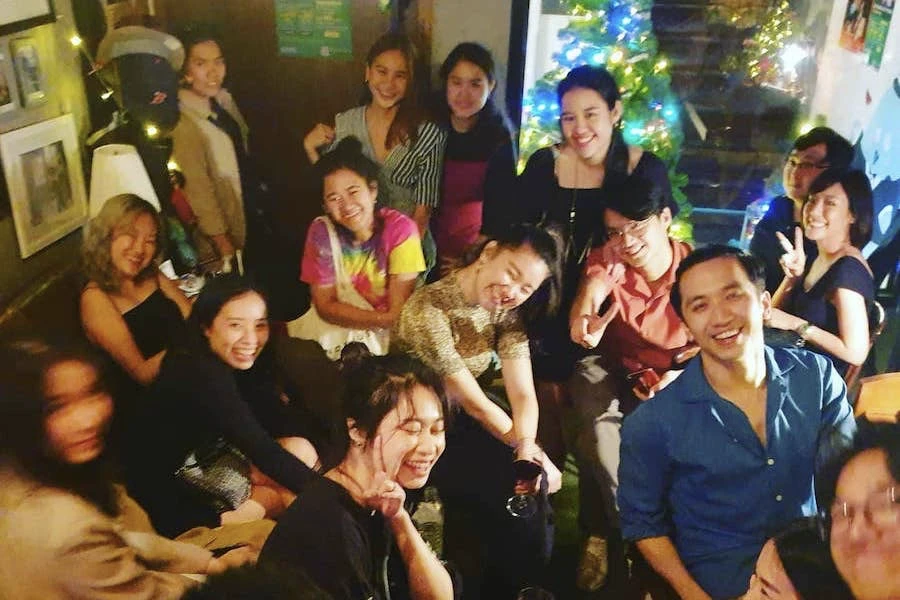 For some this is an ideal party scene, away from all the chaos of other bars and nightclubs in the area.
It's a place where you don't have to bump shoulders or fight to get in line for a drink.
Bluebird Jazz Bar is a hidden gem that clearly focuses on people, music, and just plain old chill vibes.
They are a testament to us that you don't always have to have loud music and crazy nights to have a good time.
Operating hours: Tuesday to Saturday, 5pm – 11.30pm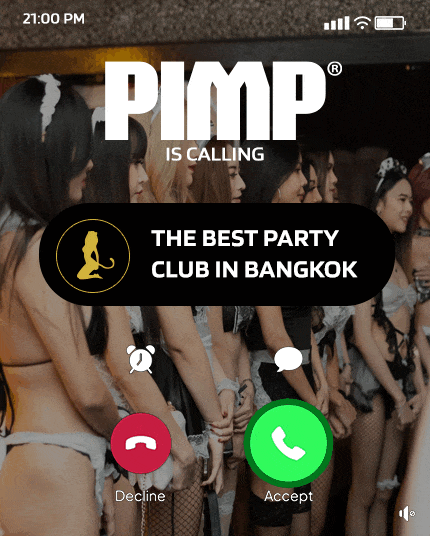 Lava Bangkok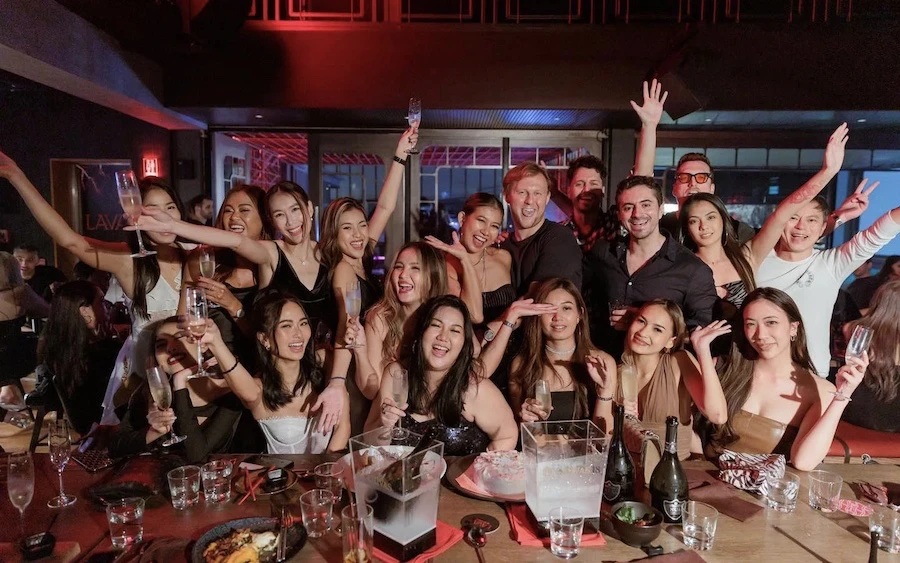 Lava Bangkok is one of the newest bars that has hit the dining and party scene of an already buzzing Thonglor Soi 10.
This unique Asian-inspired bistro and bar is stirring the pot with its innovative concept, delicious food and creative cocktails.
Lava Bangkok features an extensive food and beverage menu, which you can see and download from their website.
This is great because then you can know exactly what to expect before even going there.
It's one of the few places that know how to go from casual dining to a vibrant party experience in an excitingly seamless way.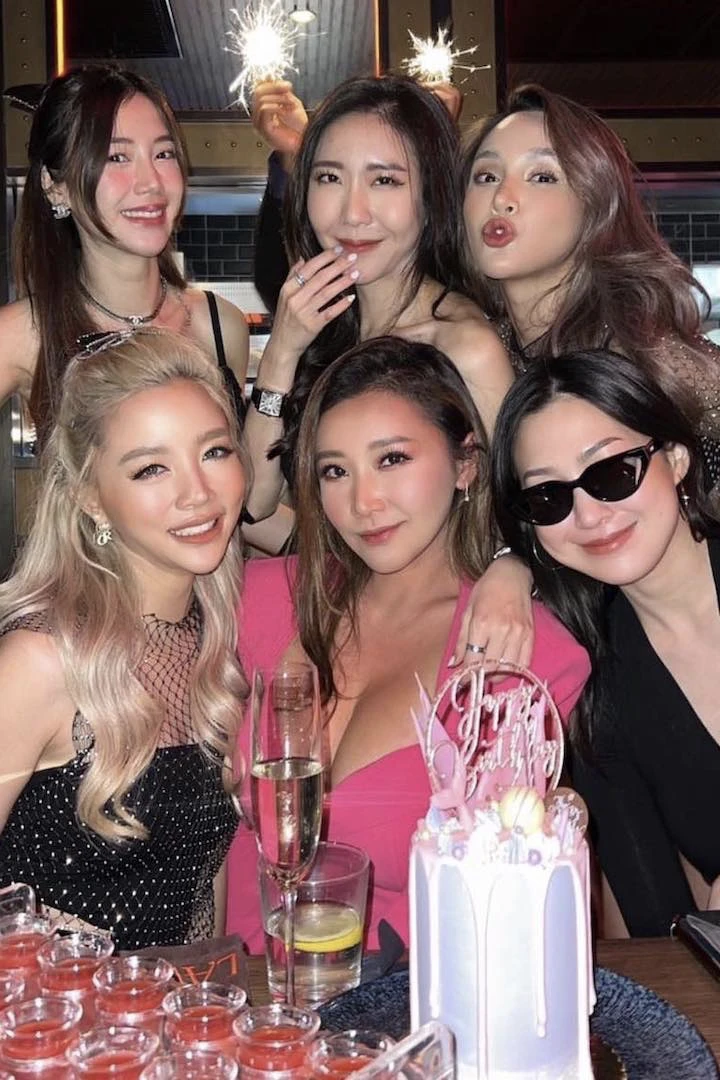 An evening here usually starts with great Asian tapas and fusion food as well as a couple of cocktails to wash it all down.
As the night wears on, out come the bottles and party packages.
The music and live performances also turn up to get you off your seats and on to the dance floor.
If you are unsure if you want a nice night out with friends or a crazy party, this is the perfect place to start.
Have some food, drink a little bit, and you never know what might happen next.
Opening hours: Every day, 5pm – 1am
Octave Rooftop Bar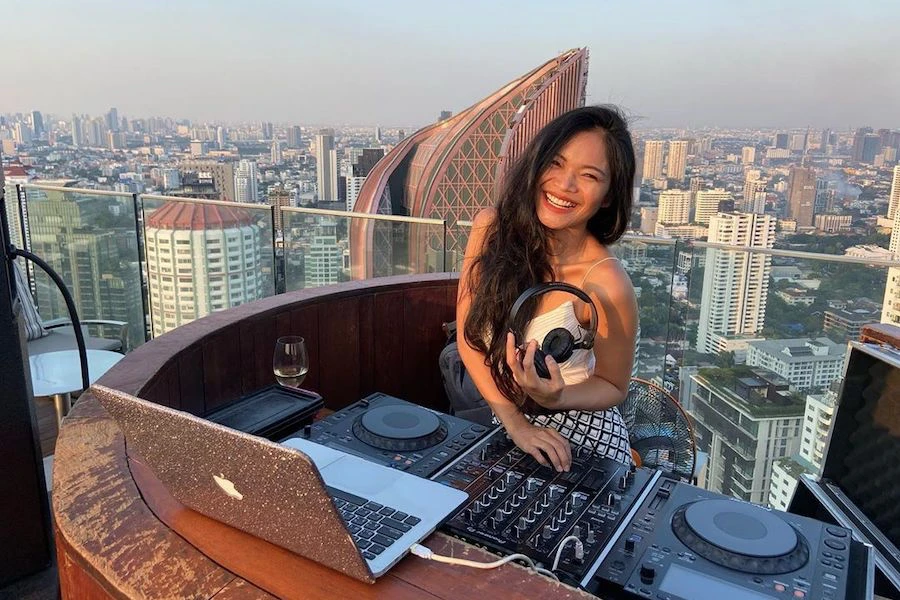 No party list is ever complete without a rooftop bar and Thonglor has one of the best rooftop bars in all of Bangkok.
Octave rooftop bar covers the top 4 floors of the Marriott Sukhumvit Hotel allowing it to possess jaw-dropping panoramic views of the city.
The top deck in fact features uninterrupted 360 views, which makes you feel like you are literally on top of the world.
Octave also holds some of the best parties in town. Regularly.
Alongside top party organizers, Octave brings cool vibes, great party packages, exciting DJs and curated experiences that have created quite a few legendary nights.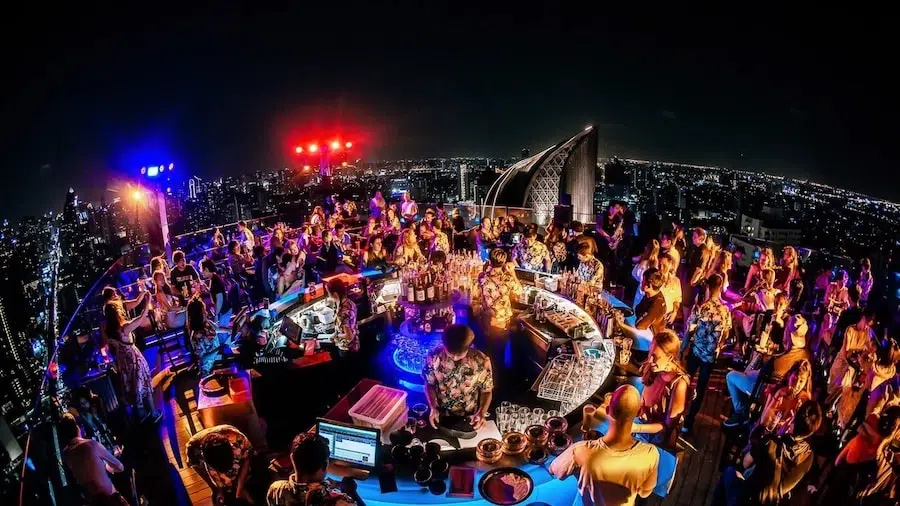 Whether it is a takeover, their own exclusive event or a special occasion such as Full Moon, Halloween or New Year's Eve, they are always pushing boundaries and taking their parties to the next level.
The ambiance at Octave is always phenomenal and chic, attracting the most trendy and well-dressed crowds.
Be sure to bring your best look if you are looking to party here.
Opening hours: Every day, 5pm – 1.30am
There you have it.
Our top 7 places to party soft or hard in Thonglor.
Contact us if you need to arrange private parties or to organize your trip to Bangkok.
For more information on where to party in Bangkok, make sure you read our guide of Bangkok nightlife.
---
What Are The Best Hotels Near Thonglor?
If you are thinking of spending your nights partying in Thonglor, it is best to stay close to all the action.
Here are some of the best hotels in or near Thonglor.
MUU Bangkok Hotel (5-Star Hotel)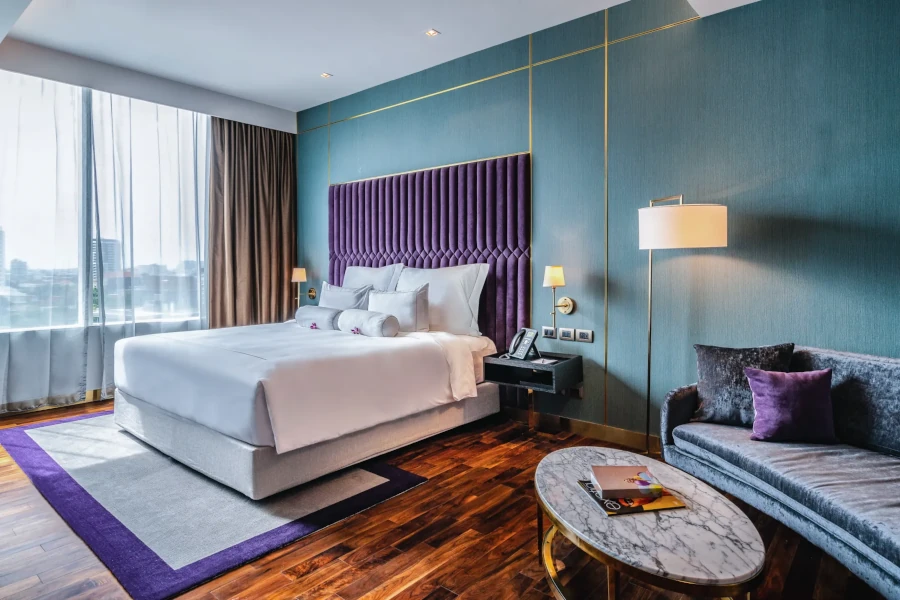 MUU Bangkok is a luxury boutique hotel close to all the nightlife and best party spots in Thonglor.
It is chic and modern with extremely comfortable rooms, perfect for relaxing after a heavy night out.
The hotel also has a fitness room, outdoor pool, spa, and wellness workshops for keeping healthy.
---
Center Point Thong Lo (Best Value For Money)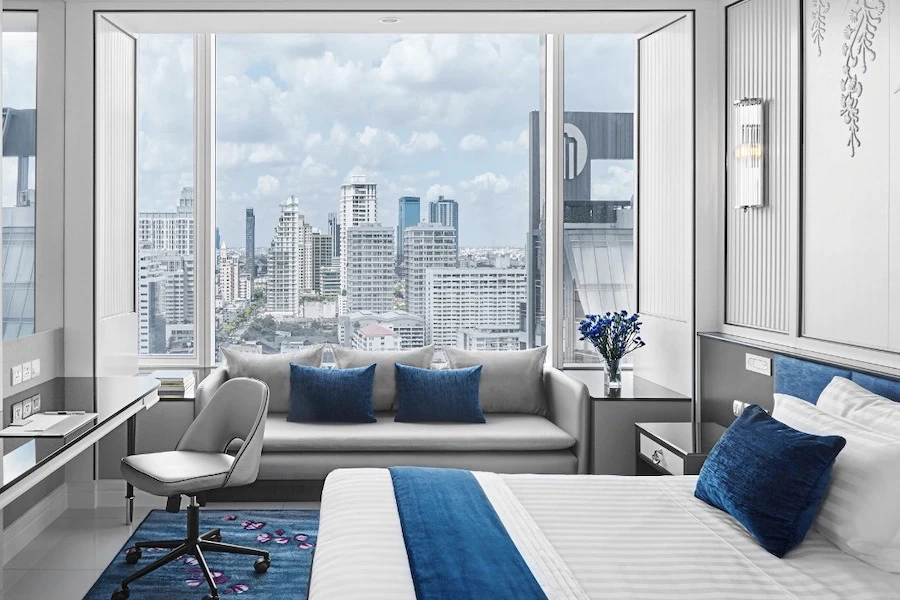 Center Point is like a home away from home.
If you are looking for a long-term stay, this fully-furnished serviced apartment is the ideal place to stay in Thonglor.
The rooms range from one-bedroom to two-bedroom suites, each equipped with a kitchen, washing machine, workstation, and balcony
You also get access to great facilities such as an outdoor swimming pool, gym, sauna, conference room, and a business center.
Great for business and leisure trips.
---
Aspira Tropical Residence ThongLor (Budget-Friendly)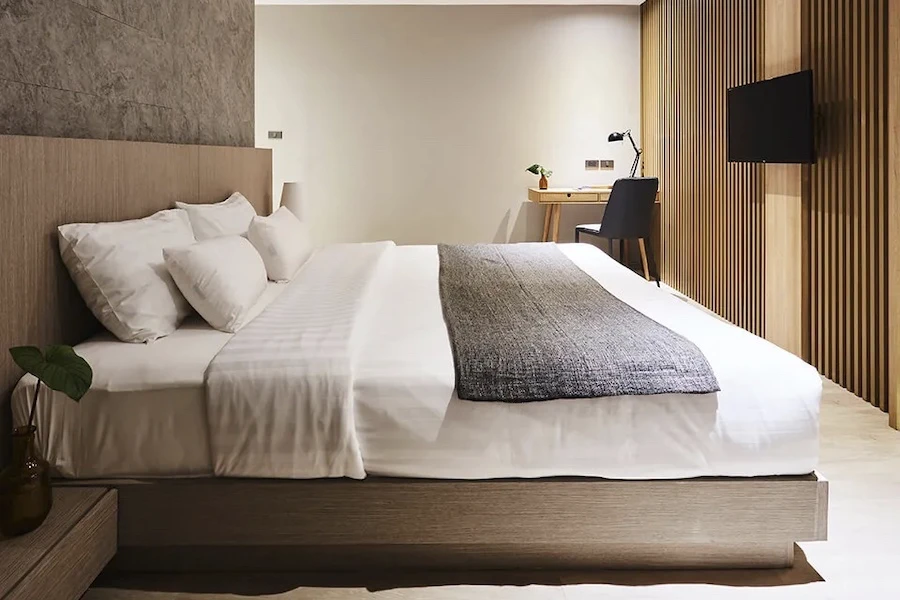 Aspira tropical residence is a great recluse that is close to the party scene of Thong Lo but also far enough to get some quiet and restful sleep.
The rooms at Aspira are spacious, cozy, and fitted with all the essentials and amenities that you would have back home.
Facilities here are top-notch that not only include the typical swimming pool and fitness room but also a library and a rooftop golf driving range.
It is an excellent serviced apartment for both short and long-term stays.
Make sure to get the Aspire Club membership for special benefits.
---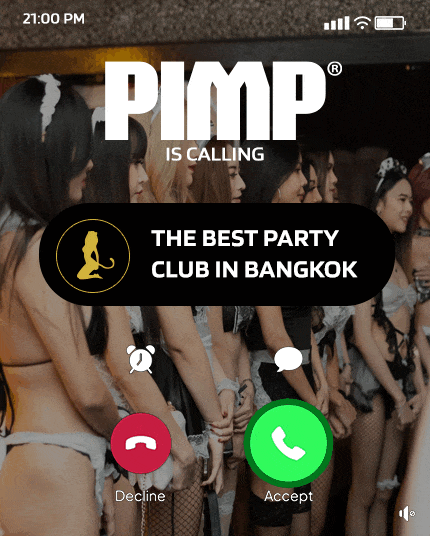 FAQ
What Is Thonglor Known For?
Thonglor is known for upscale shops, community malls, trendy restaurants, chic bars and having a buzzing nightlife. It is also one of the best residential neighborhoods.
What Is The Best Place To Party With Thai Girls in Thonglor?
If you really want to impress a Thai girl, take her to BEAM for its breathtaking visuals and unique music vibes. You can also meet plenty of gorgeous Thai girls there.
But if you don't know any girls, you can hire Thai party models to go out with you.