Find the best hotel suites to party in Bangkok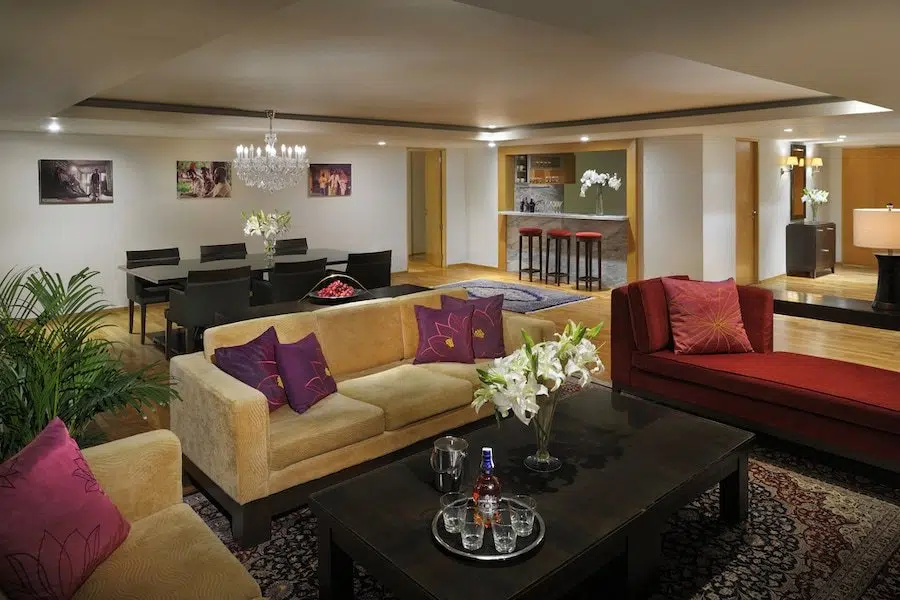 It's hard to find a villa or a pool villa to host a party in Bangkok. So what is the best alternative?
A hotel suite !
Bangkok has a ton of luxury hotels with large suites and amazing amenities, for the fraction of what it would cost in other cities.
Imagine a 1 bedroom hotel suite with a private terrace and outdoor jacuzzi for only ฿12,000 a night.
Or what about a suite of 215 square meter with its own private hot tub and sauna for you and all your friends?
Bangkok has an incredible range of hotel suites.
The best hotel suites in Bangkok for private parties
Here are the 5 hotel suites we recommend for your party in Bangkok.
Ambassador Suite at The Davis Bangkok
Starting at only ฿5,000, this 2 bedroom suite in the center of Bangkok has its own indoor hot tub, and enough space for about 20 people.
The better part about it, is the staff seems to care really little about who's coming to the room. So you won't have any problem bring friends over, even late at night.
Savvy Suite at Aloft Bangkok
This 1 bedroom suite is the smallest on the list, but it has an incredible private terrace to make up for it.
The terrace offer complete privacy and is big enough for at least 20 people.
Even better, it also has an outdoor hot tub where you can relax while you enjoy the incredible view of the city.
And if that wasn't enough, Aloft Bangkok is perfectly located in the center of Sukhumvit soi 11, only meter away from some of the best bars, clubs, and restaurants in Bangkok.
The Hangover Suite at Lebua at State Tower
This great 3 bedrooms suite named after is the Hangover movie is perfect for bachelor parties, and any other parties you plan to have there.
With a name like that, they kind of expect you to party in the suite.
The living room is large enough for 20+ guests, they have room service 24/7 and all you need is to have your friends leave their ID at the reception.
For the rest, they don't ask too many questions.
Wow Extreme Suite at W Bangkok
There's one brand of hotel that resonate with parties, W hotels.
Their hotel in Bangkok is no different and if you want to take things to the next level, they have an incredible suite called Wow Extreme that will literally wow you.
Enjoy this 215 square meter 1 bedroom suite with its private hot tub, sauna, bar, and of course enough space to have 50 friends over.
Presidential Suite at Hyatt Regency Bangkok
Hyatt Regency is perfectly located in the center of Sukhumvit, only minutes away from the best areas to party in Bangkok, Soi 11, RCA, and Thonglor/Ekamai.
Take advantage of their 208 square meter Presidential suite to invite your friends for a few drinks, before you hit the clubs, or after they close.
The hotel might not be advertised as party-friendly, but at ฿45,990 a night they tend to be flexible with their rules.
Contact us for more hotel suites
That's only a few examples of the suites you can book for your stay in Bangkok.
We can help you find the right one for your private party.
And it doesn't matter what type of party you plan to host and how big your group is, we know where to look.
Contact us and we'll help you find the best hotel suite and the best deals.