Whoever said that cocktail bars can't host incredible parties probably hasn't been to the right ones.
Bangkok is filled with bars that know how to keep it chilled but also some who like to turn it up with crazy events and parties.
But with hundreds of amazing cocktail bars in the city, how do you know which ones are the best for a wild night out with friends or colleagues?
Once again, Party Bangkok comes to the rescue.
Here are 7 of the best cocktail bars in Bangkok with crazy parties.
Tropic City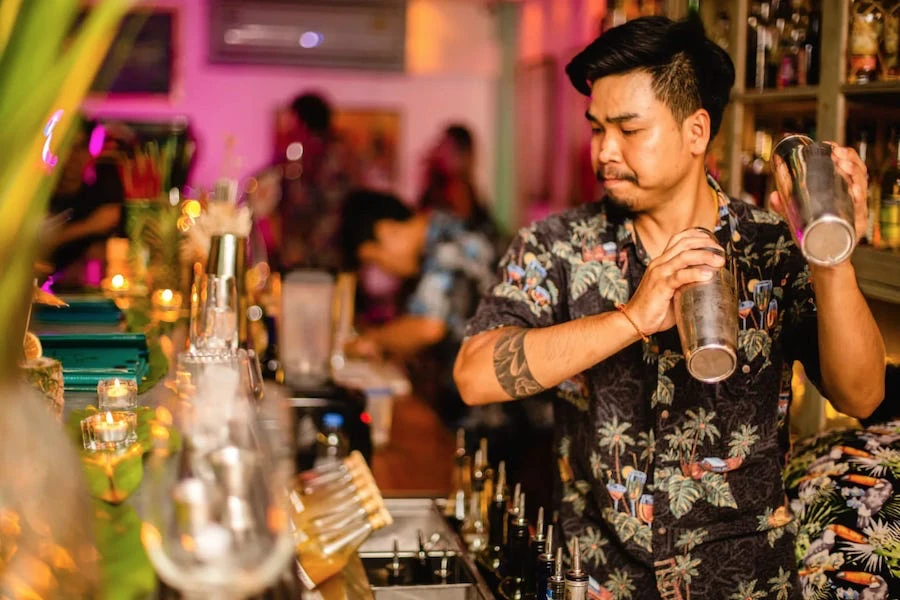 Colorful and vibrant, Tropic City is a multi-award-winning cocktail bar that recently made #17 on Asia's 50 Best Bars in 2022 and #62 on World's Best Bars in 2021.
Those are some serious accolades and you quickly understand why as it has some of the best drinks in Bangkok, feel-good vibes, and an amazing staff.
Tropic City is constantly hosting themed events and special DJ performances.
They post all updates, DJ lineups and events on both their website and social media.
Bangkokians and tourists flock to Tropic City for their drinks, spirited party ambiance, and an amazing selection of music.
They play everything from electro, disco, and house to hip hop, R&B, and funk.
Operating Hours: Tuesday to Saturday from 7 PM to late
Address: 672/65 Soi Charoen Krung 28, Bang Rak, Bangkok 10500
---
Teens Of Thailand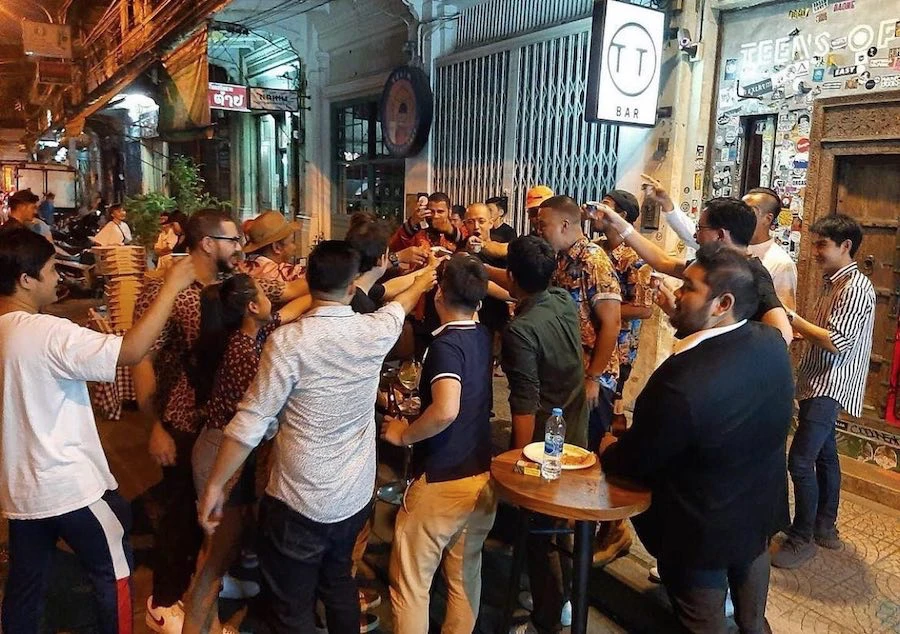 Located in the hip street known as Soi Nana near Chinatown (not to be confused with the one in Sukhumvit), Teens of Thailand has become one of Bangkok's most popular bars for fine drinks.
It is one of the best cocktail bars in Thailand, and has also made its way into Asia's 50 Best Bars list in 2021.
Mysteriously concealed behind an antique wooden door, Teens of Thailand conjures up amazing gin cocktails amongst a dimly lit ambiance, fascinating local art, and chilled tunes.
As the owner teasingly says, "it's where useless teens and mid-life crisis people come to drink".
You can expect to be surrounded by people who go here to begin a crazy night of partying.
Operating Hours: Every day from 6 PM to 1 AM
Address: 76 Soi Nana, Charoen Krung Rd, Pom Prap, Bangkok 10100
---
Revolucion Cocktail Bar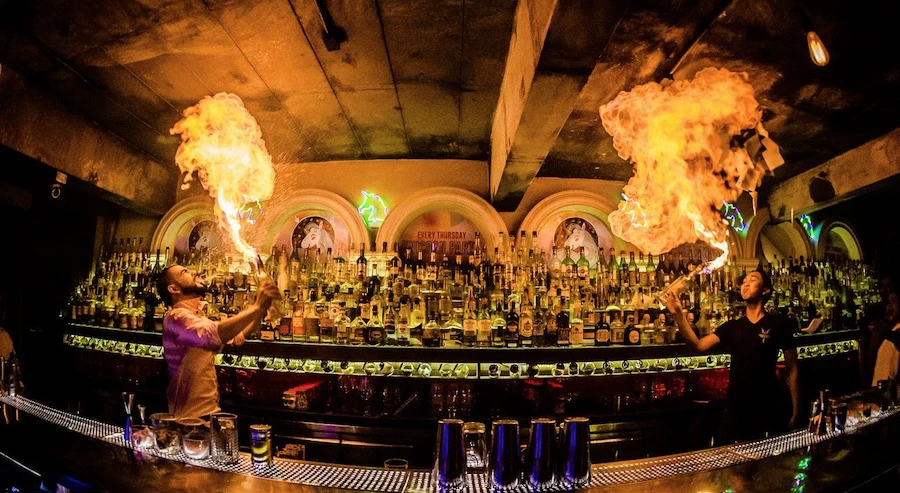 After being shut for about 2 years, Revolucion Cocktail is back in a new location.
But they haven't missed a beat.
The place is still literally on fire or as the Spanish say "En Fuego".
This awesome cocktail bar is known for its lively music, inventive drinks, and most of all, the crazy fire shows performed by its talented bartenders.
Every Wednesday, the bar hosts Latin nights where they bring the best of Latin music from Brazil and Colombia to Puerto Rico and Mexico.
On weekends, Revolucion gets quite busy with young local and foreign crowds from across Bangkok.
They come to drink, dance, and do some serious partying unlike at most other cocktail bars.
Apart from the fire shows, the bartenders even get up on the bar and pour shots straight from the bottle down the people's mouths.
Just get their attention and they come to you!
And that's when they're not juggling with bottles behind the bar.
Music at Revolucion is a mix of many genres, bringing in local and international DJs who spin everything from house and techno to hip hop and Latino.
Don't forget to try their flaming shots!
Operating Hours: Monday to Saturday from 7 PM to late
Address: 981 Holiday Inn Silom Hotel, 11 Silom Rd, Bang Rak, Bangkok 10500
---
Havana Social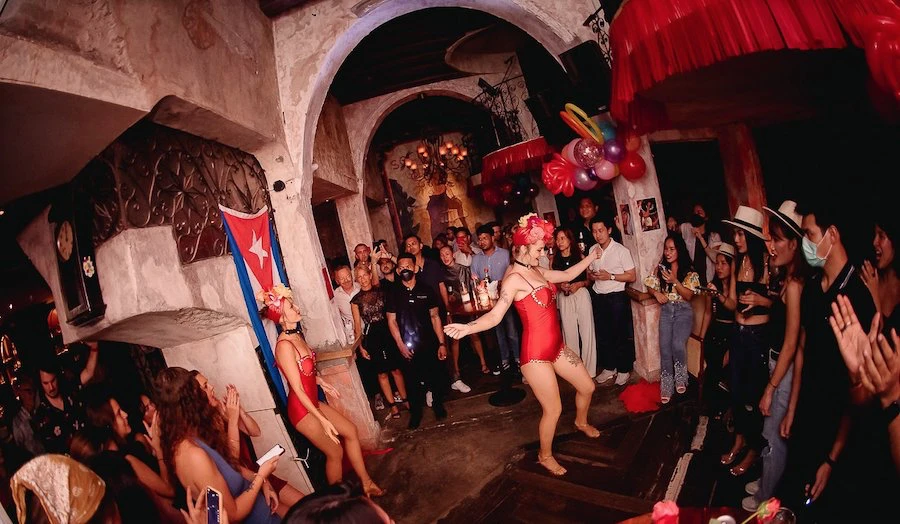 You know when you have to find a hidden bar, stand in a long line, and then enter a passcode to get in, that it is going to be one hell of a night.
Havana Social is one of those places and it has made a name for itself as one of the best cocktails bars for parties.
Created under a Cuban theme with a hint of the prohibition era, Havana Social has awe-inspiring interior design, intoxicating drinks, good Latino music, and an incredibly lively vibe.
There are two floors with two different ambiances at this cocktail bar.
The first one is the main bar and dancing area with a small dance floor for people to bust some moves.
You will notice a lot of salsa dancing around here.
On the second floor, there is a smaller private bar area, more intimate. And a cigar room.
It is a great hangout space and a good place to meet single girls.
So, no matter what kind of party you want to have, Havana Social is the place for it.
Operating Hours: Every day from 6 PM to 2 AM
Address: 41, 3 Sukhumvit Rd, Khlong Toei Nuea, Watthana, Bangkok 10110
---
Flamenco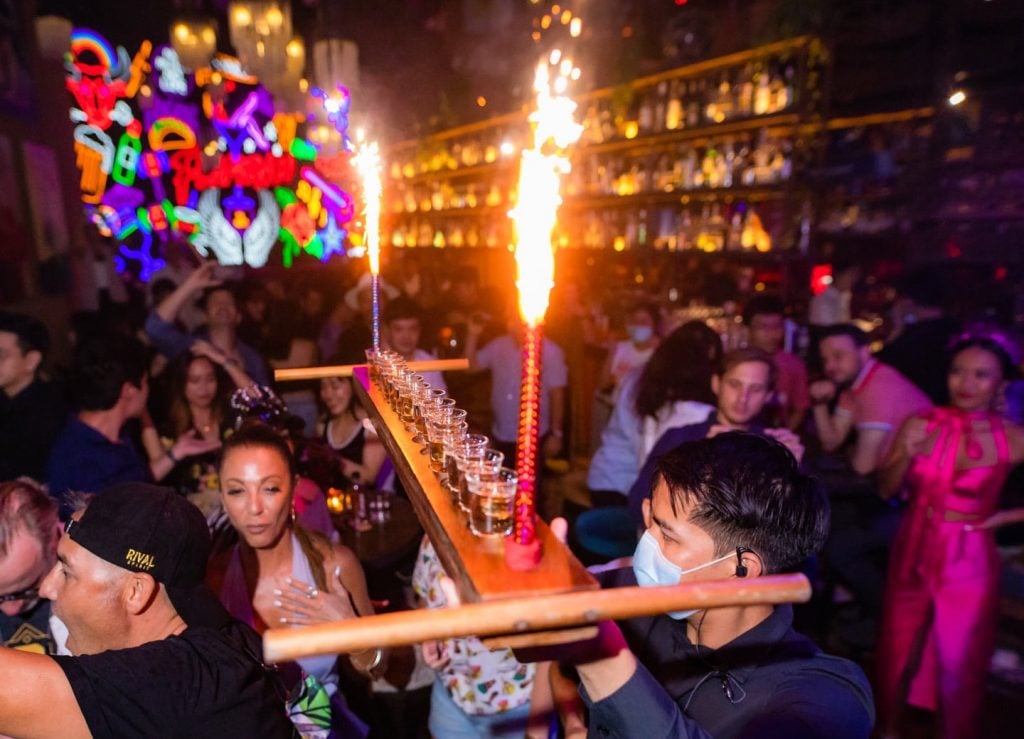 There are bars that go wild on weekends and then there are cocktail spots like Flamenco that start the party mid-week.
Designed in bright colors and filled with exciting entertainment throughout the week, Flamenco is a go-to place for many who want a night of drinking, dancing, and partying.
They are known for their blend of different music genres, mixing up Latino, Hip Hop, Reggaeton, old-school mashups, and even live band performances.
Who would have imagined that for a cocktail bar that is located inside a mall, right?
Well, we know they are doing something right as it is always packed with plenty of expats and Thais partying hard.
Operating Hours: Thursday to Saturday from 7 PM to 2 AM, and Sunday from 6 PM to 12 AM
Address: 9th Floor, Building A, Em Quartier, Khlong Tan Nuea, Watthana, Bangkok 10110
---
Iron Balls Distillery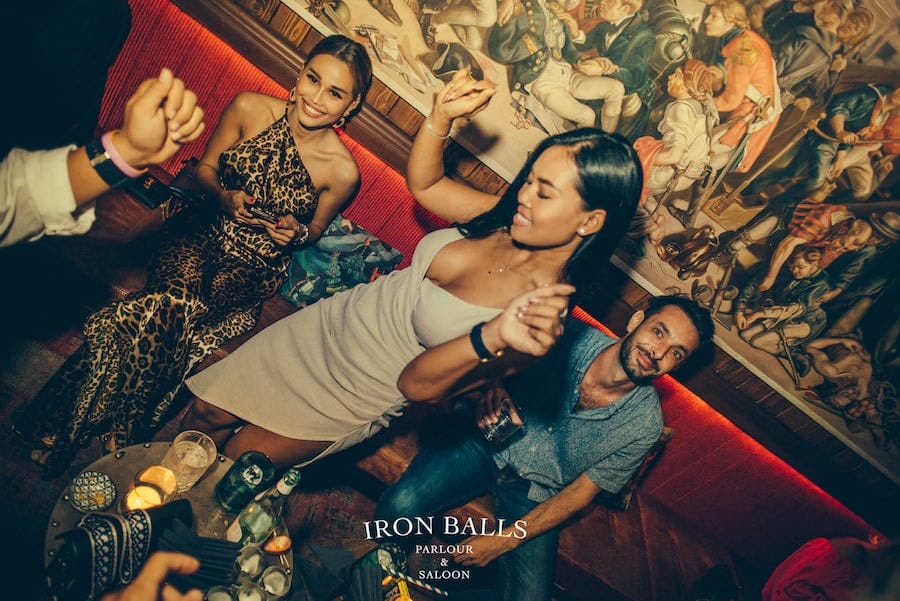 Iron Balls Distillery is more than just a good cocktail bar, it is also a place you go for whatever mood you are in.
You can easily chill there as you can party.
Considered to be Bangkok's best-kept secret and hidden away in Ekkamai, Iron Balls is a great place to start the night with well-crafted gin cocktails and a bit of partying.
Designed by Ashley Sutton, the same mastermind behind many of the top bars in Asia such as Sing Sing Theater, you can expect unique aesthetics that catch your attention wherever you look.
Here you will find some of the hottest people around town looking to have a good time with quality drinks and music.
Weekly sessions of live band performances and DJs spinning hip hop, R&B, funk, jazz, and soul are held at Iron Balls for the delight of the guests.
They also hold regular events, happy hours, and unique themed parties.
Operating Hours: Sunday to Thursday from 2 PM to 12 AM, Friday and Saturday from 2 PM to 1 AM
Address: Park Lane Ekkamai, G/F, Soi Sukhumvit 63, Thailand, Watthana, Bangkok 10110
---
Cactus Bangkok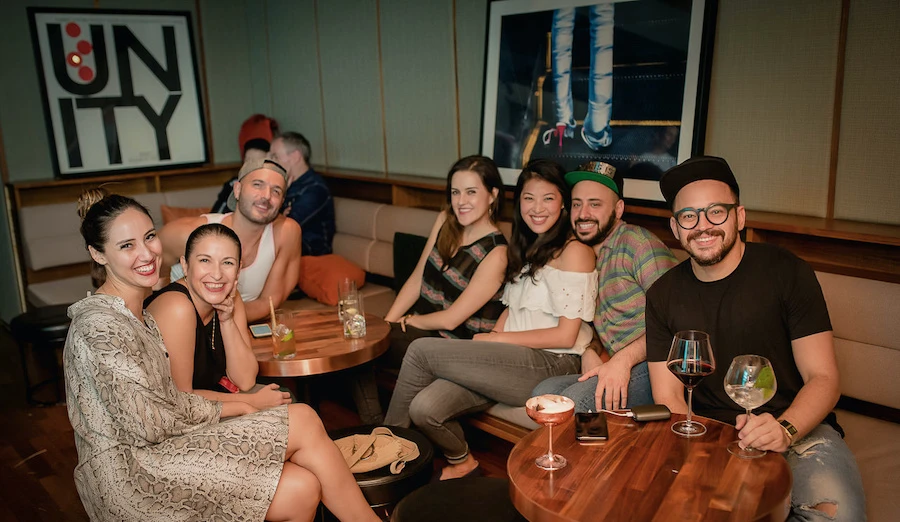 Cactus is a small rooftop cocktail bar nestled in Yen Akat road that is frequented by locals in Sathon looking to wind down after a long day.
Those looking to escape the hustle and bustle of Sukhumvit and Silom also like to venture here for the bar's chilled atmosphere and tasty drinks.
It's a great place to hang out with friends, have a sit-down party, pop some bottles or drink some of their signature cocktails.
As the night progresses, the music gets a bit louder and the crowd livelier.
With big sofas and isolated sections, you can make your night out at Cactus as crazy or as relaxed as you like.
Overall, the bar has a very chic design with a great vibe and friendly staff.
A nice change from the popular speakeasy-style cocktail bars of downtown Bangkok.
Operating Hours: Every day from 5 PM to 12 AM
Address: 15 Yen Akat Rd, Chong Nonsi, Yan Nawa, Bangkok 10120
---
Organize A Private Event In a Cocktail Bar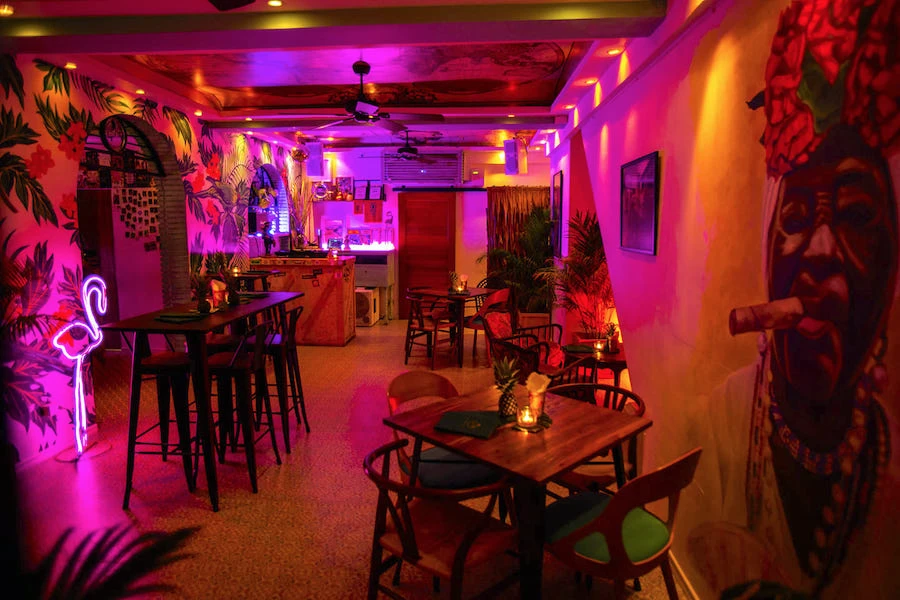 The great thing about all the cocktail bars in Bangkok is that you can always arrange a private party or an event there.
For a birthday, a launch party, or even a bachelor party.
Whatever your requirements, we can make it work.
Contact us today to organize your private event.
---
Go To A Cocktail Bar With Hot Thai Girls
The night is always better when you spend it with beautiful Thai girls
Whether you just need a sexy tour guide to show you around or the hottest Thai models to party with you until late, we're here to help.
Contact us to book girls to party with you at these cocktails bars.
FAQ
What Are The Best Cocktail Bars in Bangkok For A Private Event?
The best cocktail bars in Bangkok for a private event are Revolucion Cocktail Bangkok and Havana Social. Both have a lot of space for events of up to 300 people and custom packages with food and drinks. Contact us for more information.
Which Cocktail Bar In Bangkok Has The Best Parties?
The cocktail bar in Bangkok with the best parties is Revolucion Cocktail Bangkok. With its bartenders juggling with bottles and putting the bar on fire every night, it's hard to find wilder than that.
Discover more places to party in Bangkok.
Explore our guide to Bangkok nightlife to find out what are the best venues to party all around the city.