Right between the trendy Thonglor and a more chilled Phra Khanong, Ekkamai stands out as a perfect balance between the two sister neighborhoods.
This vibrant road along with its sub-streets is literally packed with office buildings, cafes, community malls, quie residences, and of course, plenty of popular local pubs, hipster bars, and nightclubs.
If you're looking to check out and experience the thriving nightlife in Ekkamai, here are 7 best places to party in the area.
Czech Club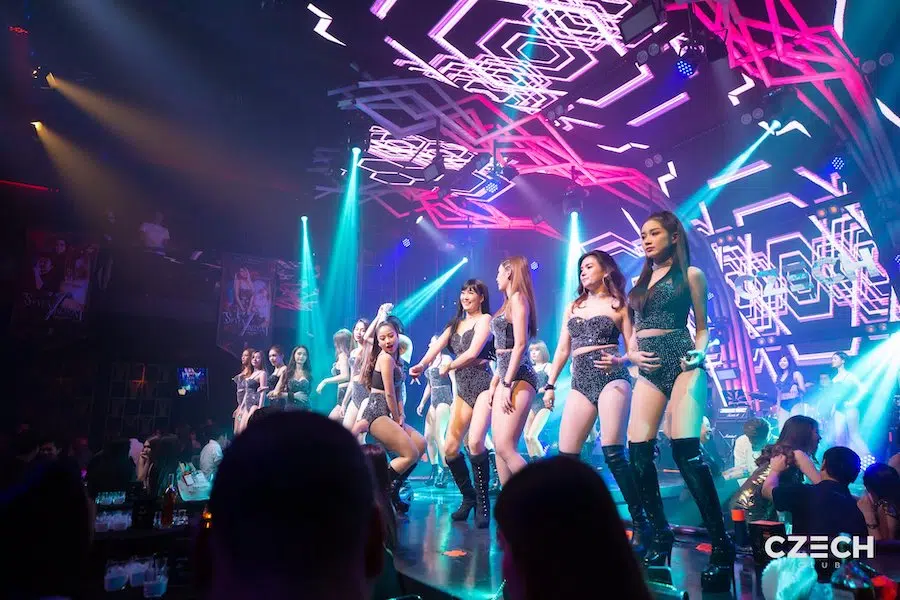 A self-proclaimed "dream destination for every gentleman", Czech Club is doing everything possible to deliver on that promise.
Having undergone a recent rebranding and renovation, this gentlemen's club has clearly become one of the best, if not the only high-end luxury VIP club in Ekkamai.
The parking lot is lined with supercars, the interior design rivals some of the best mega clubs in Bangkok, and they have highly impressive lights and LED displays that effortlessly supplement the performances by live bands, sexy female DJs, and exotic dancers.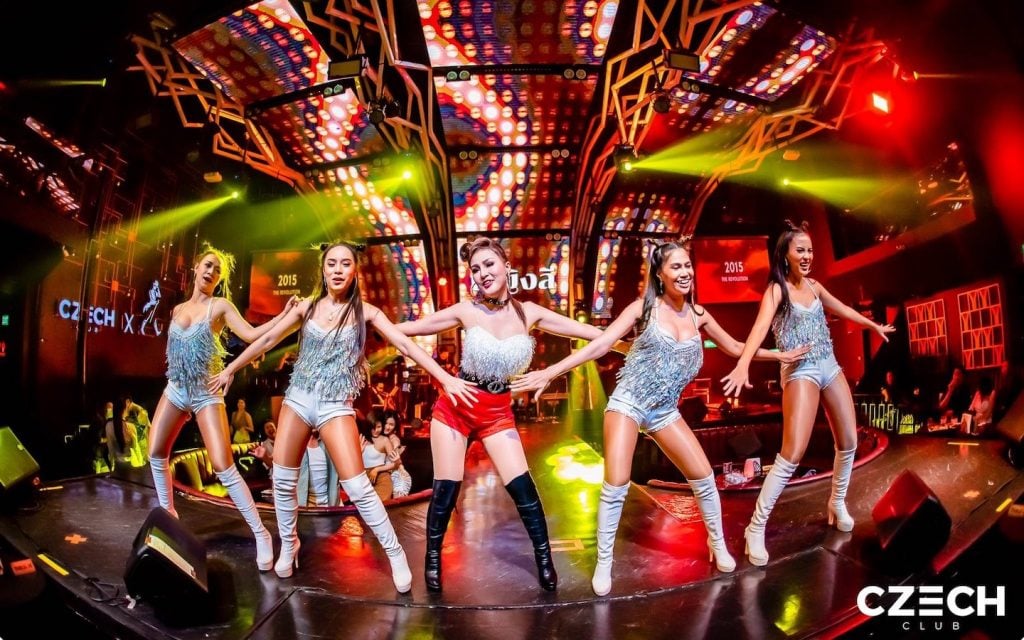 If the main hall seems too busy for you, Czech Club also has incredibly comfortable private rooms where you can have a wild private party with some of the hottest party models in Thailand.
From the time you enter all the way till you leave, Czech Club provides a phenomenal VIP experience in all aspects.
Everything from their service and offerings to the quality of music and entertainment systems to the beautiful hostesses, the club has done it right.
The way Thai gentlemen's clubs work can be hard to understand for tourists and people new to the scene.
Message us now and we'll help you book at any gentlemen club in Bangkok.
Opening Hours: Every day, from 8 PM to 2 AM
Address: 41 Ekkamai Rd, Khlong Tan Nuea, Watthana, Bangkok 10110
Babyface Superclub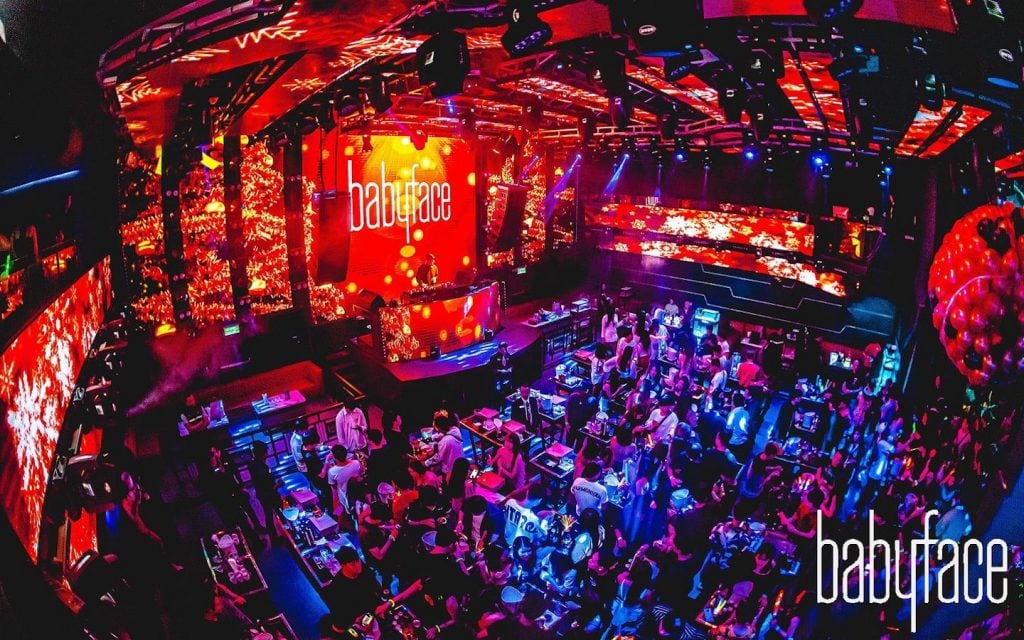 Babyface is Ekkamai's premier EDM nightclub with a stunning interior design and energetic atmosphere.
The club is surrounded by glowing LED panels that display some of the most exciting visual effects and animations.
The light and sound systems are truly impressive at Babyface.
The feeling is a lot like being at a mini music festival as you get to experience a wide range of EDM genres, from hard style to techno and house.
While the service here is pretty decent, what is really great is that you don't have to pay an entry fee or buy a bottle to enjoy the club.
They also have bottle packages that won't break the bank unlike many other big clubs in Bangkok.
The club usually gets busy after 10 pm and tends to fill up with attractive young Thais and some Asian foreigners.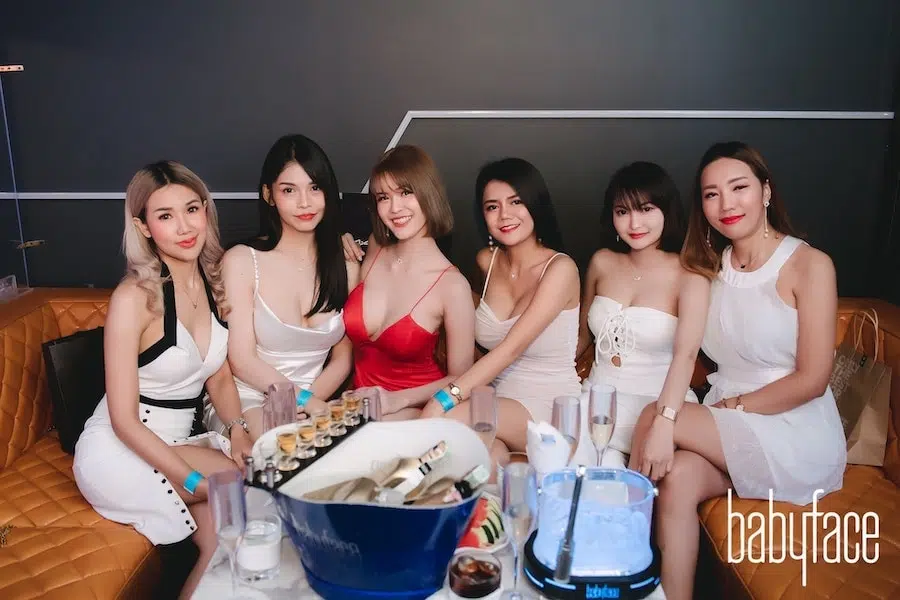 It is possible that you might be one of the few western foreigners there.
It won't be an issue though, because if you are looking to hang around and party with beautiful Thai girls, this is the place to be.
Opening hours: Every day, from 9 PM to 2 AM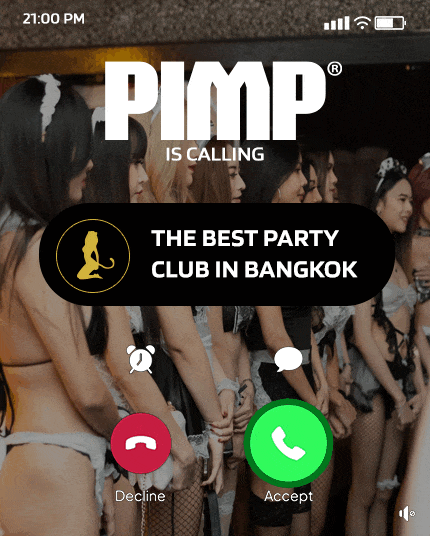 Beer House Ekkamai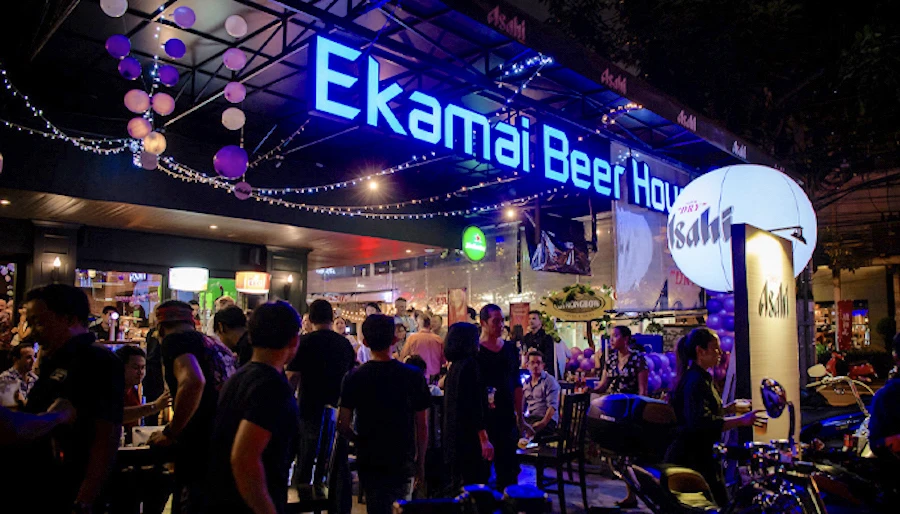 What makes Ekkamai so great is the different styles of bars and partying experiences.
So much so that you can even enjoy a night out at one of its most renowned and long-standing beer gardens, the Beer House Ekkamai.
This friendly 3-story hangout space features over 20 ice-cold draught beers on tap, excellent western food, live band performances, and even a computerized jukebox that has thousands of old-school music.
The top floor also houses a complete sports bar and game room section with live sports on TV, pool tables, and shuffleboard.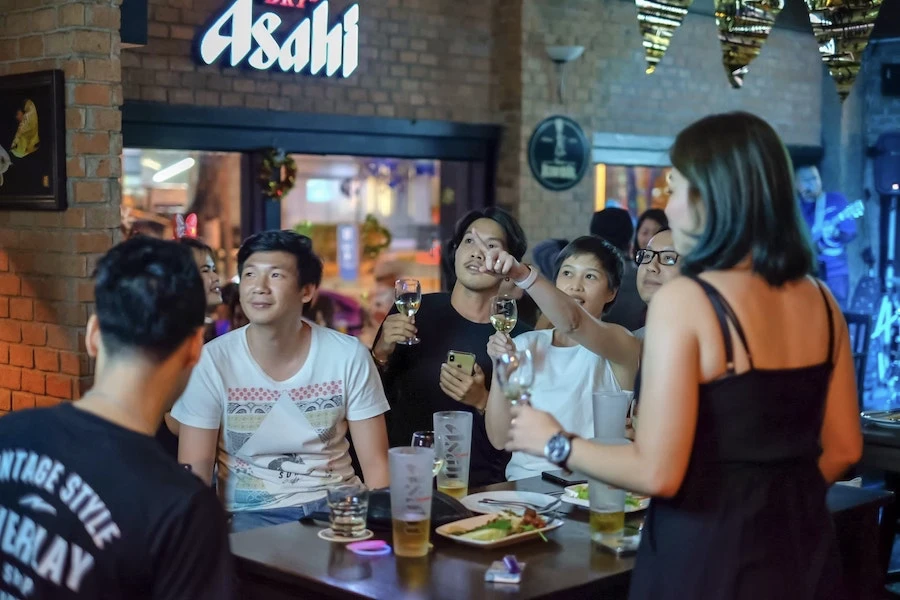 For international beer lovers and sports fans, Beer House Ekkamai is the perfect place to be before moving on to a crazier night on Ekkamai road.
Make sure you arrive between 4 pm to 8 pm for happy hour specials.
Opening hours: Every day, from 11.30 AM to 12 AM
The Cassette Music Bar Ekkamai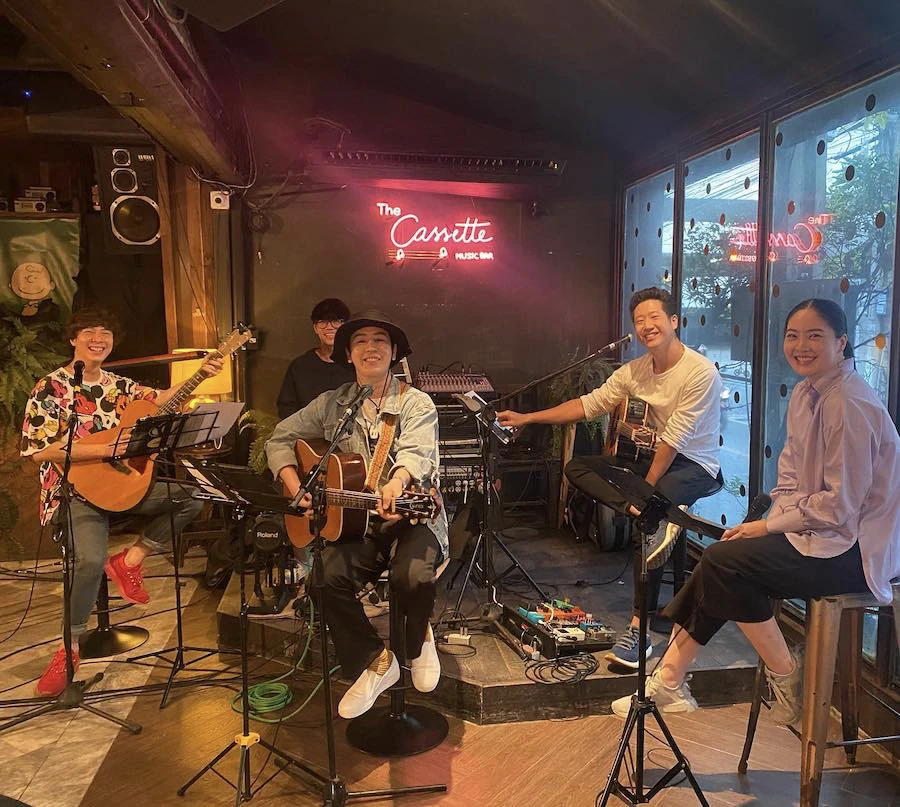 Another great local bar that is a main part of the Ekkamai nightlife is the Cassette Music Bar.
It is a chic live music bar that is often frequented by Thais looking for a lively atmosphere that is not in a club.
In fact, Bangkok has plenty of superb live music bars, and Cassette Music Bar is certainly one of the best.
It's got everything you need in a pub – good-tasting food, friendly staff, attentive service, eclectic 90s live music, and drinks that won't burn in your wallet.
Decked in pink hues and wooden furniture, the bar combines both modern and retro vibes.
The design of the bar really stands out, featuring a giant cassette-shaped sign at the entrance as well as a wall of over 1,000 old cassettes.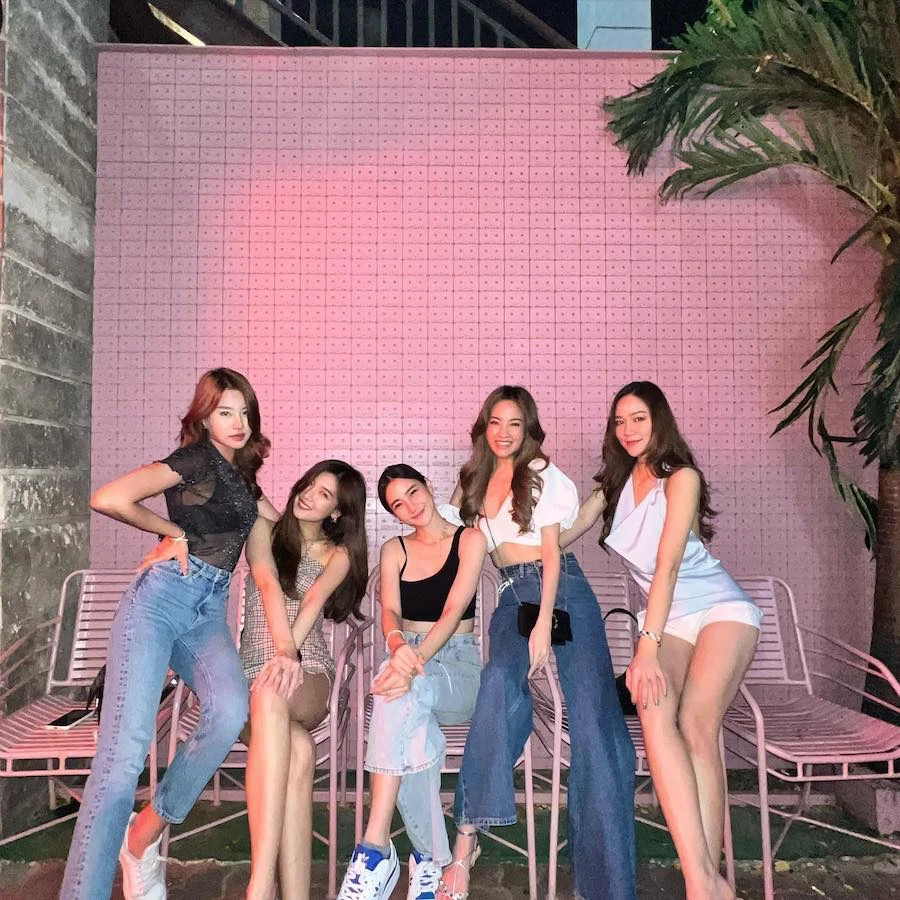 There is a feel-good atmosphere in Cassette bar as you begin by sitting down with friends and having a few beers or opening a bottle of local spirit.
The ambiance then switches up around midnight when everyone gets up and starts dancing to live bands and DJ sets or otherwise mingling with the crowd.
Opening Hours: Every day, from 5 PM to 2 AM
Yolo Ekkamai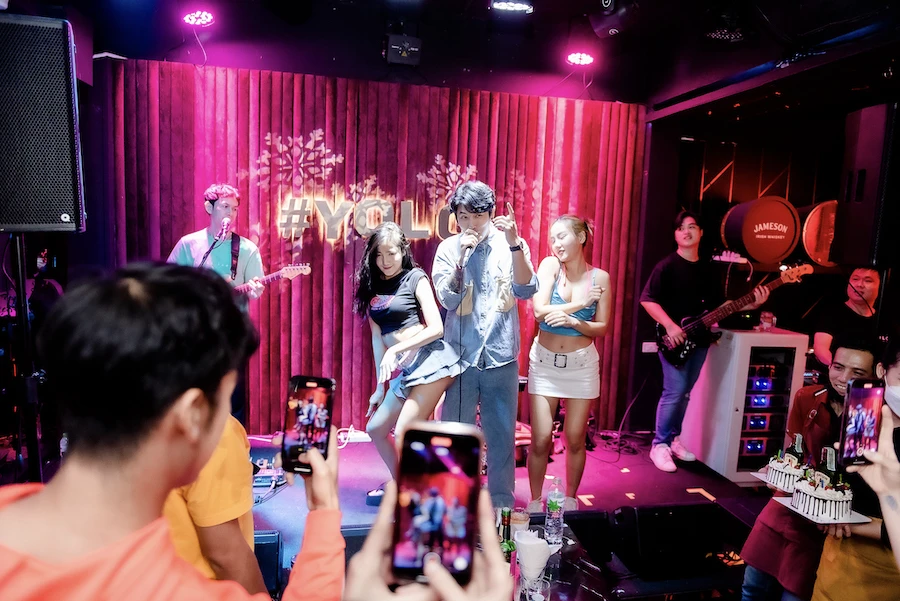 Yolo Ekkamai is a restaurant and bar located in the footsteps of Ekkamai soi 10.
The concept of the bar is in its name "Yolo", which as you know, means "you only live once".
Yolo Ekkamai believes in creating the best experience for their customers so they can party like crazy all night.
While the interior looks a lot like a small luxury club, it is actually a no-frills, no-nonsense bar that focuses on good music, entertainment, drinks, and food in a chic and cozy setting.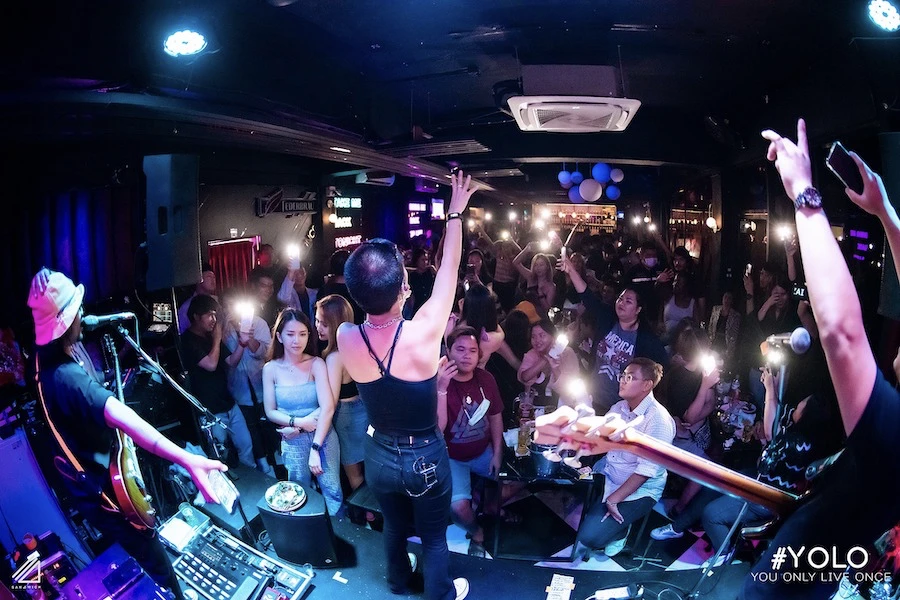 The music shifts between commercial DJ sets and live band performances that play mostly Thai songs.
YOLO is reasonably priced, with happy hour promotions, a welcoming staff, and an overall great atmosphere, making Yolo a favorite hangout spot for young Thai and expat partygoers in Ekkamai.
Opening Hours: Every day, from 5 PM to 2 AM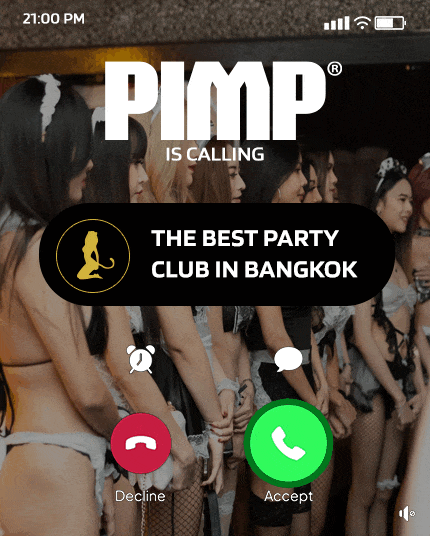 Bliss Ekkamai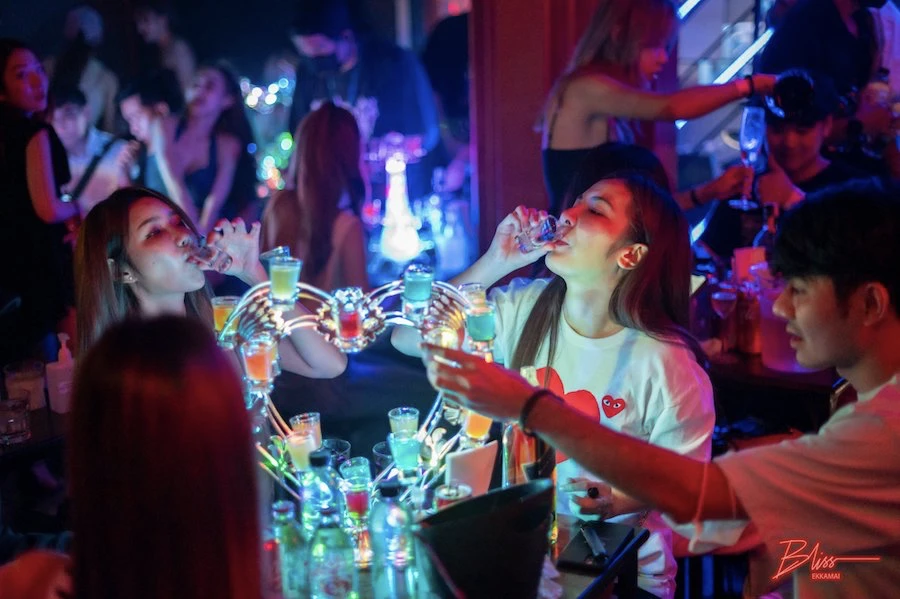 Bangkok has some of the best cocktail bars and a few of them live in Ekamai.
Bliss is one of the newest hangout places that have both DJ, live music performances, and great cocktails.
It's got a chilled atmosphere that pulls in some of the coolest and hip Thai kids in town.
You can clearly see beautiful and sexy young Thai women coming here to wine and dine.
The menu includes appetizing bar foods such as nuggets, fried chicken, and crab sticks.
They also have popular Thai dishes such as stir-fried basil and fried rice.
The drinks selection is quite vast as well with a wide selection of beers, cocktails, wines, champagnes, and spirits.
The bar even offers exclusive promotions regularly that are worth checking out.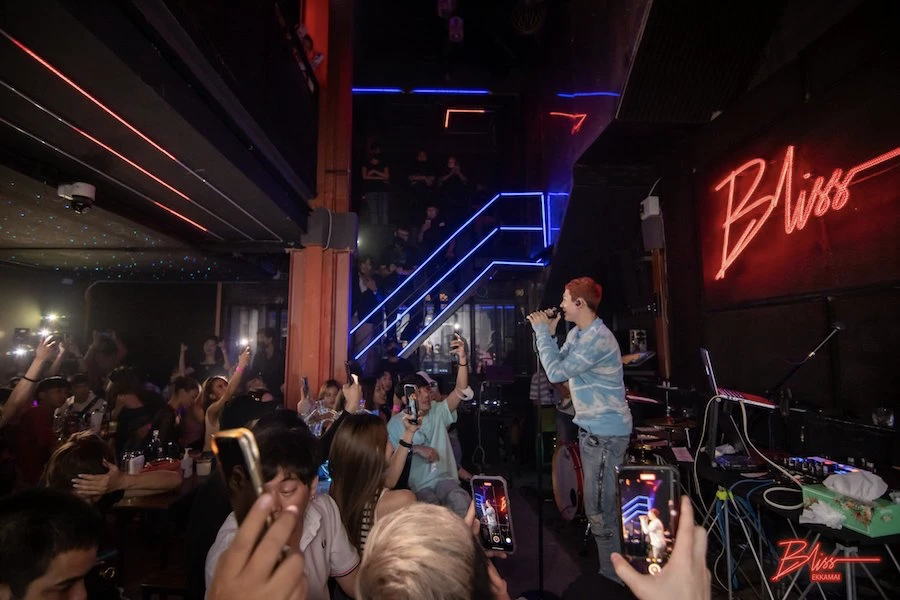 Last we checked; Bliss had a fantastic buy 1 get 1 free promotion on a bottle of Black Label for just 1,900 THB if you come before 8 pm.
Bliss makes for a great place to have a birthday or to celebrate a special occasion.Make sure to keep up to date on their Facebook page for the latest events and promotions.
Opening hours: from 6 PM to 2 AM
Thay Ekkamai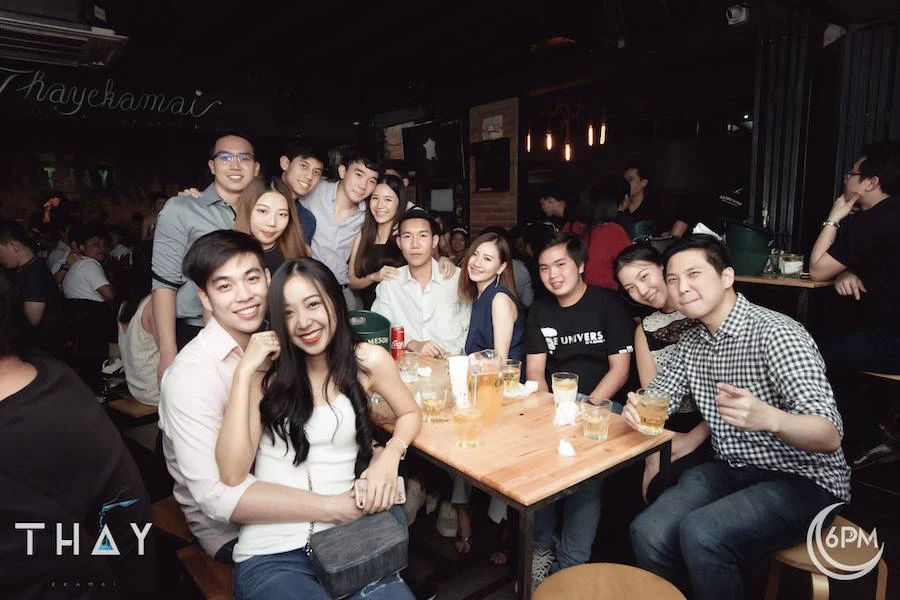 Thay Ekkamai is a popular open-air restaurant and bar nestled between Ekkamai Soi 12 and 14 that has been spreading party happiness to locals since 2016.
It is another great alternative to nightclubs for discerning Thais looking to mingle and party.
Packed almost every night, Thay Ekkamai sees a crowd of attractive and well-dressed Thai youngsters who are in their 20s.
The bar hosts local DJs and Thai bands every night but also invites famous Thai celebrities and artists for special events on a regular basis.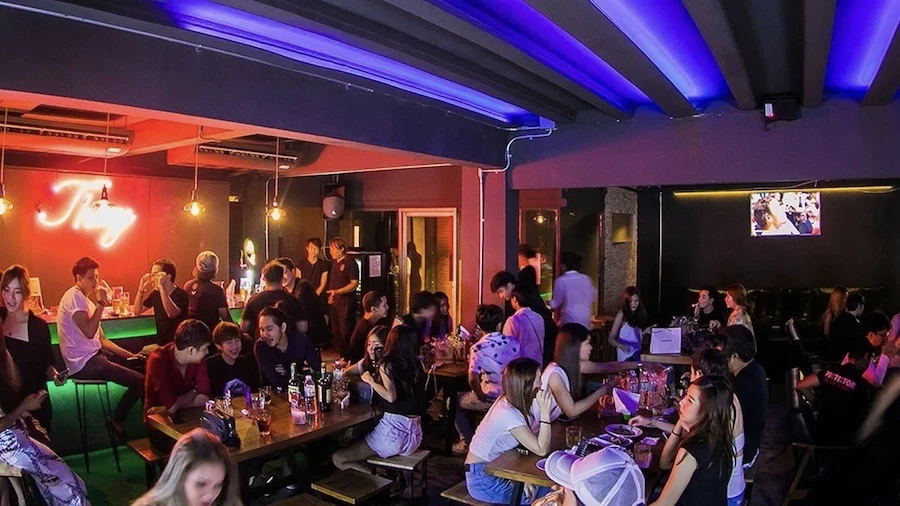 If you're looking to party like a Thai and thinking of opening bottles of whiskey with friends while listening to Thai music, Thay Ekkamai is a must-try.
After its huge success in Bangkok, it actually ended up opening another branch in Chiang Mai.
Opening hours: Every day, from 7 PM to 2 AM
As you can see, Ekkamai is quite different from Thonglor and Phra Khanong.
While there are plenty of bars aimed at Thai clientele, there are also a few clubs that expats and tourists venture into.
Partying in Ekkamai is definitely going to be a lot different and unique than anywhere else on Sukhumvit road.
Contact us if you need a sexy guide to show you around or if you want to arrange private parties in Bangkok.
For more information on the other areas where you can party in Bangkok, read our guide to Bangkok nightlife.
---
What Are The Best Hotels Near Ekkamai?
When spending your nights partying in Ekkamai, it is probably a good idea to stay close to all the action.
Here are some of the best accommodations in or near Ekkamai to walk back to after a heavy night of partying.
Mövenpick Ekkamai Bangkok (4-Star Hotel)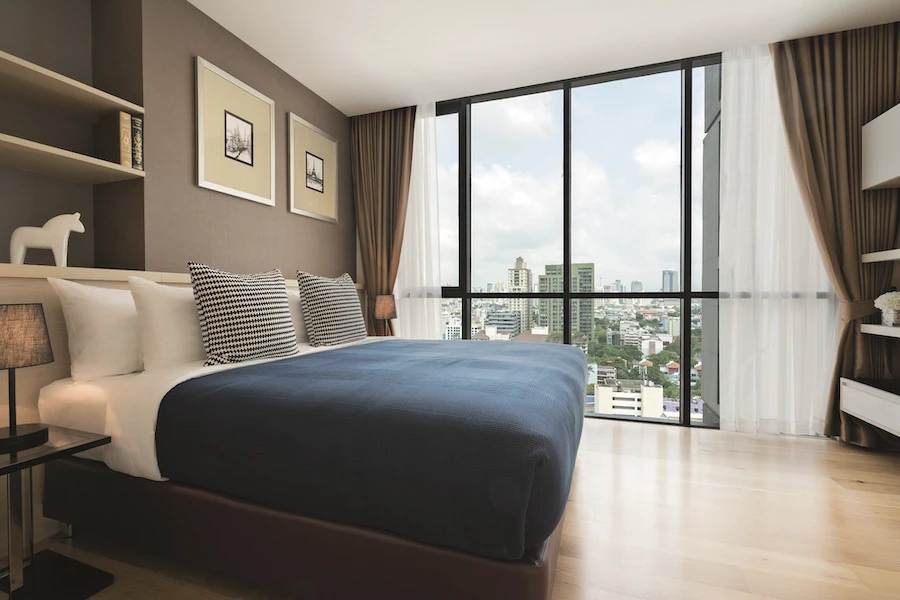 As a fully furnished premium residence, Mövenpick Ekkamai provides travelers a wide range of amenities and facilities to make their stay as comfortable as possible.
The hotel is also close to the best of Ekkamai's nightlife with Thay Ekkamai being the nearest.
When not partying, the hotel is a tranquil escape for some rest and recuperation, whether it is indulging in spa time, relaxing at the pool, or working out at the fitness center.
---
Somerset Ekkamai Bangkok (Best Value For Money)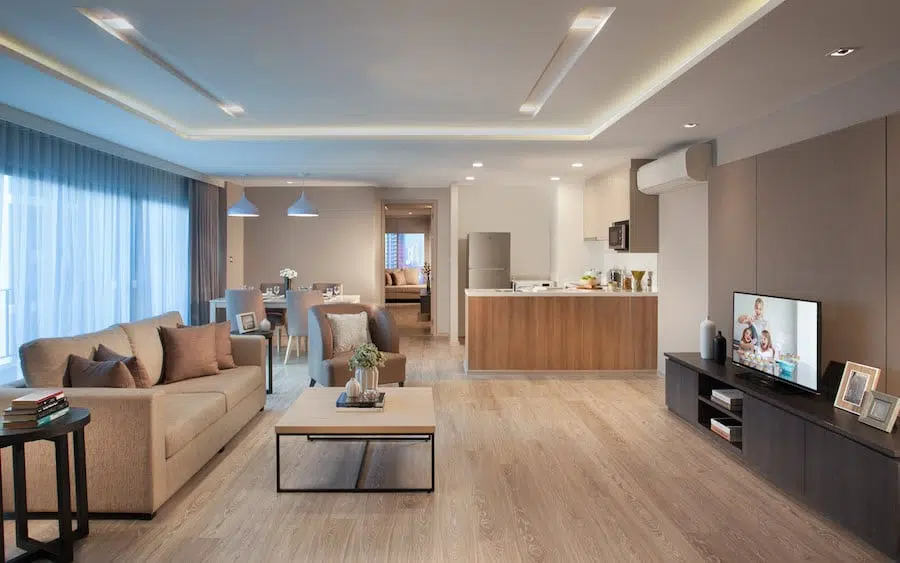 If you are looking for the best value for money with all the comforts, Somerset is the ideal choice.
It is just walking distance to the BTS and close enough to all the nightlife and interesting shops of Ekkamai.
Just step out and within minutes you will be at the Ekkamai Beer House.
Facilities and amenities are also top notches as you will have access to a fitness center, spa, swimming pool, residents lounge, and a conference room.
---
Civic Horizon – Hotel & Residences (Budget-Friendly)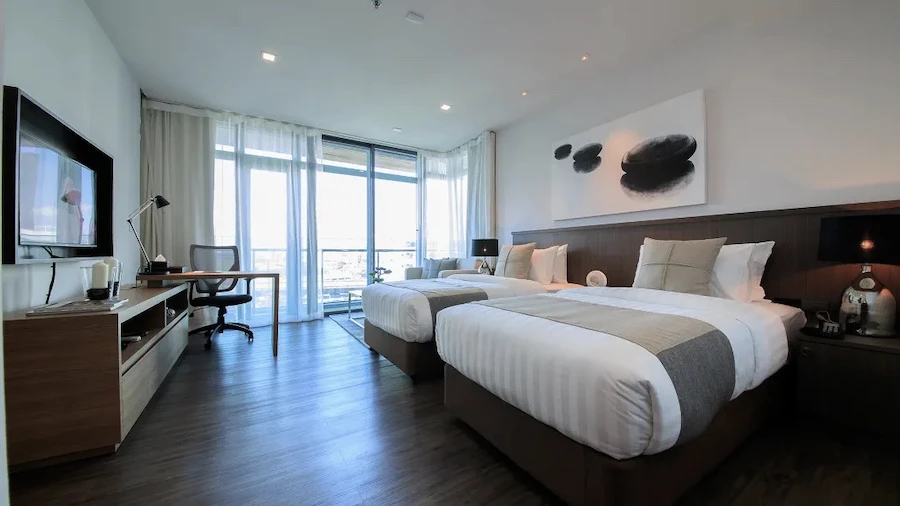 Just around the corner from the BTS and Sukhumvit road, Civic Horizon will meet all your nightlife, shopping, and travel needs.
It has 70 overly comfortable rooms and jaw-dropping facilities such as the rooftop infinity edge pool and a beautiful fitness center.
It also has a surprising golf area on the rooftop. We would be surprised if you even want to leave the hotel.
---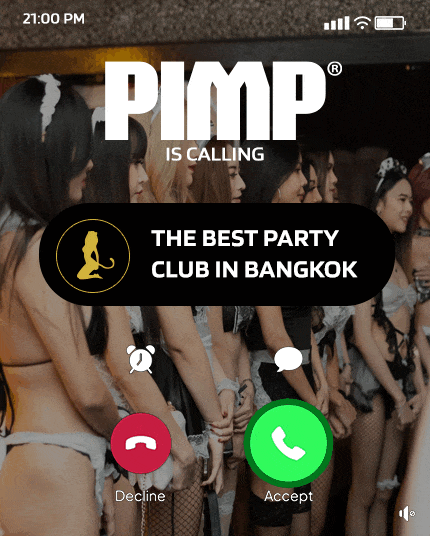 FAQ
What Is The Best Place To Party With Thai Girls in Ekkamai?
The best place to party with Thai girls in Ekamai is Babyface Superclub. And it's also a top nightclub for its music, vibes, and packages.
But if you don't know any local girls, you can hire Thai party models to go out with you.