Who said Pattaya is just for nightlife?
From busy beaches with a ton of activities and restaurants to the most quiet retreats, we've selected for you the top 8 beaches you can't miss while in Pattaya.
Find which beaches are best for swimming, ones that have jet skiing, or where you can savor the best Pad Thai.
Let's dive in and discover the best beaches in Pattaya.
Plan Your Trip To Pattaya With Party Bangkok
Ready to hit the beaches but don't know where to start?
Party Bangkok has got you covered!
Where to find a pool villa to organize a private pool party in Pattaya?
What are the best activities to do in the city for bachelors?
No matter what your question is, our team is here to help you make your trip to Pattaya unforgettable.
Talk to us today and let's start planning your holidays in Pattaya today.
Pattaya Beach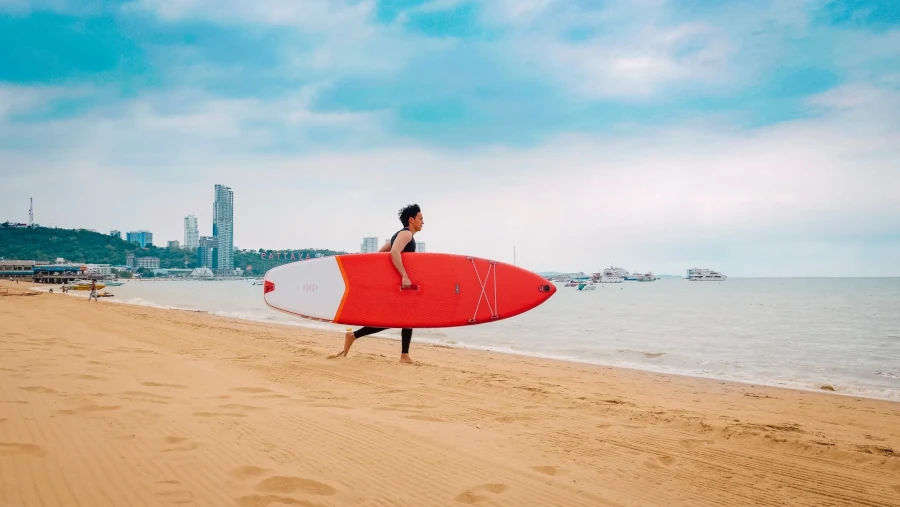 This is the most popular beach in Pattaya, stretching for about 3 kilometers along the coastline starting from south Pattaya all the way to the famous Walking Street.
Pattaya Beach is the perfect spot for chilling with the family and friends on cozy beach chairs with umbrellas while enjoying beautiful views of the ocean.
With soft golden sand and beautiful water, Pattaya Beach is also the ultimate destination for parasailing, jet skiing, and banana boats.
And as the sun starts to go down, Pattaya Beach shows a very different side.
The area comes alive with people exercising, hanging out, and drinking by the beach.
Late at night, you will also find plenty of sexy girls around here looking for a good time.
The beach is also parallel to a wonderful promenade that is lined with all kinds of hotels, shops, restaurants, bars, and the best nightlife and entertainment venues, which makes it quite busy.
Pattaya Beach is the best place to stay if you want to do a lot of things while in the city.
Cosy Beach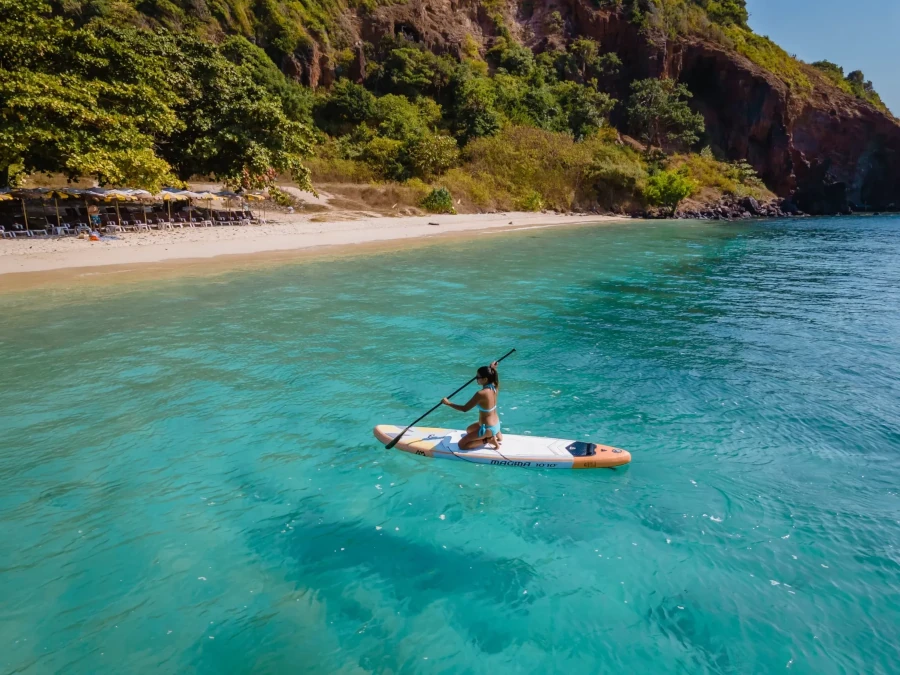 Cosy Beach is a calm and peaceful beach secluded away between Pattaya and the Jomtien area.
It rests at the bottom of a small cliff at Bang Lamung District.
The beach is accessible from the steps near 3 Mermaids restaurant.
It is quite a way down, but it is definitely worth it if you're looking for a peaceful beach.
Cosy Beach is a great place to relax.
Rent sunbeds with umbrellas down here, order a couple of drinks, and get some rest as you listen to the sound of the waves.
There are also a few food vendors, and you can even order dishes, which come from nearby restaurants.
The beach itself is kept quite clean and tidy, although the sand is a bit coarse.
The water is also pretty clear, making it a popular beach for snorkeling, swimming, paddle boarding, and other beach activities.
Jomtien Beach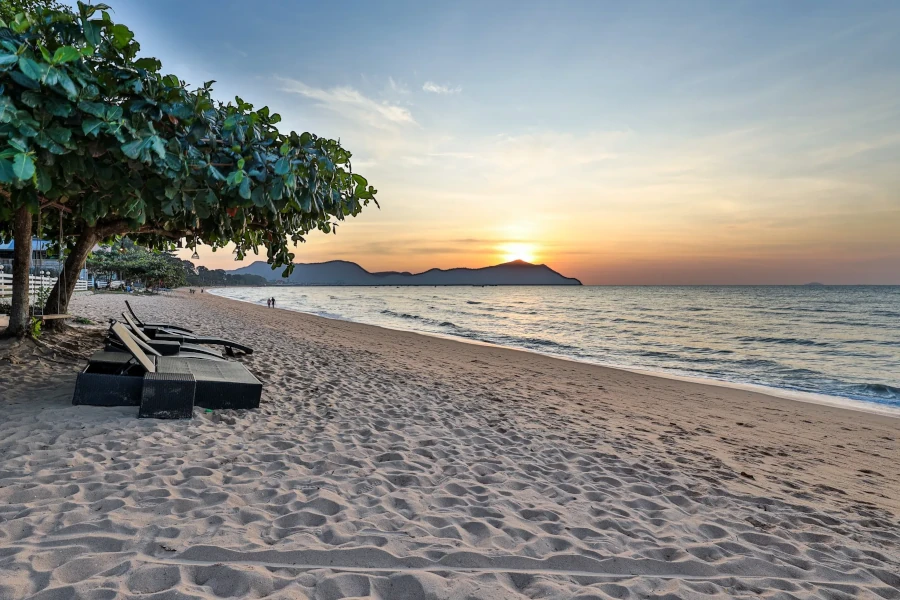 Jomtien Beach is where you go when you want to experience a more relaxed environment than the hectic Pattaya Beach road.
Jomtien is actually quite a popular neighborhood with a beautiful promenade made for walking and cycling.
There are lots of things to do here such as eating on the beach or at one of many street food vendors, or exploring the trendy cafes, bars, and restaurants.
You will also find plenty of fantastic hotels as well as luxury villas around here.
It is the best option between secluded beaches and overly crowded ones.
When it also comes to water sports, beachfront dining, and other fun outdoor activities, Jomtien is the perfect place to be.
There are even a couple of famous beach clubs nearby such as Alexa Beach Club and Cave Beach Club where you can spend the day chilling out, eating, drinking, and partying with the hottest girls in Pattaya.
Hat Pak Khlong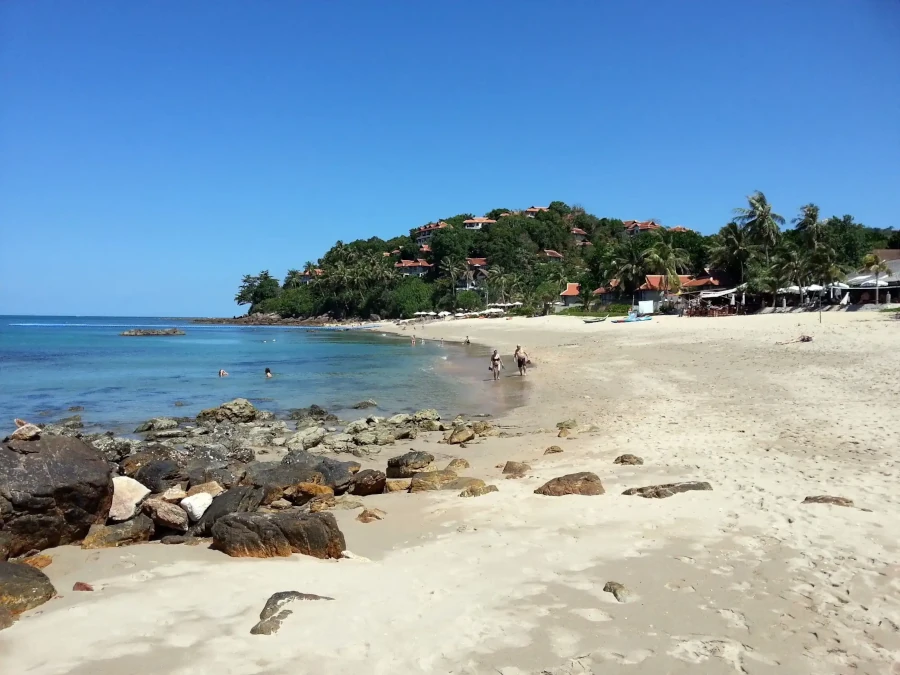 Ready for a hidden gem?
Hat Pak Khlong is just 15 km south of Pattaya's busy area, or only 5 km from Jomtien.
It's a quiet beach that's perfect if you're looking for a chill spot
It is located at the end of Na Chom Thian Soi 18 and has a very serene vibe where you can come to chill, swim, play beach sports, or dine at one of the restaurants.
Some amazing seafood restaurants around here are Tetebeach, Lumlom Bar, and two trendy restaurants at Ana Anan Resort called Over The Moon and Under The Sun.
All have fantastic food and amazing views of the beach.
If you are lucky, at night you can catch exciting fire shows in front of the restaurants.
Which is not something common in Pattaya.
If you plan on staying in Hat Pak Khlong Beach, the best places to stay are Bayphere Hotel and Ana Anan Resort & Villas.
Those are great places to host a corporate event or a company retreat as well.
Bang Saray Beach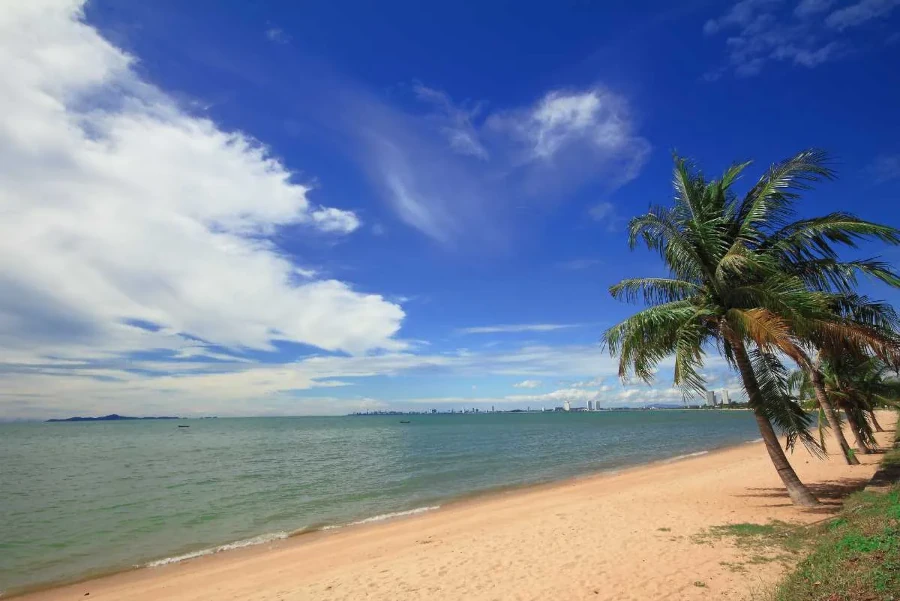 Bang Saray is one of Pattaya's most popular beaches.
Located 24 kilometers from the hustle-and-bustle of Pattaya town, it is a serene and beautiful coastal area that is mostly known for its fishing village vibes, authentic local charm, laid-back atmosphere, and seafood restaurants.
Bang Saray Beach is also home to several luxury beachfront villas with the likes of U Pattaya, Cross Pattaya Oceanphere, RimLay Beachfront Pool Villa, and Sea Sand Sun Resort.
There are quite a few incredible private pool villas in the neighborhood as well.
This makes Bang Saray a great spot for private parties and relaxation.
Also, why not visit some nearby attractions such as the Nong Nooch Botanical Garden and Cartoon Network Waterpark?
After that, you can even organize epic private parties at your beach villa.
Wong Amat Beach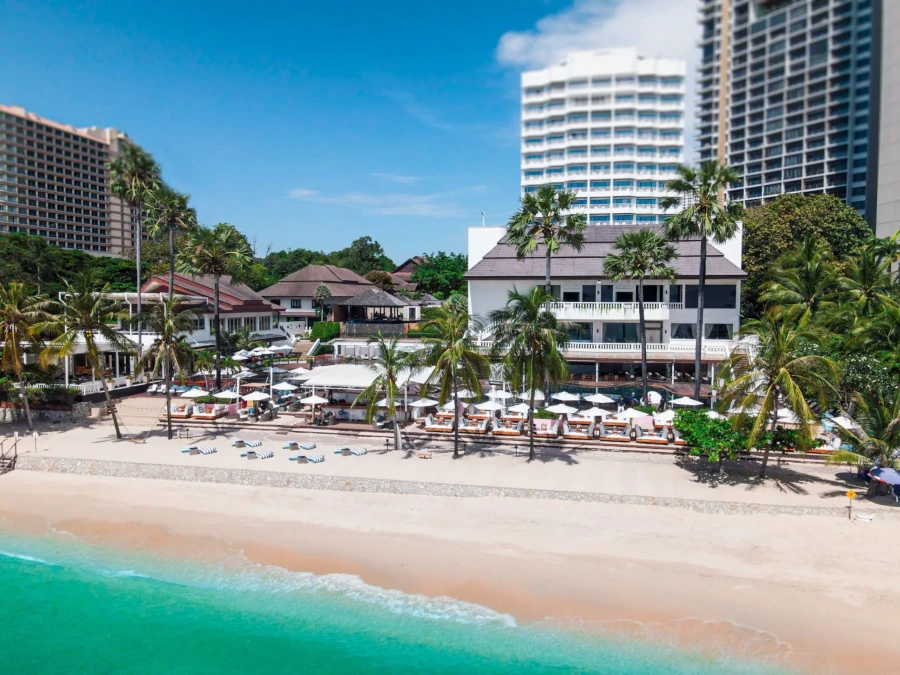 Wong Amat is probably the nicest beach in Pattaya with emerald-blue waters and soft beige sand.
It is located in the north of Pattaya and has a significantly quieter and relaxed atmosphere.
Considered a family-friendly beach, you can come here with your kids for exciting beach activities.
There are also a couple of excellent Thai, seafood, and Western restaurants along the beach that are perfect for a date.
The best hotels to stay in are the 5-star Pullman Pattaya Hotel G, Centara Grand, and Cape Dara.
All have private access to the beach.
If you end up loving this beach, consider staying long-term at one of the many beachfront luxury condominiums in the Wong Amat area.
Overall, Wong Amat is a hidden gem for those looking to escape the crowds and enjoy a more peaceful beach experience.
Naklua Beach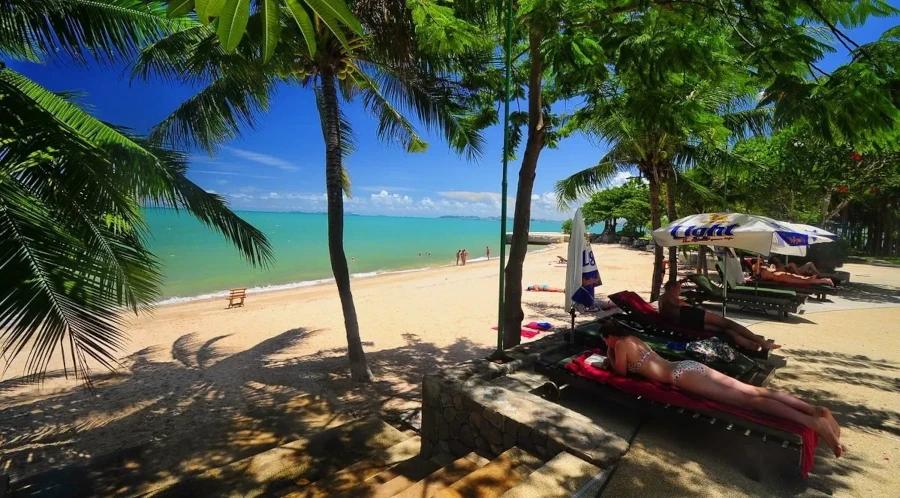 Naklua Beach is a short strip (approximately 800 meter) of narrow sandy beach that is excellent for relaxation, sunbathing, and swimming.
While it is easily accessible from hotels and restaurants in the area, the most interesting part about Naklua Beach is that it connects to both Pattaya Beach and Wong Amat Beach.
So, you can basically walk along all three beaches!
Just be careful of the rocky parts in between.
If you feel comfortable climbing over some rocks, it is actually quite an enjoyable and scenic beachside stroll.
After all that swimming and walking, you will surely be thirsty and hungry.
Luckily, there are a couple of little beach shacks where you can enjoy delicious Thai and Western dishes with beer.
The best hotels to stay near Naklua Beach are Cape Dara and LK Emerald.
Tawaen Beach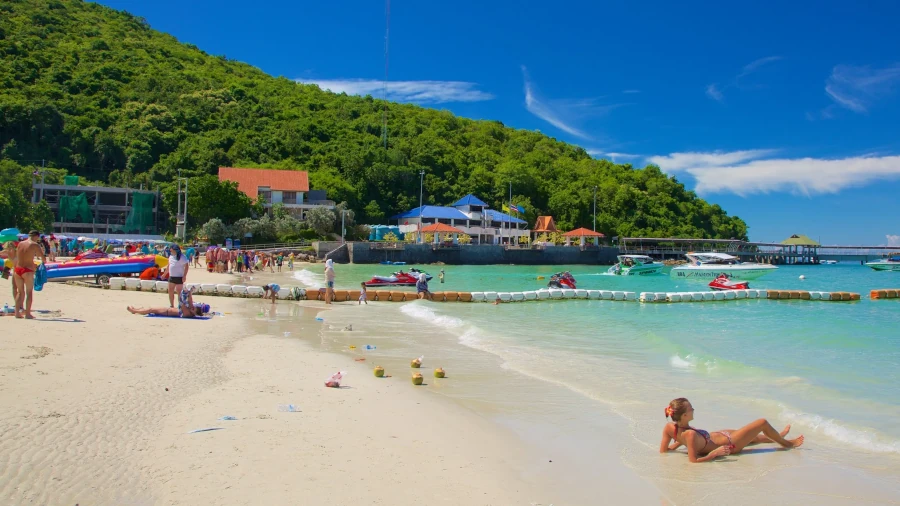 Tawaen Beach is the most visited beach on Koh Larn, a gorgeous tropical island just a 45-minute ferry ride from Pattaya.
The beach has stunningly clear turquoise water and soft white sand.
It is a popular spot for many activities such as banana boat rides, parasailing, jet skiing, and snorkeling.
You will also find lots of loungers and food vendors spread across this 800-meter-long beach.
Several shops along the beach sell all sorts of things and souvenirs as well.
Stay overnight on Koh Larn to get the opportunity to enjoy the beach to yourself more in the evening and early mornings.
There are even some bars that have fire shows at night on the beach.
FAQ
Why is Pattaya Beach famous?
Pattaya Beach is famous because it is easily accessible and close to major hotels, restaurants, and nightlife venues.
What is the closest beach from Walking Street Pattaya?
Pattaya Beach is the closest beach from Walking Street.
Which beach is best for a beach party in Pattaya?
The best beach for a beach party in Pattaya is Jomtien.
It has both beach clubs and beach resorts where you can organize private parties.
What time does the beach open in Pattaya?
The beach in Pattaya is open 24/7. There has been talk about closing Pattaya Beach at night, but nothing has been decided yet.
Which is the cleanest beach in Pattaya?
The cleanest beach in Pattaya is Tieng Beach on Koh Larn.
Learn More About Pattaya
We hope this guide helped you find the best beach for you.
And if you need help in organizing a trip to Pattaya, a party by the beach, or rent things for your party in the city, talk to our team today.
Or finalize your plans with our guides of Pattaya.
Got your sunscreen and beach towel ready?
Click here to dive deeper into Pattaya!