There are a lot of go go bars in Bangkok, all concentrated in the 3 red-light districts of the city.
But some are tourist traps, others don't have any attractive girls, and only a few have really good shows.
Good news for you, we tried them all. And here are the ones we recommend.
What's The Best Gogo Bar in Bangkok?
As we said, there are a lot of gogo bars in Bangkok, but only a handful of good go go bars.
So if you want to save money and time from figuring out by yourself where to go, follow the guide.
Note this is not a ranking. We just sorted the best go go bars by area. But they are equally as good.
Spanky's Bangkok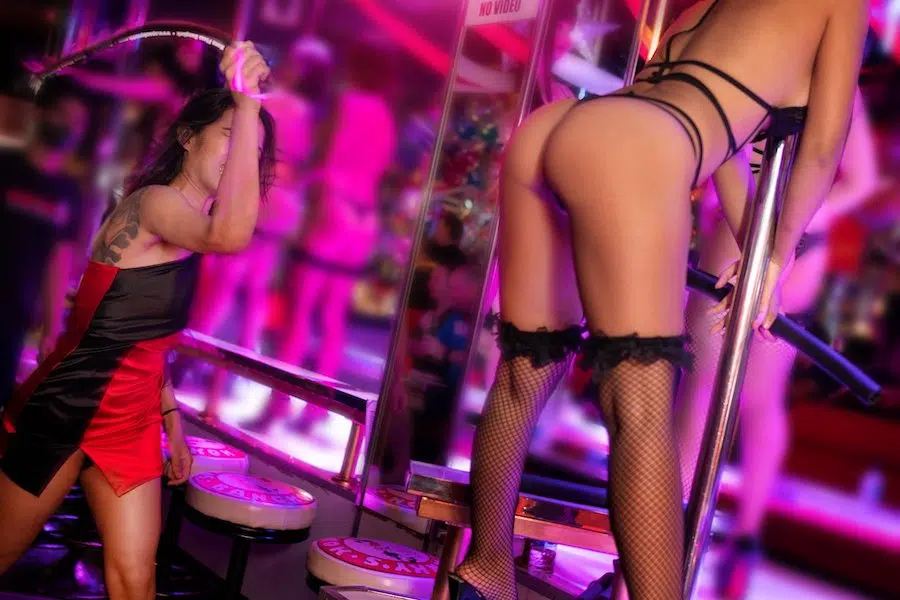 Now that Bangkok Bunnies is gone, Spanky's is probably the most interesting the agogo bars in the Plaza.
It has no shortage of hot girls, good music, and a few special events here and there. The Sexy Nurse roleplay night is one of the best.
When you get to Nana Plaza, head directly to the 2nd floor to get spanked.
Billboard Bangkok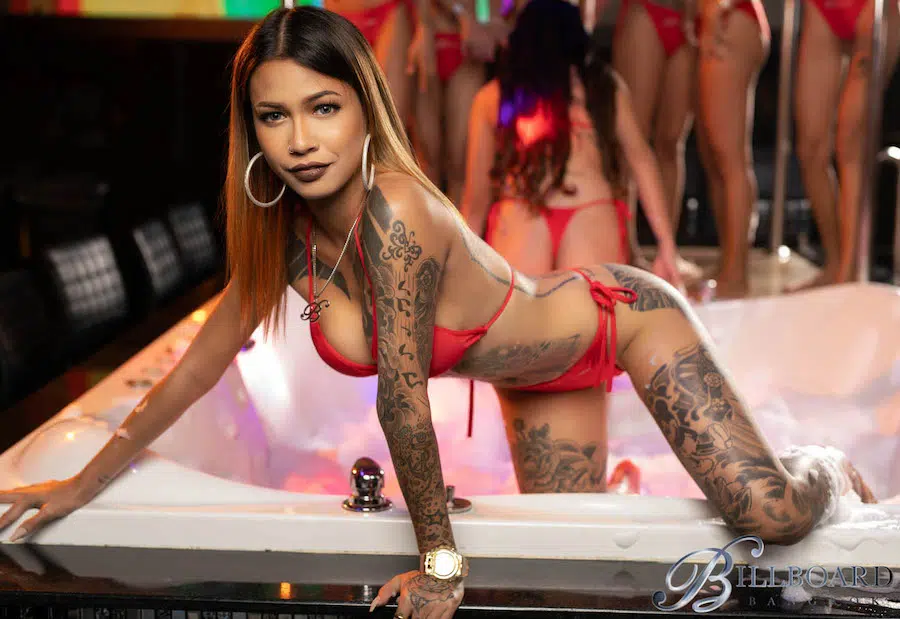 For this one, you need to go up to the top floor of Nana Plaza.
Billboard has been consistently reviewed as one of Bangkok's most popular go go bars since it opened in 2011.
It's a big bar with a large stage and many girls.
And they can have up to 150 hot Thai girls on big nights.
The music is ok, they have choreographed shows and they always have good deals on drinks.
They even have a giant jacuzzi for sexy shows.
Baccara Bangkok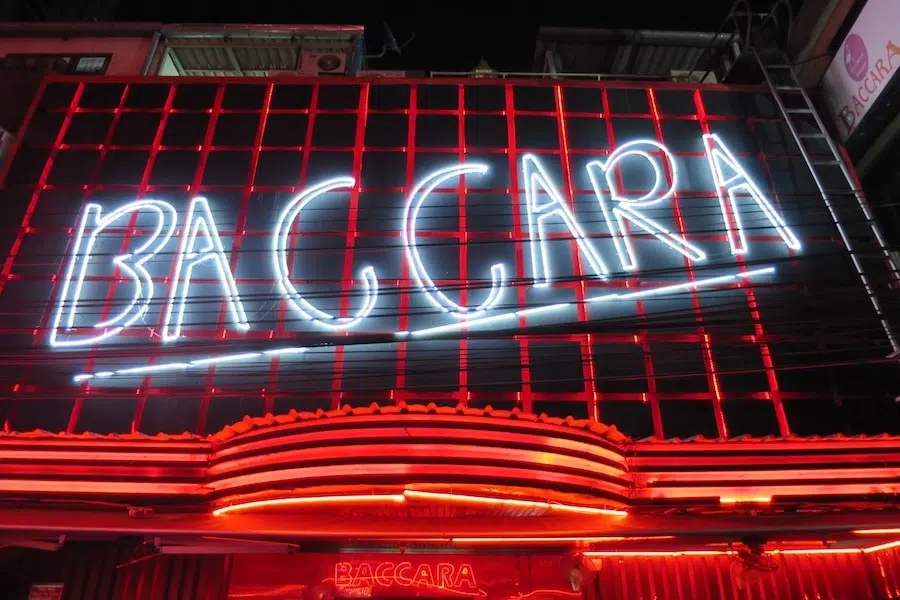 Baccara is the most famous gogo bar in Bangkok located just off Sukhumvit Soi 23.
It is also one of the few where you need to buy a drink at the entrance to be allowed in.
But once you're inside, you can explore their three floors filled with hot Thai girls performing with bikinis on, topless, or completely naked, depending on which floor you pick.
Baccara is always busy, so don't go there too late if you want a place to sit or see hot babes. If you get there late, all the most beautiful girls might already be gone.
Crazy House Go Go Bar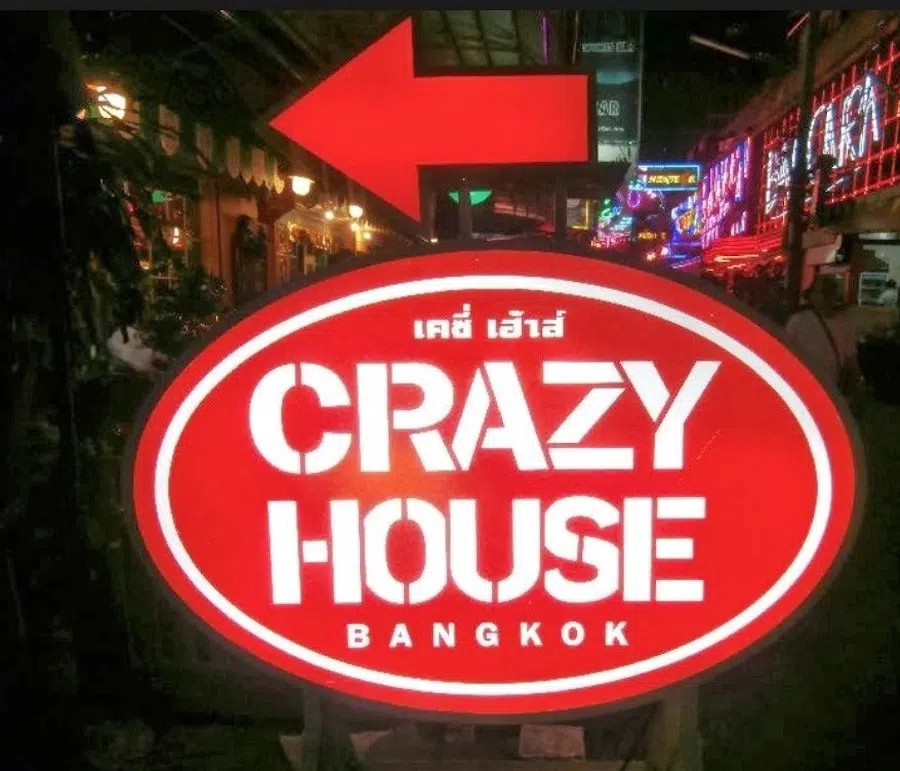 This gogo bar really deserves its name.
Crazy House is a 3-floor madhouse filled with half-naked and completely naked Thai go go girls.
Unlike Baccara, not all the girls in this sexy house are fit or young. And the bar is small, often crowded with loud music.
But it's wild inside. If you don't mind standing or fighting for a seat to watch a naked Thai gogo girl standing on stage, you will definitely love it.
Suzie Wong Go Go Bar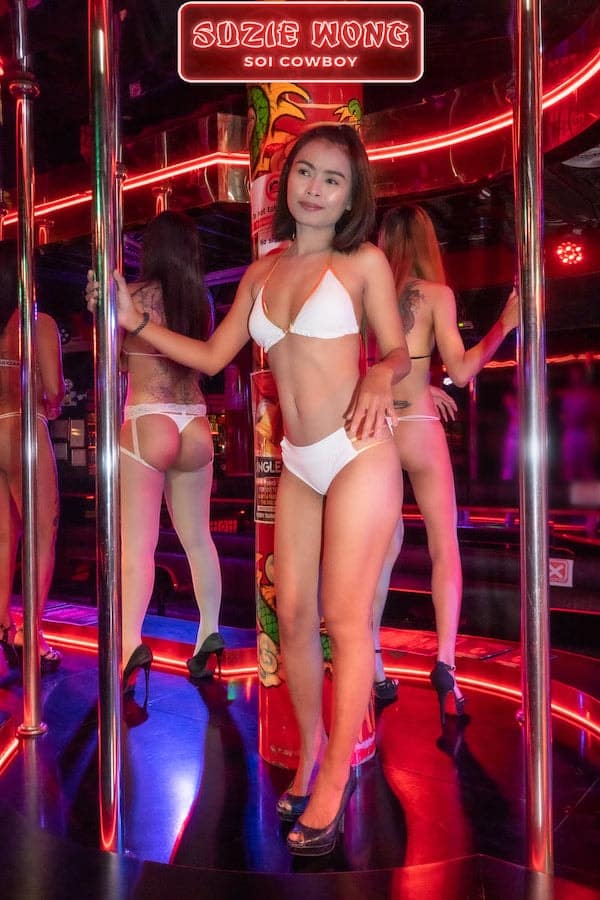 Suzie Wong is a great gogo bar and the only "clean" place in Bangkok to watch a ping pong show, or perhaps a lesbian oil massage show.
Their selection of Thai go go girls is pretty good, the place is safe, and the drinks are reasonably priced.
Another landmark of Bangkok.
Bada Bing Go Go Bar (Patpong)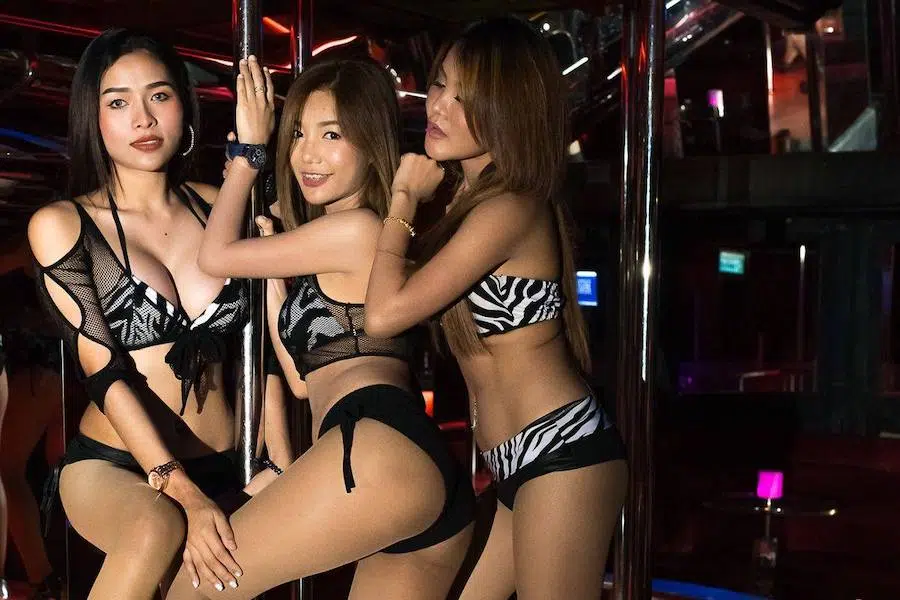 Bada Bing is the jewel of Patpong.
Soi Patpong used to be the main street to party in Bangkok. Now, it's only the shadow of what it used to be.
But there's one bar that is still popular and always has beautiful girls despite the lack of tourists; it's Bada Bing.
They renovated the club a few years ago, and now the selection of gogo girls is better than ever.
Glamour Go Go Bar (Patpong)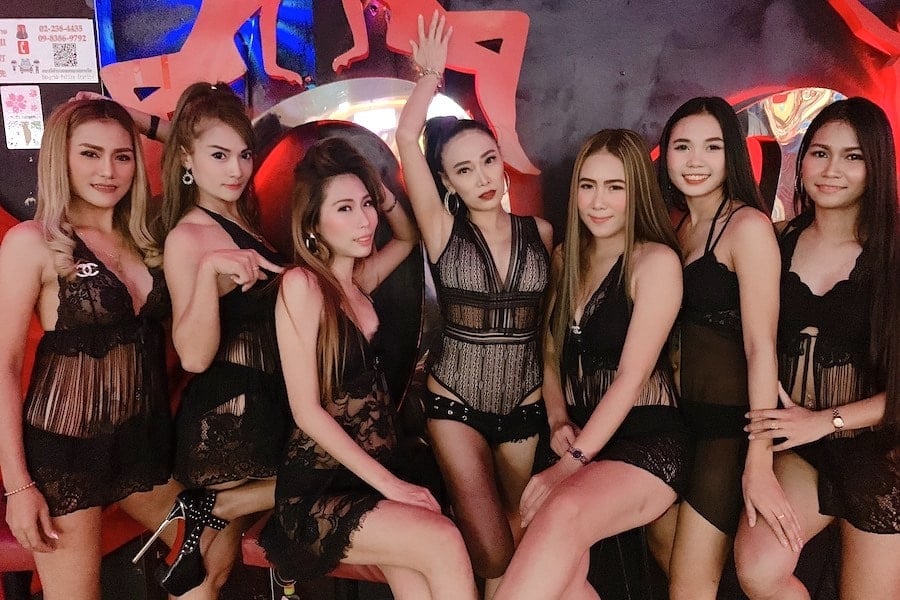 With the same vibe as Bada Bing, Glamour is another interesting gogo bar in Patpong.
It's pretty small, doesn't have a ton of Thai go go girls, nor the hottest models in Bangkok, to be honest. But because it's a smaller bar, there's less pressure to buy drinks, and the girls are more friendly.
If you want to meet nice girls or have a discussion with a friend with a drink in one hand and a set of b… in the other, Glamour is the place to go.
Go give them a try, and let us know what you think. But those gogo bars always have a strong selection of sexy Thai gogo girls. No doubt you will love them.
Now, if you're not sure what's an go go bar or if it's the right place for you, let us answer a few common questions.
What is a go go bar?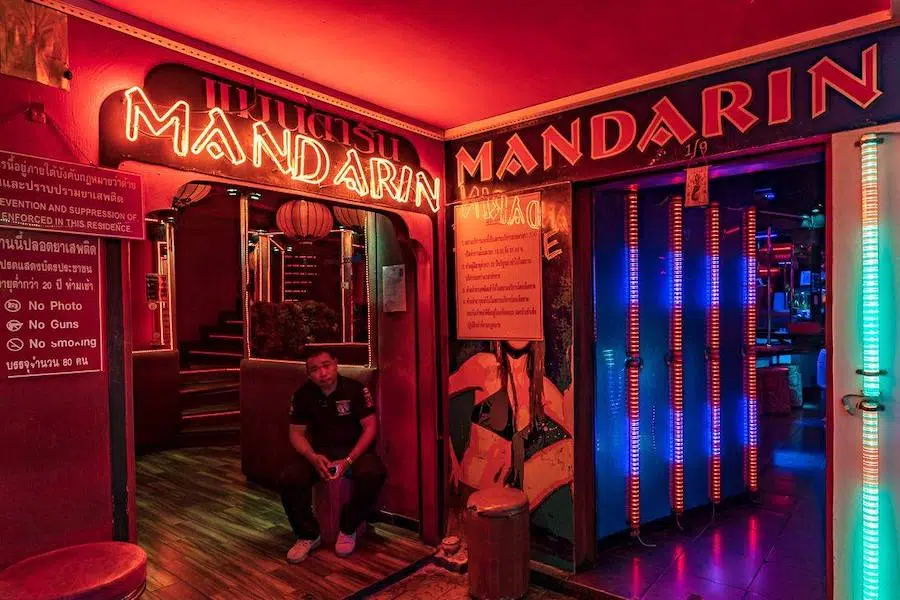 Agogo bars are the closest thing to strip clubs you can find in Thailand.
A go go bar is a bar with sexy girls "dancing" by a pole.
They can be wearing a bikini, lingerie, be topless, or in some gogo bars, be completely naked.
And all the girls have a number on them. You use that number to tell the waitress or mamasan which girl you want to invite to your table or take home.
The true definition of tourist-friendly.
What happens in a Bangkok go go bar?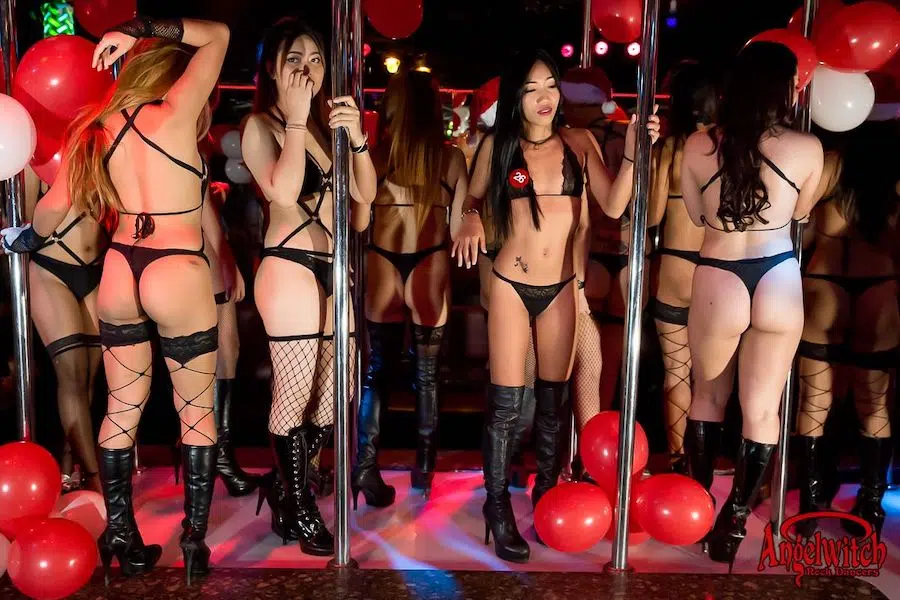 You drink, you watch the girls, and more if you want to.
At the core, it's a bar with loud music and girls standing on stage, half-naked in front of you. Go go bars are like other bars, but instead of watching TV and sports, you watch girls "dancing" with few clothes.
If there's a girl you like, you can buy drinks for her. They are called a "Lady Drink." It's often a shot of tequila these days, and in exchange, she will come to spend some time at your table.
Then when she's done with her shot, either you buy her another one if you want her to stay, or she goes back on stage.
Now, Thai go go bars are also places where. you can find bar girls for sex. You can "bar fine" girls there.
In other words, you are charged extra by the bar to take the girl with you, either for a "short time," a few hours, or "long time," which means for the night.
The price for a bar fine can range from 1,000 to 5,000 or even 10,000 THB in some bars.
Every go go bar has different prices for different girls. The more attractive they are, the more expensive they're going to be.
The "cheapest" ones are usually called "PR" or "Coyote", and the most expensive ones are called "Models."
What's the difference between a gogo bar and Gentlemen's Club?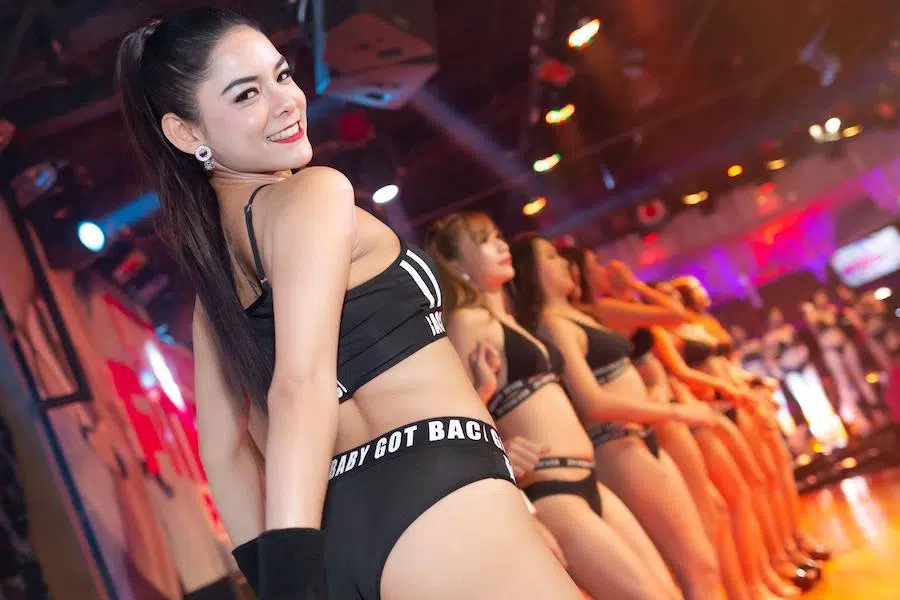 Both are fun and both are great places to party with sexy Thai girls.
But gentlemen clubs, even though they're slightly more expensive, are way better.
The girls there are hotter (look at The PIMP Bangkok for example), and they perform shows, as opposed to most gogo girls who just stand there on the stage.
Gentlemen clubs also have real entertainment, live music, and DJs.
But the main reason to go to a gentlemen's club, on top of partying with the hottest girls in Thailand, it's the privacy you can get in VIP rooms.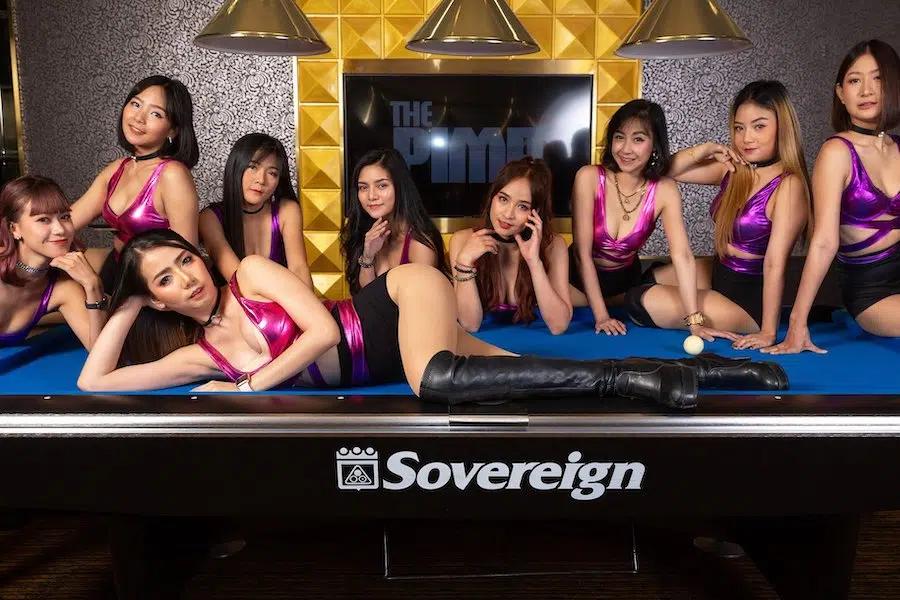 If you want a wild party with gorgeous Thai models and don't want anybody watching, what you need is a private room in a gentlemen club.
If that was enough to convince you to give it a try, now you're probably wondering,
"What are the best go go bars in Bangkok?"
The answer is above. All you have to do is click here to see the 7 we recommend.
FAQ
Where can I find Bangkok gogo bars?
Almost every go go bar in Bangkok is in a red light district. There are three major red light district: Patpong, Soi Cowboy, and Nana Plaza.
How much does cost for go go bars in Bangkok?
In most go go bars in Bangkok, the entrance is free, beer is around 150 to 300 THB, a ladies drink is between 150 to 300 THB (the drinks you buy for the girls), and a short time ("lady boom boom") can cost anywhere from 1,000 to 5,000 THB.