Once a backpacker haven for shopping, hostels, and partying, the Khaosan Road today is a lot different than it used to be.
Supporting an influx of boutique hotels, refurbished bars, and clubs, Khaosan is now a go-to place for Thais and anyone who's into late-night partying.
While foreigners coming back to Bangkok might notice a huge shift in its visual aesthetics, Khaosan is still Khaosan.
The blend of booming hip hop and EDM music, cheap beers, cocktail buckets, and nitrous balloons are alive and well on this famous party road.
Feeling a little timid to go back and not knowing what to expect?
Don't worry.
We got you covered with this Party Bangkok guide on where to party on Khaosan Road and what to avoid to have the best nights of your life here.
Why Is Khaosan Road Famous?

Khaosan road is one of the most famous streets in Thailand.
And that's mainly for its high-energy nightlife, budget hotels, fake IDs, black market shopping, interesting food, and vibrant scene.
It catered mostly to young backpackers who would come through on their way to other parts of Thailand.
Before COVID it was one of Bangkok's most famous travel and entertainment hubs.
Now, even with the return of tourists, it's mainly frequented by locals looking for a cheap and bustling party scene.
You will find Thai university students mixing it up with nostalgic foreigners who had some of their best times here.
Is It Worth It To Visit Khaosan Road?
Yes, it is worth visiting Khaosan Road if you are into late-night partying with a variety of local street food, music, and vibes all in one road.
If that's what you're looking for, Khaosan Road is still one of the best places to be.
It's also a great place to meet people from all over the world.
And Khaosan is slowly seeing backpackers and tourists come back, with hopes that will again go back to its glory days.
But not all changes are bad.
Khaosan has cleaned up, which is a great thing.
There are plenty of new bars and clubs as well as old ones that are worth partying at.
Here are some of them.
Rocco Club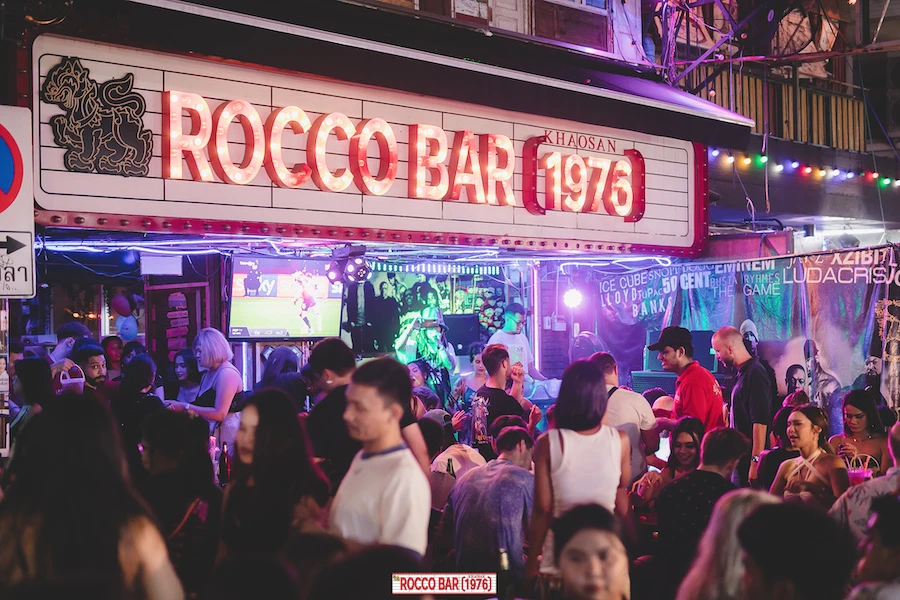 You can't miss Rocco Club when you visit Khaosan.
It is one of the biggest entertainment and party venues on the road.
Located at the entrance to Khaosan at the Chakrabongse Road end, it is a 6-story building complex with a rooftop restaurant and bar as well as two clubs spread.
The rooftop restaurant and bar itself has 2 levels with music, drinks, and a pool table.
A great place to chill with friends before taking it downstairs to one of the clubs for late-night partying.
The clubs are located on the 2nd and 5th floors.
Each plays a mix between hip hop and EDM, spun by popular local DJs and MCs.
Every night there are special performances and themed parties with a great crowd composed of Thais, expats and tourists.
There is also another Rocco outlet at the other end of Khaosan Road called Rocco Bar 1976 for those wanting an outdoor setting and a typical Khaosan Road nightlife experience.
Both places serve bottles, beers, buckets and balloons.
Operating hours: 6pm – 3am
Mischa Cheap / Tropical Galaxy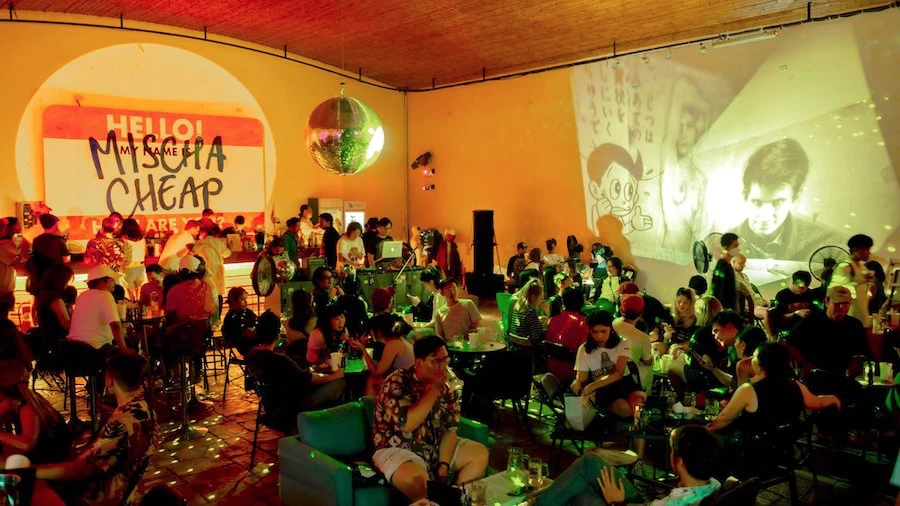 Mischa Cheap is a new addition to Khaosan's party scene with its alternative and Indie music.
Together with Tropical Galaxy, these two bars and a couple of restaurants make up the complex that used to be the Superflow Club and Bar.
It is a unique hangout space with a spiritual ambiance, unlike any other spot on Khaosan Road.
There is a huge focus on thriving artists and subculture music here.
Every week they post the lineup for each of the days on their Facebook page so you know what to expect before you get there.
Operating hours: 6pm – 2am
SUP DUDE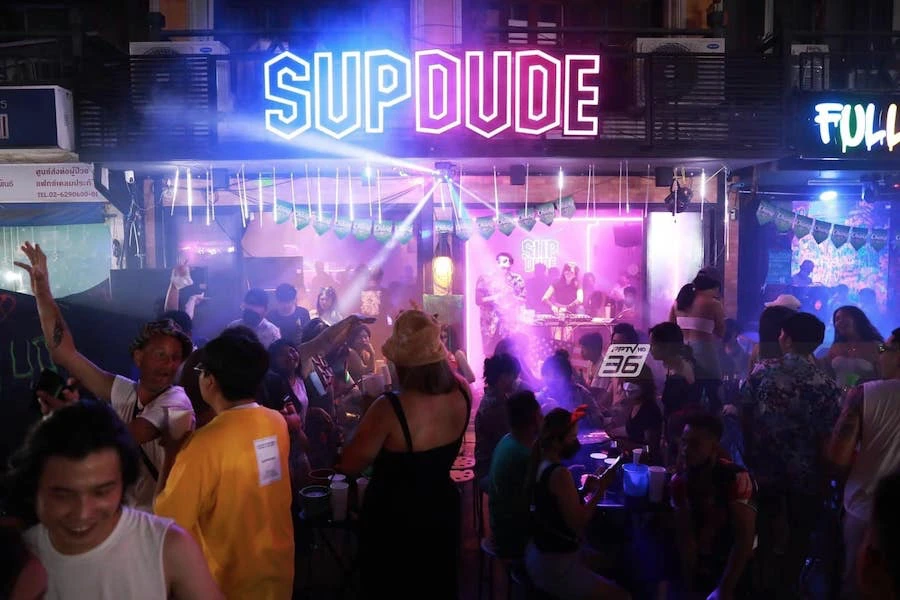 It is hard to miss SUP DUDE with its large neon sign hanging right above the bar.
This place is lively and energetic not just with its music but also with the friendly staff.
It is known for its fun and hip atmosphere, making it a perfect place for parties.
They even feature their customers on their Facebook page constantly, showing how much they mean to them.
And we love that!
Music-wise, rotating resident DJs play heart-pumping mainstream EDM with a bit of hip hop and pop.
Oh, and not to mention, the DJs are mostly cute and sexy Thai girls.
Something for both the ears and the eyes.
The bar also has great promotions on drinks and a wide variety of cocktail options on the menu.
Finally, what makes SUP DUDE a great choice is that it has both an outdoor and indoor section, which is air conditioned.
So, if any time you are feeling hot, step inside to cool down.
Operating hours: there is no set time. They open early and close late.
The One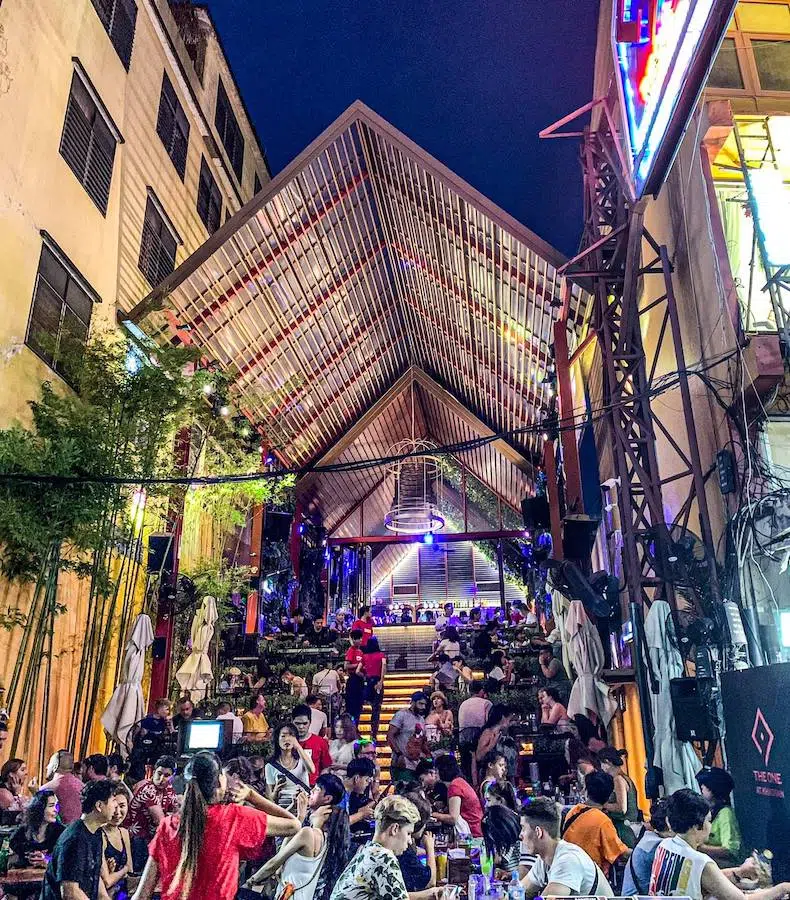 If you ever walk down Khaosan Road and notice a bar that is situated on a flight of stairs, is super lively, and blaring extremely loud club-style electronic music, that is The One.
It is one of the most popular bars here with its catchy aesthetics, beer towers, and vodka cocktail towers.
To get in you have to buy a drink at the entrance but most of the time it is jam-packed and there is usually a long queue.
Best to come here early if you want to get a good seat.
You can't miss it as hundreds of pedestrians stroll by with curious eyes and even take photos of the place.
It is also one of the best bars in Bangkok to party.
Khao San Center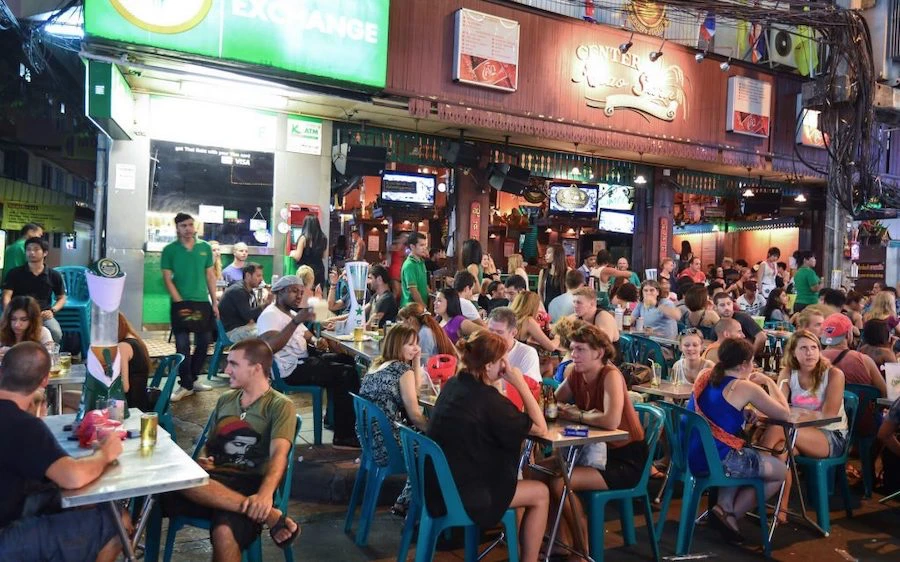 Once one of Khaosan's most visited and popular bars and restaurants, Khaosan Center is still a great place to party.
It is not packed like it used to be but it still has its loyal customers and draws in newcomers as well.
You will mostly find Thai locals and tourists here while expats usually go for better options.
You either come here for a drink or stay the entire night drinking towers of beer and dancing on chairs.
The restaurant is open 24 hours but the party scene is usually between 6pm-3am.
They also have a hidden club on the 2nd floor where you can party after hours.
Empire Bar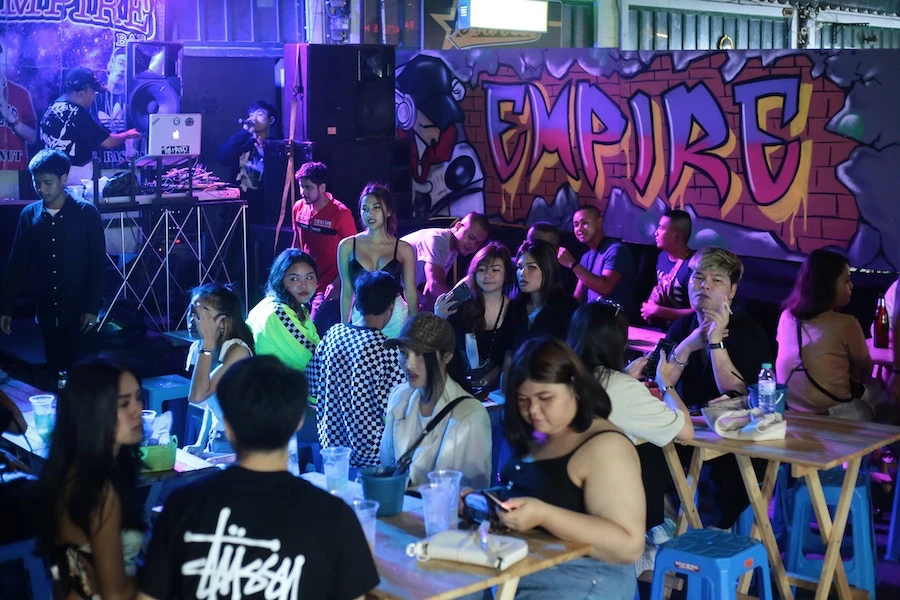 For a proper hip-hop vibe and a legendary Khaosan experience, Empire Bar is a must.
It is the largest outdoor seating and party scene on the road.
In fact, it actually consists of two bars; one is the outdoor one and the other is a smaller indoor bar right across.
Empire makes this list because apart from being the biggest outdoor party you can find on the 400m road, it feels like you are right in the middle of everything.
That is if that is something you enjoy.
If you're into hidden and cozy places, this isn't the bar for you.
Here, it is busy, loud and chaotic but that is its draw.
People come here to drink, dance, and do balloons.
Every night this bar is jam packed with party go-ers who enjoy exciting performances by talented local hip hop DJs and MCs.
The Club Khaosan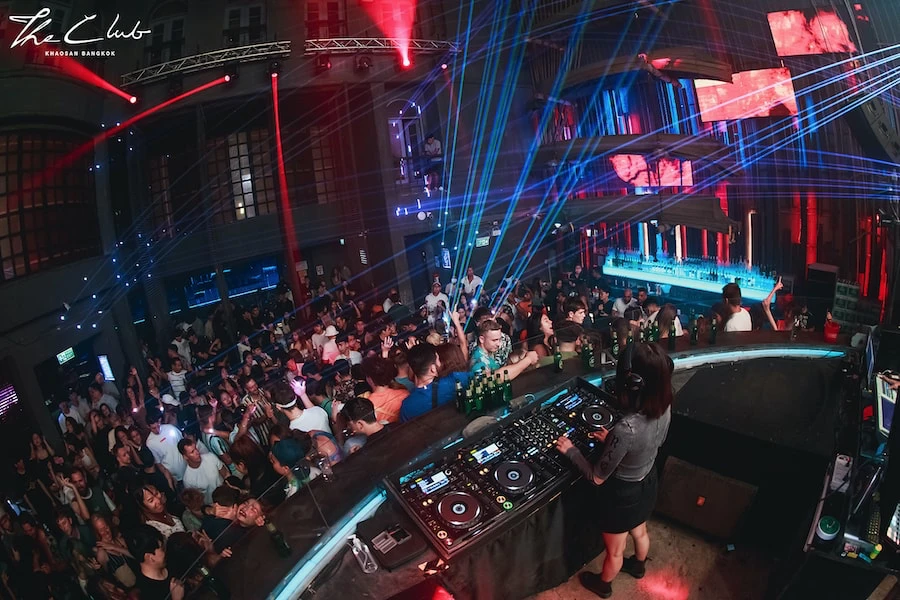 If you are looking for a quality clubbing experience in Khaosan, there is no other and better than The Club Khaosan.
Hosting some of the best parties in Bangkok.
With global DJs spinning electronic dance music genres such as techno, trance, house, and hardstyle, it has become one of the top nightclubs in Bangkok.
Equipped with state-of-the-art sound light and sound systems, the atmosphere at The Club is always vibrant and energetic.
Locals, tourists and expats flock here for the music performances and vivid laser light shows.
It almost feels like a mini music festival there.
The most fascinating element is the elevated platform next to the DJ where people can climb and dance their heart out.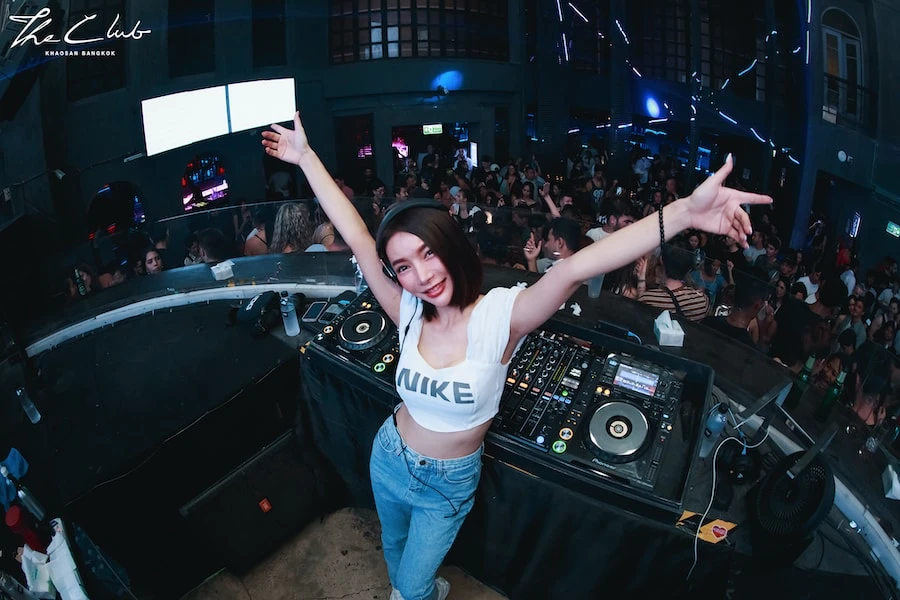 The Club has an entry fee of 300 THB, which includes 1 drink.
There are also bottle services and a huge selection of alcohol drinks inside.
Operating hours: 9pm – 2am
---
What To Do And What To Avoid On Khaosan Road?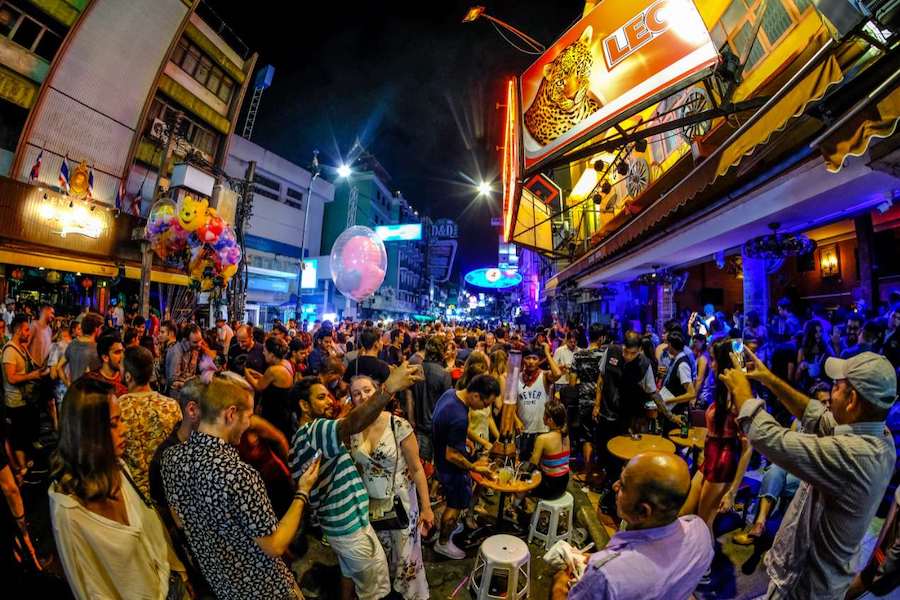 There is no right or wrong way to enjoy Khaosan Road.
The best thing about it is that there is a little bit for everyone.
But to get the best time and the full experience, here's what you should do.
Start by heading to Rambutri road, which is situated right on the parallel street to Khaosan.
Going here is like dipping your toe into a rough sea.
It's less hectic here and you can chill with friends, dine and have a few drinks without it being too loud or busy.
After that, head into Khao San Road and take a walk down the entire road to get an idea of what is there.
Don't go to the first bar you see. Not yet.
After taking one look, go back to an outdoor bar that caught your eye the most.
It could be a hidden bar like Mischa Cheap or one with an exciting atmosphere like SUP DUDE.
After that, you might want to take it up a notch by visiting Empire or any of the many outdoor bars selling buckets and beers.
Hit up any that seems like your vibe with music and drink promotions.
Finally, end the night with crazy nightclubs such as The Club or Rocco.
Dos
Keep an open mind.
Keep track of your money. It's cheap but you can also end up spending a lot of money on alcohol and balloons.
Eat and keep hydrated.
Watch your belongings. Pickpocketing has decreased but it still happens. It not only applies to Khaosan. It's just going out 101. Be smart.
Have fun, responsibly.
Don'ts
Be careful of cheap alcohol when it comes to buckets. Always ask for the best brand. Unless you are used to drinking cheap alcohol, don't try it on your first visit.
Don't drink too much. You don't want to be passed out on the side of the street. It is quite common here.
Scams are a lot less than before and in red-light districts but still, be cautious. Don't do anything that feels wrong. Trust your gut.
Don't mess with locals. Fights tend to break out in Khaosan so stay clear of any arguments or altercations.
Bangkok now sells weed and it is available in Khaosan. If you are going to drink, don't smoke, and vice versa.
While Khaosan is a fantastic party place, it is not for everyone.
So, if you are in Bangkok and want to experience something unique and of quality, contact us to arrange private or VIP Parties.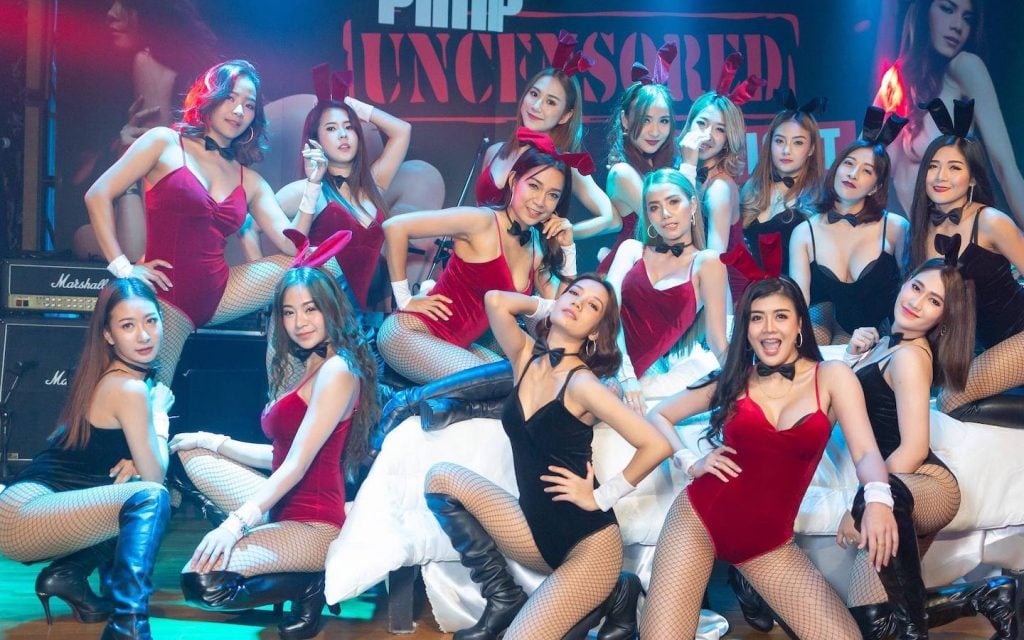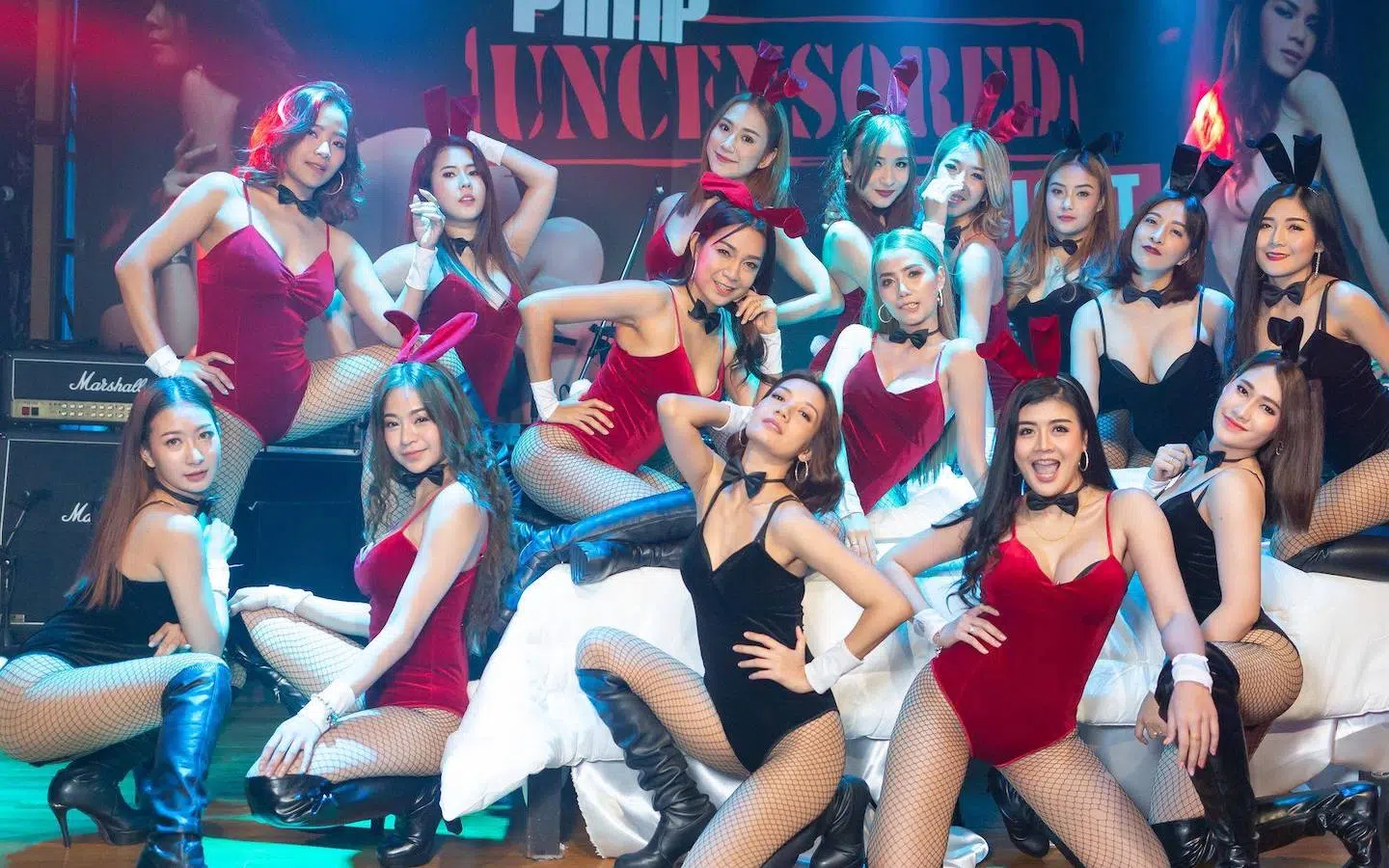 We also help organize your trip to Bangkok.
Read our guide to Bangkok nightlife for more information on where to party in Bangkok.
---
What Are The Best Hotels Near Khaosan Road?
Partying in Khaosan Road can be really exhausting, so here are a few hotels to stay in the area where you can relax and recover.
The Siam Hotel (5-Star Hotel)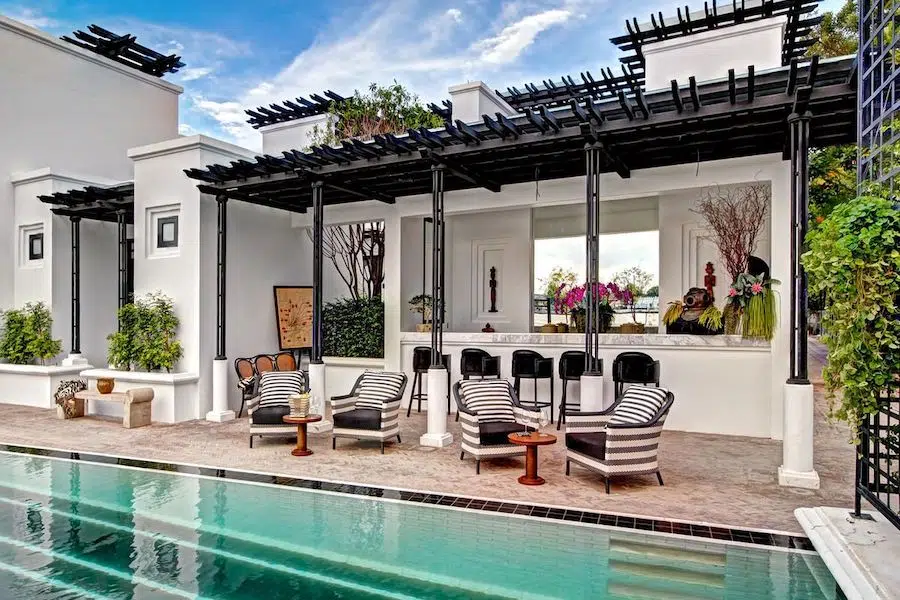 Find the right balance between wild nights and quiet days, cheap bars and luxury suites, with a private pool villa at The Siam hotel.
This 5-star hotel is one of the best in Bangkok, not only for its luxurious amenities and big rooms.
But also because their private villas offer all the privacy you need for an intimate night.
---
Riva Surya Bangkok (Best Value For Money)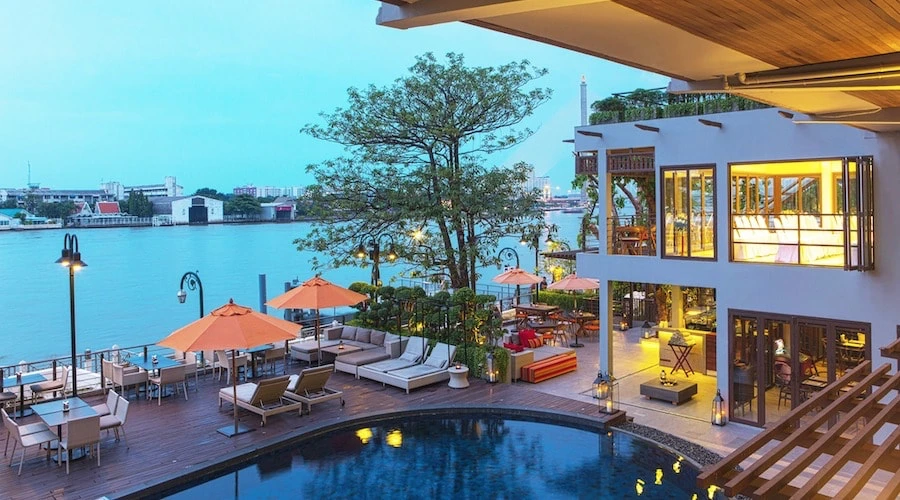 Just a few hundred meters from Khaosan you can stay by the beautiful and peaceful Chao Phraya river.
Riva Surya hotel is the ideal place to hang out and relax after you've been partying in Khaosan until late.
The rooms are also spacious and the beds are super comfy.
---
Tales Khaosan – Cafe & Hostel (Budget-Friendly)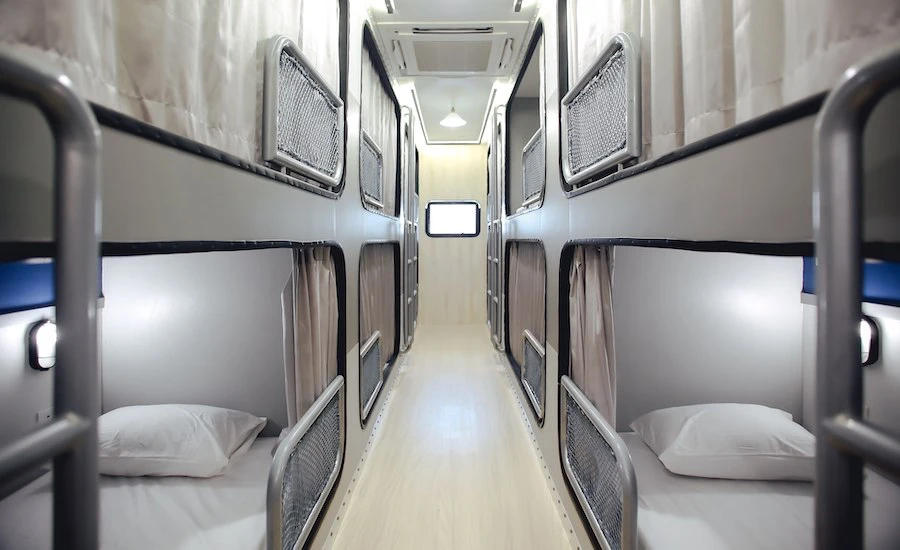 Unlike all the party hostels and hotels around Khaosan, Tales is quiet and laid back.
Even when you like to party until early in the morning, it's nice to have a place that feels like home away from home.
And their dorms are both clean and comfortable.
---
FAQ
When Is Khaosan Road Open?
Khaosan road is always open, but the bars and clubs in the street start opening around 5 pm and close at 2 am. Some stay open till 3 am or even later.
Are There Gogo Bars in Khaosan Road?
No, there are no gogo bars in Khaosan Road. You can only find gogo bars in red-light districts.