Every year, we receive about 2,000 inquiries for bachelor trips and stag dos in Bangkok.
And we know it's just the tip of an enormous iceberg.
Of course, the Hangover II movie has played a massive role in making Bangkok a popular destination for bachelors.
But even before the movie came out, Thailand already had everything to attract single guys.
The movie just made it more obvious.
What Makes Bangkok A Top Destination For Single Guys?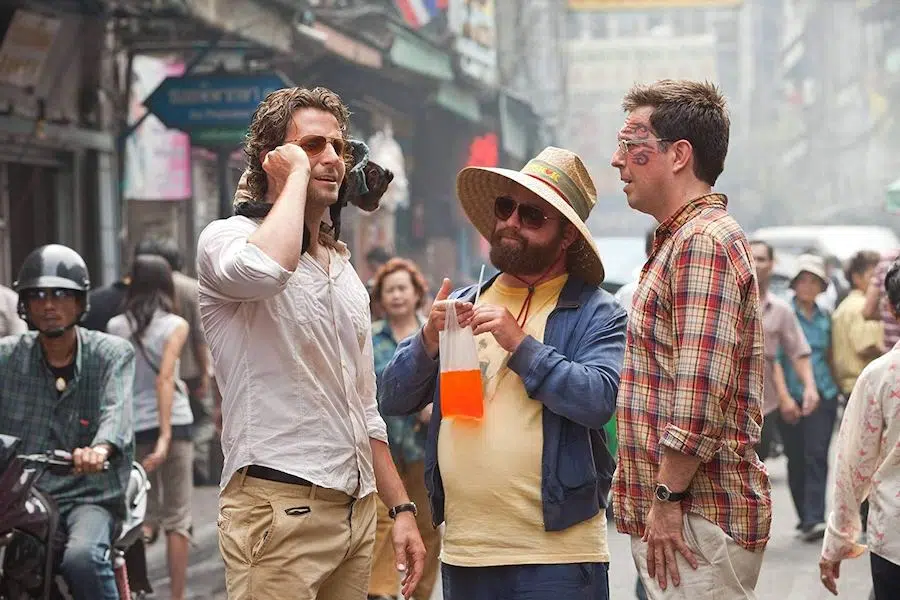 Bangkok is without a doubt high on the list of "must go" destinations for bachelors.
Western students on a gap year, Koreans and Israelis who just got off the army, expats from Hong Kong and Dubai coming to blow off steam, or crazy Aussies and British…
The reasons that attract bachelors to Bangkok are as diverse as the origin of the bachelors themselves.
But when you look at it, Bangkok has everything to seduce young single guys:
Parties all year round
Sexy Thai girls
Awesome value for money
Unique experiences
Did we talk about the Thai Girls?
Plus, it has a rich culture, countless temples, delicious food, beautiful beaches, and hot weather all year long.
Or in other words, Thailand is the perfect alibi for their friends and family.
Of course, guys are traveling to Bangkok with their friends to eat Pad Thai (at 4am after a night out) and receive great Thai Massages (nobody said anything sexy massages).
Isn't it the reason that pushed most male expats in Bangkok to move there in the first place?
That's only one of many reasons.
Bangkok's World Famous Gogo Bars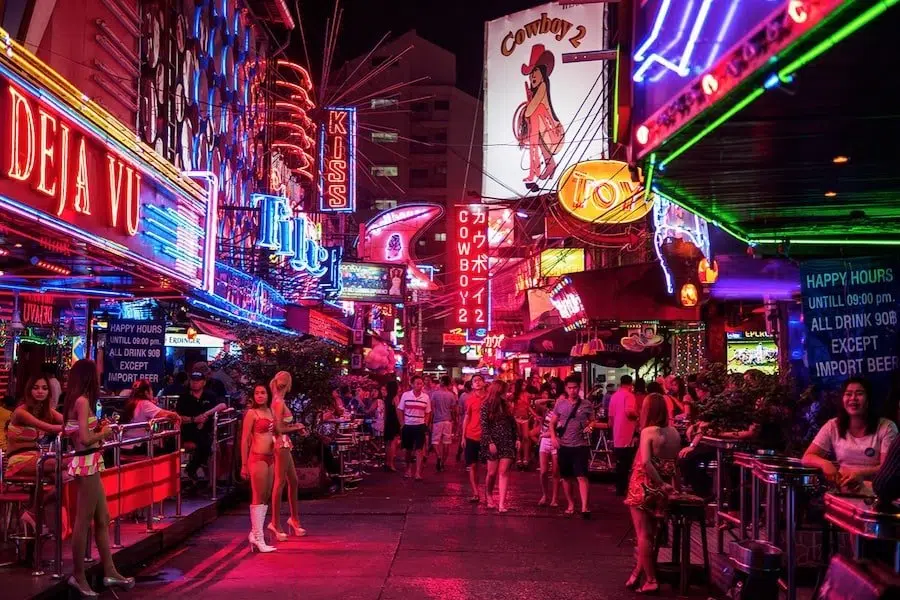 All bachelors will visit red light districts and gogo bars while in Bangkok.
Patpong, Soi Cowboy, and Nana Plaza are a must-see for single guys coming to Bangkok.
There are few places in the world where you can see gogo bars, BJ bars, ladyboys, and sex shows in the same street.
But don't expect to see chaos there.
Prostitution is illegal in the Kingdom (believe it or not) and the red-light districts do a fantastic job at keeping the business "clean" and organized.
It's not the Wild West as some videos suggest it.
And don't expect to find gogo bars or gogo girls at every corner or in every part of the city.
Out of the 3 red-light areas, you can't find a single gogo bar in Bangkok.
Go have a look at our own guide if you want to learn more about the city's red-light districts.
Bangkok Nightlife Is Perfect For Bachelors
There's no better place on earth than Bangkok if you're single.
With hundreds of nightclubs, bars, gentlemen clubs and other venues filled with beautiful Thai girls, Bangkok nightlife it's the ultimate playground for single guys.
And if you add to that the special events like pool parties, music festivals, or the huge Songkran festival where girls from all over Thailand and Asia come to show off their sexy outfit, that's even more overwhelming.
Whether you like them classy or wild, whether you're ok to pay or you want to find reat love, Bangkok nightlife has all the options in the world.
The Hangover II movie
It would be impossible to talk about how popular Bangkok is for bachelors and not mention the Hangover II movie.
Of course, Bangkok and Thailand already had their fair share of bachelor and stag parties before it came out, but the movie surely took it to another level.
The number of bachelor parties in Bangkok has exploded since the movie came out.
Like "The Beach" brought Maya Bay to the spotlight.
Sky Bar, where the rooftop scene is shot, is now full all year round and on the top of every "must-see" in Bangkok with their overpriced "Hangovertini" cocktail.
The Lebua Hotel, in the same building as Sky Bar, has branded a few of its suites "Hangover II Suites" and they're quite popular even though they got nothing different from other 3 bedroom suites in the city (you're not gonna find any monkey or tiger inside).
Another area that benefited greatly from the movie's popularity is Soi Cowboy.
The small red-light district between Sukhumvit Soi 21 and 23 now attracts tourists, including bachelors, of course, but also families.
So don't be surprised if you see a 2-year-old starring at a gogo girl wearing a bikini at 10pm. This is one of the butterfly effects of the movie.
Gorgeous Thai girls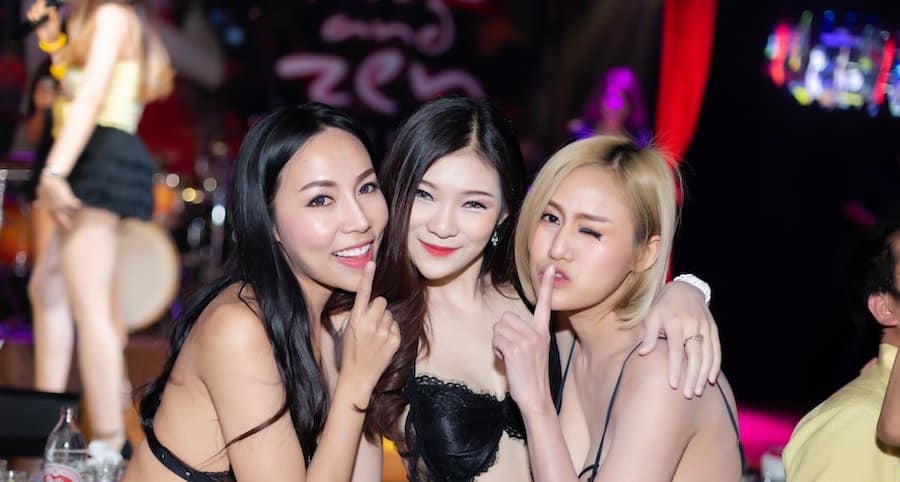 It would be impossible to cover why Bangkok is famous for bachelors without talking about Thai Girls.
Bangkok wouldn't be the same without the beauty of its women.
And we're not only talking about bar girls in Bangkok.
Every single guy that spends some time here will tell you, it's heaven on earth.
Tinder, Happn, bars, gogo bars, clubs, gentlemen clubs…
And the Wet & Wild Songkran Festival every April, hosted by The PIMP Bangkok with 300+ of the hottest bikini babes in Bangkok.
Single guys will find endless options to meet girls.
And most girls you meet in Bangkok will give you a genuine and fun experience that some of the bachelors coming to Bangkok don't seem to have a lot back home.
So Why Bangkok is Famous for Bachelors?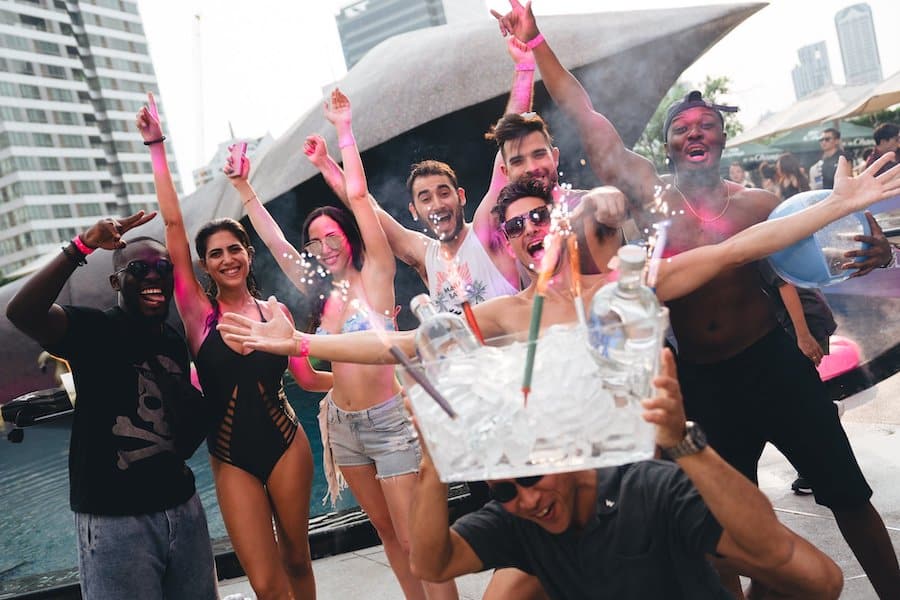 Because it's a great place with a lot to offer.
There is way more to see and do in Bangkok than the obvious strip clubs, gentlemen clubs, and red-light districts.
Nothing wrong with them, but we don't think a movie like The Hangover II would have make such a difference if the city and the country wasn't built for this kind of fun.
So whether you're a bachelor coming by himself, with a group of friends, or for a bachelor party, be ready to have a great time.
With the right insights, you can only create great memories in Bangkok.
Now, if you're coming with your mates for a trip or a bachelor party and you're looking for things to do, here's a list of fun ideas.
And if you need any help planning your trip or if you have any question about the city, feel free to message us anytime.