Bangkok is a nightlife and entertainment hub of not just Thailand, but all of Southeast Asia.
Part of that is the KTV trend that is taking over the entire city.
A private room, a karaoke machine, pretty hostesses, and alcohol flowing.
Sounds like the recipe for a fun night, right?
You Might Be Wondering, What Is A KTV?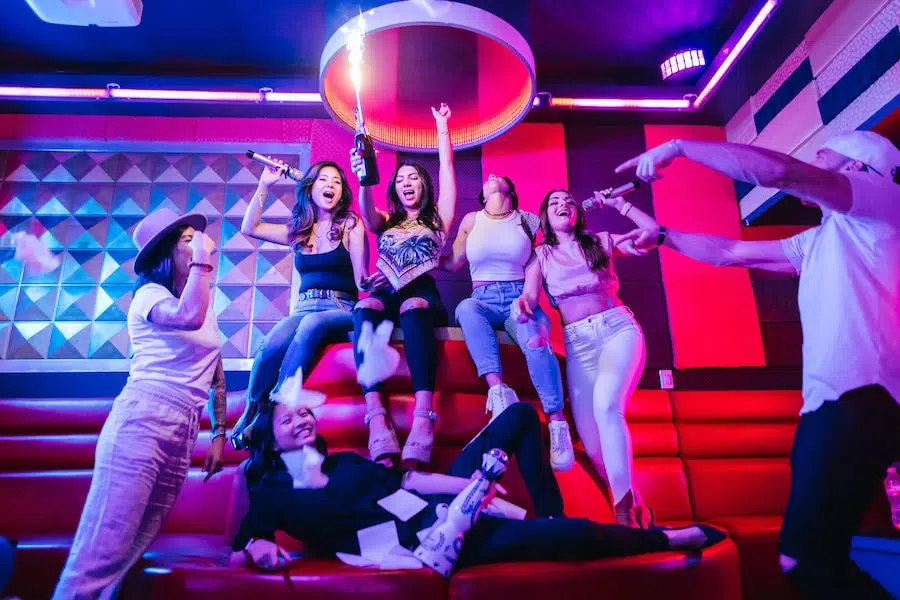 The thing is, you might have already visited a couple of KTV establishments and didn't know it.
KTV is short for Karaoke Television, and it includes any venue that has some kind of interactive musical entertainment.
Traditionally, it includes dedicated rooms for karaoke, which is where people can sing along to famous songs.
All they have to do is follow the lyrics and music on TV.
However, over the years, KTV has grown and evolved. It is no longer just about singing along to songs but also other nightlife and party experiences.
What Happens At A KTV?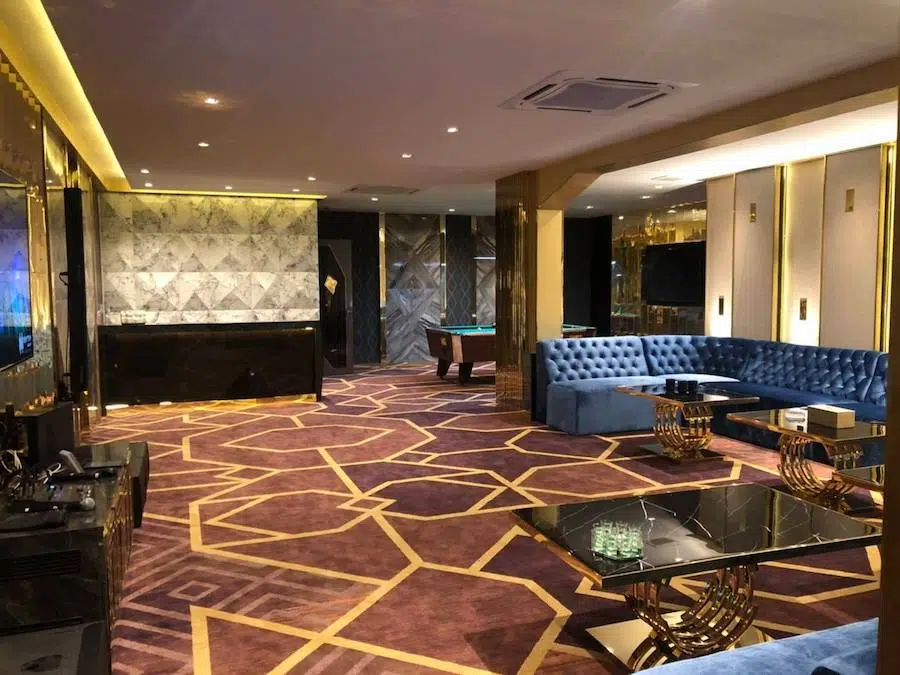 KTV rooms or bars come fully equipped with the latest tech such as giant TVs, LED screens, microphones and state-of-the-art lights and sounds.
The rooms are also typically fitted with luxurious sofas and other lounge furniture for a cozy and comfortable atmosphere.
While singing and maybe even dancing, guests can order drinks and food. Most people like to get bottles of whiskey with a plethora of mixers, ice, and snacks.
However, what has really made KTV karaoke so popular in Bangkok are the sexy KTV girls or hostesses who do everything in their power to meet your needs and desires.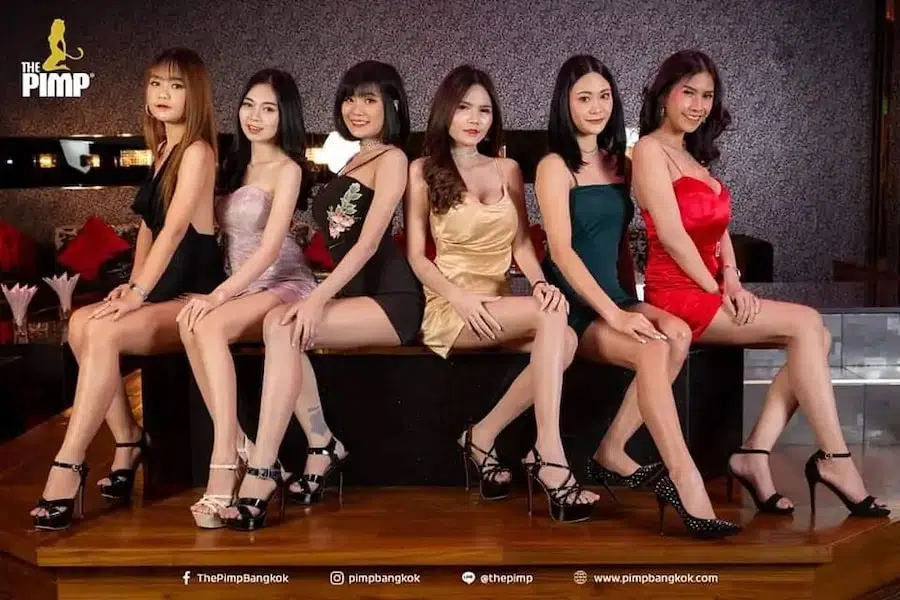 To what extent?
Well that depends…on how much you are willing to spend and if they are up for it.
That brings us to the next point.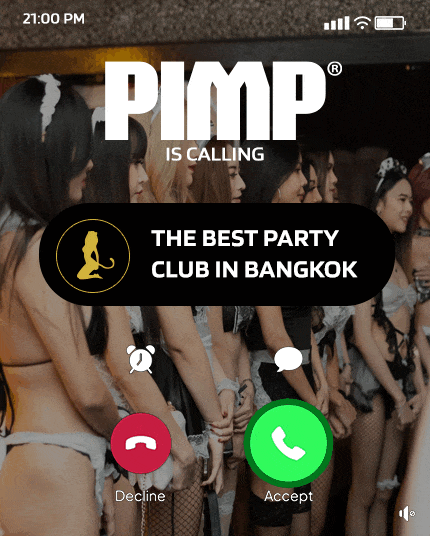 How Much Do KTV Rooms Cost?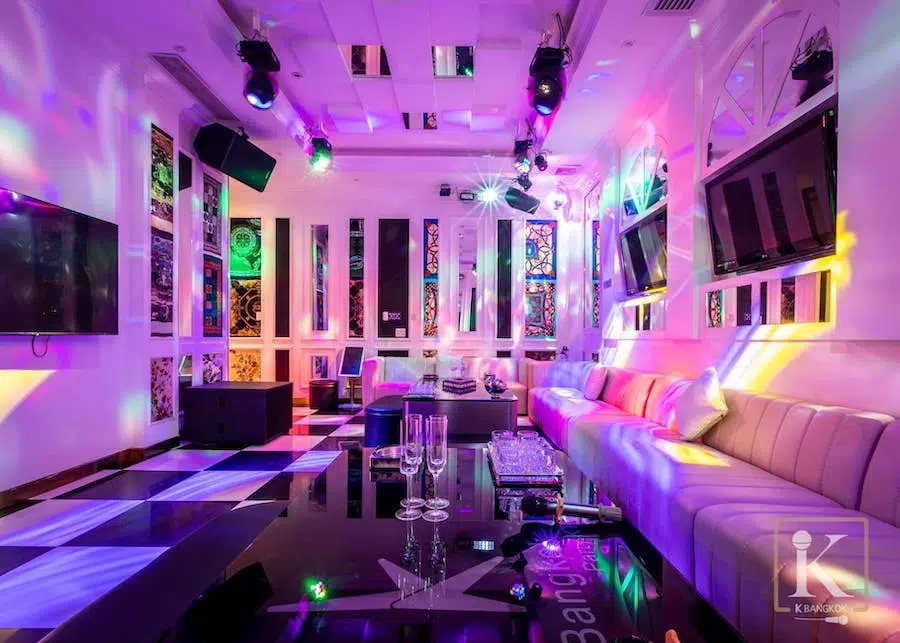 KTV rooms can start as cheap as 350 THB per hour to 2,500 THB (or more) per night.
It depends on the quality of the bar or club.
Some KTV will also offer you a free KTV room booking when you buy a membership or a package with multiple bottles.
Many of KTV in Bangkok target affluent Thais and foreigners so they have quite high standards and provide complimentary service to please this clientele.
If you still have questions about what happen at a KTV and how it works, we recommend you to read our detailed guide.
So, perhaps now you are a bit interested in KTV and want to see for yourself what the fuss is about.
Well, you're in luck!
We have rounded up the 7 best KTV in Bangkok worth checking out for a night of partying with friends or colleagues.
The PIMP Bangkok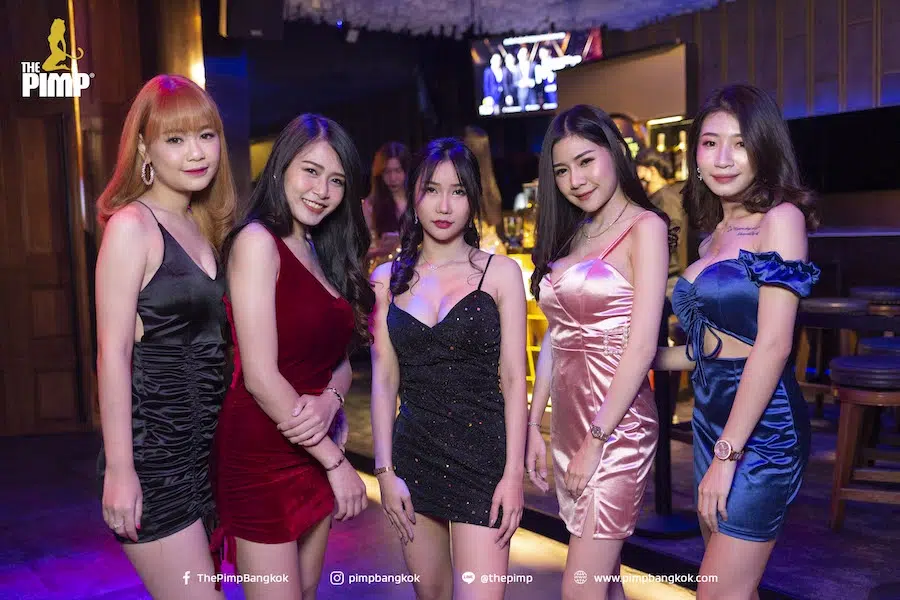 Should we save the best for last? We don't think so.
Let's get straight into it and clear the field by saying that The PIMP Bangkok is simply the best KTV club in Bangkok by far.
Luxury and high-end is just the icing on the cake when it comes to describing the club. It is also Bangkok's premier gentlemen's club.
For starters, this KTV club features 17 VIP private rooms that have everything you could need for an epic night.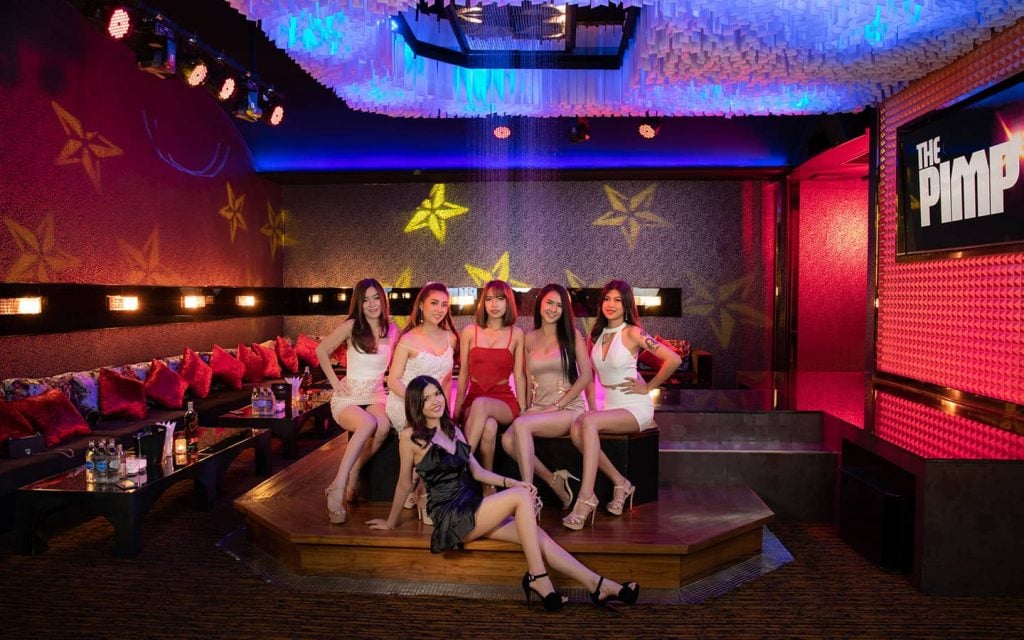 The have different sizes of KTV rooms with the biggest large enough to fit 30 people, and a private pool area for up to 100 guests.
All KTVS rooms are equipped with a high-tech karaoke system with over 50,000 songs, a 55" smart TV, and a cutting-edge light and sound system.
Some rooms even have private Jacuzzis and/or pool tables and a DJ.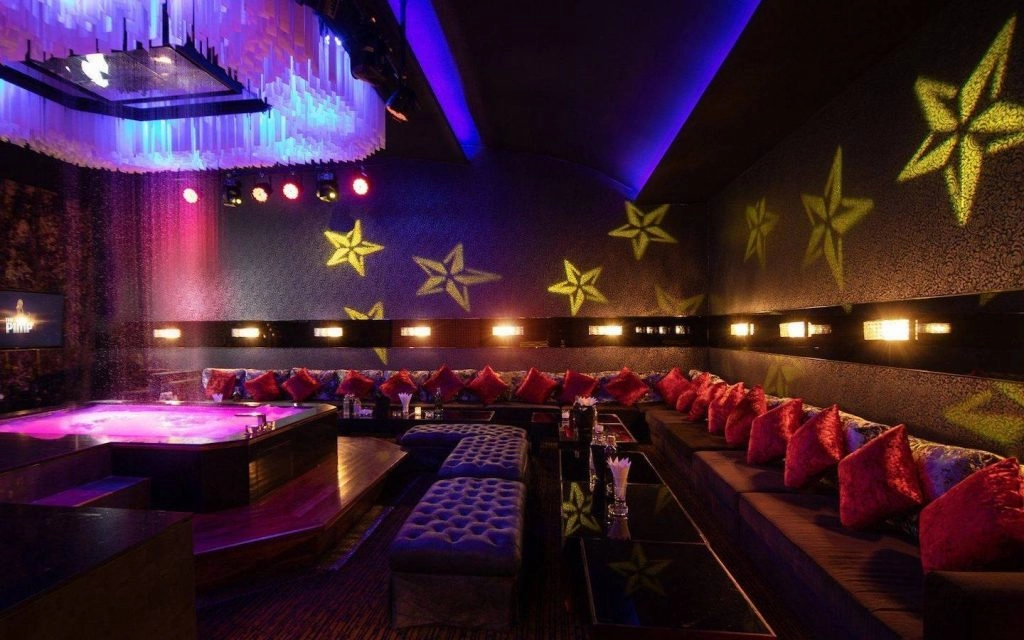 The PIMP also has a collection of the hottest girls in all of Bangkok working as hostesses or party models.
Simply choose one or more to join your group for the best night of your life.
Opening Hours: Monday to Saturday, 9pm – 3am
Address: Opposite PT Gas Station, 496 Rotchanamin Alley, Pracha Uthit Rd, Wang Thonglang, Bangkok 10310, Thailand
Czech Club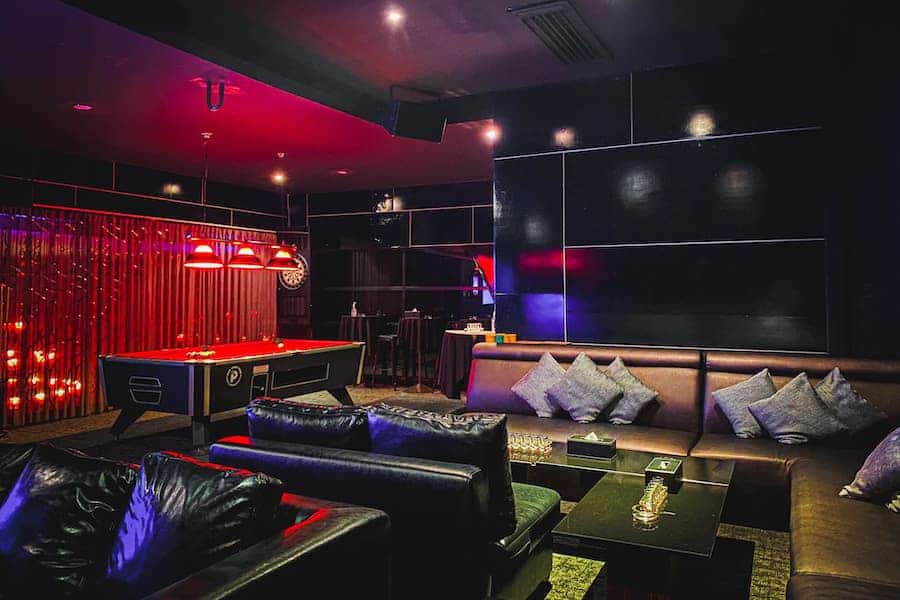 Czech Club is an all-in-one entertainment venue, a nightclub and a KTV bar, and it's one of Bangkok's trendiest member clubs.
It has all that you would expect for a KTV venue.
Beautiful girls, music, VIP Karaoke rooms all in a lush yet cozy atmosphere.
When you are not in the private room, join the crowd on the dance floor with a stage where you can watch live performances by popular Thai artists.
Opening Hours: Monday to Saturday, 8pm – 2am
Address: 41 Ekkamai Rd, Khlong Tan Nuea, Watthana, Bangkok 10110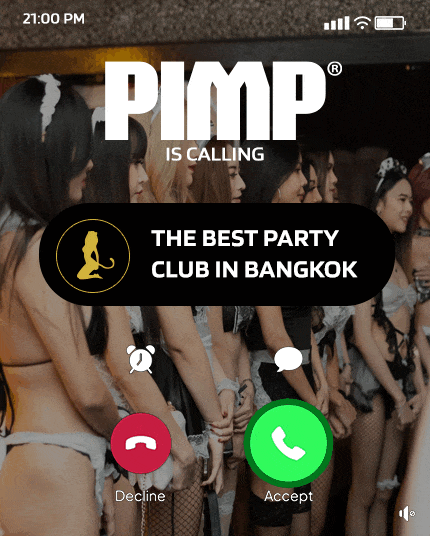 TopOne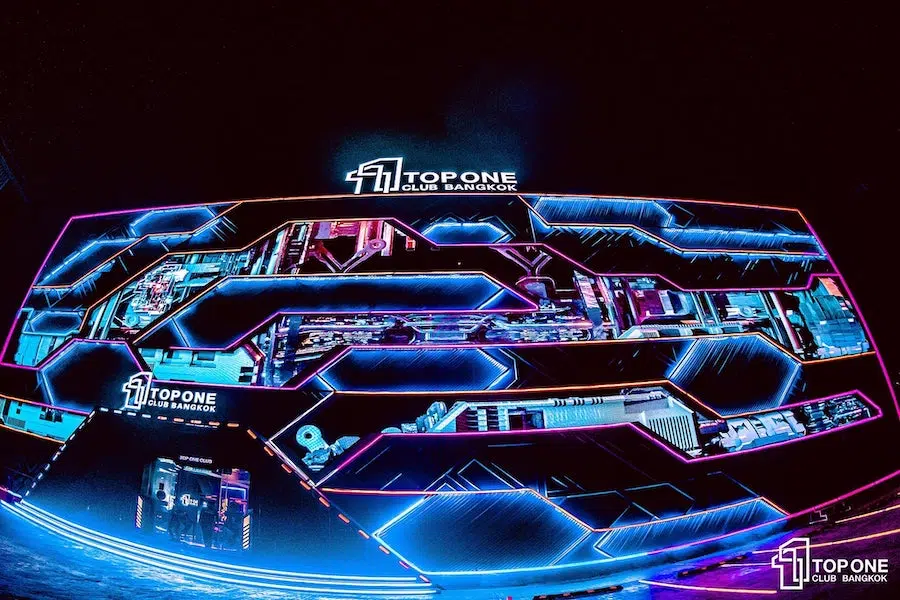 Although dubbed as one of Bangkok's premier clubs for Electronic Dance Music and parties, TopOne also has sort of secret KTV private rooms up on the 3rd floor.
Not many know about it but it's there.
No KTV girls there, but you can meet a ton of single girls at the club on the ground floor, or contact us to hire party models to go there with you.
Opening Hours: Everyday, 7pm- 12:30am
Address: 278 Ratchadaphisek Rd, Huai Khwang, Bangkok 10310
Florence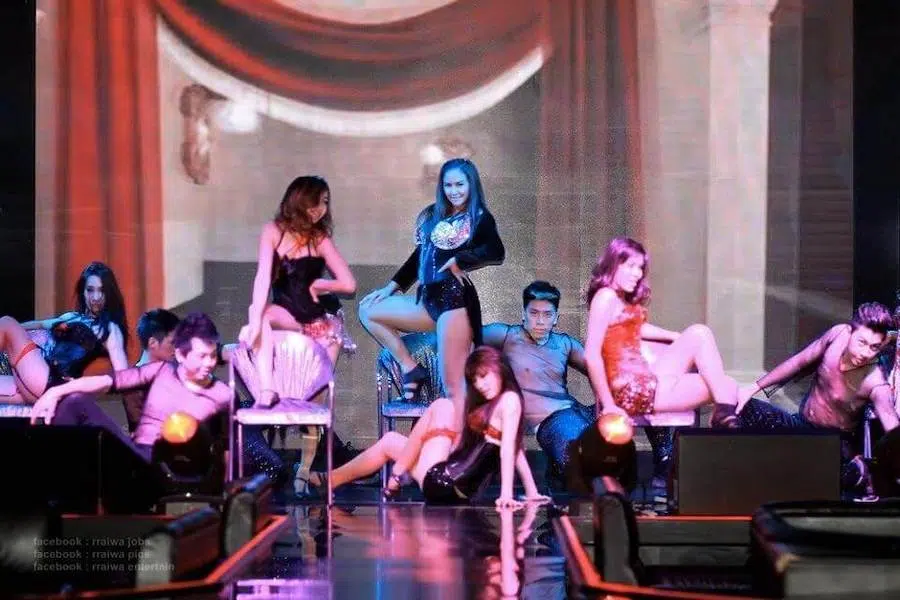 Florence is a pretty famous Thai nightclub and KTV entertainment venue with the locals and foreigners in the know.
It is everything you want it to be.
A casual restaurant for dining or a place to let loose with live music, drinks, and performances by extremely good-looking people.
As far its KTV section goes, Florence has about 45 karaoke rooms where you can not only enjoy food, alcohol, and music but you also have a choice of over 150 absolutely beautiful but wild girls, ready to take care of you.
The club also hosts events and concerts featuring famous live bands and DJs on a regular (or monthly) basis.
Opening Hours: Every day, 5pm – 12am
Address: 916 Srinagarindra Rd, Suan Luang, Bangkok 10250
Rao Sena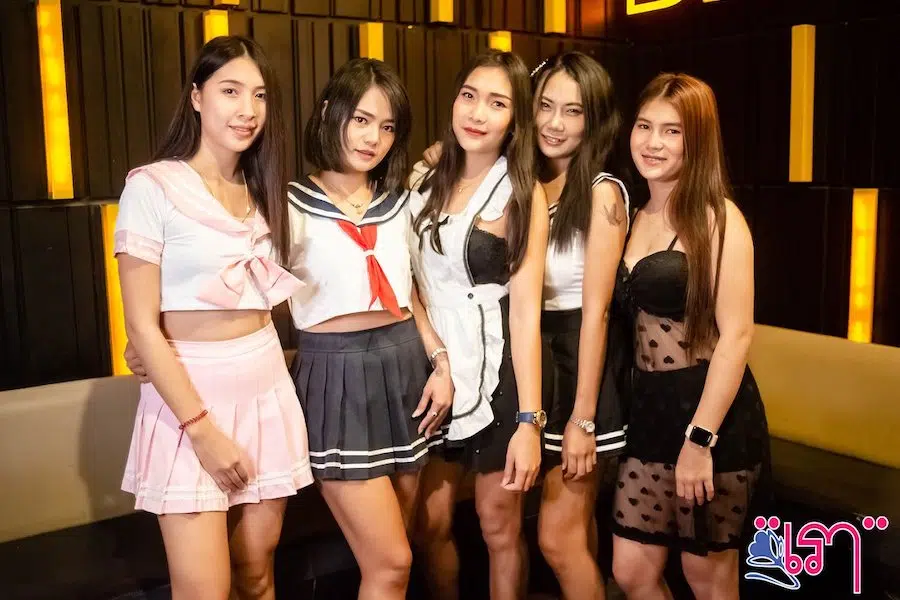 Rao Sena has been around for more than 25 years, providing stellar VIP services and nightlife experiences to young Thais from all across the city.
The club is divided into 2 zones, namely the popular Live Band zone and of course, the private karaoke rooms that come in 7 unique styles.
Each spacious room comes equipped with pool tables and all the other high-tech gadgets you can expect from a quality KTV lounge.
Rao also has another branch in Srinakarin called Rao Srinakarin. Both locations have beautiful, sexy PR girls and impressive KTV rooms.
The club is quite active on Facebook as it showcases all its events and the hot girls regularly so you have an idea what is in store for you if you pay it a visit.
Opening Hours: Every day, 7pm – 2am
Address: 1873, 3-5 Phahonyothin Rd, Lat Yao, Chatuchak, Bangkok 10900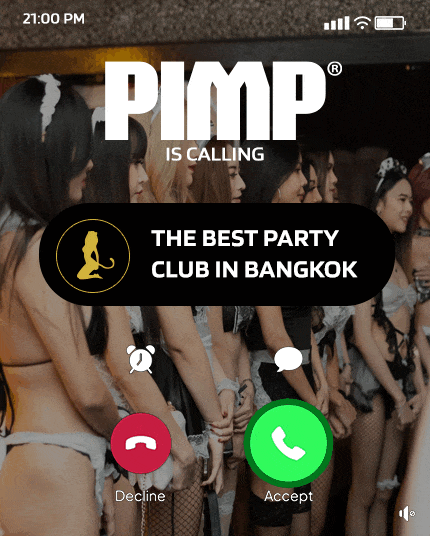 The Steve Club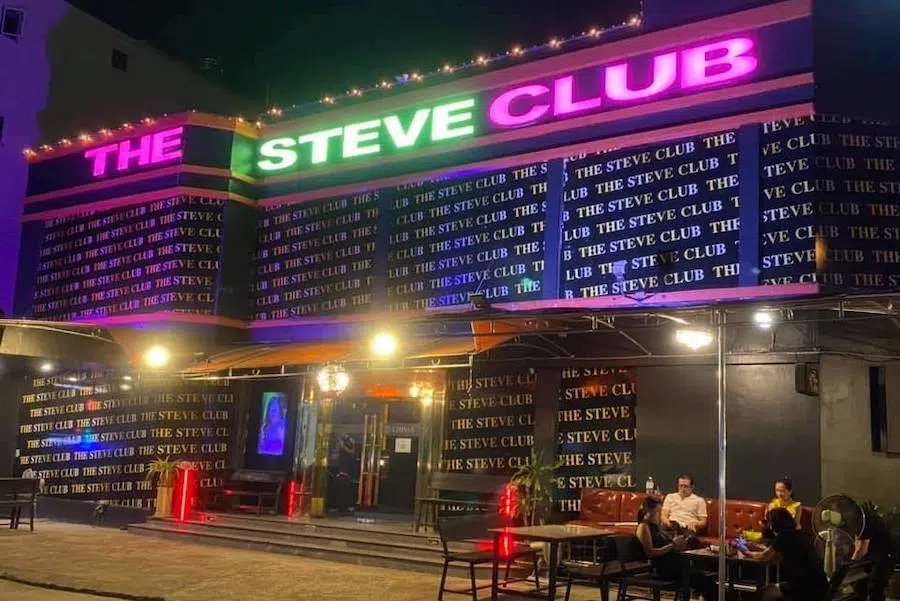 For those living in or around Rama 3 area, The Steve Club is a reasonably priced exclusive club and KTV lounge worth going to.
Just like any other KTV bar, it is furnished with comfortable and private karaoke rooms, equipped with the standard stuff – TV screen, karaoke system, sofas, and tables.
If you need anything extra, you can always ask.
There is also a main stage where coyote girls and live bands perform, if you want to be part of the crowd.
The hostesses and bar girls at Steve Club are all young and quite beautiful, but we think the dancers and singers here tend to be a lot hotter.
Opening Hours: Every day, 8pm – 12am
Address: 729 136 Soi Soi Wat Chan Nai, Bang Phong Phang, Yan Nawa, Bangkok 10120
Harem Club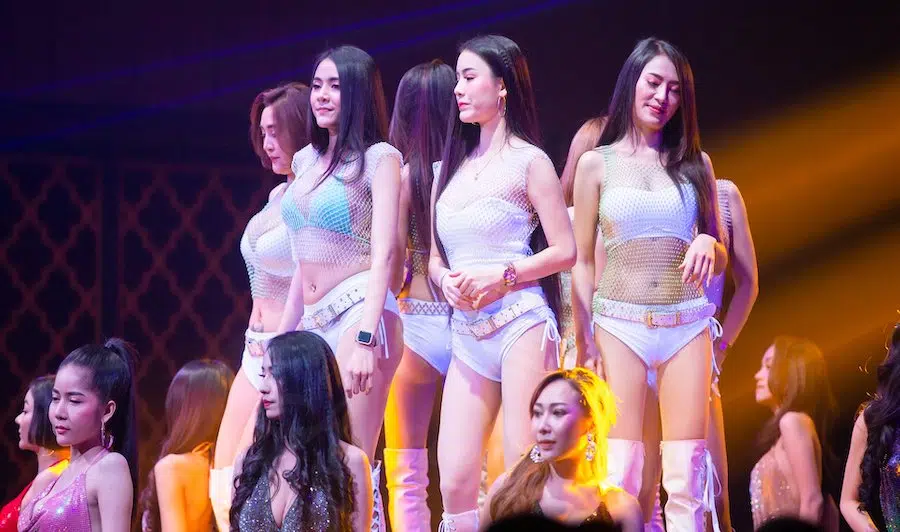 Harem Club, formerly known as Aladdin Club, is another premier KTV entertainment venue in Bangkok.
Lush ambiance, high-tech karaoke systems, and seductively hot girls are just some of the reasons to visit this place.
Apart from its private rooms, the club also hosts regular events, parties and concerts featuring very good-looking artists and performers.
It might be a bit far from the city's center, but we can always arrange a luxury minivan to take you and your friends there.
Opening Hours: Monday – Saturday, 8pm – 1am
Address: 51 Soi Prasert-Manukich 29 Yaek 1, Chorakhe Bua, Lat Phrao, Bangkok 10230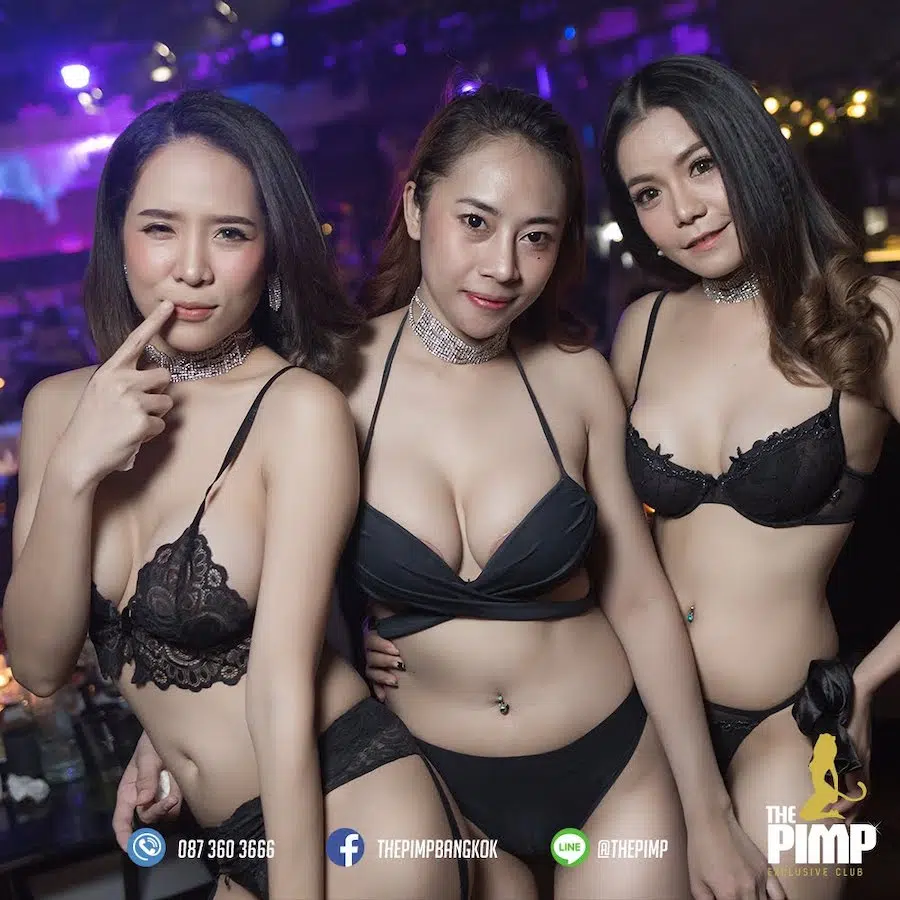 Now if you prefer to meet single girls in Bangkok on your own, go to one of these clubs, or to one of the best gentlemen's clubs in Bangkok to meet hundreds of hot Thai girls who can't wait to party with you!
We can book the best VIP table or a private room for you there.
Send us a message now.
For more bars and venues in Bangkok with live music and live bands, click here.
FAQ
Which KTV in Bangkok Has the Sexiest Girls?
Which KTV in Bangkok Is The Best For Private Parties?
The PIMP Bangkok is the perfect KTV in Bangkok for a private party with its wide range of KTV rooms.
Whether you have a small group or a large one, whether it's for a bachelor party or for business meeting, The PIMP can accommodate all your special requests.
Discover more places to party in Bangkok.
Bangkok nightlife will have no secret for you after you read our guide.