The weekend is here, and you want to party, but the club scene sounds too much to handle. It's a tired old game.
You rather find a nice bar to chill at but still be able to get a bit lit.
There are probably a thousand bars in Bangkok and choosing one seems too much of a hassle, you rather just stay home.
But don't. Lucky for you, we got you covered.
Check out our list of Bangkok's best bars to party at with friends or colleagues.
Havana Social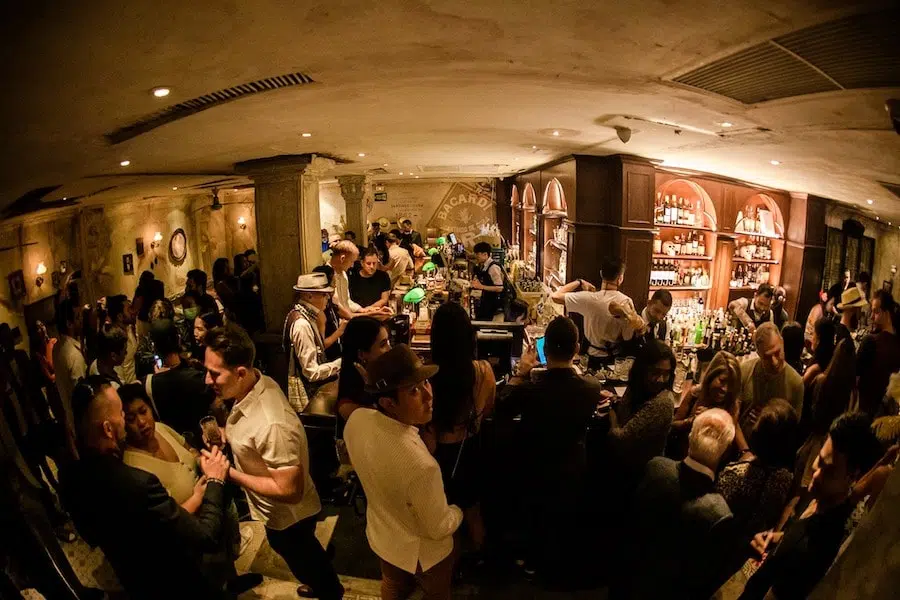 Havana Social is Bangkok's premier Cuban cocktail bar with an incredible lounge vibe that is always teeming with local and international socialites from across the city.
Set as if in the prohibition era of the pre-revolutionary 1940's, Havana Social has everything on brand with its interior design, drinks, music, and overall atmosphere.
To even get inside the bar, you have to enter a secret code on the telephone booth, keeping up with the times when alcohol was prohibited, and people had to secretly enter establishments to drink.
Guests come here to enjoy their award-winning cocktails, hottest Latin beats, Cuban cigars, and an amazing ambiance that is par none when it comes to bar experiences.
It has made Havana one of the most popular bars in Bangkok.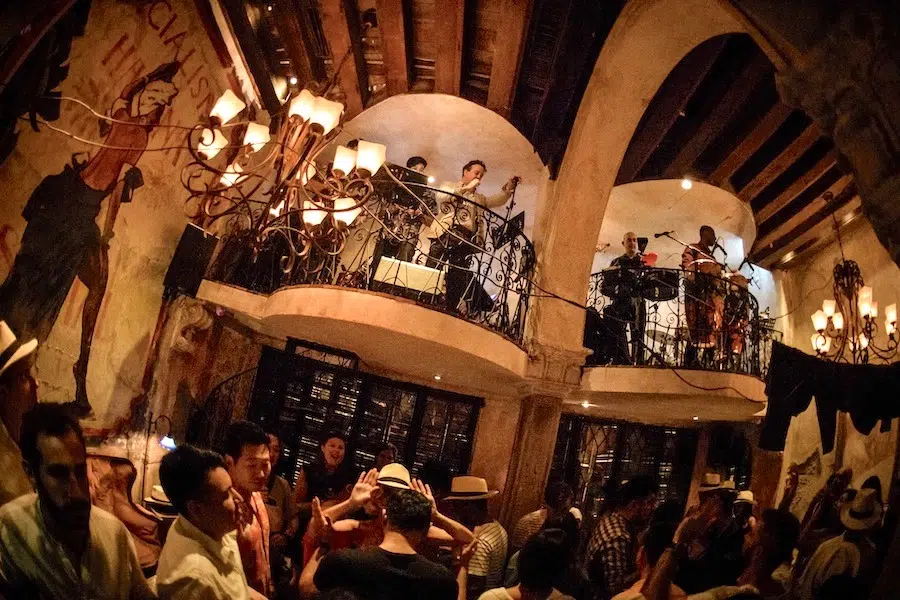 On the ground floor is the dance area, main bar, and an assortment of tables and chairs to drink or eat.
Second floor is a more loungy rum and cigar zone with a more relaxed feel. Whichever area you go though, there is a sense of luxe in the air.
At any given night, Havana organizes themed special events and consistently hosts weekly entertainment parties featuring resident DJs, live Latin band, Ladies Night, and Salsa Night with DJ Alex.
Special performances by well-known artists such as DJ Henry Knowles and DJ Pableroy have been hosted at Havana Social.
It is one of the few bars that focuses on music and dance as much as the ambiance, food, and drinks.
Opening Hours: Every day, 6pm – 12am
Address: 41, 3 Sukhumvit Rd, Khlong Toei Nuea, Watthana, Bangkok 10110
The Cassette Music Bar Ekamai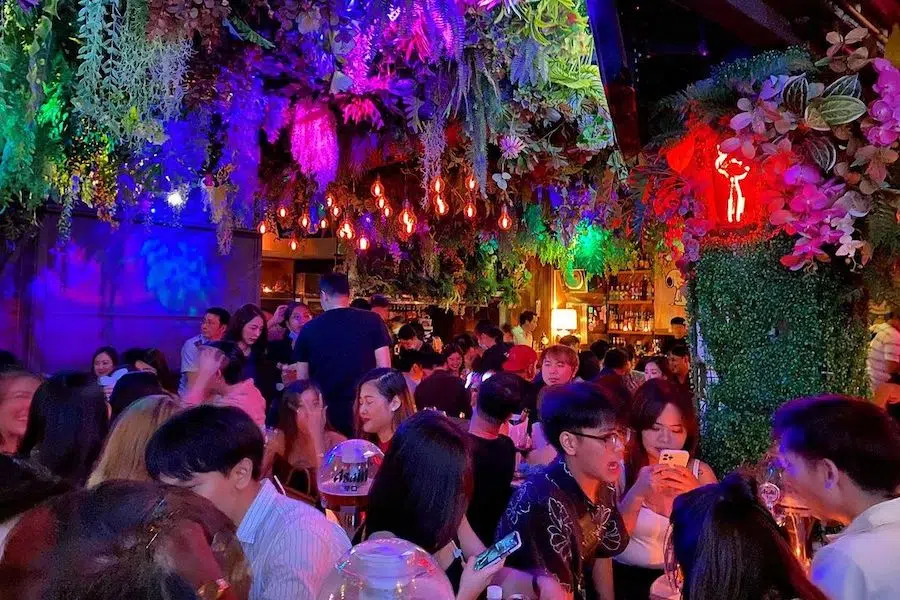 Here is an increasingly popular and chic bar that attracts a young Thai crowd who want to have a good night with friends.
The Cassette Music Bar is as the name suggests, a cassette tape concept bar that takes you back to the 90s with its interior design, music, and overall theme.
The entrance highlights a large pink cassette tape that is both iconic and a picture-perfect spot for Instagram.
While it seems like a restaurant at first glance, it actually transforms into an energetic, party bar with live music as the night goes on.
People who come here love to get bottle service (usually whiskey with soda or coke) and drink into the late hours while listening to spirited 90s Thai and sometimes international live music.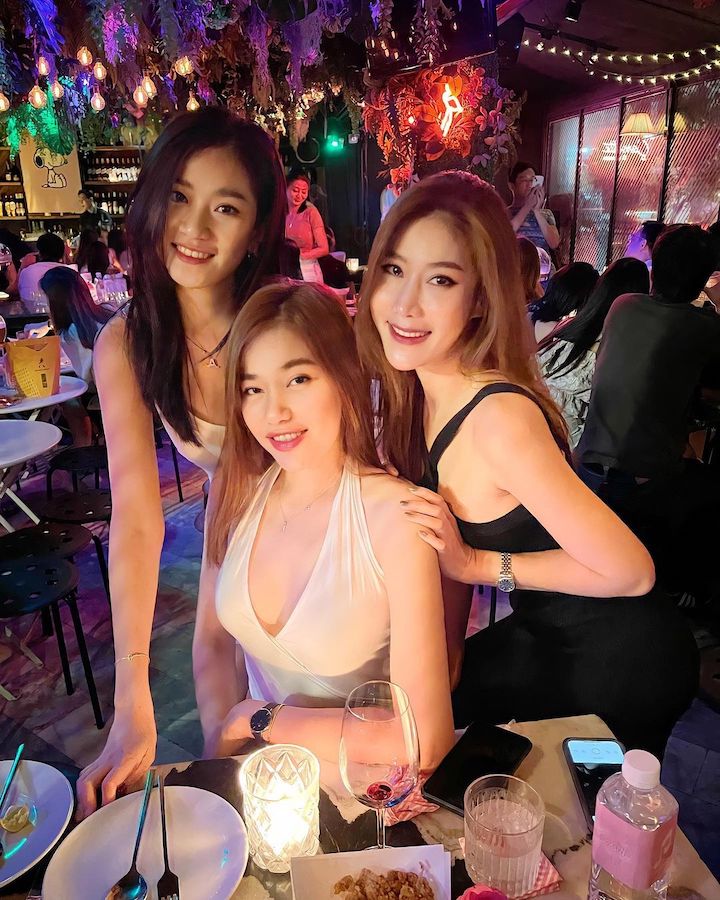 Beautiful and sexy young Thai girls are often seen at this bar, often in large groups, making it an interesting place for men to meet single women in Bangkok.
If you aren't on the hunt, that is ok too as it is also a great place to just hang out and drink with friends.
Reservations are usually recommended days in advance as it is always crowded, when it's not completely packed.
Opening Hours: Every day, 9am – 12am
Address: 5/1 Ekkamai 10 Alley, Khlong Tan Nuea, Watthana, Bangkok 10110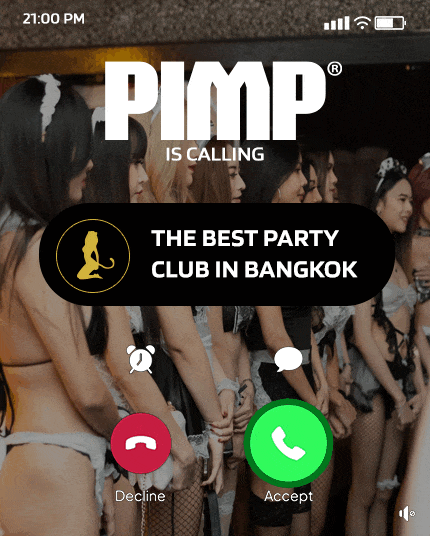 Tuba Bar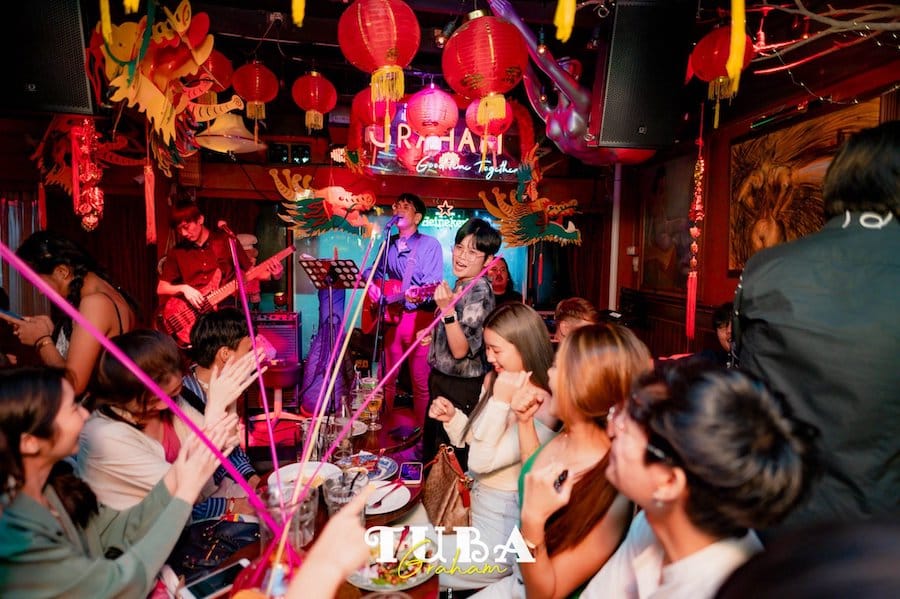 Tuba has been around for as long as we can remember.
It is probably one of Bangkok's best bars to party at, mainly because of their monster-sized happy hour drinks.
They are so big; you need both your hands to hold the glass. And don't think for one second that these drinks are watered down. They are incredibly strong.
If you come between 5-8 pm, you can actually get two of these gigantic drinks for the price of one.
Imagine, just a couple of these cocktails, you might have to be carried home or that is just what you need to get the party started!
You can enjoy these drinks in either the main live band room or in one of the VIP party rooms that you can book for birthdays or special events.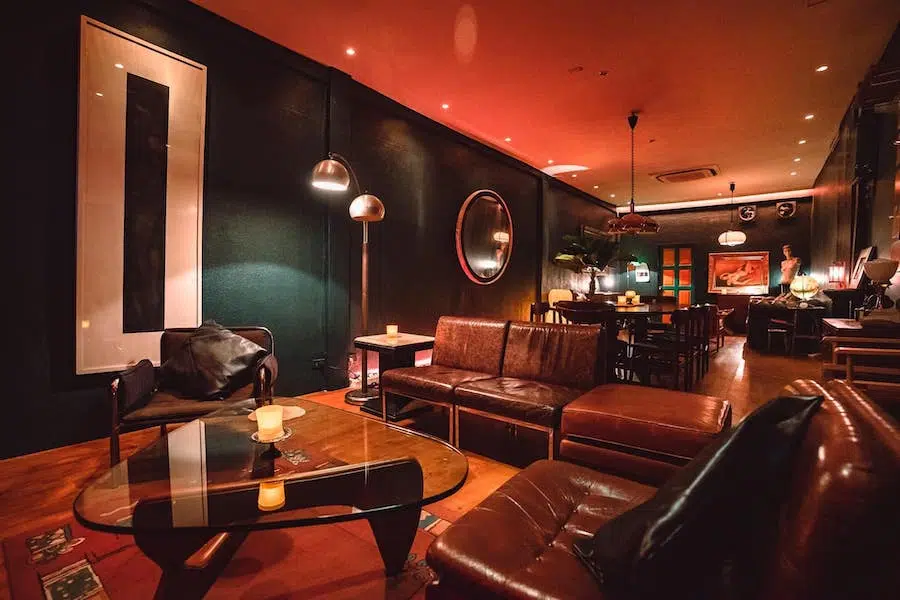 These rooms come with large tables and comfortable sofas and chairs.
The entire bar is fitted with vintage and artsy antiques, paintings, retro furniture, and all sorts of other quirky items.
End up liking any of them? You can even purchase some of them. Just ask the staff.
Follow their Facebook page for other promotions and offers that they might have.
Opening Hours: Every day, 9am – 12am
Address: 34 Soi Ekkamai 21, Khwaeng Khlong Tan Nuea, Khet Watthana Bangkok, Thailand 10110
Tichuca Rooftop Bar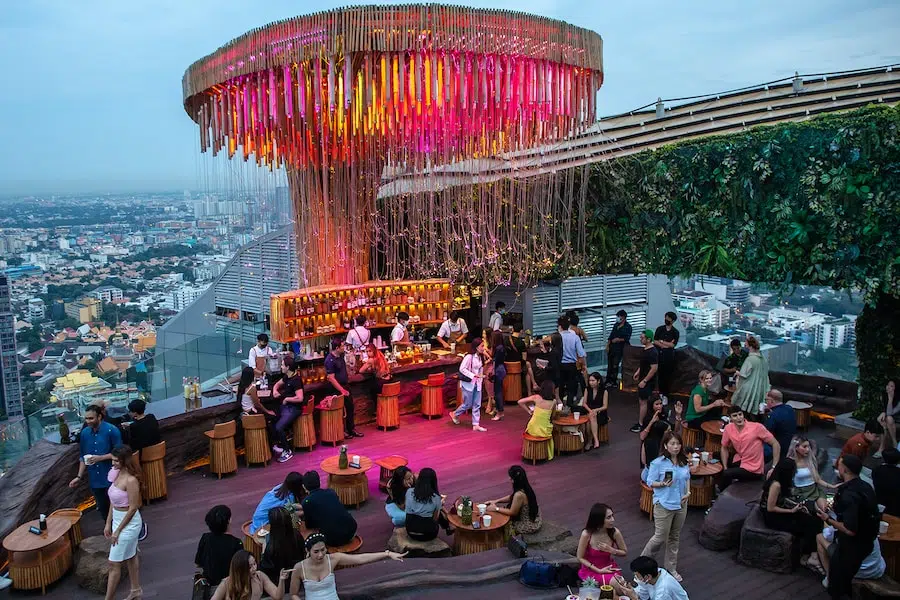 Tichuca has been abuzz as of late, being one of the newest and fanciest rooftop bars in Bangkok.
It has been the talk of the town thanks to its jungle-like design, iconic LED-lit tree, party vibes, and tasty drinks.
Of course, it is also always fun to be partying above the streets of the city and as Tichuca is perched on the 46th floor of the T-One building, you can expect some stunning views of the skyline.
While it hasn't hosted many official parties and events, Tichucha is always packed with young Thais and expats who love to turn a chilled evening to a wild night.
It's even in the name Ti-Chuca where Ti comes from the Tijuca National Park in Brazil and Chuca loosely comes from Mezcal Pechuca, which is known to be associated with fun parties.
Opening Hours: Every day, 6pm -12am
Address: T-One Building 8, 46th Floor, Phra Khanong, Khlong Toei, Bangkok 10110
Iron Balls Gin Parlour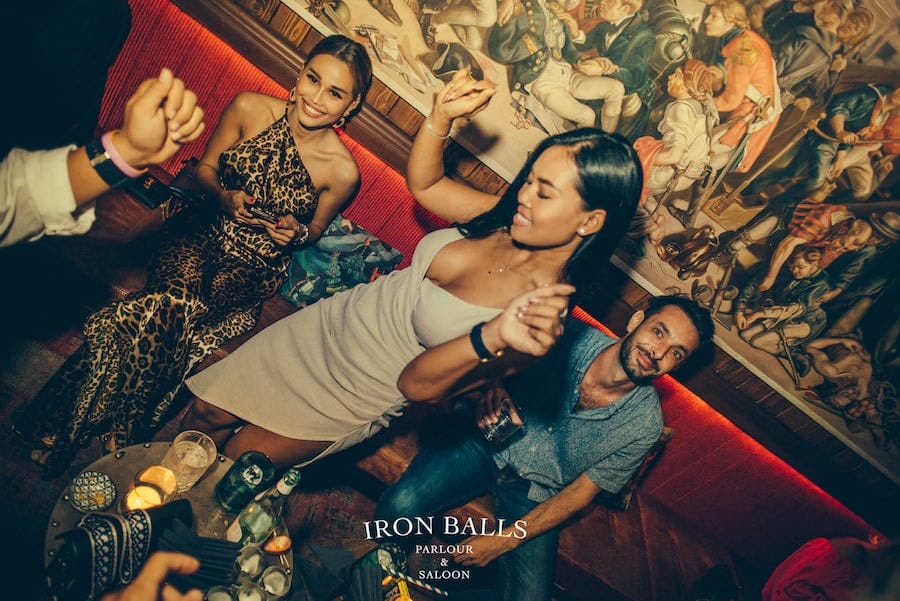 If you have heard of Ashley Sutton, you would know he is the mastermind behind the design of some of Asia's most famous bars.
Iron Balls is yet another of his brainchild and it is one of Bangkok's best gin distilleries.
Cozy and exclusive, Iron Balls Parlour is a bar that you go to for whatever mood you are in.
Whether it is to party or have a sit down with friends and have deep conversations. Whatever the reason, it's a great venue and is always packed with an eclectic crowd.
If you are particularly a gin fan, this place is gin-tastic!
When done pregaming or chilling at Iron Balls Parlour, take the night to the next level and head on over to Sing Sing Theater club, which is right next door.
Opening Hours: Tuesday to Sunday, 6pm -11 pm
Address: Sukhumvit 45 Alley, Khlong Tan Nuea, Khlong Toei, Bangkok 10110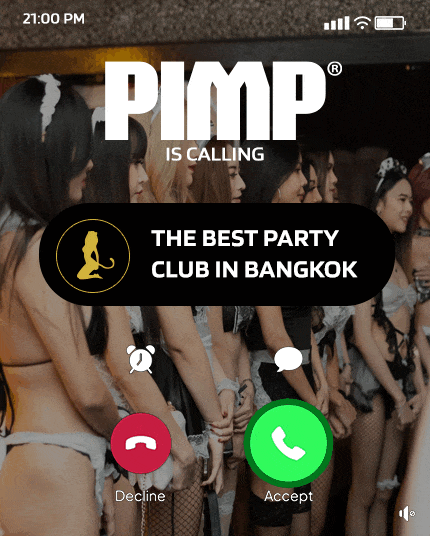 The ONE AT Khaosan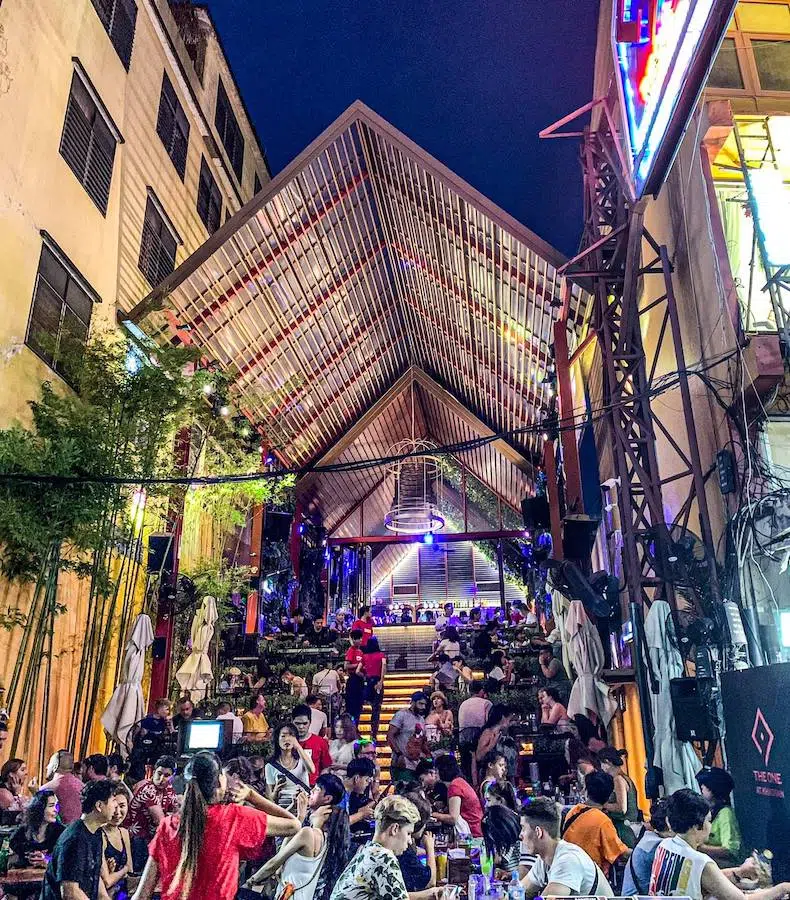 If you want to have a crazy party night in Bangkok, you have to consider visiting Khaosan road.
Whether you hate it or love it, there are dozens of bars in Khao San and it's always busy.
But which bar is the best to party?
While there are many that stand out, the most popular with locals and tourists is the ONE bar.
It is the only one that really catches your eyes with its iconic and LED-lit stairs. You just can't miss it while walking down the street.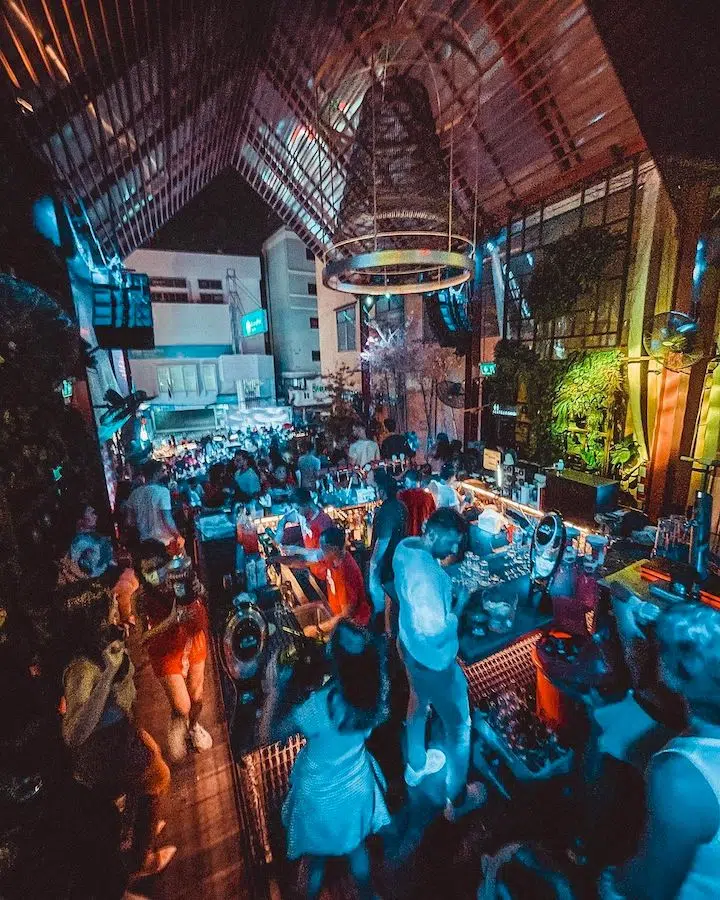 It's also always crowded and if you come too late, you are likely not going to get a seat.
The music here rotates between EDM and hip hop while people drink towers of beer or Absolut cocktails.
As the night goes on, everyone is up and dancing to the beats.
The energy is so high and the crowd so fun, it would be hard not to be jealous if you didn't get a table here.
Opening Hours: Every day, 9pm – 2am
Address: 123 Khaosan Rd, Taladyod Pranakorn Bangkok 10200
Tropic City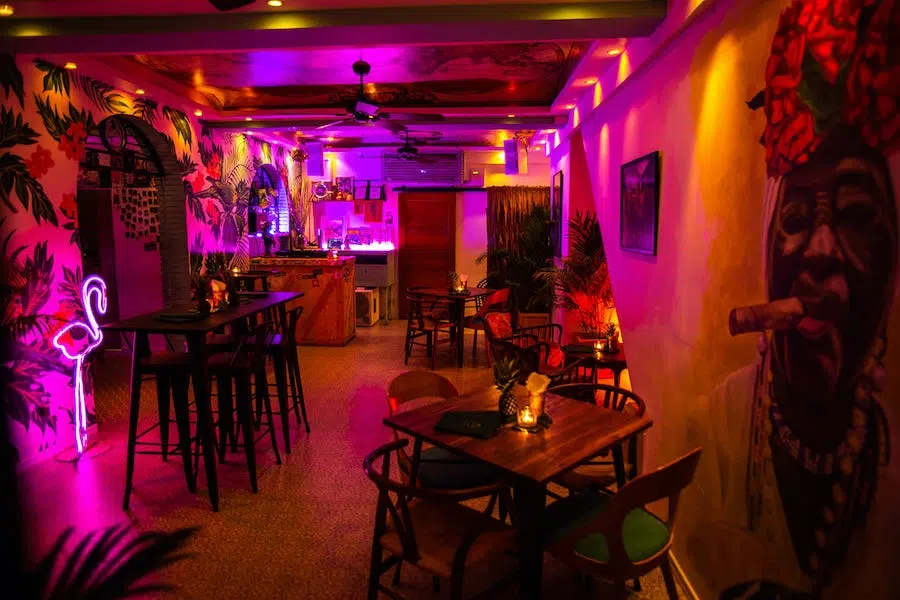 Tropic City is another award-winning cocktail bar in Bangkok that is known to turn it up any day of the week.
Innovative cocktails, tropical vibes, bright designs, and amazing hospitality are just some of the reasons to visit this bar for a chilled night or a party.
Its location is also its appeal. hidden in an unassuming alleyway of the iconic Charoen Krung area.
It's a really good bar in Bangkok for a unique experience that is away from a more chaotic Sukhumvit or Khao San.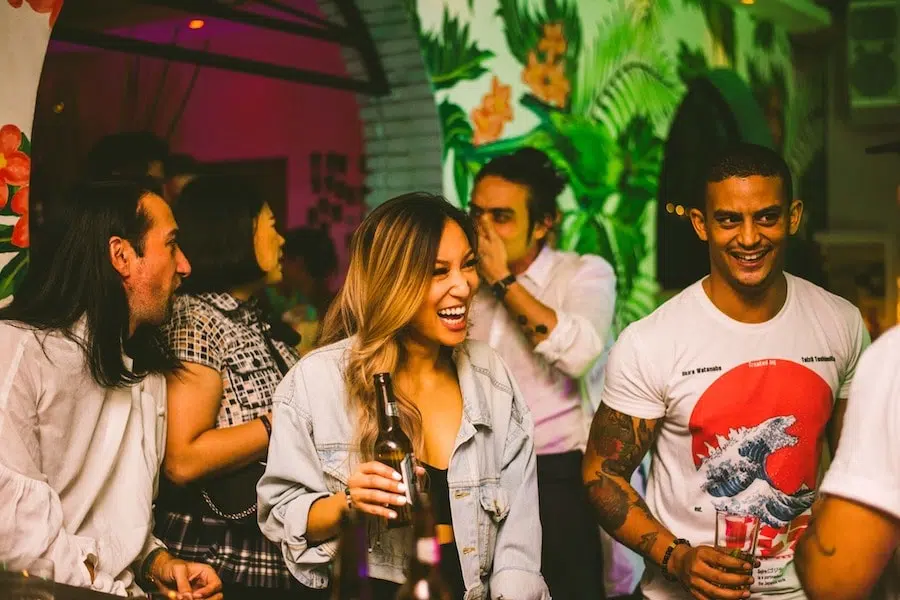 Music-wise, it's a splendid array of different genres, revolving between house, disco, old school hip hop, and funk.
Keep an eye on their Facebook page to see what DJs are playing, especially on the weekends.
No wonder why it's listed as the 17th best bar in Asia.
Opening Hours: Tuesday to Saturday day, 7pm – 12am
Address: 672, 65 Soi Charoen Krung 28, Bang Rak, Bangkok 10500
---
Organize Your Private Party in One Of The Best Bars in Bangkok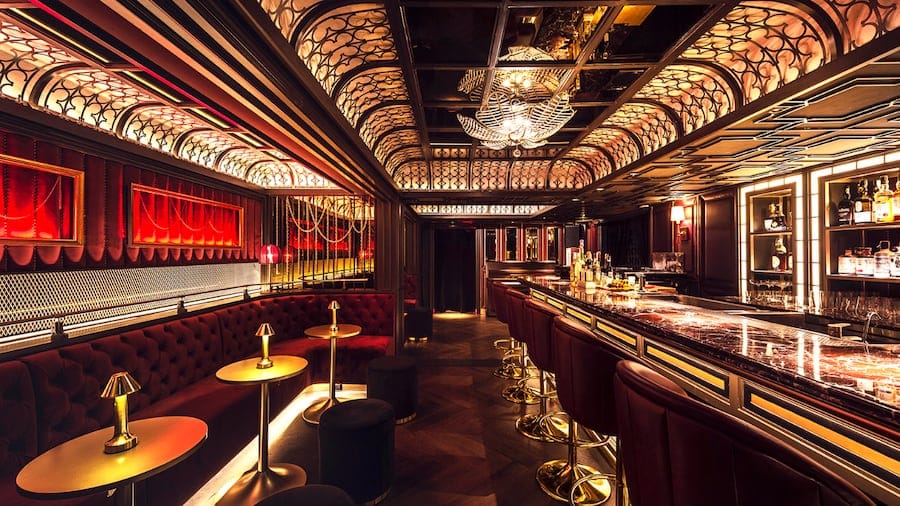 Did you know that you can rent any of these bars for a private event?
Let us organize your private and exclusive parties at any one of the best bars in Bangkok.
Regardless of the type of event you're looking to organize, or the number of guests you're expecting, our team will find the perfect venue for you.
Contact us today for more information and a free quote.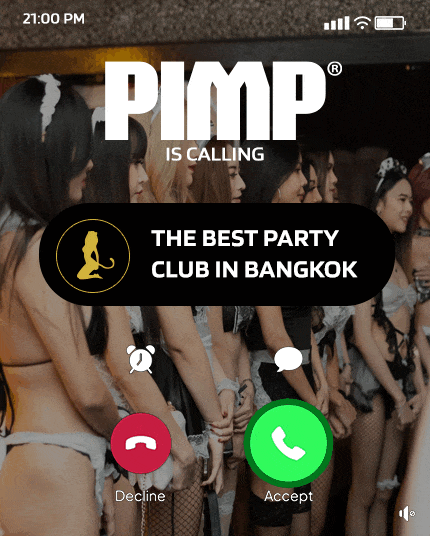 Party With Hot Thai Girls At Bangkok's Best Bars
Want to party with Thailand's hottest girls at one of Bangkok's best bars?
Make sure you hire party models through us to party with you anywhere you want.
Get ready for the most probable night you've ever had.
FAQ
What time do bars in Bangkok close?
Most bars in Bangkok close between midnight and 2am.
What are the best bars to party in Sukhumvit?
What area of Bangkok has the best bars to Party?
What is the legal age to enter a bar in Bangkok?
You need to be 20 or over to get into any venue that sells alcohol in Thailand. That include any bar in Bangkok. Most bars will ask to check your ID.
Is it your first time in Bangkok?
Explore the city's nightlife with one of our sexy tour guides and she'll show you the best places to party all around town.