What was once the Australian Bar has now turned into a hip-hop club and lounge under the Sugar Club.
Meet Juicy Bangkok.
The live bands gave place to boombox DJs and hip-hop dancers.
Juicy spins out the best of old school hip-hop and R&B from the 80s, 90s and the 2000s.
The best hip hop club in Bangkok for fans of classic US hip hop and rap.
What You Need to Know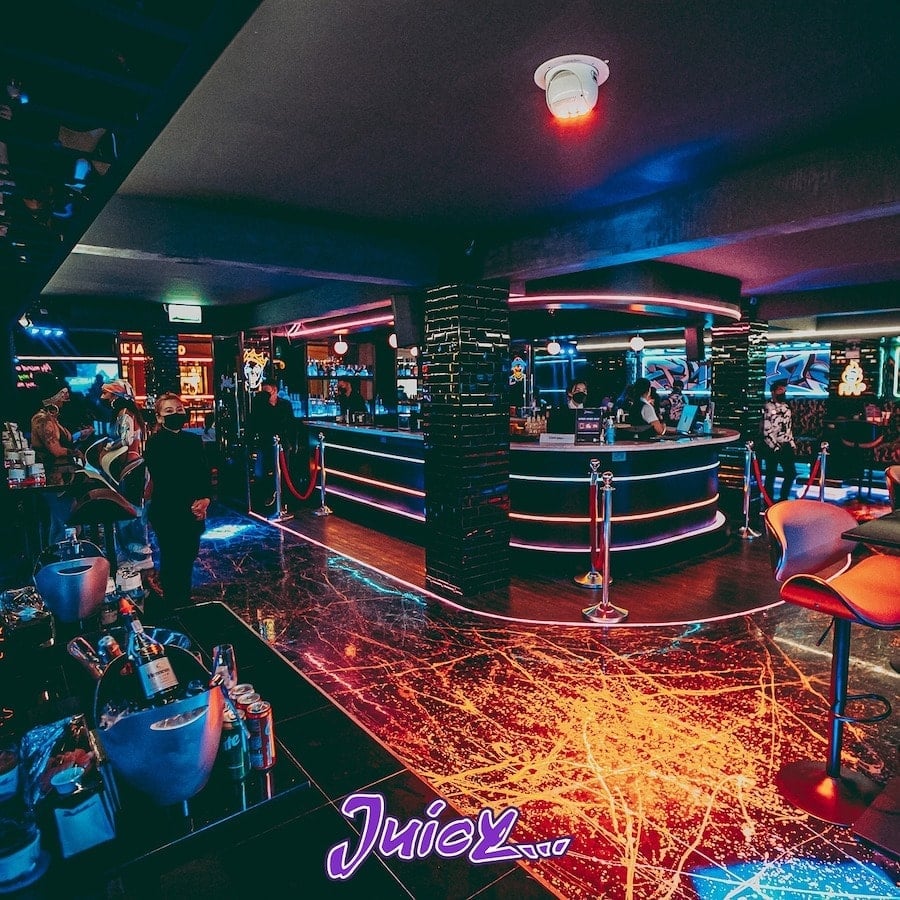 Purple neon lights, graffiti on the walls, arcade machine in the corner, and retro vibes mixed with contemporary elements, those are just some of the things you will notice as you walk around Juicy Bangkok.
Although not a massive space, the club is divided into 3 zones, allowing you to choose between a VIP area next to the DJ, several standing tables positioned in a U-shape around the bar or the outdoor area.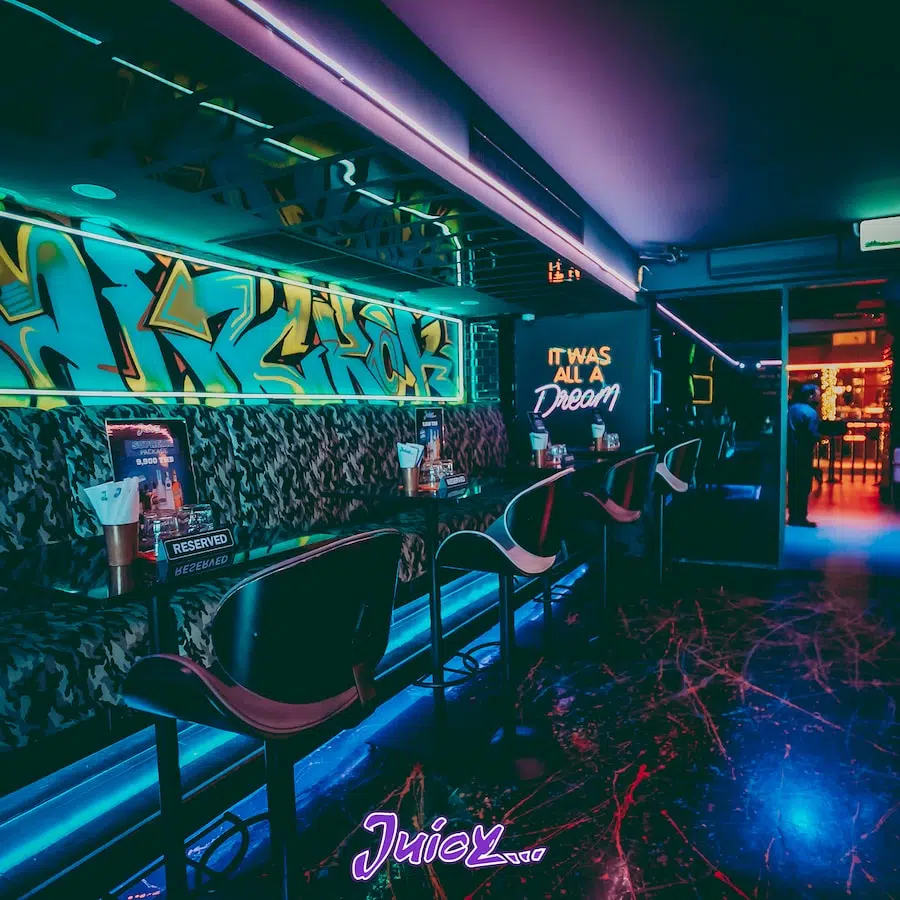 Standing tables located on both sides of the central bar are ideal for small groups (up to 8 people) who want space for their bottles but who will spend most of their night dancing to hip hop golden era beats.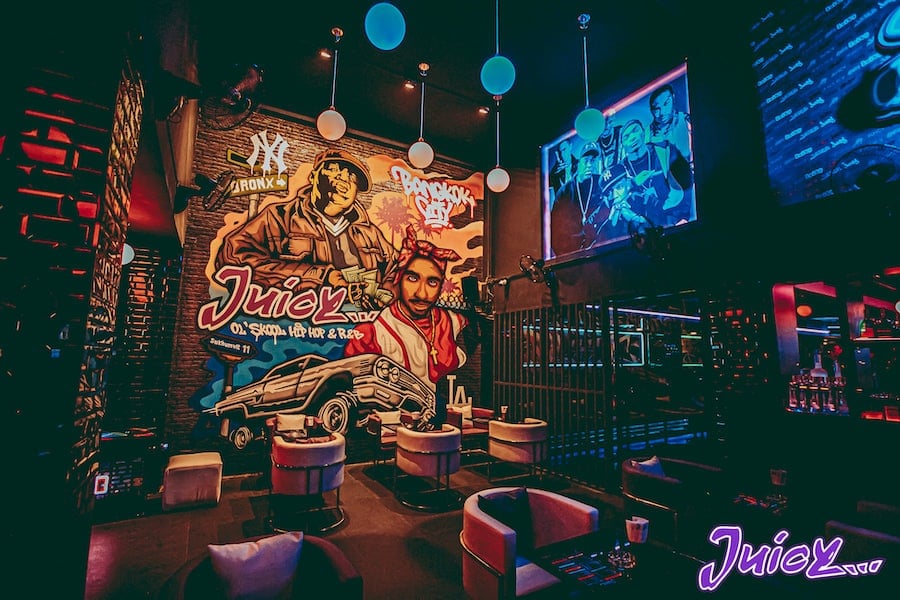 The outdoor area and its impressive mural is a chill zone that is perfect to get some air, smoke, and get the know the beautiful single girls you've just met there.
You can even buy weed there!
Finally, the VIP area by the DJ can fit up to 20 people and like in Sugar Club above Juicy, it is right by the DJ and next to the dance floor for a prime view of the action.
Fans of Old School hip hop now have a place to celebrate their big nights in Bangkok in a true VIP fashion.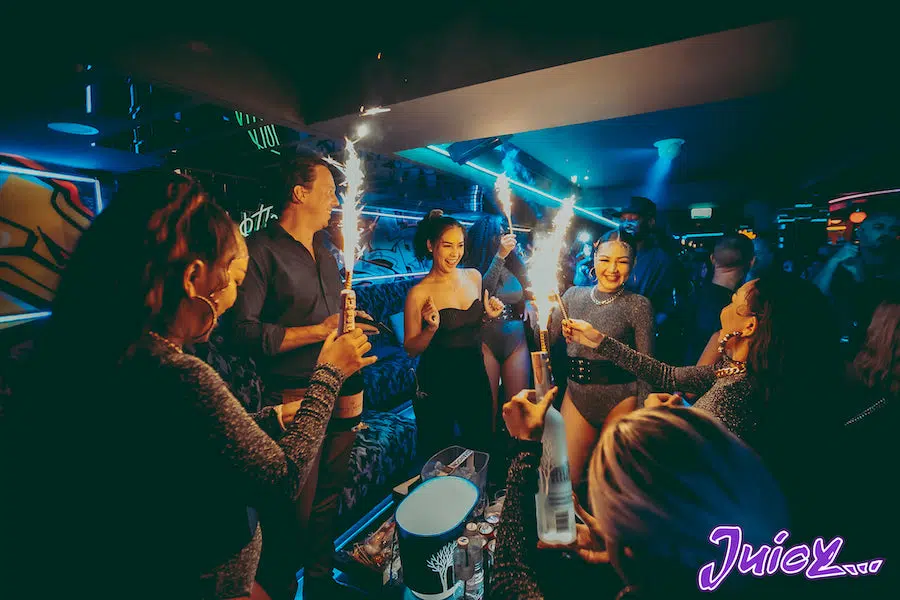 Whichever you pick, you will be able to enjoy a unique and authentic hip hop clubbing experience throughout the evening till late in the night.
While the club can be slow to pick up, it's better to arrive early or book in advance to secure a table to have the best place for when things get wild.
And they always do.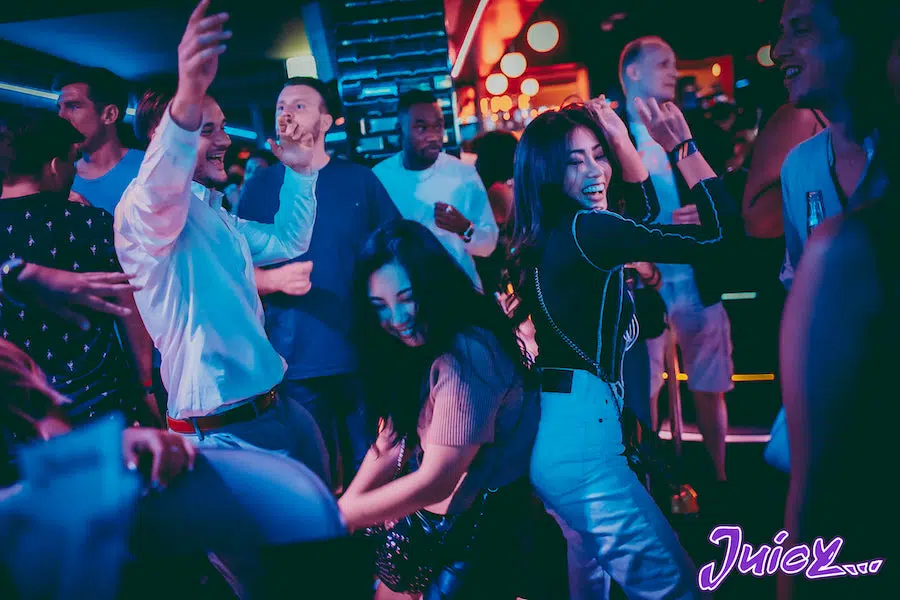 Every day, Juicy features revolving resident DJs such as DJ Kay & MC 8O8, DJ Man and DJ Master D who raise the roof and light up the club.
The music is exclusively old school hip hop and gangsta rap from the 80s, 90s and early 00s.
If like us you've grown to like names like NWA, Snoop Dogg, Biggie, Eminem, and Diddy, you'll get the best their era each night at Juicy.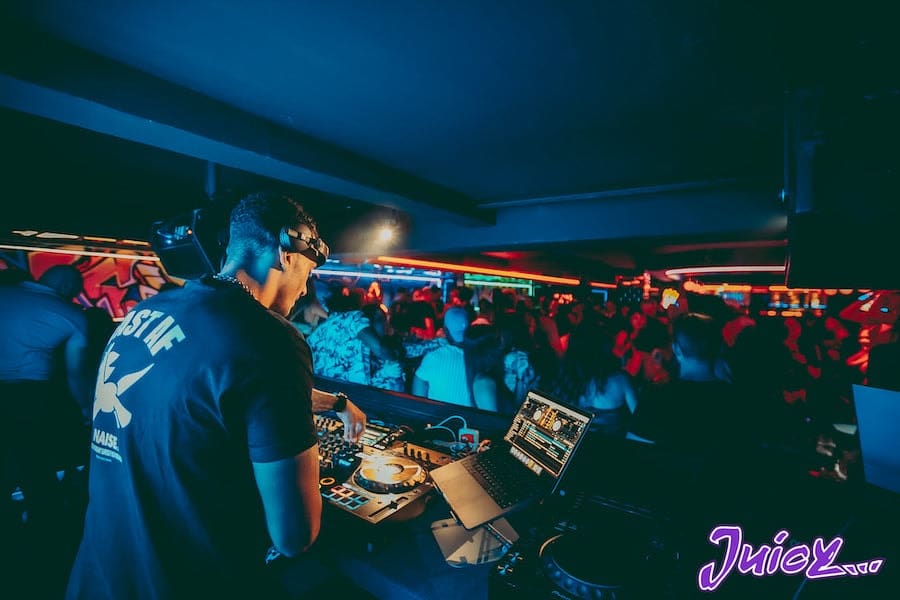 Juicy attracts all kinds of people around Bangkok but mainly expats and extremely hot Thai girls who enjoy hip hop culture and music.
There aren't many decent hip hop clubs in Bangkok, making Juicy one of the favorites for hip hop lovers, especially since many other clubs closed down during COVID (#RIP Penta).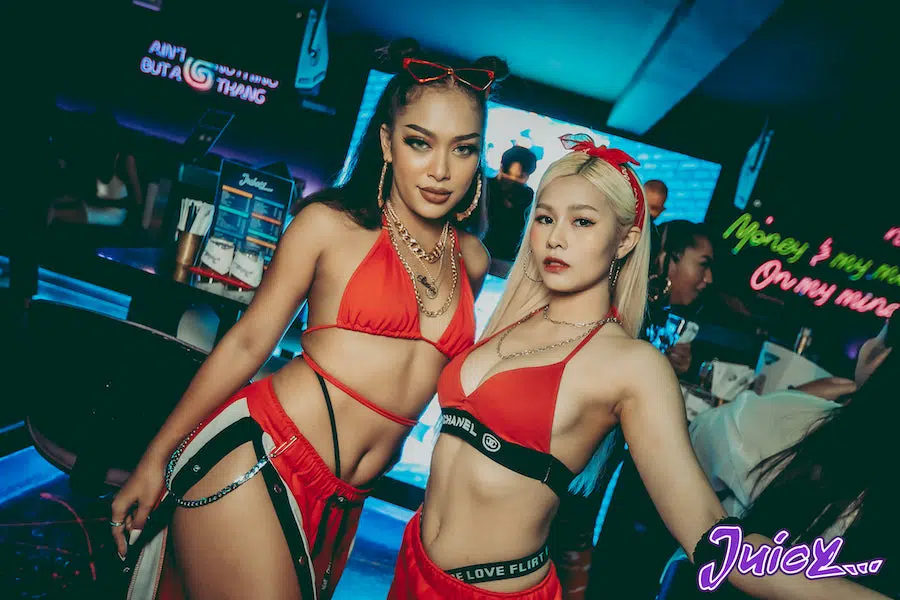 With its connection to Sugar Club and hiring some of the same resident DJs and music quality, Juicy Club draws the same kind of attention but with a more intimate atmosphere due to its size and design.
The club has gained so much in popularity and momentum that on weekends, there is a line outside with a waitlist, so make sure you have your VIP bookings days in advance as tables are always sold out!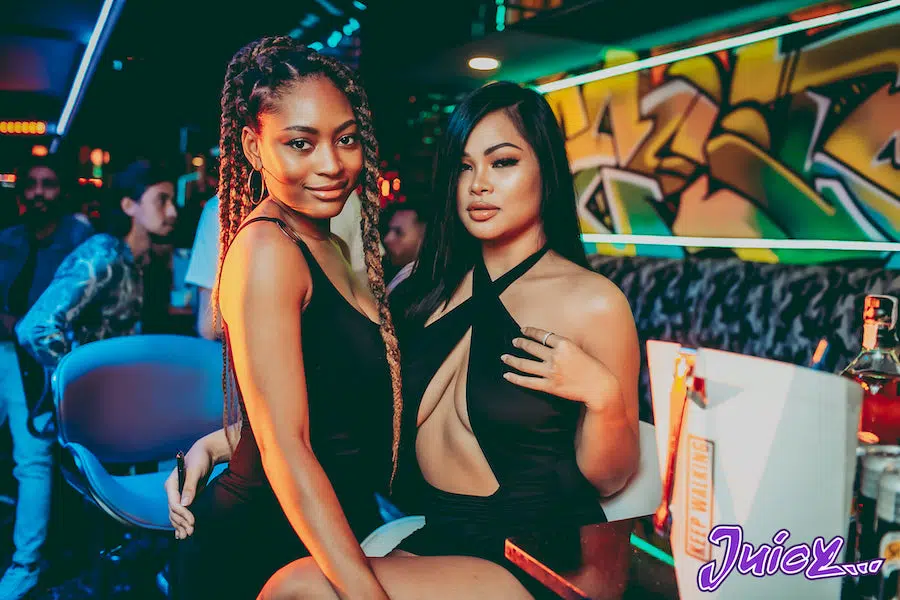 Prices and Bookings
While entrance to Juicy Bangkok is free, reservations are highly recommended, especially on Friday and Saturday.
The VIP sofa table minimum spending is 12,900 THB for 10 pax, while the starting price for standing tables packages is 8,900 THB which includes 2 bottles, 12 mixers and ice.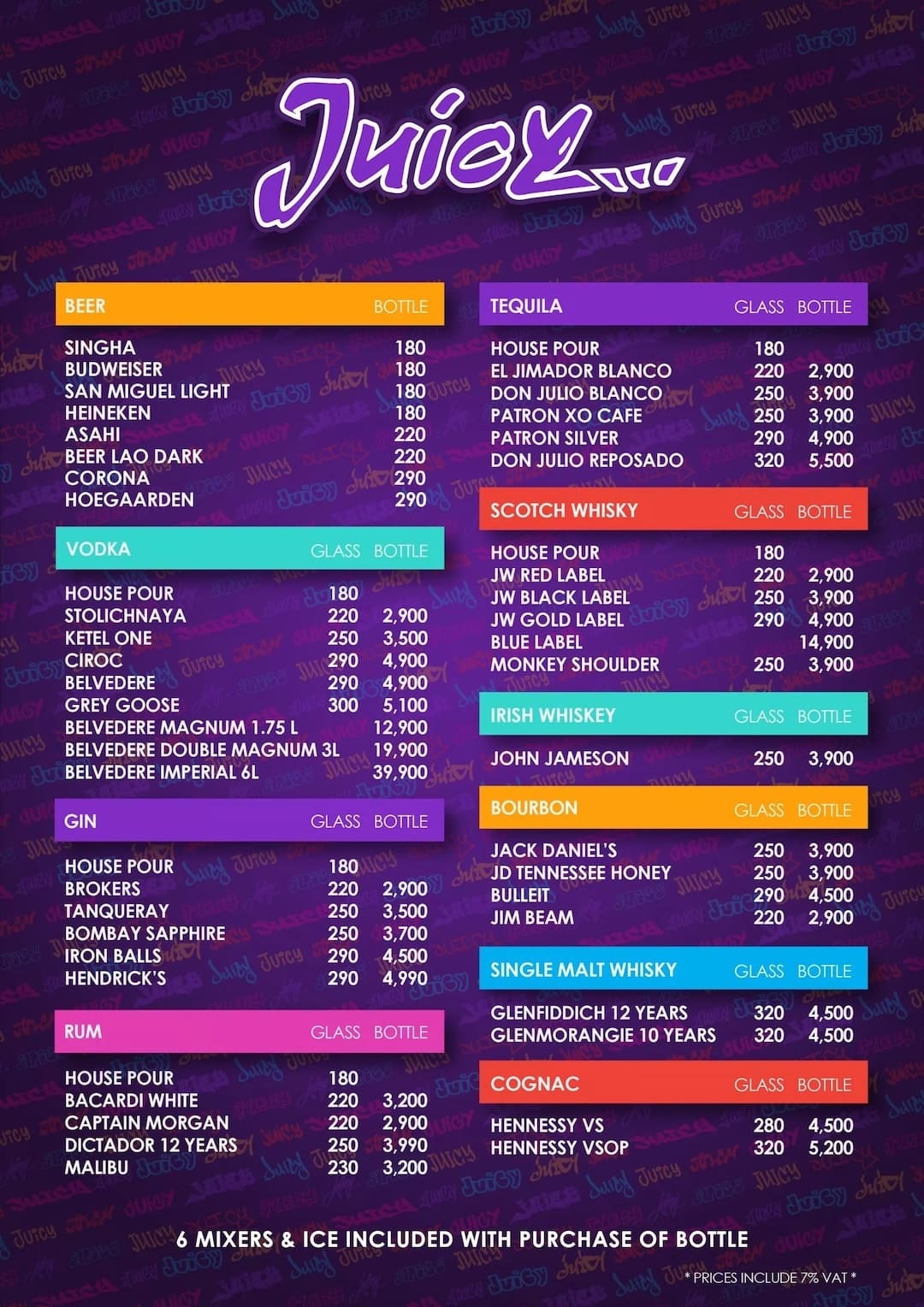 Booking holders must arrive before 8pm on weekends.
On weekdays, walk-ins are usually possible but not guaranteed.
The best way to experience the club is in the VIP section, next to the dancers and the DJ.
Send us a message now to book your VIP table at Juicy Bangkok.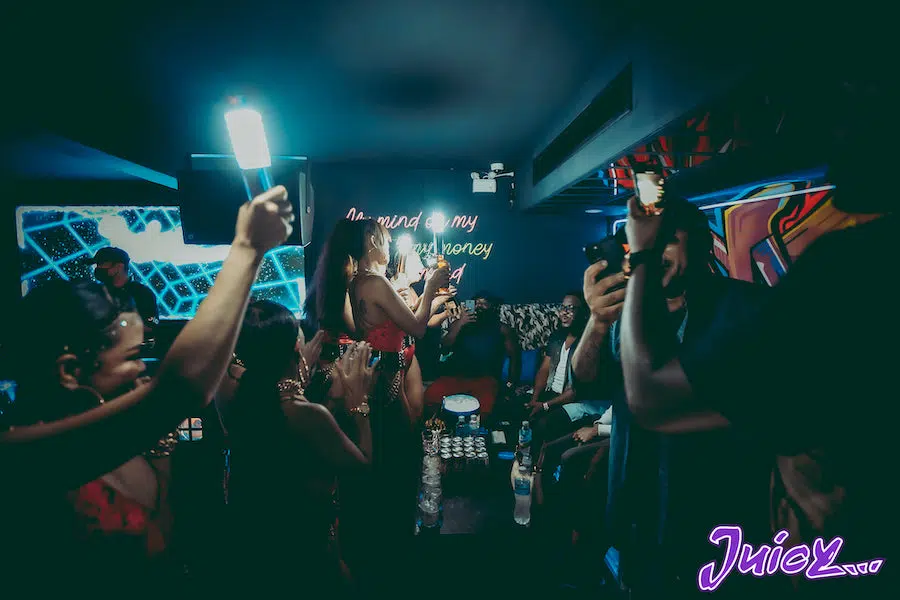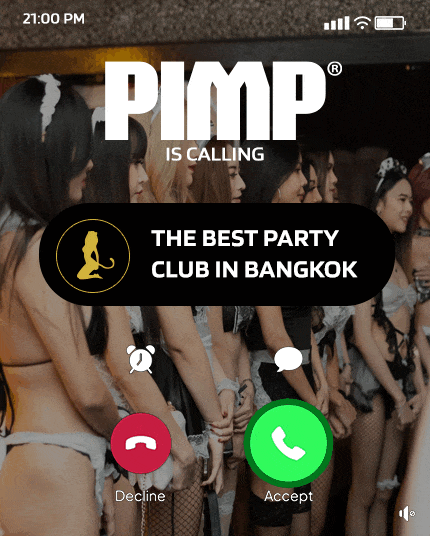 About Juicy Bangkok
Cover charge: Free
Bottle price: varies depending on weekday or weekend. On weekends, they insist on ordering premium bottles which start at 4,500 THB. On weekdays you can order normal priced bottles starting at 2,900 THB.
Music: Hip Hop and R&B
Crowd: mix of expats, tourists, and locals (plenty of hot Thai girls)
Opening hours: Wednesday to Saturday, from 7pm til late
FAQ
What is Juicy Bangkok dress code?
While they are not strict on the dress code, it is recommended to wear smart casual clothing. Flip flops are not allowed in clubs in Bangkok.
How much is the entrance fee at Juicy Bangkok?
No entrance fee at Juicy Bangkok but on weekends they require you to book a table and buy at least 2 bottles starting at 8,900 THB for 4-6 pax.
How much is a VIP table at Juicy Bangkok?
Juicy VIP table minimum spending is 12,900 THB. For that price you for example get a package which include 2 bottles of spirits, 1 champagne, 12 mixers, ice, and a platter of fruit.
How to get to Juicy Bangkok?
Juicy is located within the Sugar complex in Sukhumvit soi 11. To get here, take the BTS to Nana station. It is then a 400m (5-minute) walk into Sukhumvit soi 11. Or you can take a taxi here. There is no parking space at Juicy so if you drive, you can park at The Ambassador Hotel or at the parking lot next to Hillary 11.
Other Nightclubs in Bangkok you're Gonna Like
Learn more about the other clubs in Bangkok here.