Tired of traditional Christmas parties and carols?
We have good news for you, there are many ways to celebrate Christmas in Bangkok.
Let us tell you about Bangkok's hottest Christmas party!
This year, your presents aren't sitting idle under the Christmas tree, they'll be waiting for you at The PIMP Bangkok!
How Do Adults Celebrate Christmas in Bangkok?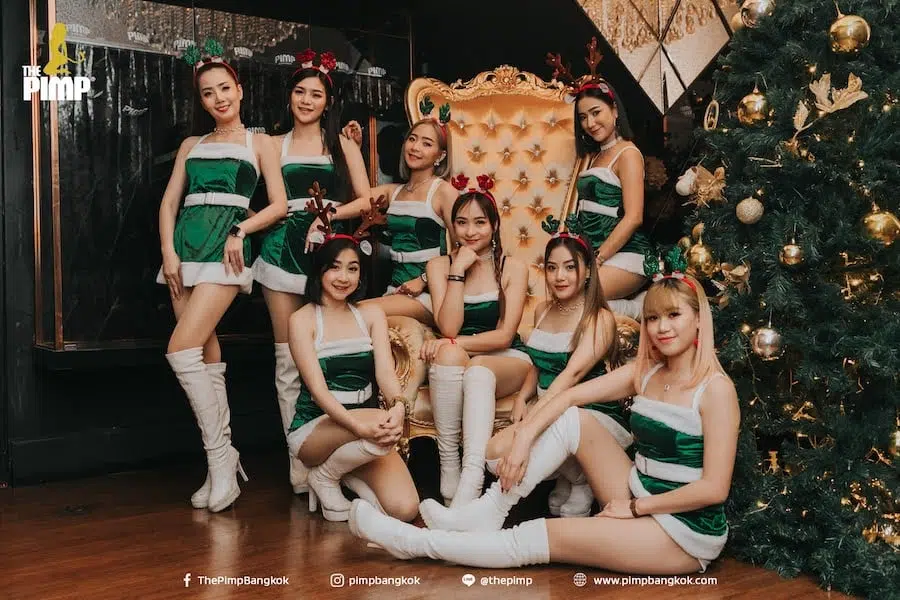 Despite the warm weather and even though there's no snow, people in Bangkok celebrate Christmas.
All the stores put up Christmas trees and decorations, play Christmas songs, and hold special events for the occasion.
But if, like us, you're not that excited about Christmas carols and markets anymore, don't worry, Bangkok has just the thing for you.
For the best clubs and event planners in the City of Angels, Christmas is just another excuse to party.
That's why there are many special parties and events during the Christmas holidays.
Also this year, the most generous Santa Claus is called The PIMP.
He brings you hundreds of young hot Thai girls in their sexy Christmas outfits waiting to be unwrapped.
Open Your Sexy Present At The PIMP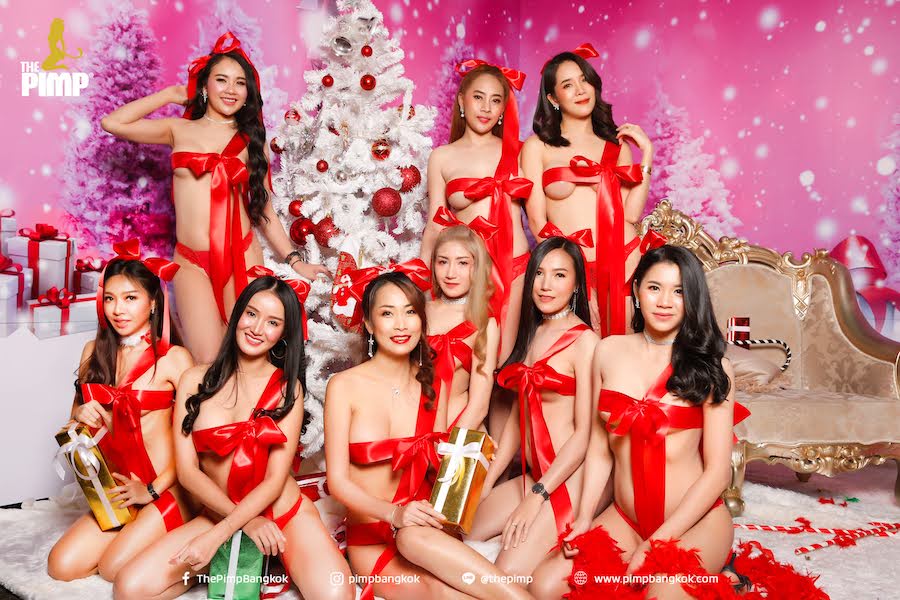 The party models of The PIMP are always there to keep you company.
Even during the festive season.
The club offers you everything Santa didn't give you, including all the hottest Thai models we've been dreaming about all year.
Plus, there are the best sexy shows, live bands, and DJs to keep you entertained all night.
For their Christmas party, The PIMP gathers their hottest models, all of them dressed like presents under the Christmas tree.
All you have to do is pick your favorite ones, party all night with them, and more if you're lucky.
Make it an unforgettable Christmas.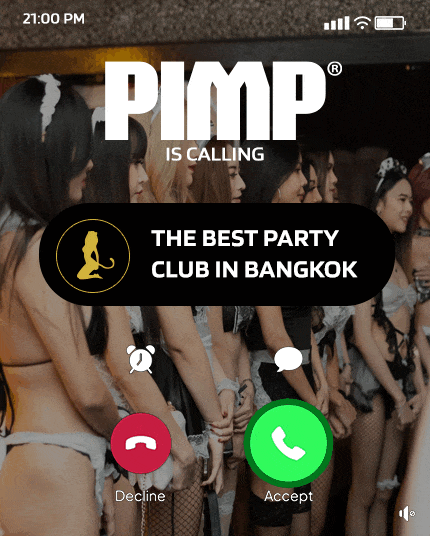 Celebrate Christmas In A VIP Room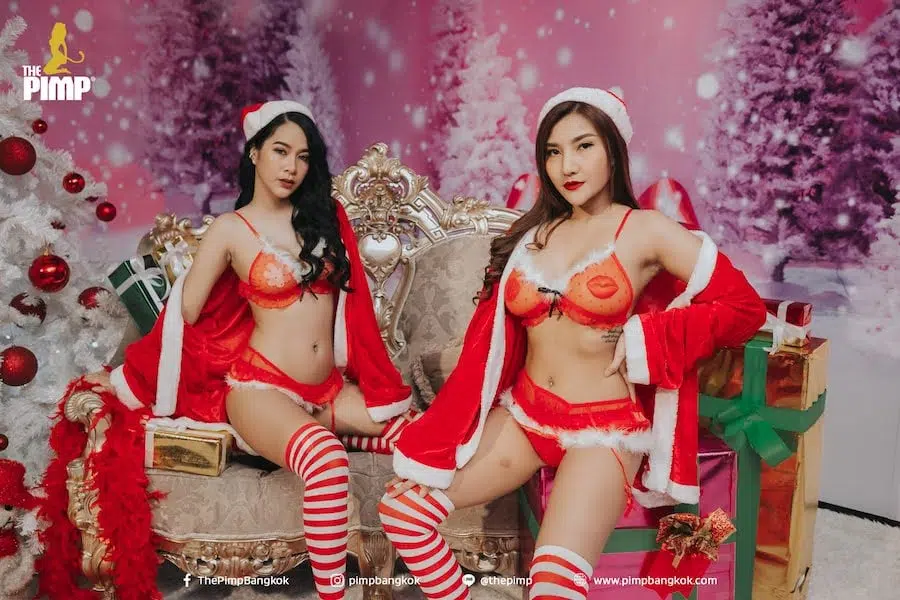 Planning to celebrate Christmas with your friends?
A private party at The PIMP is the best gift you can give them!
Book a VIP room, invite all your friends, choose your favorite party models, and make it the most amazing Christmas ever.
Who cares about Christmas decorations and markets when you have the sexiest girls in the world getting topless for you?
Then, if you add some sexy private shows, you can be sure that all your friends are going to remember this Christmas forever.
Contact us to learn more about all the shows available.
Come Spend Christmas At The PIMP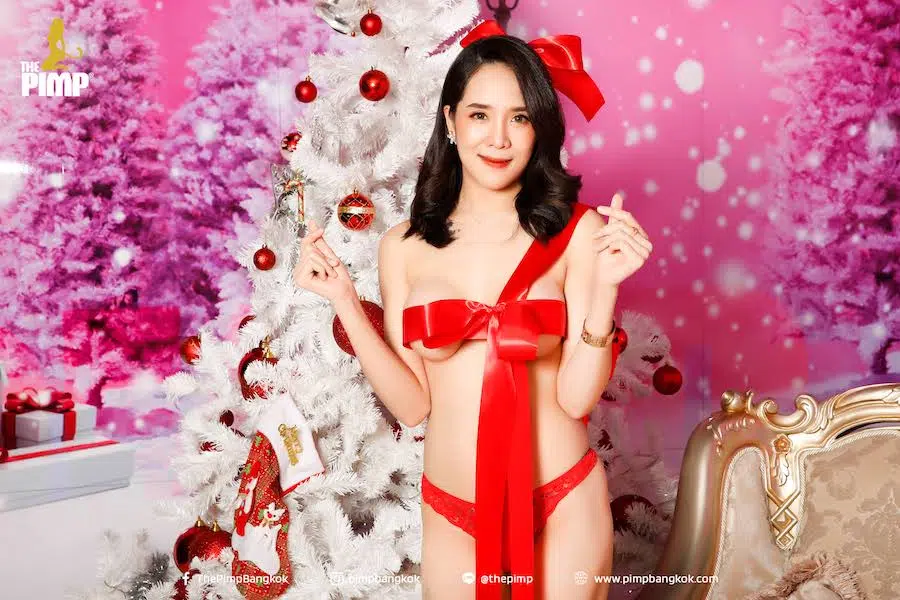 Reserve your VIP table or VIP room for The PIMP's Christmas Party before it's too late.
Give yourself the best Christmas gift and spend the holidays with the hottest models in Thailand.
You deserve it.
If you haven't been to The PIMP yet, read our review of the club.
And if you have any questions about how this type of club works, read this guide to Thai gentlemen's clubs.
FAQ
When Is The Next Christmas Party?
The PIMP Christmas Party is on Sunday, December 25, 2022.
Should I book In Advance For The PIMP's Christmas Party?
Every theme night and weekend at The PIMP Bangkok is always fully booked. That's why we recommend you book at least a few weeks in advance.
With your Christmas party booked, it's time to plan New Year's Eve.
And visit this page to learn about the biggest events in Bangkok.