It can often look like every bar or restaurant in Bangkok has DJs, but the city is also known for its incredible live music venues.
There's a different energy in a bar or pub that has live bands and live music, and in Bangkok they just hit differently.
Whether you are into rock, jazz, indie, Thai music, or pop covers, there is a live music bar that suits your style right here in Bangkok.
So, raise your hands, grab a drink, sing along, and start dancing at one of these local bars and pubs with good music in Bangkok.
Saxophone Pub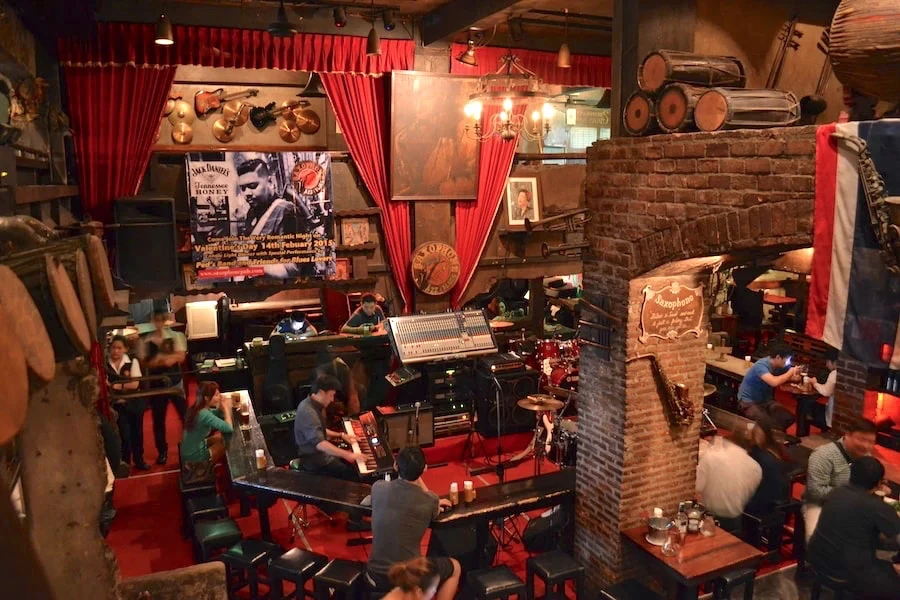 If you want a quality jazz bar playing some of the best jazz and blues live music every night, there is no better than the Saxophone Pub.
Open since 1987, Saxophone is a local and expat favorite for not just excellent music but also excellent food and drinks at decent prices.
All of it comes together for great vibes and a fun atmosphere.
The pub features local and international bands who play everything from jazz, blues, soul, and funk, all the way to reggae and other acoustic styles.
They have even hosted Latin and Cuban nights with special guests.
Every week they update their website and Facebook page with the concert schedule so you know exactly who is playing, what kind of music you're gonna get, and at what time.
That way you get to see your favorite bands exactly when you want to.
Operating Hours: Every day, 6pm – 2am
Address: 3, 8 Ratchawithi 11 Alley, Thanon Phaya Thai, Ratchathewi, Bangkok 10400
---
The Rock Pub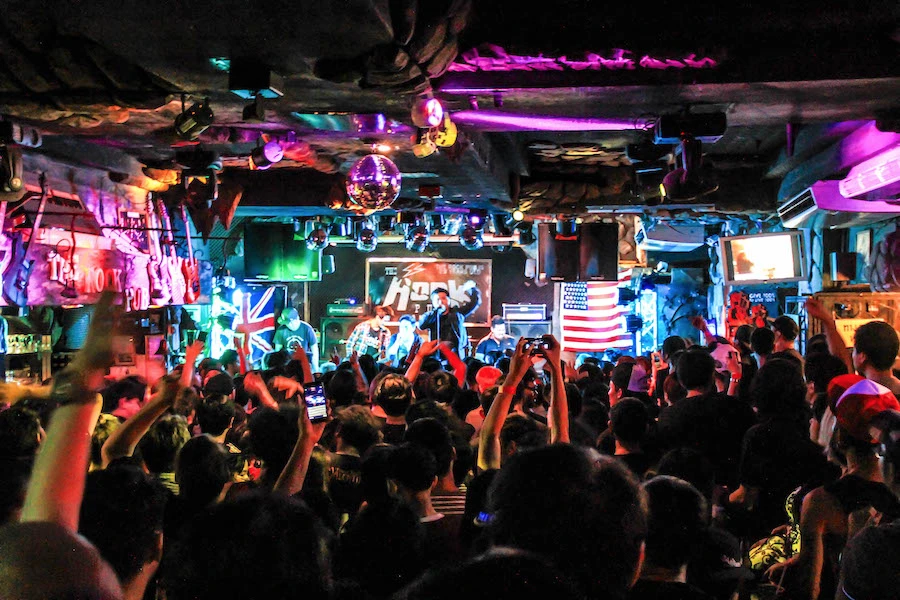 Dubbed as the original rock bar, there is no denying that The Rock Pub is one of the best, if not the best live music bars for rock music in Bangkok.
Rockers and heavy metal fans from all over Thailand and even the world have come here to enjoy the music and the high-spirited atmosphere here since 1987.
The pub has hosted over 40 famous international bands over the years and hundreds of local ones.
Every week they post the band schedule and concerts online so it's easy to know what you're gonna get on any given night.
They have a good mix of a range of rock genres from heavy metal and hard rock to alternative and emo.
You will also get to listen to pop-funk, rap metal, nu metal, and grunge.
Even after Hard Rock Cafe left the city, The Rock Pub proves that rock and roll is still alive and well in Bangkok.
Other than the awesome bands and music, the pub also serves reasonably priced food and drinks.
Operating Hours: 6pm – 1:30am on Friday/Saturday, closes at 12:30am on weekdays, and shut on Mondays.
Address: Hollywood Street 93/26 Phaya Thai Rd, Thanon Phetchaburi, Ratchathewi, Bangkok 10400
---
Crimson Room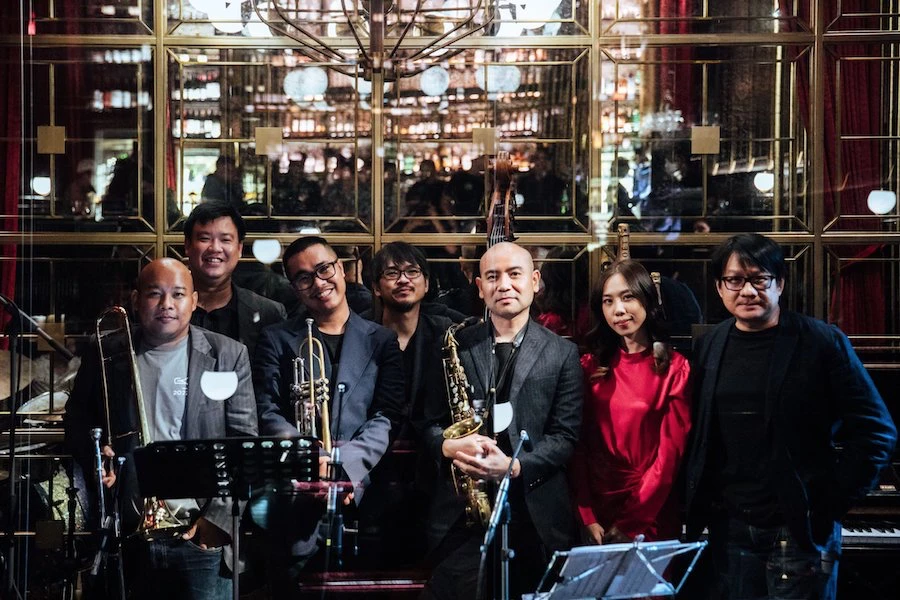 Live music bars come in all shapes and styles.
The Crimson Room is in a class of its own with its elegantly swanky vibes, chic and stylish décor, live jazz music, and incredible cocktails.
It is an exquisite cocktail bar and lounge known for having an electric atmosphere and talented live bands that play jazz, blues, and soul music.
Here the entire experience comes together as soon as you enter the door, from the top-notch service and cocktails to the awesome sound enhanced by the venue's incredible acoustic design.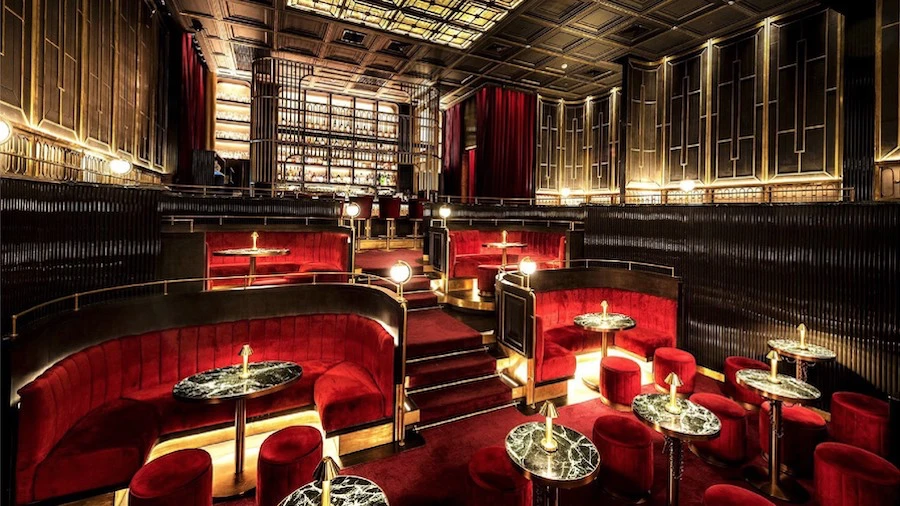 If you are looking for a cozy and trending bar in a luxe neighborhood, Crimson Room is the choice for you.
Operating Hours: Every day, 5pm – 12am. Close at 2am on Saturdays.
Address: 87 Lang Suan Road Lumphini, Pathum Wan, Bangkok 10330
---
Havana Social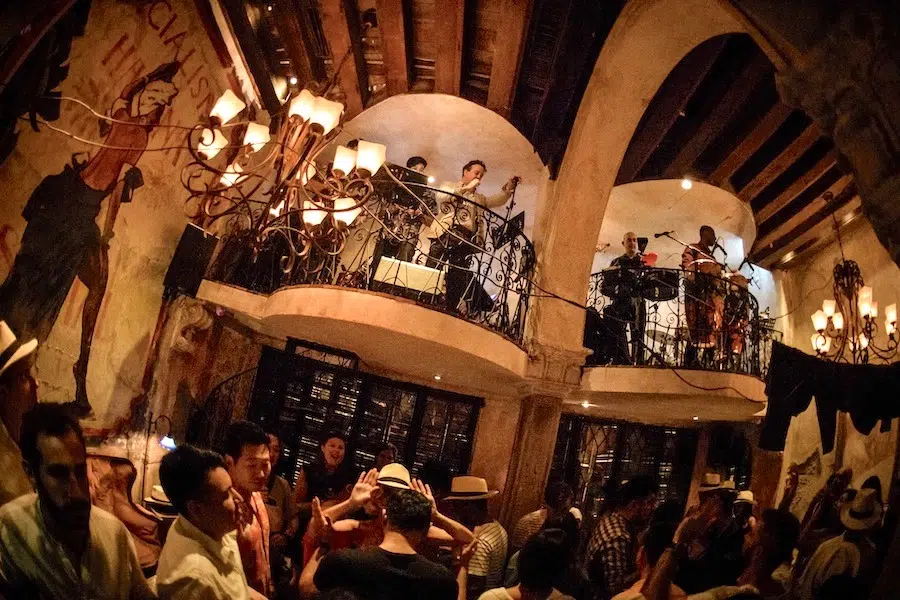 You must have heard of Havana Social.
We consider it among the best bars in Bangkok with its impressive cocktails, vintage interior design straight from Cuba, and of course, a first-class music scene.
While on most days there are DJs playing here, it is also famous for special live band performances.
The music is mostly of Latin and Cuban influences, making Havana Social an ideal spot for salsa dancing.
It is one of the few bars in Bangkok that it's always packed with locals, expats, and tourists.
So much so that to get in there is always a queue outside.
Make sure you check their Facebook page to see their weekly events schedule so you know when they have live bands playing.
The ambiance and music at Havana are unique in Bangkok and clearly, one to experience.
Operating Hours: Every day, 6pm – 2am
Address: 41, 3 Sukhumvit Rd, Khlong Toei Nuea, Watthana, Bangkok 10110
---
Brick Bar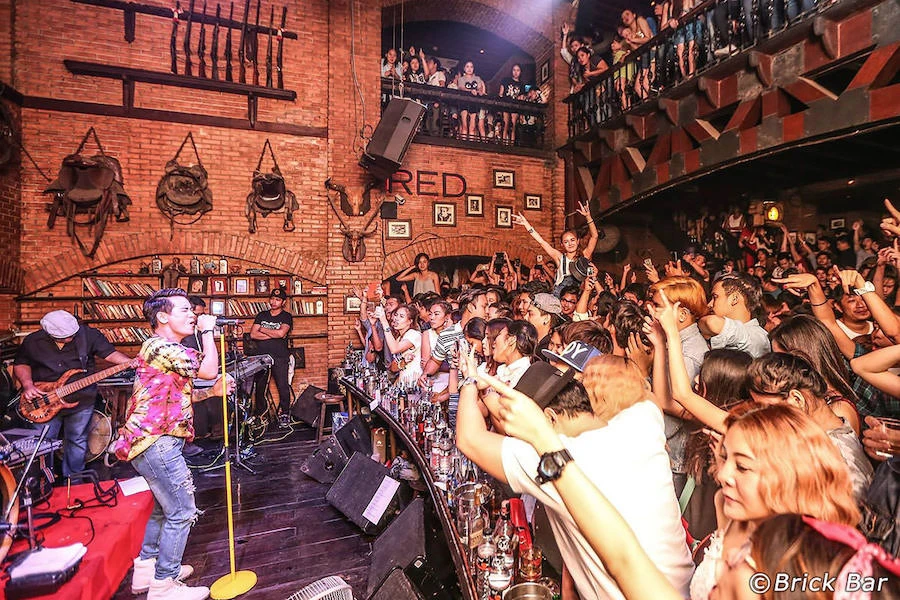 Among the many street bars and clubs with DJs in Khaosan, there is one that stands out.
Playing only live band music ranging from ska to reggae, the Brick Bar is extremely popular with the young Thai crowd.
It is mostly a Thai bar with a local bar feel even though it has a western country look with its unique design and ambiance.
Party goers can headbang, groove and fist bump to rotating bands throughout the night.
Usually, 3 bands will play per night.
It has 2 floors and can hold up to 1,200 people, which is pretty impressive and gives a concert feel unlike anything else you'll find in bars in Khaosan.
Expect a full house on most days, especially on weekends.
Operating Hours: Every day, 6:30pm – 11pm
Address: Khaosan Road, Bangkok
---
The PIMP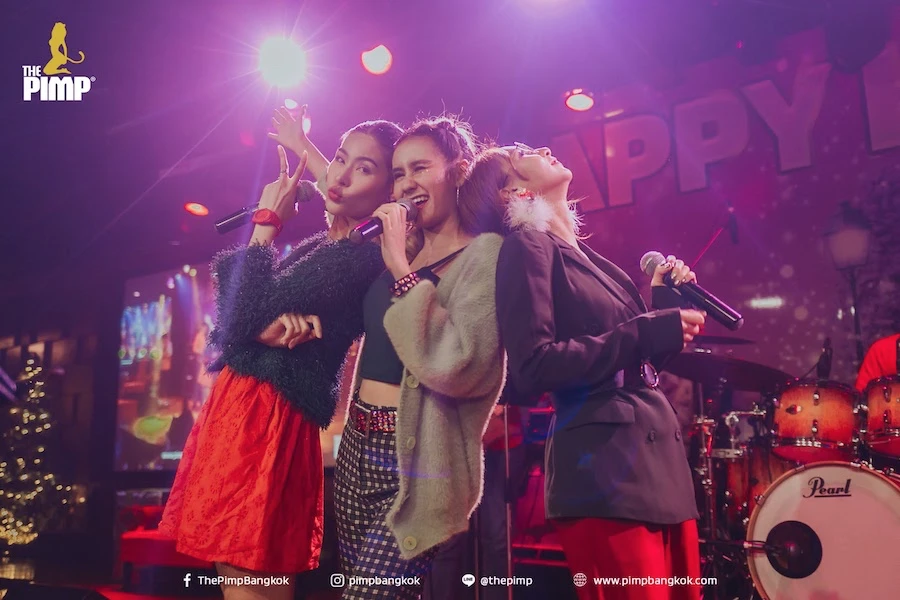 The gentlemen's clubs in Bangkok all have incredible live music and usually have 2 or more live bands playing each night.
They even bring the best local artists and bands to play every weekend.
The PIMP in particular has some of the best live bands and singers in town.
Every single night, this legendary g-club hosts 3 live bands in addition to DJs, shows on stage and choreographed erotic dances.
That is something you can't get anywhere else, which is why it makes the list.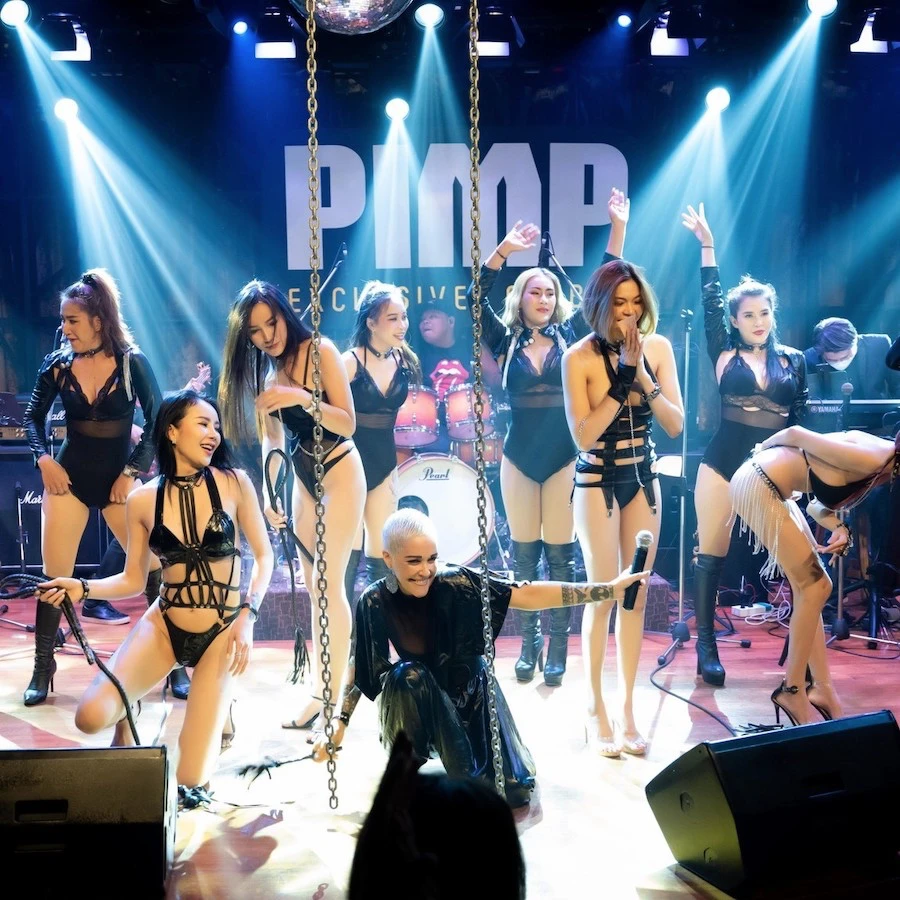 It is the ultimate nightlife experience that so happens to have an excellent live music scene.
Bands start with a wide range of music styles, with a mix of Thai and international songs.
As the night goes on dancers come on stage along with the band to pump up the party.
Get ready to go wild here!
Operating Hours: 9pm – 3am
Address: 496 Rotchanamin Alley, Pracha Uthit Road, Wang Thonglang, Bangkok
---
Route66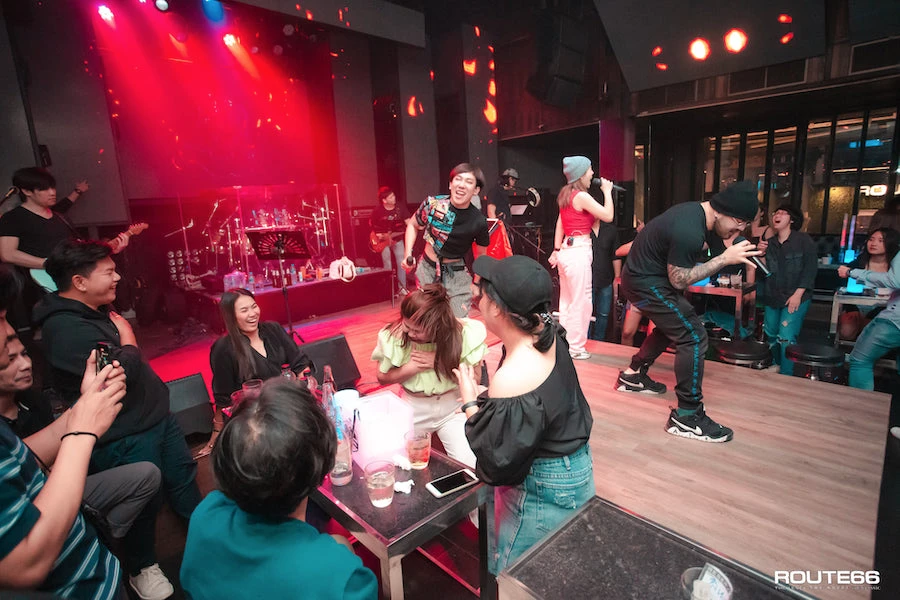 You probably did not know that Route66 has a room dedicated to live music.
Yes, even some of the biggest clubs in Bangkok have live music, including Route66.
It has an exclusive room at the far end just for Thai live bands to play every night.
You won't find many foreigners here as much of the music is in Thai and the crowds are almost 100% Thai as well.
The music ranges from popular Thai songs, to love songs and some rock-style music.
Operating Hours: Every day, 8pm – 2am
Address: 48 Royal City Avenue Building, Soi Soonvijai, Rama 9 Rd., Bangkok, 10310
---
Want To Party At One Of These Live Music Bars?
Contact us to organize a private event at one of the venues.
We'll arrange everything you need for your event, from the venue to the sexy hostesses.
Message us today for a free quote.
Read the rest of our guides to explore more of Bangkok nightlife.
FAQ