Opened at the end of 2020, Bobo didn't take long to become one of the hottest clubs in Sukhumvit.
Even if it's relatively small, thanks to an excellent selection of DJs, unique events, and a lineup of gorgeous girls quickly pushed the club to the front of the local nightlife scene.
But is it the right club for you? Let's have a look.
What You Need to Know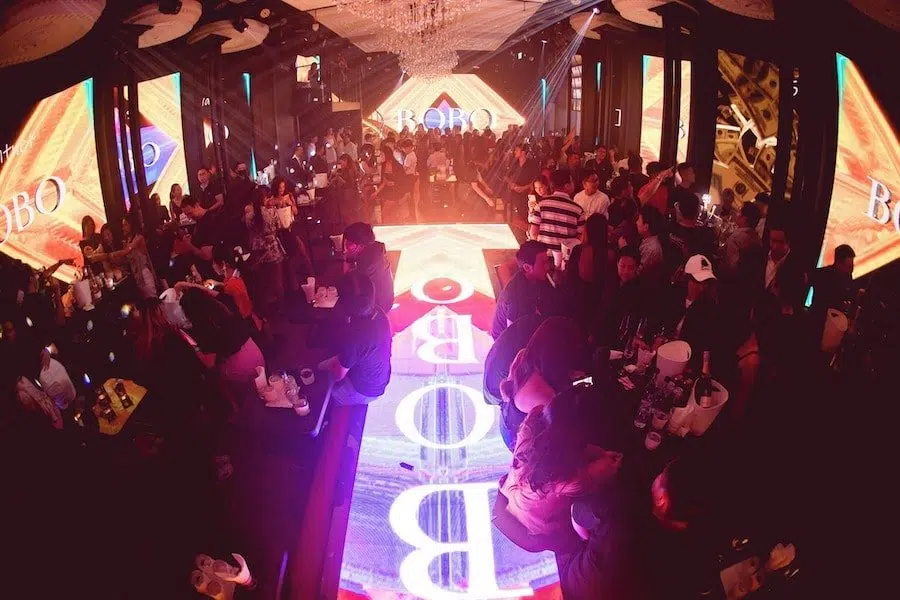 Once an Italian restaurant called Feast, on the ground floor of Hyatt Regency hotel, at the corner of Sukhumvit Soi 13, the space was converted into an elegant luxury club at the end of 2020.
With large chandeliers, molding on the ceiling, and incredible lights and visual effects, it keeps the restaurant's chich design and adds an invitation to the celebration.
We couldn't find how the club charges for the entrance, but it might not be worth knowing it.
Why? Because if you don't get a bottle, you won't have a table. And if you don't get a table, you won't have a place to rest your drink.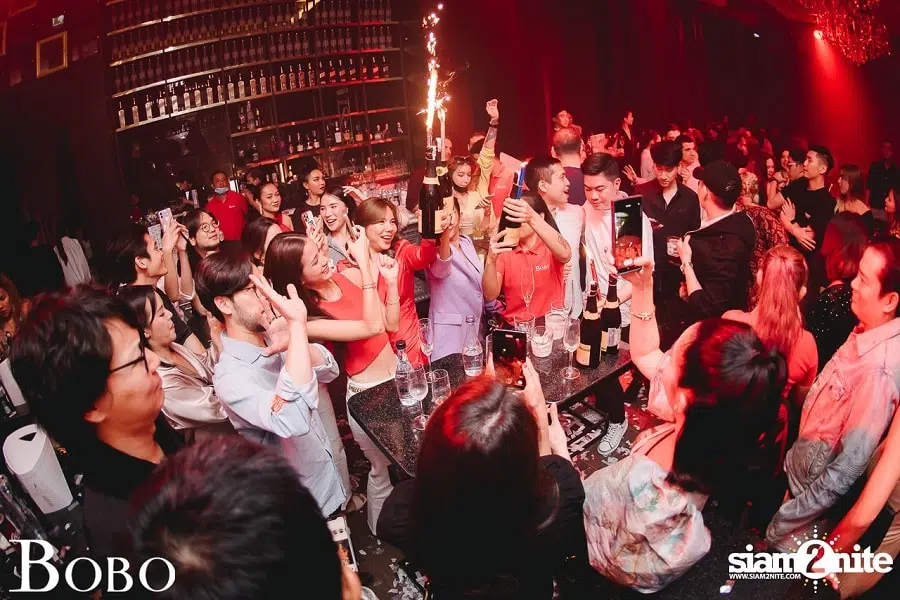 With only about 20 tables and a tiny bar, it's probably the smallest club on Sukhumvit. So if you go there, you might as well get a VIP table and go all in (or go home).
And talking about the VIPs, Bobo has a 8 VIP tables on the ground floor (which we recommend), and 2 VIP areas on a mezzanine overseeing the club.
It's awesome if you have a group of friend to party with, but if you go there to pick up girls, you might feel lonely in those VIP areas. Unless you invite girls to join you.
Prices at Bobo start at ฿3,200++* for bottles. It's on the expensive side, but close to what you will pay in clubs in Soi 11 or Thonglor.
Sadly, it's still a young club, and the service isn't yet at the level you can expect with those kinds of prices.
That being said, once you get your bottle and your table, the club is fantastic.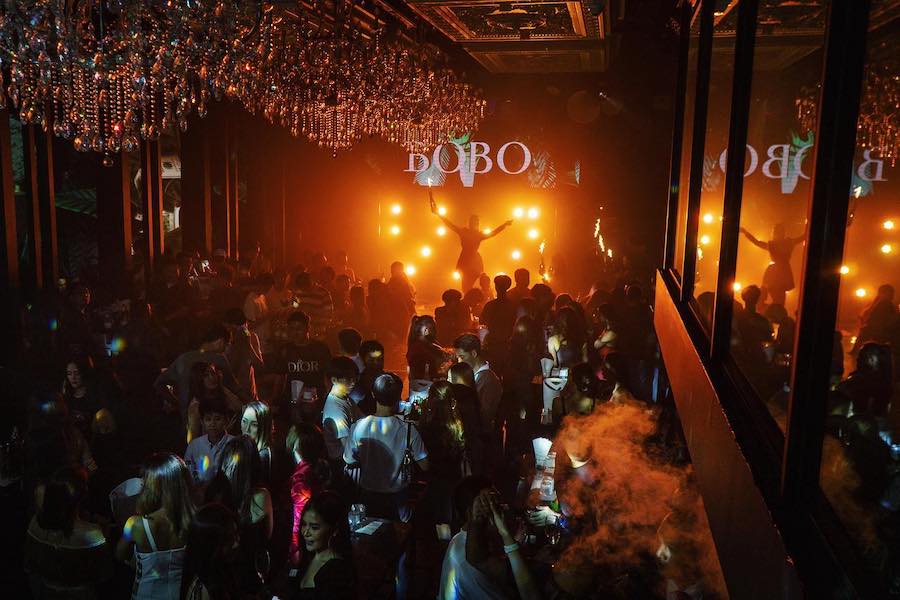 The music is primarily commercial music with the latest hits, with a lot of EDM and Hip Hop. And with different DJs and performers every night, you'll always get something different every time you go there.
It can be a Drag Race, the Hip Hop DJ Crew Bangkok Invaders, or an excellent selection of the best local MCs.
As for the crowd, it's a mix of beautiful Thai girls and wealthy foreigners who know how to party.
The vibe inside is similar to what you would get in a club like Sing Sing with the same elegant and older people.
You can say what you want about those Dom Perignon lovers, they know how to party!
Prices and Bookings
Bottles start at ฿3,200++*, and packages are available for VIP tables starting from only ฿9,900++*.
The club is pretty small (only 20 something tables and no dance floor), so book in advance to secure a table.
Message us to get more information or book a VIP table.
Here's a photo of the VIP table they have under the stairs near the entrance.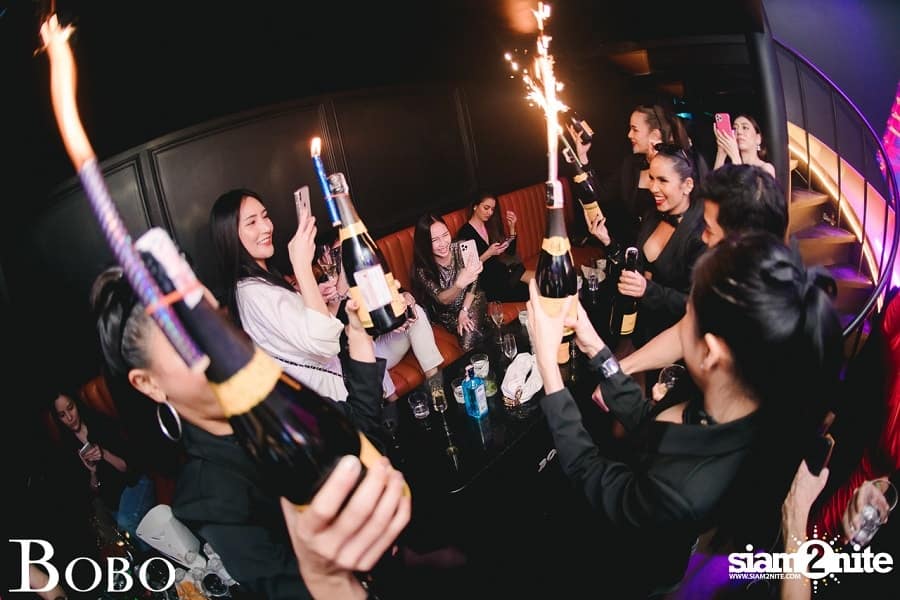 *++ means the price doesn't include 7% of VAT and 10% of service charge.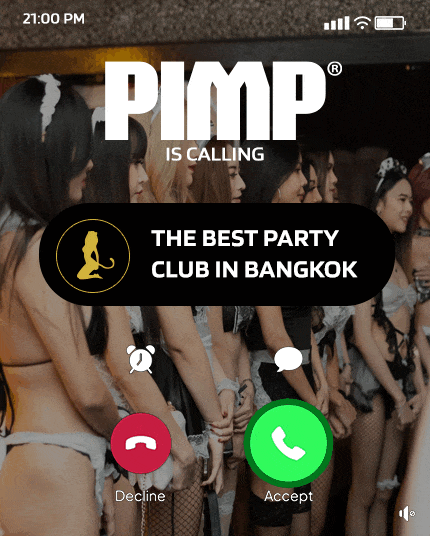 About Bobo Club Bangkok
Cover charge: N/C
Bottle price: Start from ฿3,200++
Music: EDM, Hip Hop, House
Crowd: Wealthy expats and Hi-So Thais
Opening hours: Every day from 7pm til late
FAQ
How much is the entrance fee at Bobo Club Bangkok?
There's no entrance fee at Bobo Club in Bangkok. But we highly recommend you book a table if you want to have some space inside the club.
What is the price of bottles at Bobo Club Bangkok?
The price of bottles at Bobo Club starts from ฿3,200++ (not including 7% VAT and 10% service charge).
Other Nightclubs in Bangkok you're Gonna Like
And you can see all the other clubs open in Bangkok on this page.
You have questions about Bobo Bangkok?
Contact us today for more information and bookings.