Believe it or not, Pattaya has some of the best beach resorts you'll find in Thailand.
First-class amenities and facilities? Of course.
Close to nightlife? Sure, but not all.
Beachfront views? Absolutely.
Our team explored Pattaya's coastline to bring you the ultimate beach resorts that are just perfect for partygoers like you.
Before You Book Your Resort
Let us remind you that Pattaya has the most incredible value for money when it comes to private pool villas.
If you're going to Pattaya with a group for a special occasion, and especially if you want to organize a private party, then we recommend you book a pool villa.
From finding the best pool villas to organizing your party, we're here to help.
Contact our team today.
Movenpick Pattaya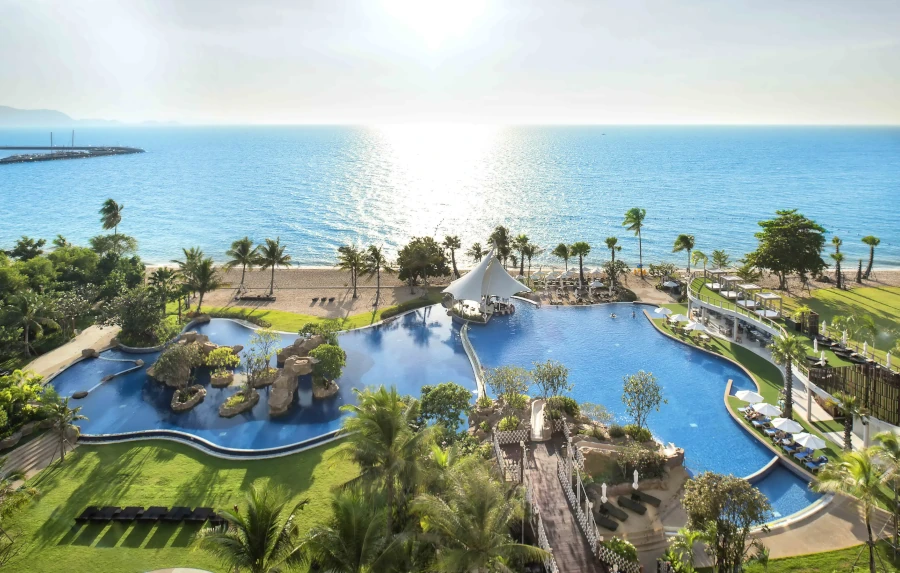 Movenpick is the crown jewel of Pattaya's resort scene.
Located in Na Jomtien area, Movenpick Pattaya is a lush beachside oasis surrounded by tropical gardens and trees.
This luxury resort is known for incredibly designed and extremely comfortable rooms with gorgeous panoramic views of the ocean.
While Movenpick is a bit isolated, there are a few beach clubs and bars around such as the legendary Alexa Beach Club or the lesser-known Wonder Bar.
The resort is also not far from the Ocean Marina Yacht Club, making it super convenient if you plan to have a private yacht party during your trip.
However, if you don't feel like venturing out, the resort has 3 restaurants, a bar, and a lounge to keep you busy.
The resort also has fantastic facilities and amenities to make your stay exceptionally memorable.
From a lavish spa and well-equipped fitness room to a gigantic lagoon-type pool, Movenpick has it all.
InterContinental Pattaya Resort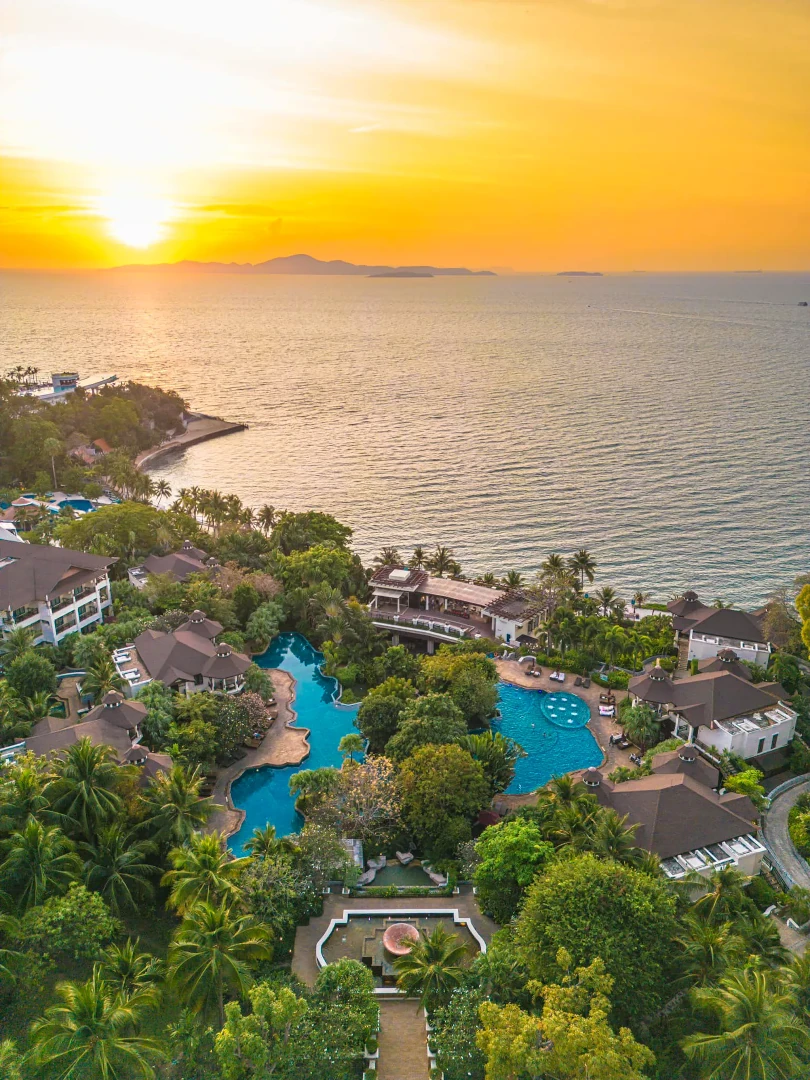 The InterContinental is another exceptional resort that is just minutes away from the center of Pattaya and Walking Street.
This 5-star luxurious resort combines the best in classic Thai hospitality and design with ultimate modern amenities and facilities.
It is a haven where you can be truly pampered.
This breathtaking resort features 3 swimming lagoons next to a lush tropical jungle with a gorgeous private beach.
Apart from spacious guest rooms with balconies, the resort is also home to some of the most gorgeous suites and villas you have ever seen.
The villas come with private infinity pools and sundecks.
InterContinental also serves up some of the best international, Thai, and seafood cuisines along with cocktail happy hours and other beverage options.
When you are not dining, relaxing in the room, or chilling by the pool, check out their luxury spa, get some work done in the business center, or get a workout in the 24-hour gym.
Dusit Thani Pattaya Resort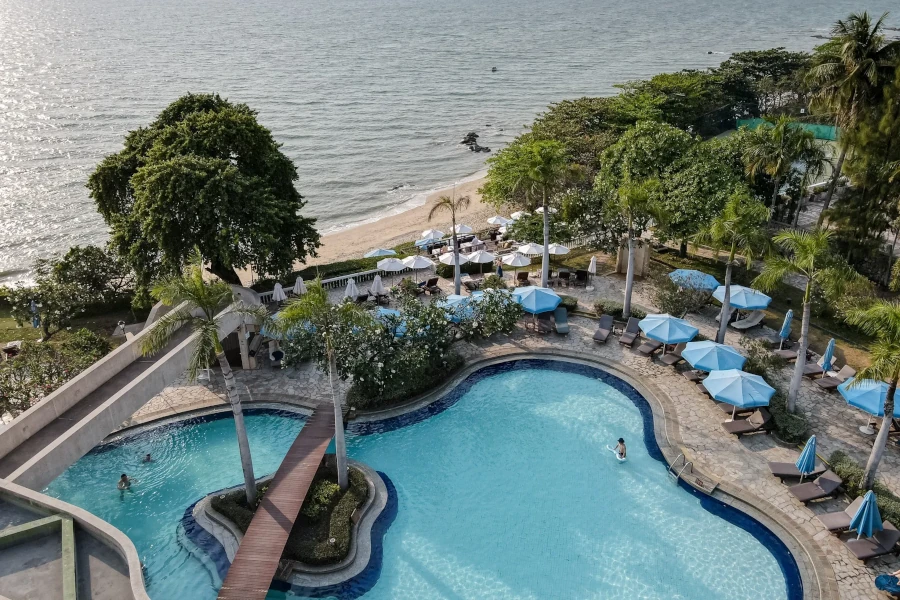 Dusit Thani is a renowned 5-star resort located in the north of Pattaya.
With access to two different beaches (Pattaya Beach and Wongamat Beach) and close to the best nightlife and entertainment hotspots in Pattaya, Dusit Thani Resort is an ideal place to stay.
The hotel is the definition of Thai hospitality and classic design with a focus on luxury, convenience, and comfort.
It is an elegant hotel resort with a great selection of rooms and suites.
Have a look at the impressive 2-bedroom Royal Princess Suite with a sea view that will leave your guests speechless.
The amenities and facilities are world-class here, especially their Devarana Spa and event halls.
That's why the resort is often used for corporate events and weddings.
The Dusit Thani Pattaya also has 5 dining outlets where you can enjoy everything from light bites and cocktails to full-on buffet spreads.
The other interesting thing about Dusit Thani is that they provide extremely authentic experiences.
From cultural tours and cooking classes to nature exploration and adventure to even some self-development workshops, they do it all.
Royal Cliff Beach Resort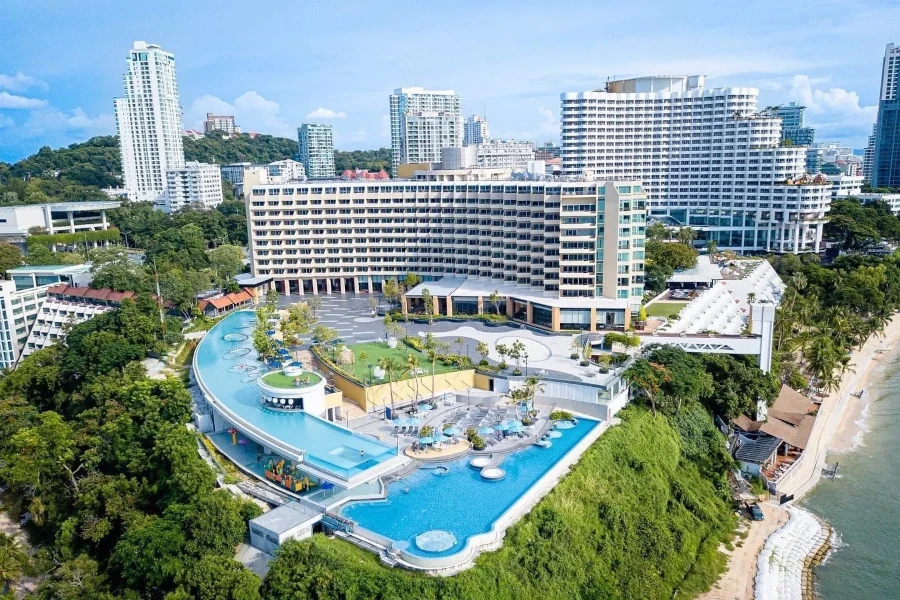 This Royal Cliff Beach Resort is like a playground and a comfy home all rolled into one.
The resort has several types of rooms but the highlights are the super exclusive, 125 sqm diamond and princess 1-bedroom suites with their incredible sea view.
But if you come with a group, they have 2-bedroom suite options as well.
Go for the 2-bedroom Thai modern theme suite if you want to host a hotel suite party there.
Staying at Royal Cliff Beach Resort also gives access to so many unbelievable facilities.
For starters, there are over a dozen incredible bars and restaurants around the resort.
Then you have to check out the out-of-this-world double-decker infinity pool that overlooks the ocean with a view of Koh Larn Island in the distance.
Other facilities you can also use are the sports center, entertainment zones, spa, and business center.
The resort also has its own shopping arcade.
There are even two private beaches reserved only for the resort's guests, where you can sunbathe, swim, or grab some cocktails.
If you do feel like leaving the resort, take one of their free shuttles that will take you to Pattaya city center.
Veranda Resort Pattaya – MGallery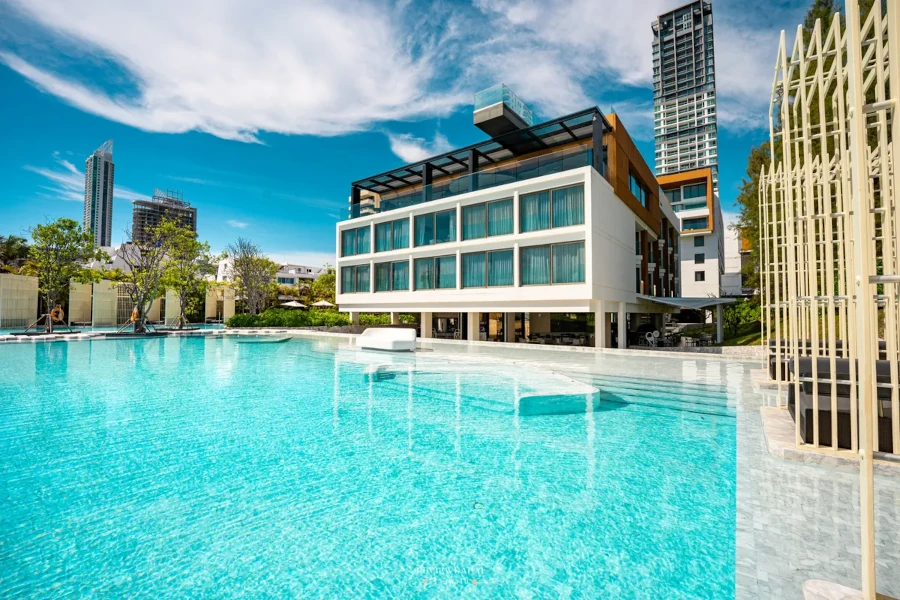 Veranda Resort is a lovely 5-star boutique resort with a minimal modern design.
The blue and white color theme with a touch of nature elements will make you feel like you are in a luxurious but unpretentious destination.
Location-wise, Veranda Resort is a great place to stay as it is secluded on the edge of Jomtien Beach but still close to many cafes, bars, and restaurants.
It provides the best of two worlds – a relaxing place to stay that is close to the nightlife.
The resort has 145 super gorgeous and comfortable rooms that come in 5 types.
If you really want to live like a king, go for the 2 bedroom Sky Pool Villa.
The impressive 136 sqm suite has a master bedroom with access to a private infinity pool overlooking the Gulf of Thailand.
It's truly magical.
But in case it is not available, don't worry.
There is a magnificent outdoor infinity pool with direct access to the beach where you can spend the day chilling out.
Other amenities at Veranda include a spa and a gym.
U Pattaya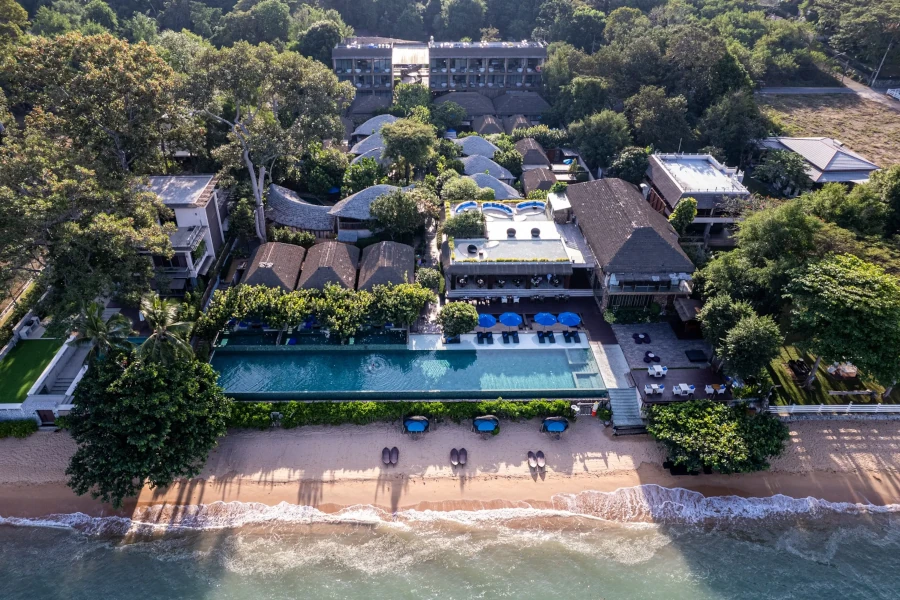 U Pattaya is all about comfort and luxury in a tranquil environment.
This upscale 5-star beachfront resort is located between Jomtien and Bang Saray, two beaches that offer great privacy and serenity.
The resort features 9 types of spectacularly spacious and cozy rooms with amazing amenities that will make your stay unforgettable.
Each room in the main building has whirlpool tubs and balconies.
Perfect to impress your date.
But if you really want the best, their beachfront private pool villa is the ultimate choice.
You can easily host private pool parties with up to 20 people there.
And you will wake up with a breathtaking view just meters away from the sea.
When you feel hungry or want to grab some nice cocktails, head to the resort French bistro or walk up the fantastic rooftop bar.
While you stay at U Pattaya, make sure you take advantage of the resort's excellent gym, gorgeous beachfront swimming pool, and library as well.
You can even rent bicycles to explore the resort and beyond.
And if you feel like getting away from here, the staff can help book awesome sightseeing and adventure tours in Pattaya.
Pullman Pattaya Hotel G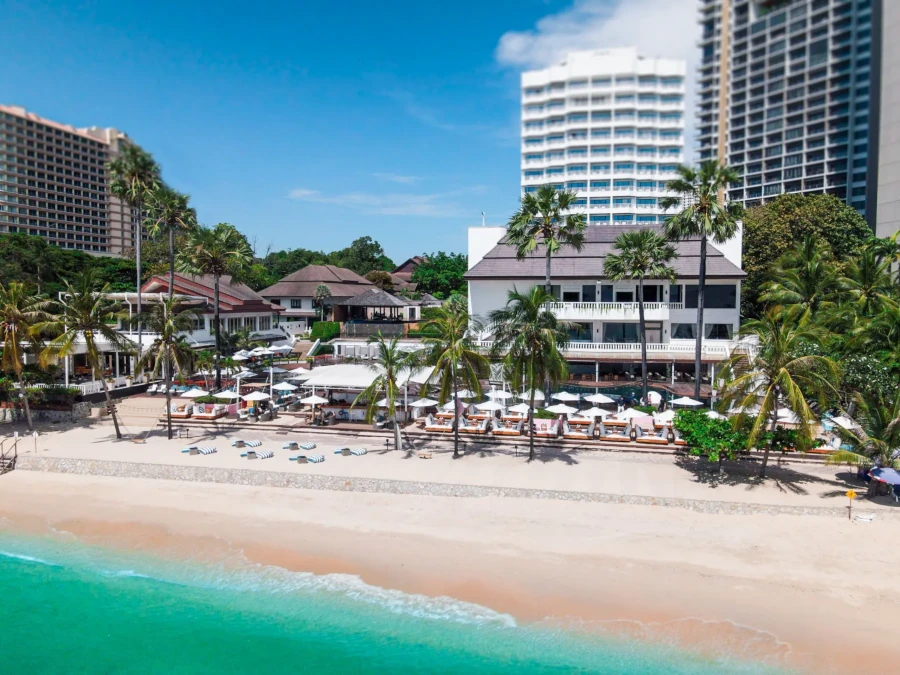 According to them, Pullman Pattaya Hotel G offers more than rooms, they offer a lifestyle and fulfill dreams.
This amazing 5-star resort on Wong Amart Beach in North Pattaya is an excellent escape for business, leisure, or a romantic getaway.
The resort is surrounded by lush tropical trees and faces a beautiful private beach with incredible sea views.
Pullman is home to 9 chic room types, where each is able to accommodate up to 4 people.
It also has an amazing Beach club restaurant, a pool bar, and a beach bar.
Whatever your mood or the reason for your visit, the resort has something for you.
But if you want a change of scenery, there are a few excellent beachside restaurants and cafes nearby.
Naturally, as any great resort would, Pullman Pattaya also has a fitness center and a large outdoor swimming pool with direct beach access and sea views.
Perfect to relax after long nights out in Walking Street.
You will also find a spa and a meeting room here.
Get Ready For A Memorable Time In Pattaya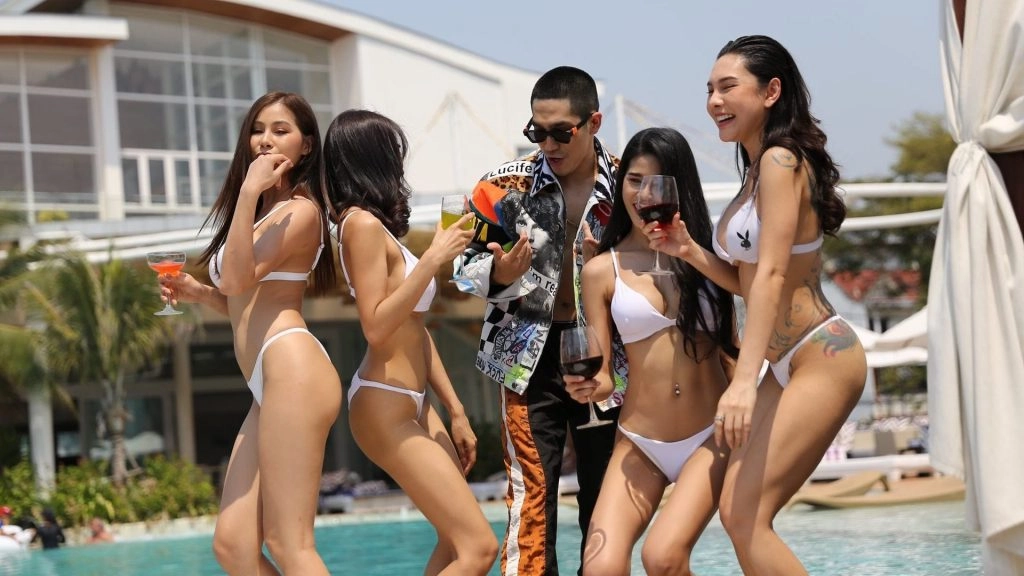 So, are you ready to pack your bags and head off to Pattaya?
With these seven fabulous resorts to choose from, you have plenty of options.
We hope we helped you make the right decision.
If not, you can always contact us to plan your trip to Pattaya.
FAQ
What is the best luxury resort in Pattaya?
The best luxury resort in Pattaya is Movenpick Pattaya.
Which is the most popular resort in Pattaya?
The most popular resort in Pattaya is Dusit Thani Pattaya.
Explore The Rest of Pattaya
Before you head to Pattaya, read the rest of our guides.
We've selected for you the best things to do in Pattaya, the best places to party, and more.