Route 66 is one of the biggest nightclubs in Bangkok and a staple of the famous RCA area.
With 3 rooms, a huge terrace, wild events, and reasonable prices, this club should be on your list.
What You Need to Know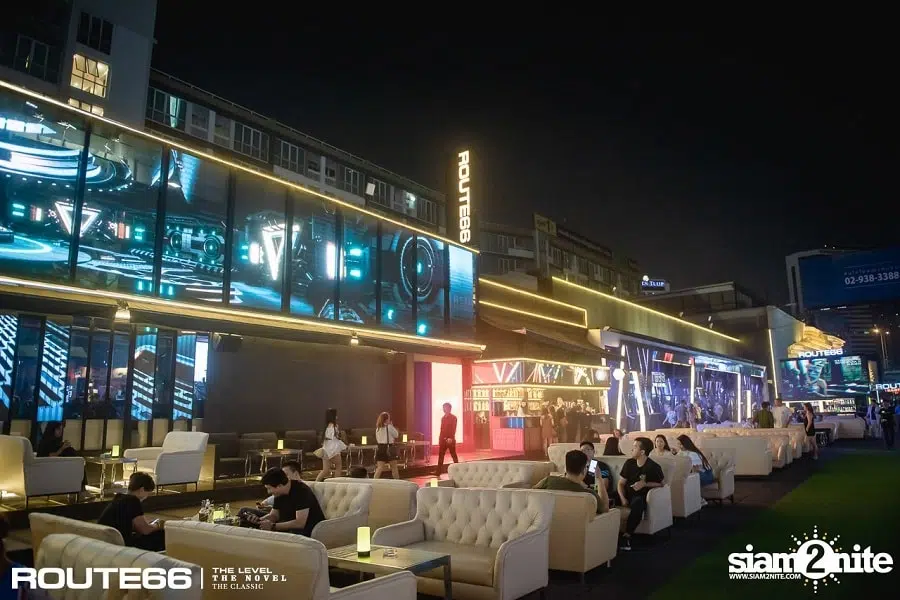 The entrance fee is ฿300 and comes with ฿300 worth of coupons you can exchange for drinks or a discount on a bottle.
Like for most Thai clubs, we recommend you to buy a bottle and ask for a table as soon as you get there. There's no place to dance, and the young Thai crowd tends to come early. Often as early as 10pm.
If you arrive later than that, especially during weekends, it's gonna be tough to find a place to rest your drinks.
Route 66 got something for everyone. As you walk into the club, you arrive at the huge terrace covering the building's whole length. If you want to drink outside but still enjoy that crazy clubbing beats and vibe, there's no better place than Route 66 in Bangkok.
Inside, you find 3 rooms with each its own style. The first room is dedicated to Hip Hop and plays old-school rap banger along with the latest trap and hip hop songs.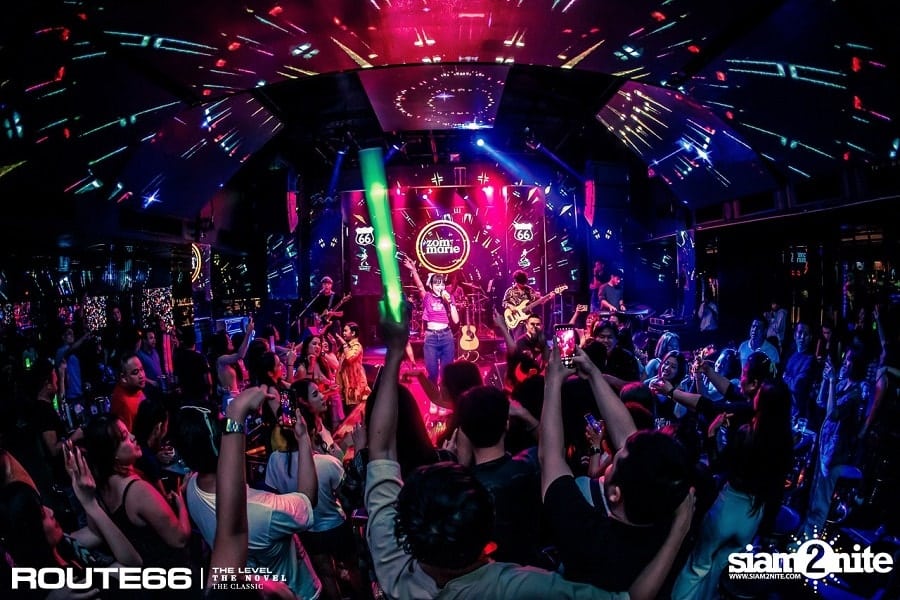 In the second room, live bands and singers take turns to make the crowd sing (in Thai) and dance all night. Expect Thai pop songs and the most popular anthems of Thai culture and no sign of any foreign face.
Finally, enter the main room. Dedicated to EDM, House, and Electronic music, this one is by far the most crowded and the wildest of the 3. The light and sound system is intense, the crowd goes nuts with every drop, and alcohol flows at every table.
The crowd at Route 66 is mainly young Thais and students, but it's not rare to see some foreigners and a few tourists in the mix.
Like in most clubs in Thailand, don't expect to have much space around your table or to find a dance floor. But if you want to chill or have the possibility to talk with your friends without your ears exploding, take advantage of their outdoor terrace.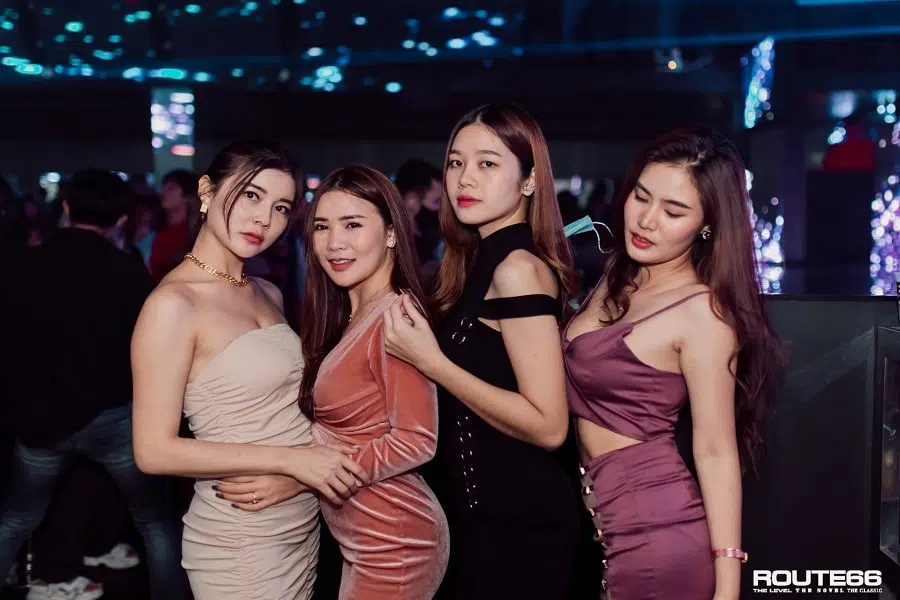 Overall the club is less expensive and more laidback than its neighbor Onyx where all the wealthy Hi-So meet every night. A great alternative if you want to party in RCA until late.
Before you go to Rout e66, remember to bring your ID with you (a physical one, not a copy. Passport, driving license..). The security will always check your ID, and you need to be 20 or older to get in.
Prices and Bookings
The entrance fee at Route 66 Bangkok is ฿300, but include a ฿300 voucher you can spend on drinks or bottles.
Drinks are around ฿200, bottle service starts from only ฿1,700, with mixers at ฿80.
The clubs also have a decent selection of imported beers (Brewdog, Leffe, Vedett…) on the menu starting from ฿240.
Contact us on this page for VIP bookings and details.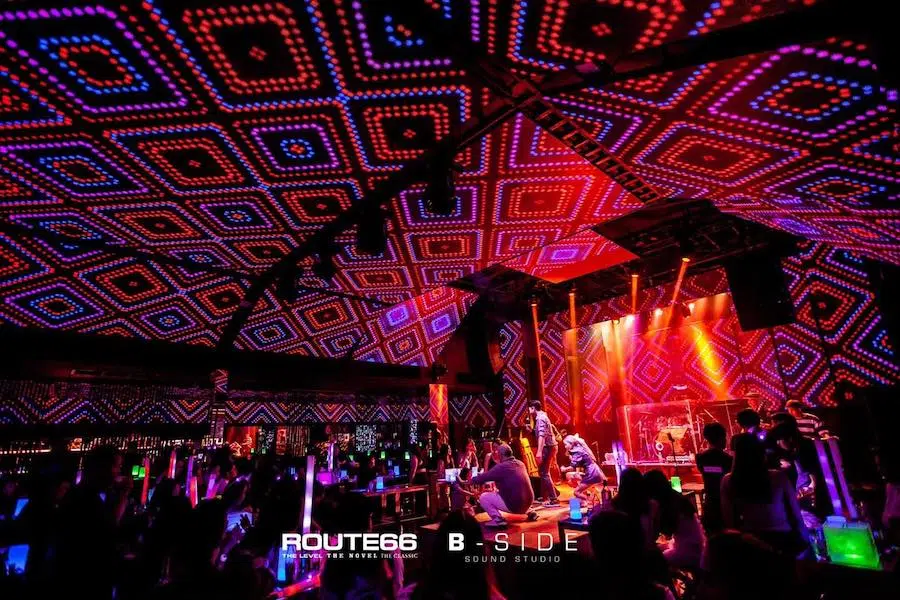 About Route 66 Bangkok
Cover charge: ฿300 and include a ฿300 drink voucher
Bottle price: Start from ฿1,700
Music: EDM, Hip Hop, Live music
Crowd: Locals, expats, and a few tourists
Opening hours: Every day from 8.30pm to 2am
FAQ
What is Route 66 Bangkok dress code?
Route 66 dress code is like most clubs in Bangkok, smart casual. Don't go there with open shoes, shorts, tank tops, or sportswear. Sneakers are fine.
What is the entrance fee at Route 66 Bangkok?
The entrance fee at Route 66 is ฿300 but comes with a ฿300 drink voucher.
What is the age limit at Route 66 Bangkok?
The legal age for clubs in Thailand and Route 66 is 20 or older. The security always checks IDs at the entrance.
Other Nightclubs in Bangkok you're Gonna Like
Or click here for a list of all the clubs in Bangkok.