It's near impossible to think about partying in Thailand and not even consider the Full Moon Parties that are held at the Haad Rin Beach in Koh Pha Ngan every month.
For many, attending a Full Moon Party is a rite of passage.
One that is packed with a spectrum of intense partying bursting with hedonistic behavior involving alcohol, drugs, music, and even sex.
While not for the faint of heart, the Full Moon Party is certainly a once-in-a-lifetime experience for travelers around the world.
But it can be a lot to take in, especially if it's your first time going there.
So here's a complete guide with everything you need to know about the world famous Full Moon Party to stay safe and have the best time ever.
What Is The Full Moon Party And How It All Started?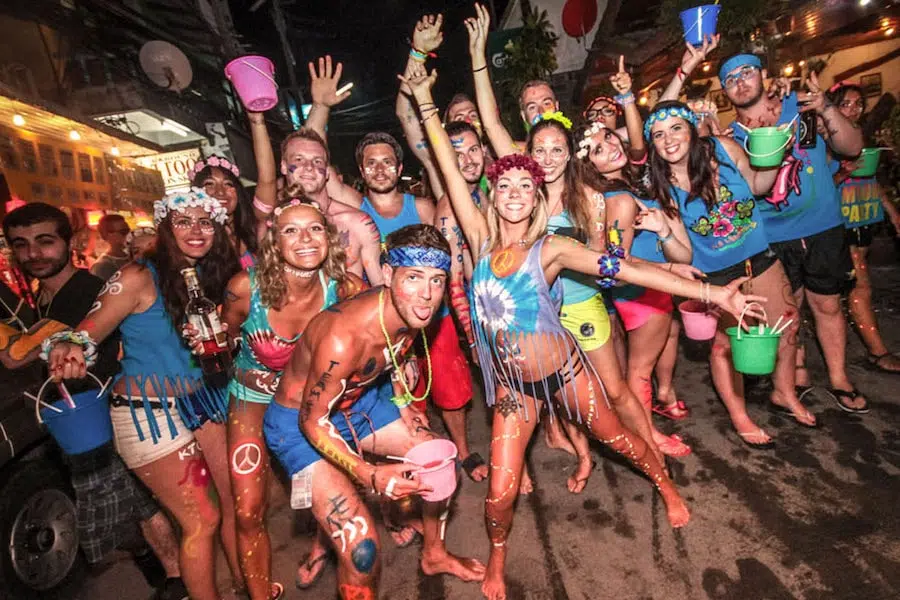 It all started when a group of tourists found the most beautiful full moon in Koh Phangan sometime around in the mid-80s.
They decided to celebrate, dance and party under the moon all night until the sunrise.
Since then, it became a world-famous tradition as more and more people started to join the celebration.
Held at the crescent-shaped beach known as Haad Rin at the party island known as Koh Phangan (Koh Pha Ngan), The Full Moon Party has become a massive event that attracts over 10,000 people each month.
Now the Full Moon Party is more than just a giant beach party.
It's become a festival that not only marks the full moon but has also become an iconic symbol of the party culture in Thailand.
What Happens At The Full Moon Party?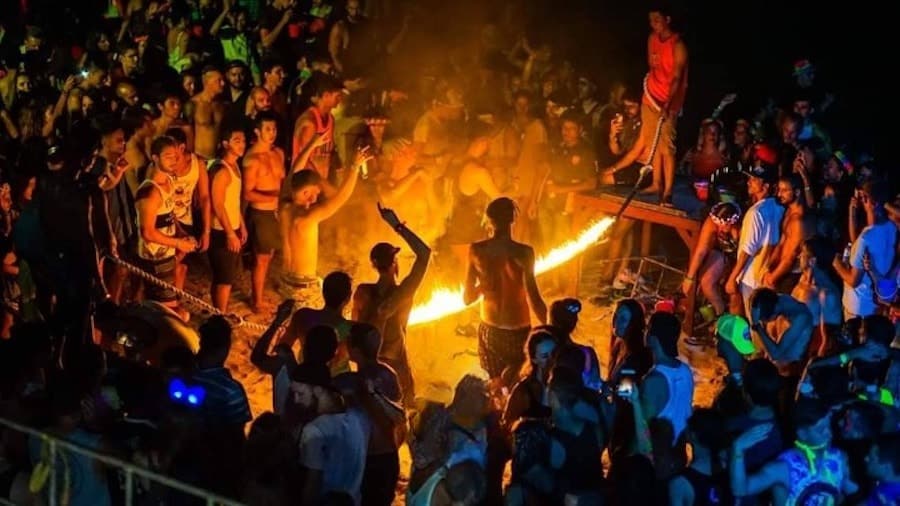 There is no way to really describe what happens at the Full Moon Party (FMP).
People either love it or hate it. Have fond epic memories or regrettable decisions.
There is no middle.
Festivities start a day or two before the actual Full Moon.
For some it is wild days filled with pre parties (Jungle party, waterfall party…), while for others they slowly get into the groove for the actual FMP.
The main party starts as the sun goes and continues on till the sun comes up as attendees fill themselves with copious amounts of alcohol and drugs.
And when we say copious, we aren't kidding. It's a lot!
The beach is lined with stalls and bars selling all kinds of alcohol.
The go-to drinks are usually buckets of spirits with a choice of mixers.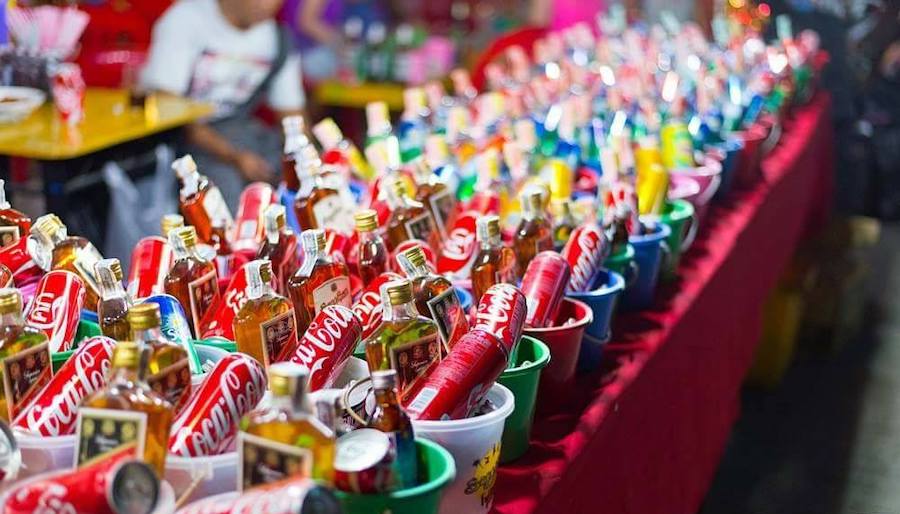 For example, a popular bucket drink sold by most bars is Sangsom, a Thai rum, which is usually paired with coke, soda, or red bull.
While revelers pour down drinks down their (and each other's) throats, beach bars and stages play all kinds of music from trance and techno to reggae, hip hop and EDM to get everyone into a dancing frenzy.
If you have been to Khao San Road in Bangkok, it is something like that but shall we dare say it, much wilder.
There are also other forms of entertainment at FMP such as dance performances and impressive displays of fire shows and activities.
Partygoers can also take part in fire limbo or rope jumping.
For those who don't feel as adventurous, you can still feel part of the party by painting their shirts or faces with glow in the dark neon face paints or rave with glow sticks like in the good old party days.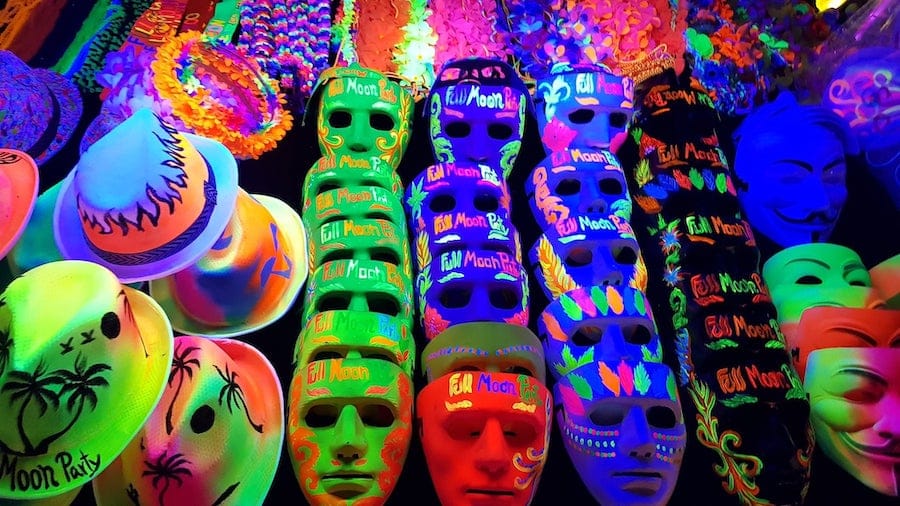 Here you can be your true self. No rules. No judgment.
What about food, you may ask? Don't worry. There is plenty of cheap street food, or rather, beach food to go around.
You will find stalls sprawled across the beach serving everything from instant noodles and Pad Thai to fried chicken and meat skewers.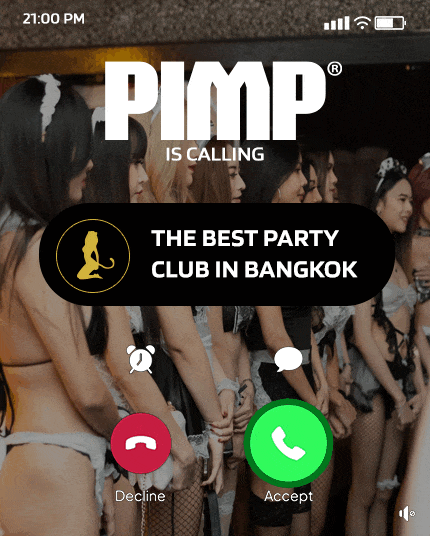 How To Prepare For The Full Moon Party?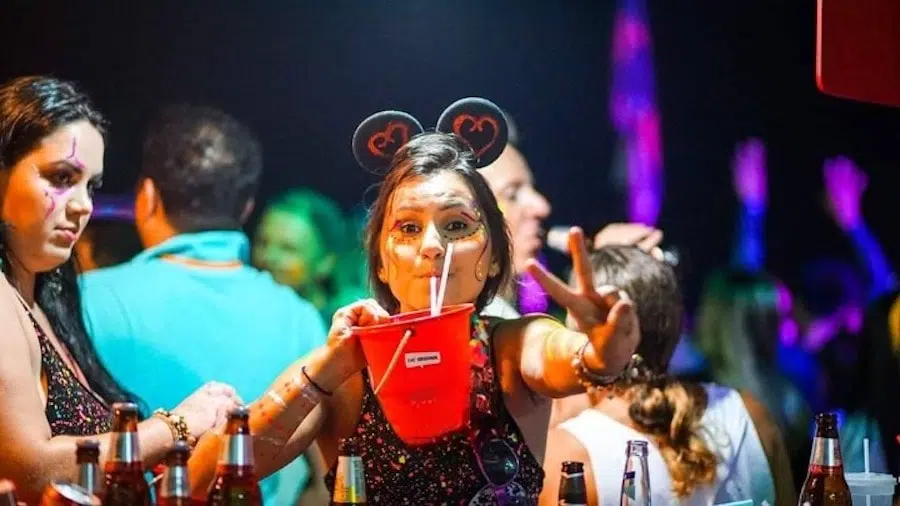 There is a reason FMP is considered a rite of passage – because it is not easy.
You often hear a lot of people confess that they "survived" the Full Moon Party. There are a lot of risks involved, whether it is your first time or the tenth time.
Hangovers are the least of your worries. Physical injuries, theft, spiked drinks, and other accidents are common occurrences at the party.
So, here are 10 tips to help you manage and survive a Full Moon Party safely.
1. Get your mind ready. That is the first thing you have to do. We know it is hard because you just want to let loose with no inhibitions, but it is important to be aware of your surroundings. You never know what might happen.
2. Don't do it alone. Having a group of friends or even a couple of trusted people around can make all the difference. They can help you in whatever emergency that may arise while also allowing you to have more fun.
3. Don't do drugs but if you must, don't buy from someone you don't know. As far as weed goes, since it is now legal in Thailand, expect to be able to buy some at almost any bar on Koh Pha Ngan.
4. Pace yourself with drinks. Make sure you drink plenty of water and snack on food whenever possible. Don't drink too fast, or too much. Also, the buckets are quite strong and cheap, so even if it is easy to overdo it – DON'T! In some cases, the alcohol might not also be the one advertised on the bottle, especially if they are extremely cheap. You will end up sick, not just hungover.
5. Wear shoes. Wait, what? At the beach? Yes, you never know what spilled or broke all over the beach. It's best to keep your feet dry and safe. Comfortable shoes are the way to go, you will thank us for it.
6. Watch out for personal belongings. With such a massive crowd, it's fairly easy to get pickpocketed or lose your things. Keep all belongings secured either in a zipper bag and keep it in front of you at all times. Basically, make it as hard as possible to get your things stolen.
7. Don't do anything dangerous or risky. You might be tempted to do the fire limbo or rope jump, but try not to, especially when under the influence. There have been cases of people being badly burned. If you are sober and love to take risks, go right ahead. Why not? But be sure so you don't ruin your night or the entire trip.
8. Book early. With over 10,000 people flocking to this party island, you best book hotels and travel arrangements months in advance. You might get lucky getting a booking, but prices will be way higher closer to the FMP. Also keep in mind that most hotels will require you to book at least 3 nights.
9. Wear colorful clothes. Bright colored clothes and neon body/face paint are the main theme of full moon parties. If you are not wearing them, you will be the odd one out. It's the one time you could be as cooky and crazy as you like. Think music festivals like Coachella or Wonderfruit.
10. Have fun with no regrets!
How To Get To The Full Moon Party?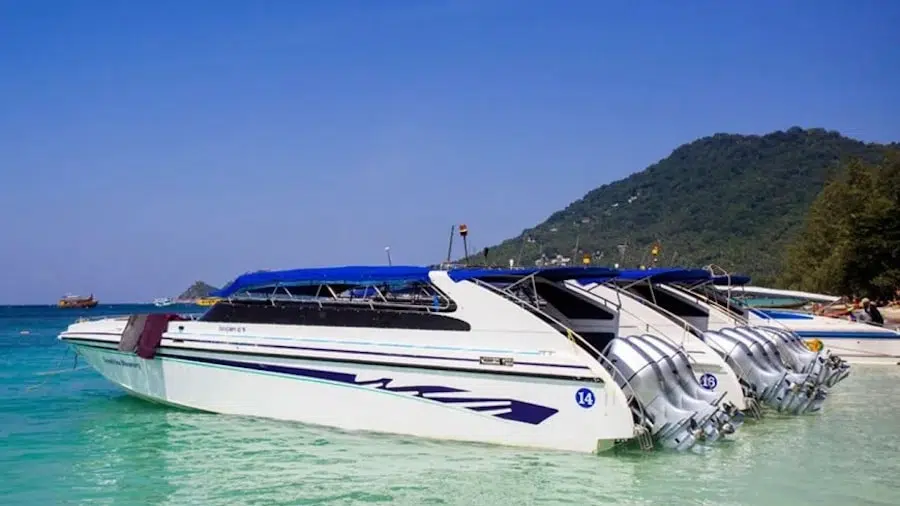 To get to Koh Phangan, whether you are coming from Bangkok, Phuket or Koh Samui, the end result is that you will need to get on a ferry.
From Bangkok, there are a couple of options.
Fly directly to Koh Samui and then take a ferry or speedboat to Koh Phangan. This is the fastest but also the most expensive way there.
Another way is to fly to Surat Thani and then a ferry from the pier to the island. This saves you some money but takes a bit more time.
The last option, cheapest but takes the most time is to take an overnight bus/van from Bangkok to the pier in Surat Thani and then ferry over to the island.
If you are coming from Phuket, same thing, but the bus/van ride is a lot shorter in time. Prices may be higher though.
Depending on your time and budget, it is best to do the research and see which option suits you the most.
Alternatively, save yourself the hassle and book a VIP van or even rent a helicopter with us and we'll arrange all the transfers for you.
Where To Stay For The Full Moon Party?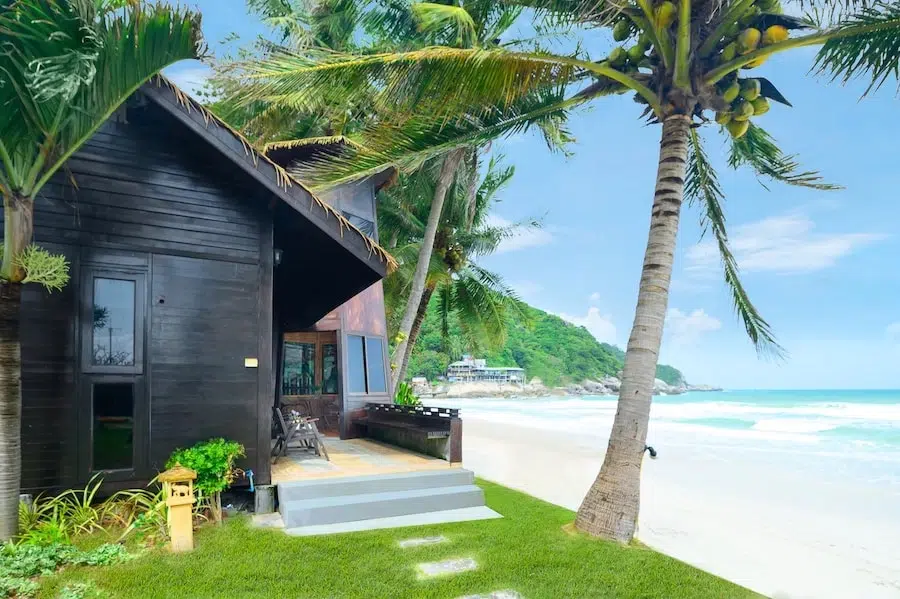 If you are visiting Koh Phangan for the sole purpose of attending the Full Moon Party, then you want to stay close to it.
There are accommodations of all types on Haad Rin, from budget to luxury.
We recommend you spend a week in Koh Phangan to soak it in, and have a chance to experience the other sides of the islands.
The beautiful beaches, the delicious food, the incredible cafes, and all the viewpoints that you must hit for your Instagram.
And remember that most hotels will ask you to book at least 3 nights, and that they're more expensive during the Full Moon Party (sometimes double the price!).
So you might as well make this trip to Koh Phangan worthwhile and stay longer on the island.
Here are a few party-friendly options in each of the categories.
Cheap/Hostel
OUT! is a clean and comfortable hostel at the center of the full moon party.
House of Sanskara is also a great option as a beachfront accommodation with a very soulful, artistic, and hippie vibe. It even has an outdoor cinema and is great for beach or jungle parties.
Budget
Little Paradise is a decent budget accommodation with plenty of room options and pricing. It is right on the beach, so if you are looking for a nice place to stay near the party, it's a great option.
For a luxury experience at budget prices, Tommy Resort and Bayshore Resort are fantastic options.
They are right on the beach, so you can simply walk over to the beach parties within minutes, but they also give a secluded feeling when you don't want to be part of the action.
Luxury
Who said that if you attend the Full Moon Party, you can't live in style?
That is where Princess Paradise and The Cabin Beach Resort come in.
Both have stellar facilities, services and offer a getaway experience to unwind after a crazy, hectic night of partying.
Lounge in one of their sun chairs or cool off in the swimming pool.
They are also great if you are visiting Koh Phangan for half moon parties that are held twice a month.
It is important to note that while you might want to be close to the party, prices for hostels and hotels skyrocket during the Full Moon Party, especially on Haad Rin.
You might want to weigh the pros and cons of staying close and paying a high price or staying a bit further but paying the cost of transportation.
Stay in Koh Samui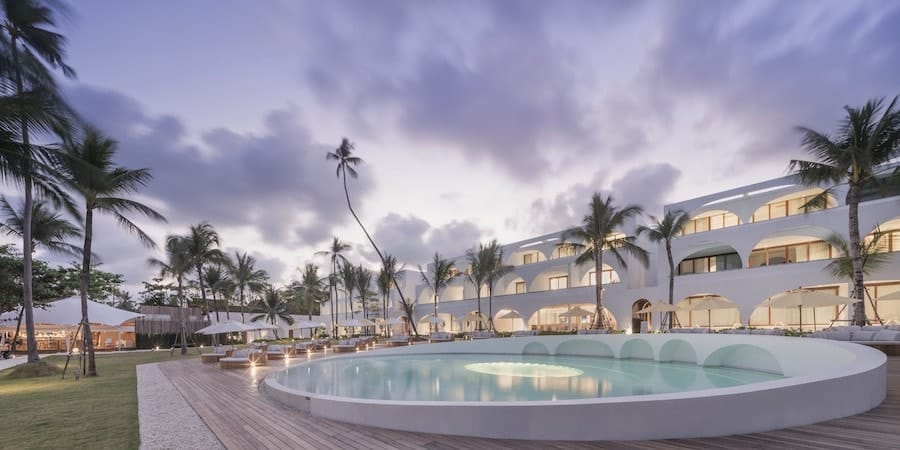 You can also opt to stay in Koh Samui and simply make the trip to the FMP, party all night and take the ferry back in the morning.
There are even more options for all kinds of stays in Samui but you might want to stay as close to the Big Buddha Pier as possible to have easy access to the ferry or speedboats.
SALA Samui Chaweng Beach and Anantara Lawana Koh Samui Resort are excellent luxury resort options in this area.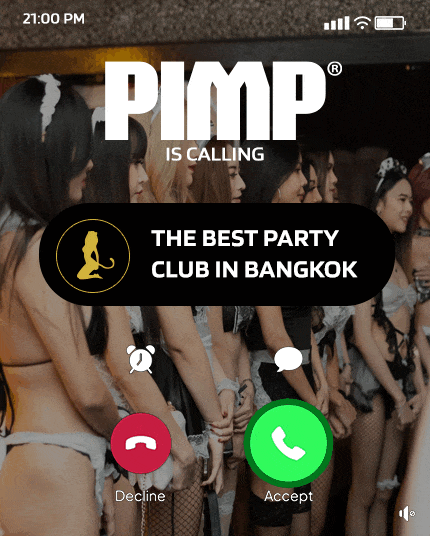 Full Moon Party Dates for 2022 and 2023
If things keep heading the way they are and there won't be any closures due to COVID-19 or any other unforeseen circumstances, the dates (while subject to change) are:
2022
Tuesday, 14 June 2022
Friday, 15 July 2022
Saturday, 13 August 2022
Saturday, 10 September
Tuesday, 11 October
Tuesday, 8 November
Thursday, 8 December
2023
Friday, 6 January
Sunday, 5 February
Tuesday, 7 March
Friday, 7 April
Friday, 5 May
Sunday, 4 June
Sunday, 2 July
Thursday, 3 August
Friday, 29 September
Monday, 30 October
Monday, 27 November
Wednesday, 27 December
Is the Full Moon Party in Koh Phangan not fitting your travel plan or seem too hectic? Check out some of the other famous Thai parties around Thailand.
What About A Full Moon Party in Bangkok?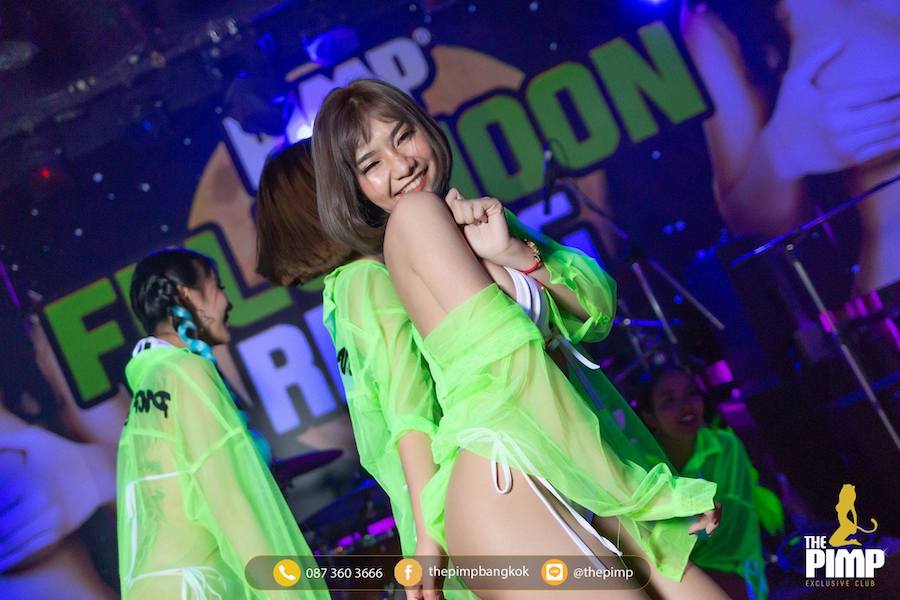 If you're looking for a Full Moon Party experience in Bangkok, go to The PIMP, Thailand's best gentleman's club for their take on the iconic party.
200+ girls, erotic shows, neon paint, fire shows, and wet and wild action in the VIP rooms.
Learn more about it here.
And why not organize your own Full Moon Party in Bangkok?
Check our private party packages and get in touch with us to organize your own Full Moon Party in the big mango.
Doesn't matter how big or wild you want it, and if it's actually the full moon, we'll be happy to organize your Full Moon themed party anywhere you want.
FAQ
Where is Thailand's Full Moon Party?
The original Full Moon Party is in Koh Phangan, a tropical island in the south of Thailand, near Koh Samui.
How Much is The Full Moon Party?
Entry to the full moon party is 100 THB. Drinks range from 50 THB for beer to 200+ THB for buckets. Street food can be cheap as well, ranging from 50 to 200 THB as well.
What To Wear at The Full Moon Party?
Wear colorful beach clothes and comfortable footwear at the Full Moon Party. It's the perfect occasion to dress as crazy as you want.
How Many People Go to The Full Moon Party?
Anywhere between 10,000 to 30,000 people go to the Full Moon Party in Koh Phangan each month.
Is The Full Moon Party Only for Backpackers?
No, the Full Moon Party is for anyone wanting to have a crazy, epic party.