Hidden below Novotel Fenix in Silom, Maggie Choo's is an interesting mix between a speakeasy bar and a high-end nightclub with an exceptional design, vibe, and selection of drinks.
Considered as one of the top 50 nightlife venues in Bangkok on TripAdvisor, Maggie Choo's is a club popular with the elite and expats that offers quality service, premium drinks, and a crazy ambiance.
All that in an intimate setup.
Sophisticated and elegant, partying at Maggie Choo's is indeed a nightlife experience like no other in town.
What You Need to Know
Maggie Choo's is one of many bars designed by Ashley Sutton, who is the mastermind behind some of the most famous bars in Bangkok such as Iron Balls Parlour, J. Boroski and Sing Sing Theater.
Although quite similar to Sing Sing Theater in term of design and ambiance, Maggie Choo's actually has its own distinct atmosphere.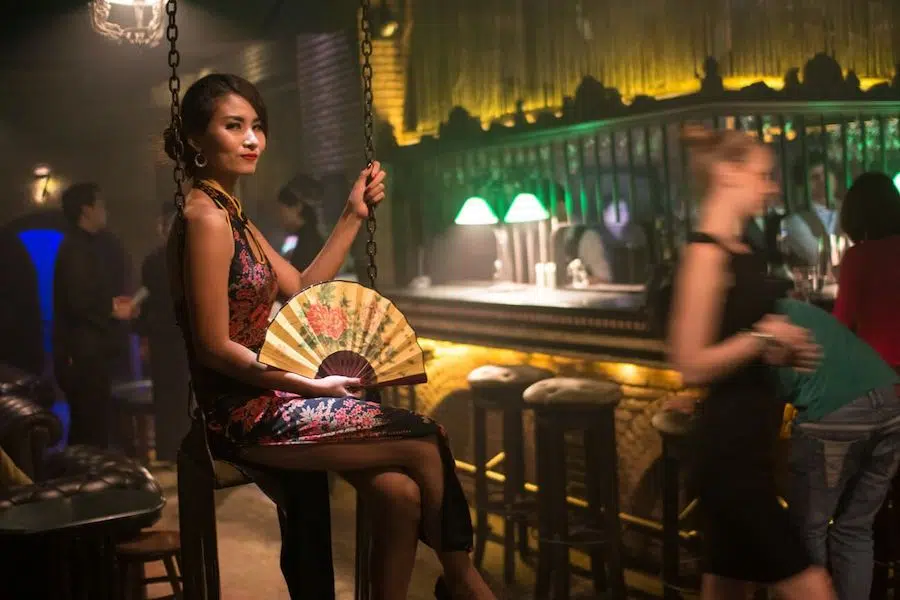 The design of the establishment brings you back to the colonial times and it's not by chance.
There is a lot of history behind this place and you can feel it as you walk down the staircase and go through the secret entrance.
As you pass the door you are instantly transported to the prohibition era.
Quite a strong constrast from the nearby red-light district of Patpong.
The club is designed like an underground Cabaret of 1930s Shanghai with a large room in the middle and small rooms, almost private, scattered around the club.
But the design is not the only unique thing about Maggie Choo's
The club is known for having sophisticated cocktails that are not only delicious but quite strong too.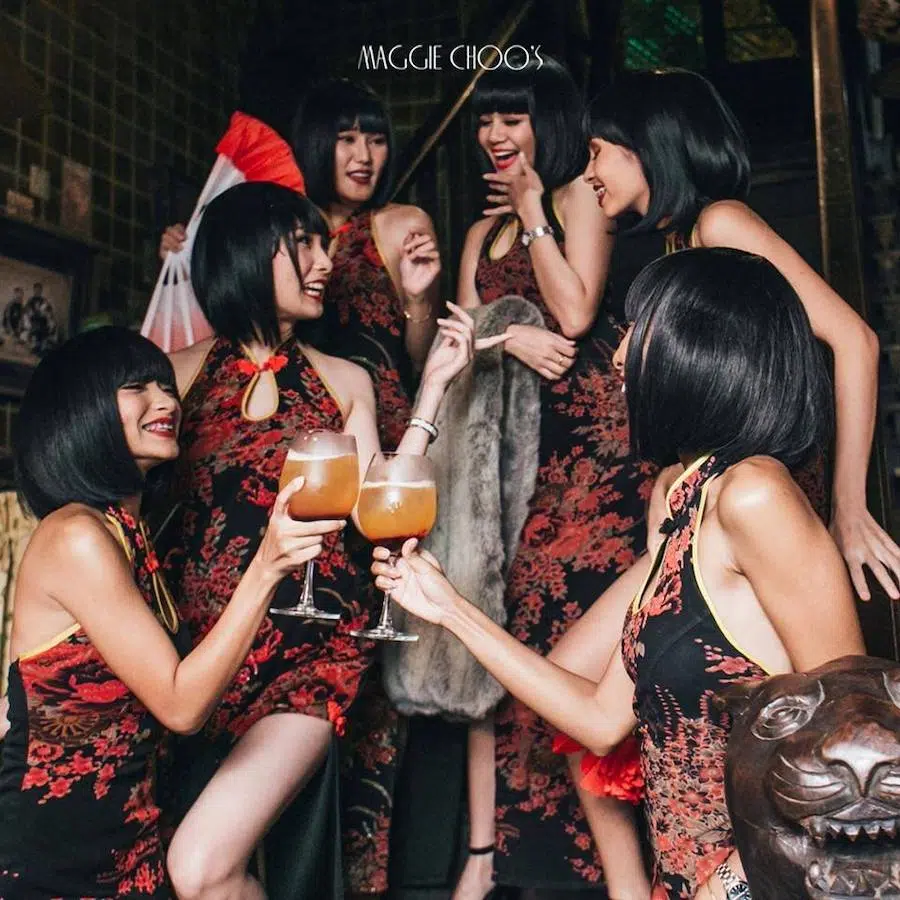 You will also find a great selection of top-shelf bottles served by a well-trained staff.
That's not all.
Maggie Choo's has live performances by bands and DJs playing a variety of music genres every night.
The club plays everything from R&B and Hip Hop to Deep House, Soul and Jazz.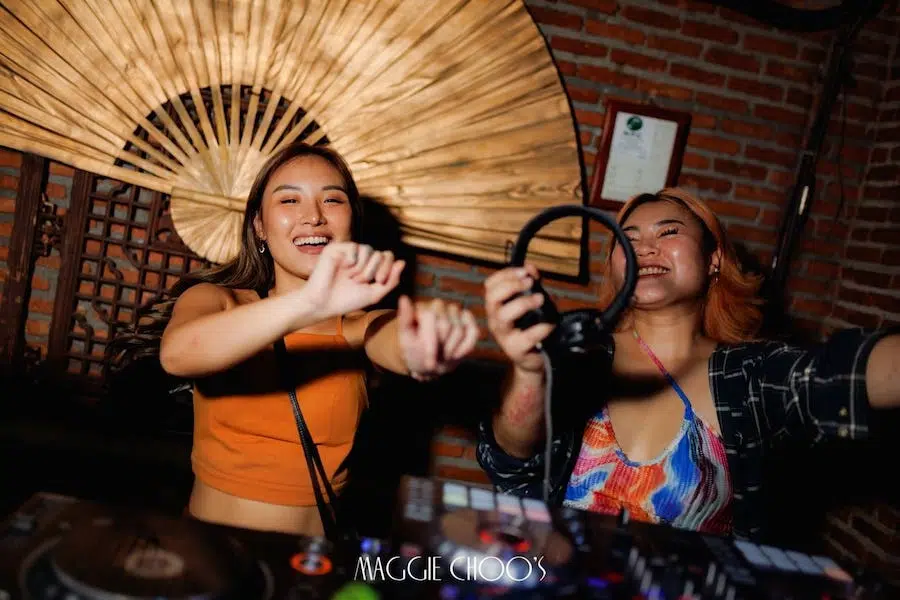 Keep an eye on their Facebook or Instagram (links below) to see what type of event and music they when you decide to go.
But no matter what night you're partying at the club, you can be sure the ambiance will be electric.
There are also cabaret and drag shows for their famous Sunday Gay Night.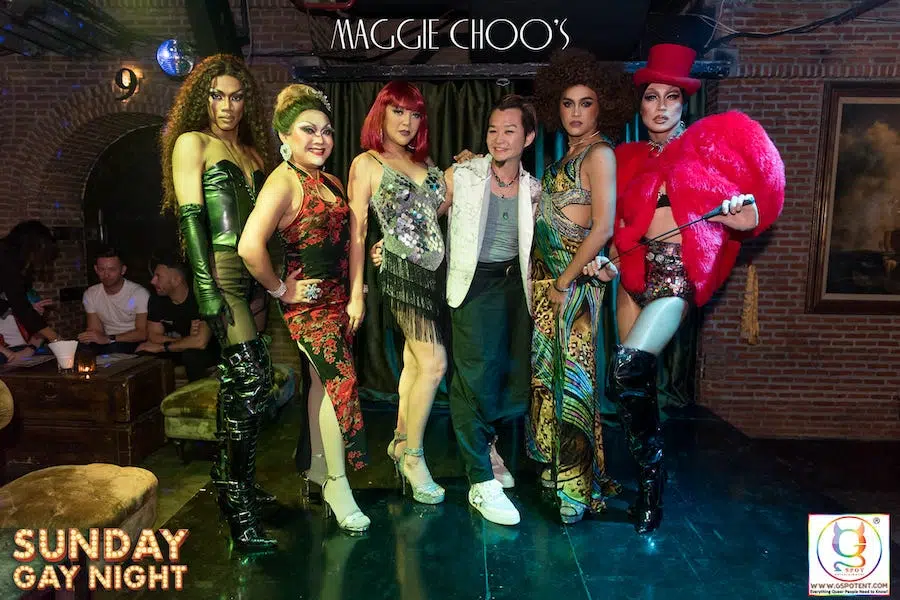 It's one of the hottest LGBTQ party in Bangkok and one you absolutely must try.
Prices And Bookings
There is no entry fee or coverage except on special occasions and events.
Maggie Choo's frequently holds happy hours throughout the week, especially a Buy 1 Get 1 on wine, beers, house spirits, and cocktails.
Signature cocktails are ฿450++ while standard ones go for ฿350++.
Spirit bottles start at ฿3,200+++, while wine and Champagne start at ฿1,900+++.
And with enough bottles, you can get one of the small private rooms just for you and your friends.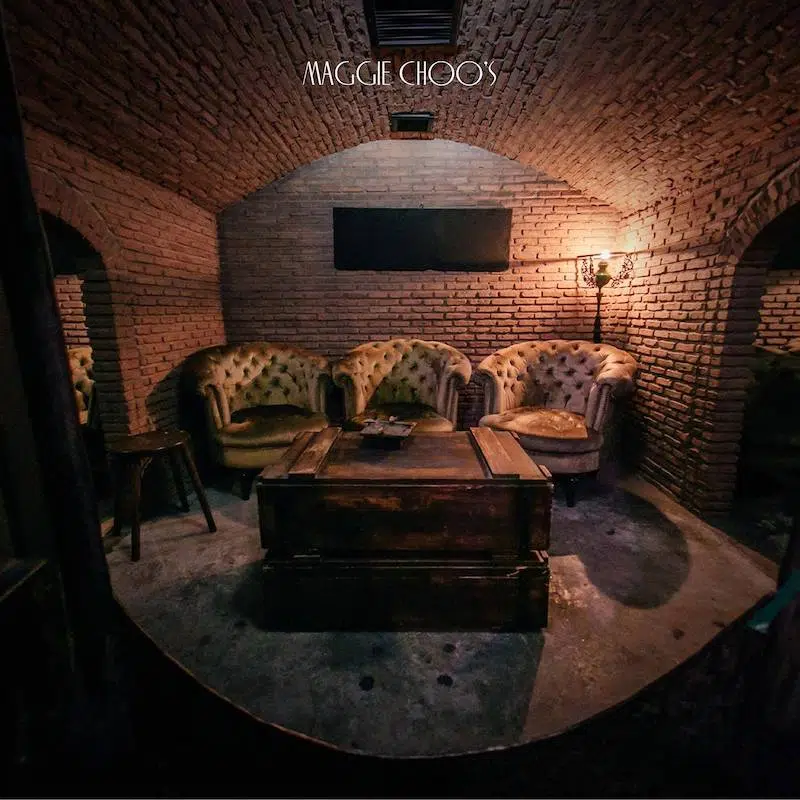 Bookings are recommended, particularly on weekends.
Need to book a VIP table at Maggie Choo's? Contact us for assistance.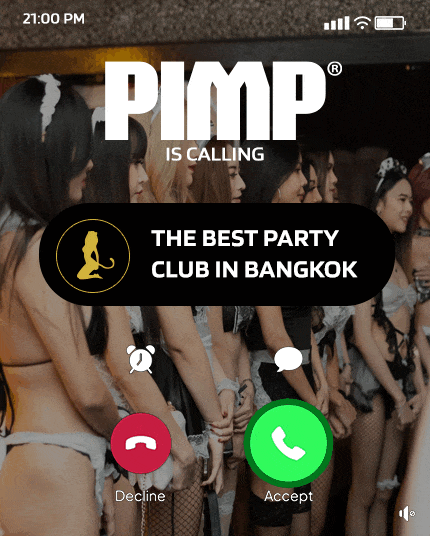 About Maggie Choo's
Cover charge: free except for special events
Bottle price: Start from ฿1,900 for wine and ฿3,200 for spirits
Music: Jazz, hip hop, R&B, disco, house
Crowd: LGBTQ, tourists, locals, and expats (mixed crowd)
Opening hours: Tuesday to Sunday from 7.30 PM to 2 AM
FAQ
What Is Maggie Choo's Dress Code?
The dress code of Maggie Choo's is smart casual. But it's recommended to dress to impress as many do.
How Much Is The Entrance Fee At Maggie Choo's?
There is no entrance fee at Maggie Choo's on most nights, except for special events.
How Much Is A VIP Table At Maggie Choo's?
You need to buy at least 1 bottle to get a table at Maggie Choo's. But for a VIP table, you need at least 2 bottles.
How To Get To Maggie Choo's?
The nearest BTS to Maggie Choo's is Chong Nonsi, from where it is still 1.4 km away. It would take about a 15-20 minute walk or a 5-10 minute taxi ride.

If you are coming from across the river, alight at Saphan Taksin BTS as that would be the closest from that direction.

Or you can ask your private chauffeur to drive you to Maggie Choo's. Check the options we have for private transportation.
Other Nightclubs In Bangkok You're Gonna Like
Click here to see the full list of the best nightclubs in Bangkok