Whether you feel like drinking cold beers by the beach or enjoying a fancy cocktail in an ice-cold room, Pattaya's bars are as hot as a sunny day on the beach.
It doesn't matter if you're going solo or out with friends, we know the 8 best bars in Pattaya that you need to check out.
You'll discover the best spots to grab a drink in this beach party town.
And if you want to organize a private party at one of these bars, or anywhere else in Pattaya, we have you covered.
Contact Party Bangkok To Plan Your Trip To Pattaya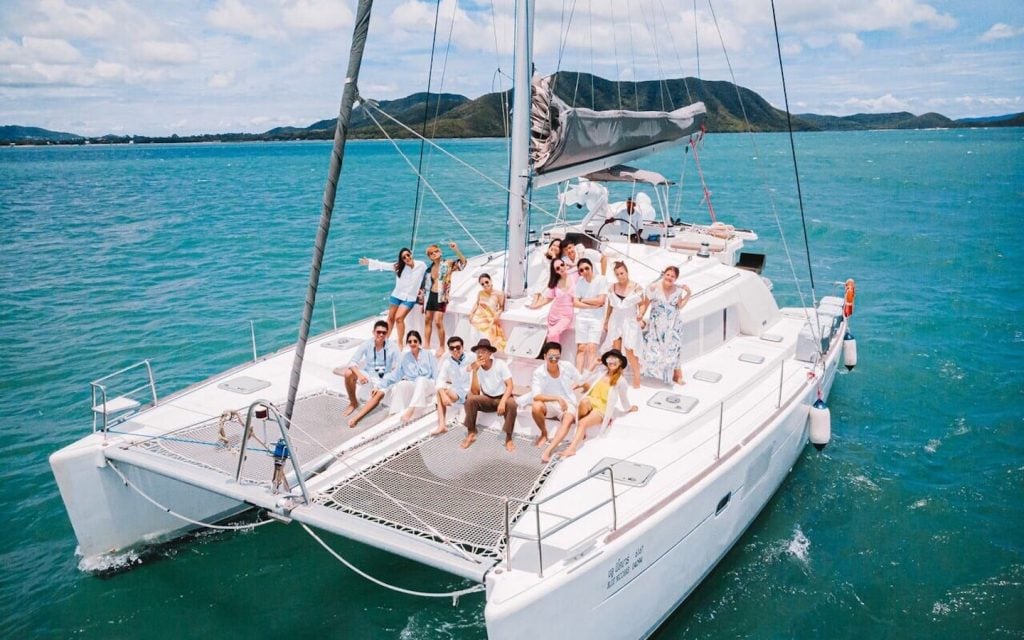 Regardless of which bar(s) you decide to visit, we're here to help you have the best time in Pattaya.
Send us your requests and details and let us plan your private party and nightlife itinerary while you do the thing that matters most – having a good time with your friends.
We can take care of all the arrangements for you, from finding the perfect pool villa to organizing a wild yacht party with Thailand's most beautiful Thai models.
All you have to do is ask.
Hops Brew House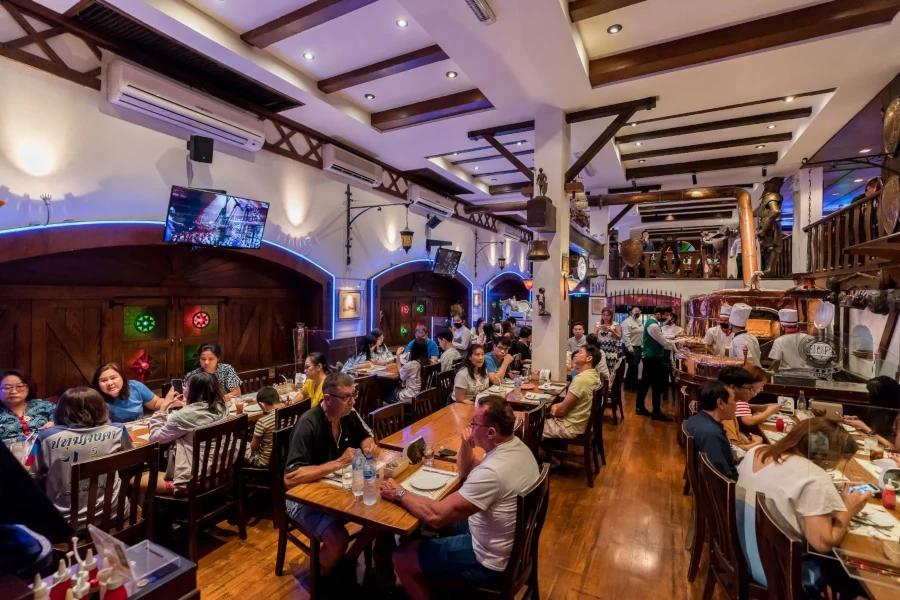 Hops Brew House is the best microbrewery in Pattaya.
It serves the freshest beers made from hops and other ingredients.
This stylish beer bar and restaurant is an amazing place to have a cold beer while enjoying a meal and live music.
While they offer several types of beers, their star attractions are the draft wheat and lager beers.
These come in 4 different sizes starting from 300 ml to a whopping 3 liter glass!
But beer is not the only thing they serve.
Hops also has a great selection of cocktails, spirits, mocktails, and other drinks.
Hops also has a massive menu that covers a wide range of cuisines.
Try out their Neapolitan pizzas and give a shot to their variety of pasta dishes.
Their dry-cured ham and pork knuckles are also very popular.
V Lounge & -11 Ice Room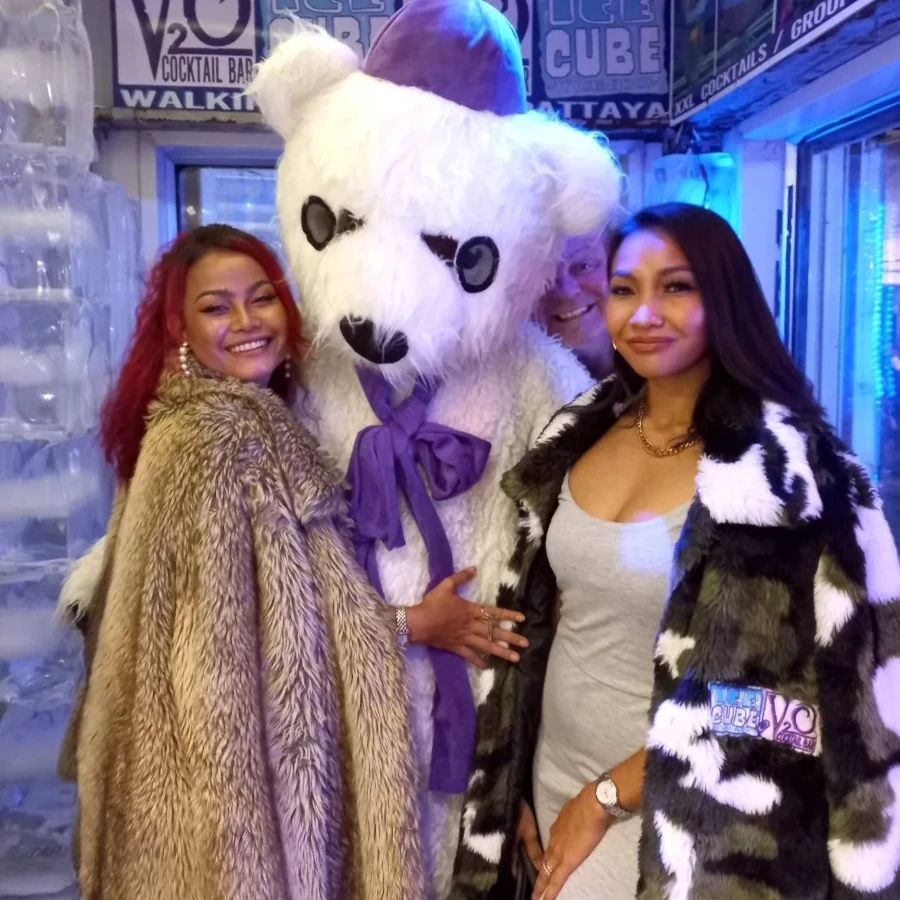 V Lounge and -11° Ice Room is a 2 in 1 iconic drinking and party hangout venue on Walking Street.
It is the coolest and literally the chilliest spot in town.
From outside you can clearly see the -11° ice room through a floor-to-ceiling glass panel.
Inside, there is a large polar bear mascot partying with the customers or waving at you to come in.
To get to the ice room, you must first walk through V-Lounge, a stylish cocktail bar decorated with bright neon colors.
V Lounge is popular for its shockingly unique cocktails.
While they do have the classics, the highlight is their wild signature cocktails.
Try their flaming Lamborghini, Pattaya Pirate, or V20 Fireworks to be truly amazed.
Next, put on a faux fur jacket and head into the ice room, which is chilled at -11° Celcius (51.8 degrees Fahrenheit).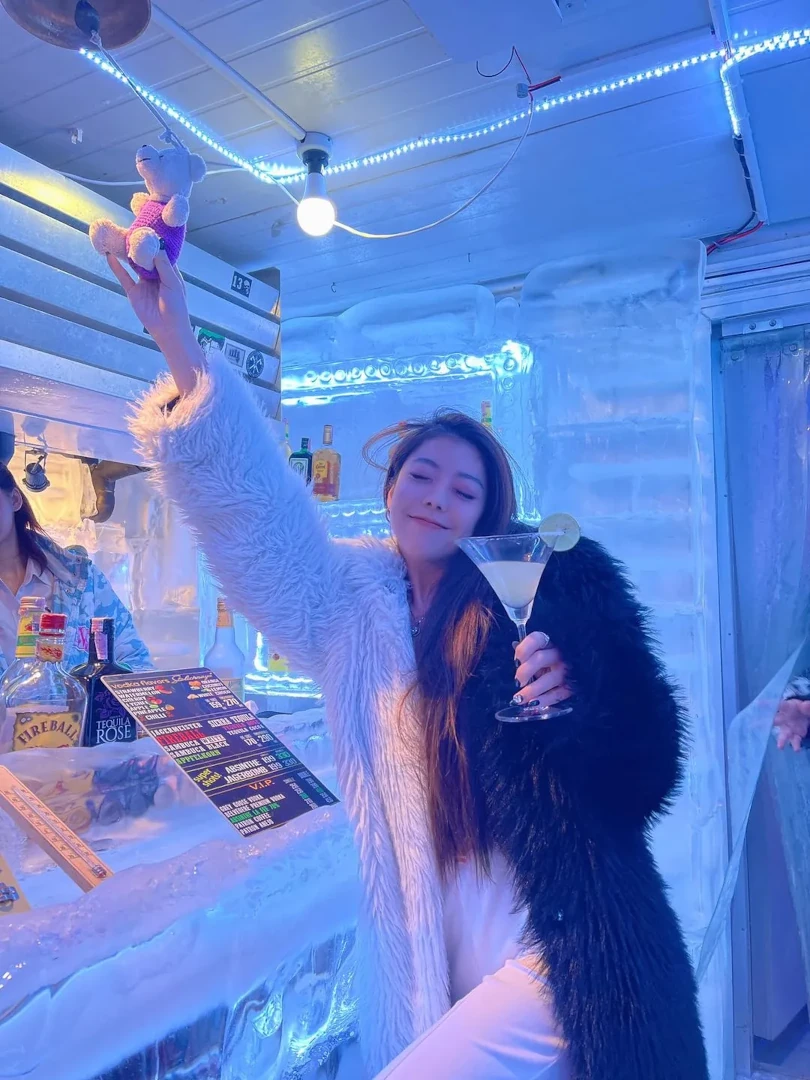 It is so cold in there that even the bar is made of ice and it never melts.
The -11 Ice Room bar is all about shots.
Pick from a handful of spirits such as vodka, tequila, and Jägermeister, or choose from a wide selection of flavored shots.
Down them and feel the burn inside while you freeze on the outside.
It is a one-of-a-kind experience that you won't find anywhere else in Pattaya.
Empire Club Pattaya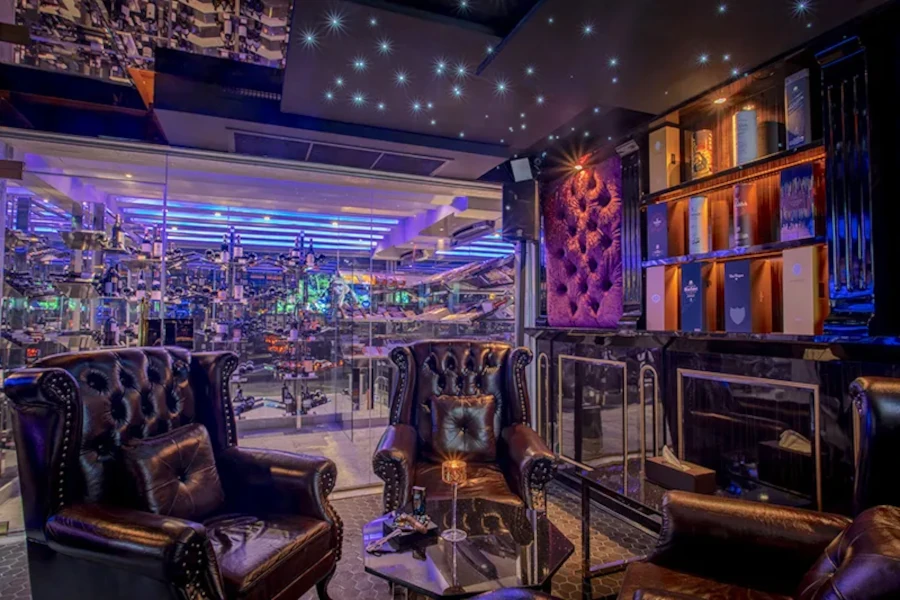 Empire Club is a luxurious private club tucked away from the chaos of downtown Pattaya.
It is a posh cigar bar and lounge where people can come socialize, chill, hang out, or even have business meetings.
It's also a great space for singles to come to relax with friends or beautiful Thai girls.
The lounge is designed with one thing in mind – elegance.
Everything from the furniture and sofas to the decorations on the wall and ceilings create an entirely lavish atmosphere.
The club has an extensive menu of premium wines, spirits, and signature cocktails to enjoy in private or with a group of friends.
There are 4 levels of membership at Empire – green, gold, platinum, and black.
Each membership gets increasingly more expensive but the benefits also get better.
Hilton Horizon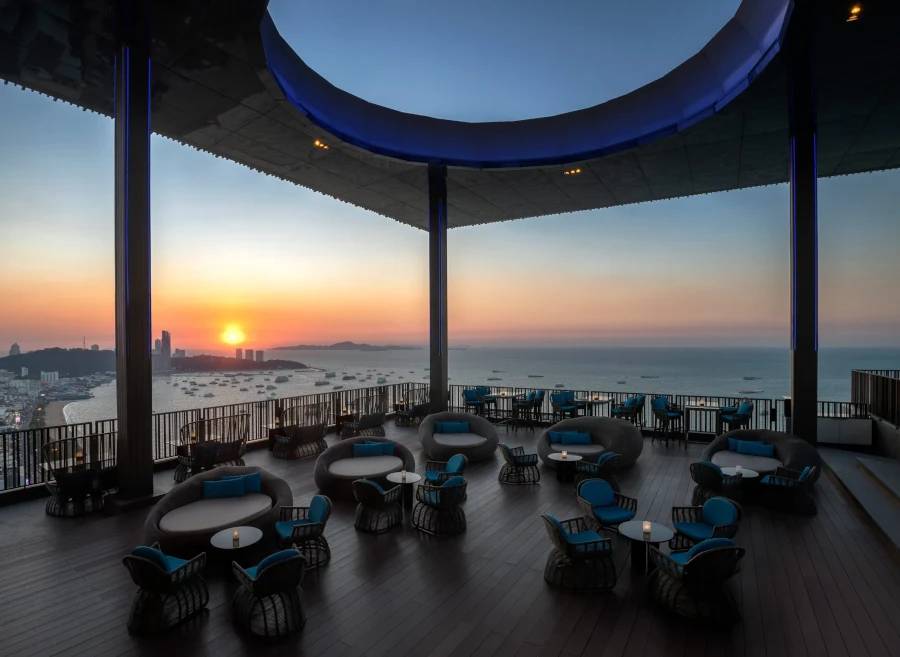 There are a few great rooftop bars in Pattaya but none of them beat the elegance and sophistication of Horizon.
Located on the 34th floor of the Hilton Pattaya Hotel, one of the best hotels in Pattaya, Horizon is an award-winning rooftop bar that features incredible panoramic views of the coastal city.
The bar has a massive, 1360+ sqm indoor and outdoor dining space, including an infinity bar, private rooms, and a lounge.
It is an ideal rooftop venue for celebrating big occasions like birthdays, bachelor parties, and corporate parties.
Or you can simply come up for a relaxing dinner with sundowner cocktails after a heavy night in Pattaya.
Also, being one of the highest spots in Pattaya, Hilton Horizon is easily the best place to watch the fireworks during New Year's Eve or the annual Pattaya Fireworks Festival.
Hard Rock Cafe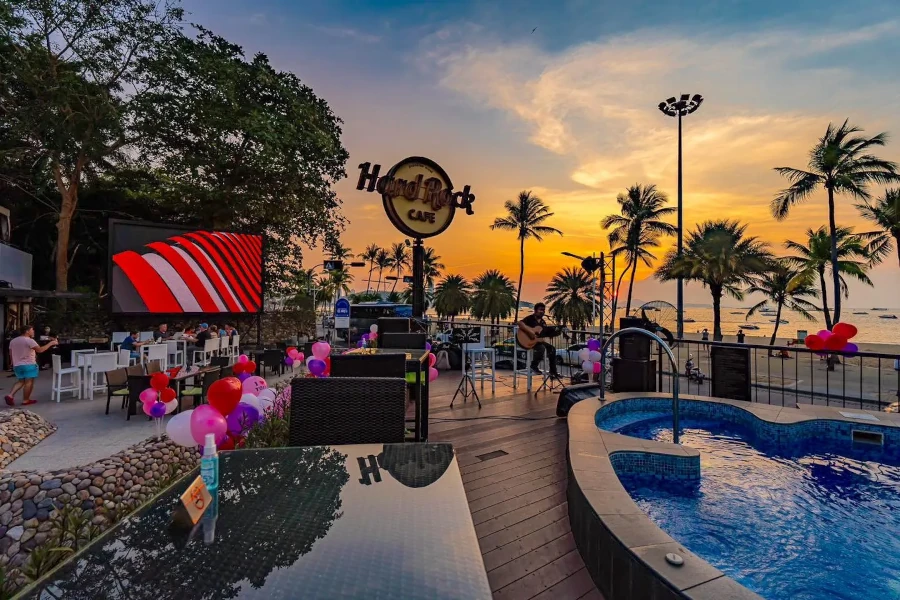 Located beachside within the world-renowned Hard Rock Hotel Pattaya, the Hard Rock Café has been an iconic hangout spot for locals, expats, and tourists for over two decades.
Hard Rock Café in Pattaya has all that you can expect from the franchise – a fantastic menu consisting of classic Western food and Asian-inspired dishes, powerful signature cocktails, and exciting live band performances.
Enjoy their food, drinks, and entertainment anywhere in the comfortably spacious indoor or outdoor areas.
While sitting indoors gives you privacy and an air-conditioned space to chill, the outdoor terrace allows you to soak in the tropical beachy vibes of Pattaya.
Hard Rock is also known for organizing awesome parties, especially on holidays such as Songkran, Halloween, Christmas, and New Year.
These events get insanely busy and wild.
Havana Bar & Terrazzo Restaurant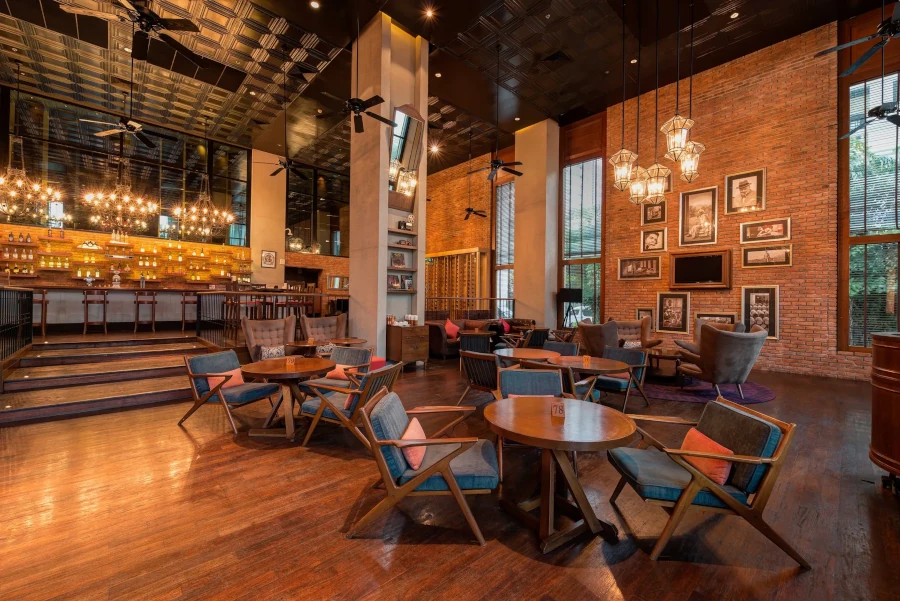 Havana Bar & Terrazzo Restaurant are two unique F&B venues located within the Holiday Inn Hotel in Pattaya.
Each has a unique vibe and ambiance.
Havana is a Cuban-style bar and restaurant where you can experience the very best in Latin, jazz, and pop music played by live bands or DJs.
They also have a wide variety of delicious Italian, American, and Thai cuisines.
There is a lot to choose from, so you will want to keep coming back to try it all.
As a bar, Havana also has an extensive drinks menu with a heavy focus on rum and signature cocktails such as Mojitos.
Terrazzo on the other hand is a truly authentic Italian Restaurant, situated on the ground floor terrace of the hotel.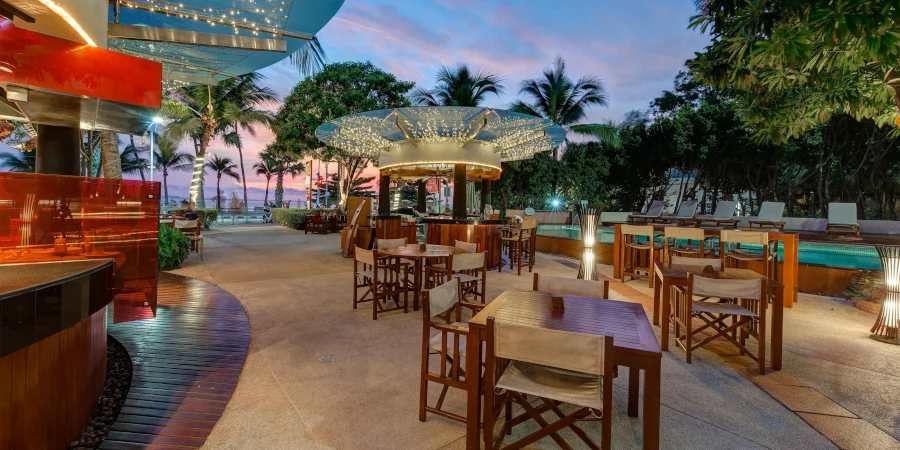 To get the best experience of the restaurant, come during happy hours between 5 – 7 PM so that you can enjoy great cocktails with a beautiful beach view.
If you are unsure what kind of experience you are looking for, it's a good thing that the two venues are just a few meters away from each other.
If one doesn't match your mood, there is always the next one to try out.
Pattaya Beer Garden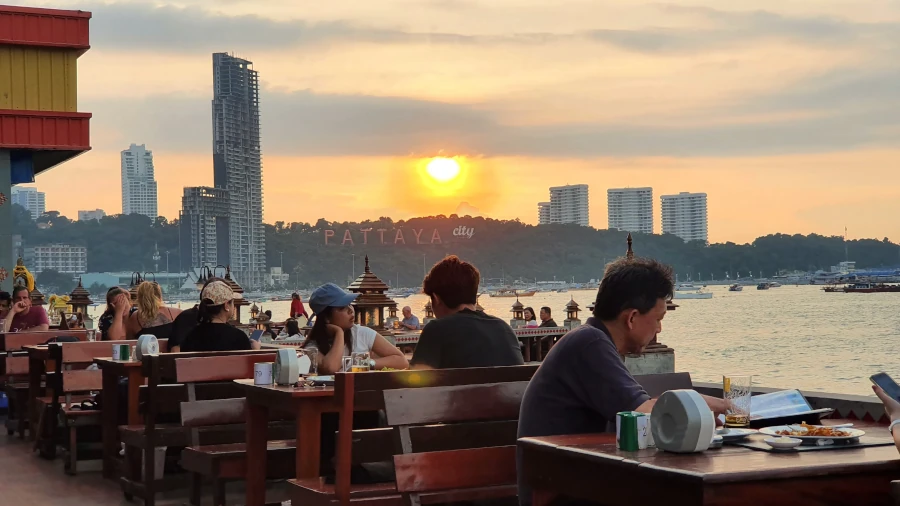 Who doesn't love a beer garden?
Luckily there is one located right at the entrance of Walking Street yet still isolated enough to be an oasis among the chaos.
Pattaya Beer Garden does things that no other bar in Walking Street does.
That means (almost) no bar girls, special lady drinks, or bar fines.
Here it is all about good times, cheap beers, awesome drink promotions, sports on HD TVs, and timeless rock music.
It's a refreshing spot and a great place to hang out or chill.
Sit inside the bar or out on the balcony where you get amazing views of the bay.
The bar also has a good selection of Thai and Western food, in case you are feeling hungry.
FAQ
Which street in Pattaya has the most bars?
The street with the most bars in Pattaya is Walking Street. There are more than 80 bars and gogo bars in the 800-meter-long street.
What are the best bars in Pattaya for singles?
The best bars in Pattaya for singles are V Lounge and -11 Ice Bar. The concept of the bar and its wild shots make it super easy to start a conversation with people around, including the cute girls from Pattaya.
What is the best bar in Pattaya to pick up girls?
The best bar in Pattaya to pick up girls is V Lounge and -11 Ice Bar. There are also dozens of girly bars and nightclubs where you can meet sexy girls in Pattaya.
Keep Exploring Pattaya
To learn more about Pattaya and the services we offer in the city, click here.
For more information about the nightlife of the city, read this guide.
And if you need help planning a wild trip or a private party in Pattaya or anywhere else in Thailand, talk to us.