When you think of Pattaya, there's one place that immediately comes to mind, Walking Street.
Located at the end of Beach Road, connecting it to Bali Hai Pier, it's a 1km long street that closes to traffic after 6pm and turns into the wildest attraction in town.
Walking Street is filled with hundreds of venues. Most of the businesses on both sides of the street are either bars, restaurants, nightclubs, or of course, gogo bars. And there are a lot of them.
No matter what you like, you'll find it at Walking Street. It might be reputed for its naughty nightlife, but it's way more than that.
Now with so much choice, it's also easy to get lost. That's why we made a guide for you with a list of the places we recommend on Walking Street.
Let's get started.
---
The Best Bars in Walking Street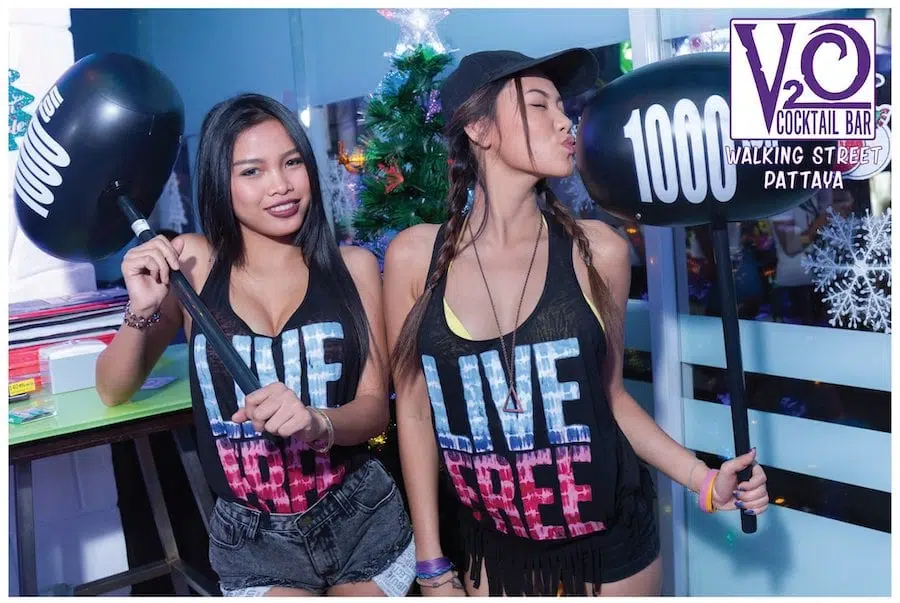 Let's start the night with an ice-cold drink. Not all bars in Walking Street are filled with gogo girls (even though most of them are).
You can also find chill bars where you can sip a drink and watch what's happening in the street.
Pattaya Beer Garden. Right at the end of Beach Road, before you pass the Walking Street sign, is Pattaya Beer Garden. It's one of the best places to enjoy a cold beer, watch the sunset and get in the mood before an adventure in Walking Street.
Ice Bar V2O. The drinks at V20 are literally ice cold. The ice bar has a temperature of -11°C and an incredible menu of frozen cocktails and shots. If you see a polar bear waving at you, you're on the right path.
---
The Best Restaurants In Walking Street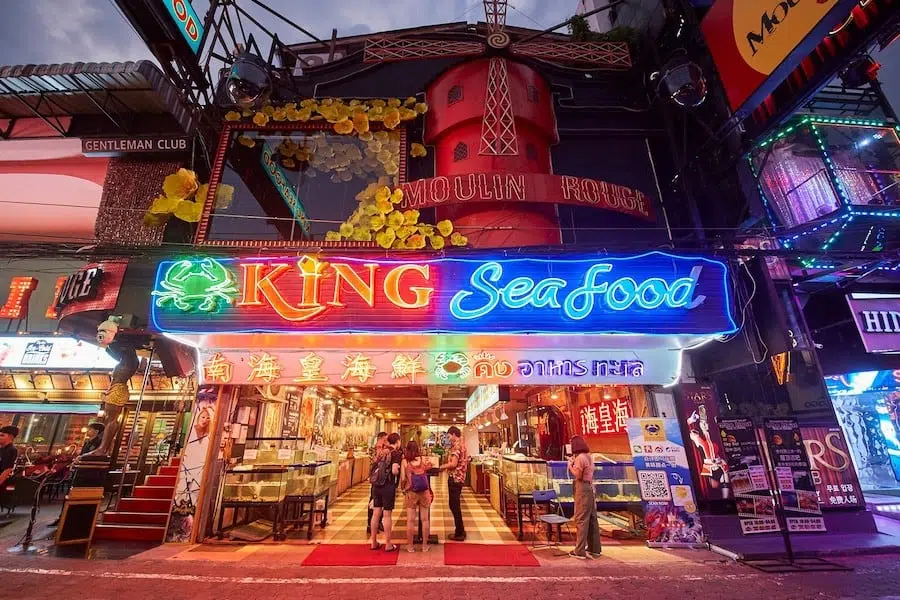 Believe it or not, Walking Street is also a really good place to eat.
You'll find all kinds of options there, from street food to fast food, but the most popular restaurants are the seafood ones.
The biggest restaurants in Walking Street have a big terrace at the back with a nice view of Pattaya Bay and the city's sign that lights up at night.
King Seafood. Located in the middle of Walking Street, King Seafood is a seafood lover's paradise. Here you can buy all kinds of seafood, fresh and straight from the boat, by the kilo. Note that King Seafood has a large terrace at the back, perfect for large groups.
Nang Nual Restaurant. Nang Nual is another famous seafood restaurant on the street. It's unique because it has a terrace on each side of the street. On one side, you can dine on the waterfront overlooking the pier, while on the other side, you can dine on the famous Walking Street and keep an eye on what's going on in the street.
La Notte Pub & Restaurant. You can also find fine dining options at Walking Street. La Notte serves delicious French and European cuisine. The back of the restaurant offers romantic tables with sea views and completely screens out the noise from Walking Street.
Karma Indian Restaurant. The best Indian restaurant in Walking Street, some would even say in Pattaya. The chicken Punjabi and roti there are a must-try.
---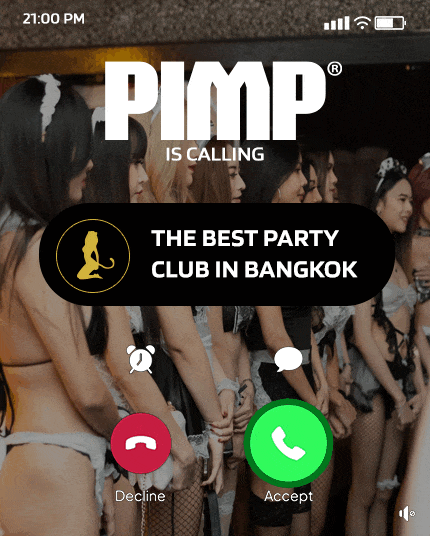 The Best Live Music Bars in Walking Street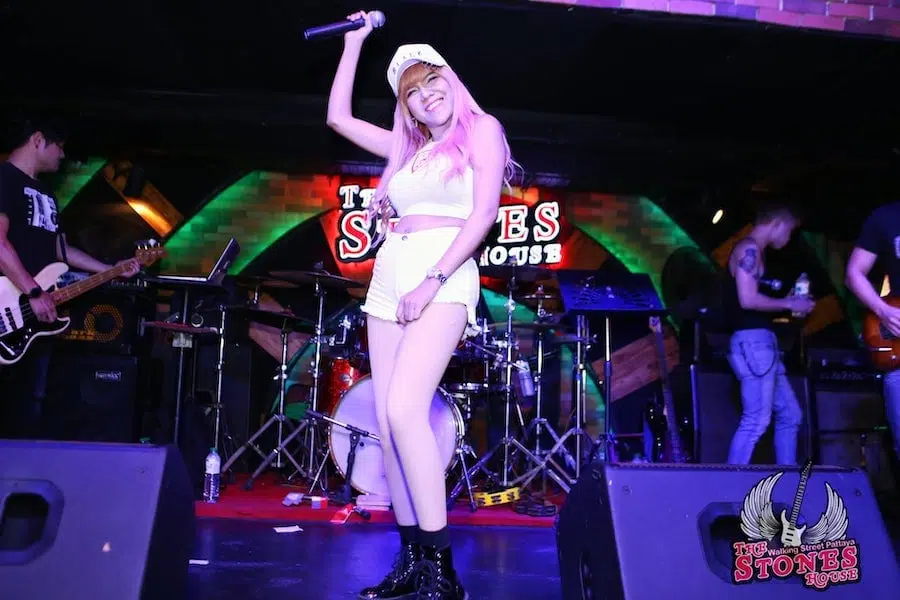 Walking Street is also a great place for all fans of live music. All along the street there are bars with live music and bands playing all night from 9pm until the early hours of the morning.
Candy Shop. This is a club open on the street where live bands play funk, soul and hip hop. The bar also has a dance floor if you want to show off your best moves to impress the girls.
Hot Tuna Bar. Despite its name, this bar isn't known for its hot tuna (which is delicious by the way). It's the live music that makes it so popular with both tourists and locals from Pattaya. Their excellent live bands play both rock and roll and blues.
The Stones House. It's one of the first bars when you enter Walking Street and also one of the loudest. Incredible rock bands play in the pub every night. The Stones House is perfect for fans of Guns N Roses, The Red Hot Chili Peppers, Nirvana, and other classic rock bands.
---
The Best Gogo Bars in Walking Street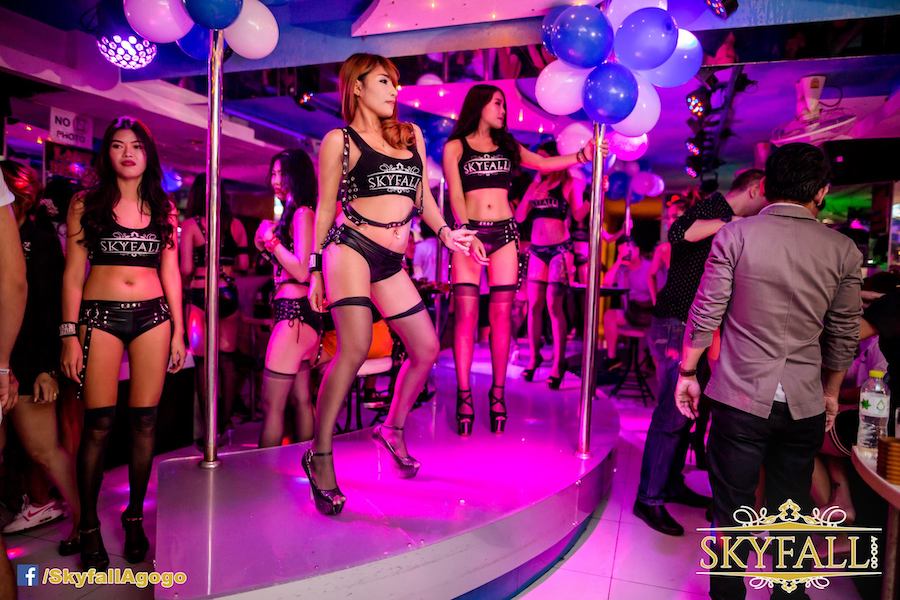 If you add up the gogo bars in Walking Street and those on the streets around it, there are nearly 100 gogo bars in the area.
Most of them are free to enter, so don't be shy. Push the door to see if you like the girls, and if not, walk a few meters away and try again in the next one.
But you can't go wrong with these gogos:
Sapphire. Turn left into Pattaya 15 alley after Ice Bar V2O and you'll find Sapphire, one of the biggest gogos in Pattaya. It clearly stands out from the competition. All the girls at Sapphire are young, fit, hot and wild. If you're looking for girls who will get you excited you as soon as you walk through the door and who can also bring the party to your table, Sapphire is for you.
The Dollhouse Pattaya. A few meters away from Sapphire is the famous Dollhouse Pattaya, the sister bar of the Dollhouse Bangkok in Soi Cowboy. The gogo has hundreds of beautiful Thai girls who are all super beautiful, fun and friendly. The only downside is that it's so popular that it's sometimes hard to find a seat. If it's too crowded, your best bet is to go upstairs to the XXX lounge, run by the same team. The girls there are just as hot.
Skyfall Agogo. You won't find another gogo bar in Pattaya where the girls are as hot and fun as Skyfall. The bar is very long and has 2 stages that can host up to 100 girls on busy nights. And the atmosphere inside is insane.
Iron Club. The best gogo to see impressive pole dance shows and sexy aerial acrobatics. Iron Club is in the center of Walking Street and not only has sexy gogo girls, but also the best erotic shows in Pattaya.
---
The Best Nightclubs in Walking Street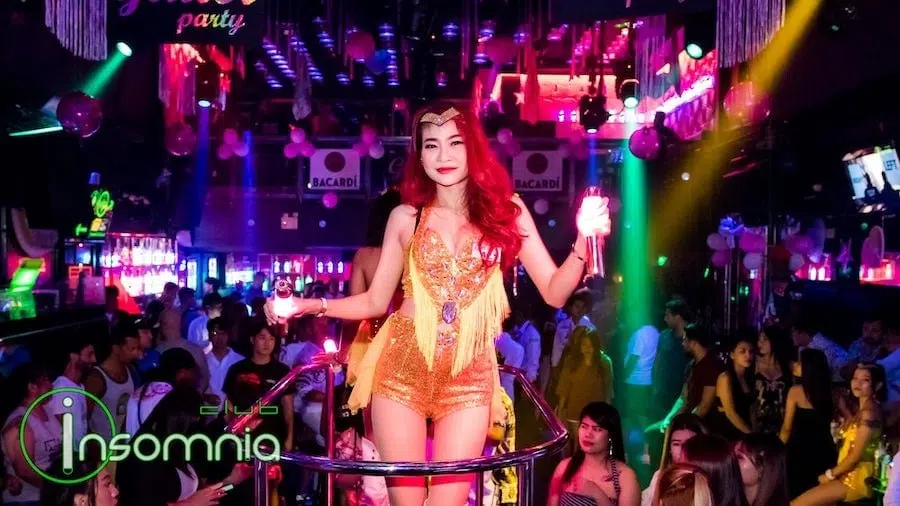 Since most gogo bars close around 2am, you need a place where you can keep the party going after they close. And for that, there are incredible nightclubs on Walking Street that stay open after hours.
Most of them stay open until early in the morning. So don't be surprised if the sun is up by the time you come out.
Insomnia. The club in Pattaya with the most girls, by far! Together with its sister bar iBar, Insomnia is where Pattaya's hottest girls end the night. And there are hundreds of them. It's almost overwhelming. Upstairs the DJs play EDM music, while downstairs is more commercial and Thai music. Both are great.
Lucifer 2.0. The new Lucifer Club on Walking Street always brings the best artists to Pattaya. It's the club with the best service and DJs in Pattaya, as well as the perfect place for a true VIP clubbing experience in Pattaya with hot girls.
808 Club. The only place in Pattaya to see girls twerking is 808 Club. It's the best hip-hop club in Pattaya, very popular with bar girls, but also foreign girls. Rap, trap and hip hop only all night.
---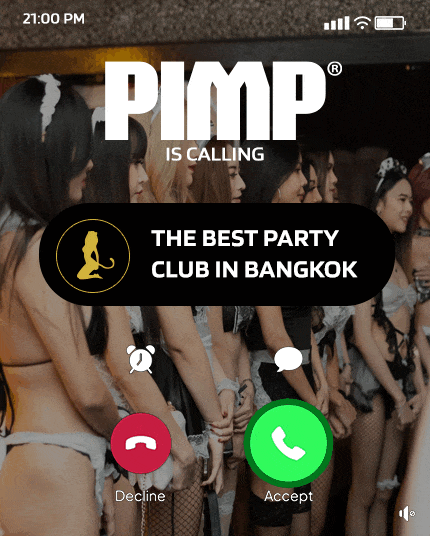 Where to Stay Near Walking Street?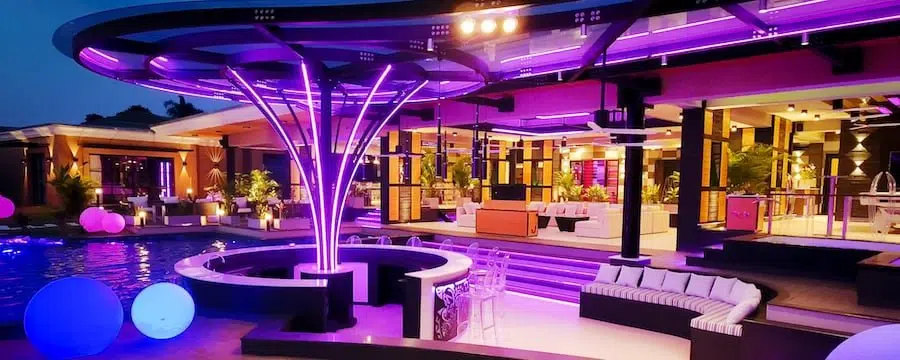 There are plenty of great hotels within walking distance of Walking Street, but the best thing to do when you come to Pattaya is to rent a private villa.
Check out the options we've listed here.
All the villas we recommend are guest-friendly, party-friendly, and no more than 20 minutes from Walking Street. We even have a few pool villas right next to Walking Street if you want to stay close to the action.
Send us a message now and we'll check which villas are available for your trip.
---
Be Careful On Walking Street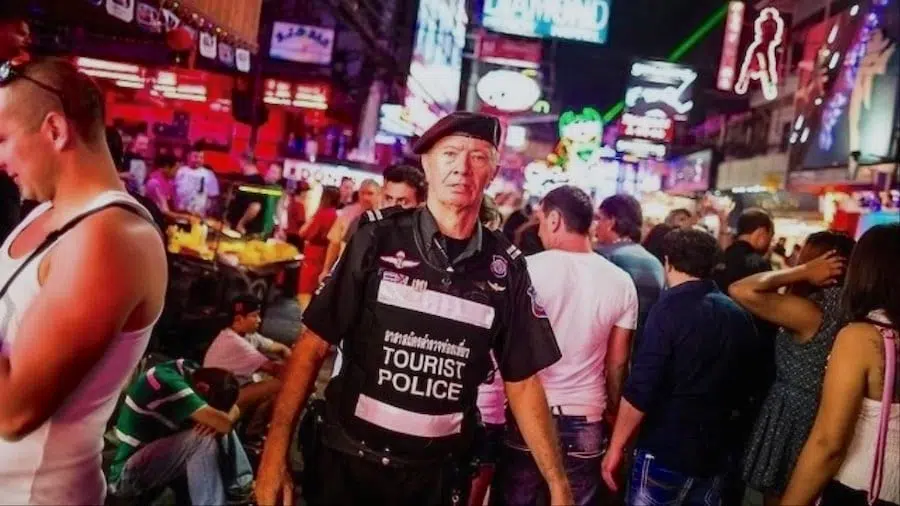 Walking Street is the best place to party at night in Pattaya, but it also has a bad reputation, and scams are more common there than in other parts of Thailand.
Don't worry too much about it but also stay careful. Use your common sense, keep an eye on your tab, watch out for pickpockets and you'll be fine.
If you have a problem, you'll find tourist police (like the one in the photo) stationed at both ends of the road. Often there will be a couple of foreign police officers with them to help you translate if necessary.
But if you want to take extra precautions, you can always hire bodyguards to accompany you in Walking Street.
Many of our VIP guests choose this option so they can go out in Pattaya, get wild, and not have to think about their security.
We can also arrange for a sexy tour guide to show you around. We have girls who know all the best places in Walking Street and Pattaya and will help you stay clear from any scam.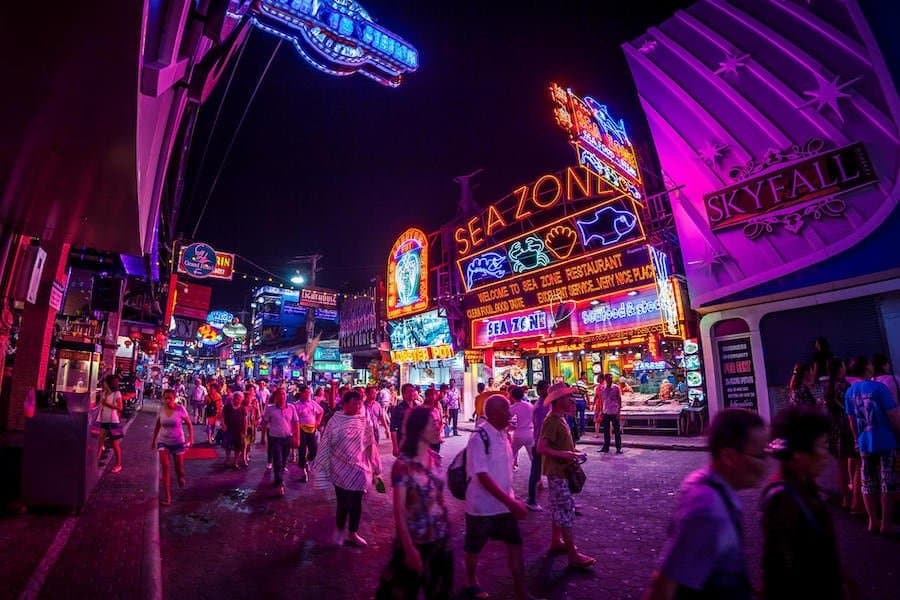 ---
FAQ
What's happening in Walking Street Pattaya?
The world-famous Walking Street in Pattaya is the biggest party street in the city and the place where most of the nightlife happens. Here you can eat, drink and party late into the night.
Is Pattaya Walking Street safe?
Like the rest of Thailand, Pattaya is very safe, and so is Walking Street. Unfortunately, there are pickpockets and scams in the street, but if you're careful you'll have no problem avoiding them. If you need help, there's police at both ends of the street and squads constantly patrolling the street.
Find out more about Pattaya and the services we offer there on this page.