Gaia Bangkok is more than just a hip-hop club; it's a cosmic journey to Bangkok's nightlife scene.
Located in Sukhumvit Soi 24, Gaia offers a party experience out of this world with its space-themed nightclub interior design that's light years away from the other clubs in Bangkok.
Put on your spacesuit and let's explore what makes it special.
What You Need to Know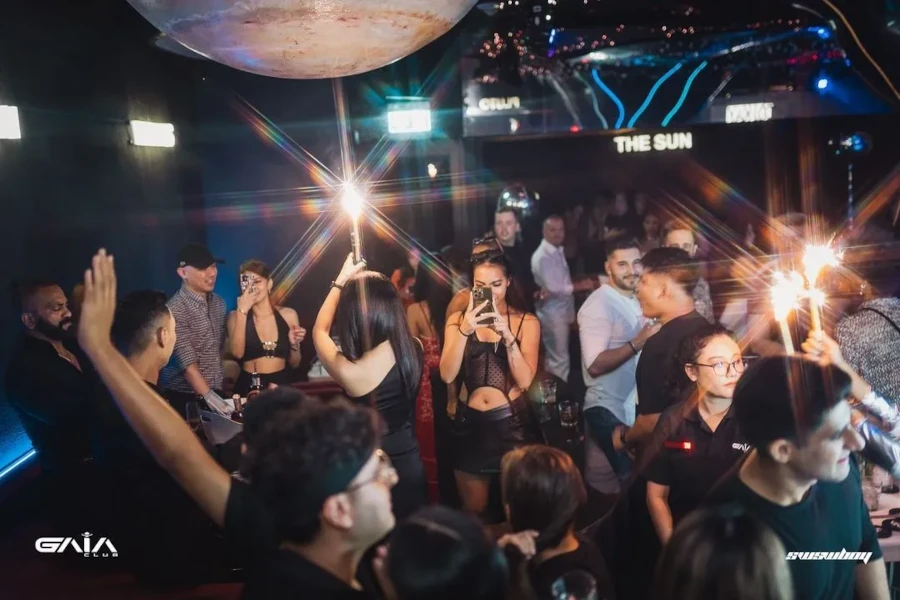 Gaia Club looks like you're in space.
It has stars, planets, and everything else you'd find there.
As you get into the club you arrive right in front of the big round stage that takes all the center of the room.
That's where the dancers perform earlier in the night until the sexy girls in the club decide to take over.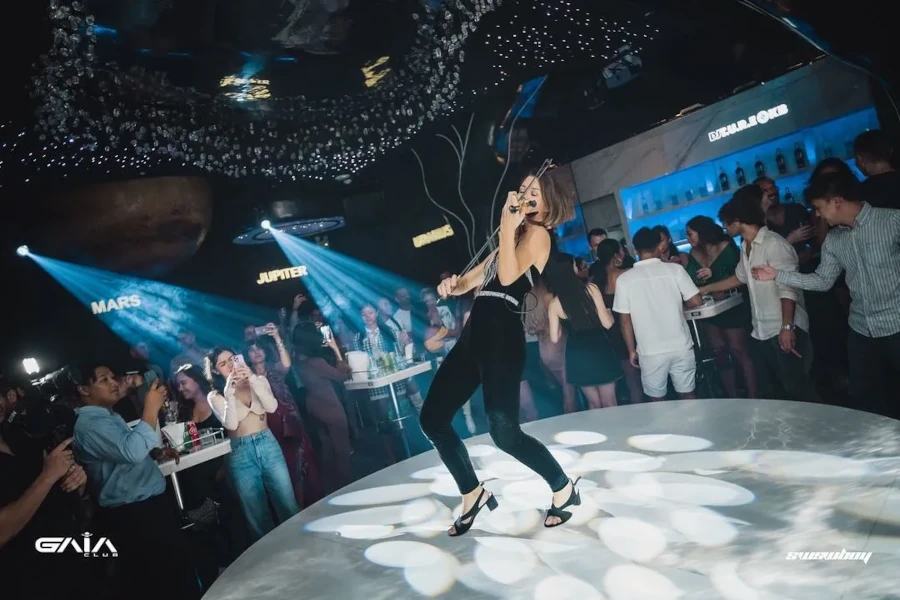 The club is not too big, so we recommend getting a table right away to have some space for your groups.
There are about a dozen standing tables around the stage.
And if you want more room, you can book a VIP section.
Or if you want a little bit of privacy, there's a VVIP section to the left of the DJ that in part hidden from the rest of the crowd.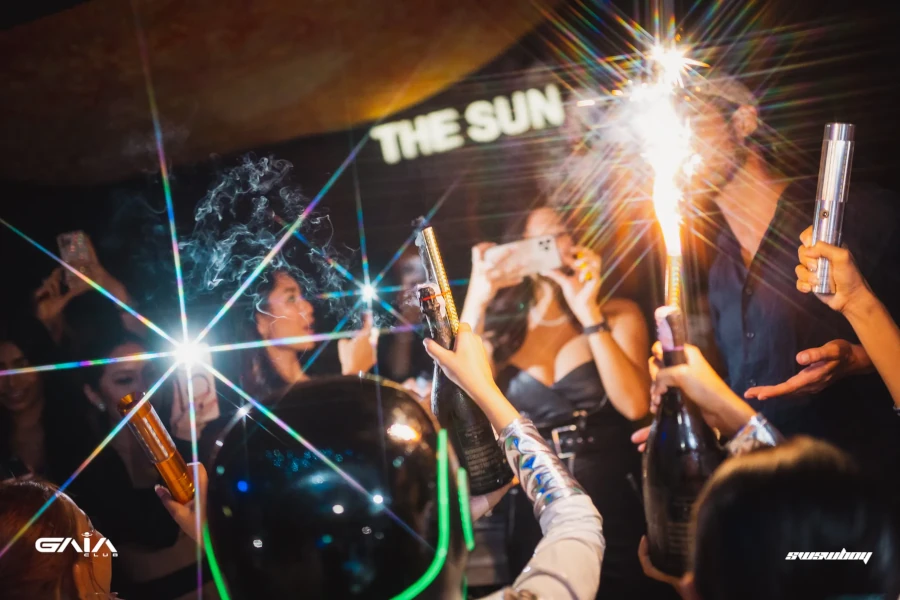 At Gaia, you feel like you're in a high-tech spaceship.
The club uses the latest technology for lights and sound, like lasers and LED lights.
And the club knows how to make the night fun.
Gaia DJs mostly play hip-hop music, with some EDM too.
Every night there's a special theme with resident DJs, MCs, and dancers.
They always make sure you have a great time and the service is on point.
If you order bottle service, especially in the VIP section, the staff makes it fun.
They dress like astronauts and carry your bottles with sparklers.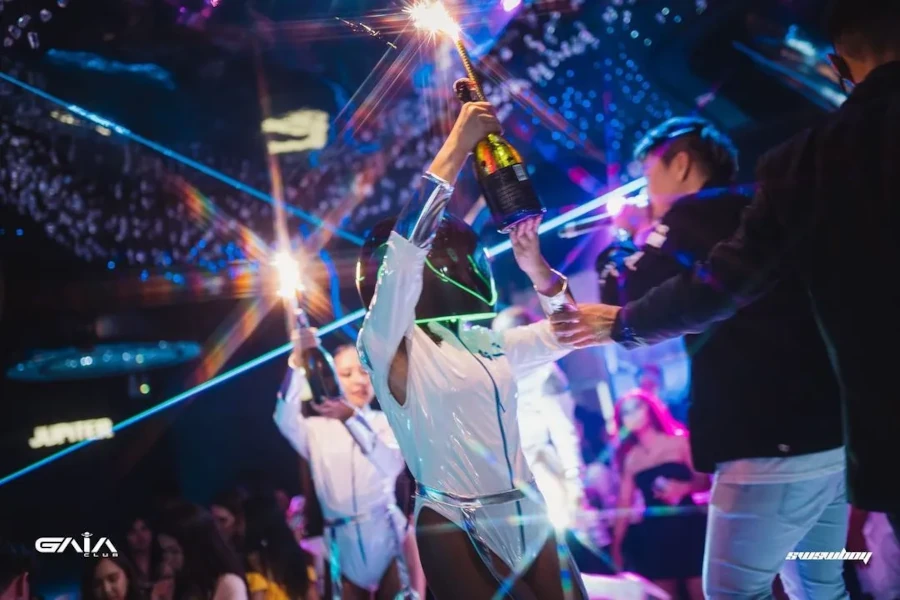 It's a fun show and you can get sure you'll get everyone's attention!
Prices and Bookings
The entrance is free on most nights a Gaia Bangkok but there is an entrance fee for special events and DJs.
Keep an eye on their social media to know when that's the case.
The price of bottles starts at 2,900 THB.
Getting a standing table will cost you at least 5,000 THB of minimum spending.
And you will need a VIP table package to get the VIP tables.
VIP Packages start from 9,900 THB.
Are you ready to embark on a cosmic adventure at Gaia Bangkok?
Contact us to book a VIP table there.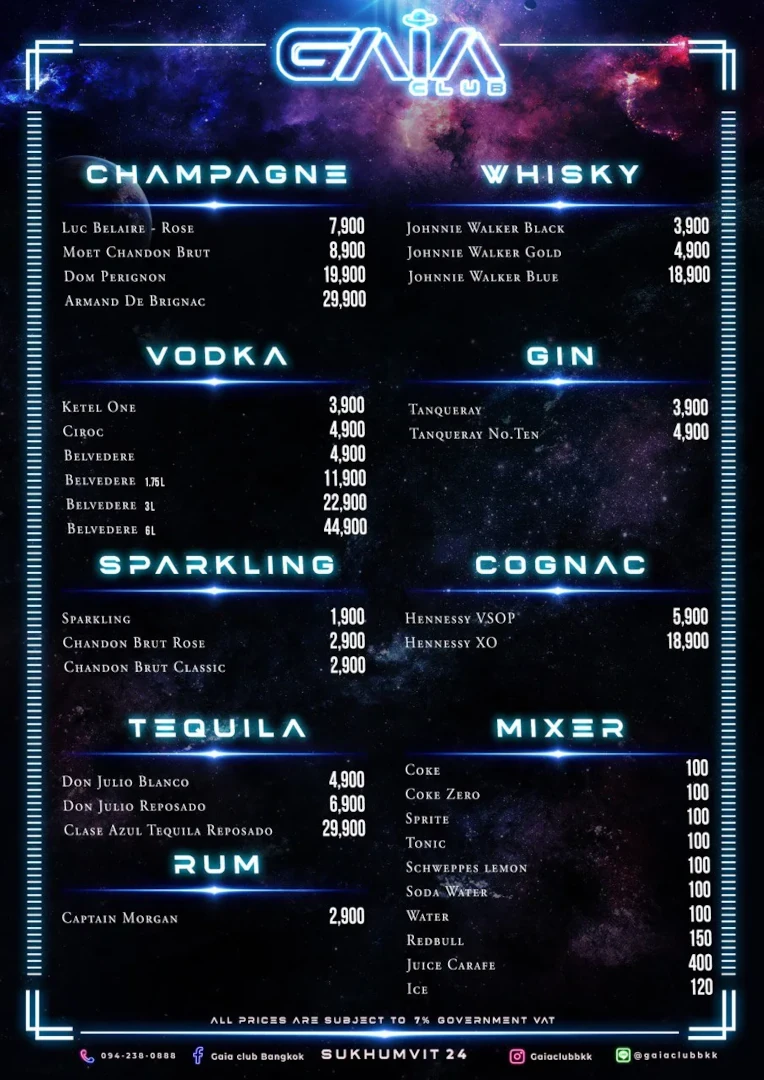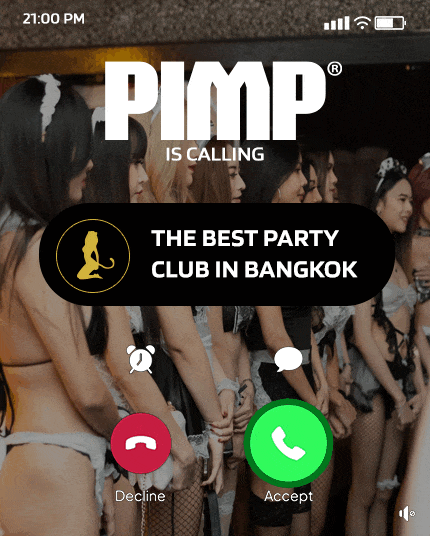 About Gaia Club Bangkok
Cover charge: Free except for special events
Bottle price: Start from 2,900 THB
Music: Hip-hop and EDM
Crowd: Thais and expats
Opening hours: Wednesday to Sunday from 9 PM until late
FAQ
What is Gaia Club Bangkok dress code?
The dress code at Gaia Club Bangkok is smart casual. No open shoes for men, flip flops, sleeveless shirts, or shorts, as with most clubs in Bangkok.
How much is the entrance fee at Gaia Club Bangkok?
The entrance is normally free at Gaia Club Bangkok except for special events.
How much is a VIP table at Gaia Club Bangkok?
A VIP table at Gaia Bangkok is minimum 5,000 THB.
How to get to Gaia Bangkok?
You can take the BTS to Phrom Phong station and then take a 5-minute taxi ride into Sukhumvit soi 24.
You can also take a taxi directly to Gaia Bangkok.
Or contact us to arrange a VIP van for your night out in Bangkok.
Other Nightclubs in Bangkok You're Gonna Like
See our list of all the clubs in Bangkok for more options or contact us for bookings and VIP tables.