The nightclub scene in Pattaya is truly one of a kind.
Whether you want to meet single girls, party until late, or explore different clubs during the same night, that's all possible in Pattaya.
One of the cool things about Pattaya is that most of the clubs are within walking distance of each other.
Of the 10 clubs we listed below, 9 of them are in Walking Street, or near it.
So you can easily start the night in one club, and move on to the next one if it has to close, or if you don't find girls you like.
But if there's one thing you're going to find in all the clubs in Pattaya, it's hot girls.
All the clubs are packed with gorgeous Thai girls, including a lot of freelancers and bar girls.
And you can party with them until late as a few clubs in Pattaya close at 6 AM, unlike in Bangkok where all the clubs close at 2 or 3 AM.
But with so many options, how to find the right one for you?
Fortunately, our teams have tried them all and we have narrowed it down to the 10 best clubs in Pattaya.
Get ready for an epic wild night out in the city.
Prepare Your Trip To Pattaya With Party Bangkok
Planning a trip to Pattaya with the boys?
Contact us for VIP bookings, pool villas, and yacht parties, and leave all the details to us.
We can also arrange party models to go with you to any of these clubs.
All you have to do is show up and have the time of your life.
We handle everything else for you.
Insomnia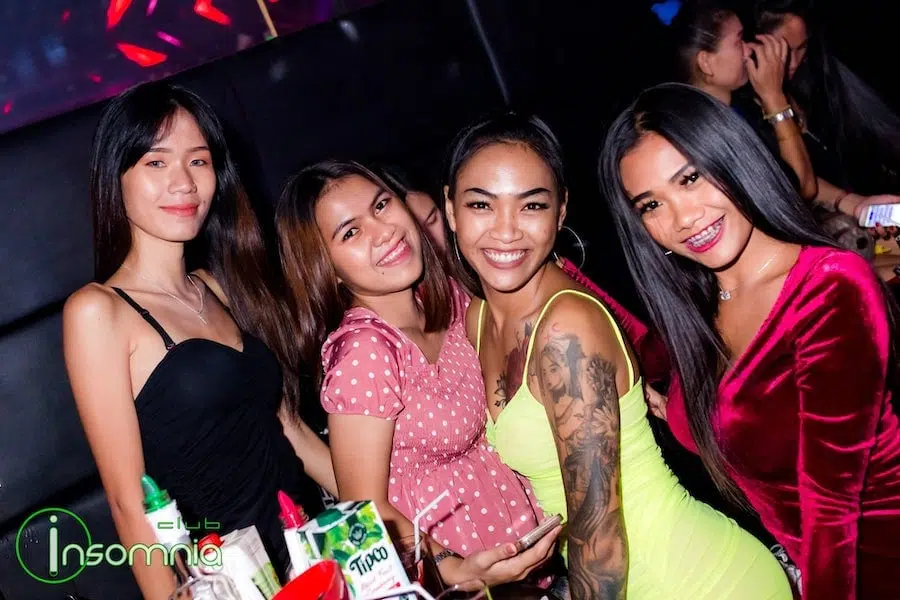 There are nightclubs and then there is the king of nightclubs.
Insomnia is the latter.
Insomnia is one of Pattaya's oldest and most established entertainment destinations located in the heart of Walking Street.
It is known for upbeat music, exciting performances by sexy dancers, and a highly energetic atmosphere.
But what makes Insomnia the best club in Pattaya is that all the hottest Thai girls in Pattaya go there.
Some are freelancers or escorts, and you also have a lot of girls from the nearby gogo bars that go there after their bar closes.
But there are also normal girls from Pattaya and Bangkok who love to party.
Because Insomnia is often the last club to close in Walking Street.
Usually, it closes around 6 AM, sometimes later.
If you like Insomnia, make sure to get their iRewards card.
It gets you discounts on drinks and access to the VIP area.
808 Club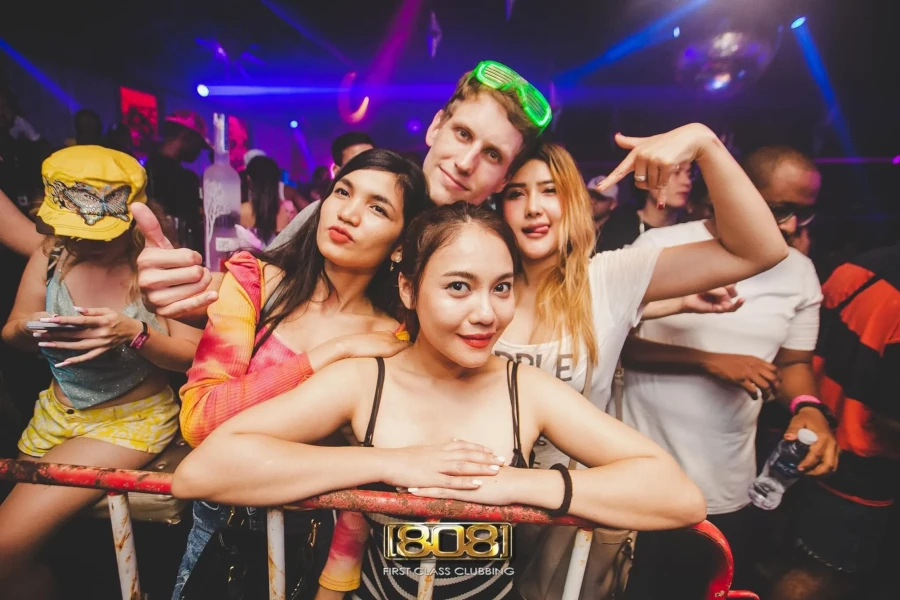 808 is a super club that is known for hosting some of the most exciting DJs, MCs, and famous international artists.
The music is mainly hip-hop here but they also do techno and dance events as well every now and then.
And there is always an event here featuring a special guest DJ or MC, so expect a great crowd of party people at 808 almost every single night.
It is also a great place for singles.
Whether it is by the bar, at your table, or on the dance floor next to the stage, you are sure to bump into hot single girls.
You will also find a lot of great-looking girls at 808 who love to dance and mingle with foreigners.
Lucifer 2.0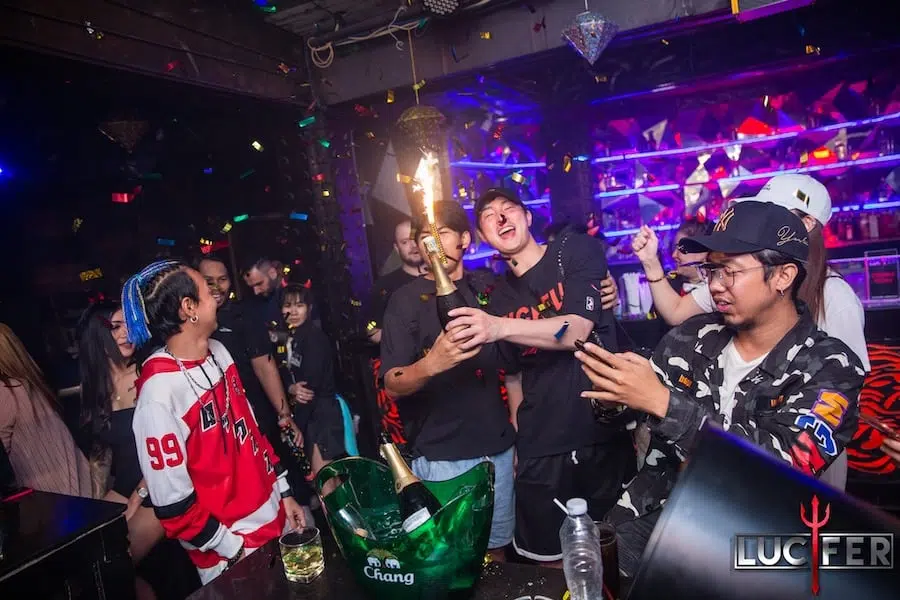 Lucifer is an iconic nightclub in Pattaya.
It has gained a legendary reputation after being around for many years.
It is a highly energetic club that attracts locals and tourists from all over Thailand, and from all over the world.
The club regularly has an amazing entertainment program featuring guest DJs, stage performances, sexy dancers, and talented artists.
It is also equipped with an incredible sound and lighting system so the show there is amazing.
There are strobe lights, colorful spotlights, and a huge disco ball hanging from the ceiling.
Lucifer appeals to a broad audience who enjoy different kinds of music genres such as hip-hop, pop, top hits, EDM, and even a bit of rock.
Design-wise, Lucifer is pretty unique as well.
It is a spacious cave-like room with a dance floor, central bar, standing tables, and VIP zones.
That's one of the best clubs in Pattaya if you want a VIP table with incredible service and good deals.
Republic Club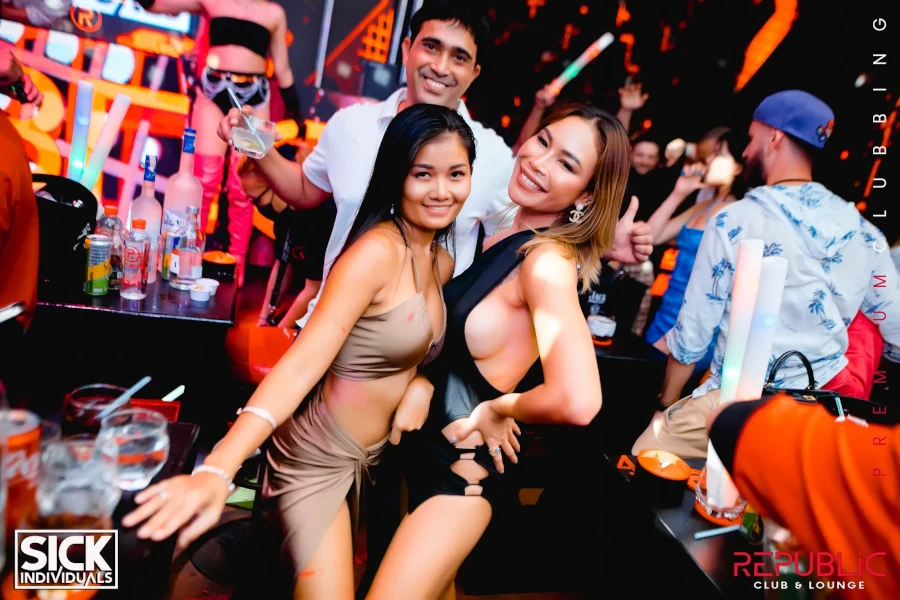 Republic has become one of the most popular nightlife venues on Walking Street.
Decorated in a red and black color theme, Republic has quite a luxurious vibe.
The club has some of the hottest girls from Pattaya and Bangkok who enjoy drinking, dancing, and meeting foreigners.
While Republic is mostly known for hip-hop and EDM, they also host techno and house DJs and events every now and then.
Along with the music and awesome visuals, Republic also features sexy and talented dancers who really know how to put on an exciting show.
It gets super busy almost every night and if there is a special event or an international artist is performing, you will probably be waiting in line for quite some time to get in.
We recommend booking a VIP table if they have a special event, this way you can skip the queue.
Myst Club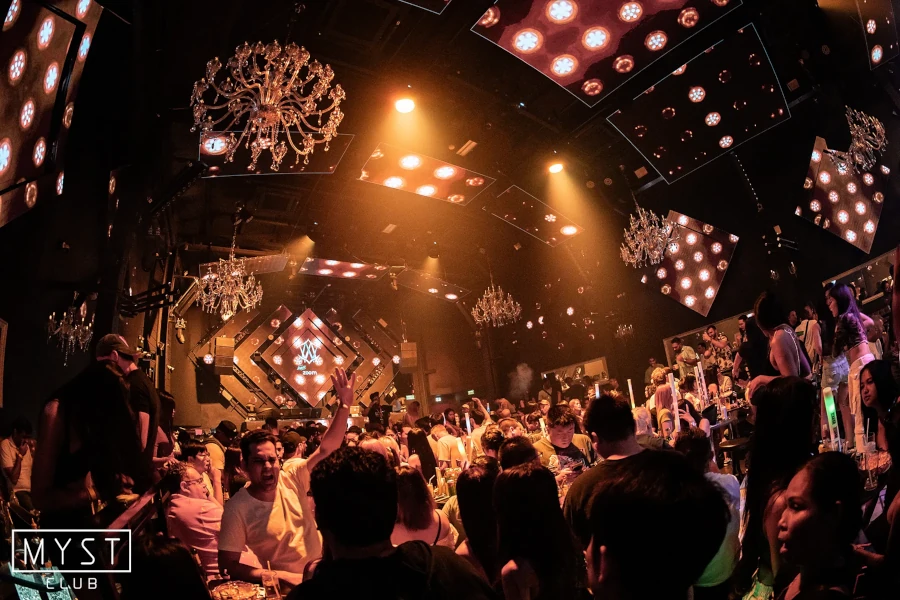 Slightly tucked away from Walking Street, Myst is a popular nightclub with an incredible and vibrant atmosphere.
Myst is known as the biggest hip-hop club in the city.
Inside is a massive dance floor, standing tables with bottle service, and impressive VIP booths.
The club is designed to give the ultimate music party festival experience through the best hip-hop tracks, sexy dance performances, live concerts, and mind-bending laser light shows.
While the main dance floor is a great place to flirt with exotic girls, the VIP section is where you can truly enjoy the company of the girls.
If you sit at one of their super luxurious VIP tables, you will certainly attract some of the gorgeous models and dancers who are partying here.
Panda Club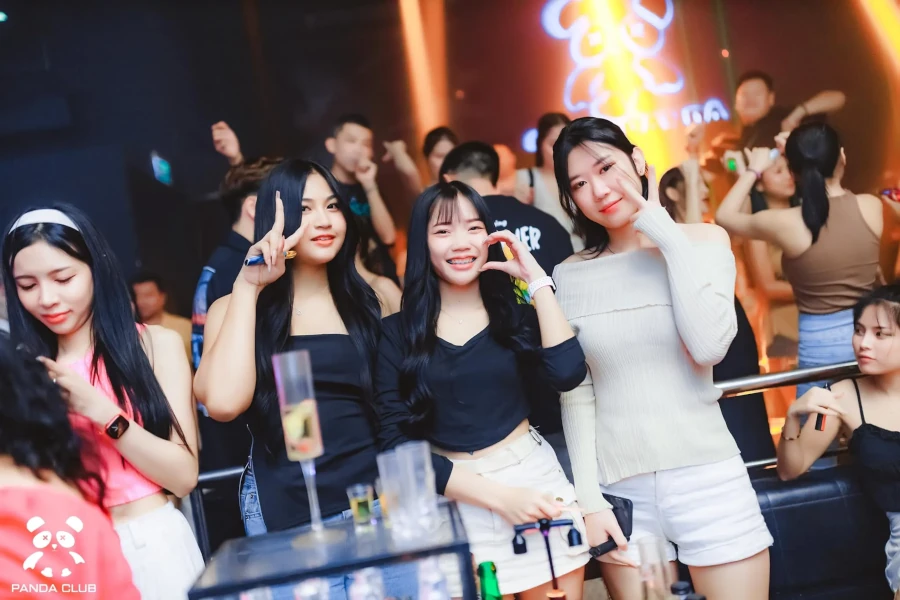 Panda Club is a popular party nightclub that caters to mostly Asian tourists and locals.
It is known for its vibrant atmosphere and enjoyable live performances by sexy dancers, MCs, talented artists, and a daily lineup of guest DJs.
Every night there are at least 4 DJs, 2 MCs, and several beautiful Asian dancers to wow the audience.
Music at Panda Club is primarily mainstream EDM.
The club offers a wide selection of beverages including beers, cocktails, spirits, and promotions on bottle packages.
Panda Club has a multi-tiered design layout with various options for seating depending on the drink packages you buy.
If you decide to go for the top-tier packages, you get the best VIP tables in the club, with more space to invite girls over.
Mixx Pattaya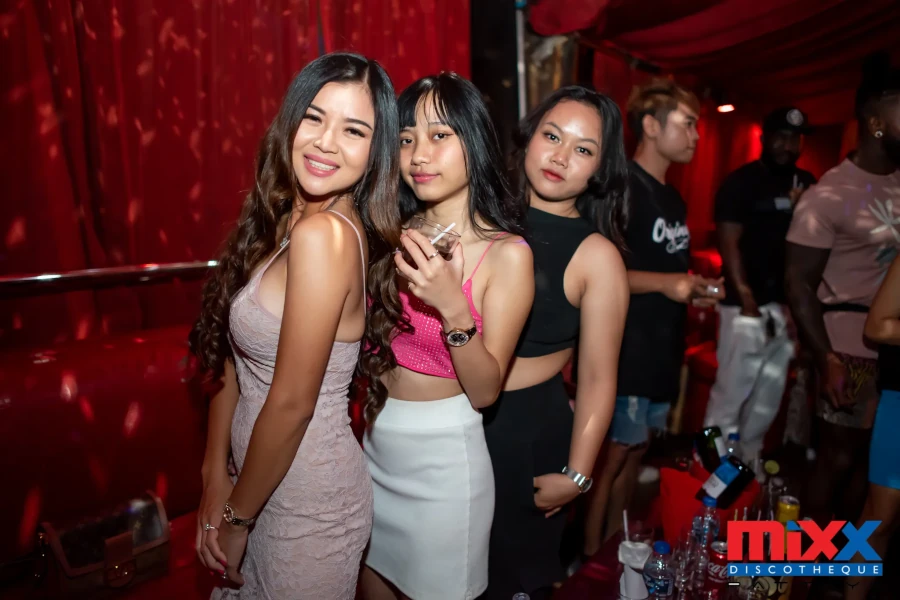 Mixx has been around Pattaya for a long time.
In fact, it was voted the best nightclub way back in 2012.
But in January 2023, they went through a major renovation.
Now they are back, bigger and better than ever.
Mixx is a fun discotheque that differentiates itself from the rest of the clubs by focusing on two things – good hip-hop music and great drink promotions.
They constantly have an amazing lineup of local and international DJs and regularly host special events or themed nights.
The girls here are quite mixed.
You will find freelancers and escorts but also be able to meet cute young ladies from Thailand and around the world.
This is surely where you go to dance and drink without breaking the bank.
RAAS CLUB PATTAYA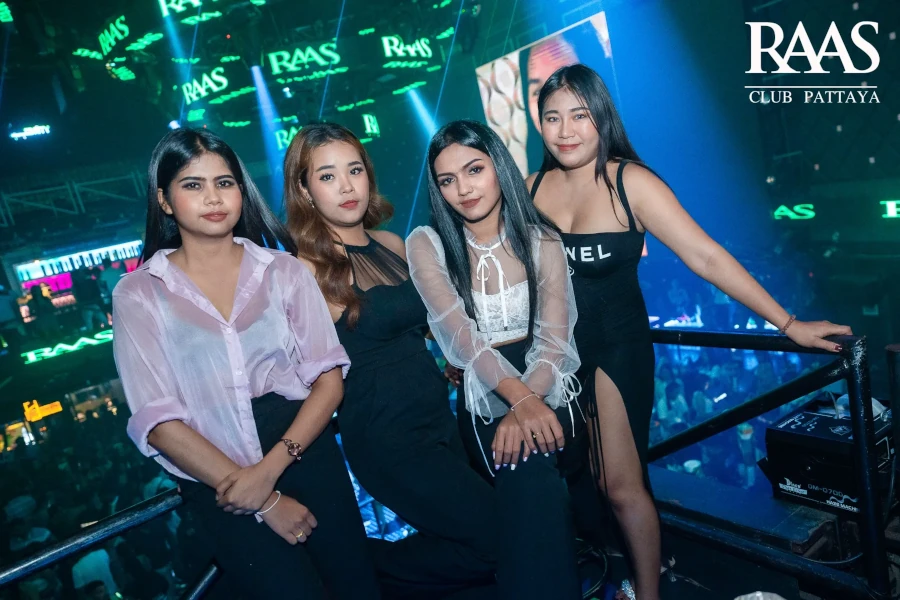 Raas is Pattaya's premier Indian nightclub on Walking Street.
This place is completely wild as it is almost always packed with Indians and beautiful Thai women, most of whom are bar girls or freelancers.
The 1st floor is where all the dancing and action happens.
It has dozens of standing tables where you can order bottles or beer towers.
There is also a raised platform where you can dance or watch sexy dancers perform Mujra on.
For a more private experience, book a VIP table with comfortable sofas on the 2nd floor.
You can still watch all the action below while having your semi-private space.
If you want to feel a little famous, pay 1,000 THB to get your photo on the big screen.
This will surely get the ladies' attention.
Jannat Club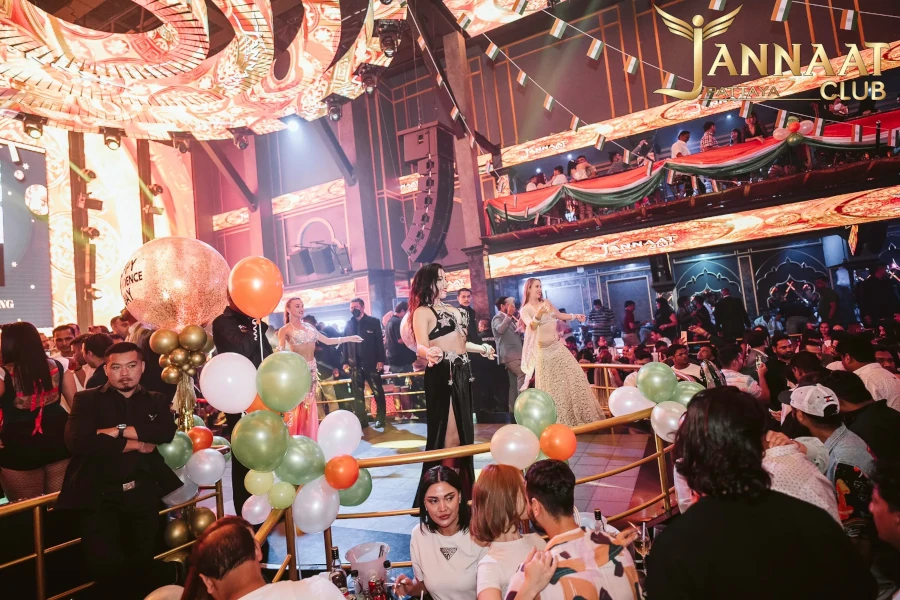 Jannaat, meaning heaven in Hindi, is exactly as the name suggests.
Stepping inside this massive Indian nightclub on Walking Street really feels like you are in the halls of heaven or paradise filled with sexy women.
If you are also looking for an epic Bollywood experience, Jannaat is the place to be.
The club looks as if it was a Mughal Empire mansion that was converted into a party destination.
It has a very sophisticated modern design with some classical elements.
This impressive nightclub has high ceilings, gigantic screens on the stage, and dozens of LED panels that give a lively vibe.
Here you have a choice to sit as a VIP on the 2nd floor or be part of the party-hard and passionate crowd on the 1st floor.
Differ Night Club Pattaya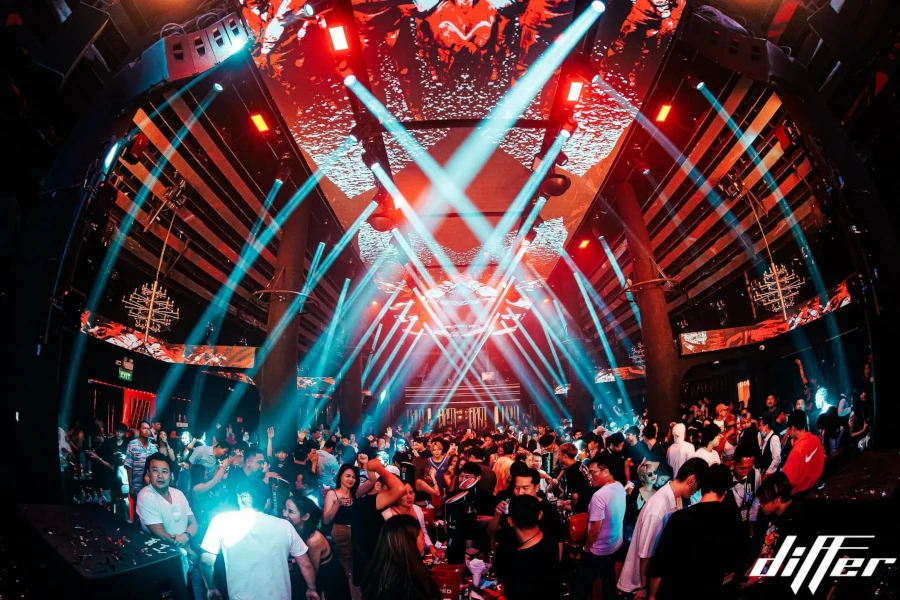 If you are looking to get off the main party strip and go where all the Hi-So locals and Bangkokians go, there is no place better than Differ.
Differ is a mid-sized nightclub located near Central Marina that has been around since 2004.
Differ brings in renowned local and international DJs every night who play hardstyle, dubstep, psytrance, trap, and mainstream EDM.
The nightclub also features incredibly impressive LED screens on the stage and all over the ceiling.
The visuals are truly jaw-dropping and it rivals some of the best music festivals in Thailand.
Here you will find two types of girls.
The ordinary Thai girls who come to drink and have a good time with their friends.
Then there are the freelance models who walk around offering their company.
You just need to invite them to join your table and offer them a drink.
But it's harder to meet girls at Differ than it is at the other clubs we listed.
So if your priority is to find hot girls for the night, stick to the clubs in Walking Street.
FAQ
Which is the best club to pick girls in Pattaya?
The best club to pick up girls in Pattaya is Insomnia.
What is the dress code for nightclubs in Pattaya?
There is no strict dress code for nightclubs in Pattaya. Just don't show up shirtless or shoeless. Smart casual clothes are recommended.
What time do nightclubs close in Pattaya?
The general closing time of nightclubs in Pattaya is between 2 to 4 AM, but some clubs like Insomnia often close at 6 AM.
What are the best nightclubs in Pattaya walking street?
The best nightclubs in Pattaya Walking Street are Insomnia, 808, and Lucifer 2.0.
Learn More About Pattaya Nightlife
Looking for more information to plan your night out in Pattaya?
We have a lot more content for you.
Check out our guide to Pattaya nightlife.