In a city where the party never stops, you'll need to find a hotel that is not only close to the best entertainment areas but also a place where you can relax and recover after all the parties.
Lucky for you, there is no shortage of incredible hotels in Pattaya.
Finding the ideal hotel with the right facilities, amenities, and comfort can be difficult, especially in a city with as many options as Pattaya.
But don't worry, our team has selected the best hotels in Pattaya just for you.
Before You Book Your Hotel In Pattaya
Keep in mind that Pattaya has incredible value for pool villas.
That is what we recommend for most of our clients coming to party in Pattaya.
Explore some of the options we have.
Hilton Pattaya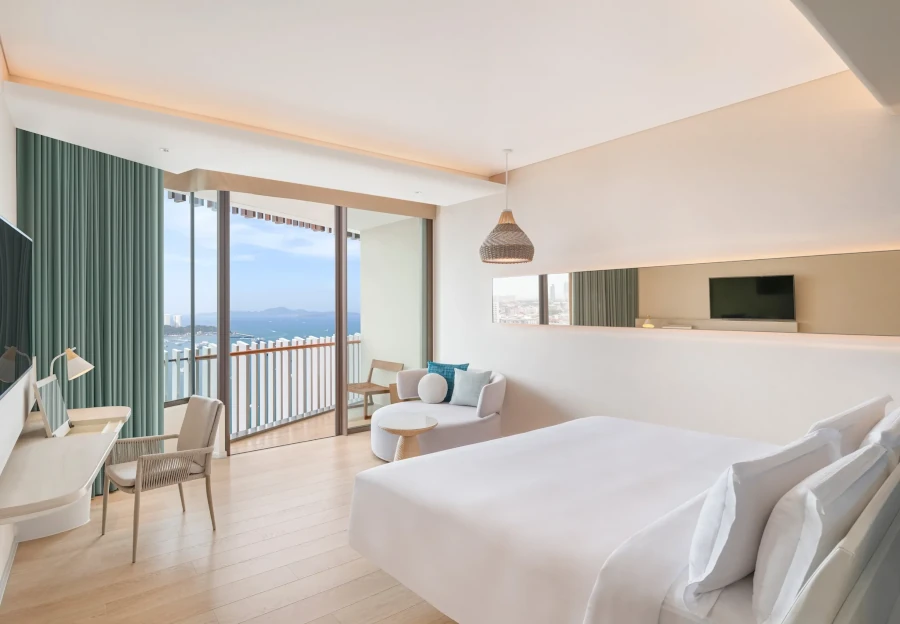 The Hilton is one of Pattaya's most iconic hotels and landmarks.
There are a lot of reasons to stay at this 5-star luxury hotel other than its super comfortable rooms and fantastic amenities.
For starters, it is super close to Walking Street (where all the best bars, clubs, and gogo bars are), Pattaya's best attractions, and right on Pattaya Beach.
The hotel is also right above Central Shopping Mall, one of the best shopping centers in Pattaya.
Next, the magnificent 34-story hotel offers incredible views of the city and the ocean.
Don't forget to head on over to the breathtaking Horizon rooftop bar on the 34th floor to enjoy the view.
And come back downstairs to enjoy Thai and international food at one of the two in-hotel restaurants.
Another place to relax or day drink at the Hilton Pattaya is the extraordinary outdoor pool on the 16th floor.
To rest your mind, body, and soul, Hilton Pattaya also has superb facilities such as a fitness center, and a spa.
There's even a business lounge if you need to squeeze in some work.
Hard Rock Hotel Pattaya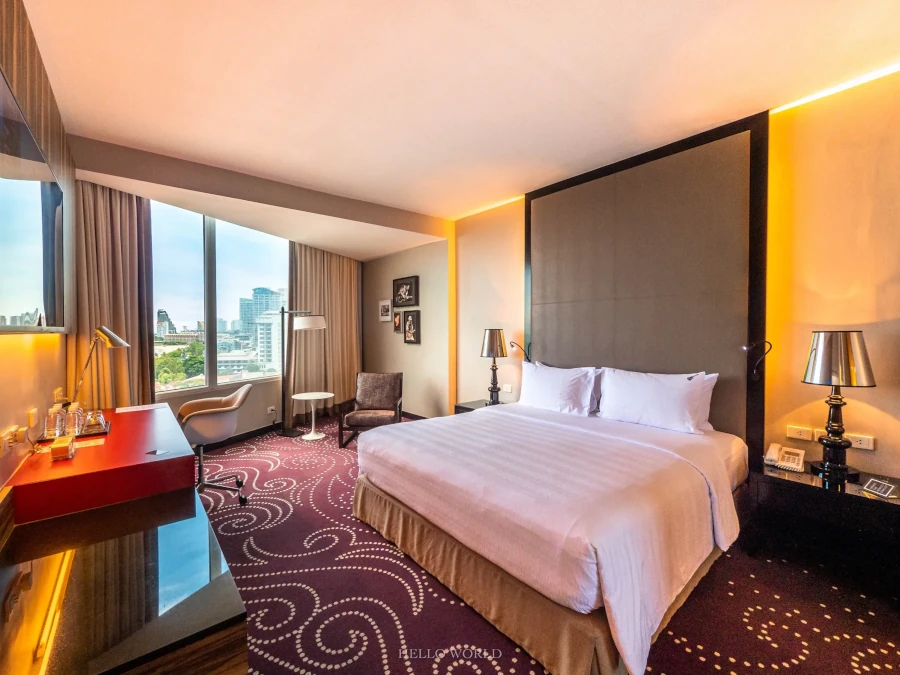 Awaken your inner rock star by staying at the Hard Rock Hotel in Pattaya.
The Hard Rock Pattaya is about comfort and fun.
The 4-star hotel is also just minutes away from Walking Street and the best nightlife spots in Pattaya.
The Hard Rock Hotel has something for everyone starting with its rock-tastic rooms and suites where you will get enough space to enjoy pregame or an after-party with your friends.
You also can keep yourself busy all day with a wide range of activities and facilities inside the hotel.
The Hard Rock Hotel Pattaya has a spa, a fitness center, a game room, and a yoga studio just to name a few options.
The hotel also hosts legendary pool parties every Saturday night that you simply don't want to miss.
Siam @ Siam Pattaya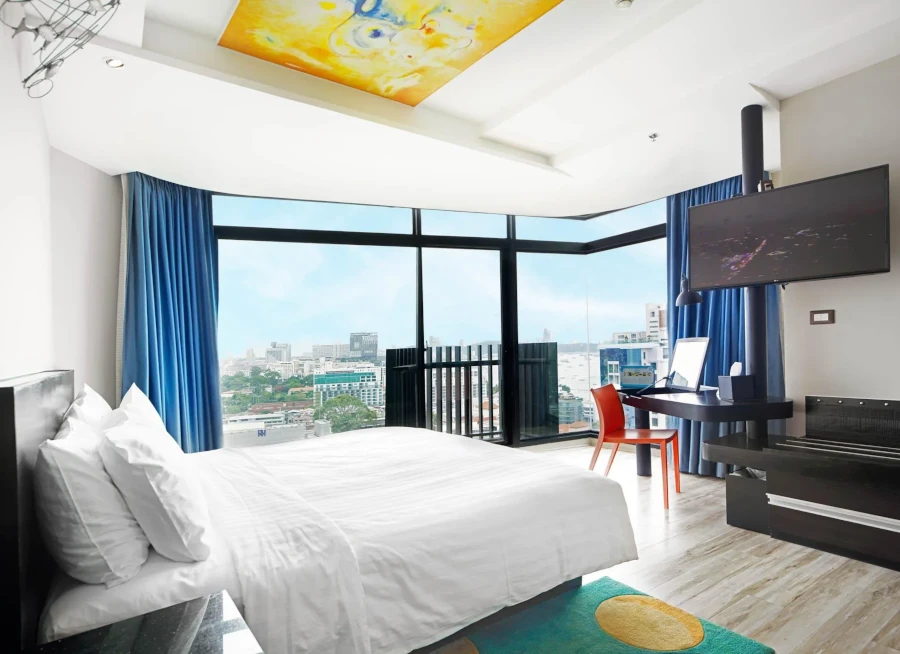 Siam at Siam is a vibrant hotel in the heart of Pattaya.
It is right on Pattaya Beach, and close to the city's major nightlife spots, and entertainment zones.
The boutique hotel is a piece of art with its amazing architectural design and excitingly colorful interior.
Siam @ Siam Pattaya lets you choose between 7 types of rooms with different amenities to provide a perfect space to relax.
Other features that make the hotel so interesting are its funky restaurants and trendy bars.
There's an amazing rooftop double-decker infinity pool and sky bar where all the hip parties and events happen.
The view up there is super awesome and one of the hotel's best features.
The hotel also has two other restaurants, a colorful gym, and event rooms that are perfect for business meetings, corporate parties, or else.
Wave Hotel Pattaya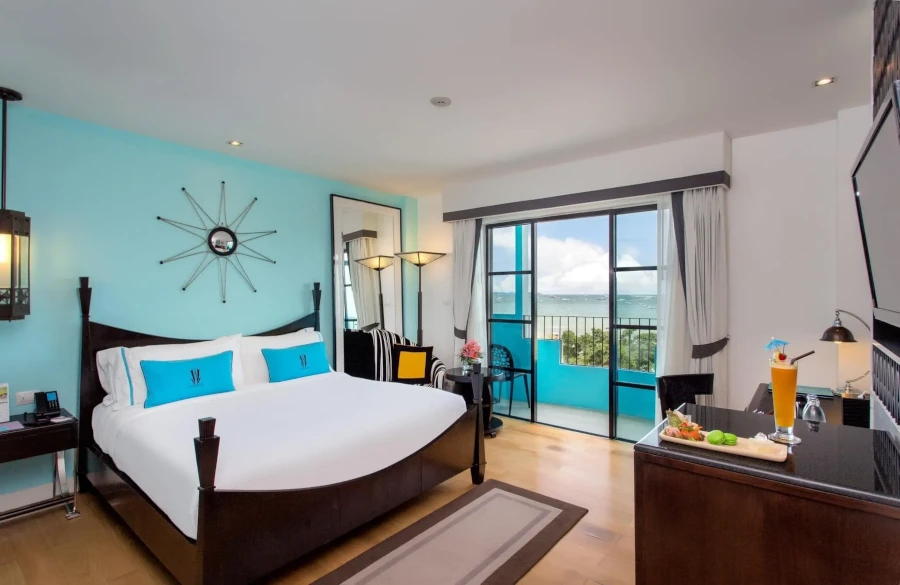 The Wave Hotel might be located right next to the Hilton Hotel but it has a completely different atmosphere.
This boutique 5-star hotel has an art deco design theme that gives wonderful Miami vibes.
At Wave Hotel, the luxury is truly in the details and first-class amenities.
You are going to fall in love with its retro-chic rooms or suites that are designed with unique and colorful decorations and furniture.
Each room is cozy with a striking art deco design and all have sea views.
You won't be disappointed with their dining facilities either.
They have the Cadillac Cafe & Bar that serves American, Mexican, and Thai food.
And for a more lively vibe, you can also enjoy cocktails and light bites at the poolside Cabana Bar.
Grande Centre Point Pattaya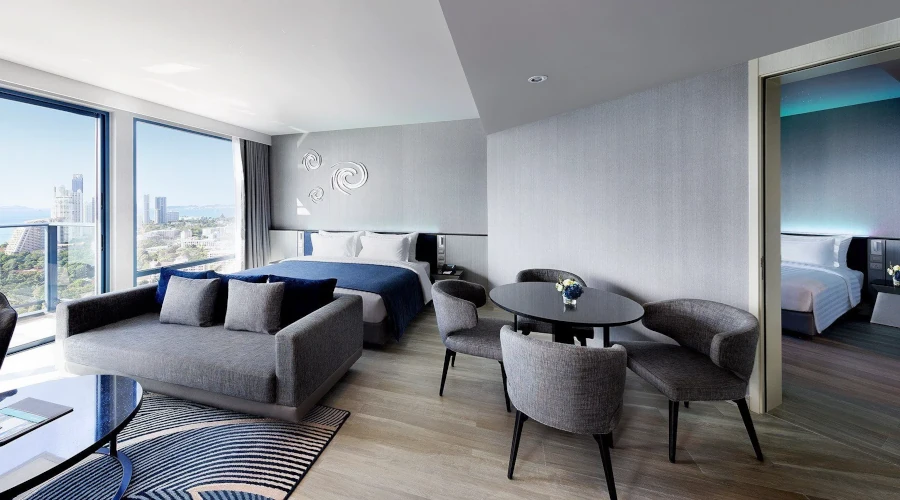 If you want to be at the center of everything with quick access to one of Thailand's most famous shopping malls and iconic attractions, then Grande Centre Point is the ultimate place to stay.
Located on top of Terminal 21, Pattaya's biggest mall center, this beautiful 5-star hotel is a destination within itself.
It has everything you can think of and way more.
First of all, it has 6 incredible room types with gorgeous panoramic views from as high as 32 floors.
Book the two-bedroom panoramic suite to impress your friends and share a couple of drinks in style before heading out.
The hotel has two amazing restaurants, one of which is on the rooftop, The Sky 32.
The most impressive rooftop bar and restaurant in Pattaya.
That is not all.
There is also a breathtaking rooftop infinity pool with a bar, an entertainment zone, an amphitheater, a fitness center, and a spa.
Too much?
Well get this, the hotel even has its very own water park!
Arbour Hotel And Residence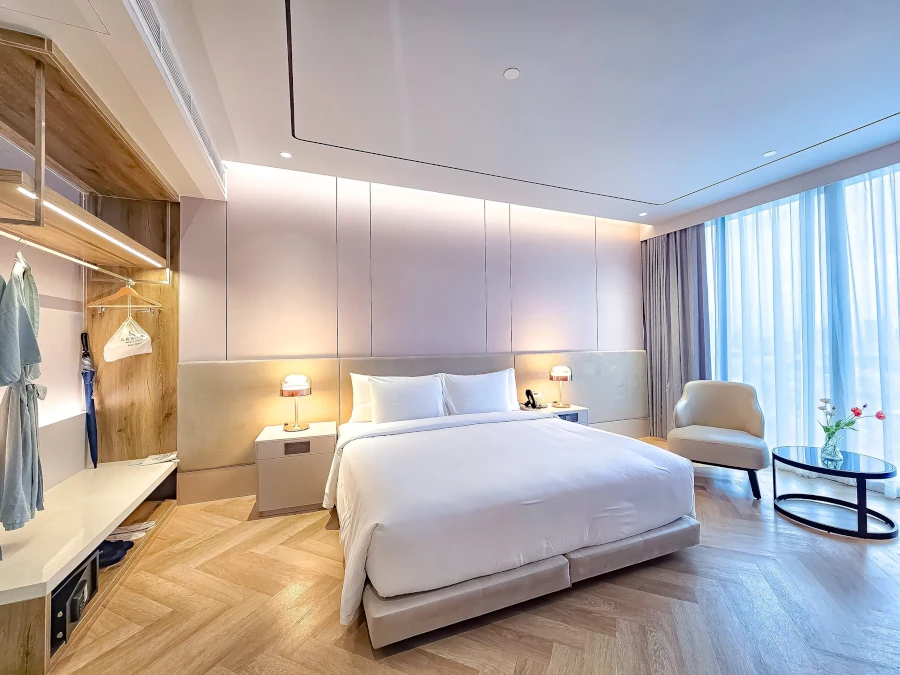 The Arbour Hotel is a luxury hotel with fantastic 5-star amenities, facilities, and stunning views of the cityscape and the Gulf of Thailand.
It is located on Pattaya 3rd road, about 1.5 km from the main beach, 3 km from Walking Street, and is quite close to many other nightlife and entertainment zones.
The hotel has 9 types of amazing and spacious rooms, each featuring balconies, smart TVs, and kitchenettes.
For a truly luxury stay experience, book the penthouse suite!
The 140 sqm suite comes with two luxurious bedrooms and an incredible outdoor private pool.
That is going to really impress the girls.
What makes Arbour really outstanding though are the spectacular rooftop facilities on the 23rd and 24th floors, which include a fine dining restaurant, a bar, a fitness center, a sauna, and an Instagram-perfect infinity pool.
The Gems Pattaya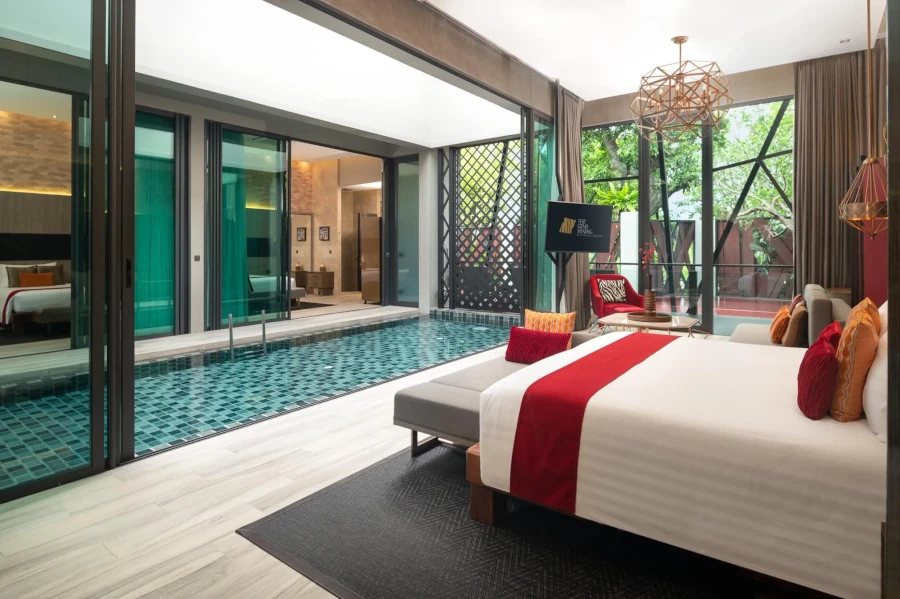 The Gems Pattaya takes you away from the hustle and bustle of the city to a dream-like oasis filled with gorgeous pool villas and out-of-this-world facilities.
It's where luxury meets comfort and pure relaxation in the most tranquil environment.
The Gems is outside of the city, so it's not the best hotel if you plan to go clubbing a lot.
But in exchange, it has all you can desire and more for private parties and to rest.
Their one to three-bedroom villas with private pools are just the tip of the iceberg.
The crème de la crème of the resort is its Legacy Conceptual Residence.
This gigantic 2,888 sqm, 5-bedroom accommodation has its very own gym, game room, karaoke room, putting green, spa, infinity pool, and even a personal butler.
It's like a mini resort on its own!
Just imagine having a party here with your best mates and a bunch of bikini girls!
Other facilities at the resort include 2 restaurants, a pool bar, 3 unique pools, an Onsen, and a fitness center.
Cross Vibe Pattaya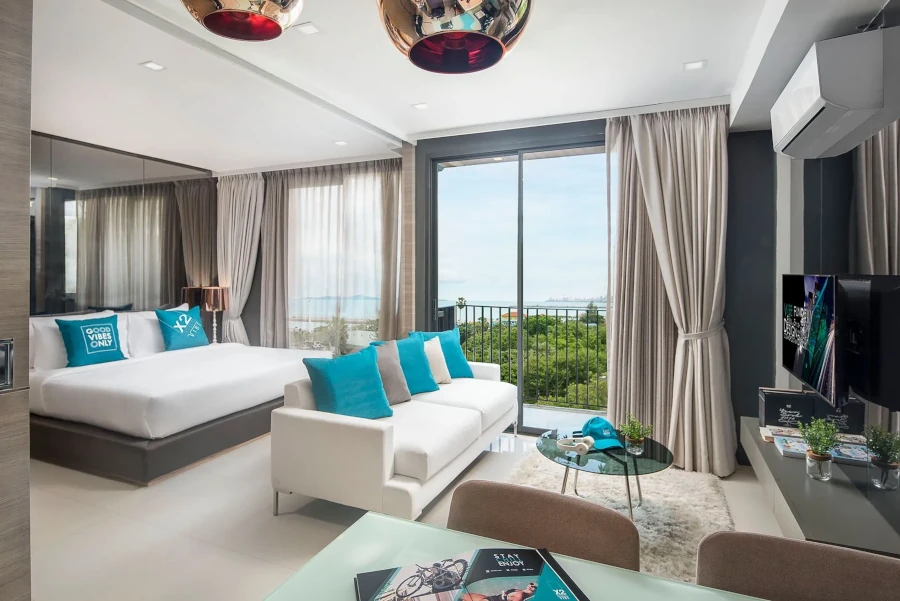 Surrounded by lush greenery and a tranquil atmosphere, the Cross Vibe Pattaya is a stylish seaside haven for a relaxing vacation.
The beautiful 4-star hotel is located right next to Ban Amphur Beach, one of the most tranquil beaches in Pattaya, and is close to many local attractions such as the Phoenix Gold Golf and Country Club, Silverlake Winery, and Columbia Pictures waterpark.
It has 6 amazing room types with all the modern essentials.
Also, the hotel is pet-friendly with 2 types of villas available for those who want to stay with their adorable dog or cat.
Cross Vibe has a café that serves Asian fusion cuisine and a rooftop bar where you can enjoy gorgeous panoramic views of the sea while sipping on yummy cocktails.
The rooftop pool is also located nearby, making it a perfect spot to dip in before or after a meal.
Baraquda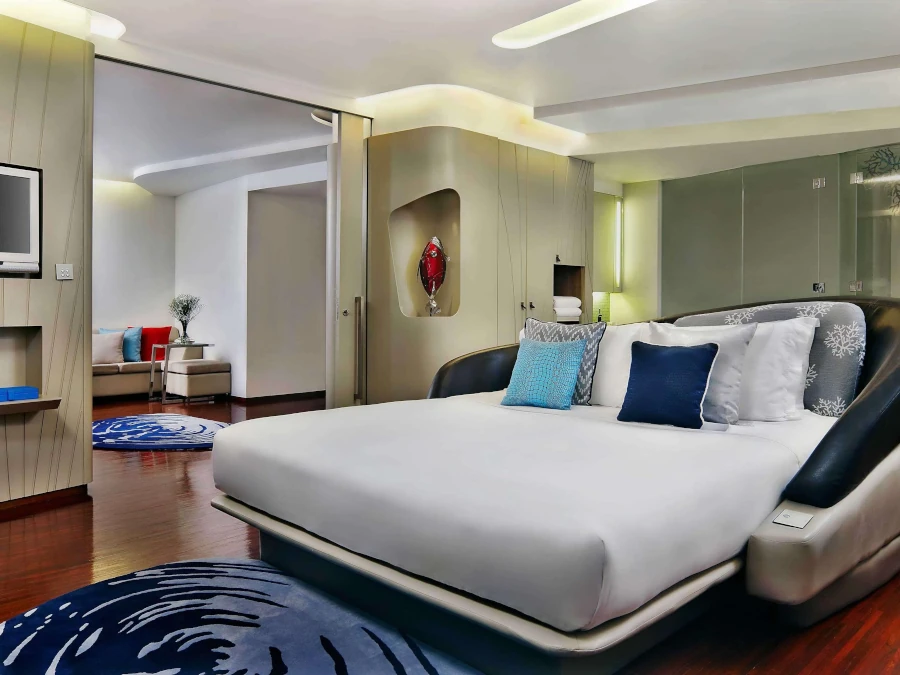 Baraquda is a 5-star boutique hotel and residence that is all about fun, supreme comfort, and convenience.
Just walking distance from Pattaya's Walking Street, night bazaar, malls, entertainment zones, and countless dining venues, Baraquda is a great place to stay if you are looking to party and explore the city during your stay in Pattaya.
When you want to unwind from all the chaos and energy, the hotel provides 3 excellent room types that will surely provide much-needed rest.
Their 85 sqm Grand Baraquda Suite is a perfect choice if you want to impress your date or host a small after-party.
The hotel also features 2 restaurants, a gym, a sauna, and a massive swimming pool that pretty much connects the entire hotel.
One Patio Hotel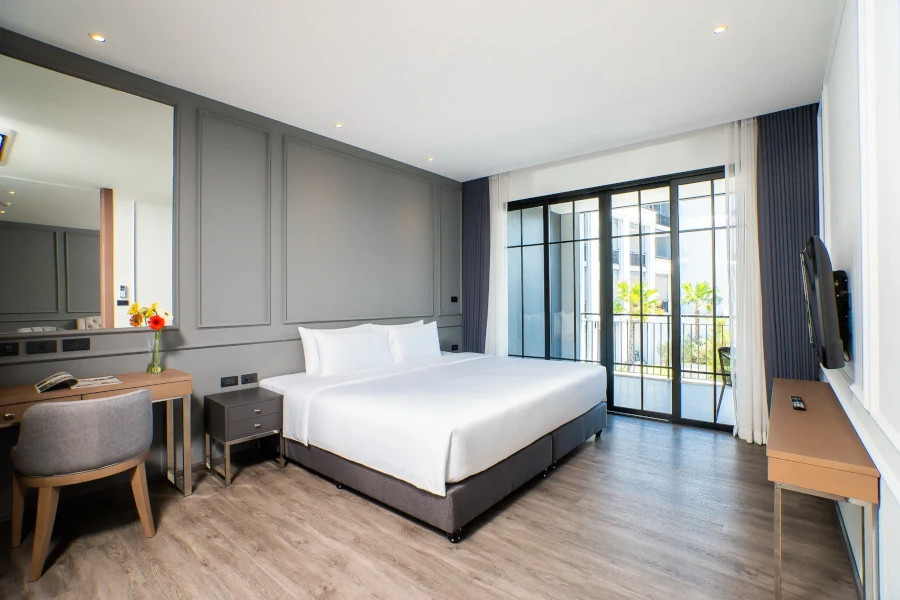 Be prepared to be blown away by one of Pattaya's most beautiful hotels.
One Patio Hotel is a 5-star boutique hotel with elegant architecture and stylish interior design.
It is conveniently located from Pattaya's most popular attractions, nightlife spots, restaurants, and the beach.
The world-famous ladyboy cabaret called Tiffany Show is also located right next door.
One Patio features 6 modern and spacious room types that are designed to provide maximum comfort.
But, if you like using the swimming pool a lot, make sure you stay in the deluxe room or patio suite that both have direct pool access.
Other facilities you can enjoy at the hotel include a contemporary Thai restaurant, a fitness center, and a meeting room.
Royal Cliff Grand Hotel Pattaya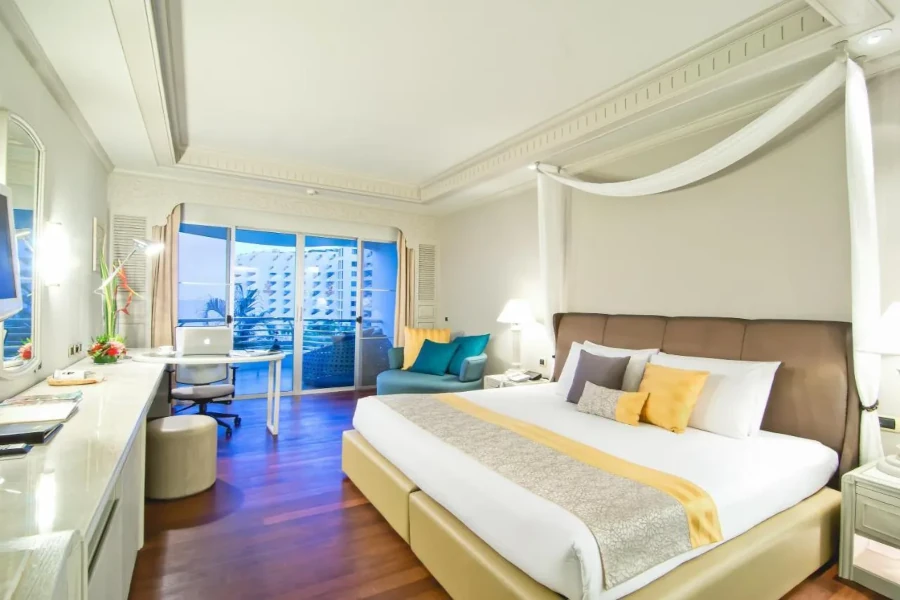 The Royal Cliff Grand Hotel is a 5-star luxury hotel that is part of a massive resort world with dozens of amazing facilities, bars, and restaurants.
Located in Pratamnack, right between Pattaya Beach and Jomtien, it is still relatively close to Walking Street and is surrounded by trendy restaurants, bars, and many attractions.
But you may not even need to venture out as anything you could ever want or need can be found within the hotel.
The hotel features 6 different types of rooms.
But if you want the best, go for the 2 bedroom royal suite, where you get complete privacy and 130 sqm to hang around.
At Royal Cliff, you also get access to many restaurants serving an incredible variety of cuisines, from seafood buffets to European menus.
You also get access to two private beaches, an outdoor infinity pool, a fitness center, a tennis court, and much more.
Mytt Hotel Pattaya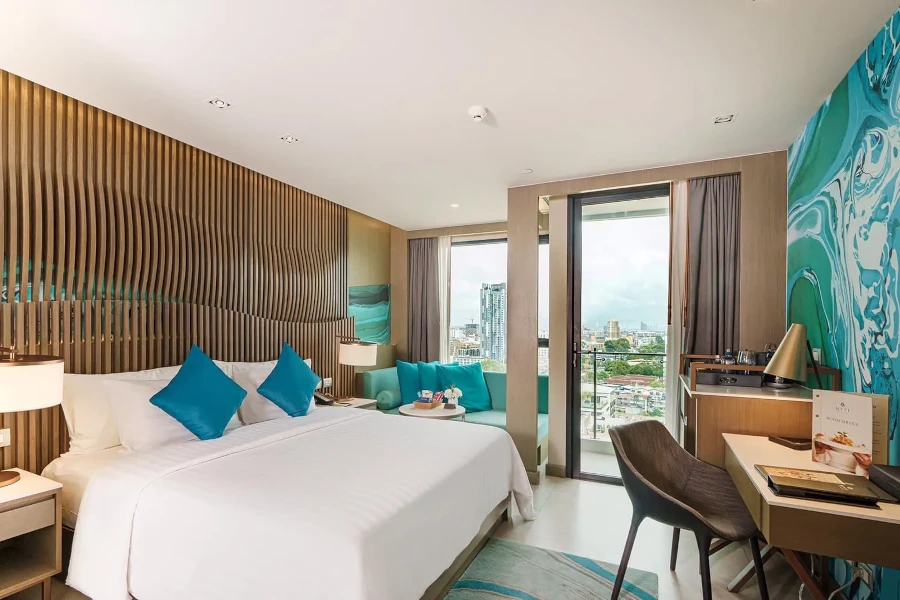 Located in the heart of Pattaya, The Mytt Hotel is a fantastic 5-star luxury hotel that combines comfort and convenience.
The hotel is close to the beach, shopping malls like Terminal 21 and Central, and Walking Street.
It is easy to fall in love with this hotel with its sophisticated design and modern vibes.
Inside you will find elegant restaurants, a dreamy bar, and lounges that are perfect for an intimate setting or even a pre-party scene.
Mytt also has an impressive fitness center and a spa that will surely boost your body and soul.
To cool off and catch stunning beach views and delicious sundowner cocktails with a cute girl from Pattaya, make sure you head on up to the gorgeous rooftop pool.
Plan Your Stay In Pattaya With Us
So, we hope that finding the right hotel for your next Pattaya just became a lot easier.
But we can do much more for you.
If you need assistance in planning a trip, booking hotels, or getting VIP tables in clubs, we can help.
Contact us today.
FAQ
What are the best hotels in Pattaya with a beach view?
The best hotel in Pattaya with a beach view is The Hilton, Siam @ Siam Pattaya, and the Royal Cliff Grand Hotel Pattaya.
What are the best hotels in the center of Pattaya?
The best hotels in the center of Pattaya are Siam @ Siam, Hilton Pattaya, and Grande Centre Point.
What is the best hotel in the south of Pattaya?
The best hotel in the south of Pattaya is Cross Vibe Pattaya.
Plan The Rest Of Your Trip
We have a lot of content to help you plan your trip to Pattaya.
From the best places to party to the best beaches, and even the best places to get a massage.
Explore our guides to learn more about the exciting Pattaya city.