Insanity Nightclub has been for years one of the most iconic venues in Bangkok.
From their old location in Sukhumvit soi 12 to their new one soi 11, the hype hasn't faded and it still holds a strong grip on Sukhumvit nightlife.
So what's so special about Insanity? And why everybody is talking about it?
Let us explain.
What you Need to Know
Insanity is one of these clubs you need to try while in Bangkok.
Whether you go there because you heard there are a lot of girls there (which is true), because it's one of the few late night clubs in Bangkok, or because they're having big international DJs, everyone in Bangkok has a reason to end up at Insanity at some point.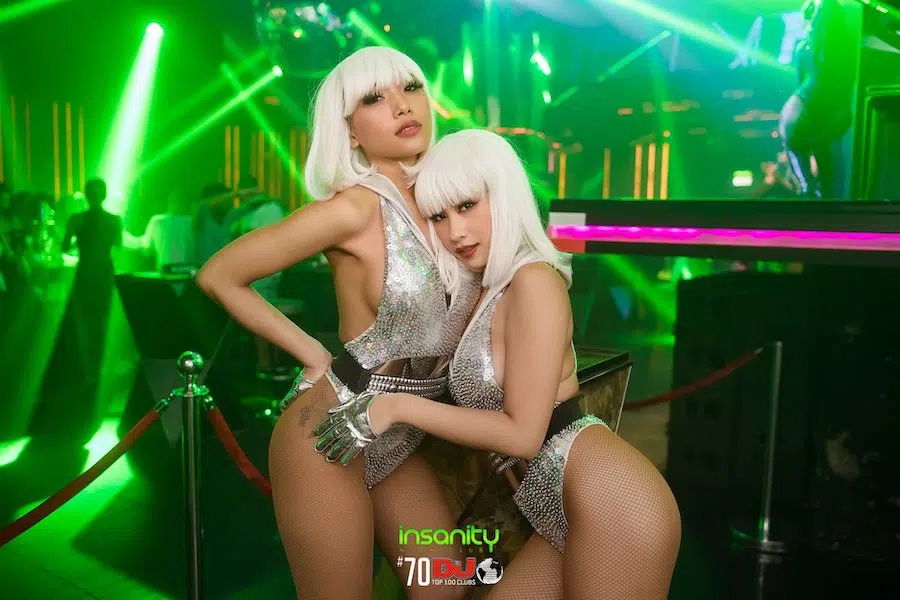 But if it's your first time there, here's what you must know:
You need to be 20+ to get in. Like in every club in Thailand.
The club will pay for your taxi. Jump in a taxi and say you're going to Insanity. The club will pay for the taxi when you get there (to be confirmed post COVID).
There's an incredible quantity of girls. Whatever they do to make sure the club is full of girls, it works.
It's a smoking club. If you're a non-smoker, it is better to know it beforehand. Otherwise, we imagine your disappointment if you find out once you already paid for the entrance.
They have some of the best performers. They have amazing dancers and even aerial silk shows.
It closes really late. Most of the time, way after 2am.
What's special about it?
The music, the size of the club and the high percentage of girls.
It's trying hard to be the best club, not only in Bangkok, but in Thailand, and the world. And they work hard for it with world class entertainment and excellent international and local talents.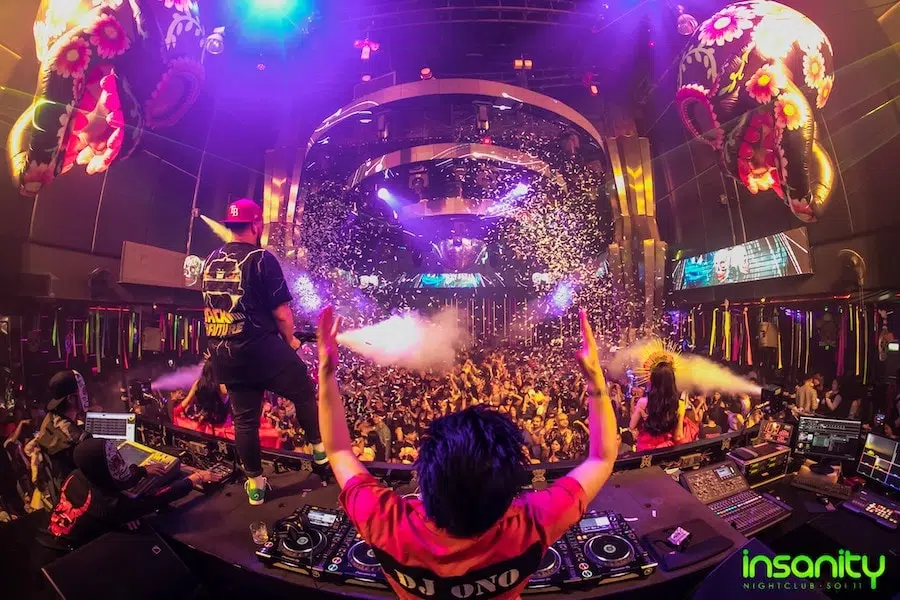 What music do they play?
Expect mostly electro and house music, mixed with EDM.
But the club often brings Thai and International DJs for special nights where they play all sorts of music, from Trance to Techno, or even Hip Hop.
Keep an eye on their upcoming events.
Who goes there?
The crowd at Insanity is a mix of Thais, tourists, and expats.
Most single guys know Insanity because it's always full of Thai girls and freelancers happy to drink with them.
But nowadays, Insanity isn't only about picking-up girls anymore. It offers one of the best VIP clubbing experience you can get in the world, with incredible artists, performers, and music.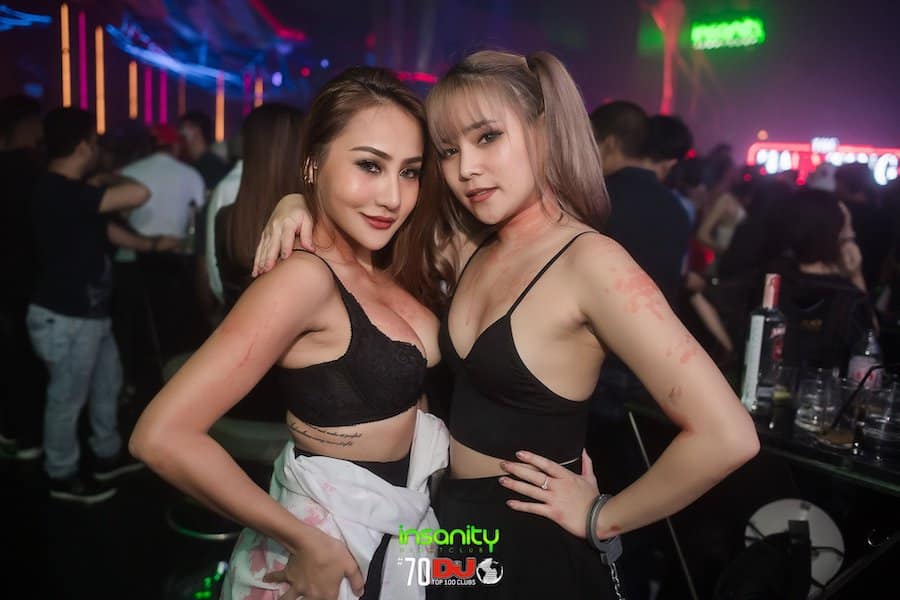 What's a good time to go?
Between midnight and 2am is usually the best time.
Try to get in early if you want a standing table by the stage though (that's the best place to be).
Do they serve food?
First, they have delicious homemade fries that you should absolutely try!
Second, they have a restaurant called V8 dinner right outside the club that is open 24/7.
So you're never gonna go hungry at Insanity.
Prices and Bookings
The entrance fee at Insanity is ฿300 for girls and ฿400 for guys on Friday and Saturday and ฿200 for girls and ฿300 for guys during the rest of the week. (including 1 drink).
Here's Insanity menu.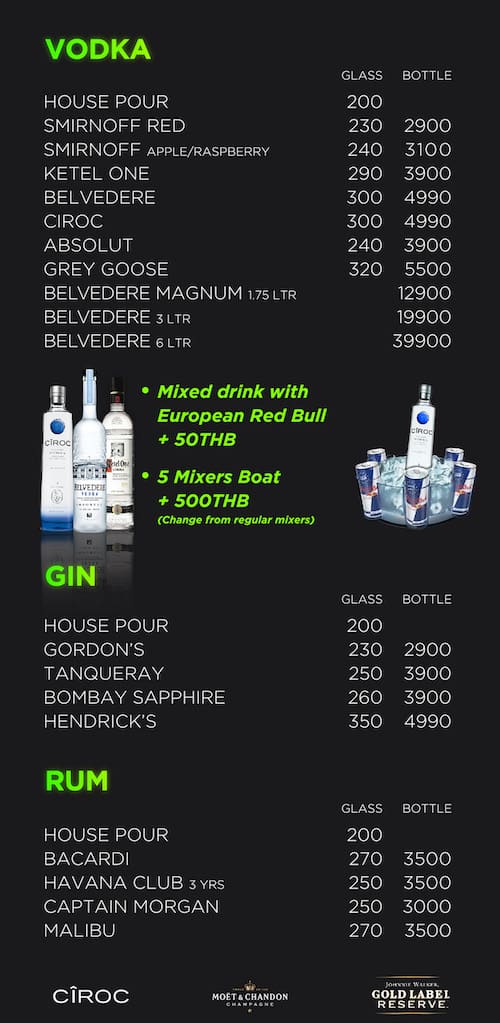 For bottles, prices start at ฿2,900.
As for packages for standing tables and VIP tables, they start at ฿12,900.
Here are their most popular packages and the floor map of the club below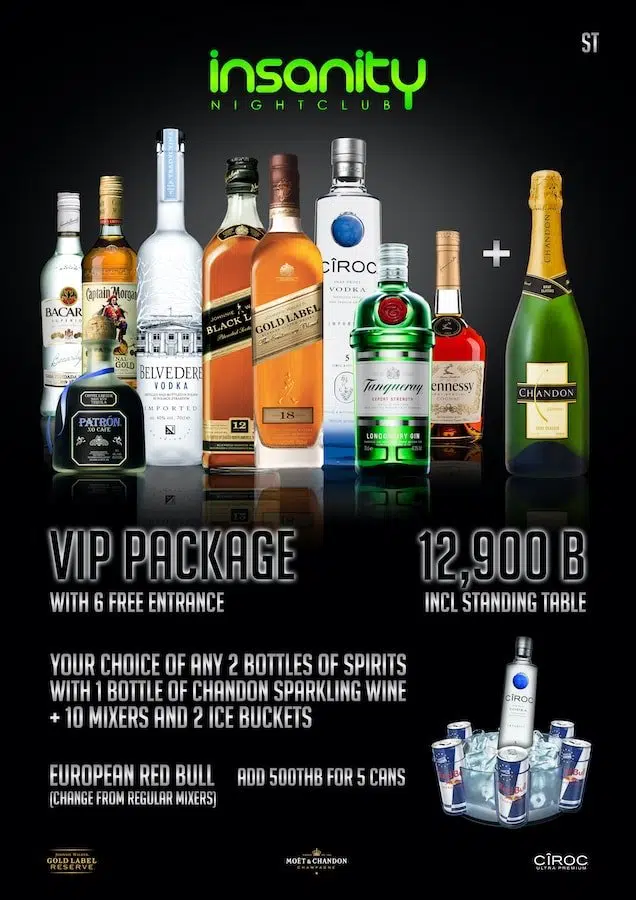 Contact us directly for bookings or click on the button below to book a table now.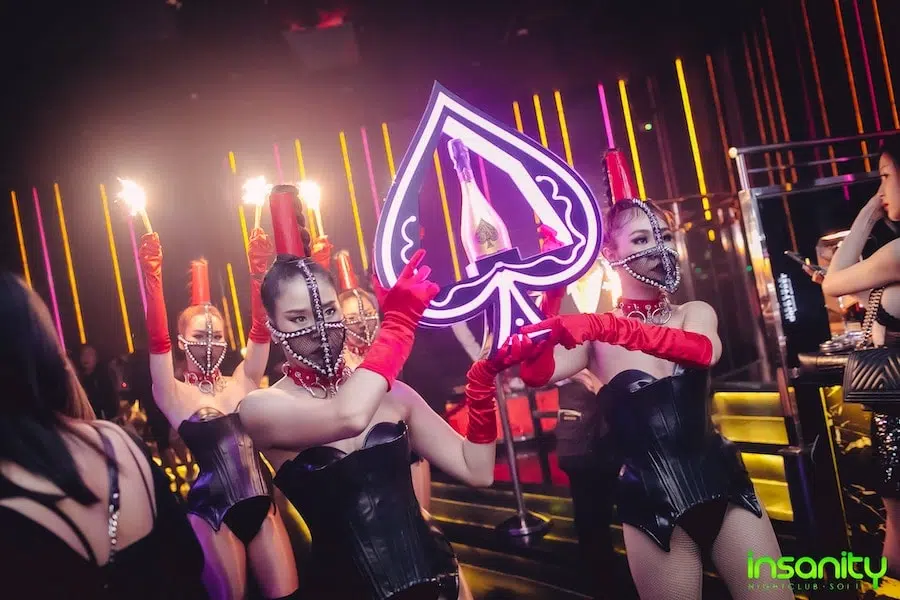 About Insanity Bangkok
Check Insanity's Facebook and Instagram to stay up to date with their latest events and offers.
Cover charge: From ฿200 for girls and ฿300 for guys
Bottle price: Start from ฿2,800
Music: EDM, House, Electro
Crowd: Foreigners, expats, and a lot of Thai girls
Opening hours: Every day from 9pm til late
FAQ
What is the entrance fee at Insanity Bangkok?
The entrance fee at Insanity is ฿200 for girls and ฿300฿ for guys from Sunday to Thursday. And ฿300 for girls and ฿400 for guys on Friday and Saturday. All entrances include 1 drink.
What is the dress code at Insanity Bangkok?
The dress code at Insanity is casual, but no too casual. Even though they might let you in with shorts and open shoes, their website says they will prioritize people who dress without shorts, sportswear, or beachwear. So dress accordingly.
When is ladies night at Insanity Bangkok?
Insanity's ladies night is every Monday. Each group of 4+ girls receives a free bottle of vodka before 1am.
Other Nightclubs in Bangkok you're Gonna Like
For more information about the best clubs in Bangkok, click here.