Ratchada has a thriving nightlife scene that continues to grow, but it is barely ever on a Bangkok expat's party radar, let alone tourists.
But this area is where all the young Thai from Bangkok go to party all night.
You would be missing something if you did not take the opportunity to party in this neighborhood.
It has a lot of amazing clubs, bars and even night markets that make up for a great night out.
If you want to truly experience the best of Ratchada and party like a local, here are 7 amazing spots to check out.
Dubai Luxury Club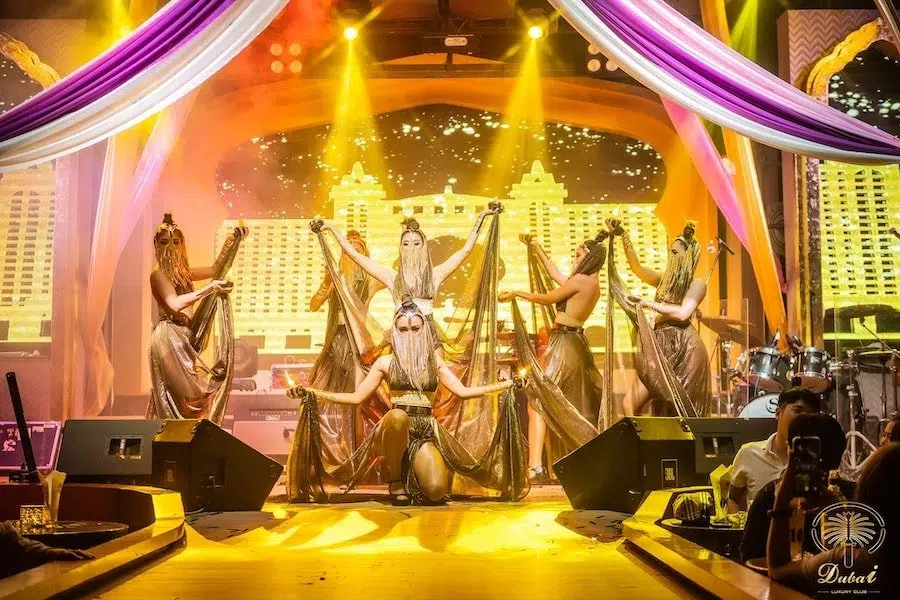 One of the main things you look for when partying at a club are the beautiful and hot women there.
That is where Dubai Luxury Club shines the brightest.
This exclusive club is where you can meet lots of amazing oriental beauties in Ratchada.
As soon as you go through the door you are transported to a gorgeous Persian or Middle-Eastern-designed luxury gentlemen's club with bright lights and sparkling interior design.
Dubai Club features exotic dance performances, entertainment, and live music that are enhanced with fantastic sound systems that are sure to amaze you.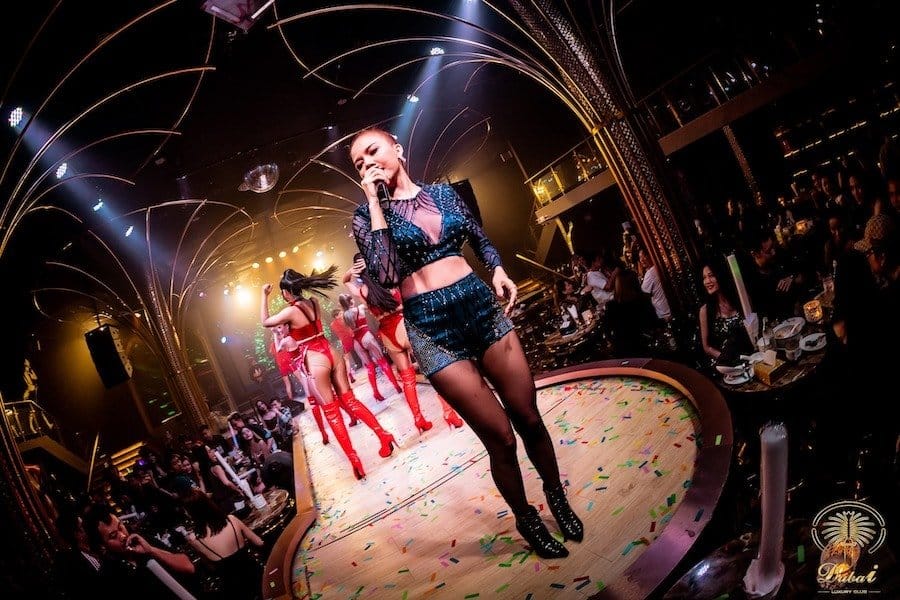 Apart from the main entertainment hall, the club also has several VIP and karaoke rooms that can hold private parties and where almost everything goes.
The rooms vary but if you want the best, get the biggest room that has sofas, tables, and even a pool table.
It can host up to 20 guests, not including the sexy party models who you can invite.
The best part is that you can actually party all the way till sunrise at one of the VIP rooms.
Contact us now to book a VIP room at Dubai Luxury Club.
Address: 202/1 Ratchadaphisek 13, Din Daeng, Bangkok 10400
Opening Hours: Monday – Friday, from 8 PM to 12 AM (but secretly stays open till late)
TopOne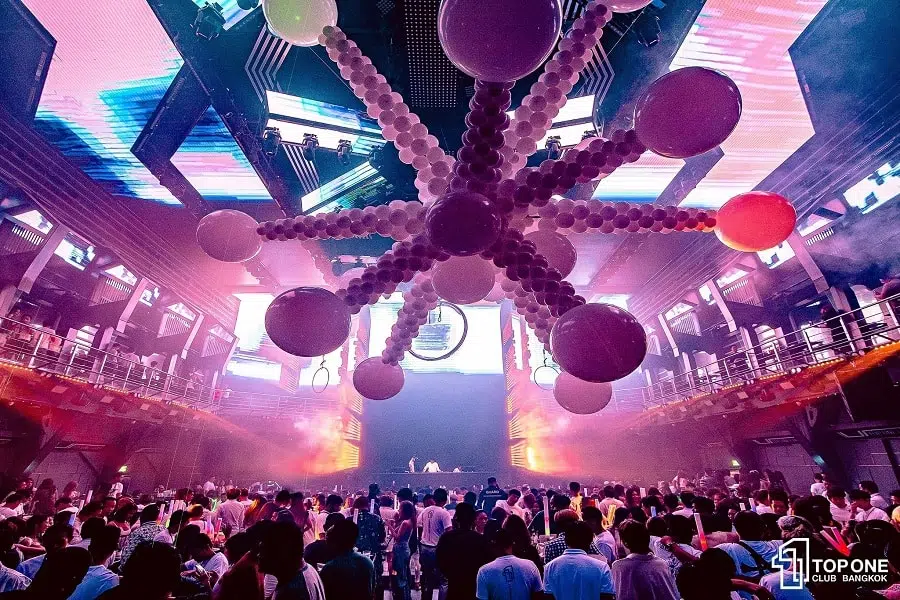 True to its name, TopOne is, and for many reasons, the top nightclub in Ratchadaphisek area.
Firstly, it is a massive club with an incredible spaceship-like design filled with spectacular lasers, dozens of LED panels and an incredible light show.
The impressive visual, sound, and ambiance there rivals some of the best music festivals in Thailand.
That's not all.
The music lineup at TopOne is exceptional as it hosts some of the best local and international EDM DJs.
It has showcased famous names like DJ Kaaze, Maddix, Cesqeaux, Faahsai, Roxy June, and many more.
The sound system is also cutting-edge, and even if you can barely hear the people next to you talking, it does make the parties incredibly more exciting.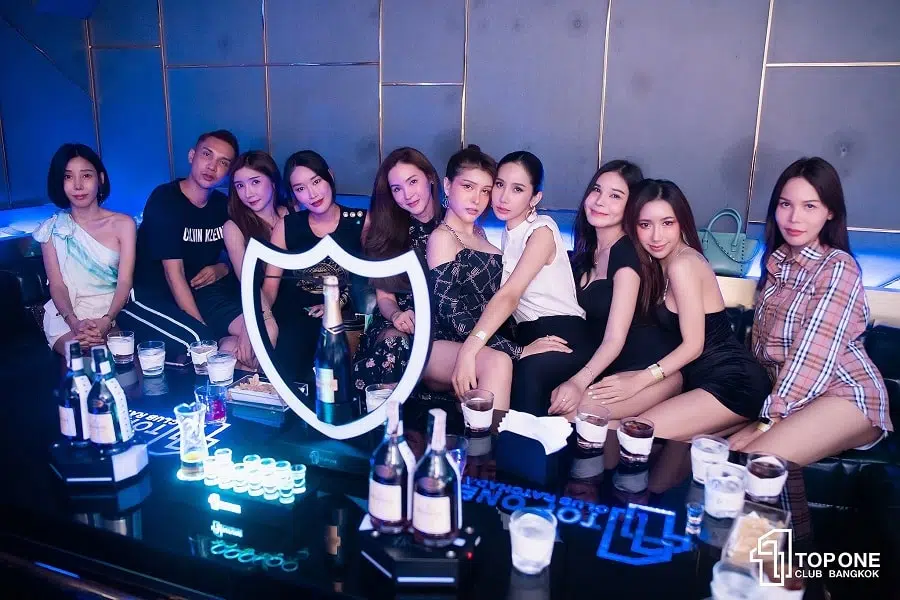 Playing with the spaceship theme, TopOne even has dancers dressed like robots or intergalactic spacemen who show off some pretty crazy moves.
If the crowded partying gets too much for you, the second floor has 12 private KTV rooms where you can have private events or parties with hot Thai girls.
Address: 278 Ratchadaphisek Rd, Huai Khwang, Bangkok 10310
Opening Hours: Every day from 9 PM to 2 AM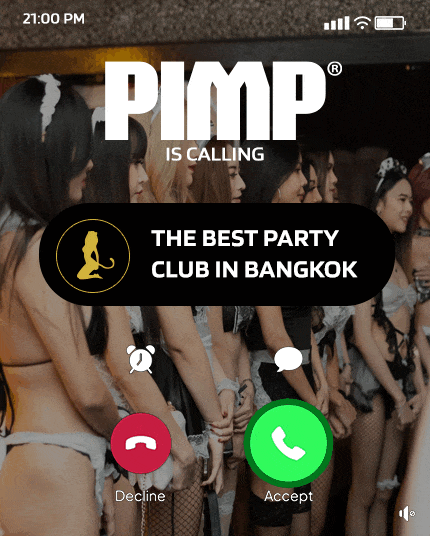 Play Ratchada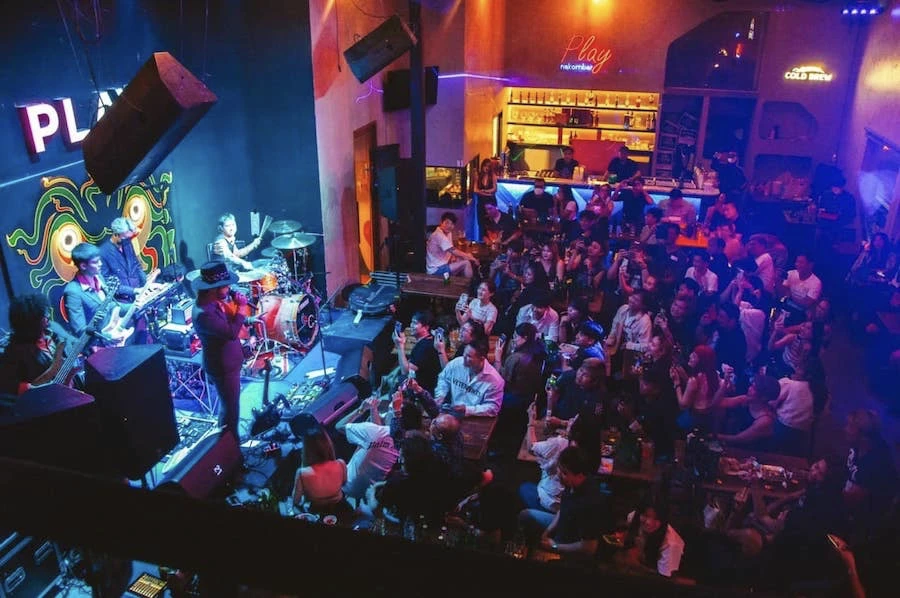 Piles of beer bottles, whiskey bottles pouring with soda and ice, energetic live music playing, and a wonderful happy crowd of young Thais is what make the Play Ratchada so unique.
If you ever wanted to experience how young Thais party in Bangkok, this is where you find out.
You should expect to see a lot of beautiful and cute Thai girls here too, mostly still in university.
Play Ratchada is a busy Thai pub and restaurant that has an amazing home and local vibe, a fun atmosphere, and great service.
As the pub gets packed, live bands entertain the crowd with a mix of rock, classics and cover music.
Feel free to cheer your glass in the air, sing along or even dance at your table as most do.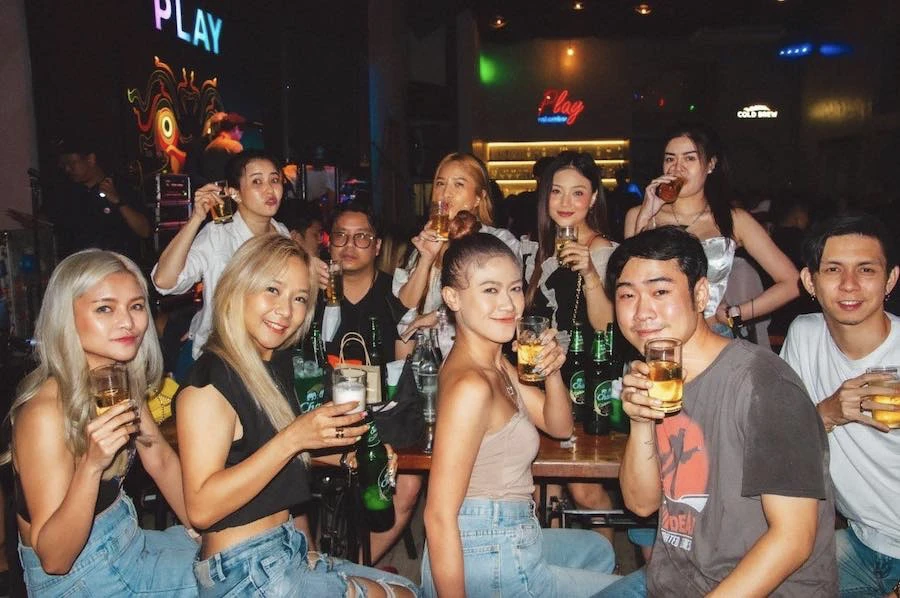 Sometimes the pub hosts special guest artists who pull in an excited crowd who love music and partying.
Everyone has great things to say about Play Ratchada, which is why you should definitely check it out too.
Address: 500 Ratchadaphisek 7, Din Daeng, Bangkok 10400
Opening Hours: Every day, from 5 PM to 2 AM
SNOP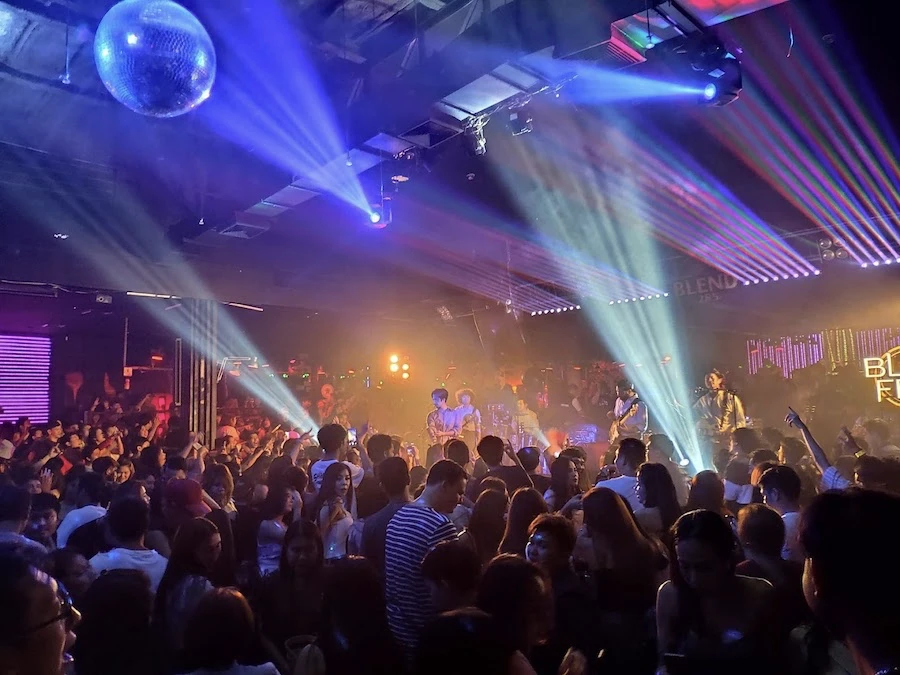 SNOP is an underrated hidden gem of a nightclub in Bangkok's nightlife scene.
Not everyone knows about this place but the locals love it.
This pub-style club has been impressively around for over 2 decades bringing in a large number of young Thais and a few curious foreigners every night.
It is definitely where you go to party like a local with Thai live band music, good Thai food, cheap beers and bottle service.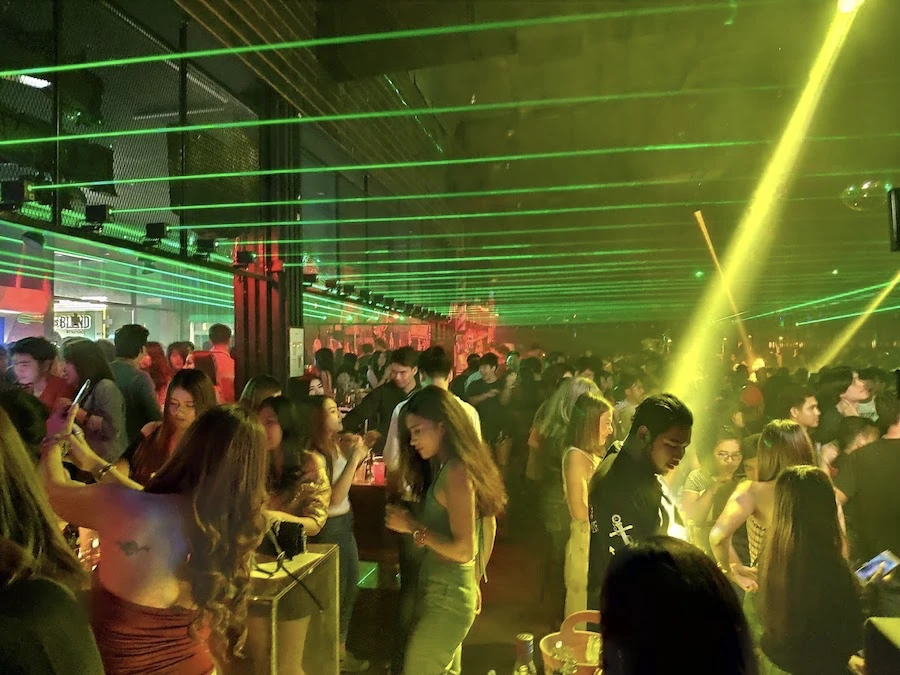 In between bands, the club also features DJs who play mostly EDM but also other genres of music.
The club has a mixed vibe as it can be both casual and relaxed or hyped and pumped.
It's really how you make it but SNOP does it best to keep you in the party mood with its cool decor, ambiance, and entertainment system.
After going strong and hosting parties for over 21 years, SNOP is surely one of Ratchada's best places to hang out.
Address: 58 Ratchadaphisek Rd, Huai Khwang, Bangkok 10310
Opening Hours: Every day from 7 PM to 2 AM
​Park Terrace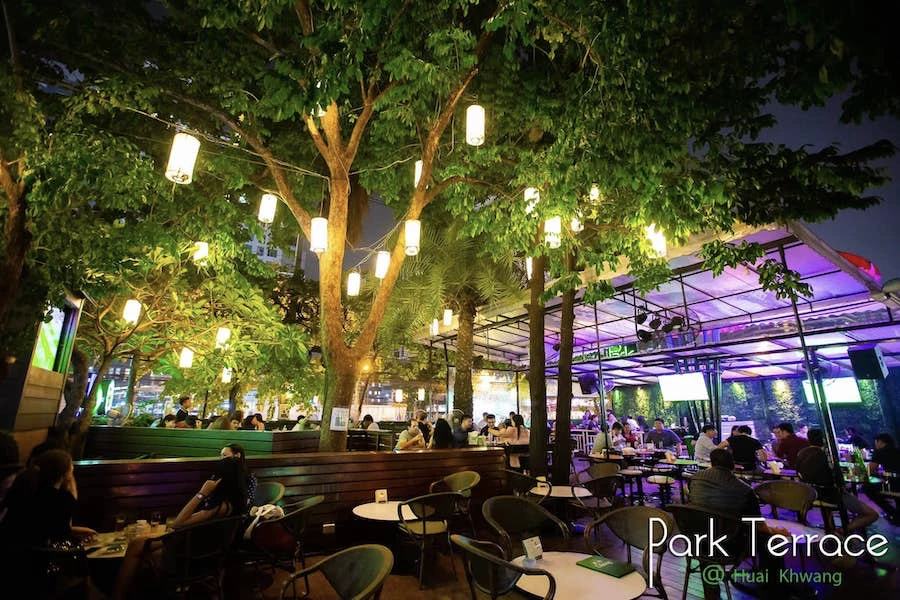 Park Terrace is a lovely indoor and outdoor beer garden just steps away from Huai Khwang MRT station.
For those looking for a chill party night with friends or colleagues in a nice and cozy setting, this is the place to be.
It's a great place to have dinner and pregame before moving to the nearby clubs.
Park Terrace has value for money food and drinks that cover Thai and Japanese cuisine, draft beer, cocktails and bottle service.
As you dine and wine, enjoy the 4 live bands playing there every day.
The atmosphere and vibe at Park Terrace are great, especially for those not looking for a crazy party spot.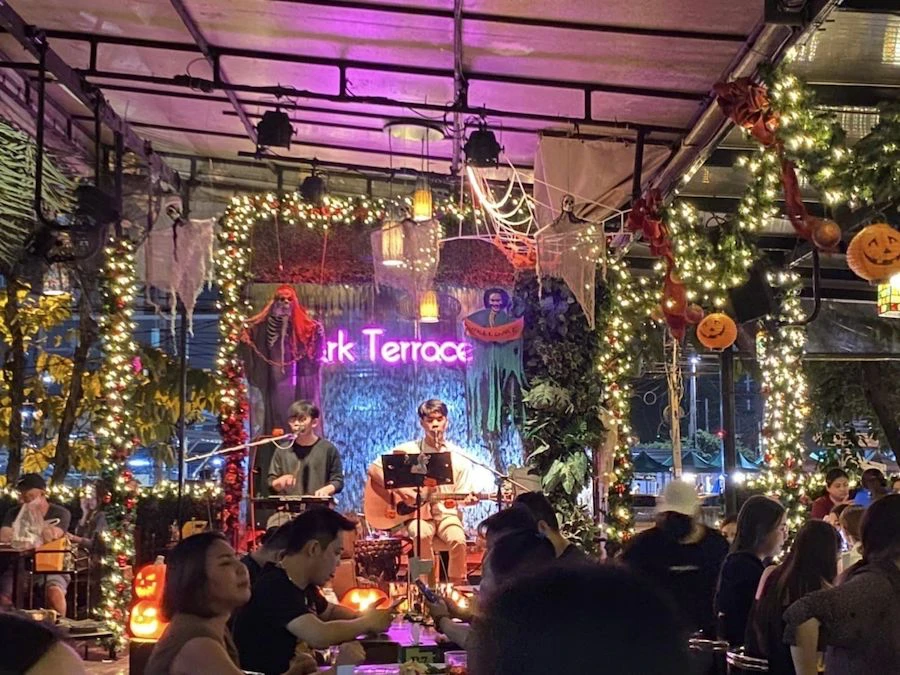 But on occasions do expect it to be busy and loud, especially if there are people celebrating their birthday there.
It surely is the perfect place to be on a chilly or windy night in Bangkok.
Park Terrace also has karaoke rooms for private events and parties where you can listen to your own music, order food and party with your friends all night away from the crowd.
Address: 169, 66-68 Ratchadaphisek Rd, Din Daeng, Bangkok 10400
Opening Hours: Every day from 5 PM to 2.30 AM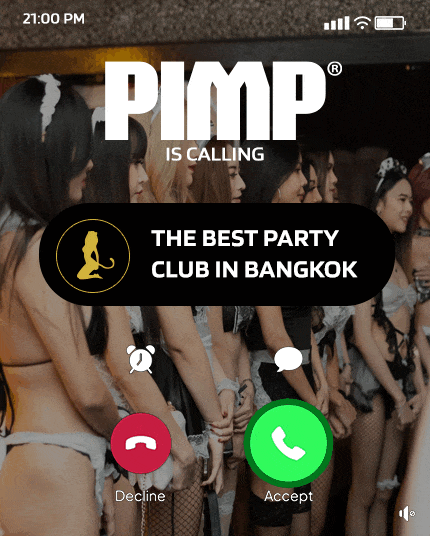 Fake Club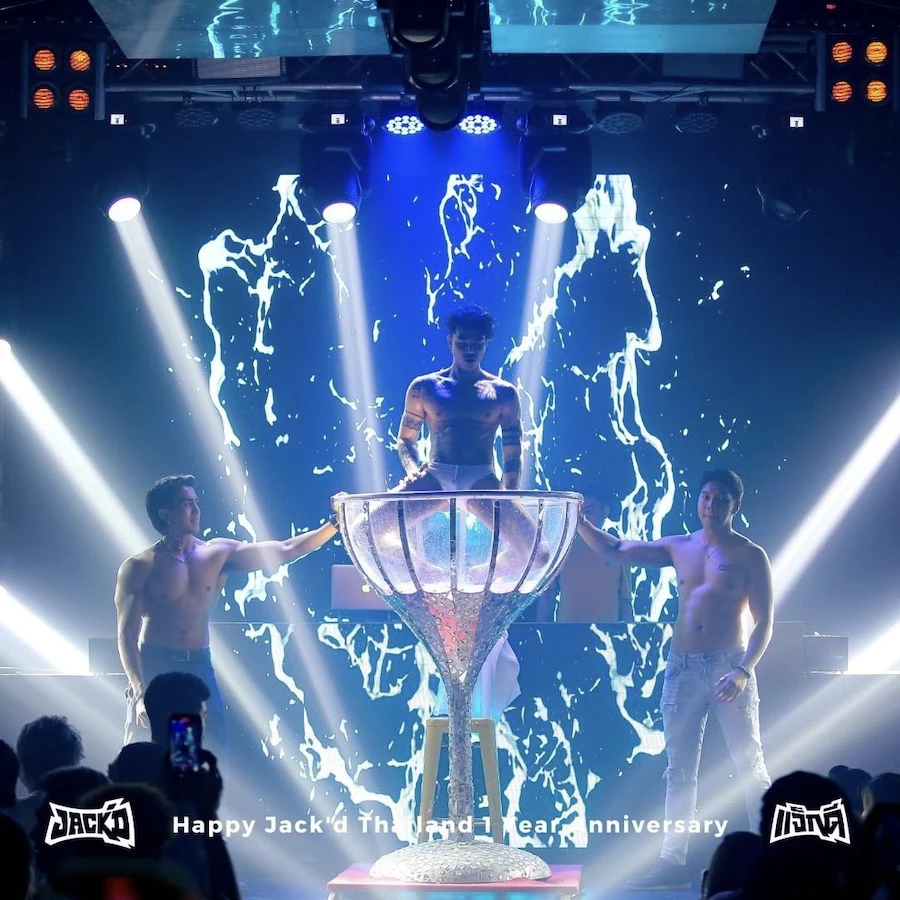 Fake Club is one of the top Gay clubs in Bangkok thanks to its great interior design, crazy vibe, wild crowd, and an excellent light and sound system.
But what makes Fake Club really successful are the Magic Mike quality dance performances by incredibly good looking Thai men.
While Fake Club does attract mostly fashionable and chic young Thai gay men, women and straight men are also welcome here.
Music at Fake Club ranges between live music to K-pop and top charts to even hardcore EDM on some occasions.
On top of a great sound system, the club also has a crazy laser and light system as well as LED panels all around the club.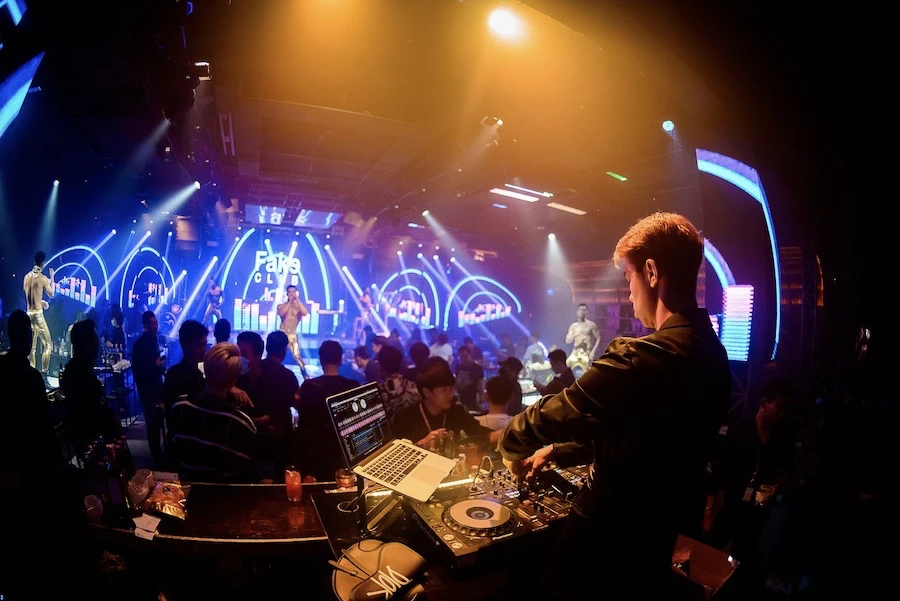 Fake is known to hold plenty of events or concerts featuring popular artists and DJs.
It even held its own Miss Fake Thailand contest, with some of the hottest in Thailand.
Address: 60/1 Soi, 4 Ratchadaphisek Rd, 10310
Opening Hours: Every day from 9.30 PM to 2 AM
The One Ratchada (Night Market)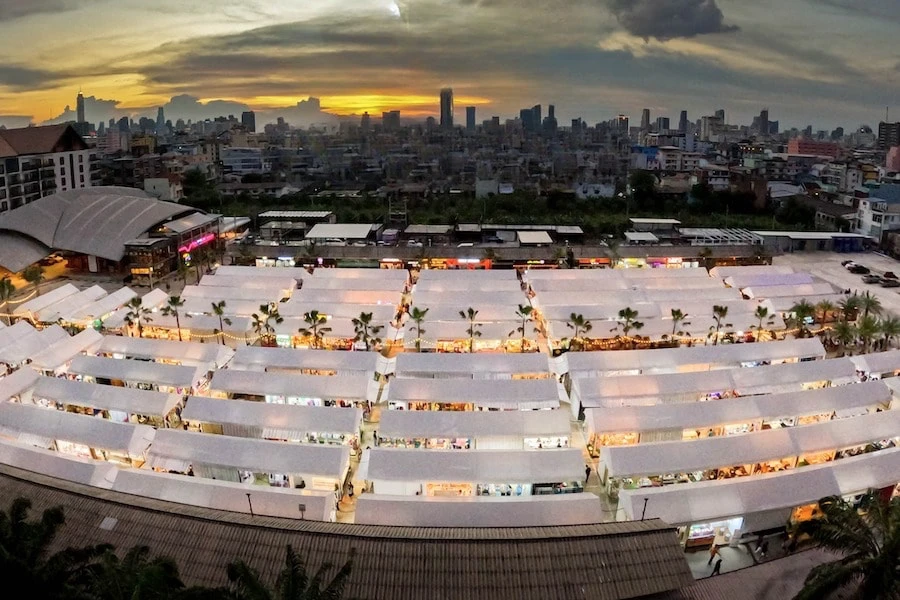 The famous Ratchada train market is now replaced with a brand new night market called the One Ratchada.
What was once the iconic multicolored tents of the train market have transformed into more modern but simplistic white tents.
The market area is also more spacious, making for a less crowded feel for those walking through to get food or do some shopping.
The One is also a great place for partying with plenty of cocktails, beer bars and live music pubs at the back.
There are small bars and big ones, each with something unique to offer.
Some play Thai music while others have EDM.
There is even a K-pop bar with a cute DJ, Soju cocktails, and even shot wheels that will surely get you drunk on the cheap.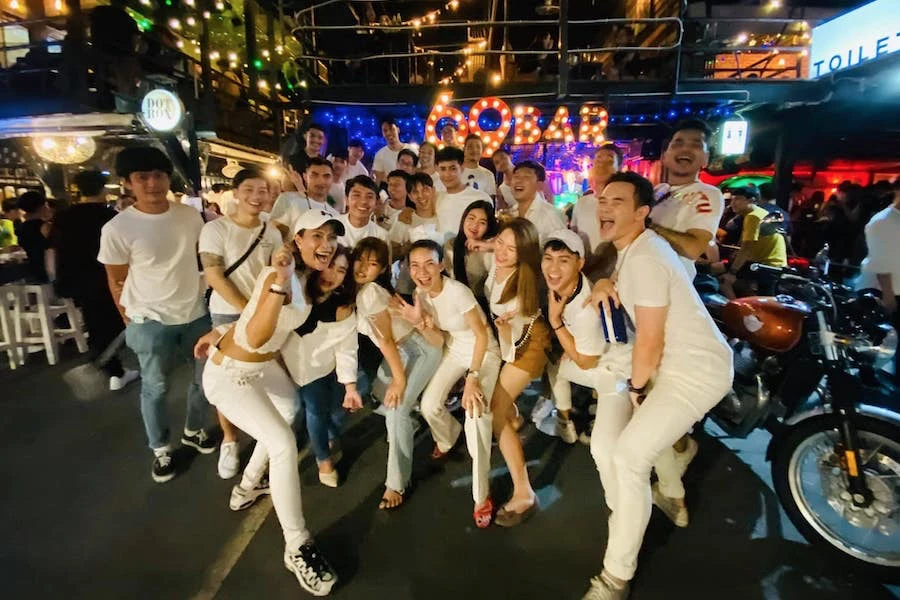 We expect The One Ratchada to be a great place to drink, hang out with friends and party late into the night.
Address: 55/10 Ratchadaphisek Road, Din Daeng Subdistrict, Din Daeng District, Bangkok, Thailand, 10400
Opening Hours: Every day from 4 PM to 12 AM (but the bars open slightly later and will close later)
---
What Are The Best Hotels Near Ratchada?
If you are going to party at any or all of the nightlife venues mentioned above, you will want to keep close to the action by staying at one of these amazing hotels in Ratchada.
Hotel Swissôtel Bangkok Ratchada (5-Star Hotel)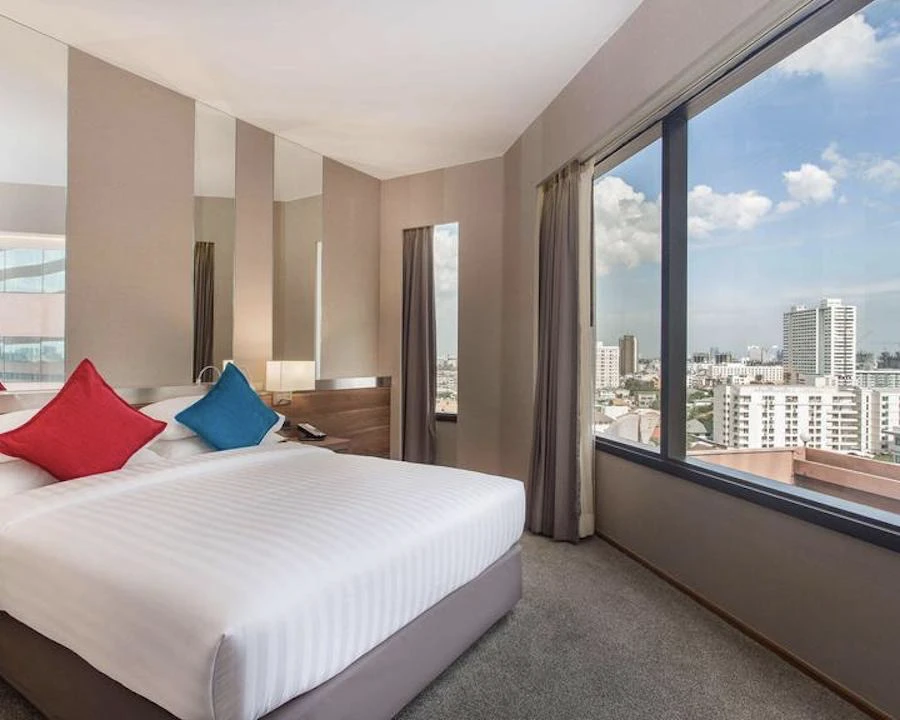 Just 4 minutes' walk from Huai Khwang MRT Station, Swissotel is the only 5-star hotel in Ratchada neighborhood.
It is ideally located in the heart of the street, close to all the business, commercial and entertainment places in the area.
The hotel itself has over 400 elegant and spacious rooms or suites as well as executive club rooms, lounge, meeting spaces, fitness center, spa, and a gorgeous outdoor swimming pool.
You will also have access to five in-house restaurants with international cuisine and a chic modern bar here.
---
Amaranta Hotel (Best Value For Money)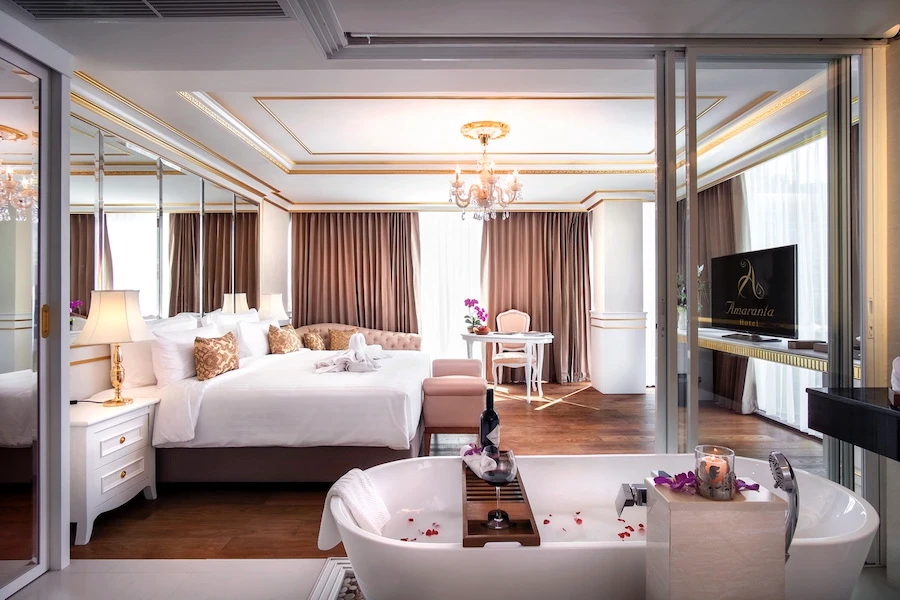 Amaranta is a beautiful hotel that combines leisure and style with comfort.
While close to all the nightlife spots, it is also hidden away from the main street for some privacy and tranquility.
Apart from amazingly cozy rooms, the hotel notably features a laid-back vibe at the rooftop infinity pool and sky bar.
The pool is an excellent spot to be before a night out while the sky bar is a nice bar to grab a last drink before heading to bed.
It also has a fitness center with all the machines and equipment you would need for a great workout.
Amaranta even has 2 restaurants serving international and Thai cuisines.
---
ibis Styles Bangkok Ratchada (Budget-Friendly)

Most ibis hotels in Bangkok are quite basic but not ibis style Ratchada.
With its beautiful design, the hotel features 266 cozy and vibrant rooms with smart TVs, restaurant, bar, and a meeting room.
If you are in the mood to get some workout done before going out, ibis Styles even has a fitness center.
When it comes to budget and style, there is no better hotel better than this in the Ratchada neighborhood.
---
We hope that you will now be inspired to try out some of the clubs or bars in this area.
Contact us if you need to arrange private parties or to organize your trip to Bangkok.
And if you are looking for more information beyond Ratchada, read our guide of Bangkok nightlife and where to party in Bangkok.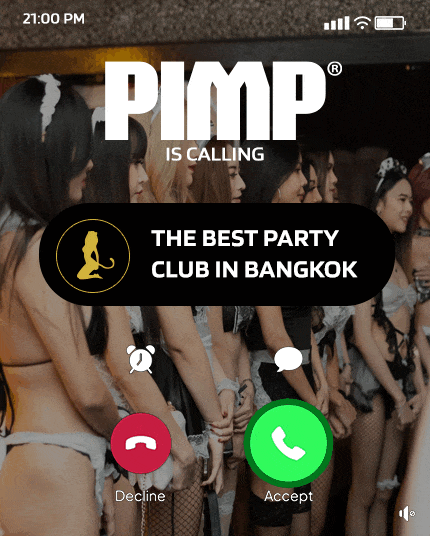 FAQ
How To Get To Ratchada?
To get to Ratchada, you can take the MRT, use the Grab app to book a taxi, or contact us to rent a sports car or a VIP van.
What Is The Best Place to Party With Thai Girls In Ratchada?
To find girls or to impress your girlfriend, visit TopOne or Dubai Luxury Club.
Or contact us to hire party models to go out with you.