When you're looking for the best clubs in Khaosan Road, the first that is going to show up is The Club.
It may not have the most original name, but it's by far the best place in the famous party street for late-night parties.
In fact, it is so popular in Khao San's clubbing scene that you can see it with the long queue outside waiting to get in.
Now if you have never heard of The Club, that is a different thing and the very reason you should continue reading to find out what is so special about this nightclub.
What You Need to Know
The Club opened its door to partygoers in 2007 and since then it has been delivering some of the most high-energy and exciting clubbing experiences in Bangkok.
As you walk down Khaosan Road, it is impossible to miss this nightclub thanks to its huge neon sign hanging above the club's door.
If you arrive past 10 pm, you will usually see a long queue, which will surely catch your attention.
There is an entrance fee starting at 120 THB that goes up to 300 THB on special occasions.
The entrance comes with a ticket for 1 standard drink (beer or a fruity breezer).
After paying the fee, a short but vibrantly lit hallway takes you to a massive hall where you can find 2 bars, sofas, standing tables, and an elevated DJ booth surrounded by a semi-circle dancing area.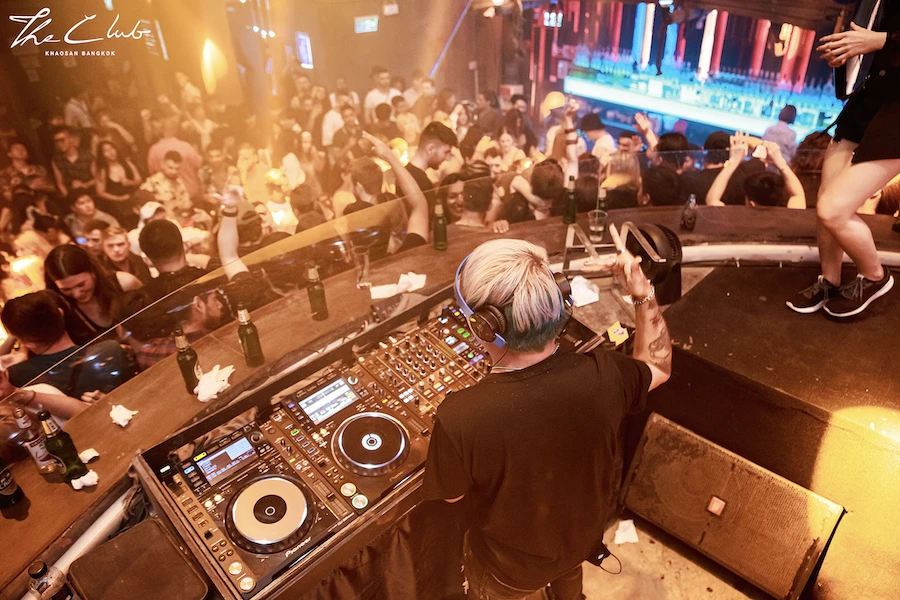 The Club hosts famous resident DJs as well as international artists from around the world who play all sorts of EDM and pop songs.
Expect other genres such as hip-hop, techno, house, and more.
The music and clubbing experience is one of the best in the city thanks to the high-quality JBL sound system and stunning visual effects, neon lasers, and CO2 cannons.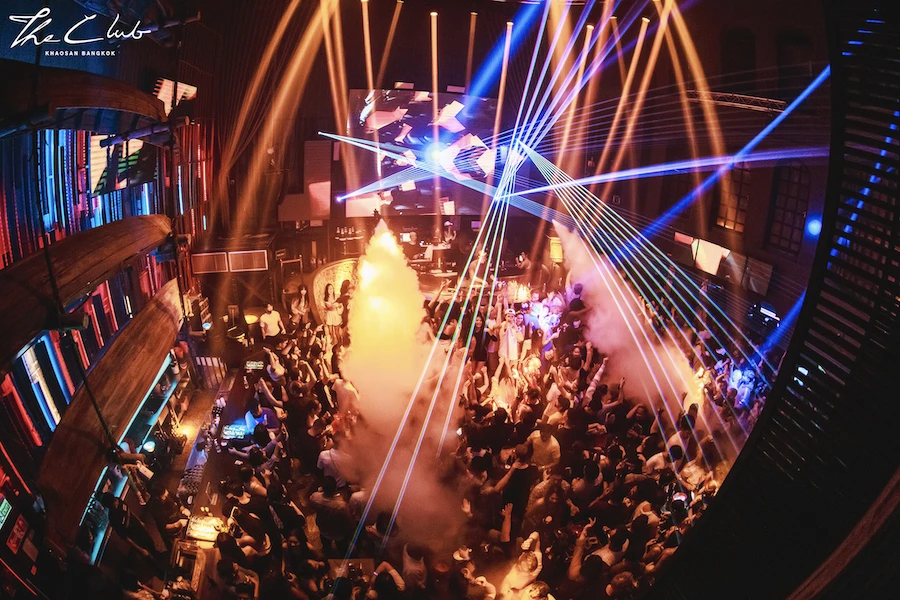 You almost feel like you are at a mini music festival.
With its popularity, The Club attracts a diverse crowd of Thais, expats, and tourists.
Just about anyone who likes to drink and dance would enjoy a night out at this nightclub.
If you want to show your dance skills, join the crowd on stage to show off some of your moves or simply go up there to have a good time.
It's a great place to meet new people and in particular young and pretty Thai girls.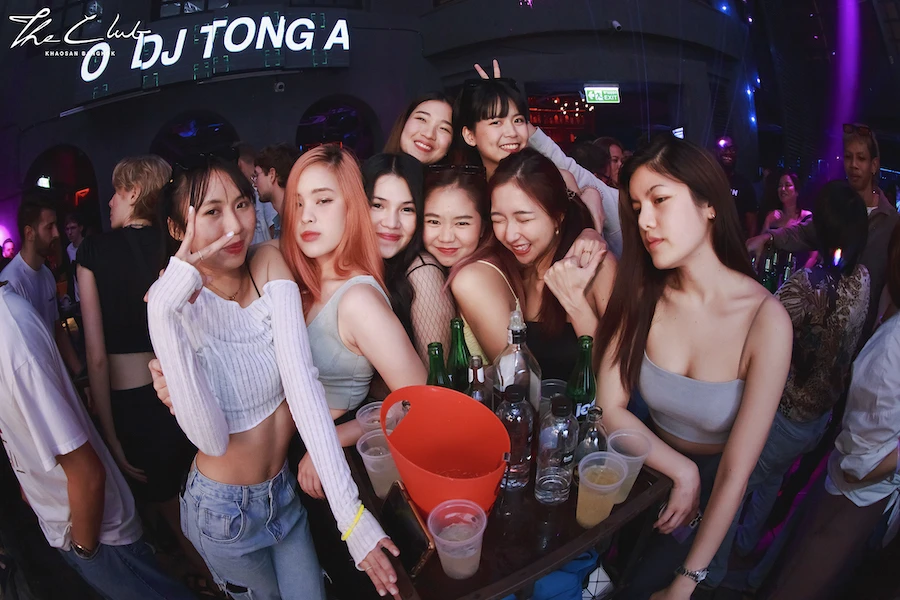 While every day is a big party at The Club, don't miss out on special events here such as Halloween, the Full Moon party, and special guest DJ performances.
They even have a Gentlemen's Night, which is the hottest night for the guys looking for a good time.
It features famous DJs, exotic dancers, and special performances.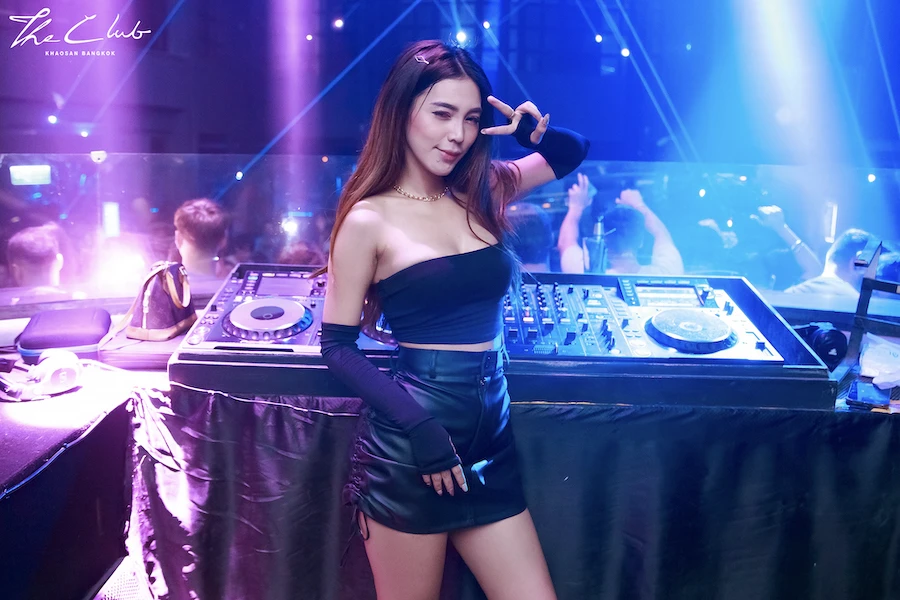 Whether you are a first-timer or a die-hard fan, The Club never disappoints.
Prices and Bookings
The entrance fee at The Club Khaosan is 120 THB, including one drink.
It can be more on special events.
About The Club Khaosan
Cover charge: Between 120 THB and 300 THB
Bottle price: N/C
Music: EDM, hip hop, pop
Crowd: Thais and foreigners
Opening hours: Every day from 9 PM to 2 AM
FAQ
How Much Is The Entrance Fee At The Club Khaosan?
The entrance fee at The Club Khaosan ranges between 120 THB on regular nights and 150 THB on weekends. 
It can be more on special events.

What Are The Opening Hours Of The Club Khaosan?
The opening hours of The Club Khaosan are between 9 PM to 2 AM.

How To Get To The Club Khaosan?
Take a taxi to Khao San Road. It is about 150 meters from the Chakrabongse Road entrance. 
For large groups, we can arrange a VIP minivan to take you there.

Other Nightclubs In Bangkok You're Gonna Like
See our list of all the clubs in Bangkok for more options to party.