Are you looking for an epic and unforgettable music festival experience in Thailand?
Every month (during normal, non-Covid times) there is always an exciting event happening in Thailand. And with so many options it can be difficult to decide which one is the best for you. You can't simply go to every single one of them.
So, join us as we take you through the best music festivals in Thailand and even help book a unique experience.
Let's get the party started.
Wonderfruit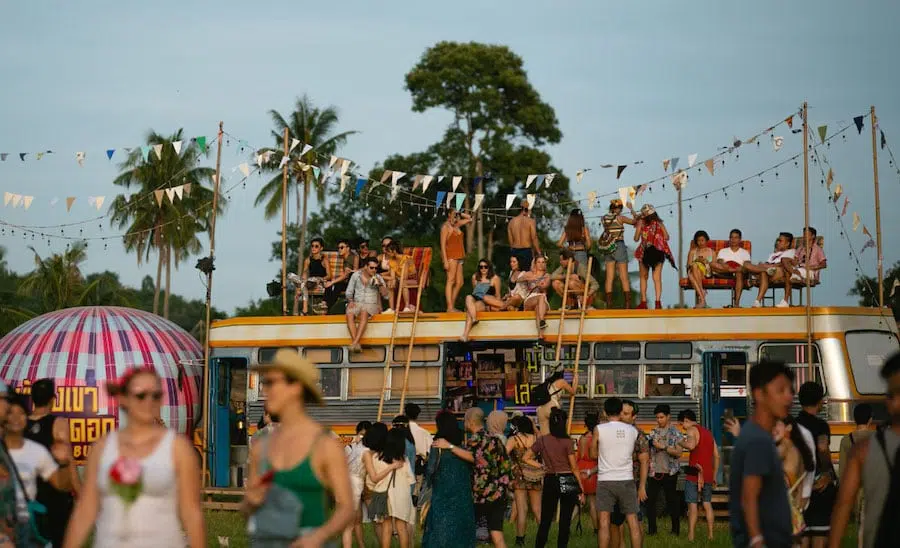 One of Thailand's most iconic and leading music festivals, Wonderfruit, sets itself apart with its involvement in more than just music.
There is also art, culture, fashion, food, workshops, inspirational talks, and a huge focus on sustainable/healthy living.
Combined with a heavy lineup of local and international artists across several music genre stages and zones, this 4-day festival is truly a once in a lifetime experience.
Many have even dubbed Wonderfruit as the Coachella of Southeast Asia.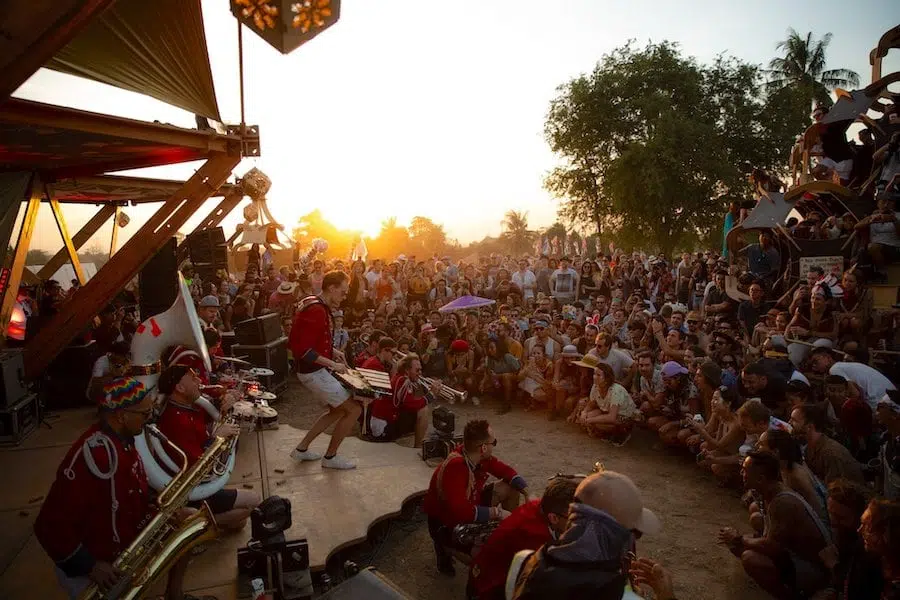 Sounds – everything from techno, trance and deep house to hip-hop, reggae and even country Thai (Molam) music.
Sights – at Wonderfruit, people recreate themselves into whoever they want while others choose to be themselves unapologetically. The vibes here are inspiring, creative, vibrant, and full of life. You will also witness astonishing performances and art installations.
Activities – yoga, cooking, motivational talks, workshops and so much more to keep everyday exciting, new and different.While no confirmed dates or information has been shared yet, make sure you don't miss out on Wonderfruit 2022 or 2023. Who knows?!
When: December 15 to 18, 2022
Where: The Fields at Siam Country Club (near Pattaya)
Kolour in The Park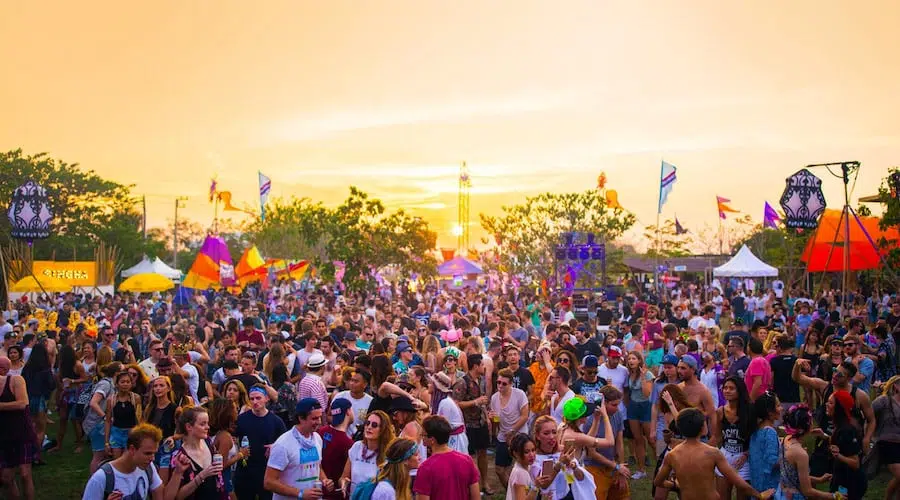 Kolour in the Park started with a small idea – to bring techno and house music to the ears of a small passionate community in Bangkok. In a few years, that blew up into an enormous following.
Now Kolour in the Park curates an immersive and energetic festival experience with 4 music stages, several art installations, countless food carts, and exciting activities.
The next festival is scheduled to be held on 26 February in 2022 with presale tickets already sold out!
Keep an eye out for special promotion codes around social media from one of their krew members. Yup, that is right…with a K.
When: Saturday, February 25, 2023
Where: Thai Wake Park, Lumlukka (near Bangkok)
Big Mountain Music Festival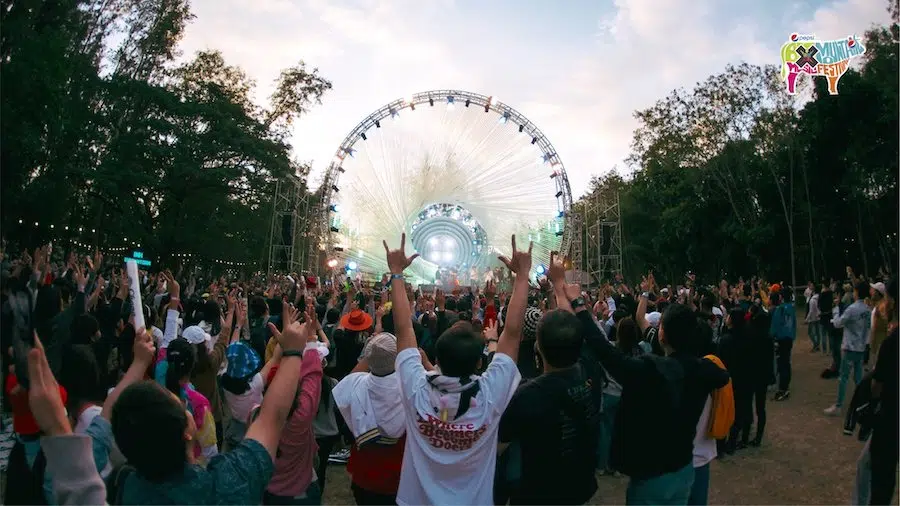 If you are looking for an entirely Thai music festival, Big Mountain is the one to attend.
It was held for 11 consecutive years until covid-19 made it impossible for its 12th edition.
Imagine multiple stages spanning a variety of Thai music genres from EDM to Indy Rock. Big time artists such as Potato, Clash, Palmy, Slot Machine, Taitosmith and UrboyTJ are known to perform at this festival amongst countless other underground musicians.
The concert is held at a massive 500-rai open space at the Ocean Khao Yai, which can hold up to 15,000 people.
Big Mountain Festival features 4 large stages, numerous food stalls, a Ferris wheel, picnic areas and several zones for different types of activities. It has a genuine carnival-like feel.
Keep updated with their latest event news and ticket announcements on their Facebook page.
When: N/A (usually December)
Where: Kaeng KrachThe Ocean Khao Yai, Nakhon Ratchasima
Siam Songkran Music Festival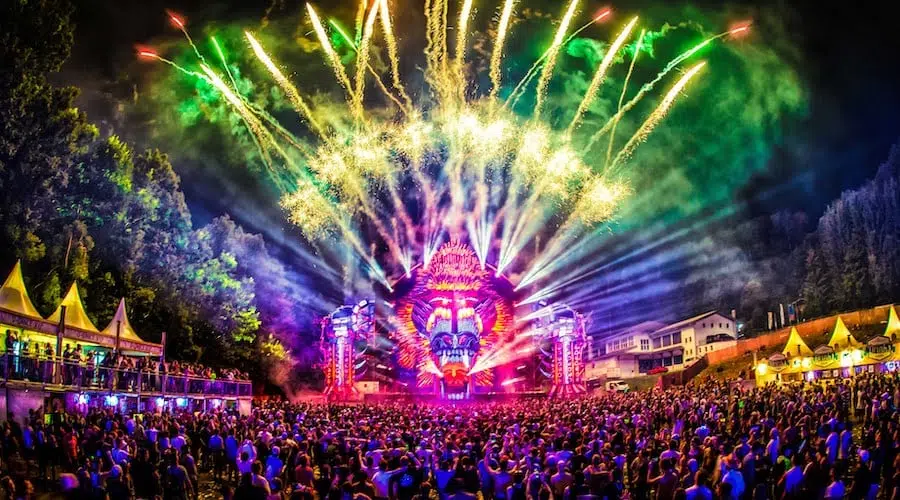 Imagine a music festival where you are constantly wet, not from the heat and sweat but from large water cannons spraying gallons and gallons of water in all directions. All the while you are jumping, dancing, and drinking along to insane, heavy-hitting party music from trap and hardstyle to melodic progressive and mainstream EDM.
This is the supercharged atmosphere at Siam Songkran, one of Thailand's most impressive Songkran music festivals.
Past lineups have included huge names such as Afrojack, Yellow Claw, Showtek, Darren Styles, Andrew Rayel and many more.
When it comes to water festivals with heart-thumping music, extraordinary stages, electrifying sound & lighting and side cultural performances, very few do it better than Siam Songkran. There is nowhere else you can experience such a festival than in Thailand.
Once they are back post Covid and you are in Thailand during Songkran, be sure to buy yourself a ticket. They even have VIP tickets if you want a more private space with special services and benefits.
Go there with a few of our hot Thai models and you'll be the king there!
When: N/A (usually April)
Where: Urban Yard Bangkok (RCA), Bangkok
Waterzonic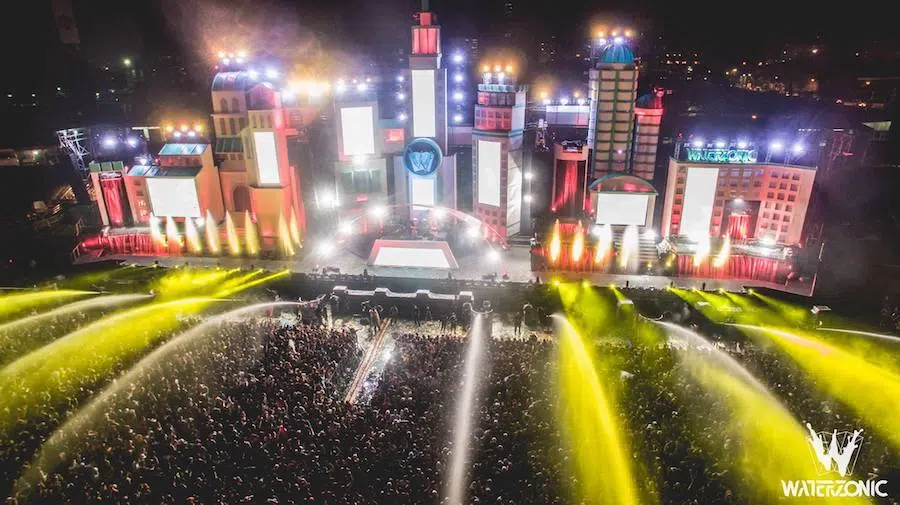 Another exciting water music festival in Thailand is Waterzonic. It has made its 6th edition so far and it's always delivering high-energy party and festival vibes.
It is surely a super soaker of an event where you will be both hot and cold at the same time.
Each year they bring out impressive stages with neon lights, incredible backdrops, superb sound systems and a stellar lineup.
In 2019, Nicky Romero and Yellow Claw headlined Waterzonic alongside several other supporting international DJs. In 2018, Dimitri Vegas & Like Mike and Andrew Rayel, among others.
During the pandemic, Waterzonic have been doing several online lockdown parties and live sets, which is a great way to get a taste of how insane it is, regardless of where you are in the world.
How can it get better? Book a stretch limousine to make a VIP entrance and get all the hot girls' attention.
When: October 22 and 23, 2022
Where: SHOW DC Arena, Bangkok
MAYA Music Festival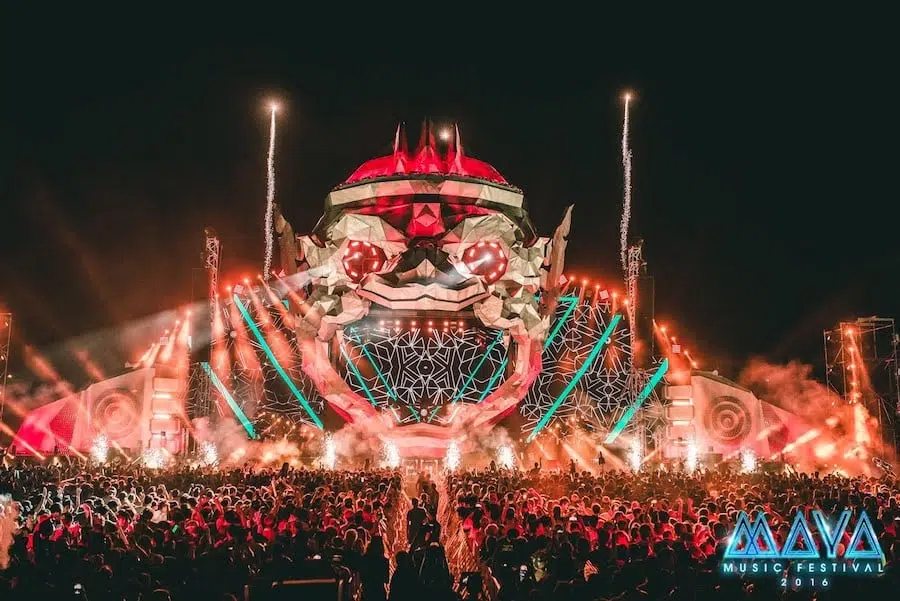 Thailand is known for hosting many EDM concerts and festivals but Maya Music Festival cuts through the cream with its incredible stage designs and sound & lighting displays.
It has also featured big-name artists such as Alan Walker, R3hab, Tiesto, Dash Berlin, Headhunterz and so many more.
So, you know that they pull a big crowd of EDM fans across Thailand and that the next festival will bring in even bigger artists and a larger audience.
The guys behind Maya have been doing it for a while and doing it well, making it a must-attend festival if you are in town.
Keep updated with event and ticket news on their Facebook page.
When: N/A (usually January)
Where: MAYA Space in Pattaya
Mystic Valley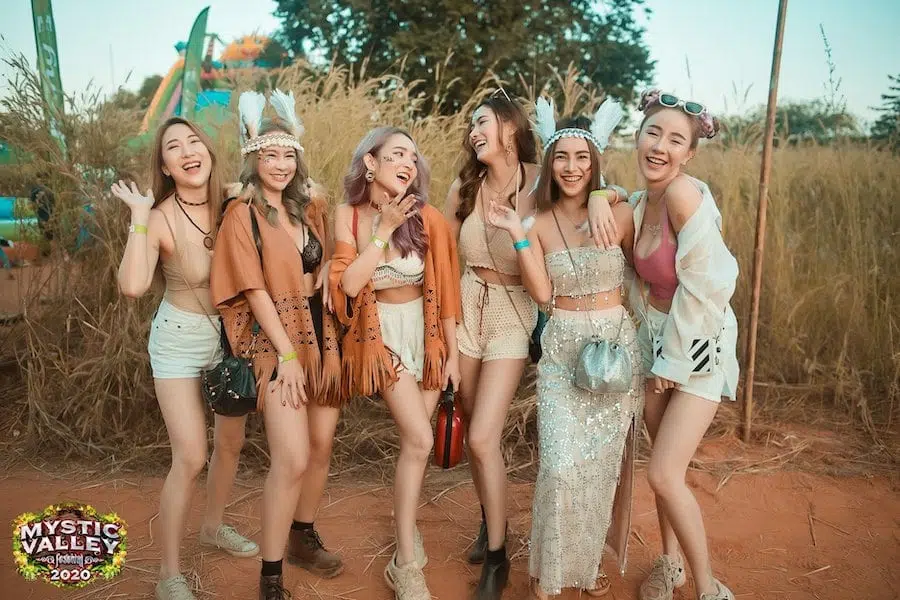 Mystic Valley first launched in 2017 with an ambitious 3-day music festival at Mountain Creek Resort, Khao Yai, a gorgeous valley region only 3 hours from Bangkok.
It hosted over 50 international DJs across 8 impressive stages playing EDM, trap, trance, house, techno, and hip-hop music. Lineup included Fedde Legrand, Sander Van Doorn, and Sven Väth as headliners.
Throw in some pool parties, food trucks and flea markets, they are easily set to challenge the likes of Wonderfruit.
In 2020, they did it even better with 10 stages!
We can't wait to see what they can do when they are back in action.
When: December 2022 (dates TBA)
Where: Mountain Creek Golf Resort, Khao Yai
Bangkok Wet and Wild Songkran Festival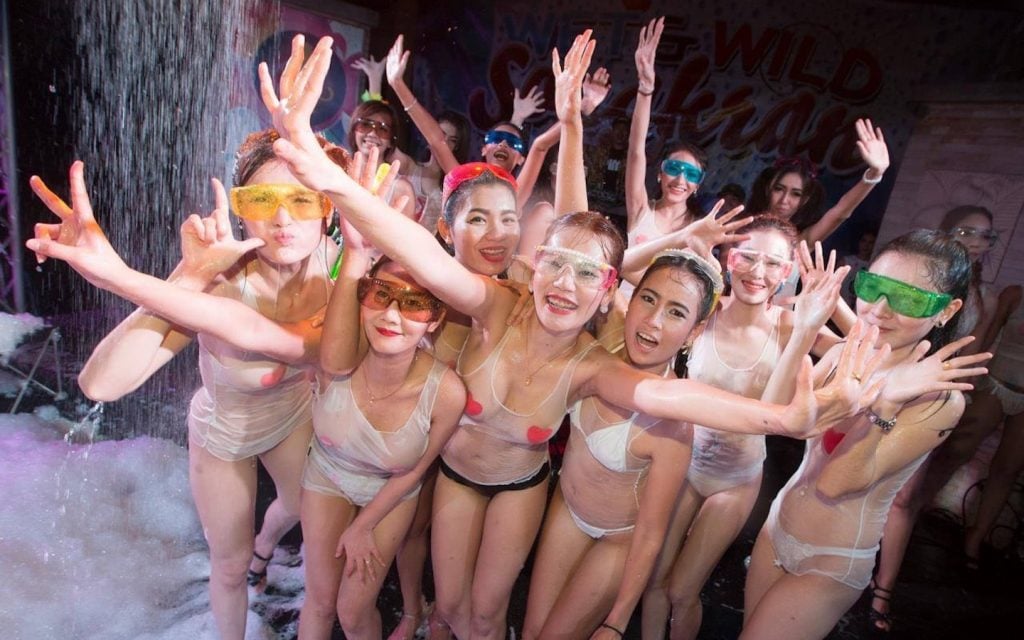 You like pool parties? You like water fights? You like hot Thai girls?
Party to the tunes of the best DJs and live bands with 300+ gorgeous bikini models.
Each year, The PIMP Bangkok, the #1 Gentlemen Club in Thailand, organizes the biggest sexy Songkran party in Bangkok!
Their Wet & Wild Songkran Festival is an insane festival with hundreds of hot girls, including Penthouse models, erotic shows, sexy dances, and the best local and international artists to keep you entertained until the morning.
Learn more about The PIMP Songkran party or contact us today for a booking.
When: April 13 to 16, 2023
Where: The PIMP Bangkok
Go To A Music Festivals With Hot Thai Models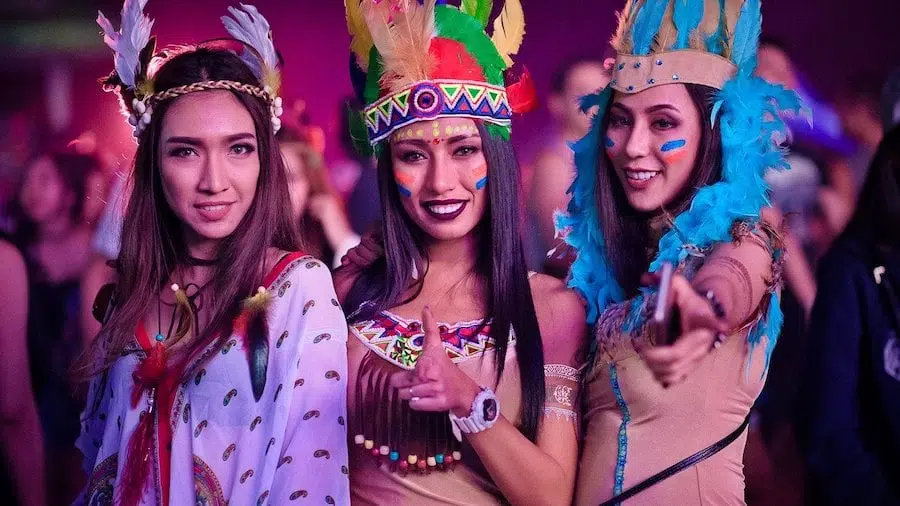 Your friends can't come to your favorite Thai music festival?
It's ok, we have hundreds of hot party models who can't wait to come with you to one of these festivals!
Send us a message today with all the details about your trip, and we can arrange beautiful Thai girls to go with you at the festival, spend the weekend with you, or explore Thailand by your side.
FAQ
How much is a music festival in Thailand?
The price of a 1-day music festival in Thailand start anywhere between ฿1,000 – ฿2,000 with VIP tickets going up to ฿3,500. It also depends on if you buy early bird or at the door. 3-day festivals start at ฿2,500 and can reach up to ฿6,500+ for VIP. We have even seen VIP group tickets for festivals going as far as ฿100,000.
What is the biggest music festival in Thailand?
The biggest music festival in Thailand is Wonderfruit as it lasts 4 days and brings in over 20,000 party goers each day!
What is the best time of the year for music festivals in Thailand?
There are usually music festivals every month in Thailand, but the best time of the year is during Songkran in April. The craziest, most epic music festivals occur this time.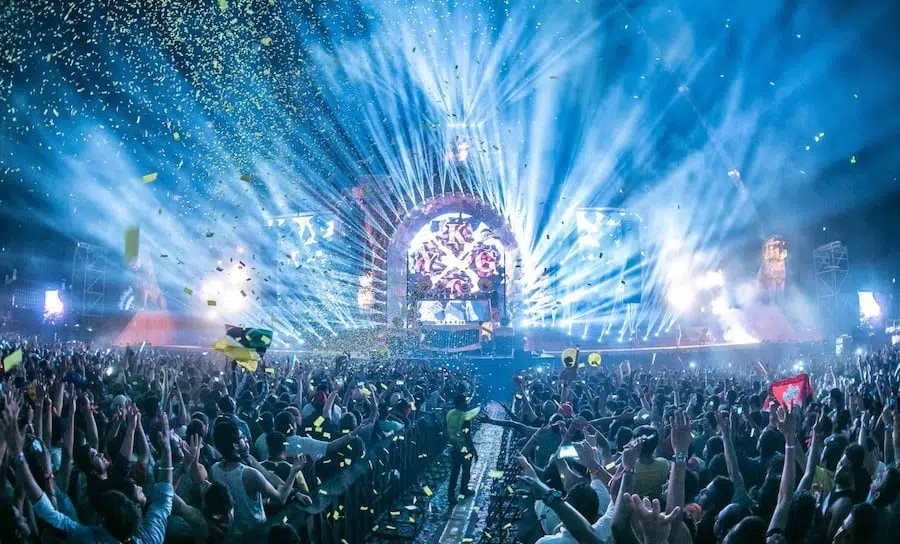 Book Your VIP Tickets To Thai Music Festivals With Party Bangkok
Not sure when these events will take place or how to purchase tickets?
Contact us for assistance.
We will help you get VIP tickets with access to VIP sections at any music festival, just like we do with VIP bookings at any nightclub in Thailand.