Formerly known as Aladdin Club, The Harem is a rebranded and reinvented gentlemen's club situated on the Prasert-Manukitch road, near Lat Phrao.
The Harem is trying to bring something new and exciting to the local entertainment and party scene with its gorgeous ladies, energetic atmosphere, cozy seating, and quality live music.
The Harem aims to excite the senses of both Thai and foreign elite customers looking for a good time.
What You Need to Know
The Harem is an excellent addition to Bangkok's ever-growing nightlife scene.
Like other Thai gentlemen's clubs, it is an ultimate entertainment hub with live music, electronic music DJs, talented performers, sexy dancers, state-of-the-art light and sound systems, and plenty of hot Thai girls.
The club is divided into 2 spaces.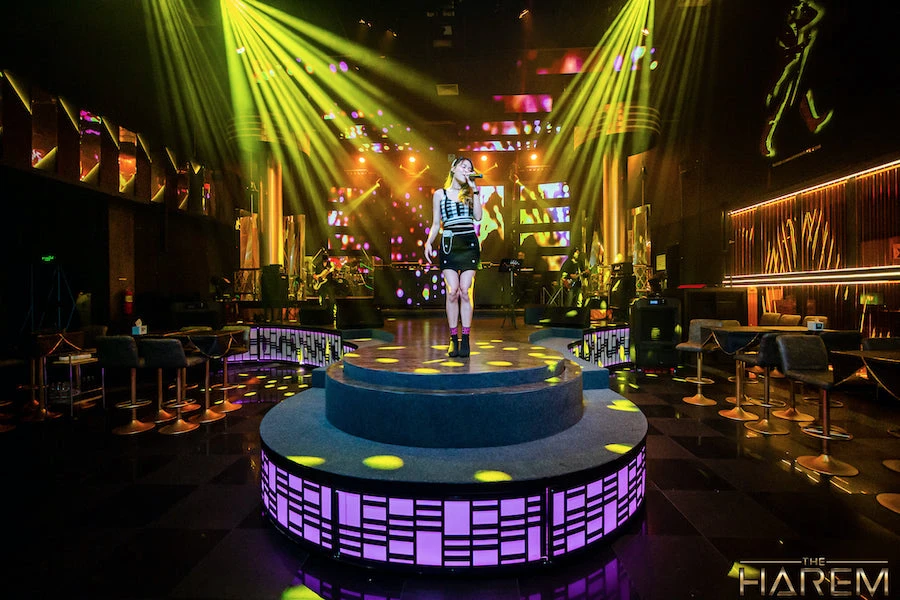 First, you have a large club room where you'll find different types of music from live bands to electronic music that makes you feel like you are at a mini music festival.
You also have girls dancing on stage every night, and about one hundred of them waiting in the room.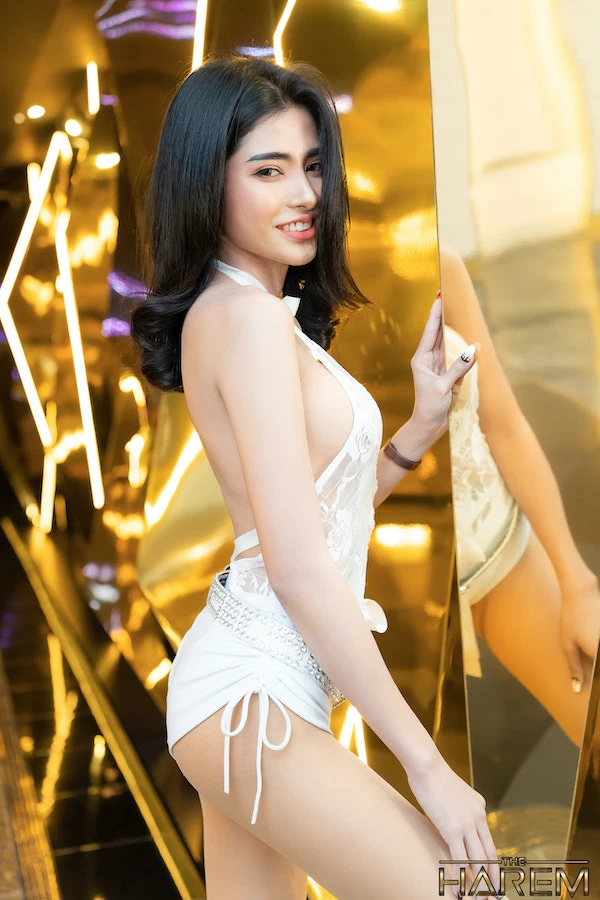 All patiently waiting for you to invite them to drink at your VIP table.
Note that the girls in this part of Bangkok are often students, and might not have a great level of English.
We recommend either going there with a guide, Thai friends, or if you have a decent understanding of the Thai language.
Regarding entertainment, The Harem has been known to host special events featuring well-known local singers and live bands.
This includes popular names like Paradox, Indigo, Get Sunova, and many more.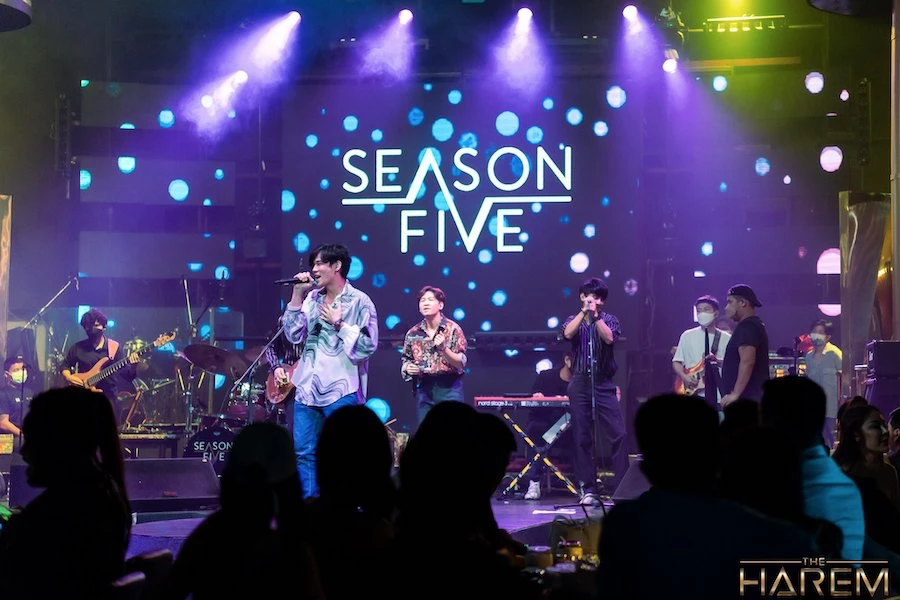 If the club area is too much, the club also has a second side with private VIP rooms.
All of them are equipped with everything you need for a wild private party with your friends or clients.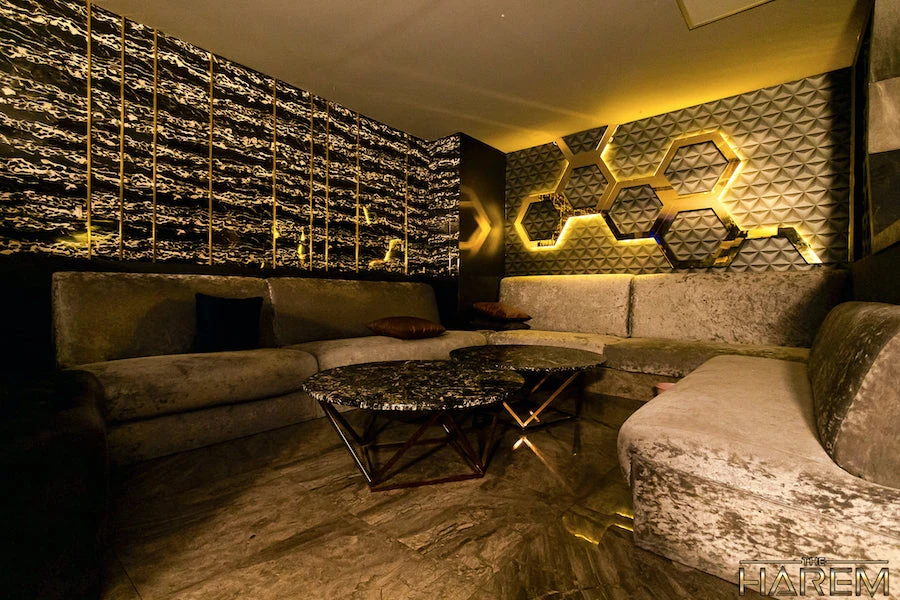 They have a sound and light system, a karaoke system loaded with thousands of songs, and you can stream your own music with your phone or directly on Youtube.
Of course, they also have a long line of gorgeous Thai girls to keep you company and you have complete privacy with the girls in VIP rooms.
You can get a feel and sneak peek into what goes in there by checking out their TikTok page.
It is definitely high intensity with lots of sexual energy.
Prices and Bookings
The Harem is a relatively reasonably priced g-club.
The price of membership starts from 10,000 THB for 1 year and includes up to 4 bottles of liquor.
They also have bigger membership packages that go up to 55,000 THB with a maximum of 15 bottles.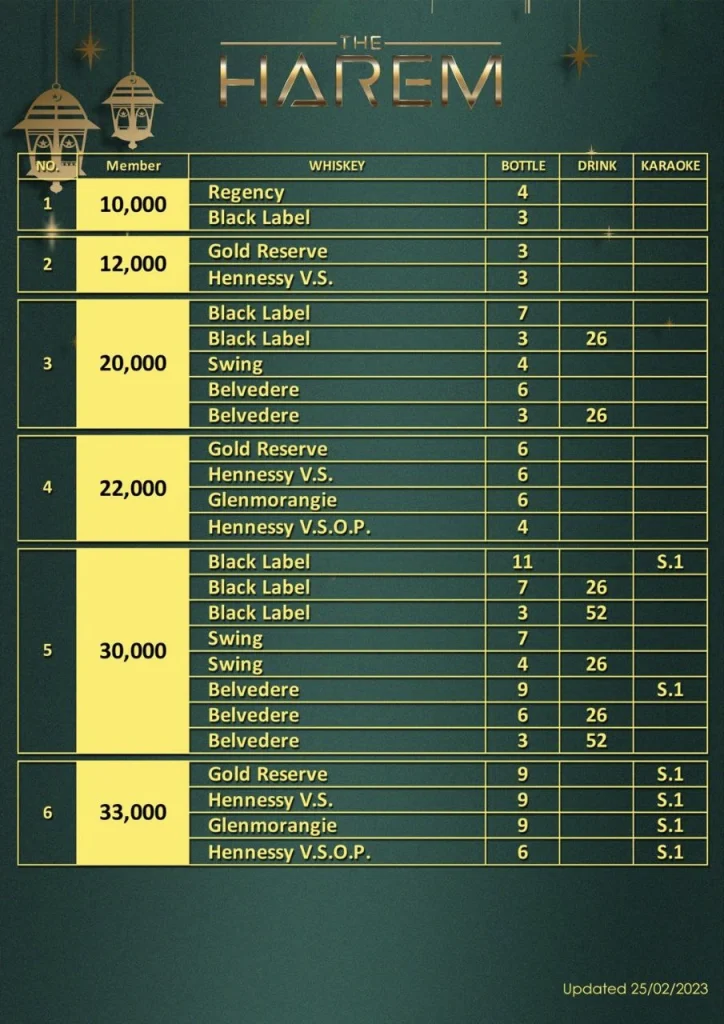 You can find premium bottles as low as 5,000 THB and VIP rooms starting at only 2,000 THB for the night.
As for the girls, the price starts at 1,950 THB for the first 40 minutes, then 390 THB for every 40 minutes, for members.
For non-members, the price starts at 2,150 THB for the first 40 minutes, then 430 THB for every 40 minutes
For more information about the club and bookings, you can contact our team right now.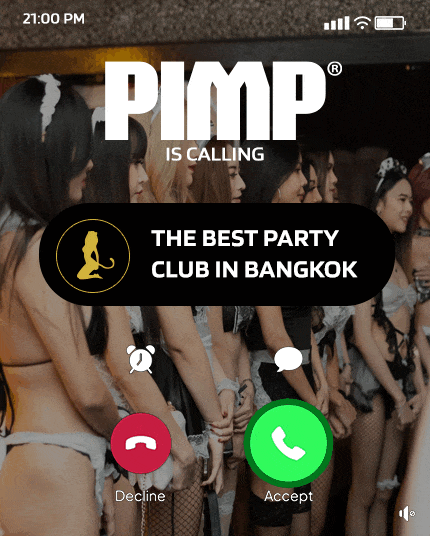 About The Harem Bangkok
Membership price: Starts at 10,000 THB and goes all the way up to 55,000 THB with special drink packages
Bottle price: Starting at 5,000 THB for whisky and liquor. Wine and champagne start at 2,500 THB per bottle
VIP room: Start from 2,000 THB
Girls: Start from 1,950 THB for the first 40 minutes + 390 THB every 40 minutes after that
Opening hours: Monday to Sunday from 8 PM til 2 AM
FAQ
How Much Is A Membership At The Harem Bangkok?
The price of a membership at The Harem is between 10,000 THB and 55,000 THB for 1 year and can include up to 20 bottles.
How Much Is A Bottle At The Harem Bangkok?
The price of bottles at The Harem starts at 5,000 THB for non-members. But when buying a membership package you can get bottles of Black Label whisky for as low as 2,850 THB each.
How To Get To The Harem Bangkok?
Other Gentlemen Clubs you're Gonna Like
For a complete list of all the gentlemen's clubs in Bangkok, click here.
And to book a VIP table or VIP room at any gentlemen's club in Bangkok, go to our booking page.