Mirinn is a brand new club in RCA that is getting increasingly popular.
With its awesome light and sound system, blend of hip-hop and EDM, and beautiful people, it gives an amazing clubbing experience.
Whether you have heard of it or not, chances are that you have still yet to visit this new chic spot in an already legendary party street, RCA.
We are here to get your feet through the door so that you don't have any surprises when you get here.
Let's find out a bit more about Mirinn Club.
What You Need to Know
Mirinn is the first-of-its-kind, Vegas-style club in Bangkok.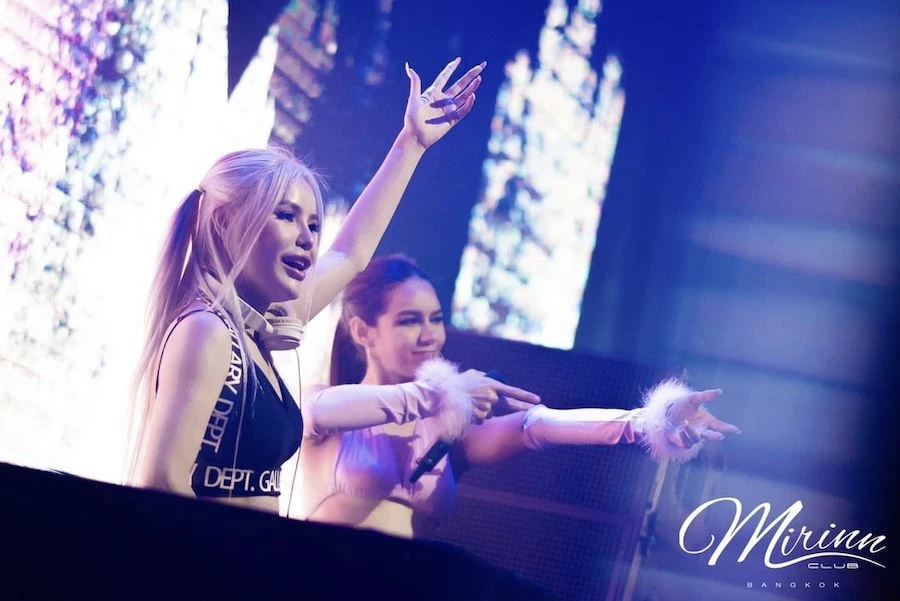 Tucked away in lower RCA, next to the Tops Supermarket, the club highlights a stage-like venue where the focus is on the DJ.
Around it, a small area to dance and cheer on the artists, followed by lines of standing tables, sofas, and VIP areas.
Every week the club showcases a new and exciting lineup of local and international DJs who play hip-hop or EDM.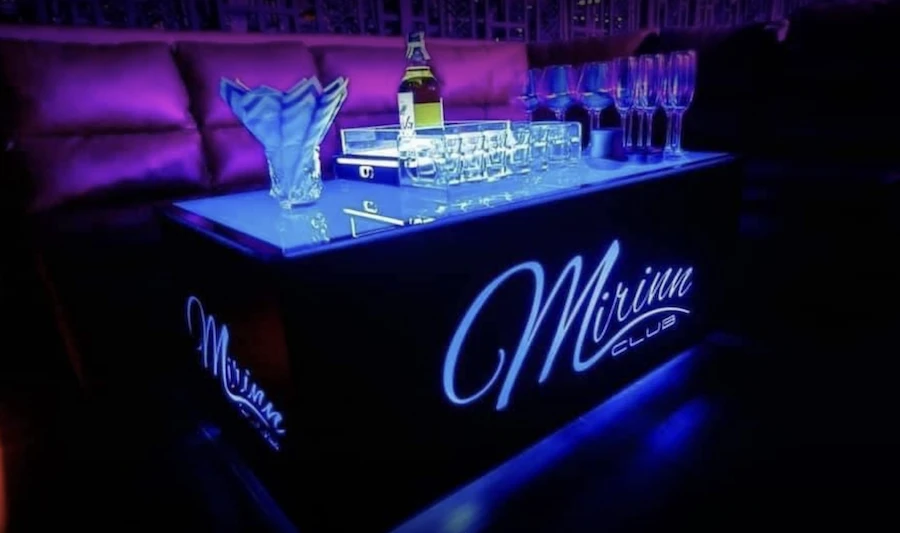 Recently the club has hosted big names such as BONKA and Kevu.
On Fridays, they present their iconic Uppercut Festival which brings famous artists together for a great night of music and entertainment.
Mirinn was even the after-party venue for Waterzonic music festival, featuring Kartypartyy and Faahsai, two well-known artists in Thailand.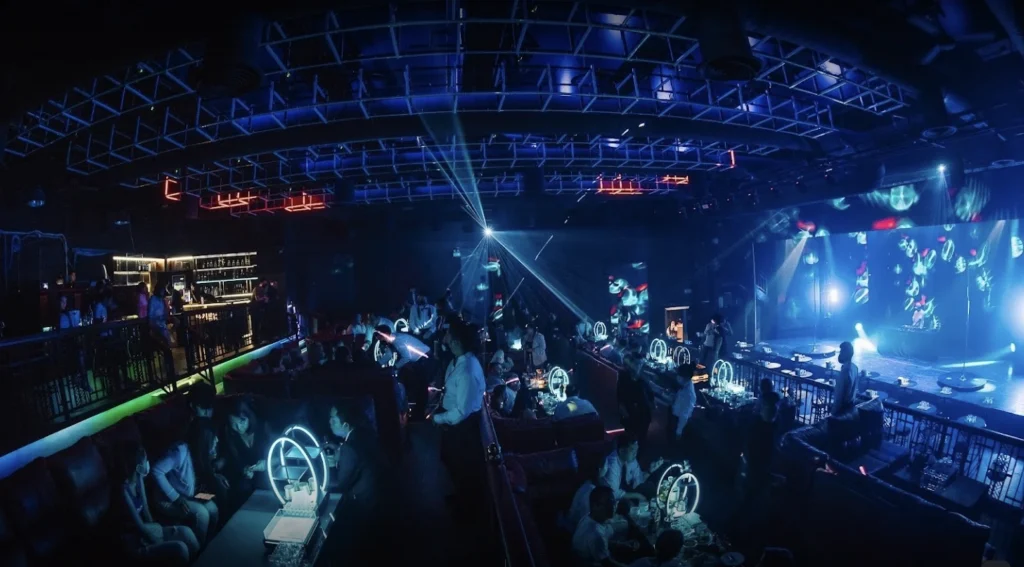 Other than renowned DJs, talented MCs and singers also join in on the performances, giving the space a real concert-like vibe.
You won't be surprised to see people dancing and singing along to tunes by the stage or at their tables.
The club also has a great sound and lighting system that go really well with the shows.
It not only complements it but actually enhances the experience.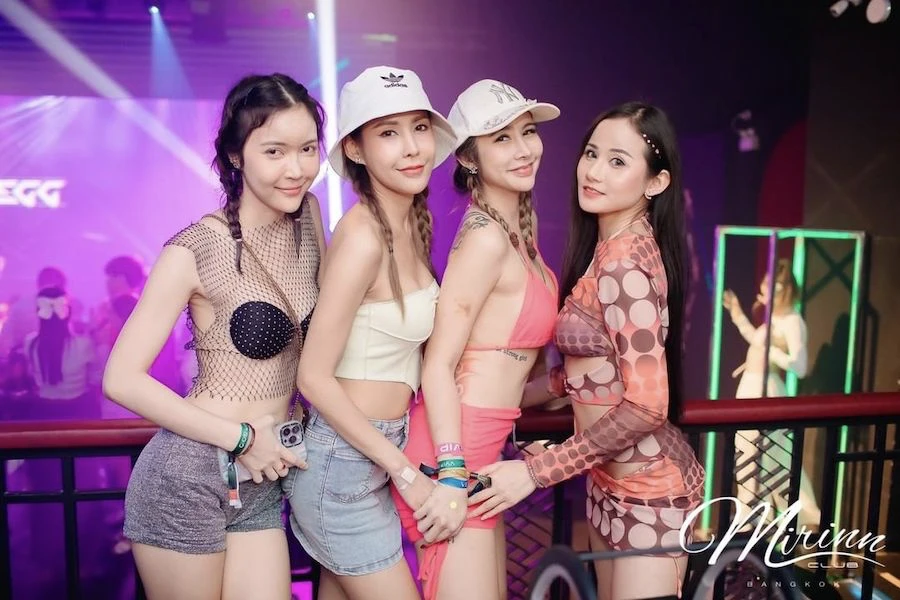 It is no wonder, this trendy new club attracts so many beautiful and well-dressed people, especially hot young Thai girls in incredibly sexy outfits.
You will meet plenty of hi-so Thais here including celebrities, pretty models, and gorgeous influencers.
They often like to take pictures with the club's iconic red leathered wall or at one of the luxurious VIP zones.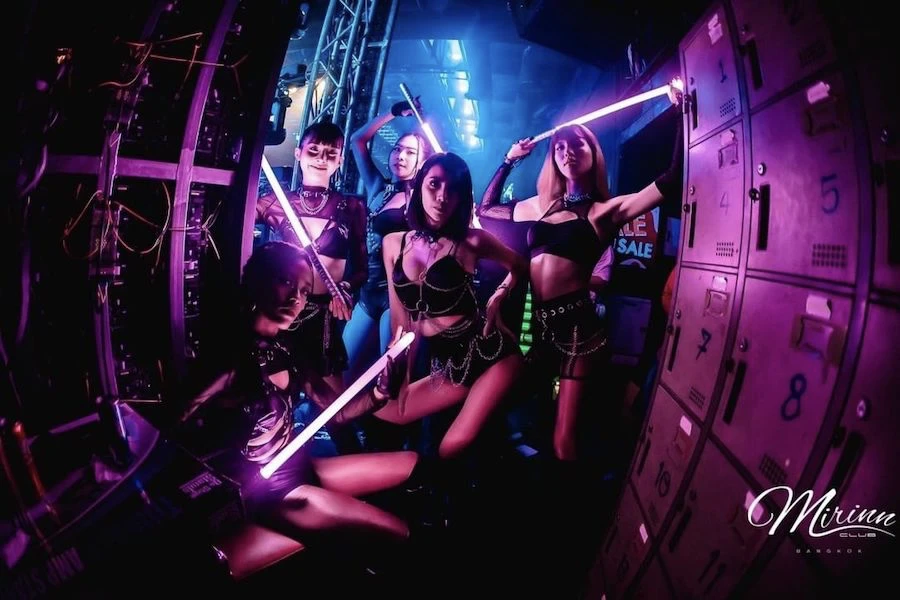 Apart from being a nightclub, Mirinn also has another venue called Mirinn Show that is more for live shows such as cabaret, theater performances, pageants, and even Muay Thai fights.
Prices and Bookings
Mirinn generally does not have an entrance fee but it does have a cover charge for special events or festivals that start at 1,000 THB.
Standing tables with a bottle start at 3,200 THB while VIP packages start at 22,900 THB and 33,800 THB for VVIP.
Mirinn even has a SVIP package that starts at 128,000 THB!
Contact us to book a VIP table there.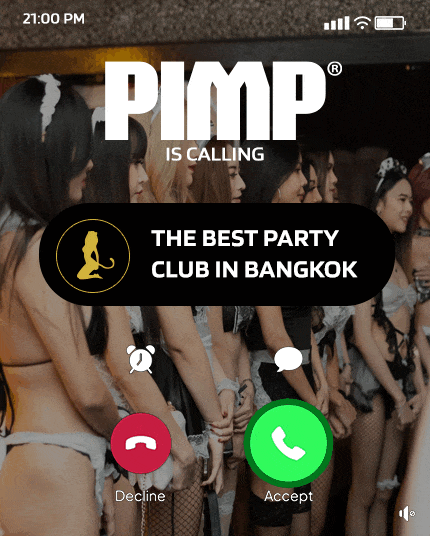 About Mirinn
Cover charge: none except for special events or festivals
Bottle price: Start from ฿3,200 with a standing table
Music: hip hop and EDM
Crowd: mostly wealthy Thais and Asian foreigners
Opening hours: Every day from 10.30 PM until late
FAQ
How Much Is The Entrance Fee At Mirinn Club?
There is no entrance fee at Mirinn Club, except for special events or festivals.
What Are The Opening Hours Of Mirinn Club?
The entrance at Spaceplus Bangkok is free unless there is an event in which case it is ฿1,000 minimum spending for general admission.
How To Get To Mirinn Club?
To get to Mirinn Club, take a taxi directly to RCA and tell the driver to take you to the Phetchaburi side of the road.
You can also take the MRT to Phetchaburi station and then take a taxi from there.
For large groups, we can arrange a VIP minivan to take you there and wait for you outside.
Other Nightclubs In Bangkok You're Gonna Like
For more suggestions, check out our list of the top nightclubs in Bangkok.