Bar Rouge is a brand new, elegant and classy club located in Asoke, at the heart of the city, where all the best clubs are.
This club is sure to be a nice addition to the nightlife scene in Bangkok
While it is getting a lot of attention amongst the expats and Hi-So (wealthy Thais) party crowd, there are still many who don't know much about this new club.
If you're planning on visiting Bar Rouge, there are a couple of things you should know before heading there.
What You Need to Know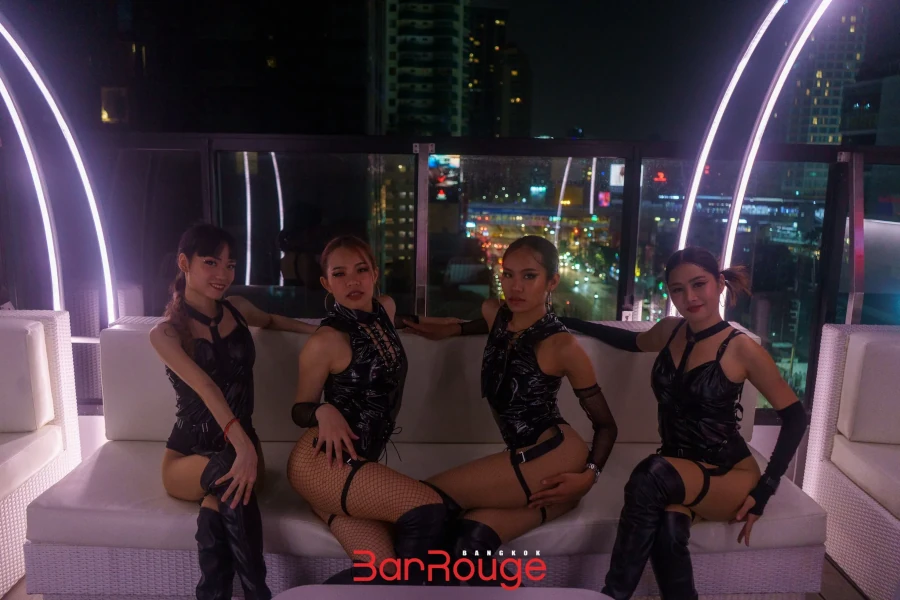 Bar Rouge is a sophisticated and glamorous nightclub that combines great entertainment, exotic performances, exciting music, and that overall offer an excellent VIP experience.
It is located on the 6th floor of the Pullman Grande Sukhumvit hotel, so you can expect it to be quite extravagant and lavish.
It has a very Moulin Rouge style vibe as it is decorated in accents of black and red.
Everything from the walls to the furniture are a striking contrast of red and black.
The middle of the club is filled with about a dozen standing tables.
Surrounding this area are the VIP tables with comfortable sofas.
There are different styles and levels of the VIP sections.
Some VIP sofas are more prestigious and elegant-looking than others but with it also comes a higher price tag for minimum spending of bottle service.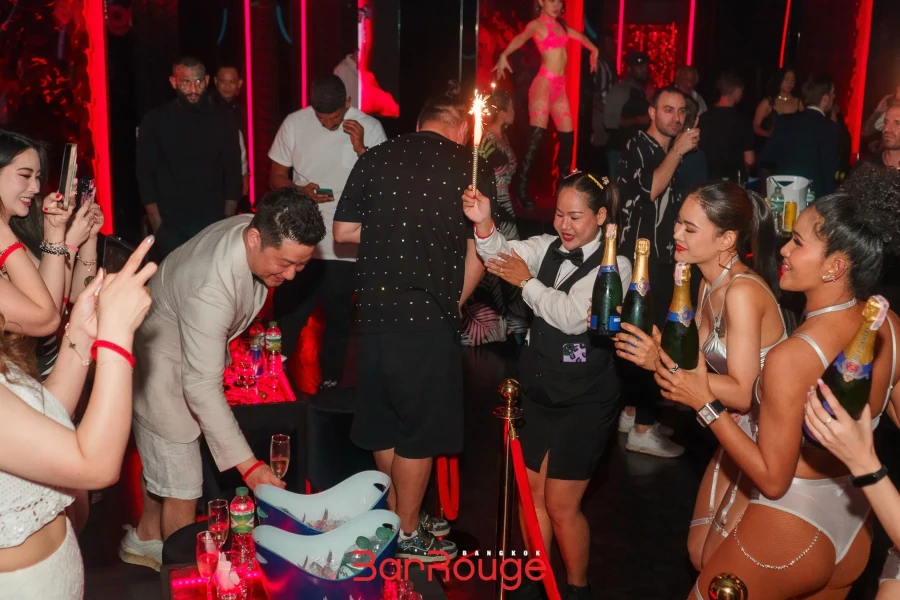 No matter where you sit or stand, however, you can always see the DJ platform and a giant LED screen behind that showcase stunning artistic visuals.
Some corners of the walls are also fitted with large LED panels that show similar graphics.
The overall layout of Bar Rouge is quite minimal yet sophisticated.
There is even an outdoor patio where you can drink, open bottles or go for a smoke.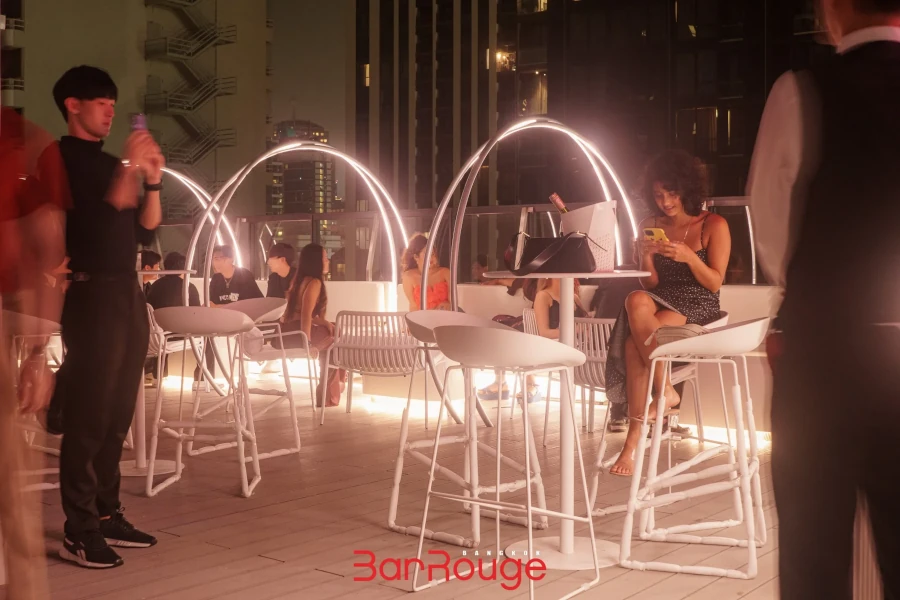 The view is pretty great as it overlooks Asok road with nice views of buildings like Terminal 21, Celes Asoke condo and others.
To go along with the ambiance, international DJs are set to play a variety of music genres ranging from hip hop and EDM to house and techno.
Bar Rouge even has hot performers who show off their amazing dance moves while dressed in incredibly sexy outfits.
They really add an erotic and classy vibe to Bar Rouge club.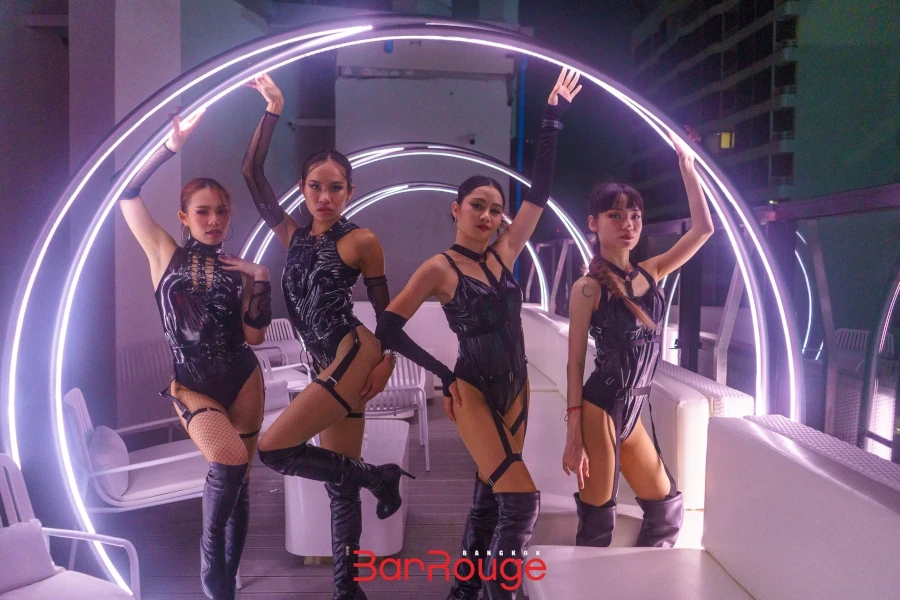 Prices and Bookings
To get a standing table at Bar Rouge Rouge you need to buy at least one bottle.
The price of bottles starts at 5,200 THB.
For VIP tables, there are 34 different packages at various price points to choose from.
Packages go all the way up to 125,000 THB for 2 Hennessey X.O and 2 Armand de Brignac with 10 mixers.
A sparkling wine + spirit package is around 7,000 THB.
We recommend booking in advance for large groups (5 or more).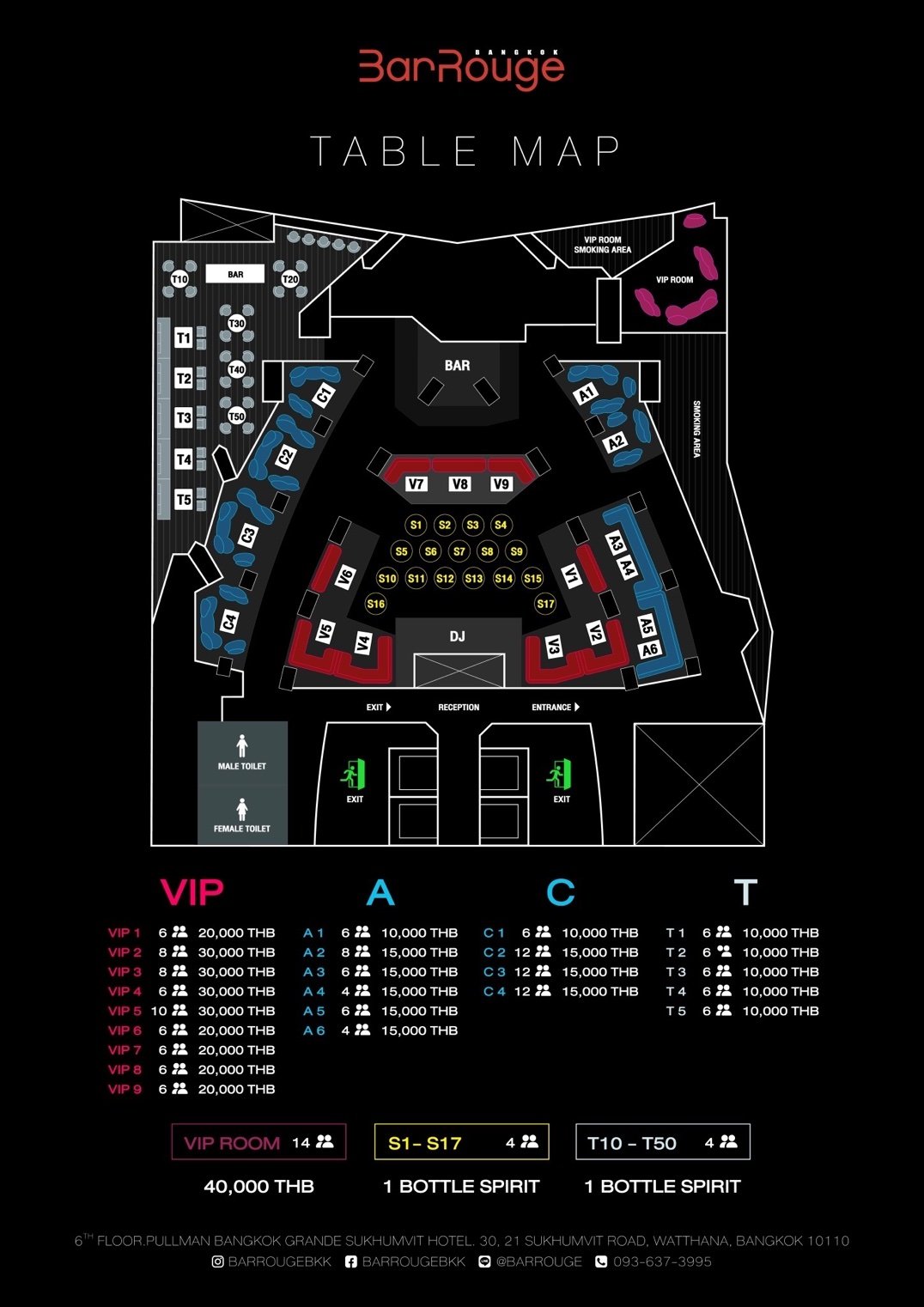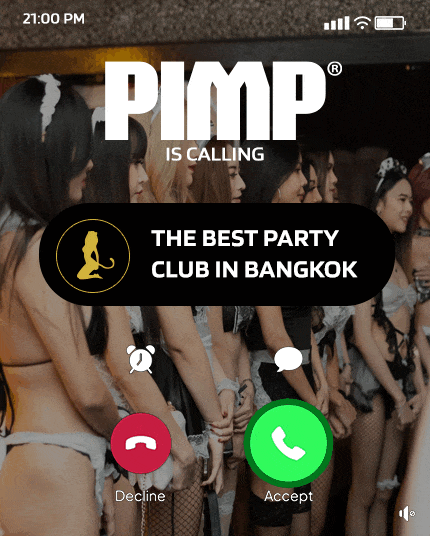 About Bar Rouge Bangkok
Cover charge: 400 THB for men and 300 THB for women
Bottle price: Start from 5,200 THB
Music: hip hop, EDM, house and techno
Crowd: Thais and expats
Opening hours: Every day, from 9 PM until late
Address: 6th Foor, Pullman Bangkok Grande Sukhumvit, 30, 21 Sukhumvit Road, Watthana, Bangkok 10110
Contact us to book the best VIP tables at Bar Rouge.
FAQ
What is Bar Rouge Bangkok dress code?
The dress code of Bar Rouge Bangkok is smart casual, which means no shorts, flip-flops, sportswear, or vests.
How much is the entrance fee at Bar Rouge Bangkok?
The entrance fee at Bar Rouge Bangkok is 400 THB for men and 300 THB for women.
How much is a VIP table at Bar Rouge Bangkok?
There are a range of VIP tables at Bar Rouge going from 23,000 to 125,000 THB.
How to get to Bar Rouge Bangkok?
To get to Bar Rouge, take the BTS to Asoke station or the MRT to Sukhumvit station and then take a short walk to Pullman Grande Bangkok hotel. Or you can get there by taxi, or book one using the Grab app.
Other Nightclubs in Bangkok You're Gonna Like
For more options, check our list of the best clubs in Bangkok or contact us directly for bookings.