Throwing a yacht party can be as simple or as complicated as you want it to be.
It all comes down to what you want out of it and the experience you want your guests to have.
It could be an intimate get-together of friends or a raging party involving heavy-duty sound systems, super sexy shows, and hot bikini models dancing.
It also depends on the type of yacht you want to hire.
Regardless of what kind of yacht party you want to have, and how wild you want it to be, you need to know how to organize one so that your guests can have the best time of their lives.
With all the experience we have from organizing hundreds of yacht parties in Thailand, we have put together a little guide to help you plan one for yourself.
1. Choose Your Destination
The first thing to think about when planning a party on a yacht is to think about where you are going to do it.
In Thailand, there are many destinations that are incredible for a yacht party.
You could begin in Bangkok where you get fantastic nightlife and decent options for small to medium yachts that cruise along the Chao Phraya River.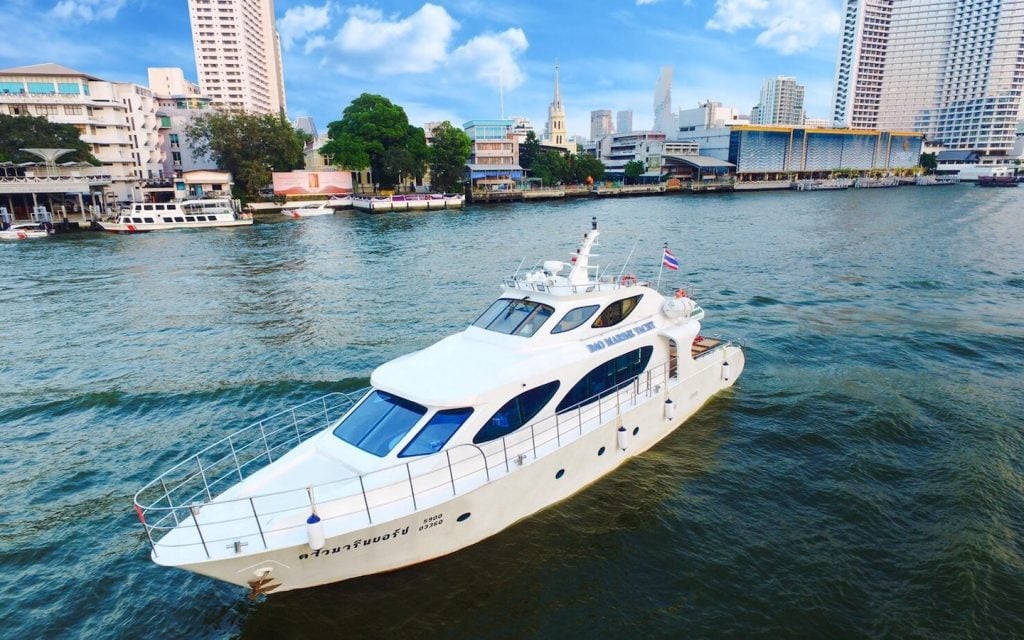 Check our yacht party packages in Bangkok for more details.
You get a lot of boat party options here as well.
If you want to get away from the city, Pattaya is a great second option as it is near Bangkok and has options for every budget.
You can learn more about yacht parties in Pattaya here.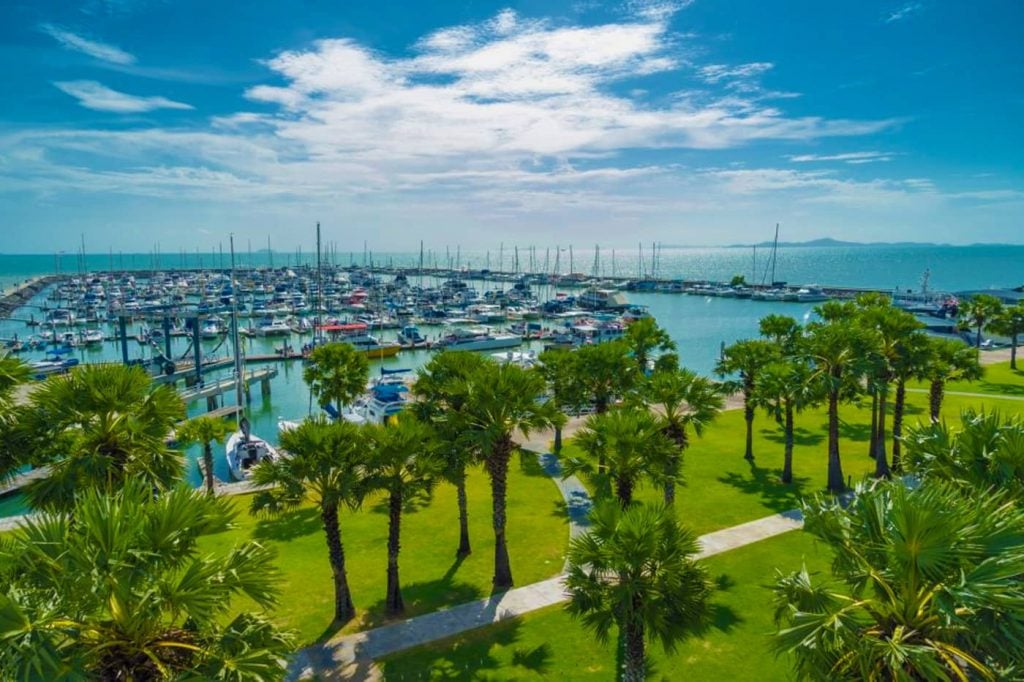 To get the most out of islands and coastal experiences, move further down south to Koh Samui, Phuket, and Krabi.
They have some of the best catamaran boats and luxury yachts for your private yacht parties.
2. Find A Party Yacht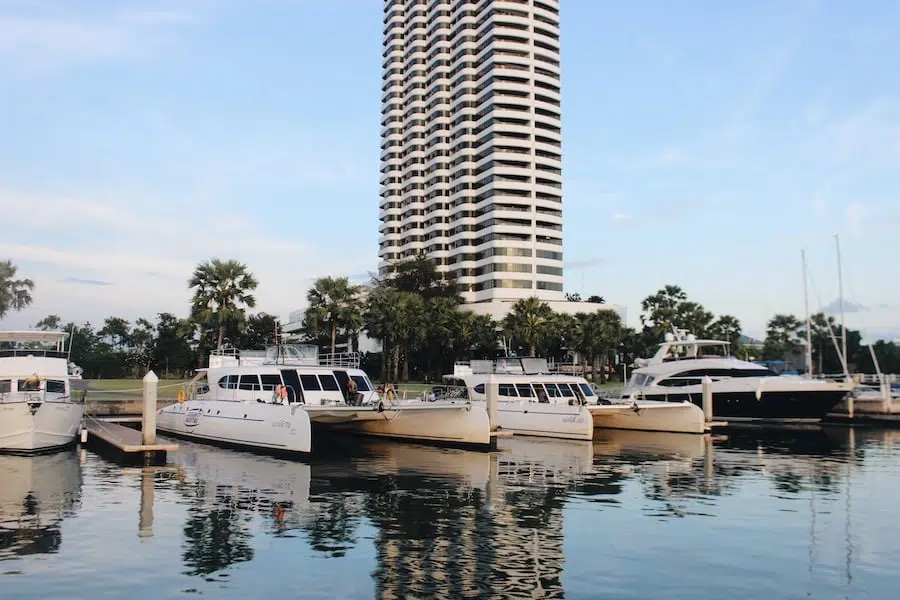 After doing your research and finalizing the destination, think about what kind of yacht you need for your event or party.
Depending on your budget, it can be anything from a basic motor speedboat to a superyacht or even a mega yacht.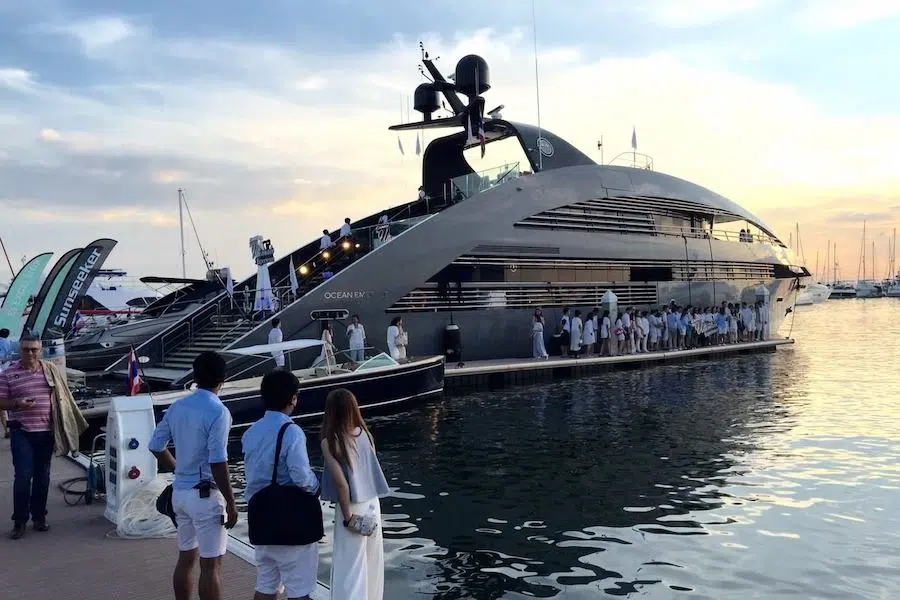 If you want something smoother and more relaxing, like a sailing boat, that can be done too.
Hiring a yacht can cost anywhere between 20,000 to over 800,000 THB.
Everything is possible in Thailand and all types of boats are available here for any kind of event.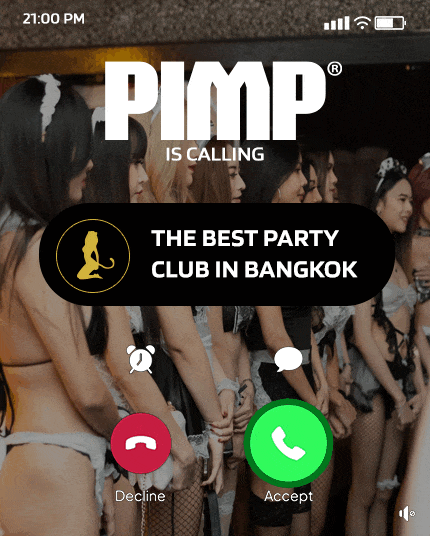 3. Add Activities And Entertainment
Great, now you have chosen your fully crewed yacht, you're doing well.
But you're not done yet.
Next, you need to consider what activities and entertainment need to be included in the party and on the yacht.
Dive deep into this because a yacht party is absolutely much more than just booze and food.
Will you connect your phone to the boat's speakers or hire a DJ? What about the bartender? Do you need performances and shows?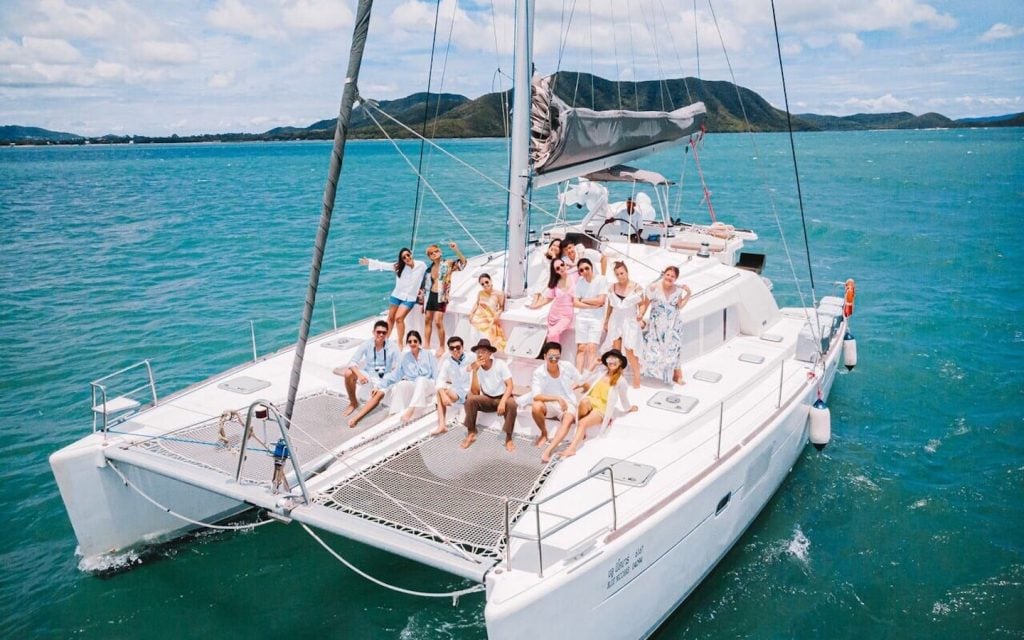 You also need to think about activities such as:
Water sports – big yachts can carry kayaks and stand-up paddle boards with them so that you can do water activities while the party goes on.
In some cases, you will arrive near an island where you can hire jet skis as well.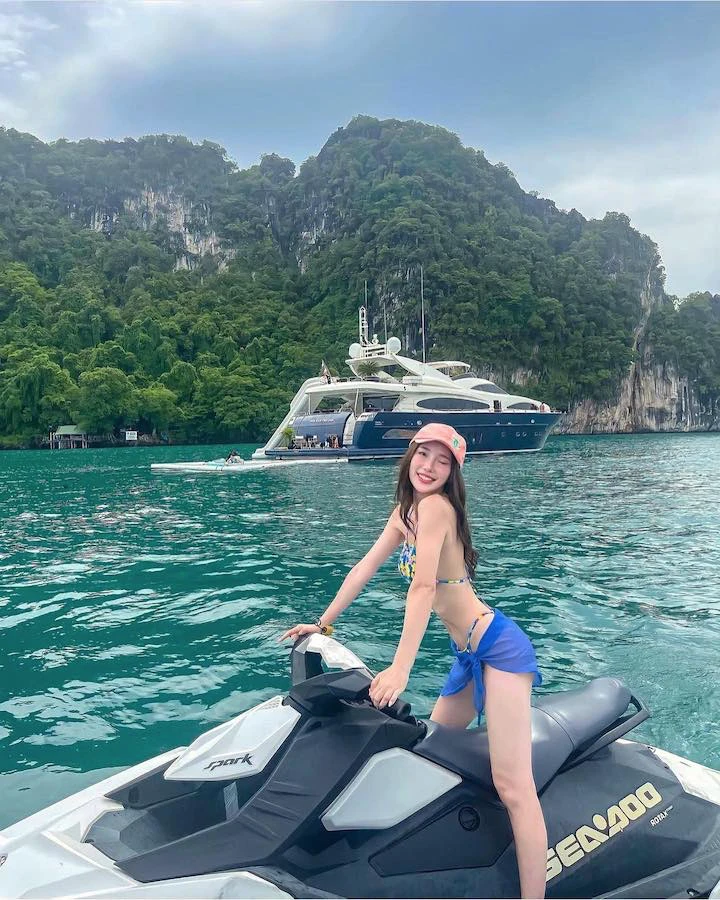 If your friends like to snorkel or dive, that is also something you need to consider.
It is easy to carry these gears on a yacht as long as you plan it in advance.
Island tours – get to see beautiful islands around Thailand during your party.
Some yacht operators also provide island tours where you can get off and explore the beaches, snorkel, or simply relax.
It may or may not include excursions and sightseeing adventures.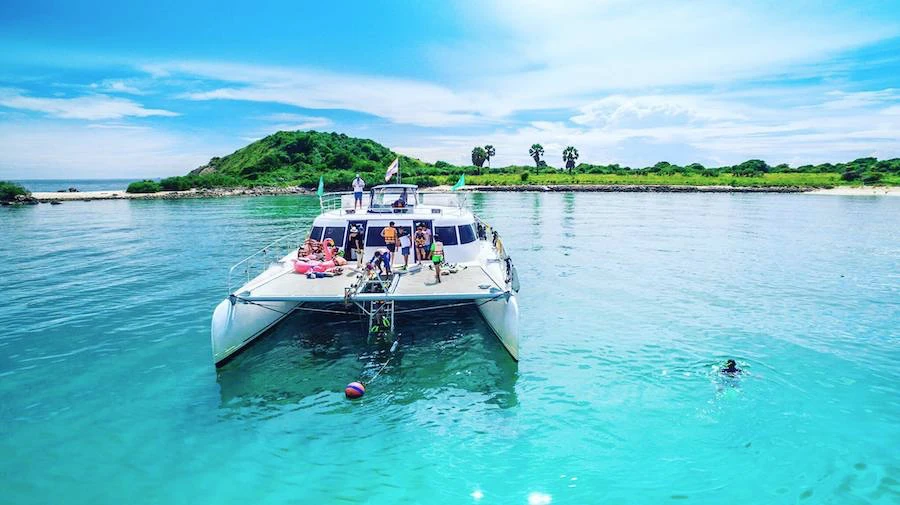 The privacy that you have on a yacht is also a good excuse to play crazy drinking games
If you have shot glasses, don't pass on the opportunity to do body shots.
Finally, make sure you hire a photographer or a videographer to capture these moments.
The last thing you need is to be stuck to your phone recording videos and taking pictures all the time for you and your friends.
It's best to be in the moment, drink, dance, and party with the hot people around you.
That's why it is very important to have all this covered in advance.
Unlike with a regular party on land, when you have set sail into the deep ocean, there's nothing else you can add.
4. Invite Hot Thai Bikini Models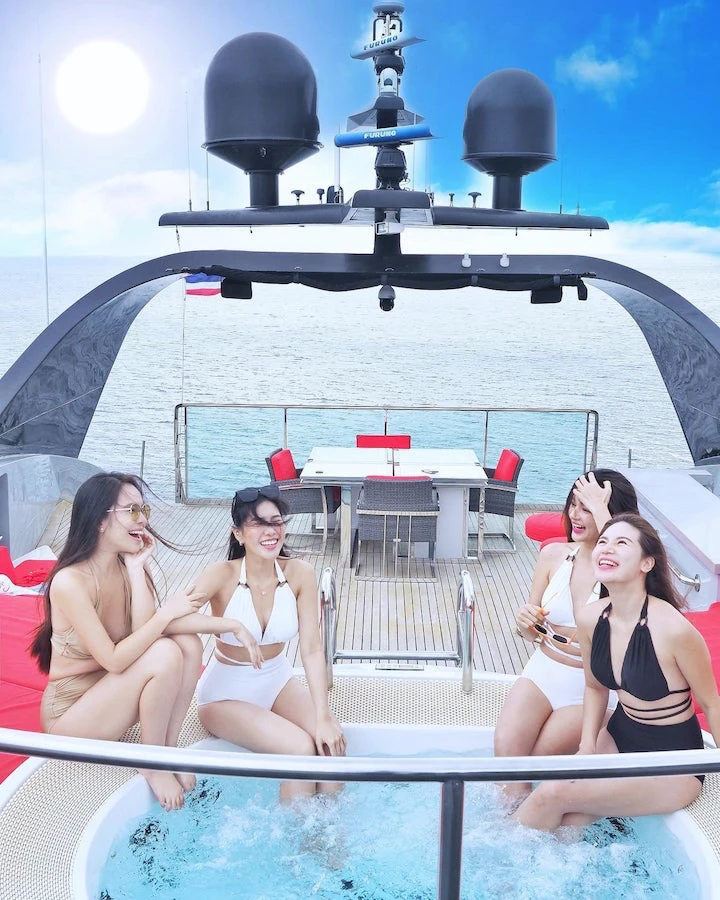 If you are having a bachelor party with your best friends or a corporate event for your clients, you need to take it to the next level.
That often means organizing a yacht party with models.
What would a yacht party be without hot bikini models roaming around, right?
It will just be dudes on an expensive boat.
Be sure to complete the party experience with hot girls in sexy bikinis around you and in your arms or doing shots off their bodies.
"How do we get sexy models to join us", you ask?
We have the hottest bikini models from all over Thailand working with us and we can hire them for you in an instant.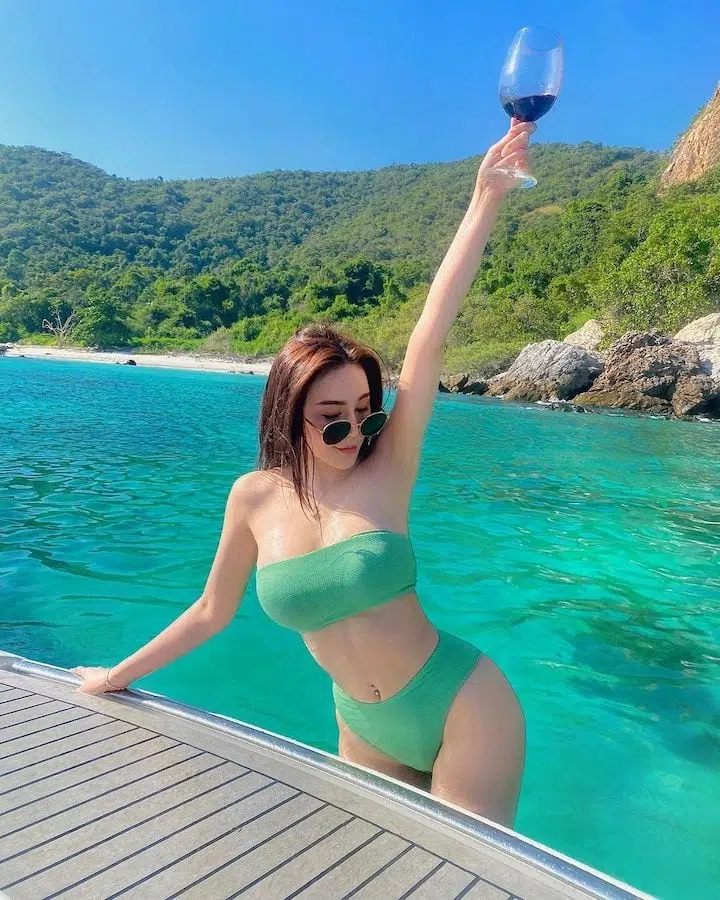 We also let you handpick every one of them and if you are not sure who is perfect for your party, we can certainly advise.
Book A Yacht Party With Party Bangkok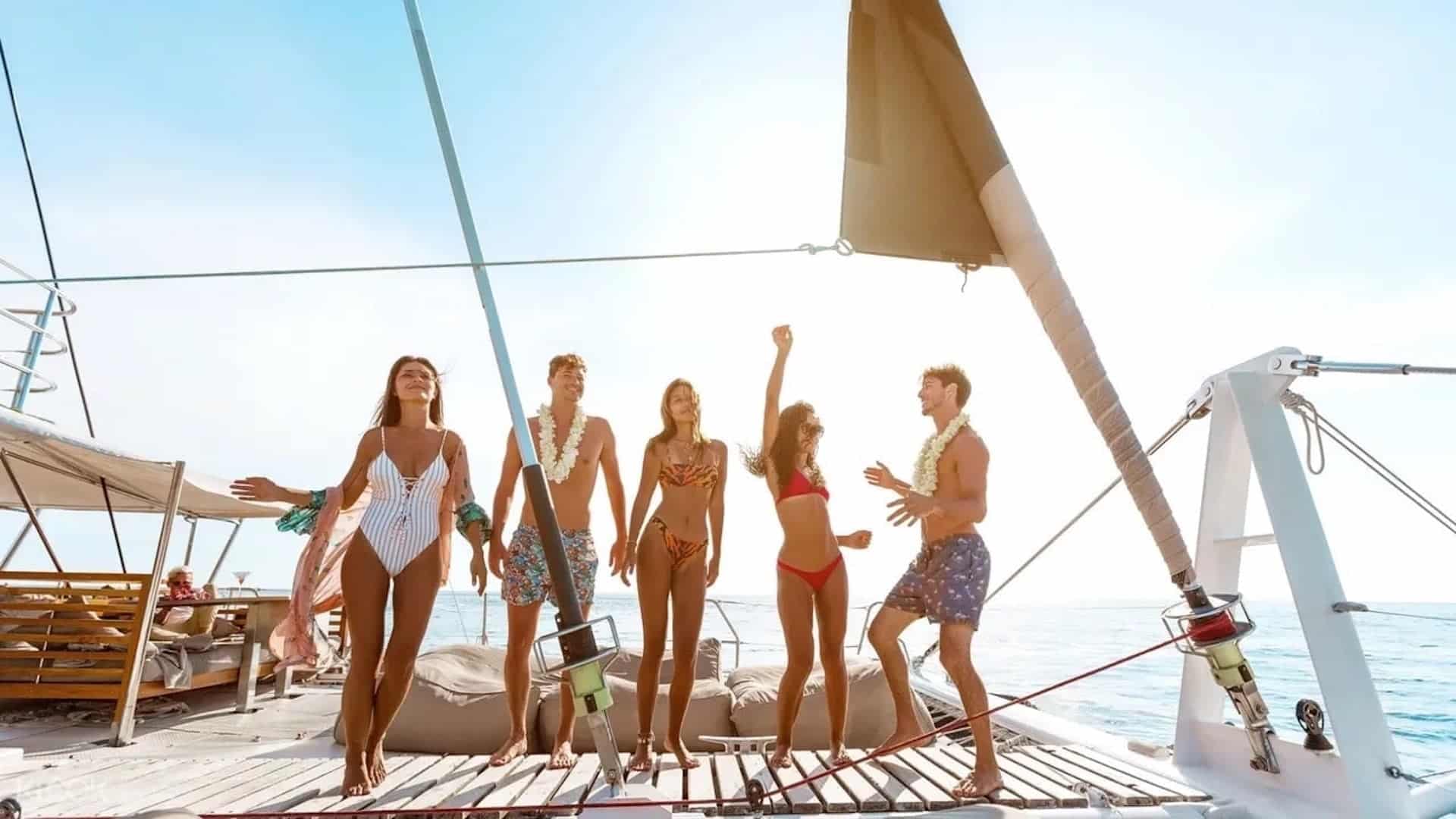 Do you have all the plans and ideas in your mind but still need recommendations?
Or maybe you just lack the time and connections to make it happen?
Don't worry, we're here to help.
At Party Bangkok, we can effortlessly organize your VIP yacht anywhere in Thailand.
And everything else you need during your stay in Thailand, including your party villa, luxury cars or minivans to get you to and from the marina, VIP bookings in nightclubs and restaurants, etc..
Message us today to organize your yacht party in Thailand.
Please be aware that we only accept requests for bookings of 100,000 THB or more.
For a faster answer, tell us your budget, preferred location (city), and number of guests, and let us present you with a bespoke plan based on your requirements.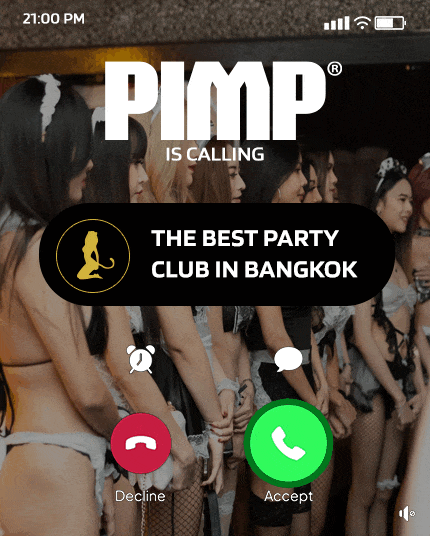 FAQ
How To Rent A Yacht For A Party?
You can contact us today to rent a yacht for a party anywhere in Thailand. Including Bangkok, Pattaya, Phuket, and Koh Samui. Message us now for a free quote.
How Much Does It Cost To Rent A Yacht For A Party?
In Thailand it costs between 10,000 and 800,000 THB to rent a yacht for a party. Message us and we'll give you a list of the top party yachts in Thailand.
Can I Book A Yacht Party Package In Thailand?
Yes, you can book a yacht party package in Thailand. We can even create a custom package for your private yacht party today. Contact us now for a free quote.