Try the Best Shooting Range in Bangkok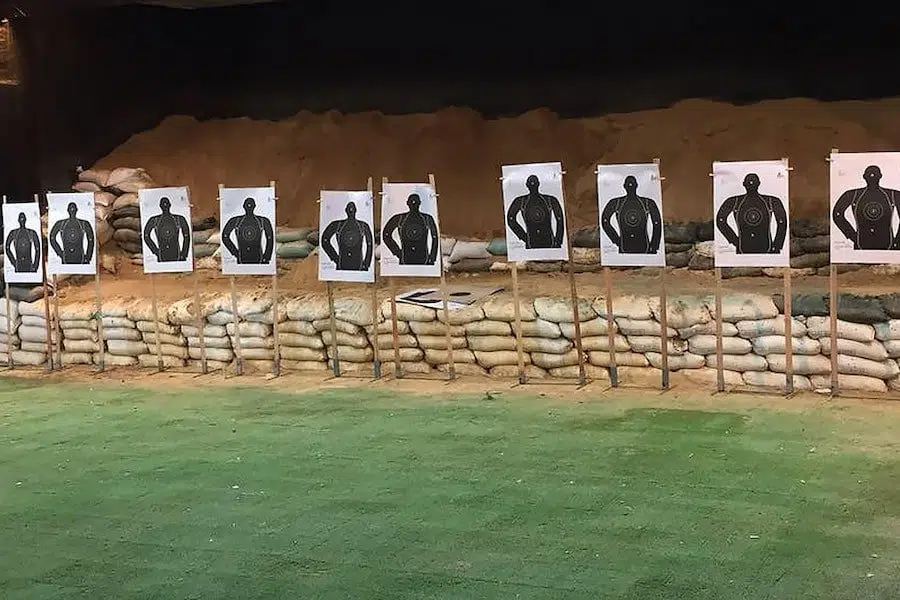 The shooting range is the activity of choice after a heavy night partying in Bangkok.
It's gentle because, unlike paintball or airsoft, it doesn't require you to run or get your cardio going (which can be challenging when you drunk too much the night before).
But at the same time, it's wild enough, so when pulling the trigger you get an instant rush of adrenaline that will bring you back to reality.
That's a great activity in Bangkok to wake you up and get you ready for another crazy night in Bangkok.
Is Shooting Range for Me?
Great for: a bachelor party, an afternoon with friends, a team building, a birthday party
Recommended group size: 4+
Price/person: ฿4050 (9mm, .45 caliber, rifle, and shotgun)
Duration: 2 hours
What you Need to Know About Shooting Range
Bangkok has one of the best shooting ranges in Thailand.
Not only because it's in an active military school, which is pretty cool. But also because they have great skilled instructors and a large range of guns.
It's a great place for beginners to try a wide range of guns, from 9mm. to shotguns. An experience that you will remember forever.
And if you already have your way with guns and want something more challenging, you can go for their semi-auto shotgun or .22 rifles.
That should give you the rush you're looking for.
Bangkok shooting range has a small cafe where you can wait before your session start, but it's not a place to hold an event.
If you're planning a shooting range session as part of a bachelor party, birthday, team building, or any other type of event, contact us today.
We'll recommend venues where you can party after the shooting range.
Book your Shooting Range Session Today
Send us a message with the date, time, and the number of people.
Check the options we send you.
Pick the package you prefer and confirm your booking.
It's that simple.
Note: we only take bookings for groups of 4 or more.
FAQ
How much cost a shooting range in Bangkok?
The best package at Bangkok shooting range costs ฿4,050 per person and come with 4 different types of guns (9mm., .45 caliber, .22 rifle, and a shotgun) and include 75 shots in total.
What guns do they have at Bangkok shooting range?
At Bangkok shooting range, they have 9mm handguns, .357 magnum, .45 calibers, shotguns, and rifles. But no, they don't have AK47 in Bangkok.
Looking for more exciting things to do in Bangkok?
Have a look at our list of activities and services in Bangkok and the rest of Thailand.
And if you're planning a party in Bangkok, you know where to find us.
Whether you're planning an event for a few people or hundreds of guests, we can arrange everything for you, from the venue to the entertainment and transportation.
Send us a message today to discuss the options available for your party.