Book a Party Bus in Bangkok
For airport transfers, corporate events, bachelor parties, or any other type of event, rent a party bus to get around Bangkok or from Bangkok to your next destination.
With a capacity of up 30 or 40 people, depending on the models, those buses are perfect for large groups who want to keep the party going between the different venues they visit.
All buses are equipped with a cutting-edge sound system, and some even have a light and karaoke system.
And if you need anything else to make your ride more comfortable or more interesting, let us know, and we'll arrange it for you.
Party models, hostesses, drinks, shows… we have a lot of options to make your bus ride even more festive.
The Party Buses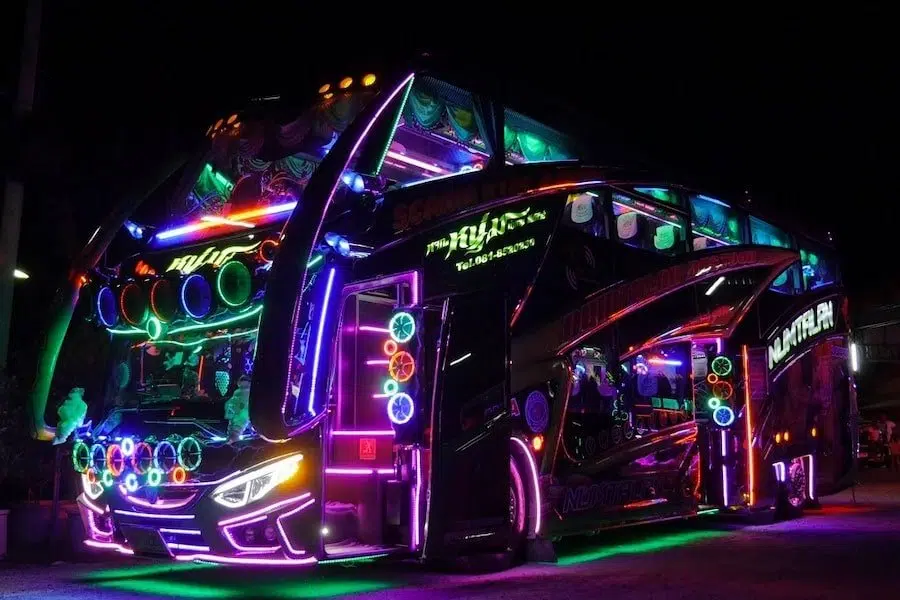 Party buses are tour buses customized for party trips.
With their incredible look and equipment, they're perfect for groups who want to travel in or from Bangkok while keeping the party alive.
Keep the group entertained and active as you head to your next destination.
On the way to your hotel, villa, or to a club, those party buses are perfect to party on the road.
Don't let the traffic kill the vibe, make the most of every minute with our party buses.
Features
Private driver
AC
Light and sound system
Add-ons
Party models
Hostesses
Private shows
Drinks
Personal security
How to Book?
Send us a message today with the date of your event, the number of guests, and the type of transfer or booking you need.
Confirm with our team the type of party bus you need, as well as the pick-up time and location.
Book a party bus.
Why Book a Party Bus with Party Bangkok?
Our mission is to help you have the best experience and fun time while in Bangkok.
So we're on a quest to offer you the best services at the best price and make it incredibly simple to book.
Party Bangkok advantages include:
Prices all inclusive (vehicle, driver, fuel, and tolls)
Extra services available on request (drinks, hostesses…)
FAQ
What is the capacity of a party bus?
Party buses have a capacity of 30 to 40 people depending on the models available.
Can you arrange shows and performers in the party bus?
Yes, we can arrange shows and performers in the party bus. Contact us to discuss the options available with our team.
You need more than a party bus?
We can help you plan your stay in Bangkok from the minute you land until you return to the airport.
Accommodation, transportation, activities, bookings, nightlife, private parties, and more.
Check the complete list here or contact us today to explore the options available for your stay in Thailand with our team.
And if you need another type of private transportation while in Bangkok, check the other options we have.