Go Surfing in Bangkok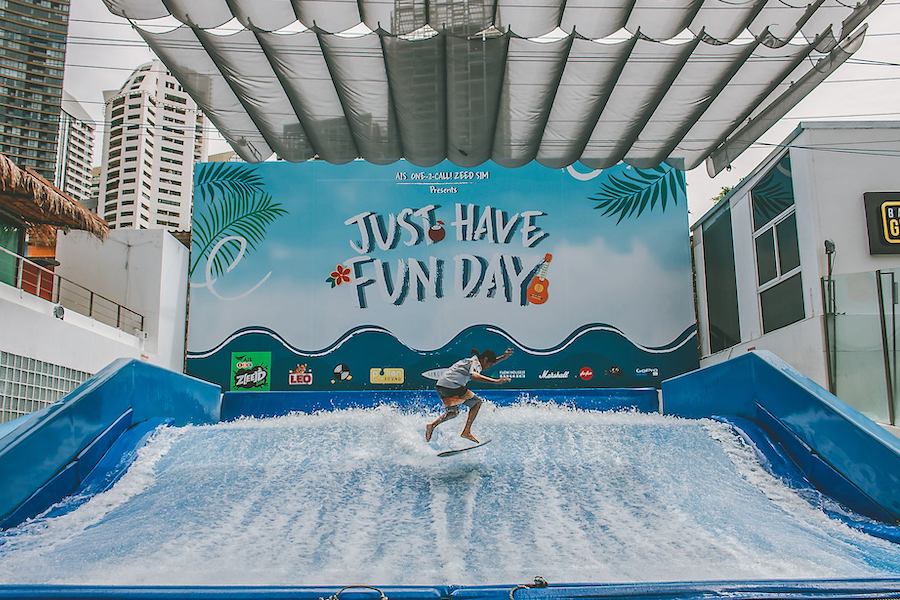 Who said you can't surf in Bangkok?
Sure, Bangkok doesn't have white sand beaches and great waves like Phuket or Bali. But there's one place where you can surf in Bangkok: Bangkok's very own Flow House.
Surf on artificial waves in the heart of Bangkok any day of the week.
Is Flow House for Me?
Great for: bachelor party, hen night, birthday party, an afternoon with friends, team building, corporate party
Recommended group size: 10+
Price/person: ฿990
Duration: 1 hour
What you Need to Know About Flow House
Flow house brings a beach club vibe to the heart of Bangkok.
You thought it was impossible to surf in Bangkok? Think again.
With its powerful artificial wave machine, Flow House allows you to surf in Bangkok 7 days a week, from 10 am to 9 pm.
And Flow House is more than a place to surf; it's a great venue to hangout and enjoy that beach club vibe.
It's also the perfect venue for a group of friends who want to surf and relax with a few cocktails or for a corporate event for hundreds of people.
Flow House can easily welcome up to 300 people, and we can arrange drinks, food, and shows for your party there.
So what are you waiting for? Book your surfing session in Bangkok.
Book your Surf Session Today
Send us a message with the date, time, and the number of people.
Check the options we send you.
Pick the package you prefer and confirm your booking.
It's that simple.
Note: we only take bookings for groups of 10 or more, in particular for large events like birthdays and corporate events.
FAQ
How much cost the Flow House in Bangkok?
One hour of surfing at Bangkok Flow House costs ฿950 per person. But if you are going there with a group for a party, you can book a private lane for a few hours, or the whole place. Contact us for more details and price.
Is Flow House Bangkok great for a birthday?
Flow House Bangkok is awesome for a birthday. It's perfect for groups of 10 to 300 people. And you can do more than surfing there. We can arrange drinks, catering, DJs, shows, performers and more. Contact us today to talk about your birthday party.
What else can you do in Bangkok?
We have a list of activities we recommend in Bangkok.
And if you're planning a private party in Bangkok, send us a message, and let's talk about all the options to make it amazing.
A party venue, shows, performers, models, accommodation, transportation… we can arrange everything you need for your event.